Miniature Flower Arrangements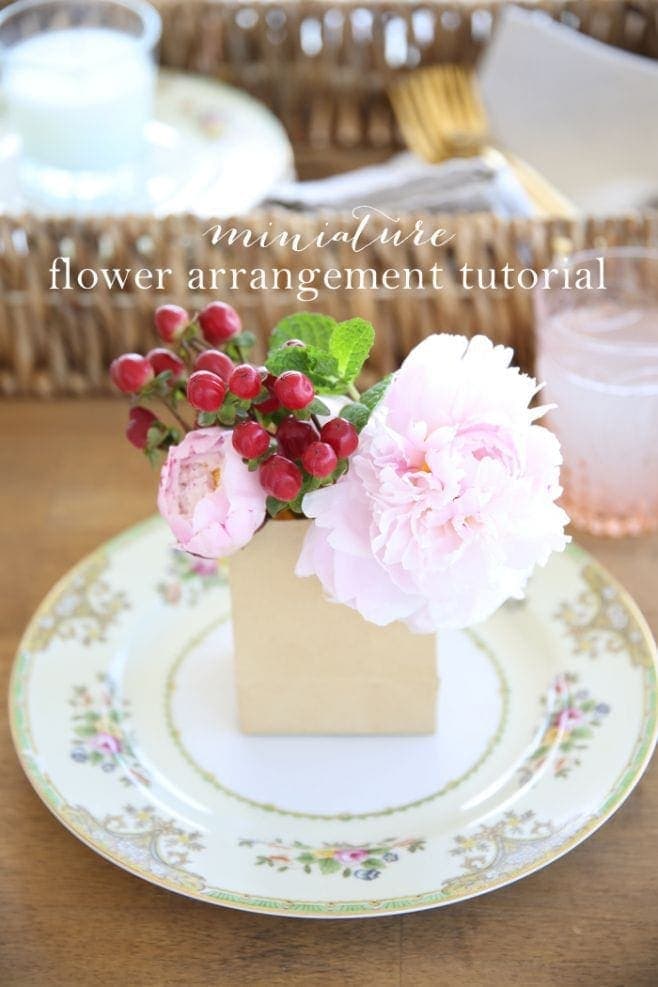 My peonies just showed the first sign of their return last week and they're now over a foot tall. As we explore the property in spring, we're pleasantly surprised by some beautiful blooms. I can tell the peonies will be no exception. Over the weekend we cleared some overgrown bushes, years of collected leaves & small random trees to discover 3 additional peonies. I'm giddy with excitement!
Years ago, my mom, grandma and I transplanted established peonies from my great aunt's farm house. I would have loved to have taken them with me when my mom passed away. The sweet scent of peonies always takes me back to our blissfully simple backyard. I've included them in my spring place settings as a nod to the women who made me the woman I am today!
In a few short weeks, hopefully you, too will find some pretty peonies in your yard, but you can also find them at groceries stores when in season. My sweet friends at Sister's Flowers were so kind to source these blooms for me out of season. I first met Emily when I had her integrate the very same flowers into my wedding bouquet almost 8 years ago! I also included hypercum berries and mint. Yes, mint. I love incorporating herbs into flower arrangements. Its adds a touch of whimsy and smells wonderful!
Collectively, miniature flower arrangements make a statement, eliminating the need for a centerpiece. I often create them for guests to take home as a token of my appreciation. To create your miniature flower arrangements you'll need:
small paper bag
votive holder or small weck jar
1 large bloom
1 small bud
2 hypercum berries
1 sprig of mint
scissors or shears
Tutorial:

1. Fill a votive with water & place inside the bag. Use your eye to measure the length of your large bloom to the right corner of the bag. Cut at an angle & place in the votive.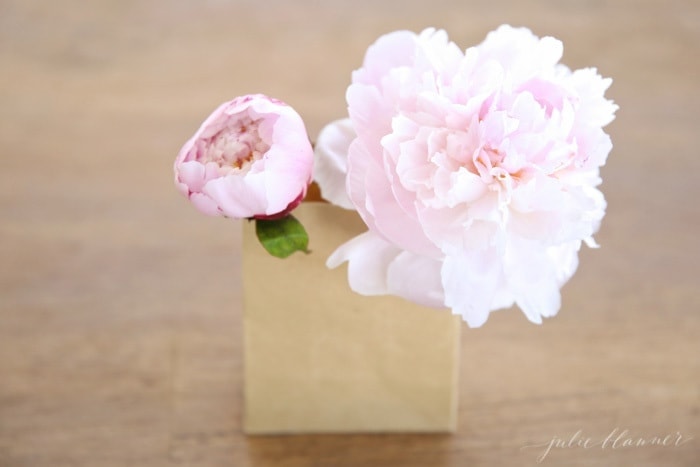 2. Measure and cut your bud to fit the left corner of the bag.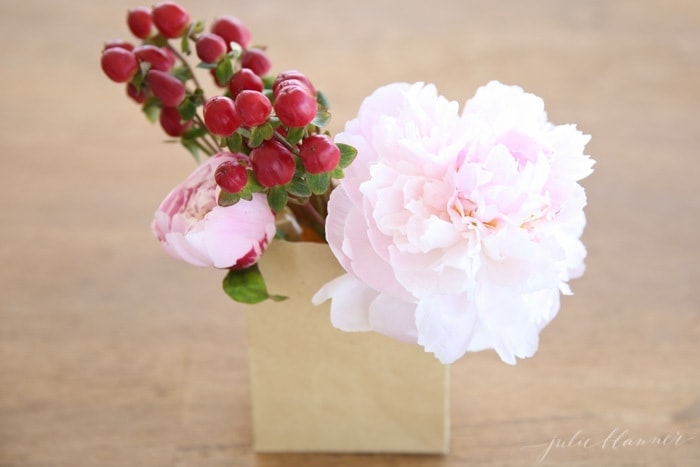 3. Place one stem of hypercum berries in the back left corner & cut a second stem slightly shorter, nestling it between the two flowers.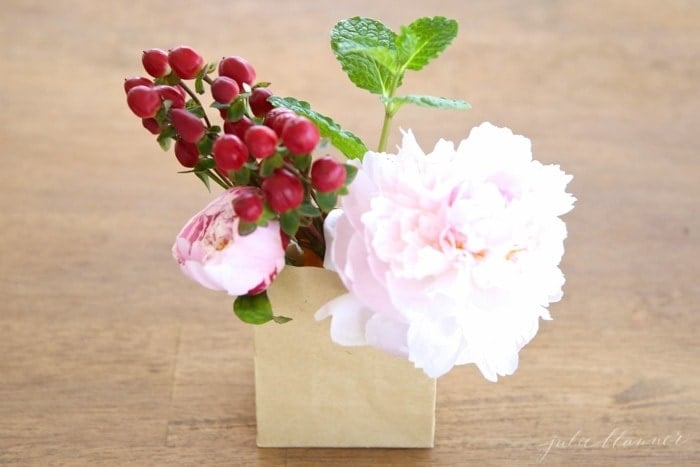 4. Add a sprig of mint to the back of your arrangement.

This arrangement was designed to be quick, easy and inexpensive so that you can do them in larger quantities. I paired them with my grandmother's china, pink glassware, gold flatware and natural linens for a casual, yet feminine afternoon.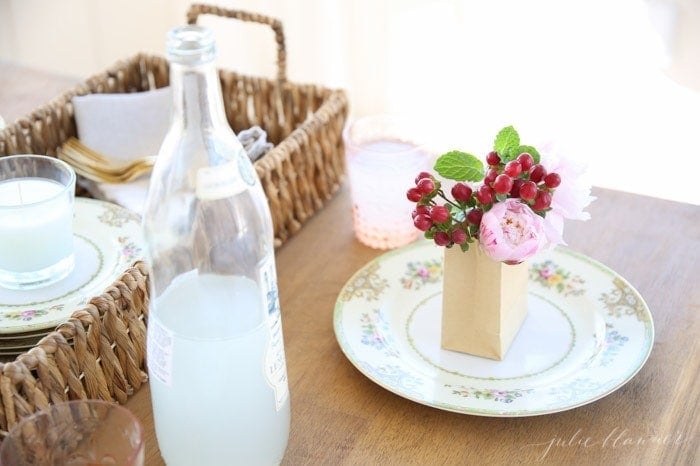 Pin this tutorial for later here: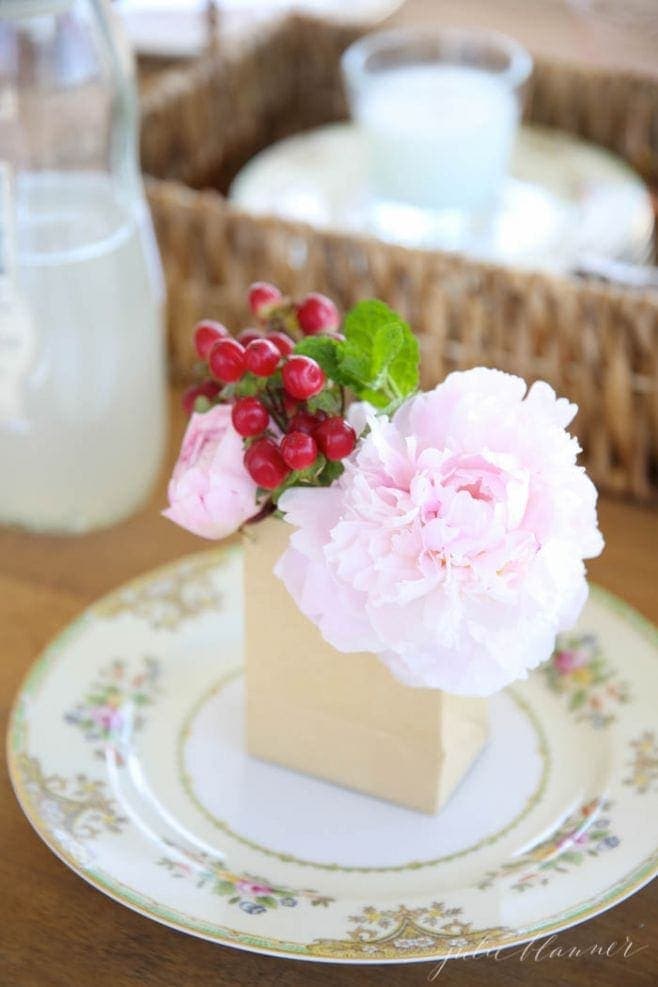 Don't miss my Balsamic Cherry Baked Brie! It's pairs well with peonies! Happy Spring, friends!
Julie