Learn the keys to creating floral arrangements with gorgeous, fluffy white ranunculus flowers. Designing a ranunculus centerpiece is simple with these easy tips and tricks.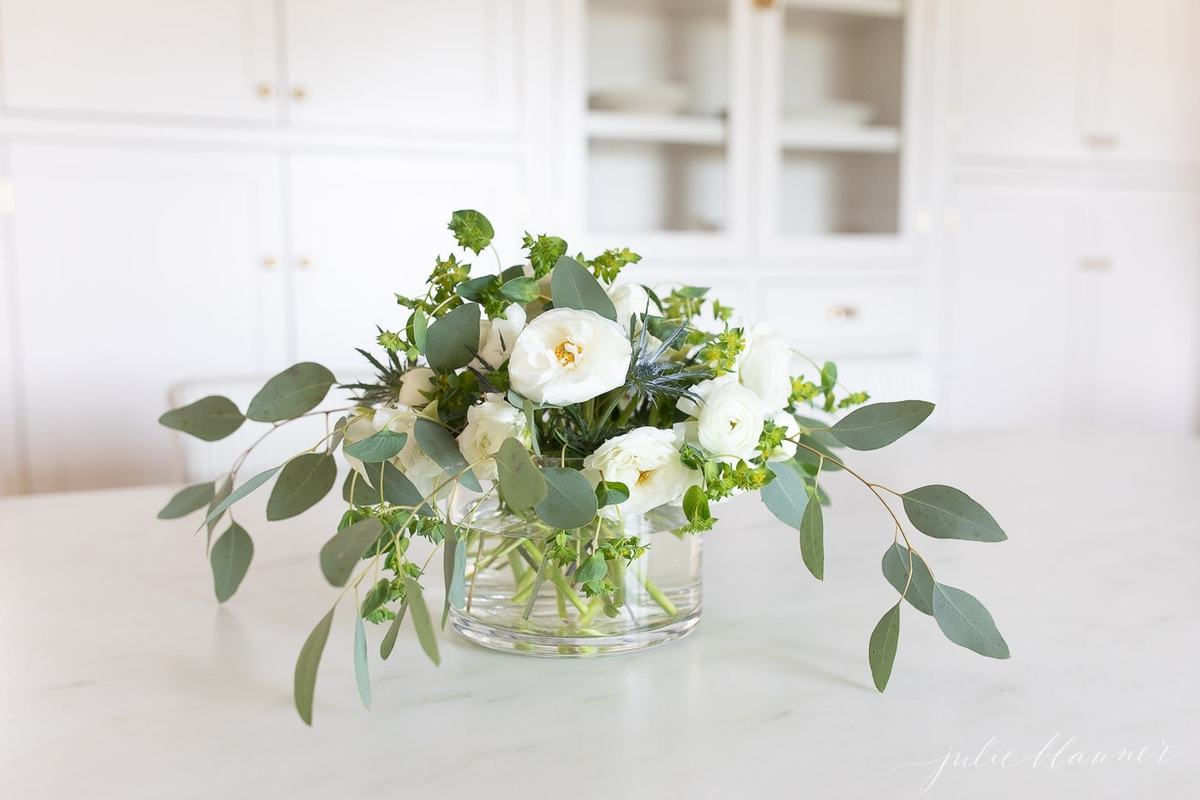 If you've been reading my blog for long, you know my love for beautiful blooms. I love bringing fragrance and style into my home by creating my own floral arrangements.
Yes, it's a splurge to buy those blooms at the grocery store, but they bring me so much joy! It's like my own personal therapy session every week.
I love sharing all the floral secrets I've learned with you, too! I've shown you how to make an arrangement of roses and eucalyptus, how to revive hydrangea, and all the details about everyone's perennial favorite, peonies.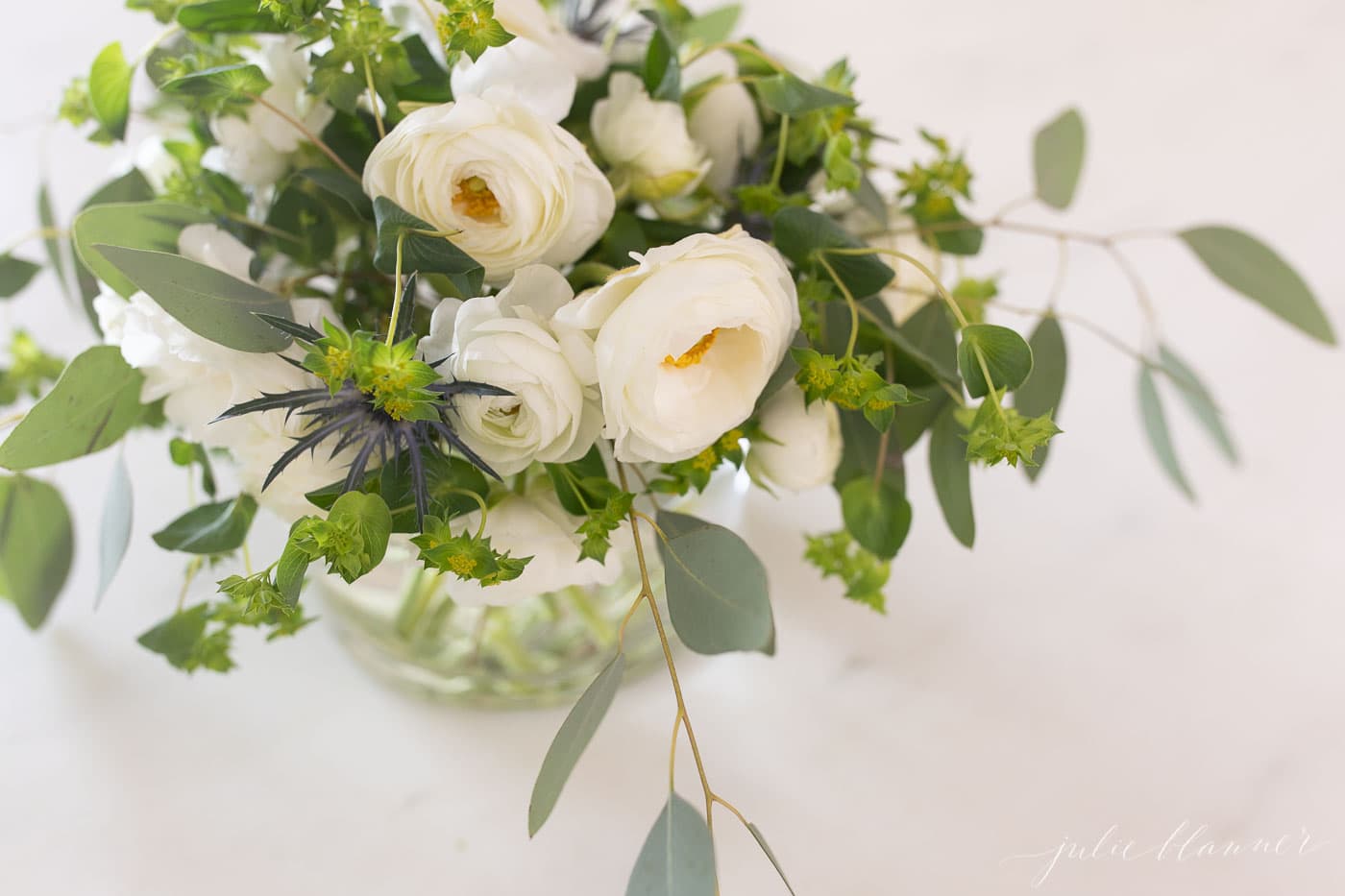 Fluff White Ranunculus Blooms
One of my favorite spring flowers of all time? Fluffy, romantic white ranunculus blooms.
Actually, I love them in all colors, but the white will always have my heart. They are sturdy, petally, and luscious. And BONUS! If you treat them well, they'll last quite a long time in a vase.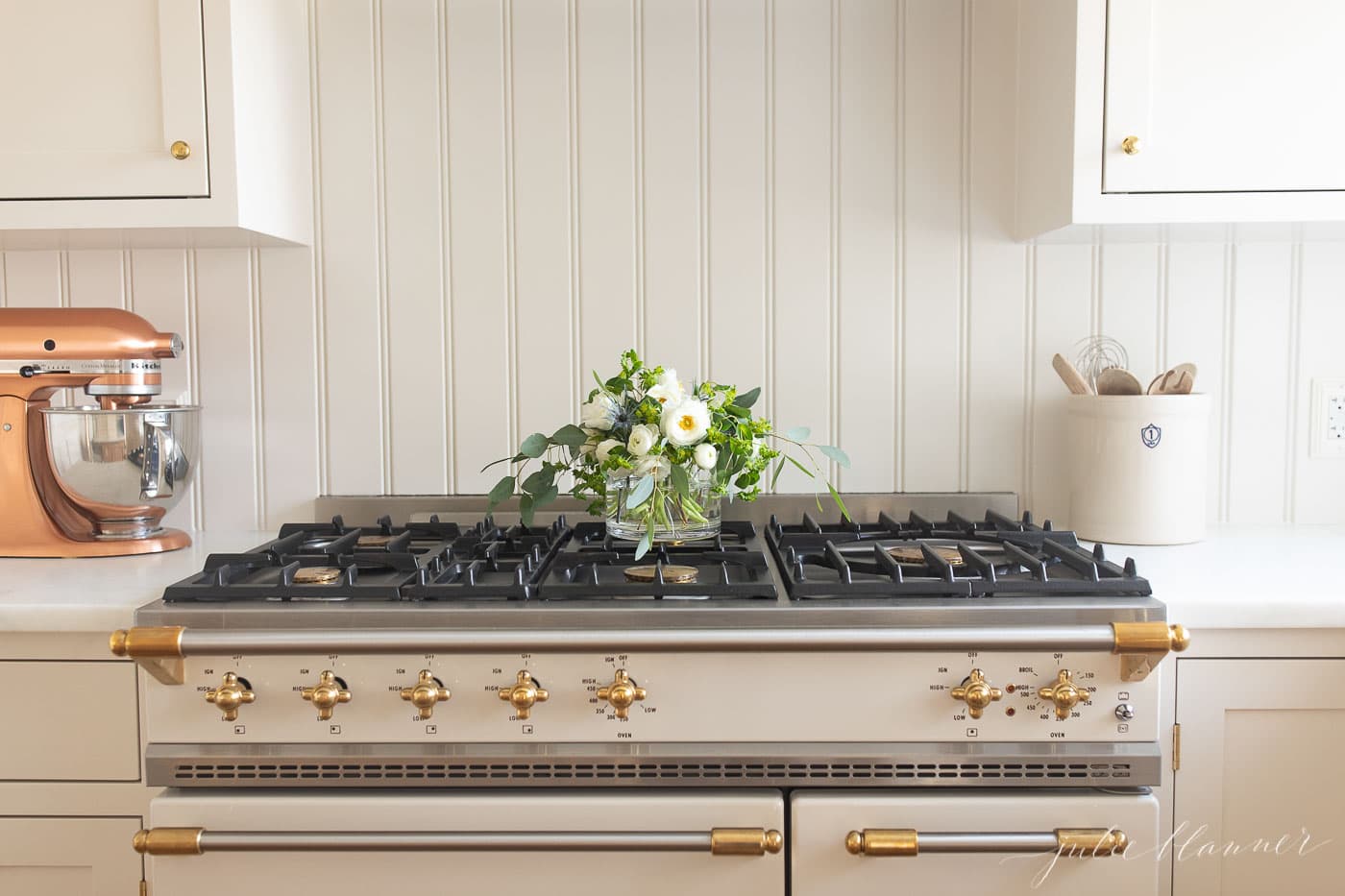 This post contains all the amazing details about white ranunulus flowers! It's filled with information for everything you could ever want to know. If you're here for the centerpiece tutorial, click "jump to how-to" underneath the title of this post!
Read on to learn how to design a ranunculus centerpiece and find out why these blooms are some of my favorites!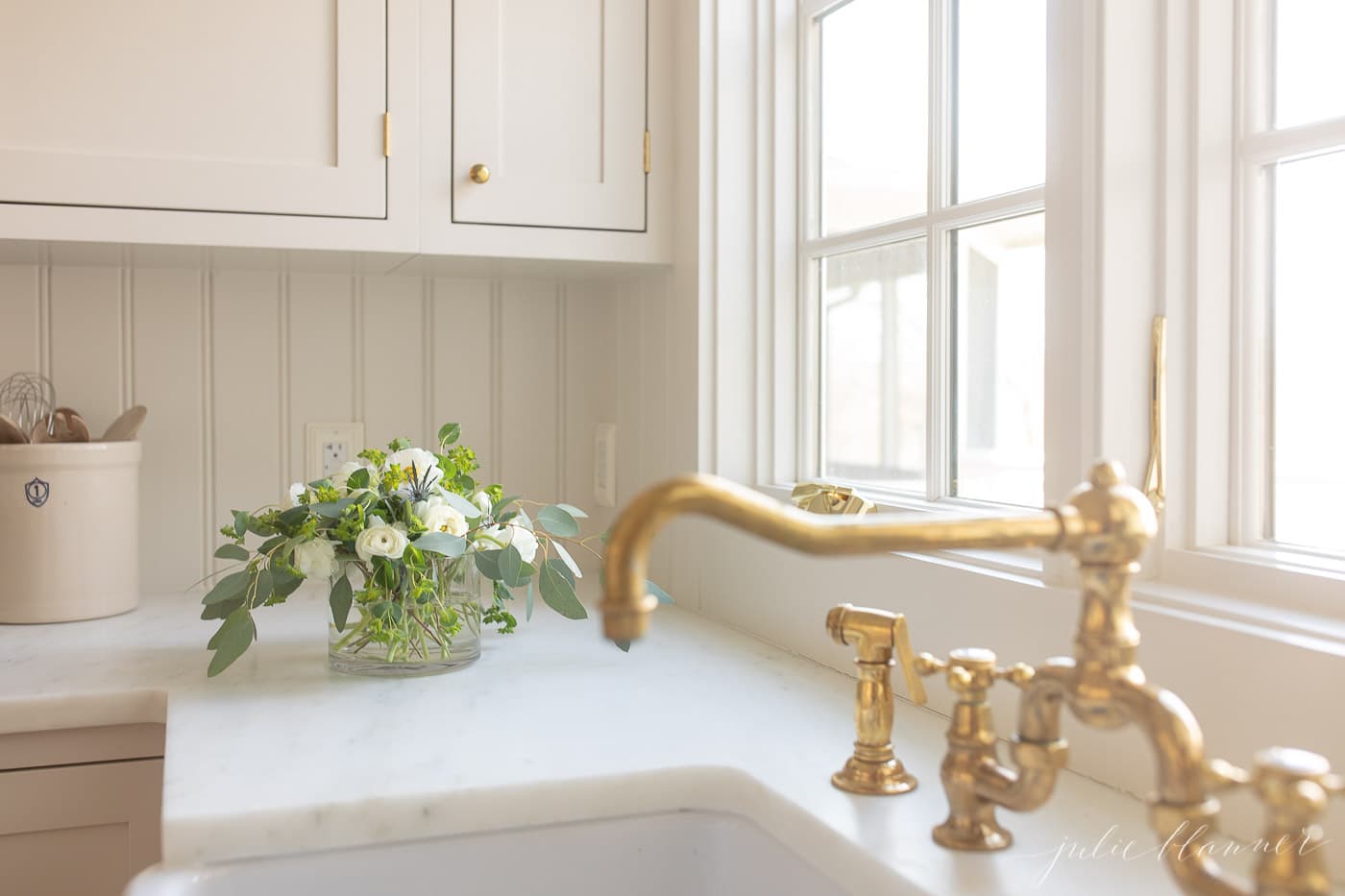 Where To Buy White Ranunculus Flowers
These beautiful blooms are often available at your local grocery stores. Their prime season is early spring, but you can find them throughout the year (at a more premium price!).
February through May is their season for peak beauty and affordability, and in my experience they look their very best in April.
For an excellent resource on where to buy flowers, check out this post! Since I frequently tend to buy my ranunculus at our local Trader Joe's, I know you'll find them at your local flower shops or grocery stores as well.
You can also study up on how to choose grocery store / Trader Joe's flowers here. If you need a large bulk purchase of white ranunculus, consider an online resource like Fifty Flowers. They ship beautiful blooms right to your door!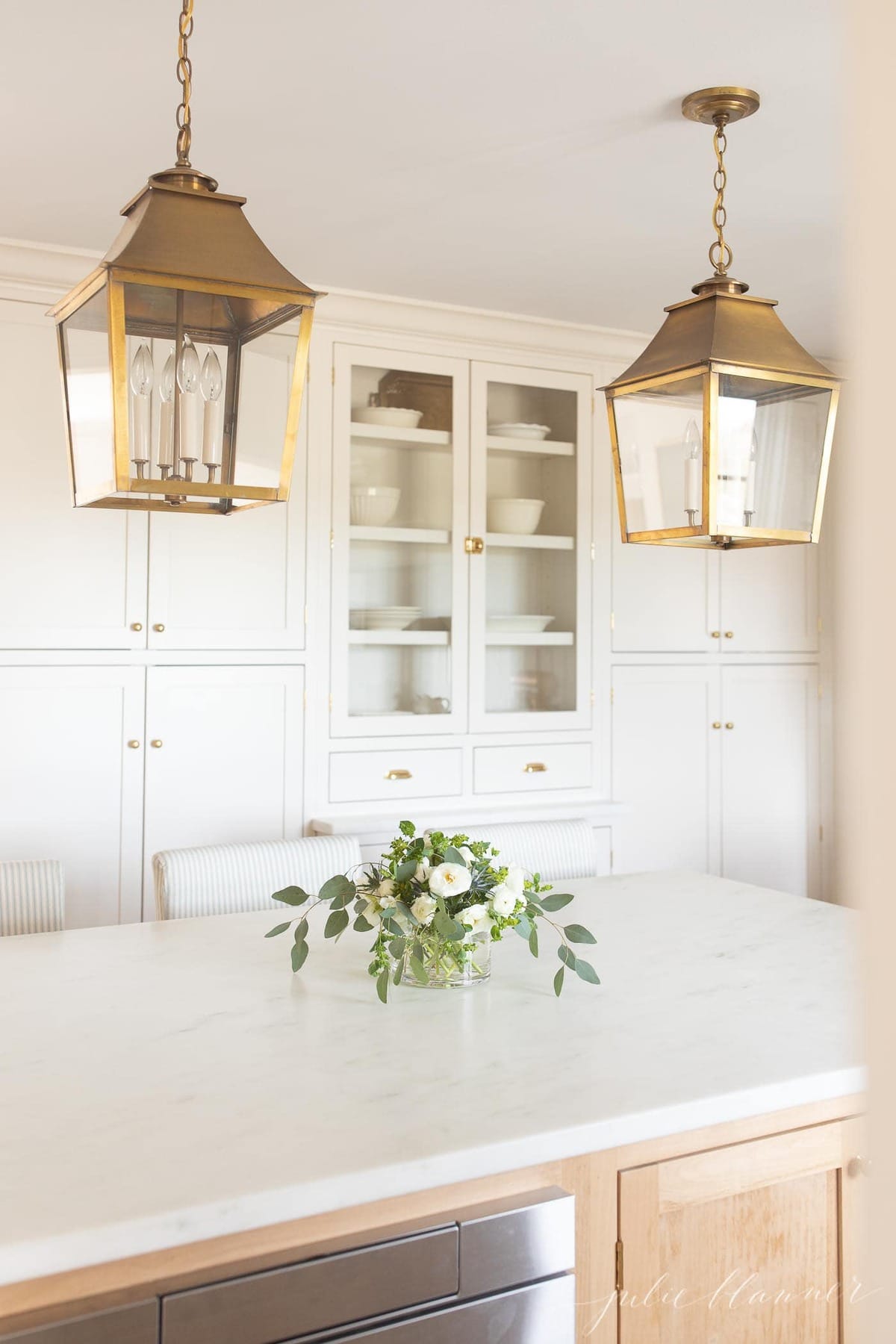 White Ranunculus For Weddings And Events
One of my favorite features of white ranunculus is that they offer so much flexibility. While they can create stunning, elaborate centerpieces and bridal bouquets, they look equally charming and unique in a bud vase, completely on their own.
Their fluffy petals also work so well for personal flowers in weddings. They are classic and timeless for boutonnieres and bridal bouquets!
Ranunculus combine beautifully with other blooms and greenery of all kinds. You can incorporate white ranunculus for a ranunculus centerpiece, or virtually anywhere else for your events and they will be the star of the show.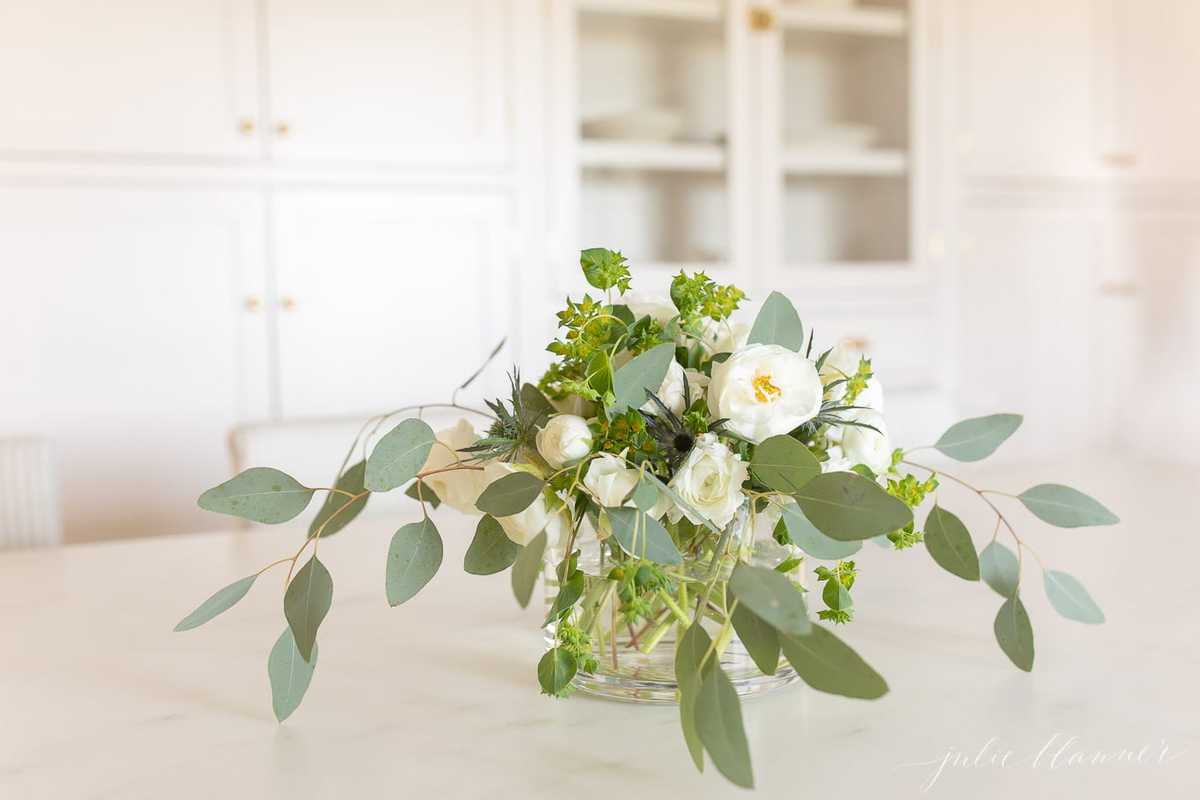 How Long Do Ranunculus Last?
In my experience, they can last anywhere from three days up to 10 days or more! Often they have an outstanding vase life, but it truly depends on the quality of bloom you purchase.
If your ranunculus have traveled too far and already spent their vase life in a box or bucket before they get to you, they won't last long.
---
Tips for Buying The Freshest Blooms
With this in mind, choose the ranunculus bundles with the sturdiest stems.
Look for bright green stems (if they are browning under the water line, avoid!).
If they are fully "blown" you should also avoid, even though they are so beautiful at this stage.
Look for tighter blooms and buds.
Change the water frequently, and you'll enjoy a long vase life!
According to Floret (one of my favorite flower farmers), cut ranunculus flowers that are soft and squishy like a marshmallow are your best bet.
---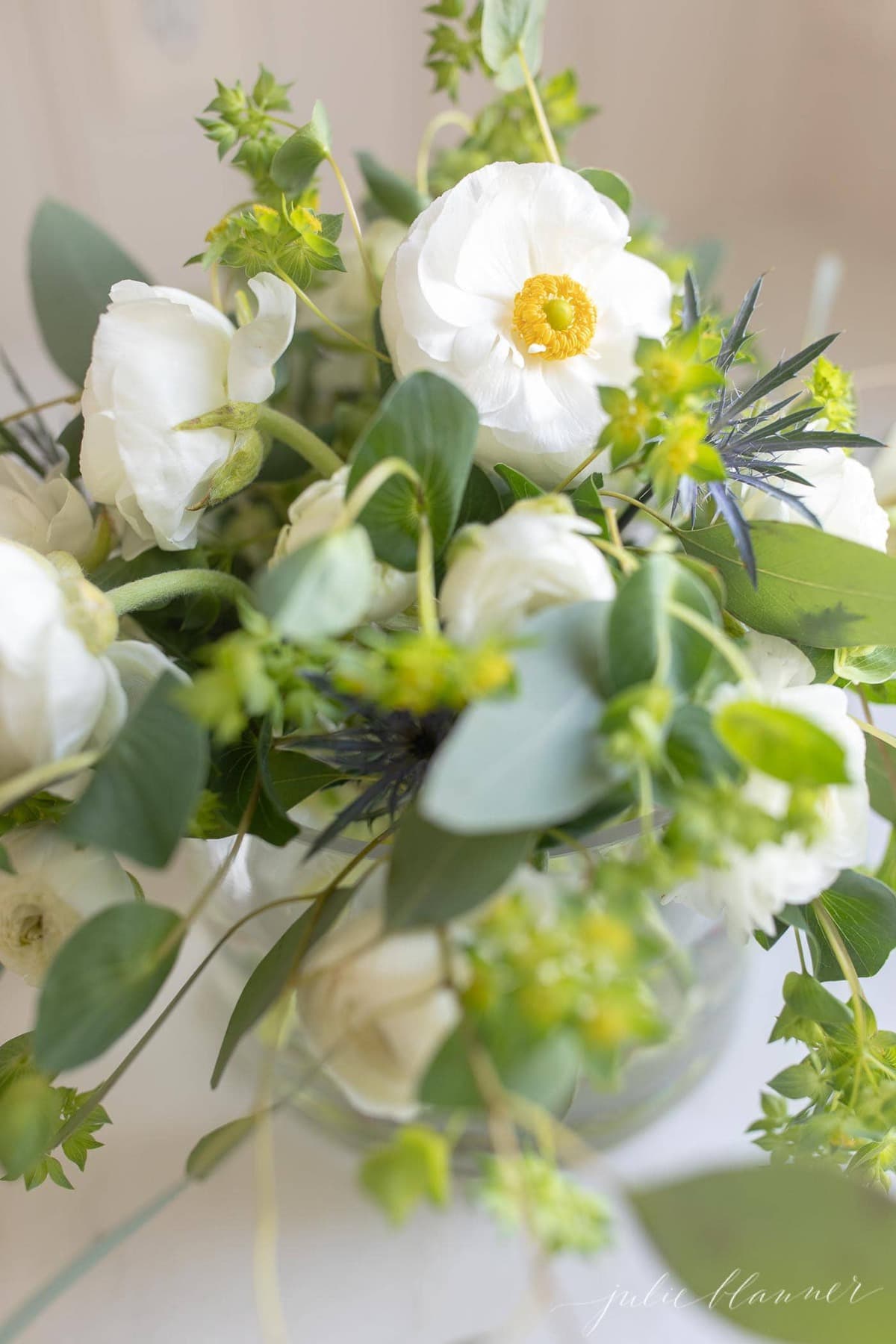 The Difference Between Peonies And Ranunculus
Believe me, there's a difference! To our inexperienced eyes, they might have a similar fluffy appeal, but they are not much alike beyond that.
However, florists often use ranunculus, garden roses and peonies in a similar way because they have the same ruffled style!
While peonies have a heady fragrance and delicate, tissue-like petals, ranunculus are famous for their cupped, rounded and flat shape.
Ranunculus are not as fragrant as peonies and their stems are often not quite as sturdy.
Ranunculus flowers are tightly bound, opening fuller as they age.
Peonies have more space between the petals as they open and they are generally significantly larger than ranunculus blooms.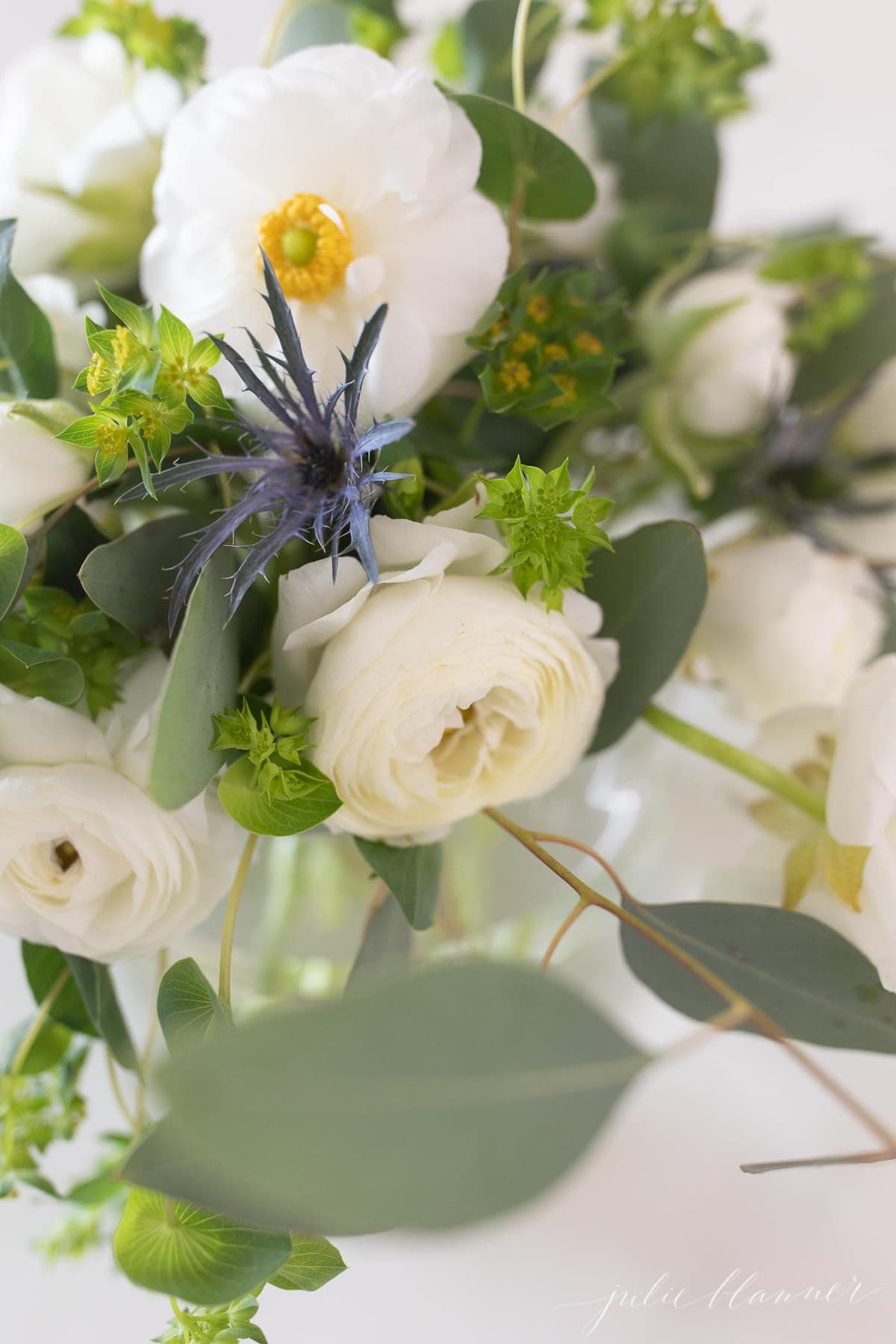 When you're creating a low centerpiece in a cylinder vase like this one, you might want to tape your vase in a grid pattern. Learn how right here or watch the video below!
For this centerpiece, I chose white ranunculus, bupleurum (the bright green fluttery filler), blue thistle and eucalyptus. Learn the florist secrets here.
I hope you've enjoyed learning about white ranunculus flowers with me! If I can design beautiful arrangements with these lovely blooms, I know you can do it too!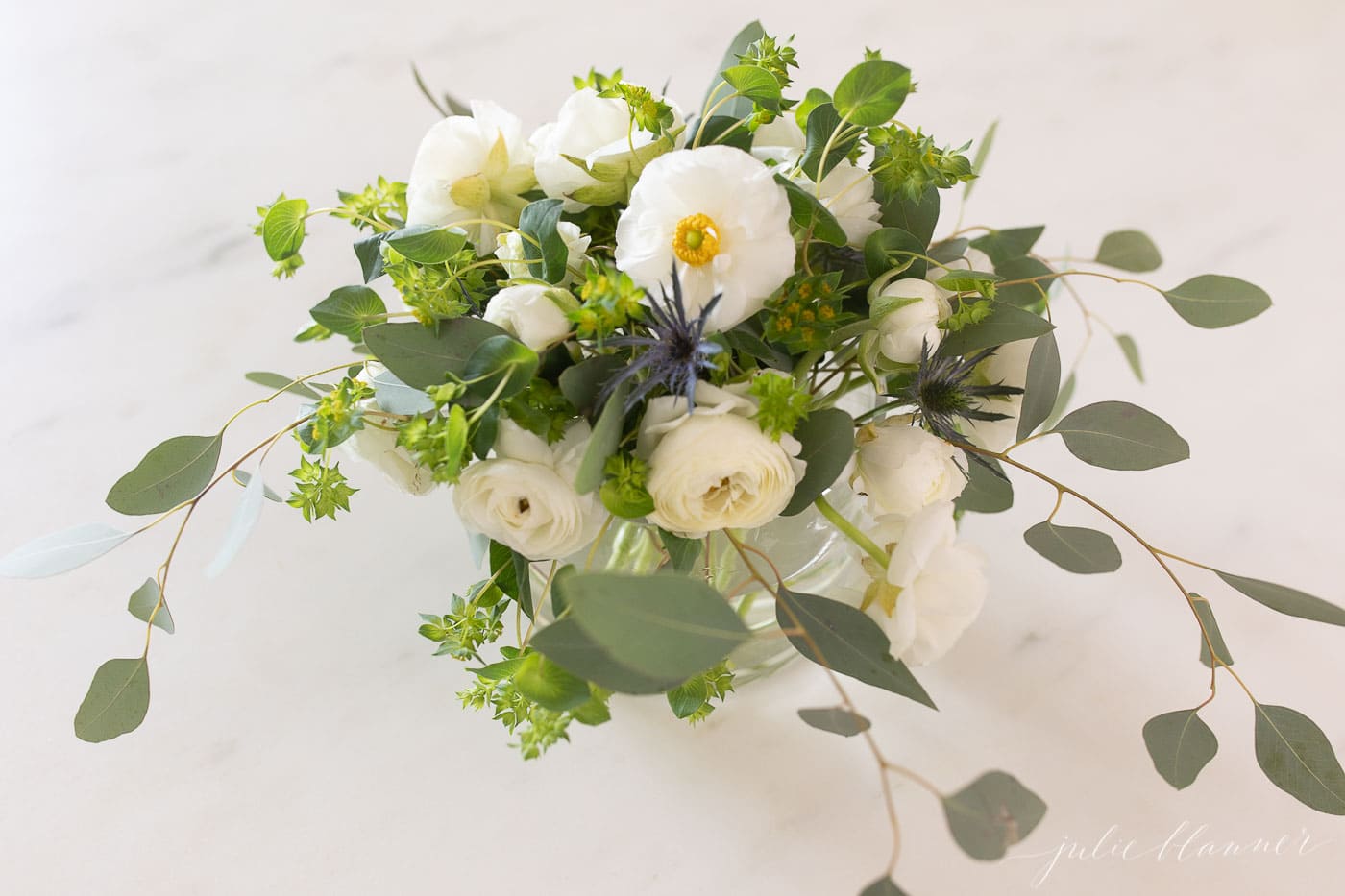 If you make a white ranunculus centerpiece (or ANY color!), please come back and share it with me right here or in my Facebook share group, Celebrating Simple.
Stop by YouTube to learn how to arrange flowers in collaboration with my friends Lucy of Craftberry Bush and Chloe of Boxwood Avenue and don't forget to click subscribe! There you'll find all three of our flower arranging tutorials!
More Easy Flower Arrangements
There are so many beautiful blooms to learn about! Find all my best floral tips and tricks here, and check out these ideas below!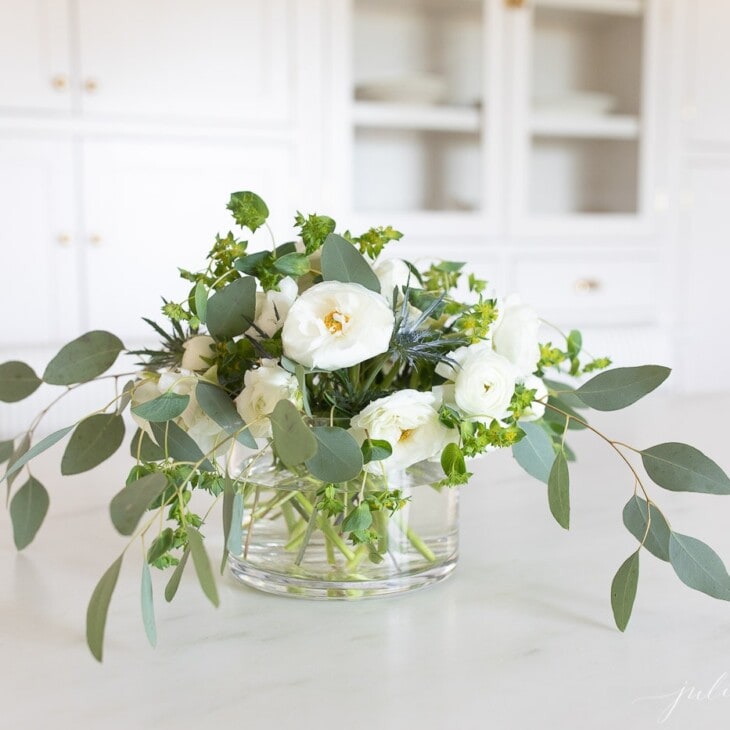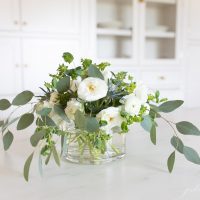 How to Arrange White Ranunculus
Learn the keys to creating floral arrangements with gorgeous, fluffy white ranunculus blooms. Designing a ranunculus centerpiece is simple with these easy tips and tricks.
Ingredients
ranunculus

thistle

eucalyptus

greenery

I used bupleurum
Instructions
Create a taped grid on the vase for supporting the stems.

Measure your first 5 ranunculus stems to equal length to set just above the vase at opposite angles. Cut stems at an angle and remove any leaves that will fall below the rim of the vase.

Continue with ranunculus or work with your first type of greenery or filler to repeat and fill.

Use sturdier stems (like the blue thistle I used in this arrangement) to help prop the next stems of ranunculus up, giving them extra support.

Finish your arrangement with longer sections of eucalyputus, creating a dramatic, loose and organic effect around the base of your vase.
Tips
Use your favorite greenery or greenery from your garden.