Find Living Room Decor plans that are comfortable, timeless and traditional. These Living Room Design Ideas will create a charming, cozy oasis in your home.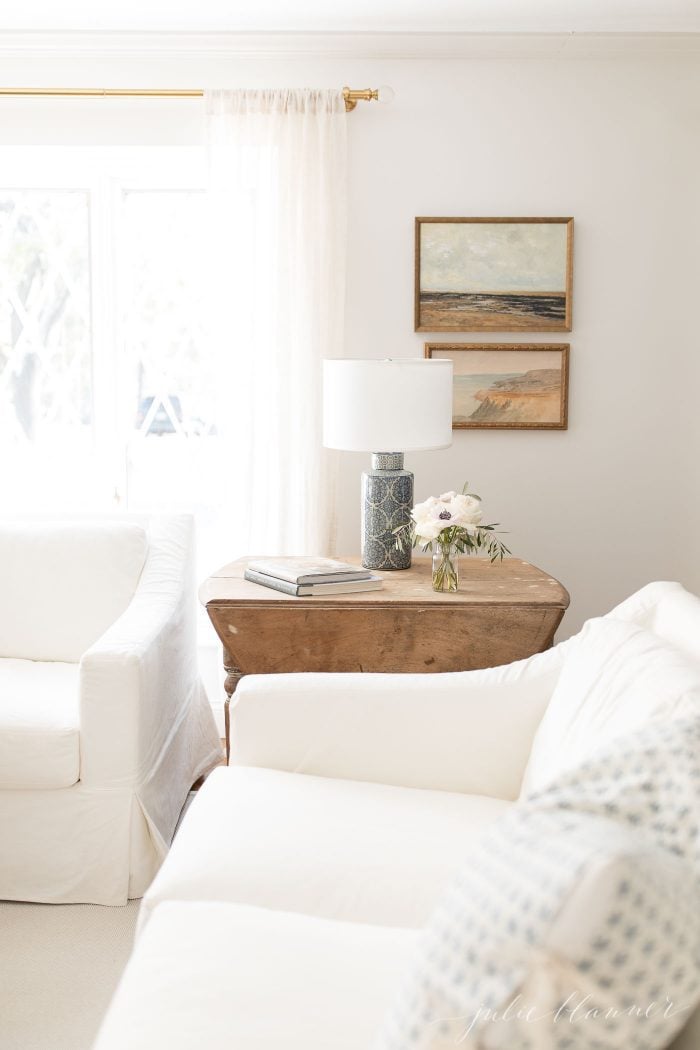 It's been quite some time since I've taken you on an updated tour of the small living room in our home. This is a space where we spend so much time, and it's undergone quite a transformation over the years. While it's not perfect, I'm proud of the changes we've made and I can't wait to share them with you!
Living Room Decor
First, a few before photos so you can see the original layout and design dilemmas.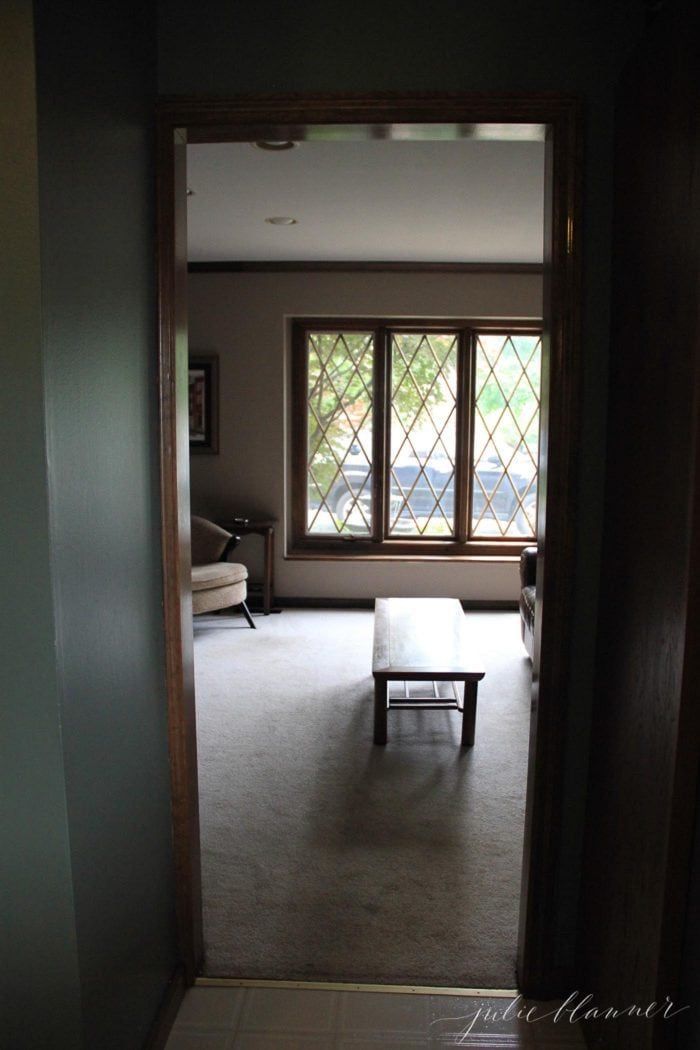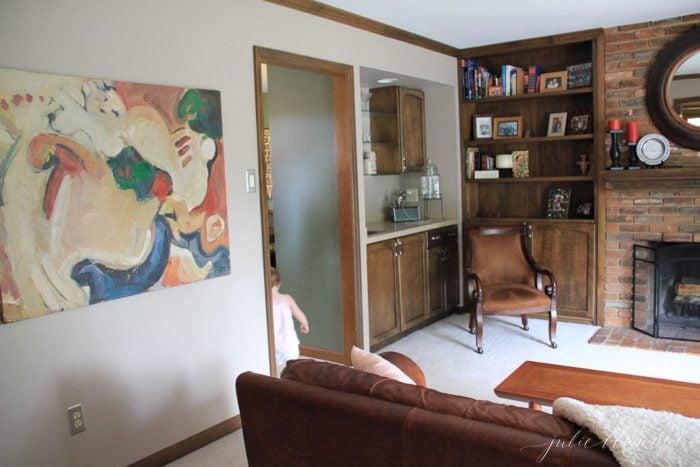 When we moved into our St. Louis home, this room was dark, dated and closed off from the rest of the house. We tore out a few walls, removed a dated wet bar, and added new hardwoods throughout the main level.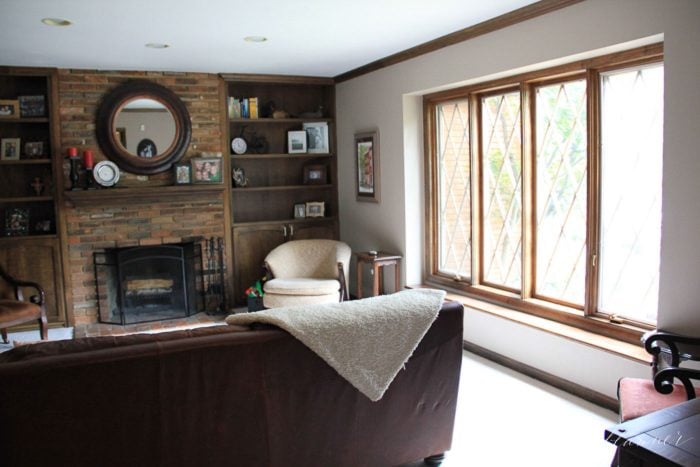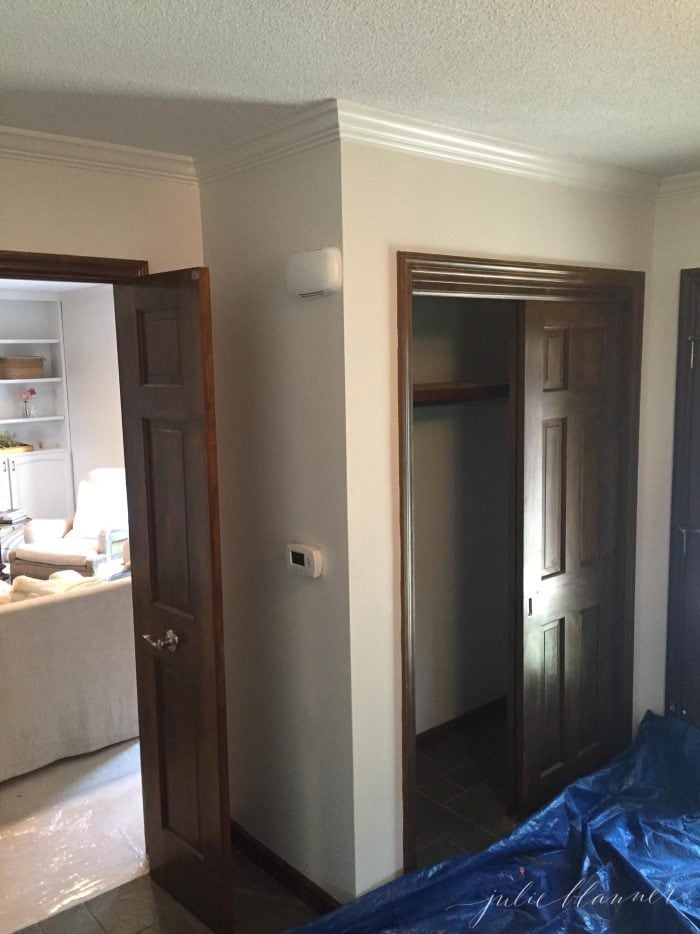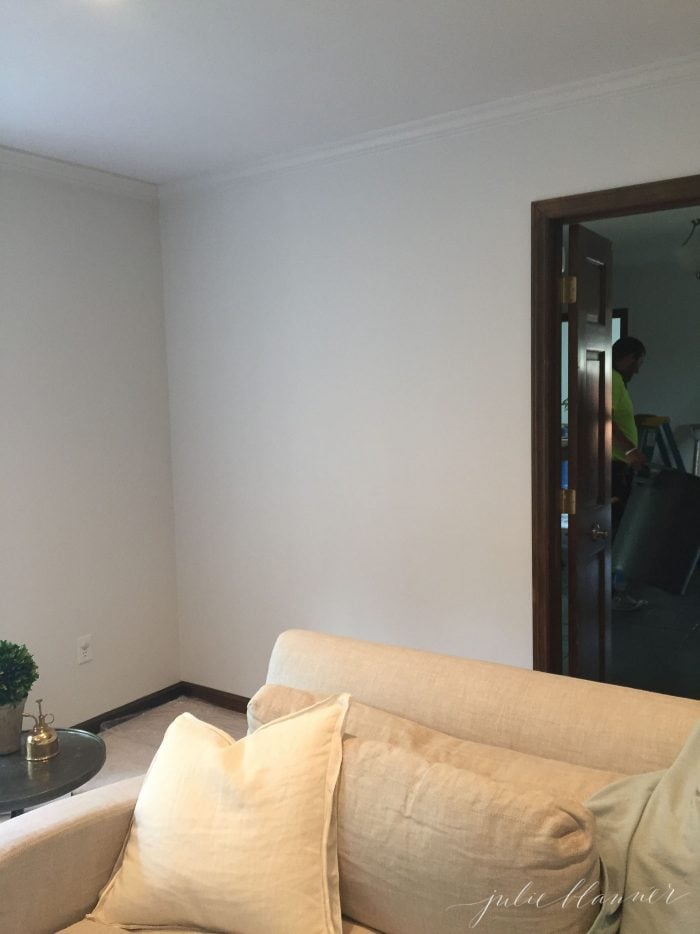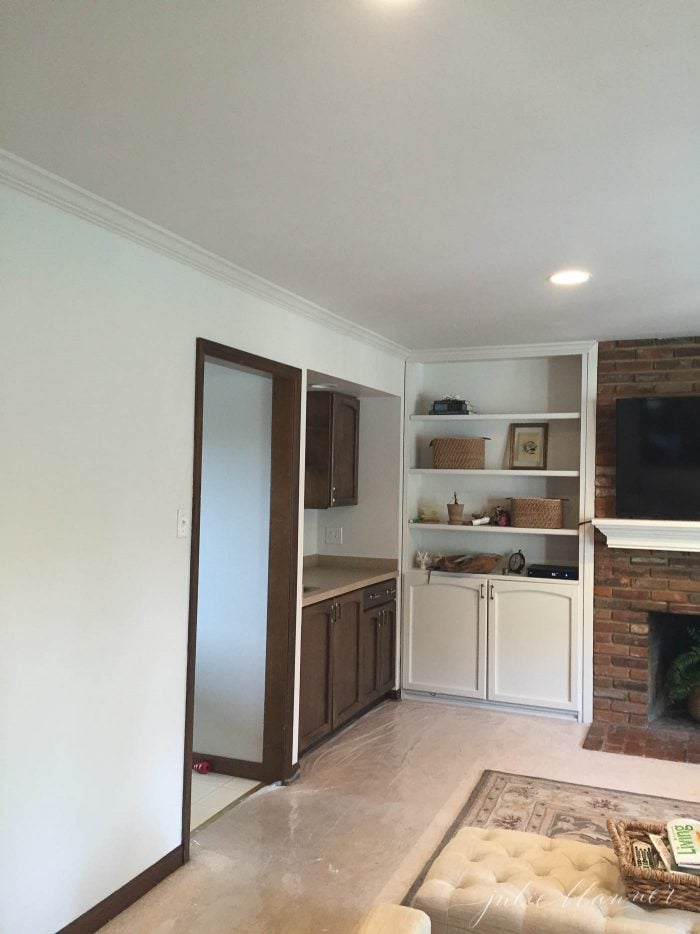 Eventually, we also upgraded the fireplace trim, turning it into a true showpiece of our home. You can read all about the fireplace makeover here.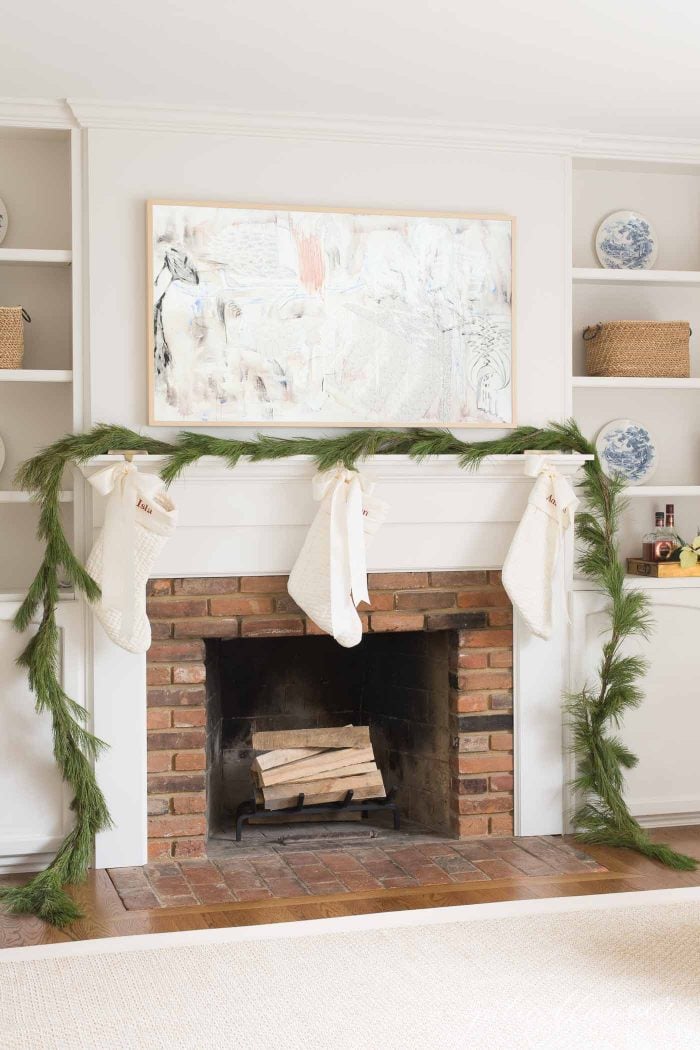 It might sound strange, but adding that traditional mantel and surround transformed the entire room more than anything else we've done. Now the fireplace is a charming feature that fits the style of our home, which is an English tudor. It's a warm and cozy focal point even when it's not burning.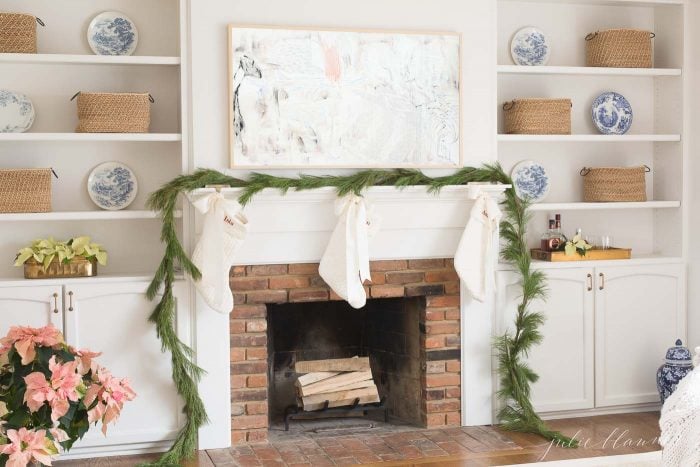 Another focal point? Our TV that looks like art. As someone who loves light and bright design, the giant black tv over the fireplace always felt like such an eyesore to me. Now, it can be a beautiful piece of art when we're not watching our favorite shows. This TV truly made all my design dreams come true!
Simple Living Room Design Ideas
When the backdrop of walls and floors was finally finished, another struggle can surface. How do you fill this space? Even though this is the smaller of our two living spaces on the main level, it was a difficult layout.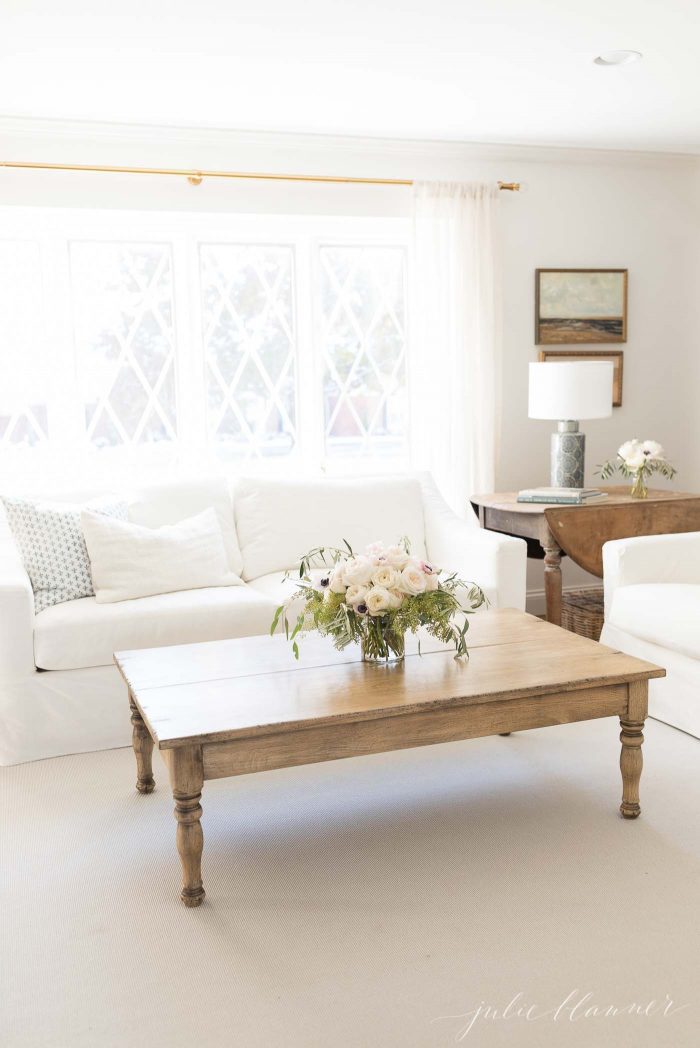 I wanted the space to feel cozy and comfortable, with enough seating for all five of our family members. My first step? I laid out all the elements I was considering in a digital design format to help me visualize. It's so much easier than you'd think- no special software or interior designers needed for this kind of designing, I promise! I'm not a designer and this process works so well for me.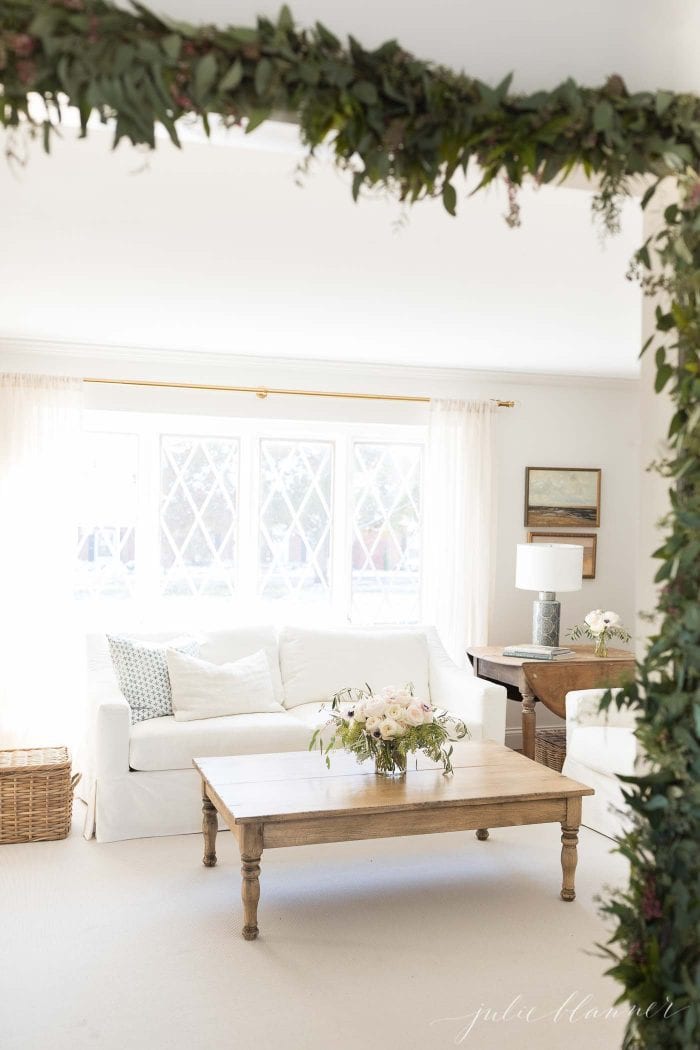 (The view above is the same view as the first before photo!)
Instead of opting for a large sectional, I chose two beautiful matching slipcovered sofas. This created the L-shaped seating that the room needed, but allowed me to add a small antique side table.
This gave us the perfect spot for a table lamp, drinks, and a few charming decor elements. Yes, they're white! Watch the video below for my thoughts on that. (hint: we love it!)
Blending Function and Decor in Living Room Designs
One of the best secrets in our living room? We turned our built-in cabinets into a sweet little home bar cabinet. It's the perfect place to mix a cocktail when we have friends over. Built-in storage and cabinetry is such a beautiful feature in your home, but it can also be useful and functional!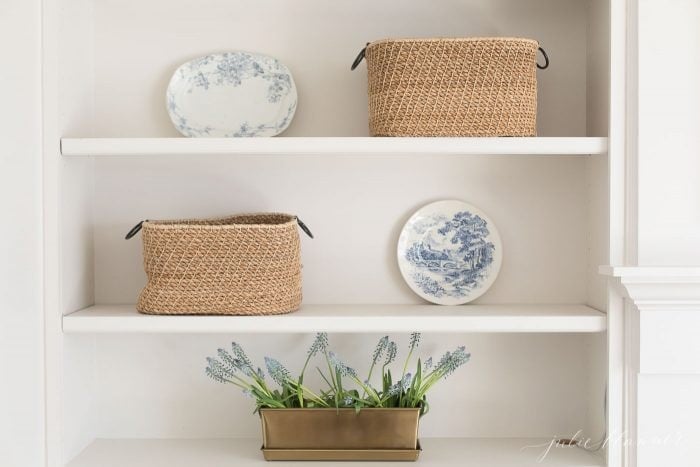 When it comes to styling our open shelving, I chose pretty little baskets that house things like remotes, movies, games, etc. They are a simple, textural baskets that also disguise some of the elements we'd prefer to hide away! I do change a few of these decor elements seasonally, but right now I am enjoying the soft simplicity of our blue and white plates.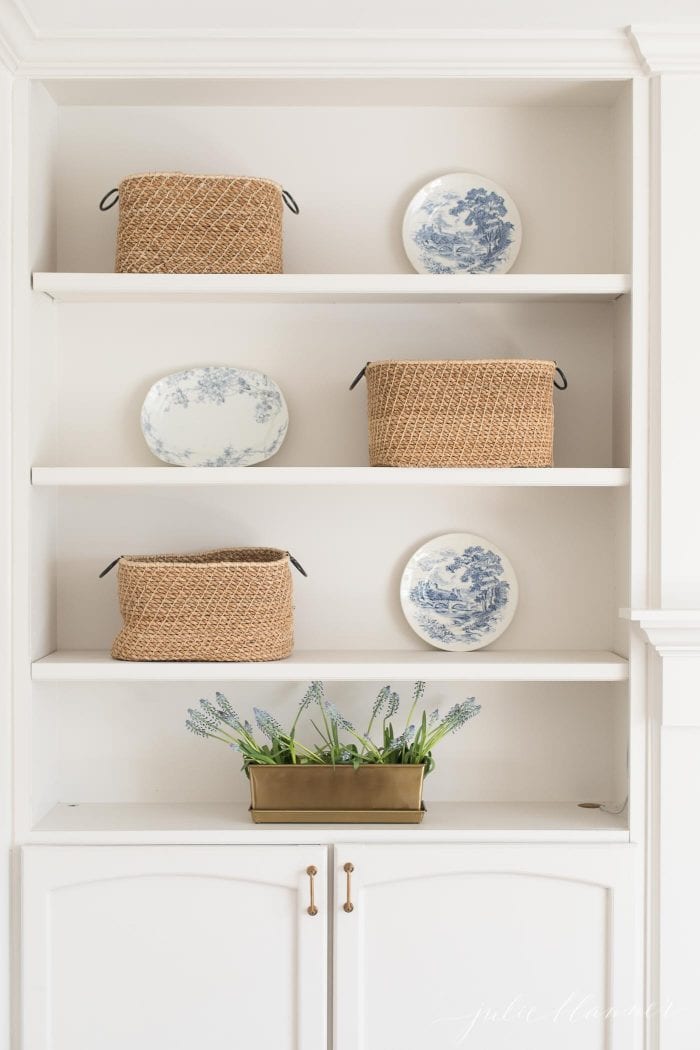 How to Choose Your Living Room Decor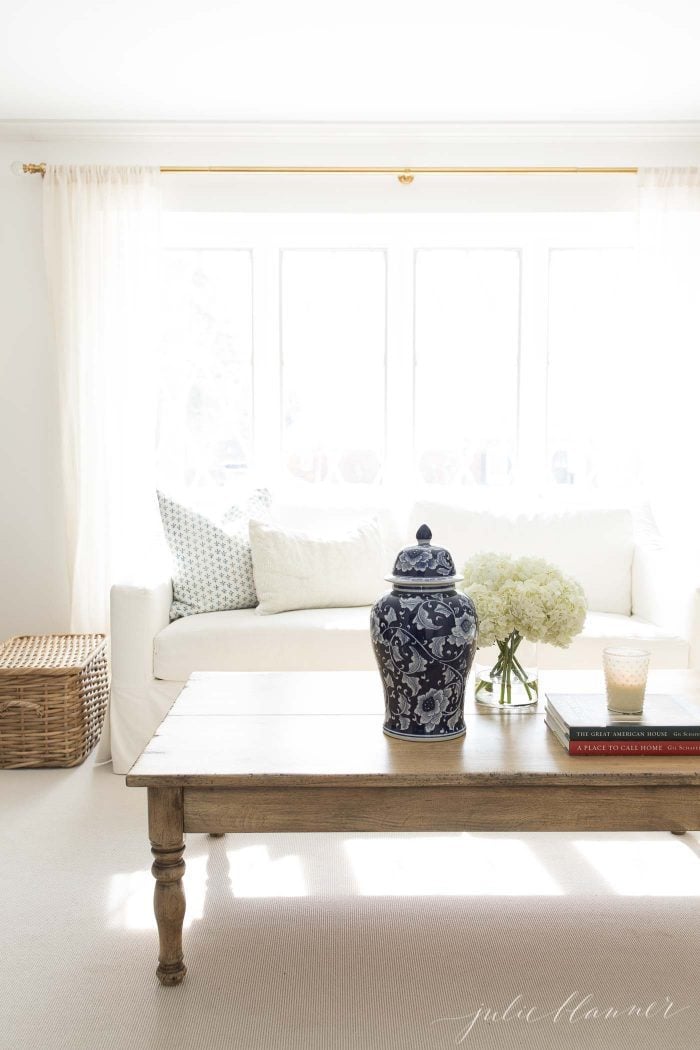 Occasionally when I am designing a space, I'll get stuck on something that I envision but simply can't find. (Or can't afford!) While it's easy to rush out and buy the first piece that fits your space, I encourage you to wait for something you love. It's not always easy when you're so excited for a finished space, but furniture and accessories shouldn't be placeholders. Waiting and searching for the perfect accessories and elements is half the fun!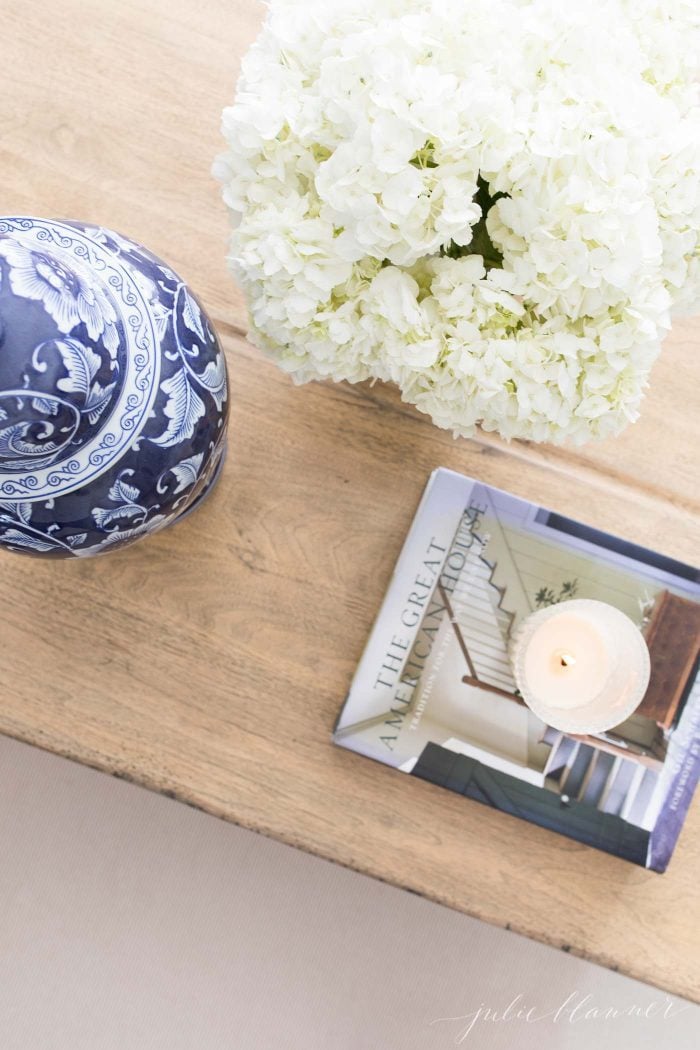 For example, I looked for ages for the perfect coffee table! I wanted something that felt raw, authentic and warm without being too rustic or industrial. Easier said than done, until this pretty table walked into my life! It was a similar situation with the side table between the sofas – what a lucky find at a local antique store! I love the finish and the drop leaf sides.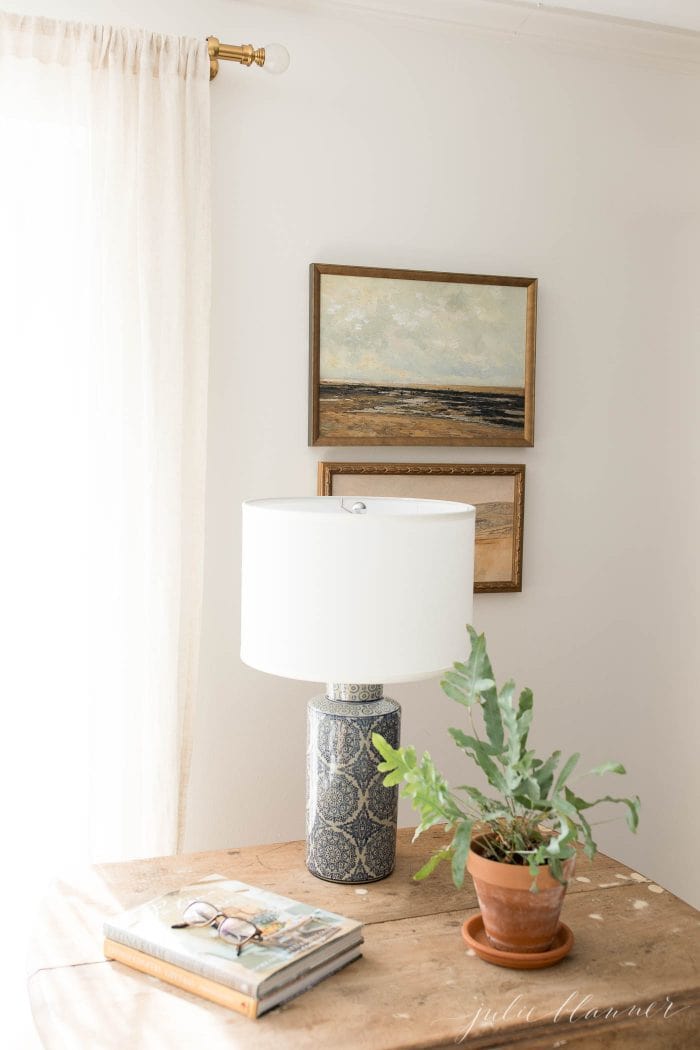 We also went through several rugs over the years. Between our three little girls and our sweet rescued pup Dusty, the rugs in this room have taken a beating! However, I love the one we've chosen right now because it's so simple, refined and soft.
Creating A Cozy, Timeless Living Room Design
There are a few simple elements that will add cozy and timeless charm to your living room.
Table lamps or floor lamps. Lighting is key!
Fresh pillow covers and throws.
Simple, minimalistic table decor (books, etc).
Something green! Plants or fresh flowers make such a positive impact.
Baskets to add texture and hide the mess!
A soft rug in the correct size. Ideally, this is two feet away from any wall.
Personalized or even vintage art. It truly warms up your space!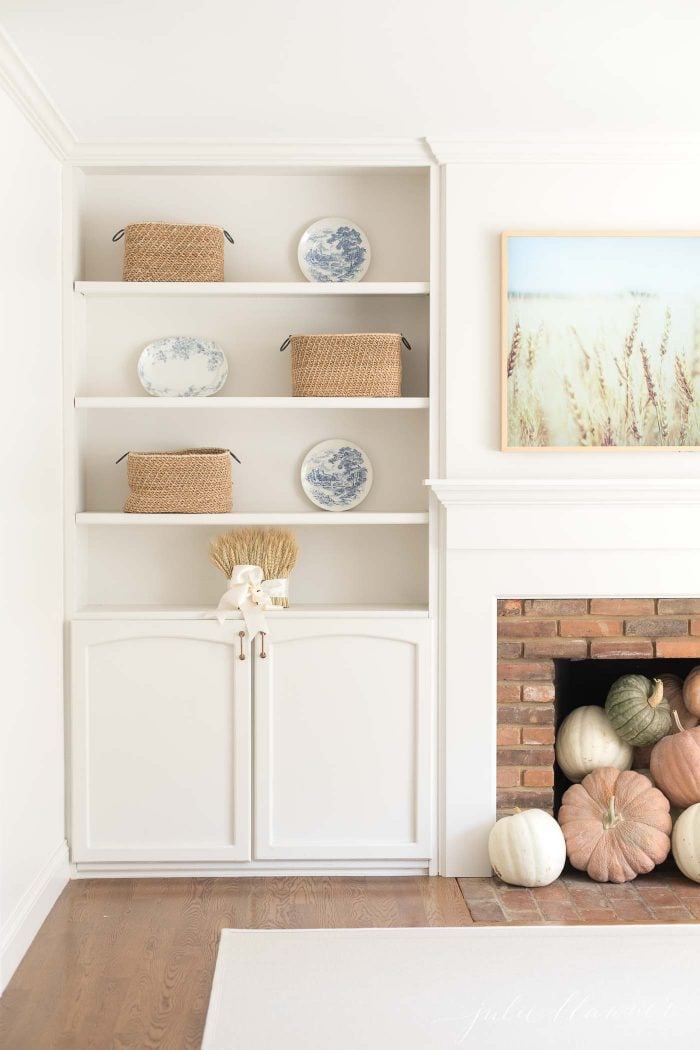 You've seen our living room decorated for Spring and the holidays, so I wanted to share our living room decorated for fall, too. A neutral color palette allows our home to transition between seasons seamlessly.
With the addition of a few organic elements like flowers, pumpkins or greenery, the room embraces the season.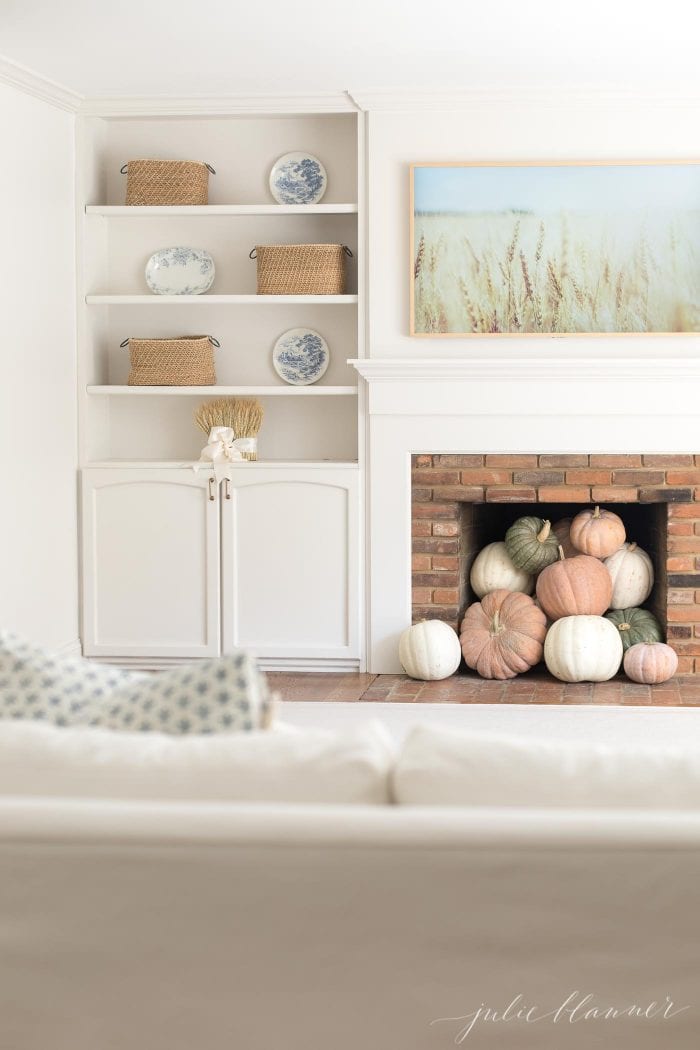 How We Made This Room Appear Larger
Painted in a cream color paint with a high LRV (light reflective value).
Paint the trim the same color as the walls, but in a higher sheen so the eye continues to the ceiling without a line to stop it.
Installed floors that continued to other rooms (the foyer and kitchen).
A large rug that is just 2′ from each wall. One of the most common design mistakes is choosing a rug that is too small, which draws your eye in, rather than out.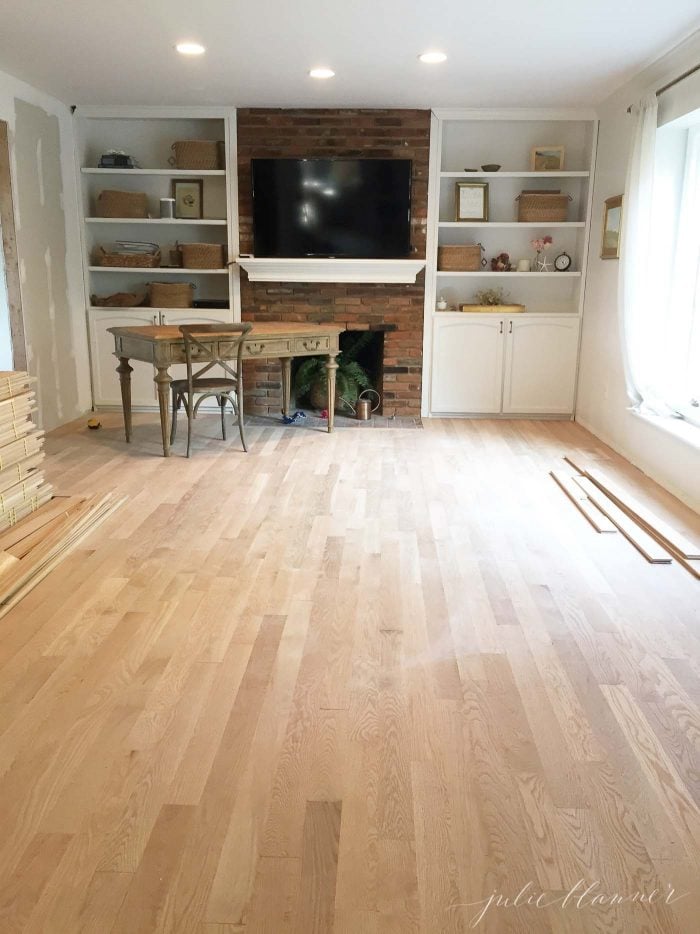 What are your favorite living room design ideas? I hope you've found some fun ideas to incorporate into the spaces in your home. I'd love to see your rooms in our Facebook share group, Celebrating Simple. Stop by anytime to ask questions and share ideas or room transformations!
Check out French Country Decor Giannetti Style for one of my favorite inspirations of style!
If you like this post, check out my Breakfast Nook!
Shop Our Living Room
Let's keep in touch! Receive exclusive content, including never-seen-before photos, our favorite home decor DIYs and more!
More Decorating Inspiration
Design Guides, Decor & Tips
Design Guides, Decor & Tips
Design Guides, Decor & Tips