No matter how challenging a year has been, there are always so many things to be grateful for. These "I Am Thankful for" place cards are a simple way to share with family and friends the things you're grateful for this year.
These free printable thankful for cards make a beautiful place card and a thoughtful Thanksgiving activity.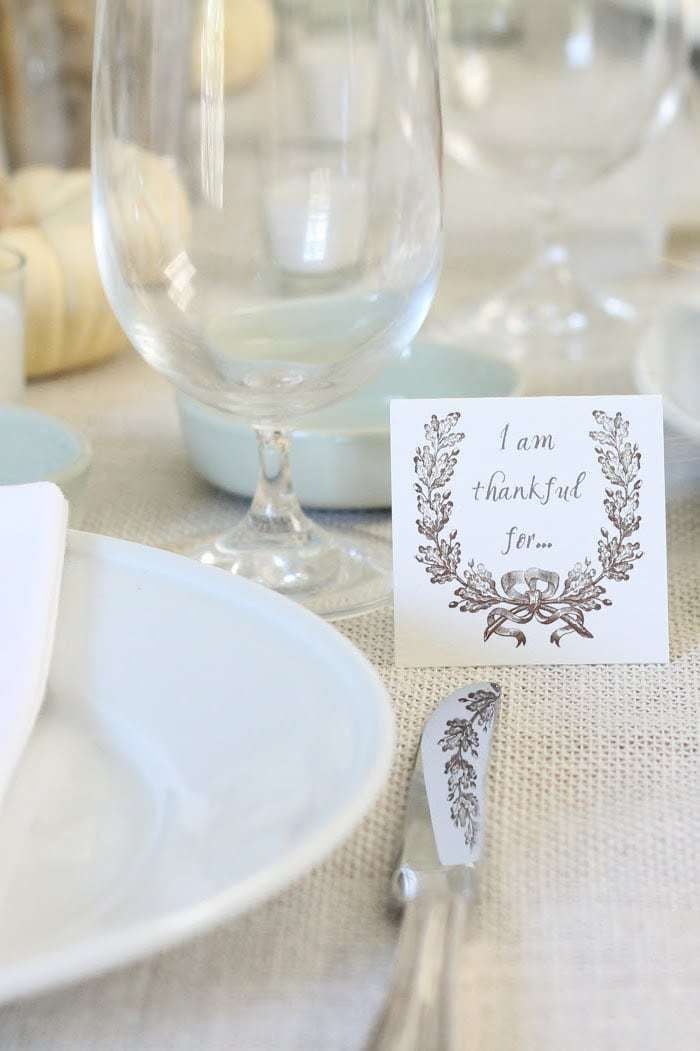 For years I have been sharing our I Am Thankful For cards. Each year I mix up the style a little bit, but the sentiment and purpose is the same – to take a moment with family and friends to share what we're thankful for.
A little card rests as each place setting serving as an activity guests can do while the hostess puts the finishing touches on Thanksgiving dinner.
When dinner concludes, each guest can read their card aloud. I collect them at the end of the evening so we can revisit them years later.
They're truly a special way to take a moment and reflect on the year. They can also make a great ice breaker!
This year's Thanksgiving celebrations will be like no other in our memories. Whether you're hosting a traditional feast at home with friends and family, or you're trying something new with a Virtual Thanksgiving celebration, I've got tips and tricks to help you celebrate.
Check out my FREE Ultimate Guide to Hosting Thanksgiving! You can also find free printable Thanksgiving Word Search here, a printable Thanksgiving crossword puzzle, and free printable Thanksgiving place cards here.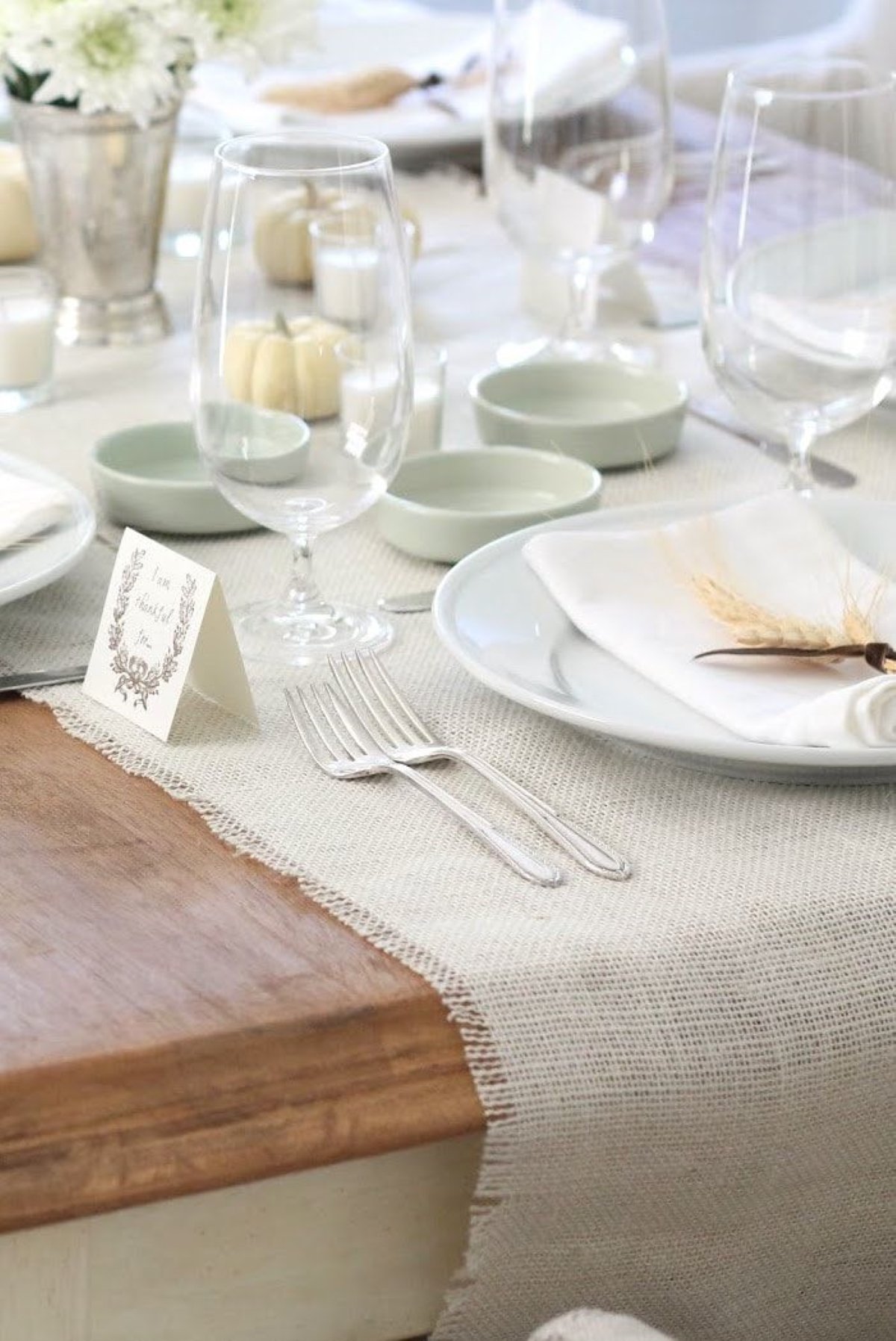 I am Thankful For You
Since 2011, I've been sharing free printable I am thankful for cards – and that's because I'm thankful for you, my fabulous friends and readers! I love sharing simple ways to make your entertaining easier.
I think this is also the ultimate season for gratitude. It's so important to remind ourselves that while things might be hard, or stressful and sad, we can always find something good.
I'm rounding up my favorite printable gratitude cards today so you can print your favorites to use, and remind your family about all the things to be grateful for.
Practicing Gratitude
I Am Thankful cards are an annual tradition that results in so much laughter, and yes… and often tears.
While I often think we need thankful notebooks, miniature cards give us the opportunity to prioritize what is most important to us at the moment, or over a lifetime.
The simple act of practicing gratitude can be quite profound. It can have a positive impact on our daily mindset and it's an important way to remind ourselves that while things can be difficult, we still have so much to be thankful for!
I've written about our journey towards a minimalist mindset and how to live a simple life. Both of those things are easier to accomplish with a little gratitude for the things we have on a daily basis, instead of worrying about the things we don't.
It's not always easy to remember to be grateful, especially on the really hard days. But it can make such a difference, and it's especially important at Thanksgiving, the holiday where we focus on the simple act of gratitude!
"I don't have to chase extraordinary moments to find happiness —it's right in front of me if i'm paying attention and practicing gratitude."

Brené Brown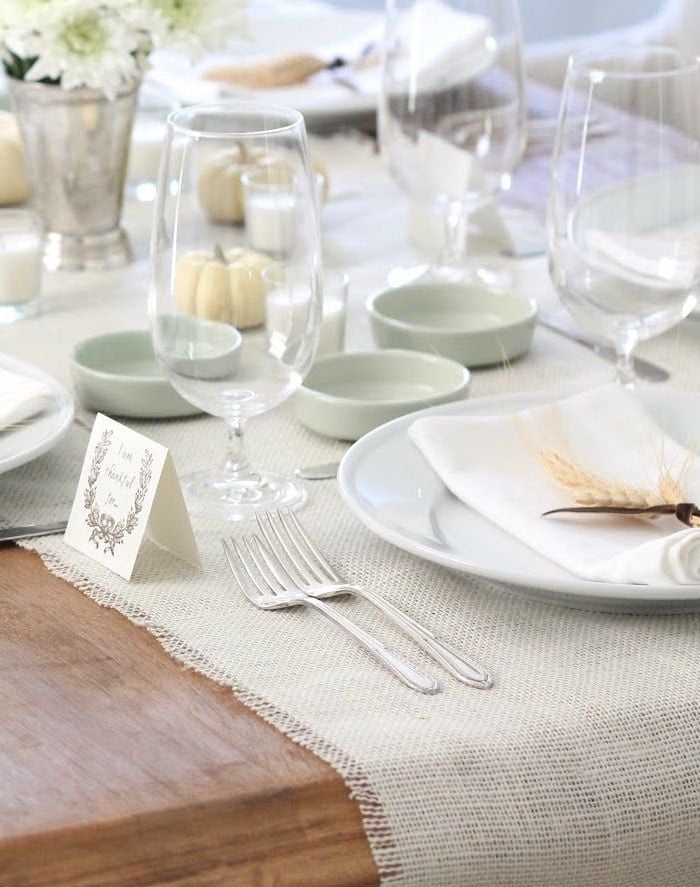 Creating a Gratitude List: Things to Be Grateful For
Need a few ideas or some inspiration for answering this card? These items can be fun, serious, hilarious, and sad. There's nothing too deep or too shallow when it comes to making a gratitude list!
Here's some great ideas to get you started.
Family
Good Friends
Good Health
Pets
Sunshine
Faith
Time
Your Garden
Your Yard – to host an outdoor movie.
The Internet
Funny Memes
Books
Fireplace
Warm Blankets
Fulfilling Work
Margaritas – yes, it's true. Tequila, too.
Water – for drinking, for swimming, for boating and more.
Nature
Travel – one day we will do this again, right?
School
Music – get my favorite Thanksgiving Playlist
Sports
A Warm Bed
Deliveries – food, packages… anything!
Peace and Quiet – simply precious
Naps
Weekends
Books
Laughter
Phones – to keep us in touch
Kindness
Art – get 20 of the Best DIY Art Ideas
Sunsets
What You'll Need to Print these Cards:
A wireless home printer (any printer will work after you download the free printable cards!)
A steady hand with scissors (to cut each printable sheet in half) or a Paper Cutter.
How to Make Thankful For Cards
First, download the file of your choosing.
Print at home using basic or textured card stock.
Cut, fold and place at your Thanksgiving Table Setting for a gorgeous table accent.
Free Printable Gratitude Cards
There are five different cards from years past – feel free to download and use however you'd like! They are a simple little gift to the world, because I am grateful for you!