See my favorite song titles for Thanksgiving music. Set the mood for your holiday with these Thanksgiving songs. Enjoy during your holiday preparations, during appetizers, and while celebrating Thanksgiving dinner!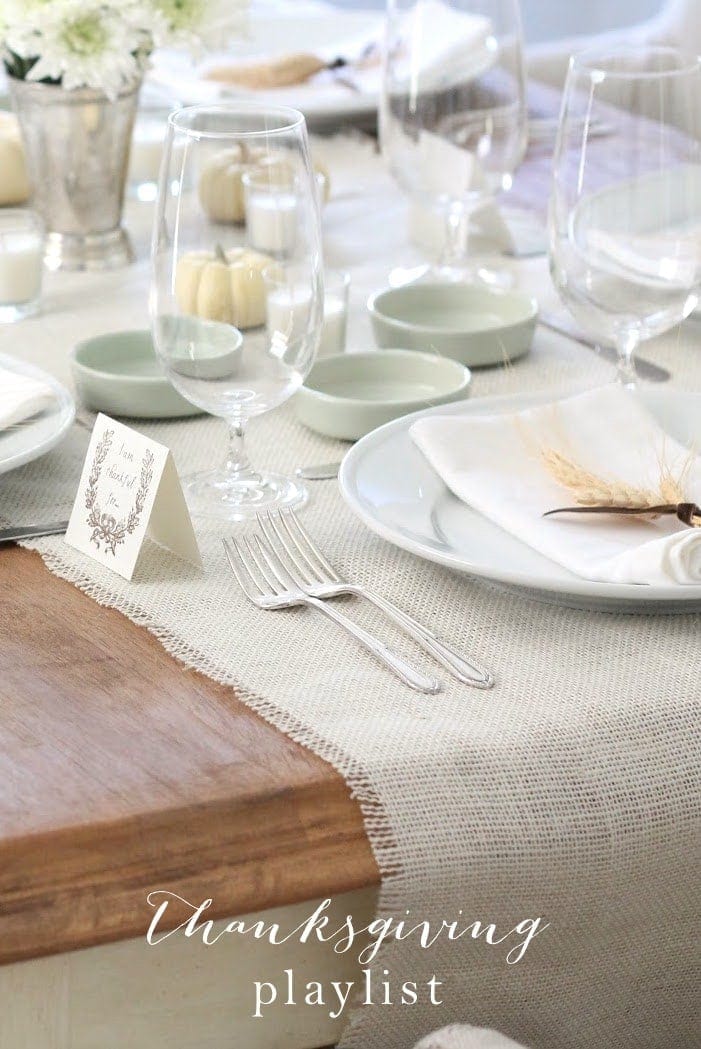 Growing up we had a radio mounted under the kitchen cabinet that played soft rock 24/7. Mom never turned it off and we could hear it throughout the house.
She said she kept it on for our cat, but I think it was for her love of music, and the feeling that music evokes. She was always humming a tune.
Times have changed, but some things never will. I start the day by selecting a Pandora station on my phone, sending the music to one of the nearby Sonos speakers. Soon thereafter the girls usually request me to turn it to Kidz Bop, and I almost always oblige because I love watching their dance parties.
To kick it off, I'm sharing my Thanksgiving Playlist, which hasn't changed much through the years. It feels warm and easy. It's a great listen while you prepare for turkey day or entertain guests for a feast. I hope you enjoy it as much as I do.
If your Thanksgiving celebrations look different this year, be sure to check out my complete guide for How to Host a Virtual Thanksgiving.
I've been feeling so thankful that you share the same passions and enjoy celebrating everyday life in many of the same ways, and I've been rounding up so many of my favorite holiday ideas.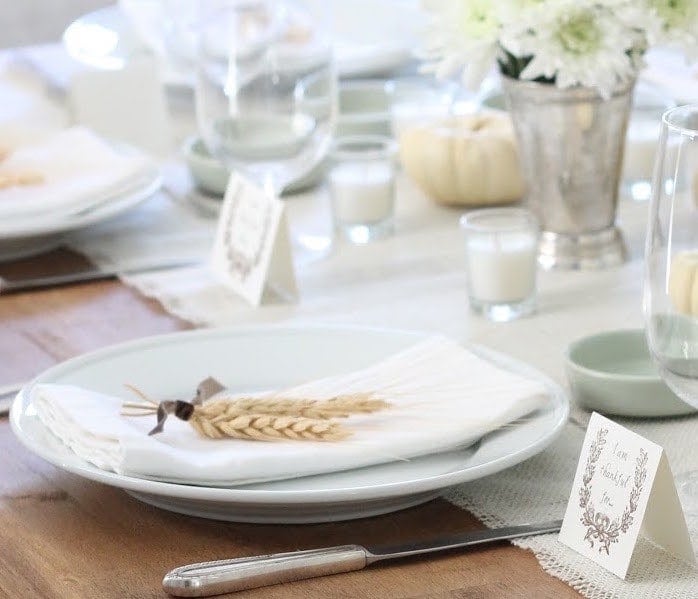 Love appetizers as much as we do? Don't miss my complete hors d'oeuvres round-up, as well as the 30+ Thanksgiving Appetizers!
I recently wrote a complete guide to hosting Thanksgiving – you'll find everything you need and more! Or, just start with this round-up of the best fall cookies to make sure your celebrations are off to a good start.
Thanksgiving Day Playlist
Below are some of my favorite Thanksgiving songs that are easy to listen to whether you're simply gathering, playing games, enjoying dinner or light conversation.
Life is Beautiful – Keb Mo

You and I – Ingred Michaelson

Peace Train – Jann Arden

Hallelujah – Rufus Wainwright

You Got A Friend In Me – Randy Newman

L-O-V-E – Nat King Cole

Willow – Joan Armatrading

You've Got A Friend – James Taylor

Hooked On A Feeling – Vonda Shepherd

You Are The Best Thing – Ray LaMontagne

Feels Like Home – Randy Newman

Home – Tim McGraw

It's Cool To Love Your Family – Feist

Thank You – Mozella

What A Wonderful World – Eva Cassidy

Everything – Michael Buble

The Best Is Yet To Come – Stacey Kent

With A Little Bit Of Help From My Friends – Joe Crocker

Always You – Sophie Zelmani

Take Me Home Country Roads – John Denver

Someone Like You – Shawn Colvin

Crazy Love – Van Morrison

Let My Love Open The Door – Michael Cavanaugh

The Glory Of Love – Keb' Mo'

Family Man – Pat Green

Down Home – John Hiatt

Simple As It Should Be – Trista Prettyman

Thank You – Ditto

The Way I am – Ingrid Michaelson
Ways to Play Your Thanksgiving Playlist
The radio is still a wonderful way to listen to music and enjoy a variety of old and new songs. In addition, I've fallen in love with Pandora playlists, choosing my favorites as well as finding new classics. Other music steaming sites can include Amazon music, Apple music or iTunes, Spotify, Youtube, Satellite Radio, iHeartRadio, and Google Play music.
Creating a playlist for the holidays and everyday entertaining can be a great way to add your personal touch to an event by setting the mood for lifelong memories with family and friends.
If you don't want to spend time selecting and adding songs to a playlist, not to worry: most music streaming options also include music stations where you can choose a genre and listen to music without fear of a constant repeat.
Music creates a quiet background ambiance at your event, and playing your favorite music selections is as simple as selecting a playlist and pressing play on your phone, wired or bluetooth speakers.
For an additional touch, if you have a record player, consider playing a few records before, during and after dinner. Your guests can even choose their favorites and be their own DJ!
And for the sake of seeing how far my blog has come, here's a little snapshot or an early Thanksgiving playlist post and Martha's reaction to it. I feel the same, Martha. The shame.
You can follow me on Spotify here to see what else I'm listening to. Soon I'll be sharing my friendsgiving playlist, because friends make life just a little easier and a lot of fun!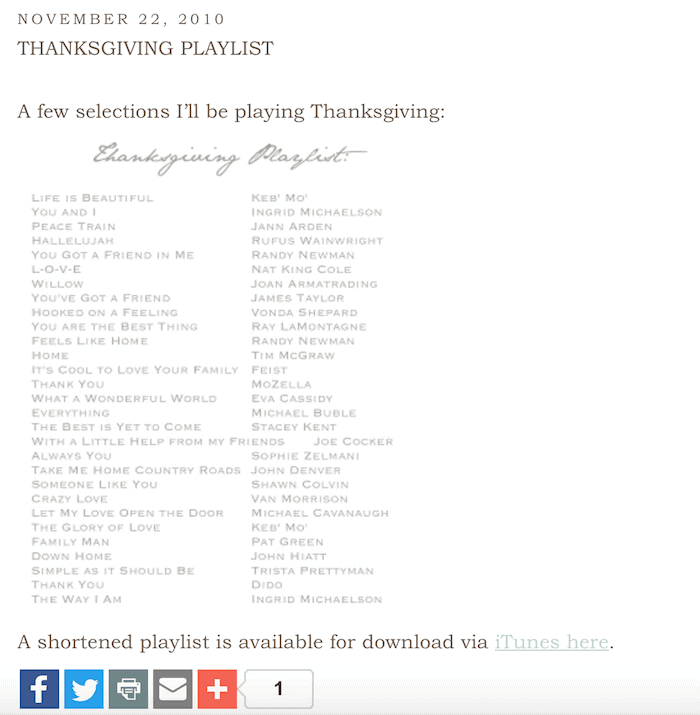 I love a good playlist, don't you? Don't skip this White Christmas playlist and my road trip playlist as well!
And for the sake of seeing how far my blog has come, here's a little snapshot or an early Thanksgiving playlist post and Martha's reaction to it. I feel the same, Martha. The shame.
If you are looking for delicious Thanksgiving recipes, check out my Non Alcoholic Mulled Wine, Firehouse Green Beans, and Irresistible Veggie Dip Recipe