It's often the handmade touches that turn a house into a home. That's the case with this DIY burlap banner. It's rustic and a little imperfect – and that's what makes it so perfect!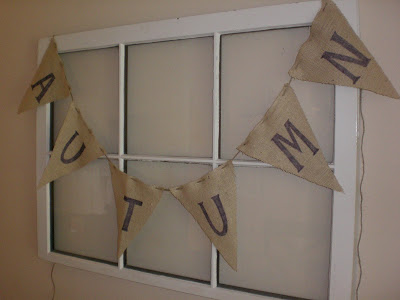 Fall is such a cozy, inviting season of the year. Its coarse natural textures and neutral colors are so lovely. I wanted to capture that feeling in our home, so I made this sweet and simple burlap banner.
I made this banner specifically for the autumn season, but burlap is perfect for any season of the year – any time you want to add cozy, rustic charm!
In less than 25 minutes and for less than $10, you can make your own DIY banner. I used burlap for its texture, but you can use the fabric of your choice to fit any occasion or space in your home. Learn how to make your own with this easy-to-follow tutorial.
A burlap banner would look charming anywhere in your home. For instance, try it in a nursery, on a front porch, over a mantle, or in a dining room. You may as well make more than one while you're at it, because it's such a quick and easy project!
There are so many ways to personalize this DIY banner to suit your style, too. It's easy to make it as short or as long as you want, simply by adding or removing triangles. Hang it against a wall or from the ceiling to create visual dimension in a space. In other words, get creative!
Burlap is so easy to work with – no sewing required! For other easy and quick projects, check out my DIY burlap table runner, DIY fabric pin board, and luxe framed art prints. Overall these take just a few minutes and dollars to make, and they will look absolutely beautiful in your home!
Decorating with Burlap
Burlap is one of the most user-friendly fabrics ever made. That's because you can simply fray the edges for a cozy rustic look – no sewing required! Burlap is made from jute or sisal fibers woven together. As a result, the fabric is strong, coarse, and feels a bit scratchy to the touch.
Burlap's rough, coarse texture and natural imperfections make it perfect for DIY projects. It just looks rustic, cozy, warm, and inviting all at once. Plus, its texture and neutral color add another layer of interest to any space.
Here are some ways to use burlap in your home decorating. Try one (or more!) of them today.
Table Runner – A simple DIY to warm up your table. Perfect for a long farmhouse table or a rustic, country wedding.
Placemats – Simply cut to size and fray the edges. A charming touch to your next table setting.
Wreath – Weave strips of burlap through a metal wreath form and fluff to shape. Add seasonal embellishments.
Pillow Covers – Easy-to-sew decorative pillow covers for your sofas and chairs. Leave plain or hand paint designs.
Pin Board – Wrap back of DIY pin board to display art, photos, and special keepsakes.
Wrapped Canvas – Stretch over a canvas for a beautiful art display. Hand paint or letter design of your choice. Check out my modern calligraphy alphabet for more hand-lettering ideas.
Embroidery Hoop – Stretch burlap inside an embroidery hoop and decorate it as desired. The circular shape will add variation to your wall art.
Book Covers – Cut to size and wrap a stack of books for a neutral, textured display. Secure on inside with pins or glue.
Jar or Candle Sleeve – Cut a strip of burlap to length and wrap around a jar or pillar candle. Add other embellishments for even more flair.
Flowers – Cut out shapes of burlap, layer, and glue together to create "flowers" for embellishments. Finish with a button or jewel bead in the center.
Reusable Bag – Burlap is perfect for bags because it's so sturdy. Sew your own and hang over an entry way hook for a pretty and functional display. Use it the next time you head to the library or grocery store.
Christmas Stockings – Make your own rustic farmhouse stockings to hold your Christmas morning gifts.
DIY Banner
Of course, we can't forget one of the best burlap DIY projects of all – a simple and sweet burlap banner. This banner is truly perfect for any special occasion, any time of the year including.
Bridal and Baby Showers
Weddings and Receptions
Graduation Parties
Fall Festivals
Easter Egg Hunts
Mother's and Father's Day Picnics
Birthday Parties
Home Decorations – year round!
Natural Banner Variations
The beauty of DIY projects is that you can add personal touches to make them your own. Likewise, it's easy to customize this burlap banner to suit your style and any occasion. Check out these ideas, or come up with your own.
Layer – Add color and dimension by layering burlap triangles over slightly larger triangles in a different fabric so that a border shows. Or do the opposite and layer colored, patterned fabric over a larger triangle of burlap. This is a great way to add color and customize your banner. For example, use your wedding colors for your special day or a bright holiday print for a festive seasonal decoration.
Ribbon – Instead of using thread or twine, hang your banner from a colorful ribbon. It can be as wide or narrow as you like, patterned or solid. There are so many cute ribbons to choose from! Use the ribbon to tie a bow or loose knot at each end of the banner.
Round – Skip the triangles and go for a softer look with half circles, or scallops. This would make a darling banner for a nursery!
Shapes – Or choose any shape you like for a custom banner and string it onto twine or ribbon. For example, think hearts for Valentine's Day, clover for St. Patrick's, stars for the 4th of July or Christmas, pumpkins for Halloween, and leaves for Thanksgiving.
Colors – Use dyed burlap, available in any color you can imagine!
Designs – Why stop at letters and words? You can also hand paint each pendant with a unique design such as stripes, polka dots, flowers, leaf prints, and more. You'll end up with a brightly colored, eclectic banner that is so fun!
Supplies You Need for Burlap Banner
Burlap
Scissors
Pins
Alphabet Stencils
Permanent Markers (or craft paint and brush)
Twine, thread, or ribbon
Large Needle
Regular Needle and Thread (optional)
How to Make a DIY Burlap Banner
For the full DIY banner tutorial, see the how-to card below:
Cut a template out of paper and pin to fabric.
Determine how many triangles you will need for your banner (based on the number of letters in the word it will be displaying). Using scissors, cut out the number you will need.
Stencil letters onto fabric using permanent marker or fabric paint and small brush. For a uniform look, try to line stencils up evenly on the triangles (same distance from the top and centered left to right). Also, if using paint be careful not to overload brush, or paint could bleed underneath stencil. Afterward, let paint dry completely.
Arrange pennants into banner, including any blank triangles in between words or on ends, if desired. If leaving any space between triangles, include that now as well, because this will give you the overall length of the banner.
Measure thread, ribbon, or twine to the appropriate length, plus leave at least 12″ extra on each end for hanging, and cut to length. Tip: Leave even more length on the ends to be safe. Remember, you can always cut off any excess later!
Using a large needle, thread each triangle onto string, ribbon, or twine, catching it in at least three places – on each side and once in the center. Optional: If your ribbon or twine is too large to thread through a needle, you can attach it using a regular needle and thread (use a similar color and it won't even show). Pin your triangles onto the ribbon or twine, then tack them into place with thread until they feel secure.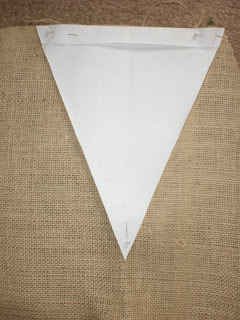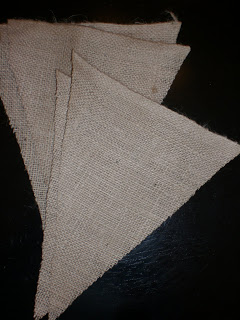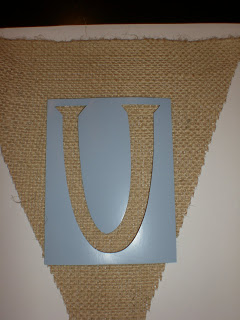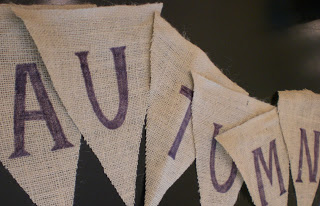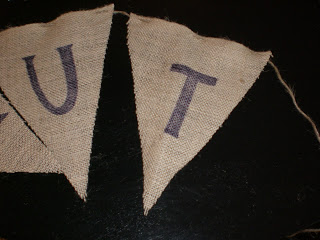 Hang using extra length on ends and small hooks or nails. Lastly, stand back and enjoy!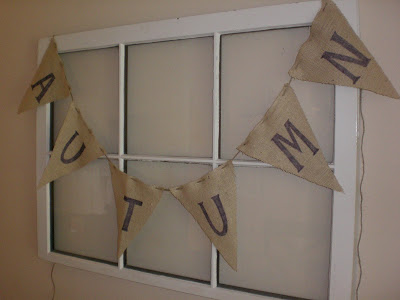 This DIY banner is such a fun and simple project, and it adds instant charm to any space or special occasion. Gather your supplies and make one today, because this project is just that good!
How much does burlap cost?
Burlap is a relatively inexpensive fabric, costing less than $2 per yard. This makes it perfect for craft projects like banners and table runners.

Can burlap be washed?
Yes, burlap can be washed in a washing machine, but on a delicate cycle only to prevent excess fraying. Never wash burlap with other clothing, since it sheds excessively and will leave clothing covered in lint and fibers. Alternatively, wash burlap by hand by soaking in warm, sudsy water for 15-20 minutes, then gently scrubbing to remove loose dirt and debris. Rinse with cool water and wring lightly to remove excess water. Hang burlap to dry fully, but avoid direct sunlight since it can cause fading. Once dry, shake burlap to remove loose fibers. It is best to hand wash burlap with hand-painted designs.

More DIY Projects
How to Make a DIY Banner
A quick and easy burlap banner for your home or next special event.
Supplies
Fabric or Burlap

Permanent Marker

or craft paint and brush

Twine

thread, or ribbon
Equipment
Scissors

Pins

Alphabet Stencils

Large Needle

Regular Needle (optional)

Thread (optional)
Instructions
Cut template out of paper and pin to fabric.

Determine how many triangles you need, and cut appropriate number using scissors.

Stencil letters onto triangles using permanent marker or craft paint and brush. Allow to dry completely.

Arrange triangles into correct order, leaving spaces between if desired.

Lay your twine, ribbon, or thread across entire banner to determine length. Leave at least 12" extra on each side (more is preferable) for hanging, and cut.

Using large needle, thread triangles onto ribbon, twine, or thread, making sure to catch each one along the top edge on each side and in center. Optional: For thicker twine or ribbon, pin onto triangles, then tack them in place using regular needle and thread until secure.

Hang using extra length on each end from hooks or small nails.
Tips
Pennants can be made with any type of fabric and cut into any shape.