Rub and Buff can turn anything into the look of beautiful brass, gold, or other metals. Follow this simple step-by-step tutorial to use Rub 'n Buff to give any item a metallic transformation!
Rub 'n Buff is such an incredibly easy way to add a little luster to anything in your home. Learn how to use this inexpensive product and give your accessories the look of antiqued brass!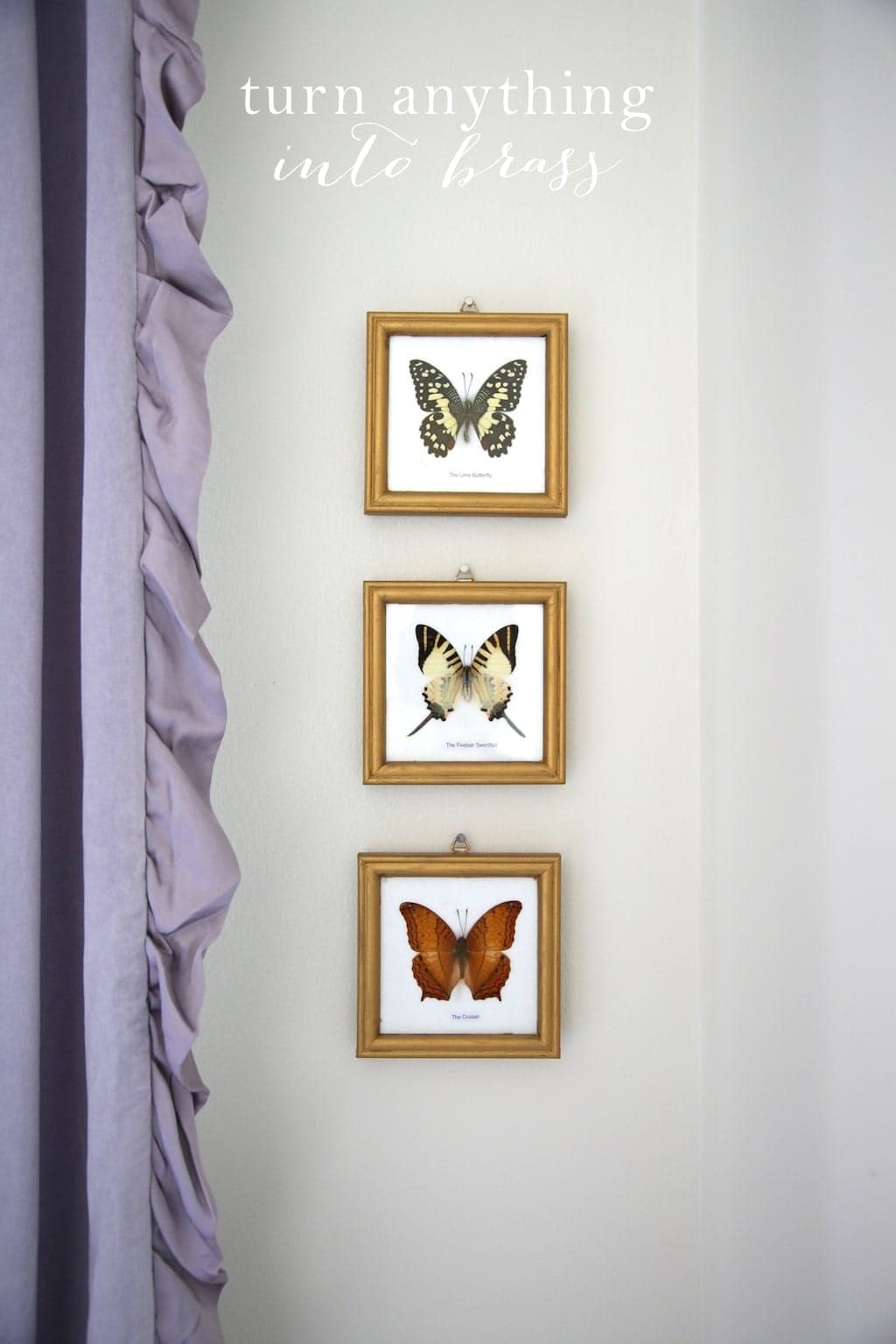 Originally published September 12, 2014 and updated with fresh content and details June 17, 2021.
I love mixing textures and finishes in my home – layering these elements creates warmth and depth. Metallic items add dimension and are considered a shiny neutral. Brass has always been one of my favorites because of its level of shine and warm luster and vintage burnish.
My first choice is always to purchase true brass, like my brass kitchen lantern lights. However, sometimes it isn't available. For example, it may not be affordable at certain times or the item I want isn't sold in that finish.
It is those times that I use Rub and Buff! It is the next best option to real brass. I have given a lot of items a brass makeover easily, quickly, and inexpensively. You can turn practically anything into beautiful brass!
I have no fear of spray paint, but it's not always feasible. For example, some objects like curtain rods and picture frames with permanent glass cannot easily be sprayed. And I like a more realistic metallic finish that spray paint can't always replicate.
Buffing to a beautiful brass – or any other metallic finish you want – is simple with my easy tutorial.
What Is Rub and Buff?
Rub and Buff is formulated from imported carnauba waxes, fine metallic powders and select pigments. This combination can produce a finish no paint can duplicate.
The luster and nuances in the finished product really look like metal, rather than a one-dimensional finish like spray paint or craft paint produces.
Rub 'n Buff can be purchased at craft stores or ordered online. It is an inexpensive way to transform items and give them new life.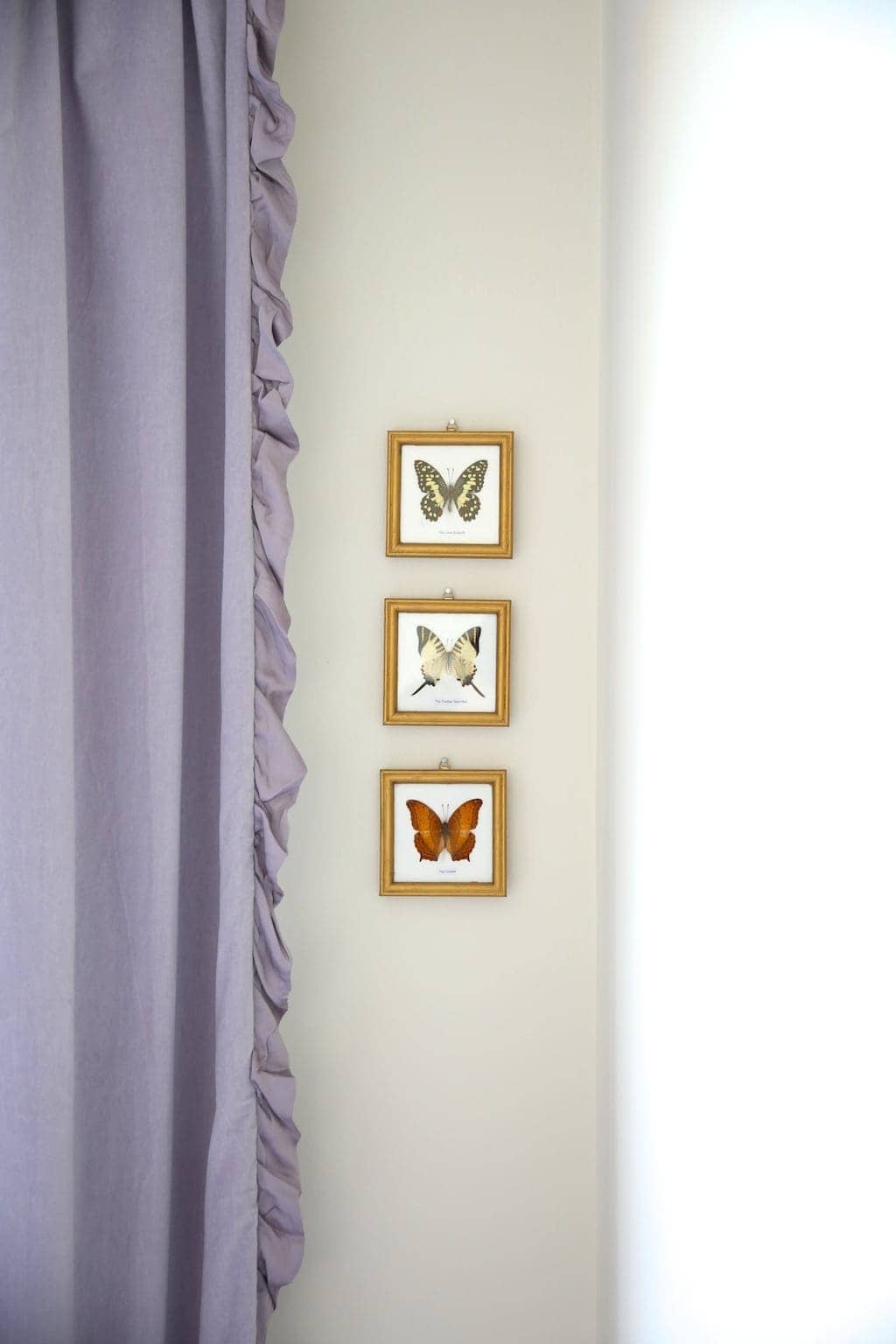 Rub 'n Buff can be used on almost any clean surface including those previously painted, wood, plastic, ceramic, glass, and metal. It is made to be permanent and is very durable, but it is best used on surfaces that aren't touched often.
Dot a little bit of rub n buff and spread around. Then buff with a clean cloth until you reach your desired luster. If you need to do a second coat, wait for the first coat to dry before repeating.
What Can You Use Rub and Buff On?
Chris and I visited Rocheport, Missouri, a small town nestled along the Missouri River. With its shops and boutiques full of antiques and well selected curiosities like dried hydrangea and pineapples, it is one of my favorite places to shop!
I found these gorgeous butterflies for just $9 each! It seemed so inexpensive for such one of a kind art. They came in little black frames, which are the opposite of my color palette.
I didn't hesitate to buy them, though, because I knew that I could make the frames look like brass in a matter of minutes. I shared an image on Instagram and couldn't believe the response.
At the request of fabulous food blogger, Gimme Some Oven, I'm sharing the simple tutorial today! I'm always inspired by you, so if there's something you'd like to learn more about, let me know and it may be my next post!
These picture frames turned out beautifully, but frames aren't the only use for Rub and Buff. With its ability to adhere to almost any surface, you have a house full of items that you could use Rub and Buff on.
It opens up a whole new world for thrift store finds that you love but are the wrong finish – all you have to do is rub and buff them. It's also so easy to update outdated items in your home and give them new life.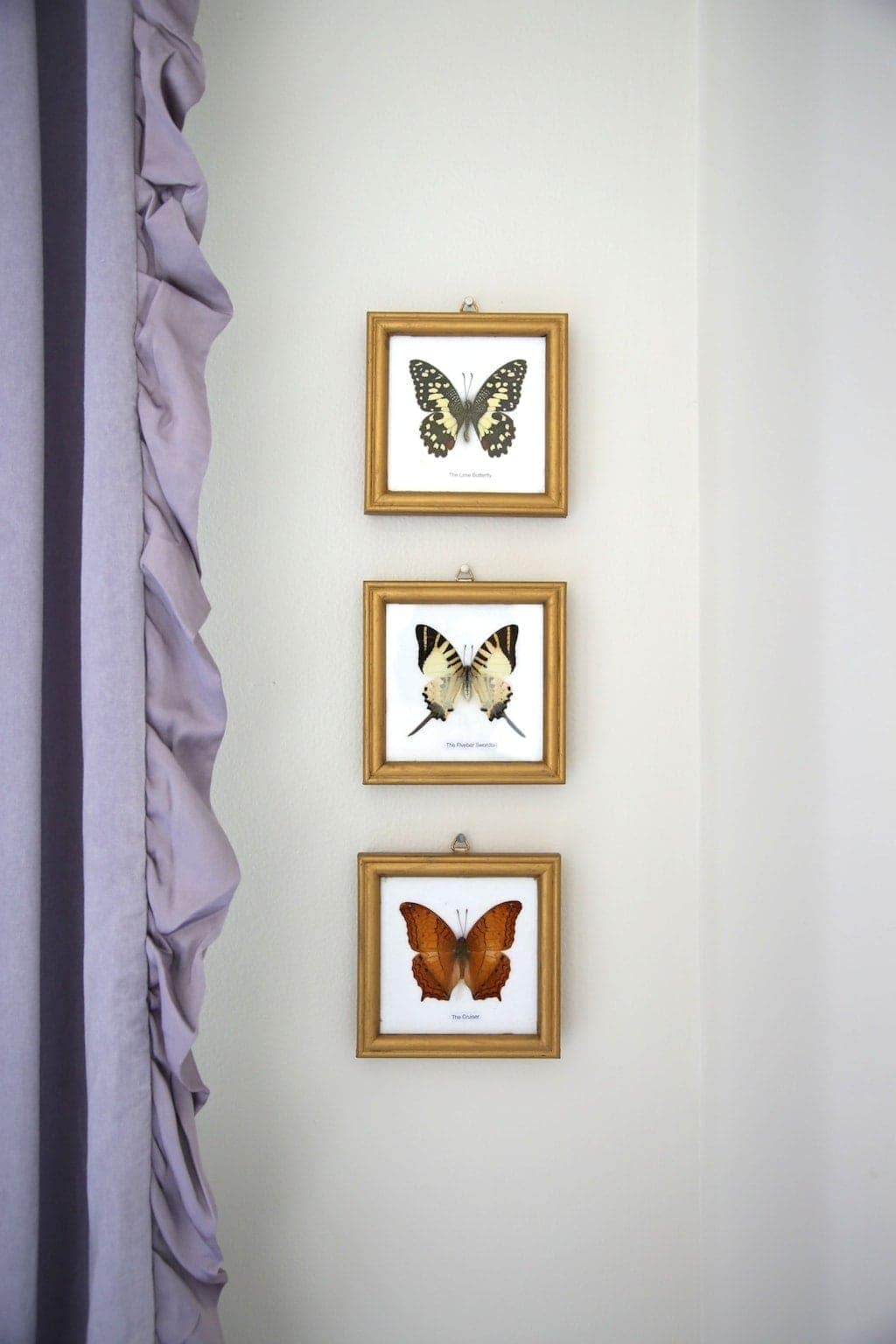 Here are some other ways to use Rub and Buff, although it definitely isn't a comprehensive list. I'd love to hear about your project. Share in the comments how you have used Rub and Buff!
Curtain Rods
Hardware
Any metal that needs a little TLC
Mirror Frames
Lamps
Vases
Flower Pots
Types of Rub and Buff
If brass isn't on your color palette, Rub and Buff has several other finish options to choose from. They all go on the same way – by rubbing and buffing – but some of them, like silver, have a slightly different spreading consistency.
Gold

– five different finishes are available. For the frames pictured here, I used Antique Gold.

Ebony

Pewter

Silver

Copper

Ruby
Antique White
Patina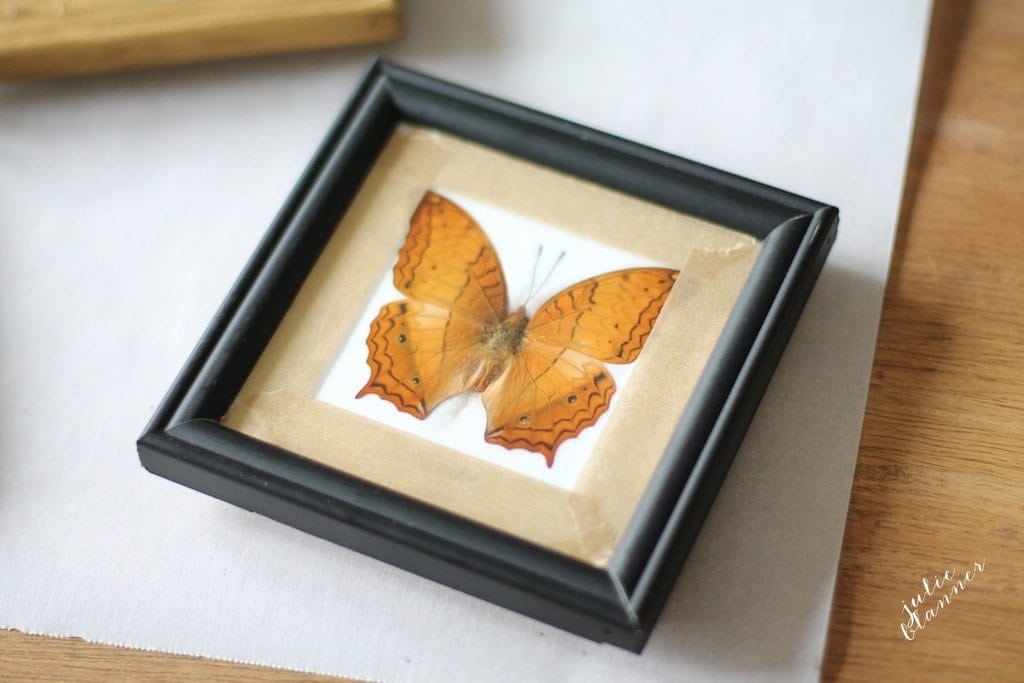 Supplies
Washi or painters tape

Latex gloves (to keep your hands clean)

Rub 'n Buff

White cloth or Viva paper towels (because they're soft, thick & don't tend to lose their fibers)

Picture Frames
How to Use Rub and Buff
Put on gloves to protect your hands.

Using a finger or soft cloth, gently dot Rub and Buff (a small dot goes a long way) onto frame.

Spread around to cover surface.


Immediately buff it off in rough areas with a soft cloth. See photo below for an example before buffing.

Allow to dry and remove your tape.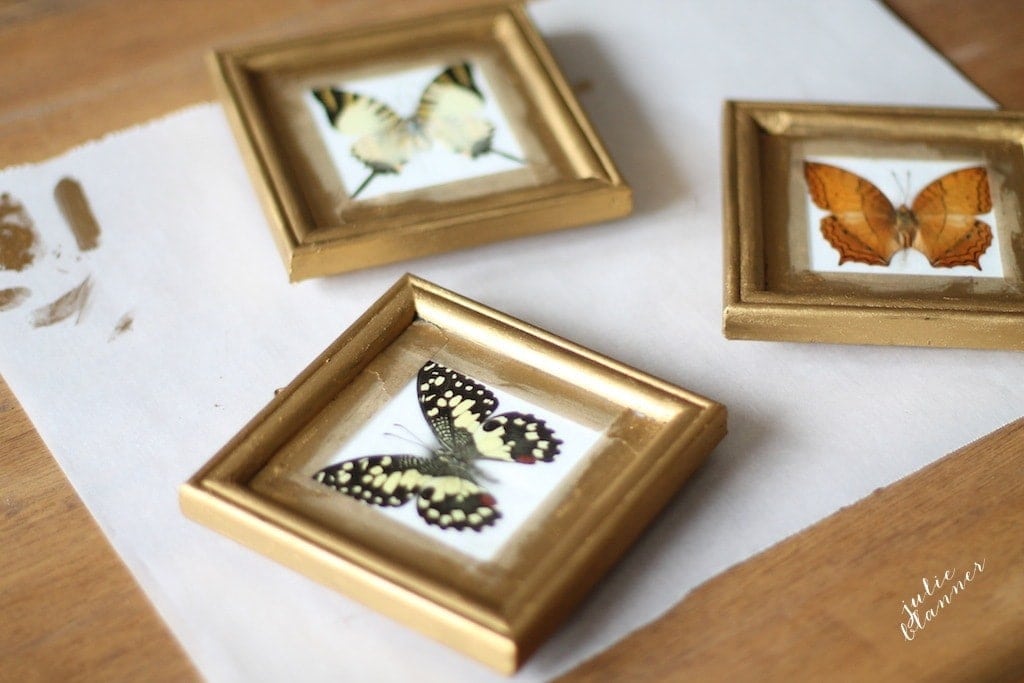 My new brass-looking frames are the perfect border these butterflies and matched my home decor perfectly.
Check out another Rub 'n Buff project for when I wanted Pottery Barn Gilded Frames in sizes they didn't carry. Rub n' Buff is an amazing product that is useful and fun to use!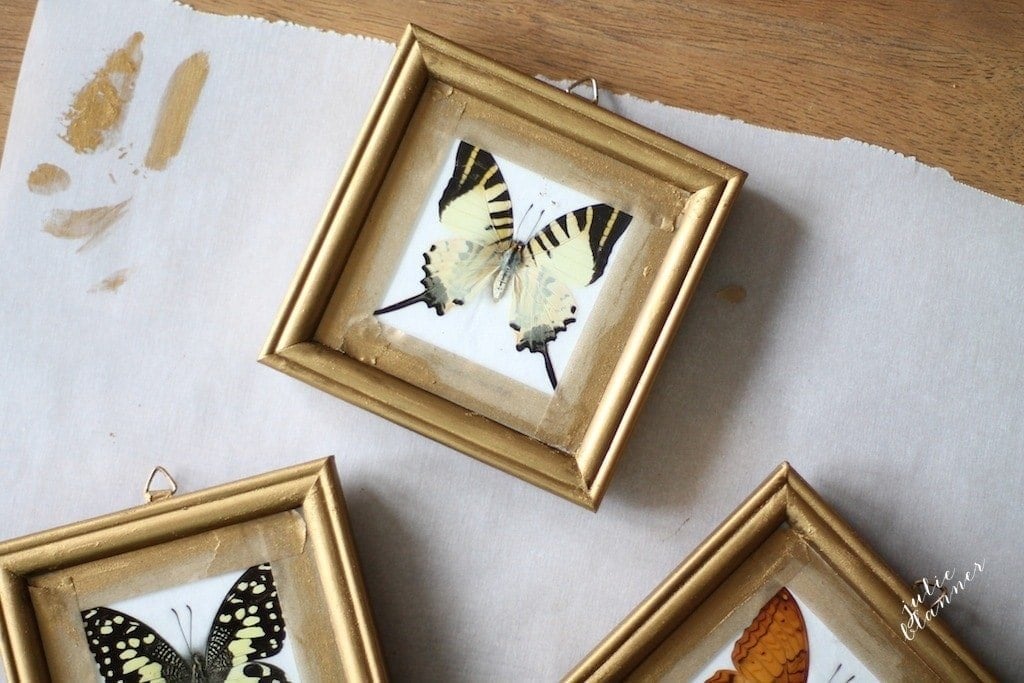 How long do I need to buff?
Using a soft cloth, buff until you think the shine is how you want it. It shouldn't take more than a few minutes to finish a small project. Sometimes you may even like the look of your project without buffing.
Does Rub n Buff need to be sealed?
Rub n Buff does not need to be sealed. The waxes in the product serve that purpose.
How do I use Rub n Buff on a big surface?
If you're doing a large surface, it might be helpful to use a liquid deglosser or paint thinner with the Rub n Buff. Spray some on the surface of your project and then start spreading the Rub and Buff. This will extend the dry time of the finish, to allow you to evenly coat the whole project before it dries.
Love the look of brass as much as we do? Check out this Rub 'n Buff tutorial to turn any home accessories into the perfect antiqued brass, like these Gilded Frames! You can also learn all about my favorite Brass Polish, too.
Where to Buy Rub 'n Buff
I'd love to hear how you plan to use this tutorial! Comment below!
More DIY Home Decor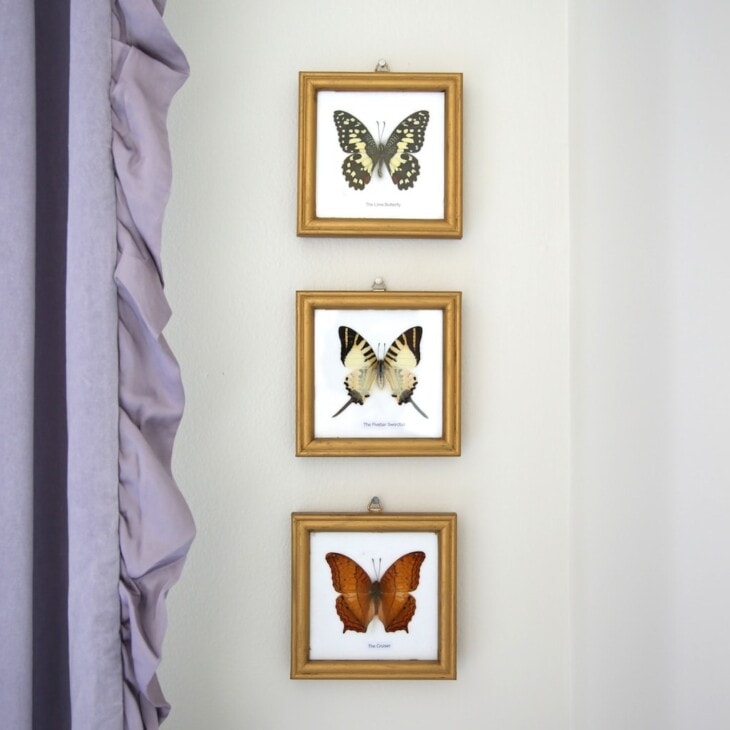 How to Use Rub and Buff to Turn Anything Into Beautiful Brass
Turn anything into gorgeous brass using Rub and Buff.
Supplies
Rub and Buff

Picture Frame

Washi Tape or Painters Tape

Latex Gloves

Soft Rag or Viva Paper Towels
Instructions
Make sure your project surface is clean and dry.

Tape your glass, if necessary.

Put on gloves to protect your hands.

Using a finger or soft cloth, gently dot Rub and Buff (a small dot goes a long way) onto frame and buff to a beautiful luster.

Immediately buff it off in rough areas with a soft cloth.

Allow to dry & remove your tape.
Tips
The more you buff the higher the shine will be.