What's the best brass polish and where do you buy it? Find the best brass cleaners on the market, and learn how to make your own brass polish, naturally!
Cleaning and polishing your brass is actually so satisfying, and dare I say, even fun. It's so easy to bring this beautiful metal back to a shiny, glossy finish… learn how!
This shiny, gorgeous brass Bridge Kitchen Faucet you see below? You won't believe how it looked before, and this product and process will make it so easy.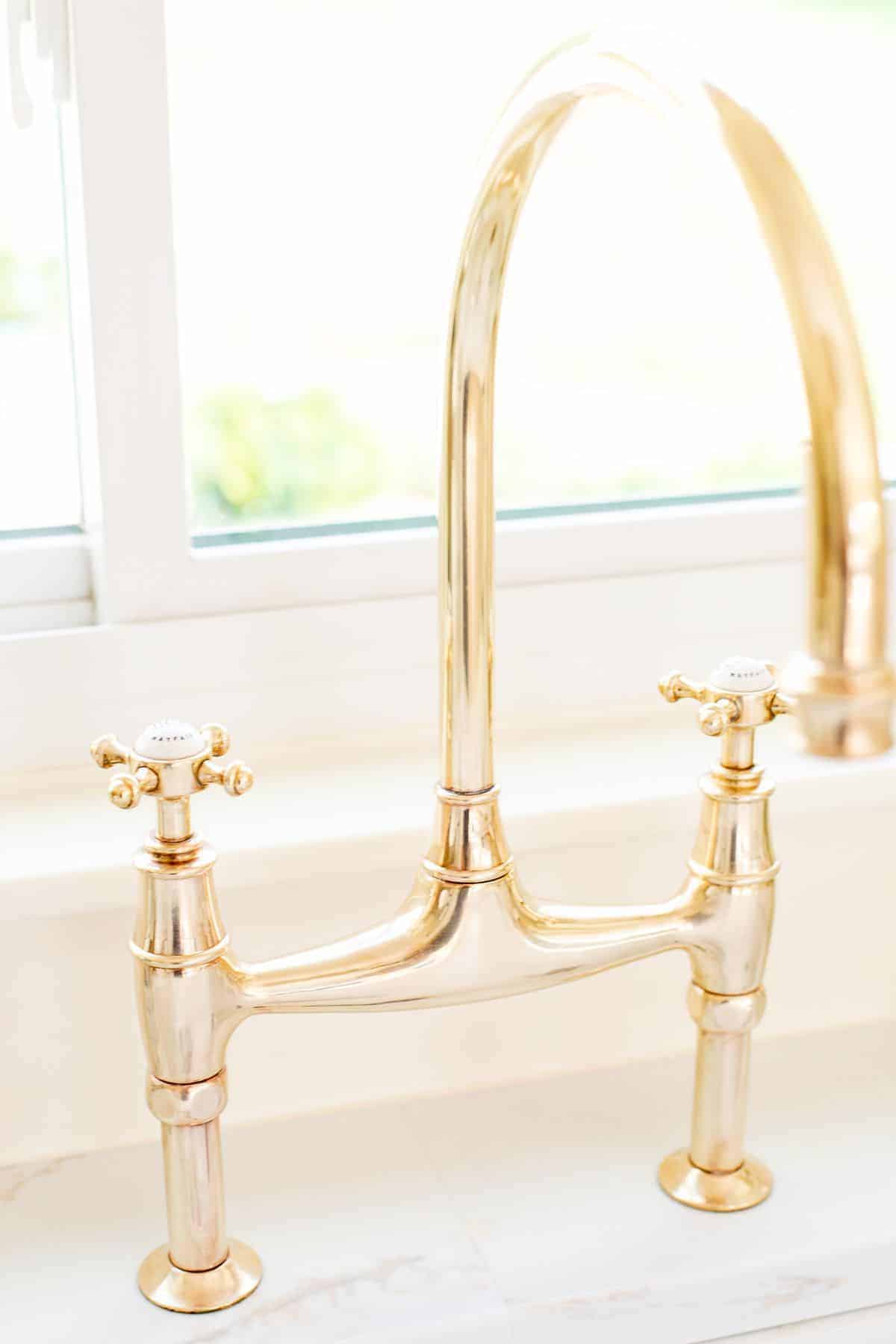 When you're as much of a fan of the look of warm brass as I am, you learn pretty quickly about brass polish. I'm not one to lead you on and pretend all cleaning is fun, but I do think it can be satisfying at times, and it feels oh-so-good after.
I've tried most of the products on the market, and even a few homemade more natural options for cleaning brass, too. Truthfully, we love the look of our Unlacquered Brass Hardware and our Unlacquered Brass Faucet as it ages, warming to a gorgeous patina… but sometimes the shine is beautiful, too!
We have brass throughout both of our homes, and I truly can't get enough. Read more about our Brass Door Knobs and Brass Hooks here, as well as a round-up of all my favorite Brass Lighting. While I love the look of it as it tarnishes, some pieces occasionally need a cleaning or a simple brass polish to make them look their best!
Learn about the best brass polish brands, as well as a few methods for cleaning with household ingredients you might already have on hand. I bet it's easier than you think!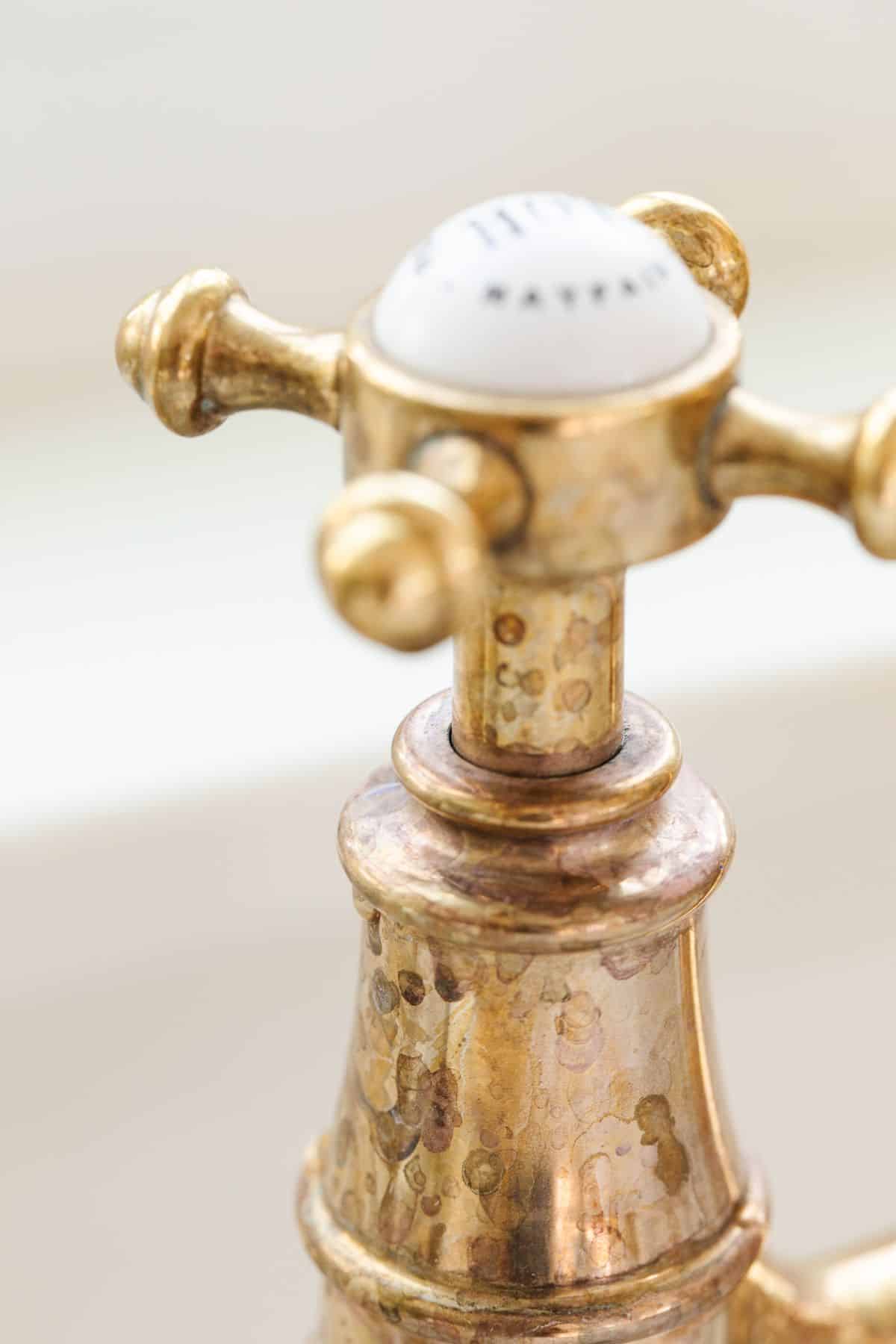 What You'll Need to Polish Brass
Powdered Brass Polish or Soft Liquid Cleanser – Experiment to find your favorite, which might change based around your needs and what you're polishing. We love Bar Keepers Friend, and we've tried them all! Find more options linked at the end of this post.
Soft cloth – ensure it's not abrasive.
Water – I generally polish brass right in our sink.
A polishing cloth – microfiber works well.
How to Polish Brass
Wet the brass item with a soft, damp cloth.
Apply your polish, either powder or liquid, to your damp cleaning cloth.
Rub it onto the brass surface and allow it to sit for a minute or two.
Next, you'll clean the brass using soft rubbing motions across surface.
Rinse with water – you can also add a little dish soap if you like.
Using a soft cloth (dry this time) buff it to dry, watching the shine come to life.
Bonus step: for added protection, you can add a little olive oil to your cleansing cloth and finish your brass polishing process with an extra layer of shine.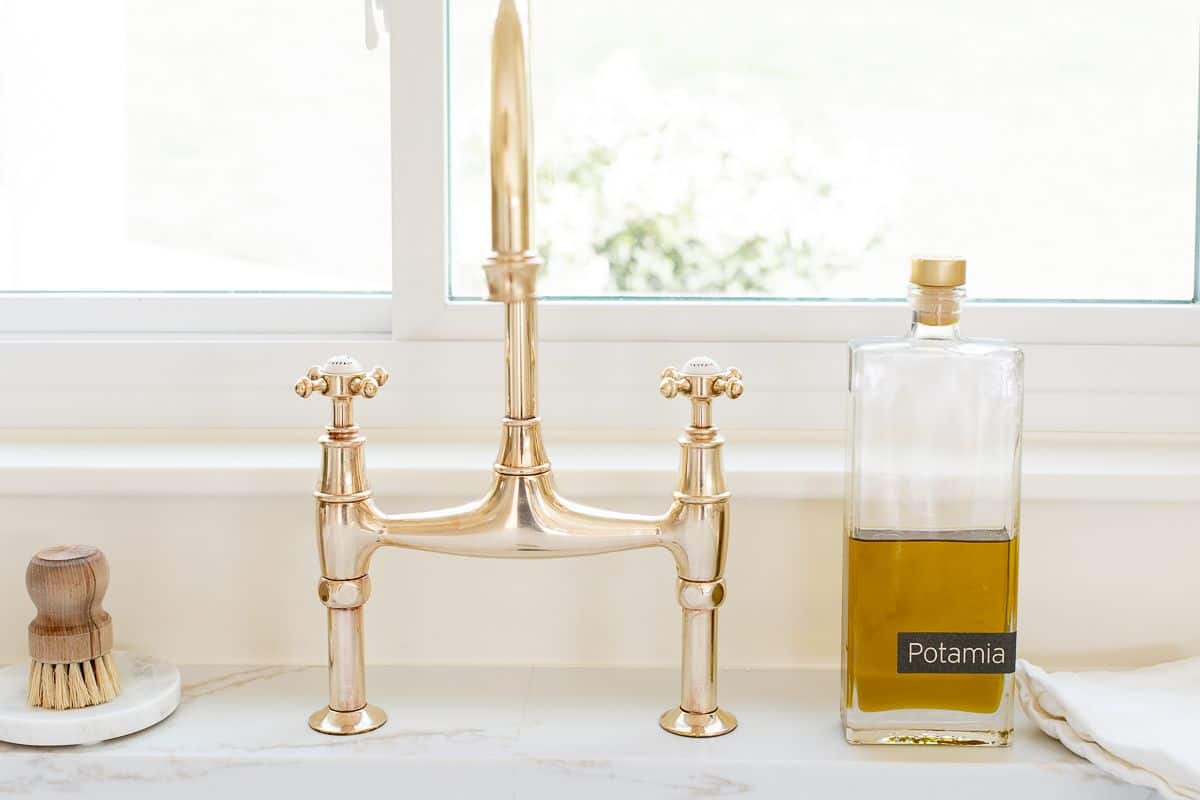 Natural Alternatives for Brass Polish
Ketchup
Vinegar, Flour and Salt – combine in equal parts to create a paste.
Toothpaste
Lemon and Baking Soda – slice a lemon in half and add a little salt or baking soda to the cut edge of the lemon before rubbing on your brass.
Dish Soap
For all of these natural brass polish alternatives, you'll simply apply a layer to the brass you're cleaning, letting it rest for approximately an hour. Wash with warm water and dish soap to remove any residue, and dry with a soft cloth.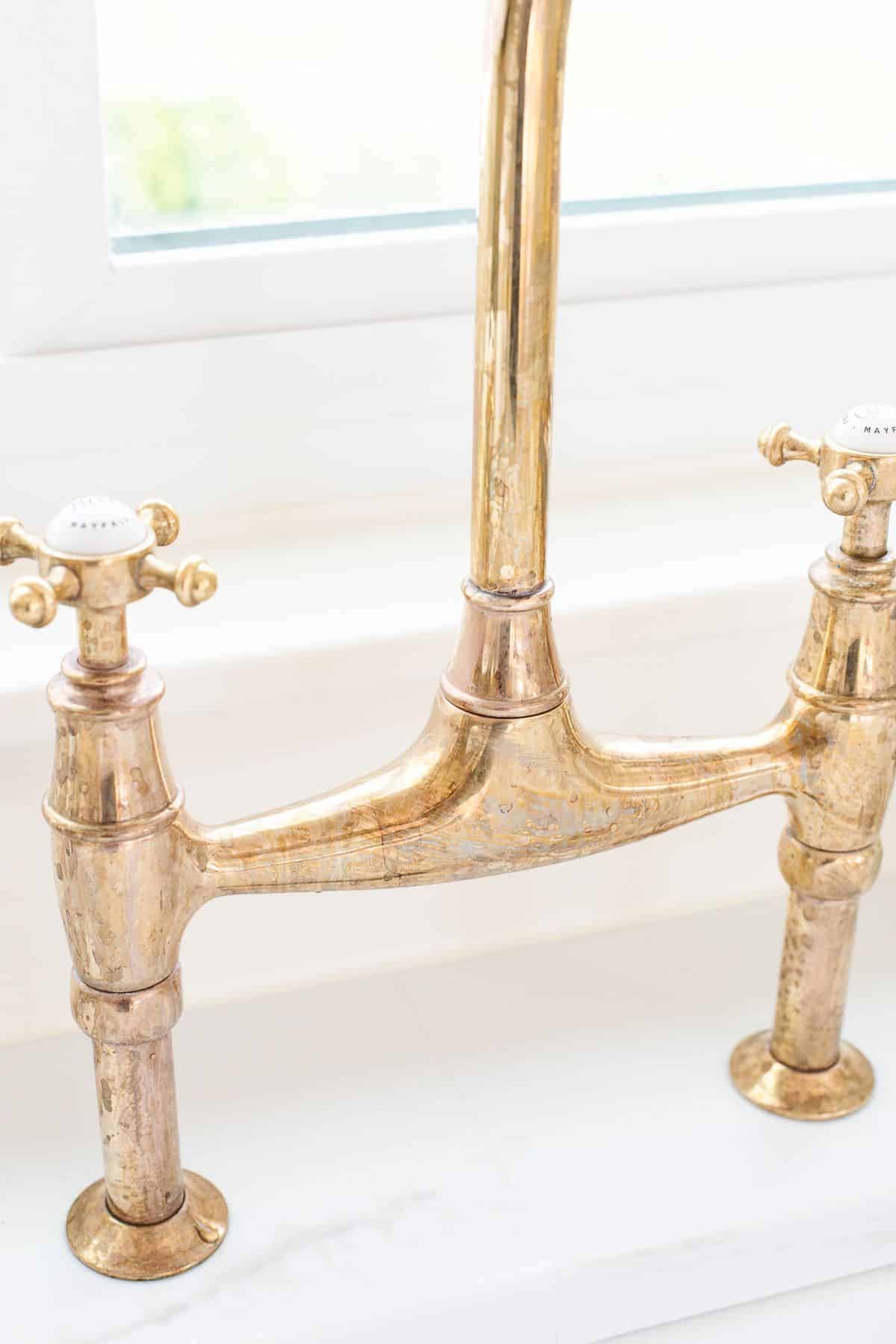 Brass Polish Tips
Try a soft-bristled toothbrush for areas that are difficult to reach.
Is your brass lacquered? Know before you begin. Lacquer is a thin and shiny layer of protectant that can be damaged during cleaning, so use care.
Still struggling with tarnish or staining? Seek a professional. If it's an item of value, it is worth the investment for proper cleaning and care.
Avoid touching your brass pieces if you'd like to keep them shiny and clean for longer (oils from skin can accelerate the tarnish process).
Not interested in polishing your brass? That's okay! The thing I love most about authentic brass is that it's just as gorgeous with a patina as it is with a shine… see below!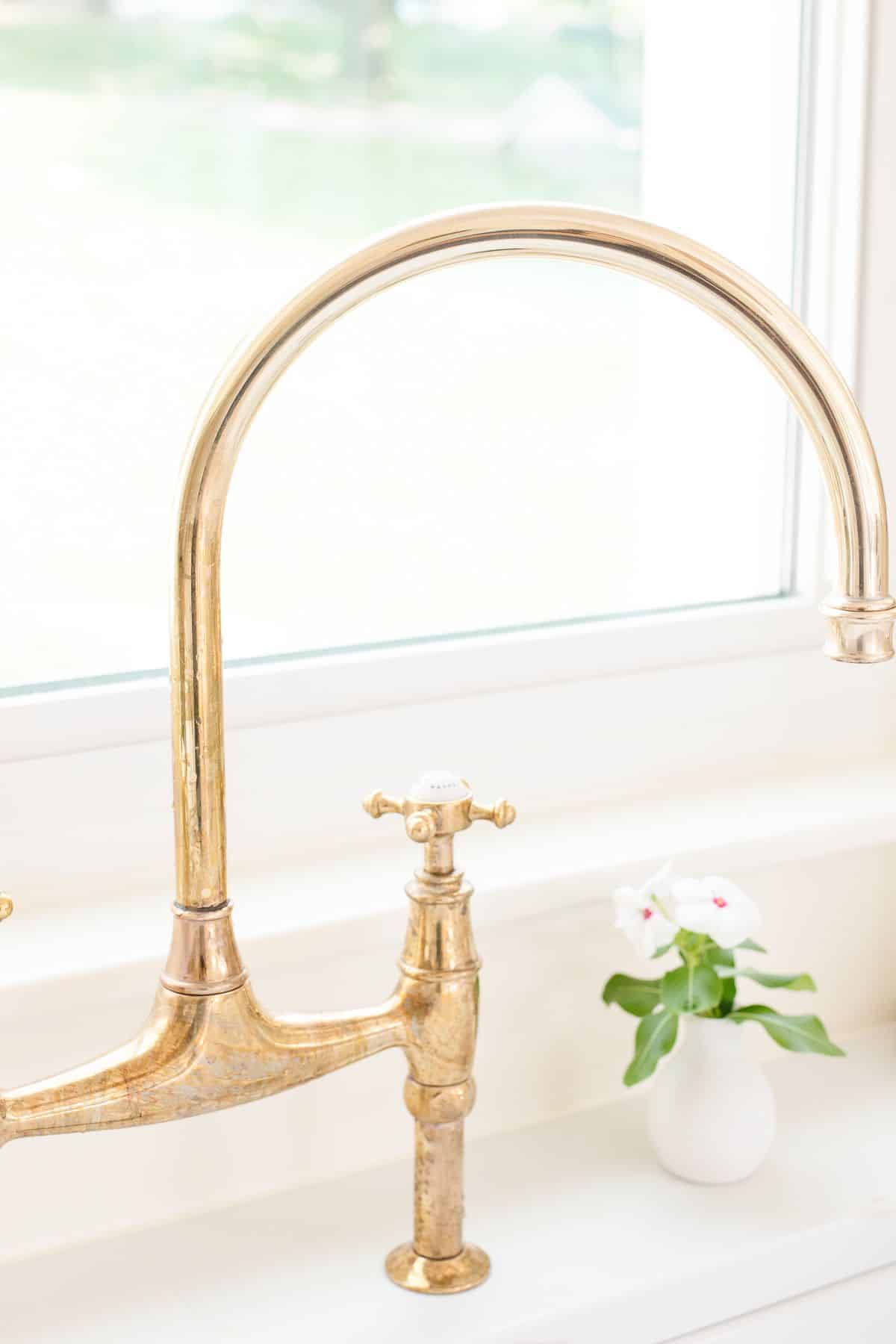 Frequently Asked Questions
What's the Difference Between Brass and Brass Plated?
Brass is an alloy metal, beginning with both copper and zinc. Brass plating is simply the addition of a thin layer of brass coating over another metal, typically nickel.

Only a thin layer of brass is applied with plating, so be careful when trying to polish any brass plated item because it doesn't take much to damage or remove the plating.

How can you tell the difference? Quite simply, true brass is much heavier. Or, simply use a kitchen magnet. If a magnet sticks to the brass item, it is brass-plated… and if not, you have solid brass.
Does Brass Need Polishing?
The short answer is no! This is a personal preference. Consider allowing your brass pieces to age gracefully, with no brass polish required.
Shop Brass Polish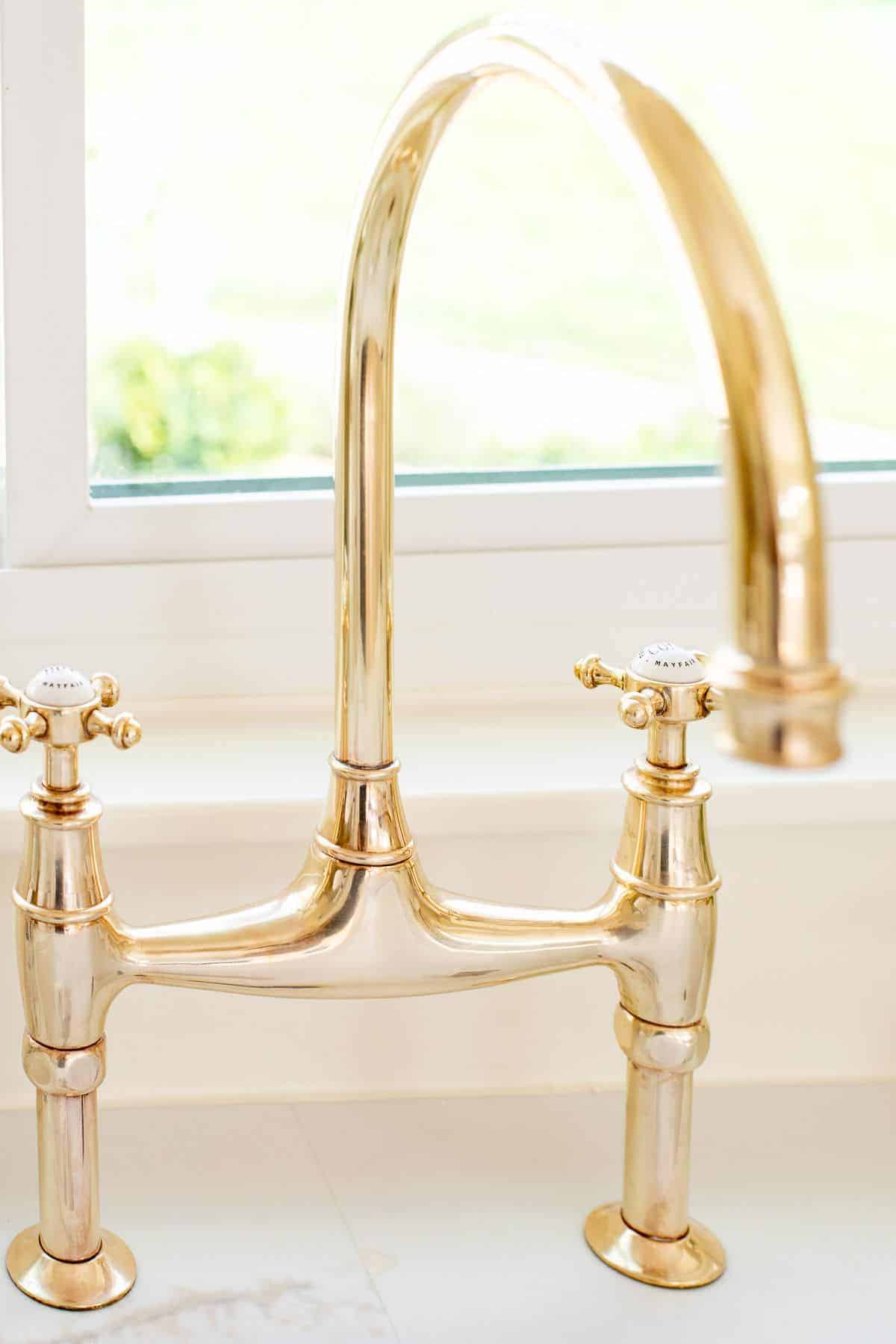 Love the look of brass as much as we do? Check out this Rub 'n Buff tutorial to turn any home accessories into the perfect antiqued brass, like these Gilded Frames!
Don't skip this guide to Exterior Door Handles too!
More Cleaning Resources