If you want to take your wall art to a whole new level, consider adding picture lights! In this complete guide, we're walking you through the different price points, styles and function to help you choose the perfect art light for your home.
These beautiful, elegant light sources are the perfect way to elevate your family photos and art.
Add a high end designer touch to any space of your home. Many of these beautiful lights don't even need hardwiring – you can purchase a battery powered picture light that you operate from a remote!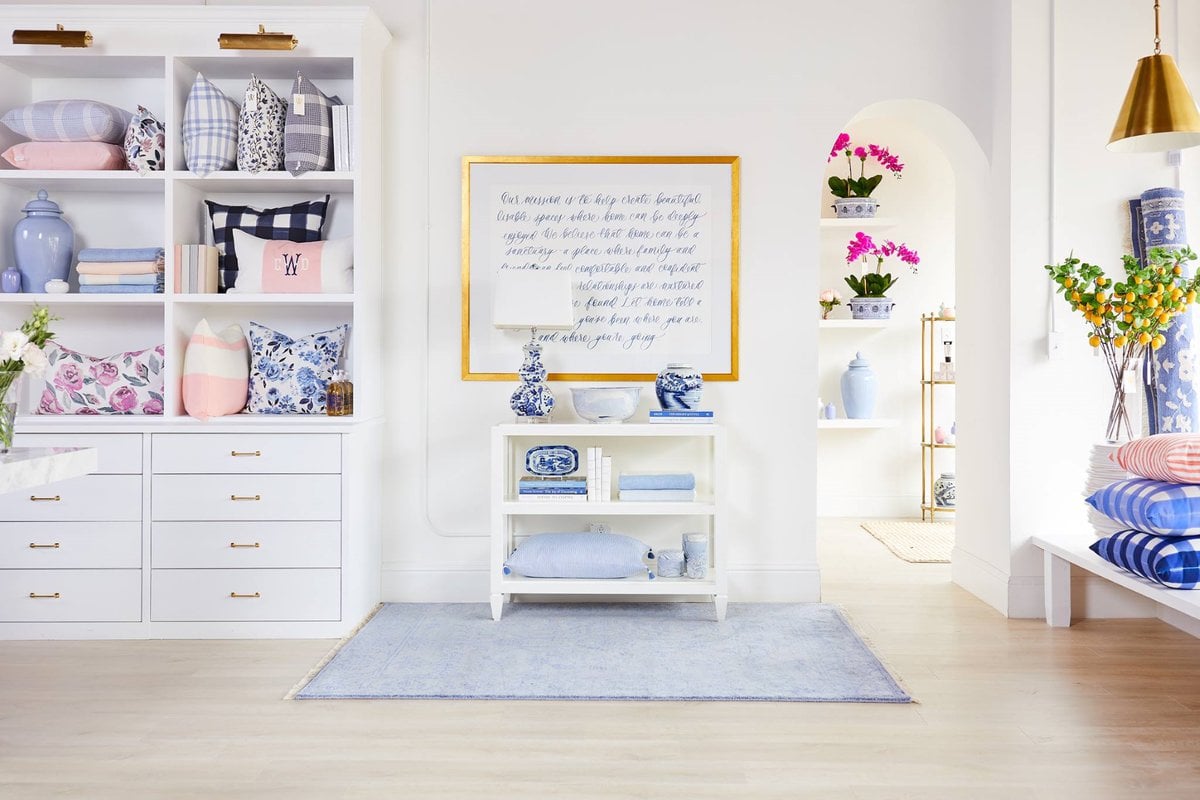 I love emulating the style of my favorite interior designers in our home. One of the best ways to do that is to simply follow them on social media, buy their books and observe their style over time.
I'm not an interior designer… I'm just a regular homeowner who loves design, like you! Learn how to design a room when you're not a designer with one of my favorite simple tricks.
With that said, one of my favorite high end interior designer tricks is the use of picture lights in a home! This is such an incredible way to elevate any art or framed photographs on your walls.
You know I love chatting art with you! Don't skip Free Art Sources, as well as How to Choose Framed Art, and 20 Easy Wall Decor Ideas.
Today, we'll show you how these beautiful art lights can transform a space.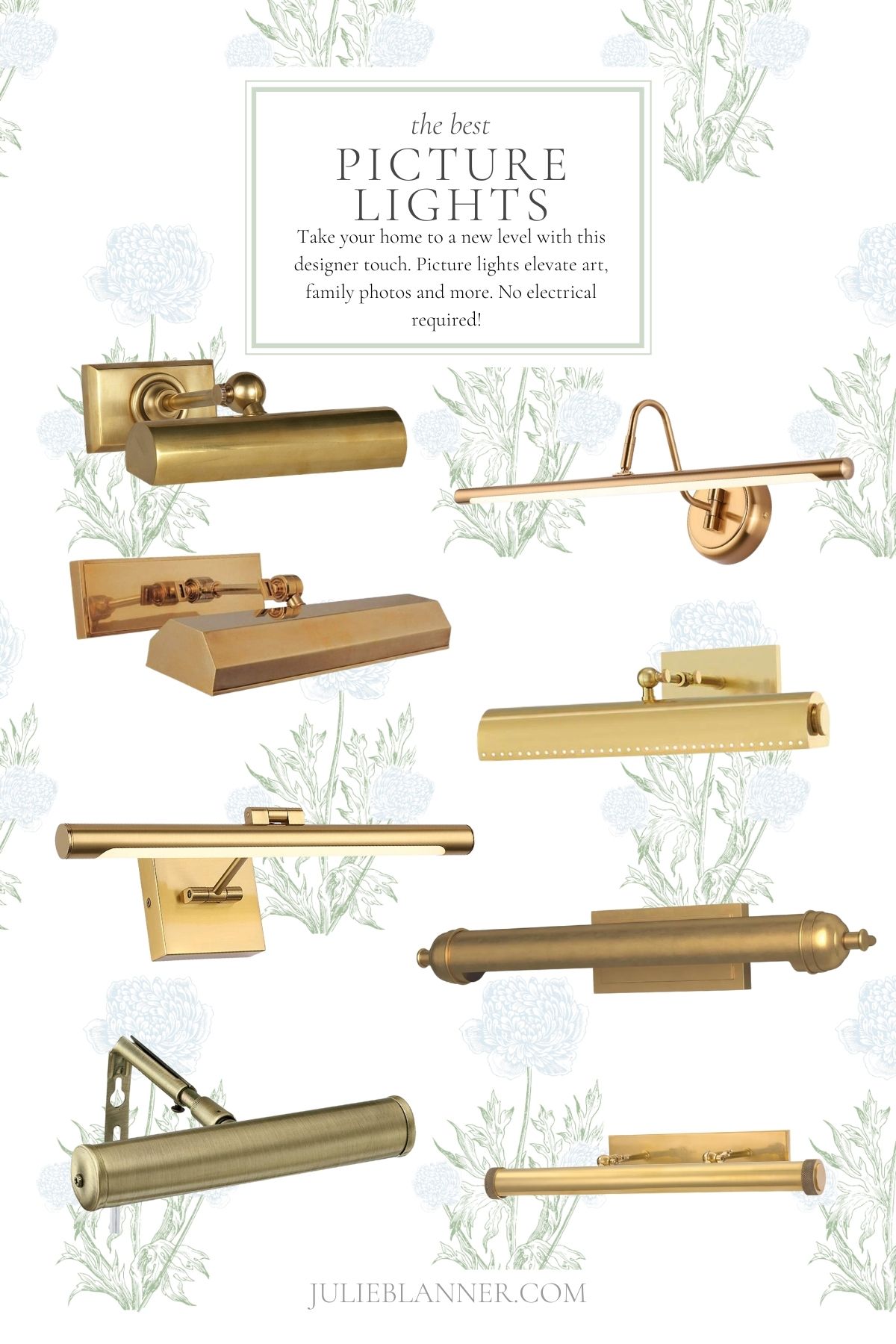 Picture Lights
If you're looking to accentuate heirloom or special art, a picture light is the best way to do it! These lights provide a soft focus on a special piece, turning it into a gallery style focal point in your home.
You might be wondering… "what are picture lights?" This style of lighting is generally a linear style of design, with a bar of light reaching across your art. They add a more intimate light, with a soft focus above the art you want to highlight.
They are often mounted directly above the framed artwork, but can also be installed on built in bookshelves. In this situation, they are sometimes referred to as library lights.
With an incredible variety of styles, sizes and mounting options, the world of picture lights can get a bit confusing. Today, we're going over the finer points of this beautiful design element for your home.
Tips
Be mindful of placement and wiring needs. If you choose a hardwired fixture, do you have an outlet?
Keep scale in mind. An oversized piece of art won't look quite right with a small picture light.
If you want a permanently mounted fixture that adds to your room's overall character and has the convenience of operating from a wall switch, then hardwired is the way to go.
If you choose a plug in picture light, the cords are usually paintable to match your wall paint. Or, there are cord covers available.
Wall Mount or Frame Mount
How much of a visual statement do you want your picture light to make? This, and the size of your art, might help determine whether you want a wall mount or frame mounted art light.
Wall mounted picture lights are cleaner because they are generally hardwired into the wall, with no visible wires. They work best if you are hanging permanent artwork and want to operate with a wall switch.
Frame mount fixtures actually attach directly to the picture frame itself. With a wall plug in, you can paint the cord to match your wall color where it shows underneath the art. These are a more flexible option because they feel much less permanent!
Where to Use Picture Lights
They are for so much more than just highlighting artwork!
Spotlight Important Pieces
Enhance Collections
Over a Gallery Wall
Kitchen Display
Over a Mirror
How to Choose Picture Lights
Measure your artwork once, twice, three times! Guidelines generally suggest that your picture light should be approximately half of the width of the frame. However, rules are meant to be broken – remember that these are just guides!
Ensure your picture light shines evenly across your art and that both the lighting and art will be level. You'll want the light to shine over your entire piece of art.
Adjust the angle to you don't create glares. Tilt to adjust!
LED light bulbs are safer for artwork than incandescent bulbs (they will help reduce fading over time). Read more about our favorite light bulbs in this complete Light Bulb Guide.
Brass Picture Light Sources
You all know my love for all things brass! Don't miss this brass lighting round up, and read more about unlacquered brass hardware here.
Keep in mind that many of these options are available in other metal finishes, too! The higher end picture lights have a real brass finish, and the look for less pieces are meant to look like brass!
Get the Look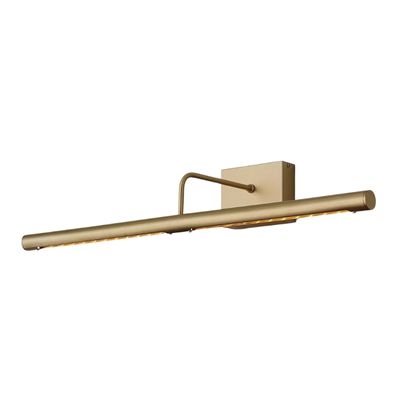 Led Slimline Picture Light
This 24″ slim picture light is battery operated and features an LED light.
The Look for Less
Get the look of high end picture lights for less with these options that come in at much lower price points – all between $30 and $75!
You can find even more deals and dupes in our Facebook group, Simple Steals!