Make your own homemade ground allspice seasoning mix with this simple three ingredient recipe! This allspice blend includes a combination of cloves, cinnamon, and nutmeg. Add to sweet or savory dishes for a delicious taste and beautiful aroma!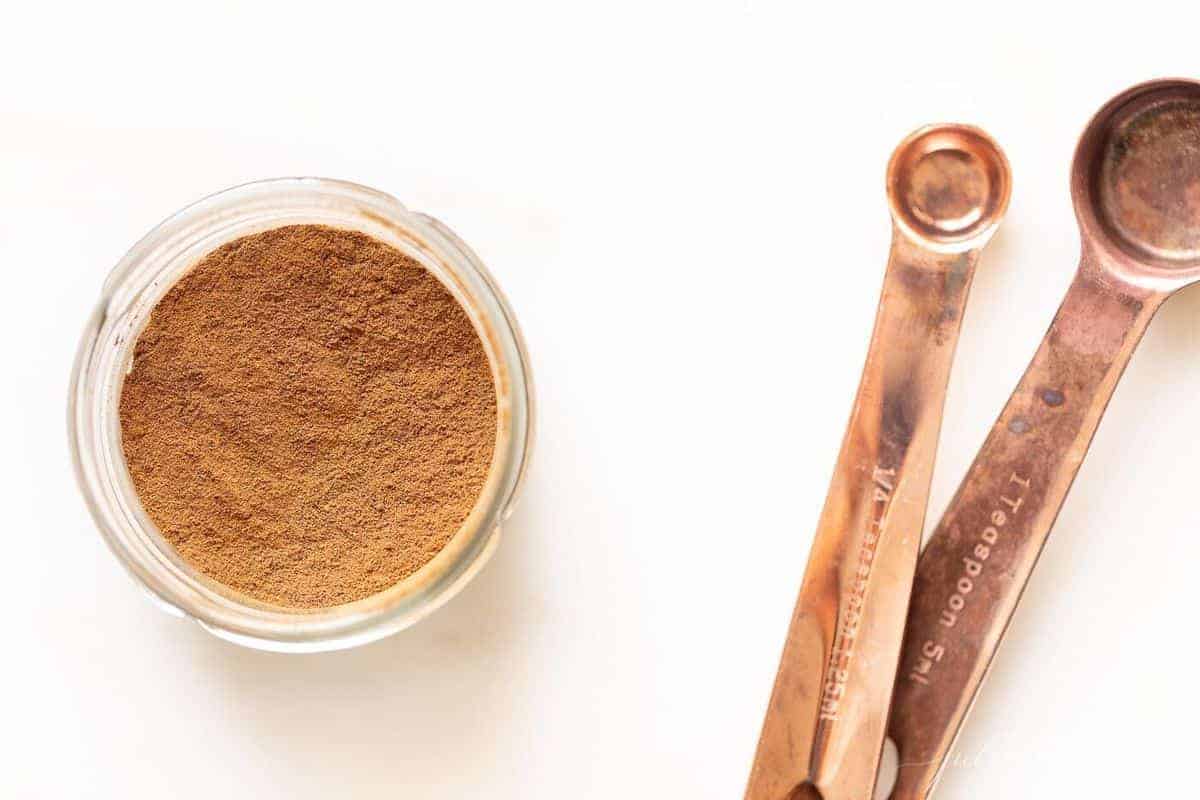 We are officially in the fall season and I am all about everything autumn! I love the harvest decor, spices and delicious smells, sweet and savory, coming from the oven. I love autumn traditions and look forward to apple picking, pumpkin patches, stews, and roasting s'mores around the fire.
Before the season started, I whipped up a large batch of my homemade allspice seasoning mix in preparation of all the baking I have planned. I love to make my own spice mixes because it's just so easy to customize and create whenever you have a few minutes. I also love to have spice blends on hand to give as stocking stuffers, or as wonderful additions to a gift basket along with a loaf of sweet bread!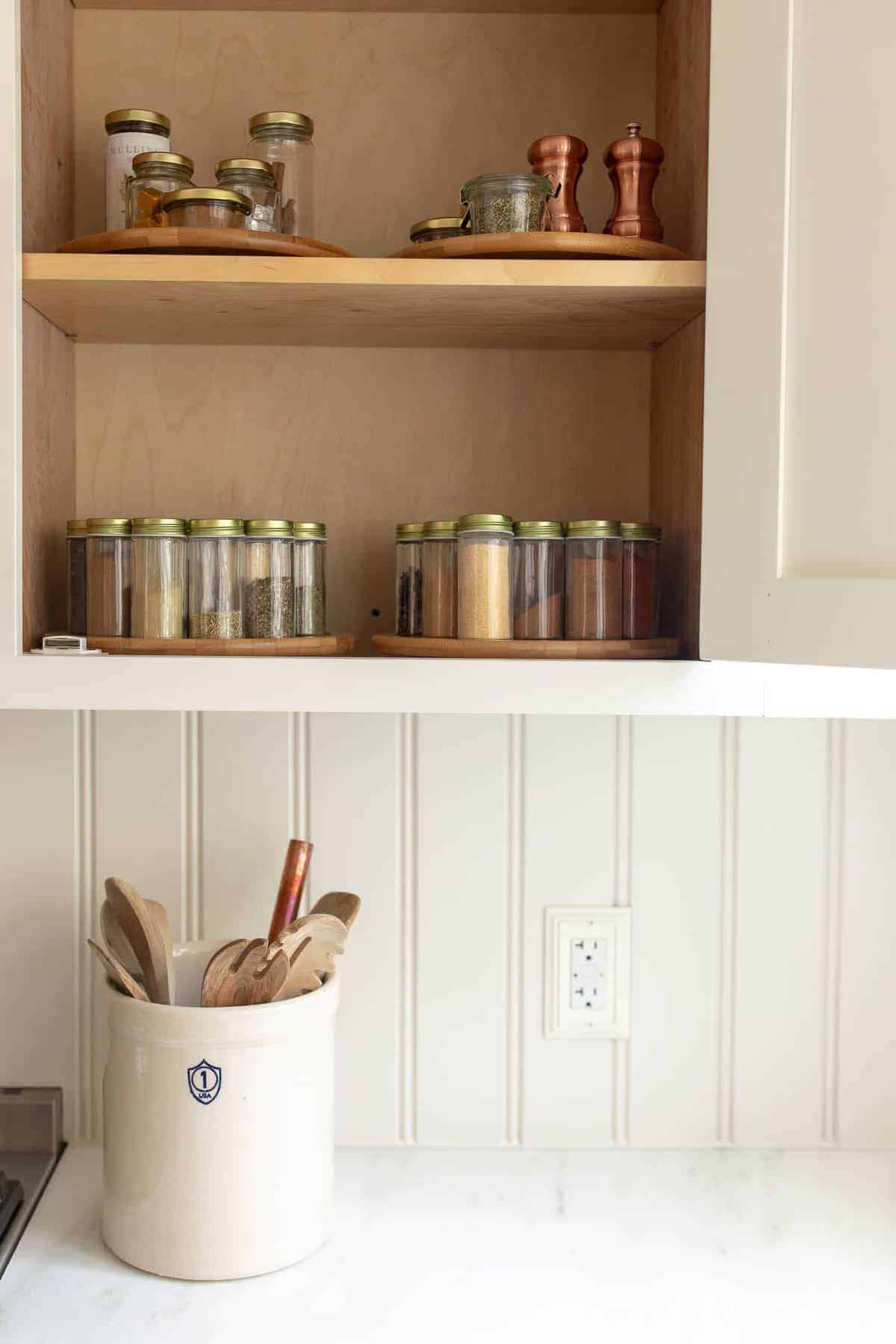 What Is Allspice?
In its original format, allspice is the berry of a beautiful tropical evergreen tree from the myrtle family and is found in the West Indies, Central America and Jamaica.
The allspice berries are picked when not fully ripe, and dried, and then ground for a fragrant and rich flavorful spice. Interestingly, when the allspice berries fully ripen, they lose their rich spicy flavor. In most of the world, allspice is called Pimento because it was first mistaken for pepper. Allspice gets its name because its scent is a blend of spices; cinnamon, nutmeg, and cloves.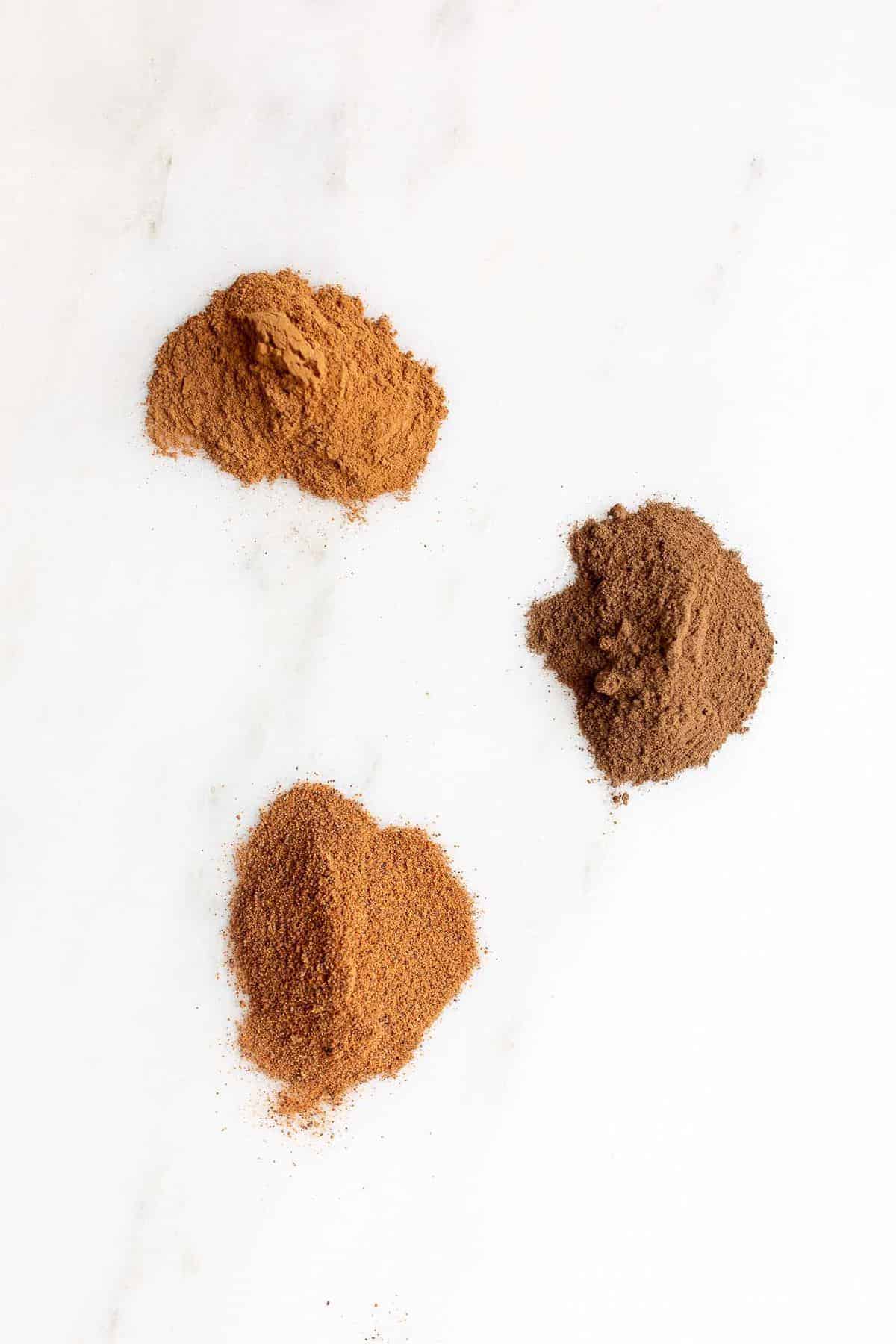 Although true allspice stands on its own, it's easy to mimic this complex flavor if you don't have allspice on hand. It can be added to savory and sweet dishes alike for a fragrance and flavor all its own!
Allspice Ingredients
Yes, true allspice is ground from the berry of a tree, but you can easily mix up your own allspice recipe seasoning blend at home.
What's in an allspice seasoning mix? It's simple, no need to run to the store to pick it up when chances are you have everything you need in your spice cabinet. Allspice seasoning mix can be created by simply combining ground cinnamon, ground cloves and nutmeg!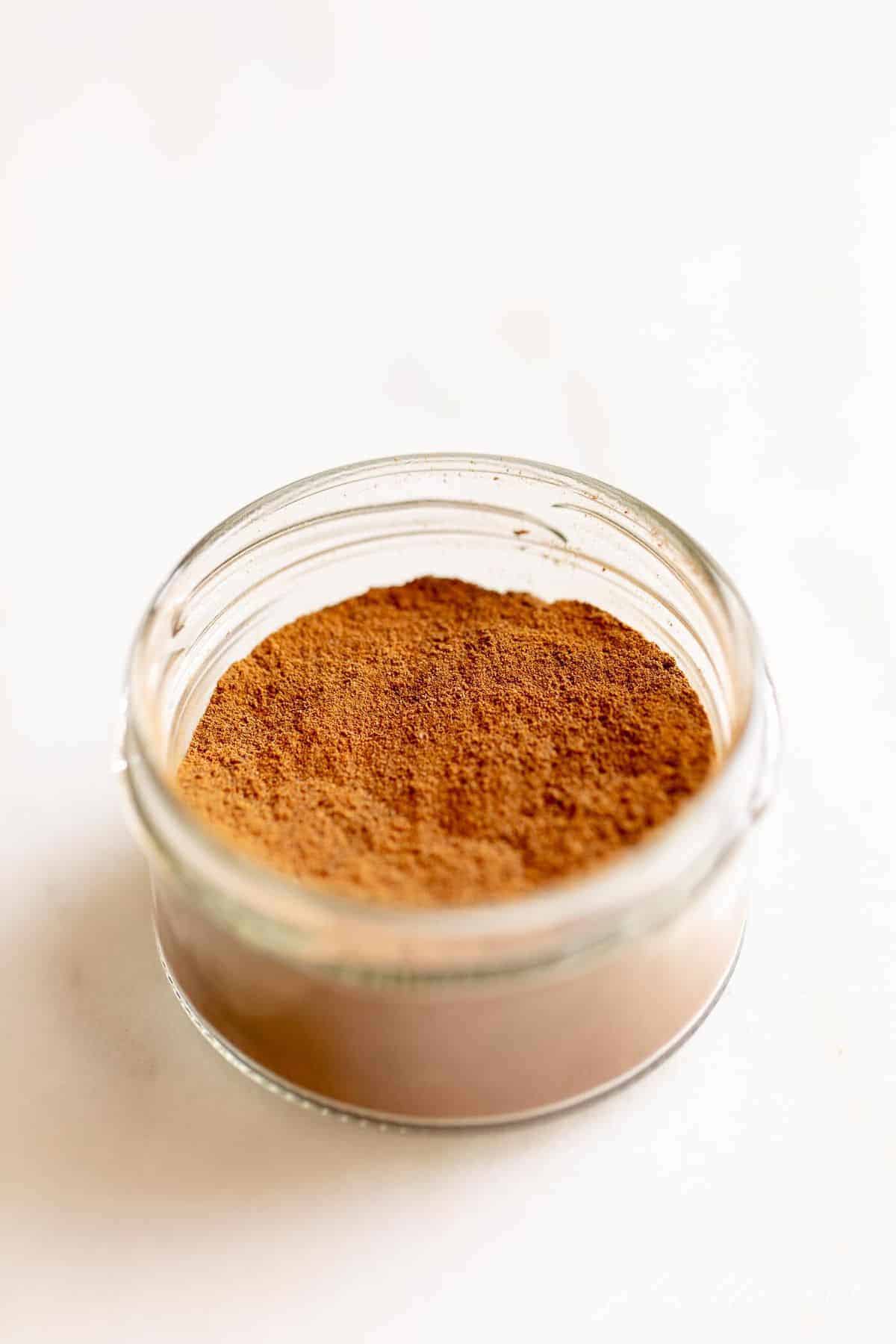 Make Your Own All Spice Mix
Making your own spice mix is so easy! It is very economical and fun. If you want, you can even let the kids help you measure the ingredients – I will warn you, they smell AMAZING! I like to use little jars and affix printable labels to the front to better store and organize.
I have found that it is sometimes difficult to keep so many different spices on hand for baking and cooking. If you've run out of allspice, or don't care to keep any in stock, fortunately, making an allspice mix is easy and does not lack any of the quality flavor or kick. It is also easily customizable, so if there is a spice that does not suit your fancy you are welcome to adjust to your tastes!
Homemade
Allspice Ingredients
ground cinnamon

ground nutmeg

ground cloves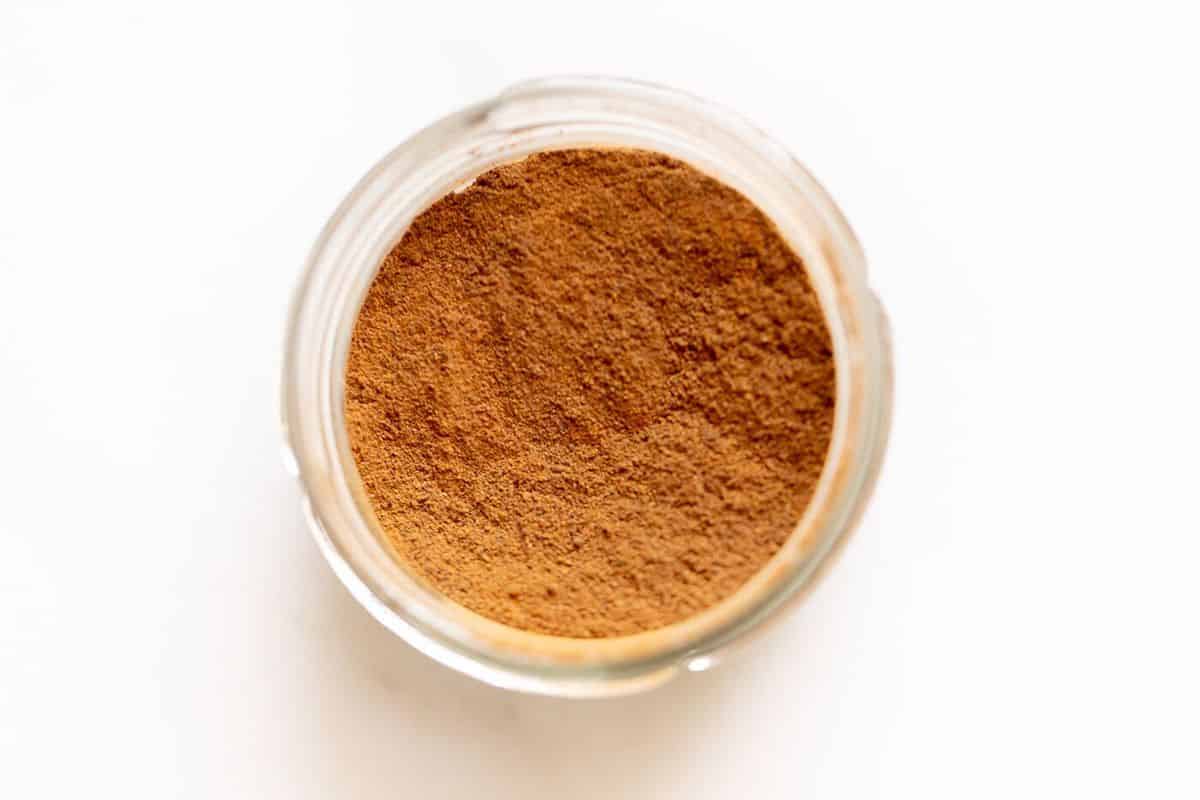 How to Make Allspice
Add spices into a glass mixing bowl and thoroughly combine.

Scoop into prepared storage jars and enjoy!
You'll find ingredient amount and recipe instructions in printable recipe card below.
Tips
This Allspice Seasoning Mix makes a beautiful gift! Add a bow and label, or combine with a gift basket of baked goods.

Allspice is a strong spice and a little goes a long way. If in doubt, use less in your recipe. You can always add more later!

Don't forget about adding a dash to savory dishes as well as sweet!

If you'd like to highlight the peppery accent that true allspice allows, simply add one part finely ground black pepper to your seasoning mix. Of course, this addition is best left for savory dishes and be sure to note that on your label!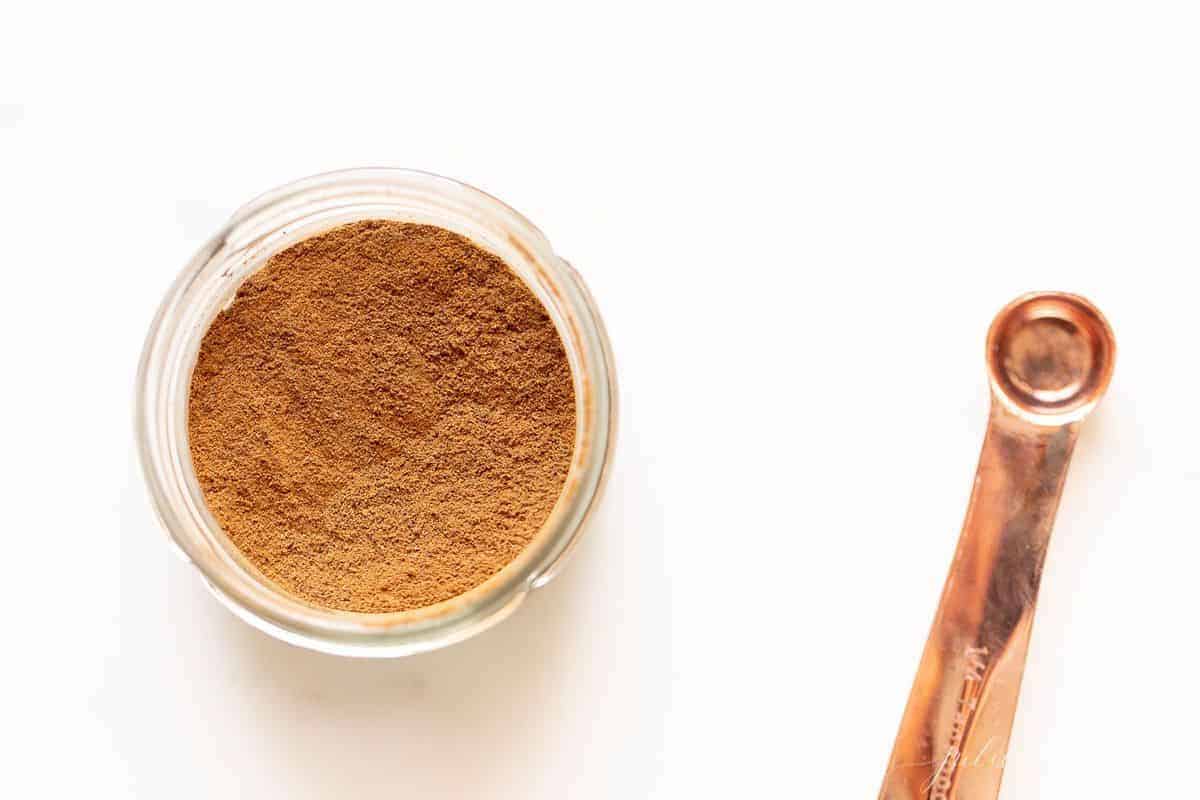 How to Store Allspice
I store all my spices in airtight containers, preferably labeled, in a cool dark place. No need to refrigerate! Your pantry or cupboard are perfect storage spots. Find my favorite glass spice jars right here!
This seasoning mix will last on your shelves for years, but ground spices can lose their potency after a season.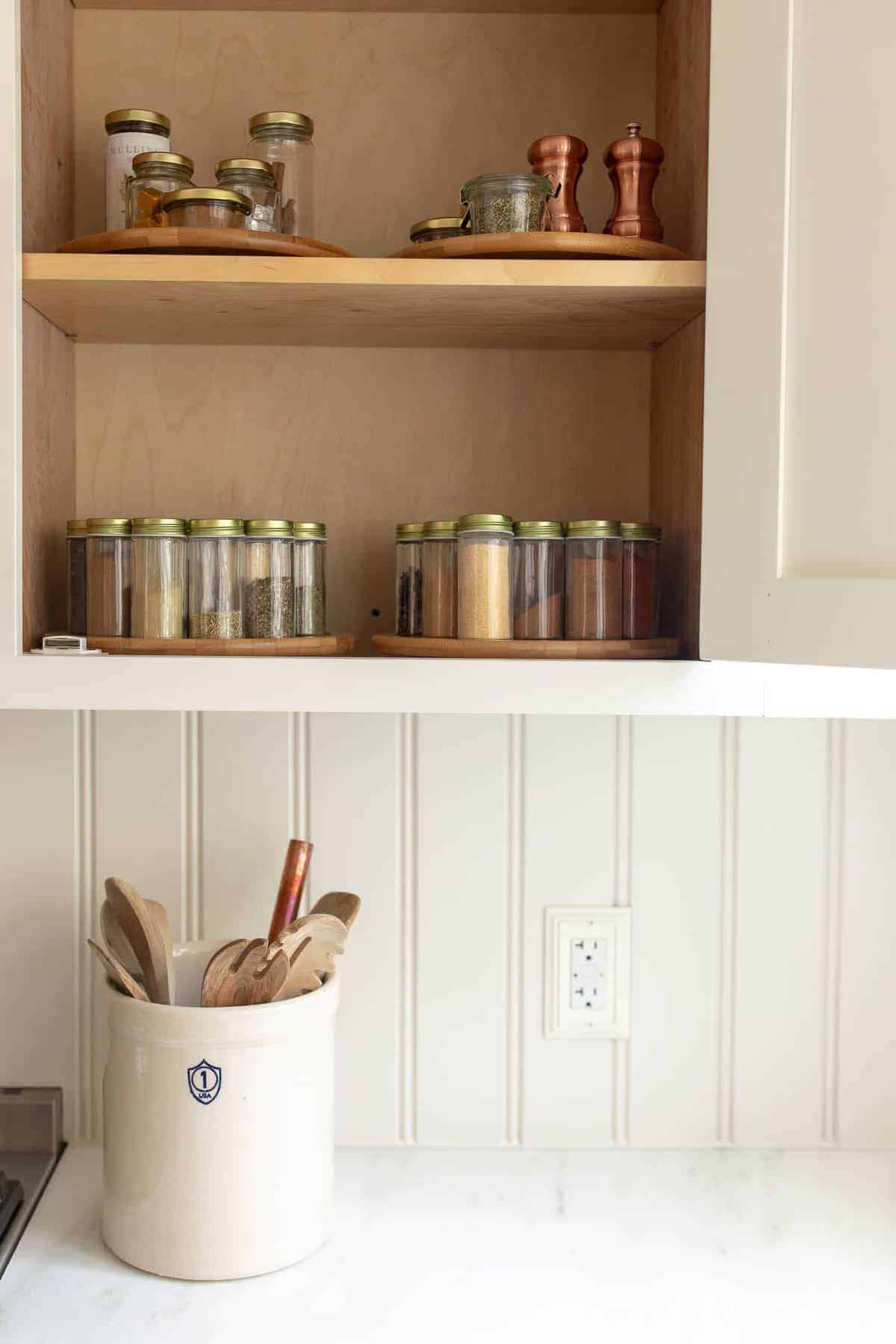 Uses for Allspice
Allspice has a beautiful peppery and cinnamon flavor. It adds a spicy exotic element to savory dishes such as stews, jerk chicken, and more.
Try adding ½ teaspoon of allspice to your beef stew or even vegetable soup. I know you'll love the spice and peppery layer it adds.
Add it to my mulled wine recipe! You can find my non alcoholic mulled wine here, as well!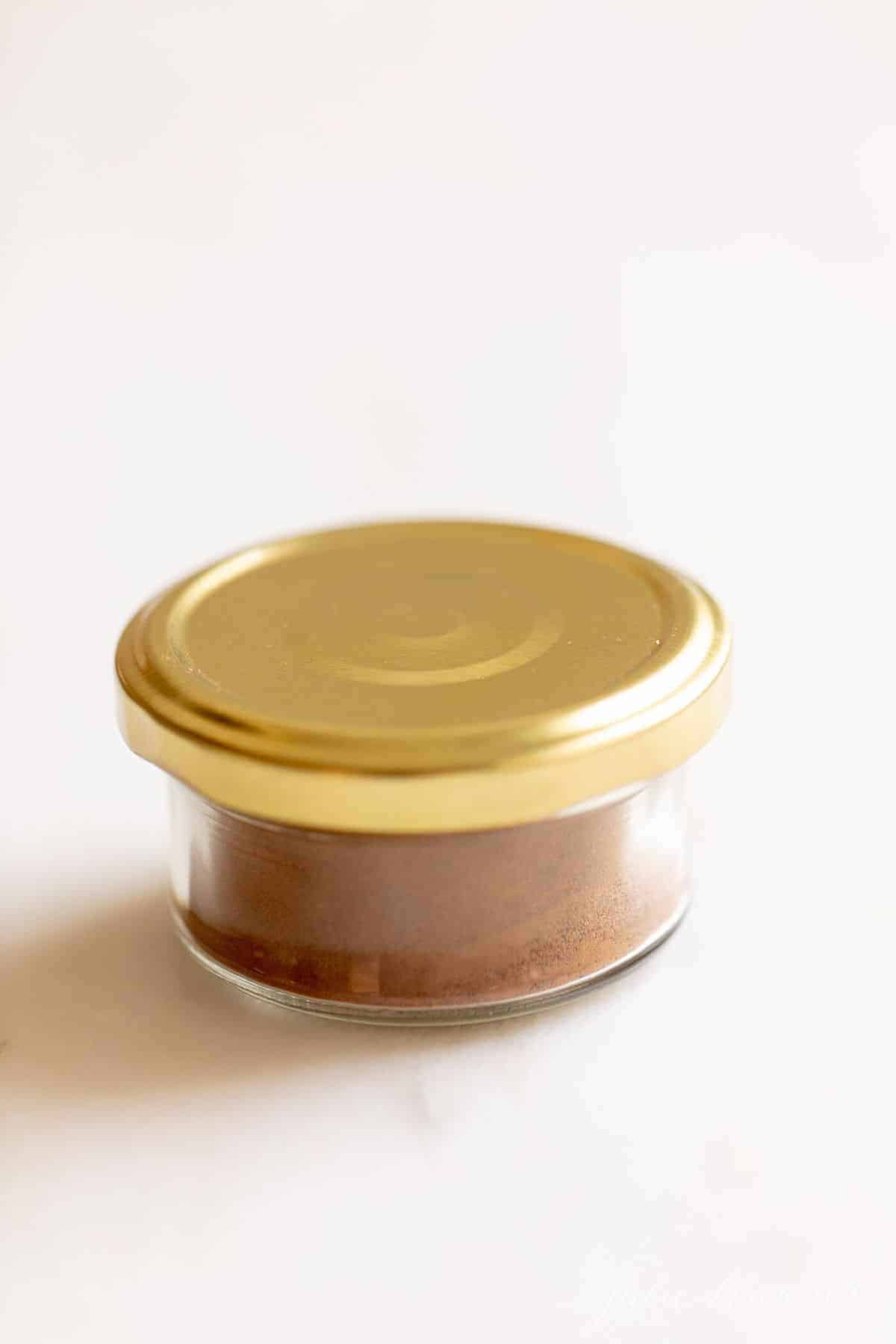 Popular savory uses for allspice include Swedish meatballs and Jamaican jerk seasoning. It can also be added to vegetables to give a distinctive flavor.
All spice is most commonly called for in sweet baked goods during the fall season. It adds a rich spicy component that balances well with sweet dishes and everyone looks forward to them all year. My favorite is pumpkin pie!
Recipes That Use Allspice
Looking for recipes to use your allspice mix? Here are some of my favorites!
From fall to spring, I use my

Mulling Spice Mix

to add fragrance and flavor to wine, syrup, and even coffee!

Surprise your loved ones with these fall inspired

Donut Holes

! All spice is baked into these heavenly donuts, but they are also rolled in butter, sugar and spices to finish them off!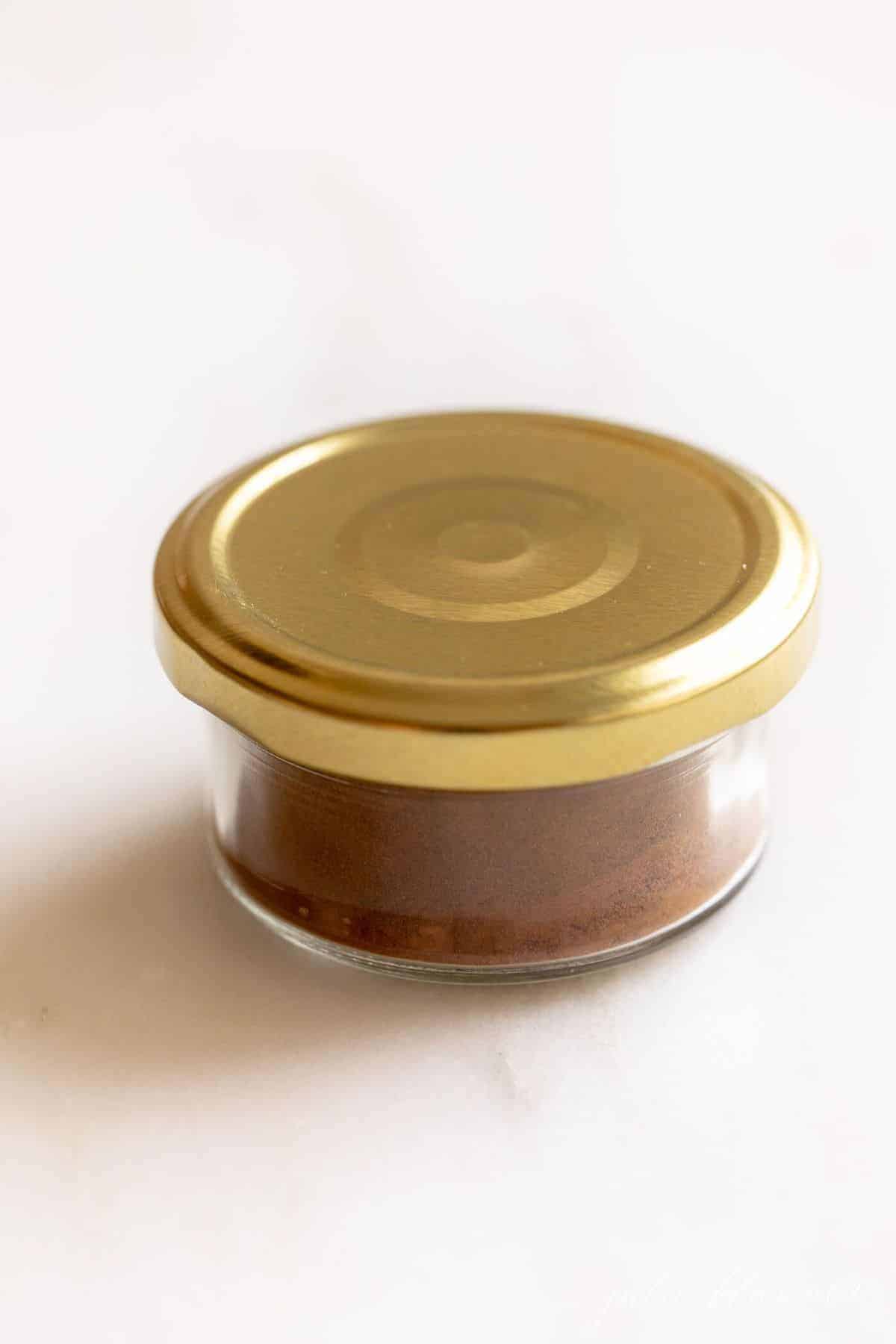 Crazy Good Pumpkin Cake

is just that- crazy good! It is always a hit at any gathering. Top with a thick creamy layer of homemade cream cheese frosting and the combination is simply divine!

Gooey Butter Cake

is a classic here in St. Louis and I decided it was time to make a fall version! These

Pumpkin Gooey Butter Cookies

have been a hit from the start and I have never been able to keep up with the demands!

You can also add a bit of allspice to this Easy

Non Alcoholic Mulled Wine

. This cocktail is perfect for holiday entertaining, and a treat anyone can enjoy.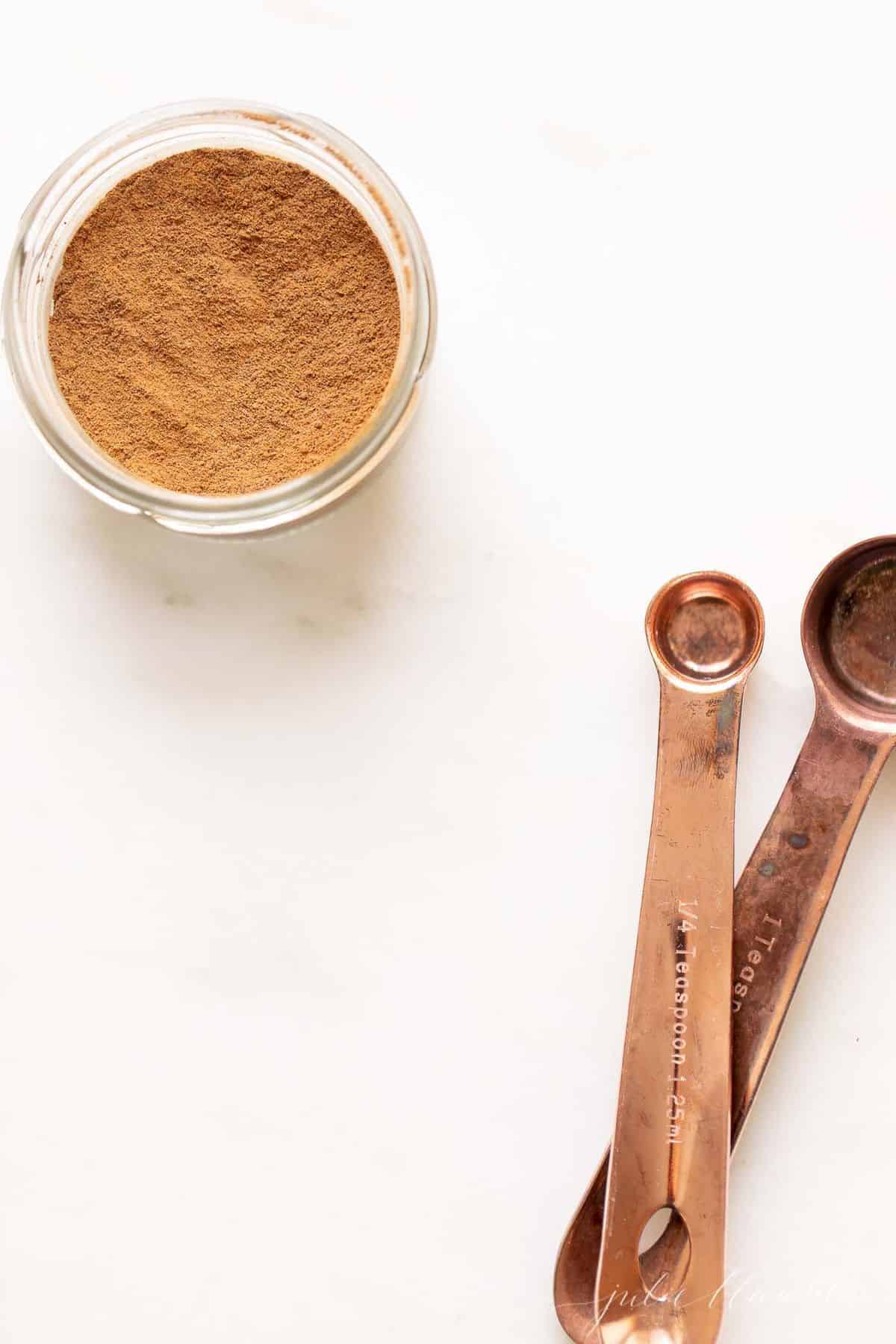 My recipe makes a large batch, so you will have plenty for the holiday season and gift giving! You can also use my measurement conversion chart or the slider in the recipe card to adjust the recipe to customize it to your specific needs.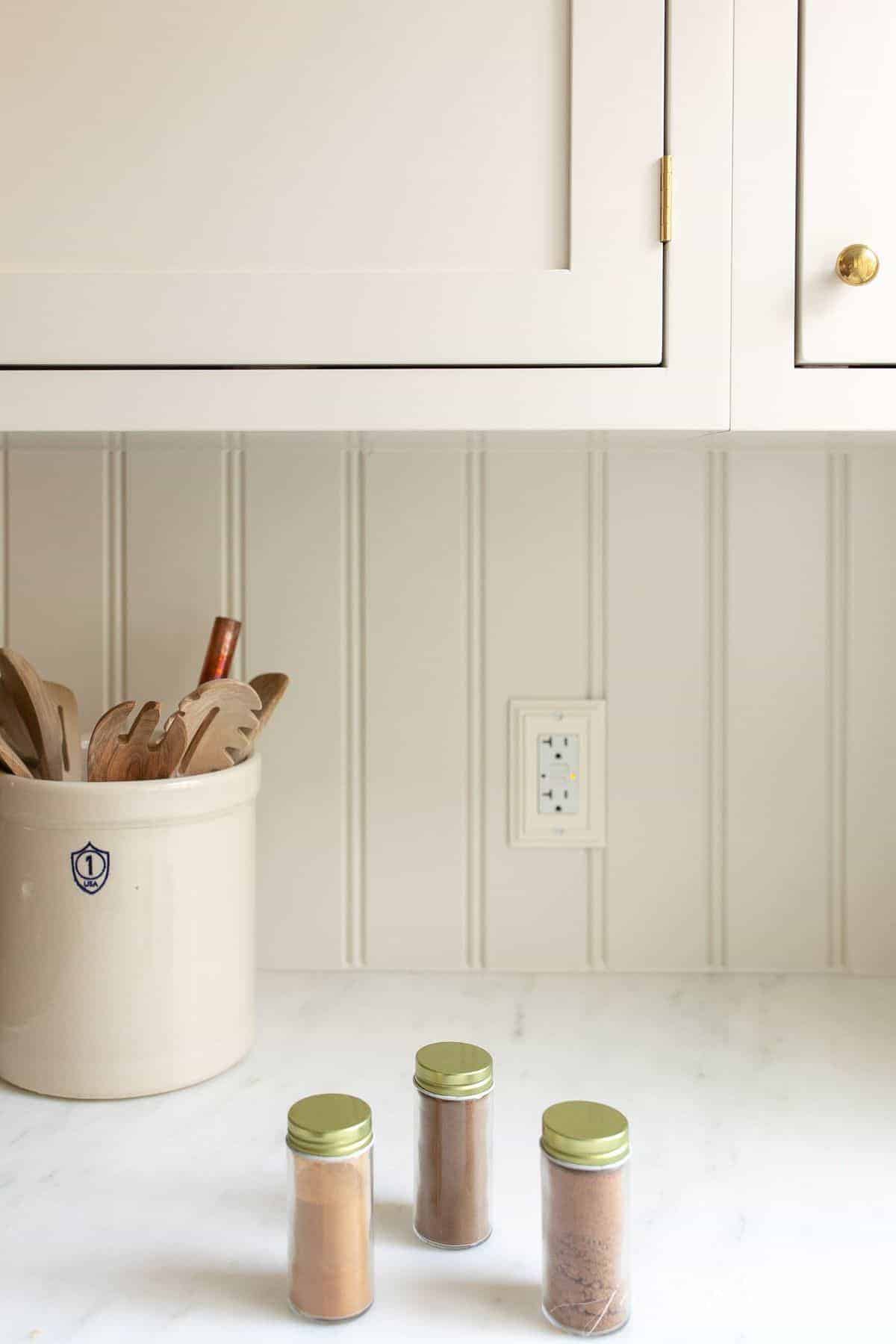 I hope you enjoy this allspice seasoning recipe! Please leave a comment below. I would love to hear from you! You can also pin this recipe for later!
Want more? Receive the best ideas directly to your inbox and connect on Youtube, Instagram, Facebook, and Pinterest!
Happy Baking!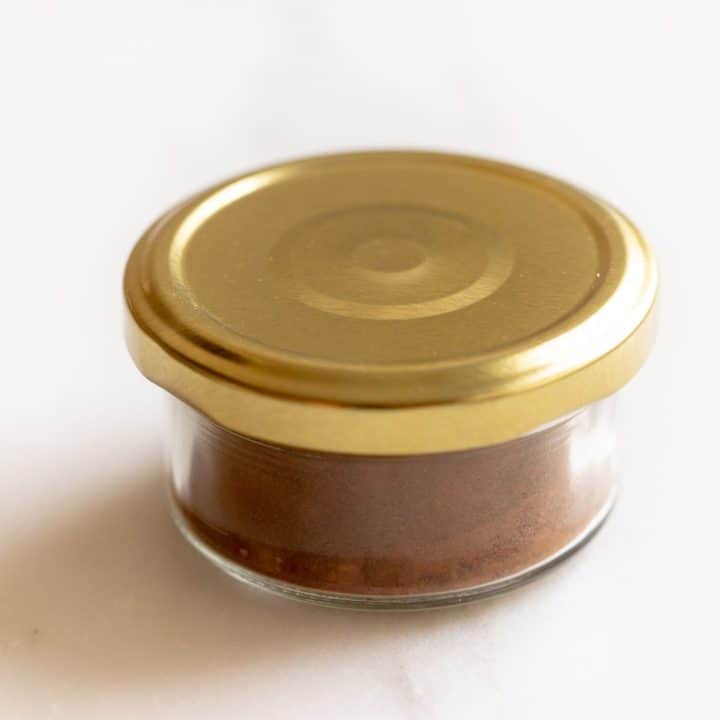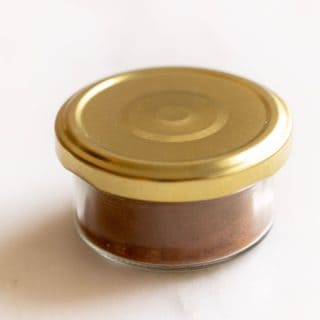 Allspice | Making Your Own Allspice Mix
Make your own homemade Allspice seasoning mix with this three ingredient recipe! Add this Allspice Recipe to sweet or savory dishes for flavor and aroma.
Ingredients
1

tablespoon

nutmeg

ground

1

tablespoon

cloves

ground

1

tablespoon

cinnamon

ground
Instructions
Add spices into a glass mixing bowl and thoroughly combine.

Scoop into prepared storage jars.
Notes
Tips
Use the slider in recipe card to adjust amount.
Customize seasoning blend to your own tastes. 
Add a touch of ground pepper for a more savory allspice mix (not for baking).
How to Store Allspice
Store in airtight container in a cool dark place. Your pantry or cupboard are perfect storage spots. 
Nutrition
Calories:
65
kcal
Carbohydrates:
12
g
Protein:
1
g
Fat:
3
g
Saturated Fat:
2
g
Sodium:
10
mg
Fiber:
7
g
Sugar:
2
g
Calcium:
112
mg
Iron:
1
mg
Did you Make This Recipe?
Mention @JulieBlanner