Blackened Seasoning Blend
Make your own homemade blackened seasoning for poultry, seafood and more with this easy seasoning blend. Blackening spice is an easy seven ingredient recipe that gives the perfect amount of heat and kick!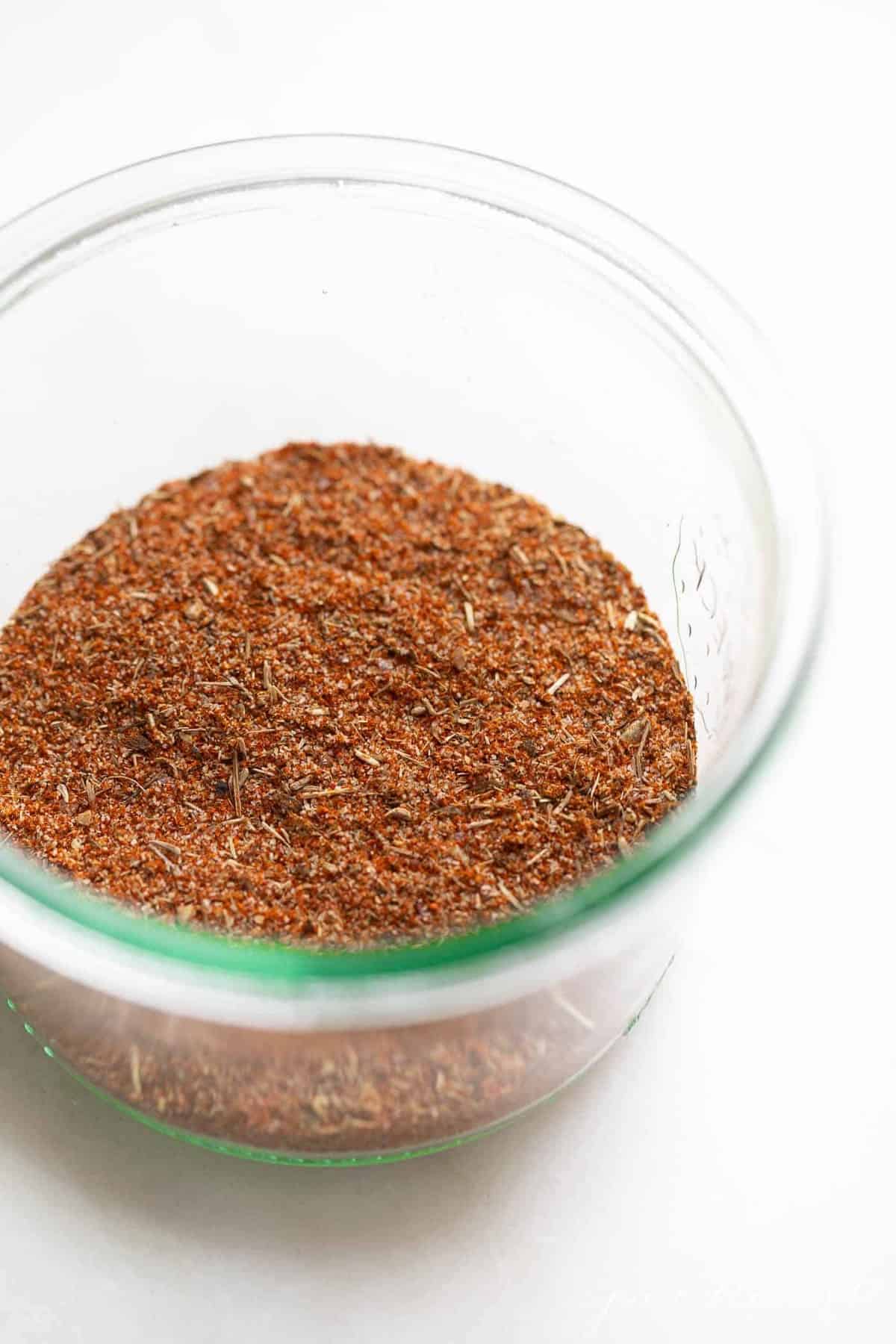 Recently, I shared my Zesty Blackened Chicken Recipe that is so moist and juicy with the perfect balance of heat and flavor! I achieve this balance of spice with my own homemade Blackened Seasoning blend and it is so easy to make.
I know I've often touted the benefits of making your own spice mixes but I can't help saying it again. It's a game changer and honestly a secret to cooking flavorful protein dishes. Homemade spice blends are often more fresh and can be tailored to your individual tastes.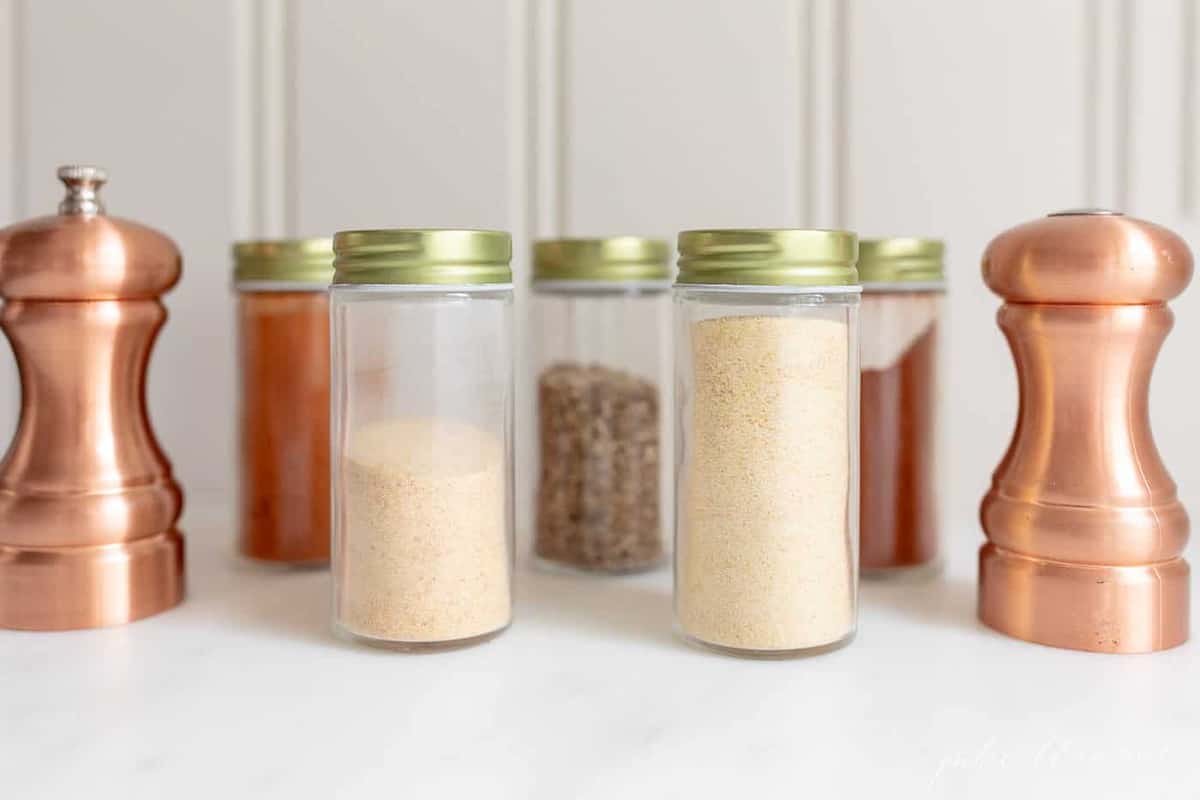 I like to give a lot of detail in my recipe posts to guide readers through any questions. If you're just here for the printable recipe, feel free to click "jump to recipe" right under the title of this post and you'll head straight there!
What is Blackened Seasoning?
So what is blackened seasoning mix? That's a great question. It is a blend of Cajun and Creole style that is spicy but not overly hot!
We love to use this spice blend at home because it creates an explosion of flavor, without necessarily adding extra fat or calories. The herbs and spices coat the chickening (or your preferred protein) creating a burst of flavor in each bite.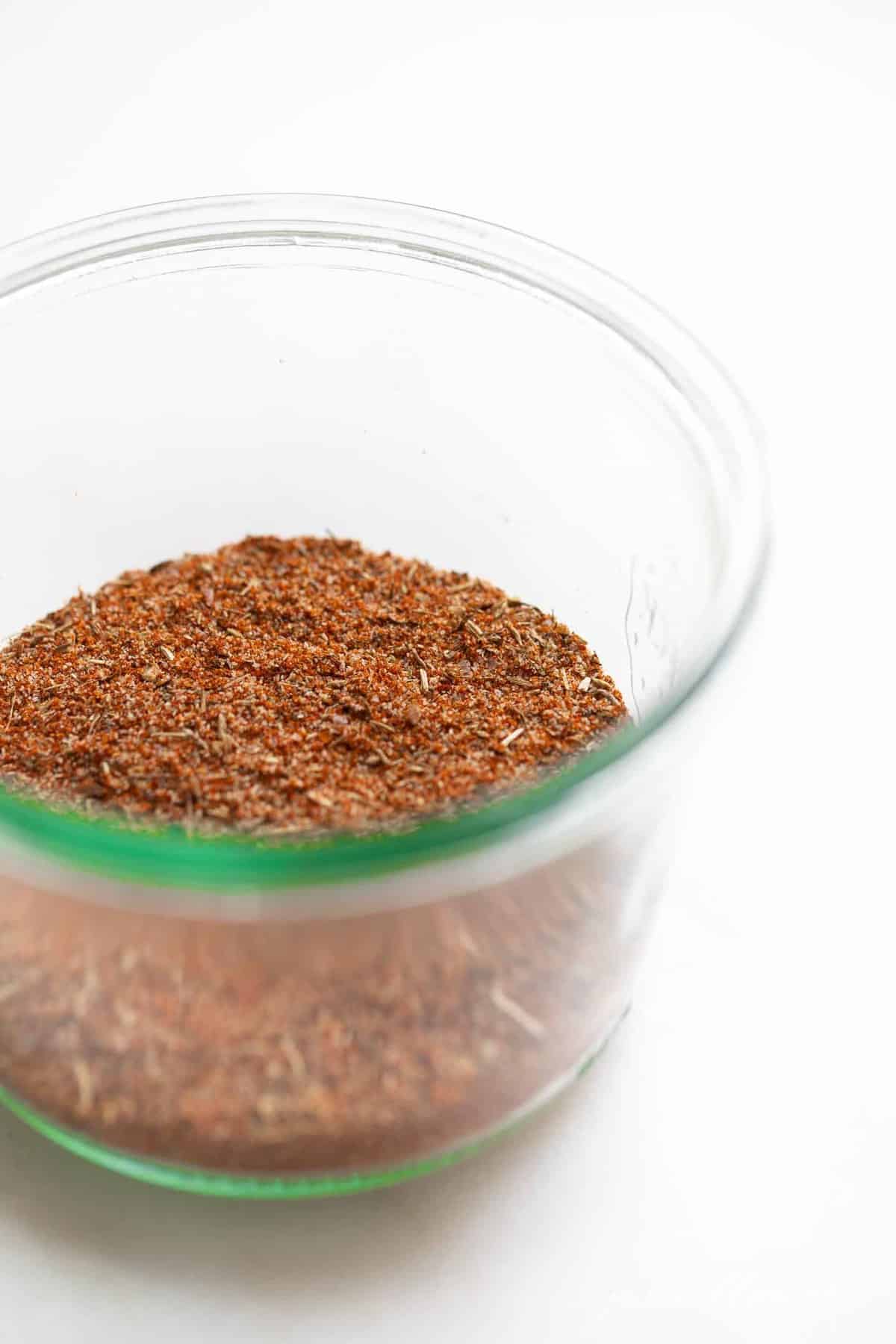 Ingredients in Blackened Seasoning Recipe
Course Ground Salt – gives some texture and flavor
Black Pepper – a little color and heat. I love using freshly ground but any black pepper is great!
Smoked Paprika – is dried and ground chiles. It adds color and a bit of mild heat. You can use regular or smoked paprika.
Cayenne Pepper – a beautiful color with more heat, this spice gives this recipe a bit of a kick!
Dried Thyme – a great herb with lemon and minty undertones. It pairs well with pepper!
Onion Powder – adds a savory and sweet element that is sharp and delicious.
Garlic Powder – is not as strong and pungent as fresh garlic. It adds the perfect balance and rounds out this spice mix well!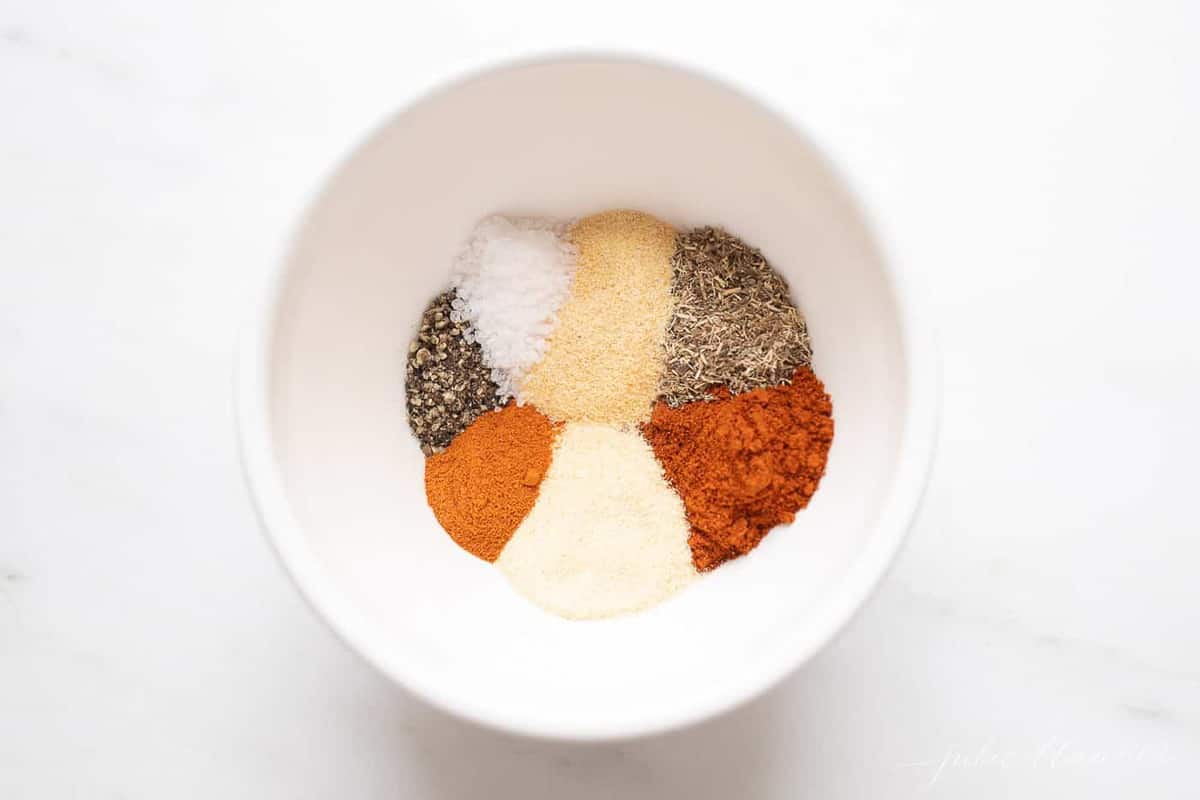 This seasoning blend has only seven ingredients that are most likely already in your spice cabinet.
Making this spice recipe is so easy!
How to Make a Blackening Spice Blend
Gather ingredients

Measure ingredients into a large mixing bowl

Combine

Scoop into storage jars

Enjoy in your favorite recipes
Can I use Fresh Herbs Instead?
Normally I would tell you that interchanging fresh herbs when a recipe calls for dried is a reasonable idea. However, not when it comes to blackening!
Using fresh herbs would not end well. They would immediately char, burn and ruin any flavor you're looking to impart. In this situation, stick with dried blackening spices!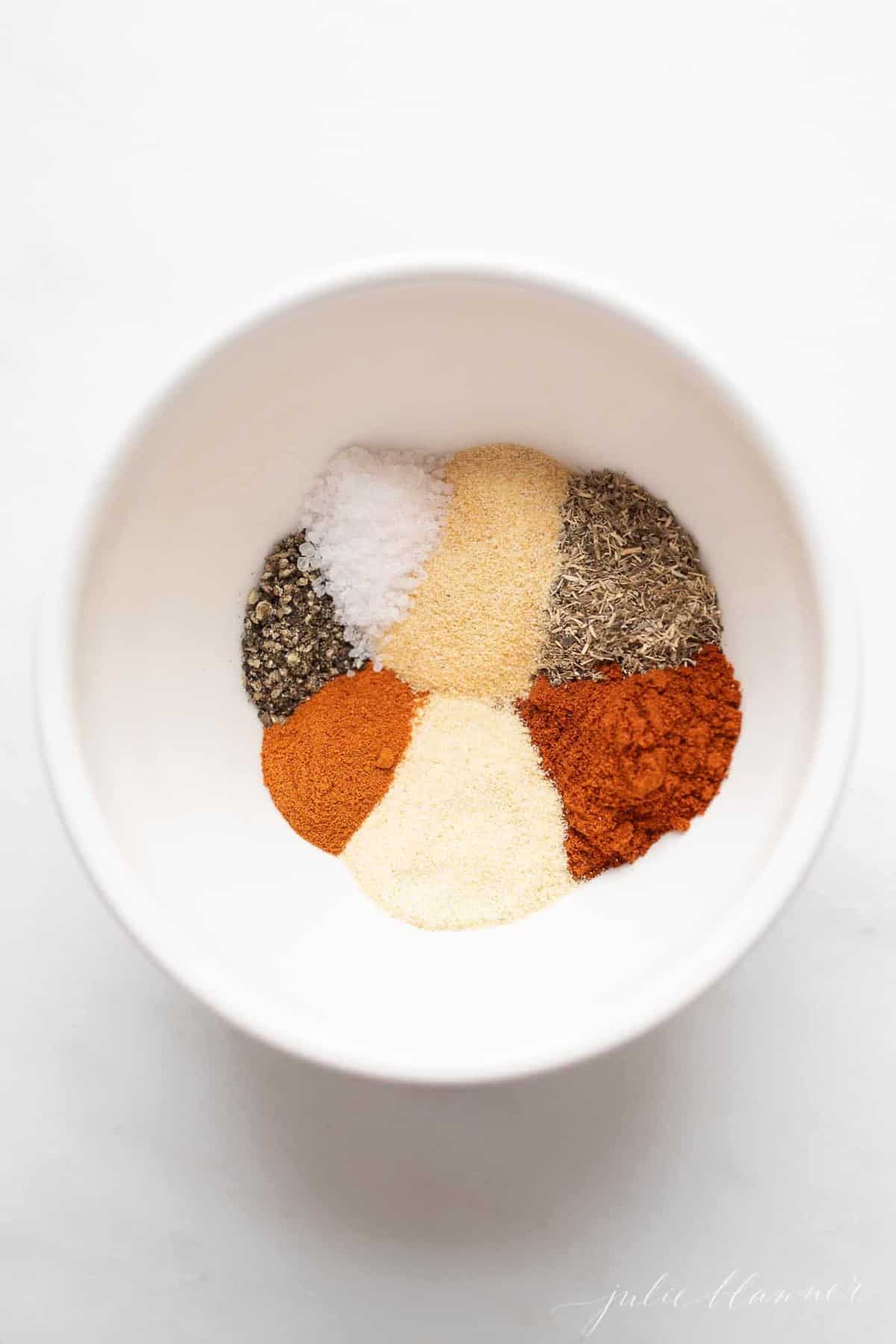 How to Store
This seasoning can be stored like any of your other spices. Use a clean sealable jar to store your mix and store in a cool dry and dark location. A cabinet or pantry works great!
I get a lot of questions about these pretty glass jars with gold lids. While the four ounce jars in these images are currently sold out, this version is just as pretty!
How to Use Homemade Blackened Seasoning
This is the fun part! You can top any protein with this spice blend. Rubbed on chicken is how I most often use it, but steak and fish are also delicious and popular choices for blackened food.
Others have reported using this seasoning mix in soups, to season veggies, and more! It's so vibrant and flavorful that it will be fun to experiment with a variety of ideas.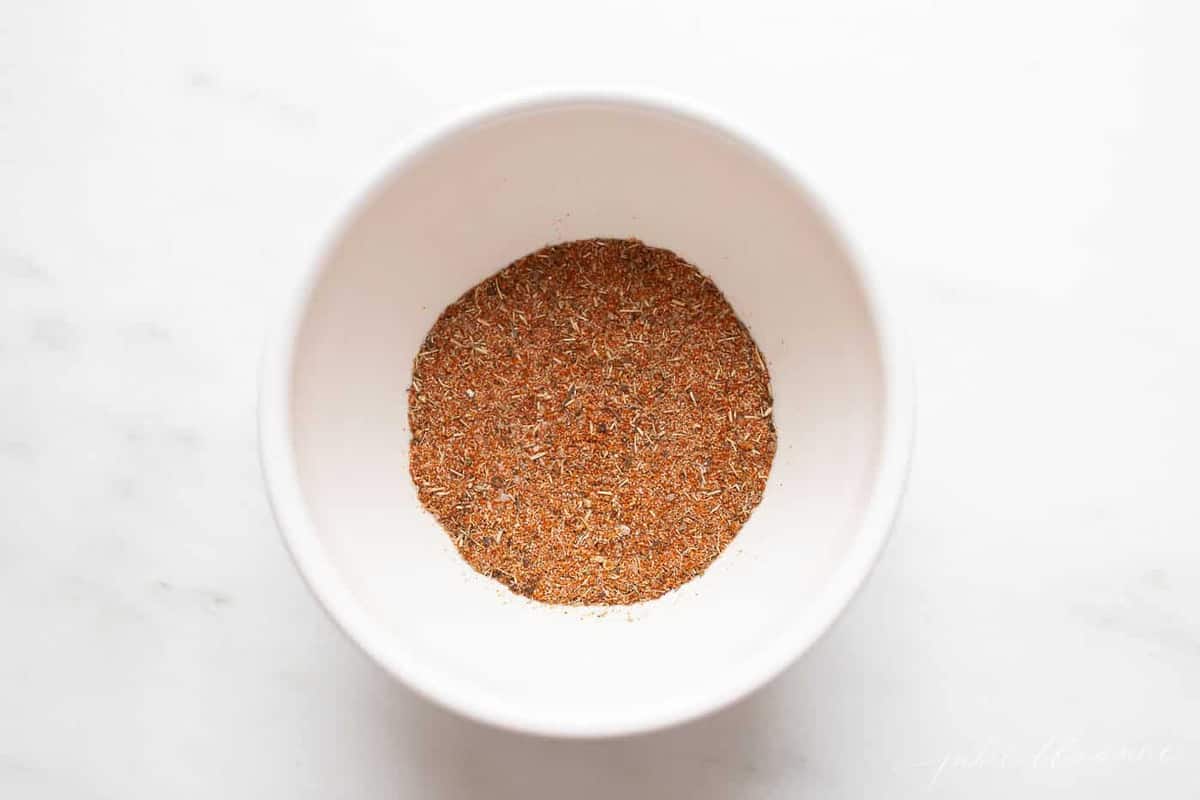 How are Blackened Seasoning and Cajun Seasoning Different?

They are actually somewhat similar in their flavor profiles! However, Cajun seasoning is traditionally a little spicier with the addition of red pepper flakes and a significant dose of extra cayenne.

Can the two be interchanged in recipes? That's personal preference. Since you're making your own blend and controlling the spice level, it's possible, but be cautious. Because Cajun seasoning contains more heat and spice, be careful in fully coating your protein so you don't overdo it.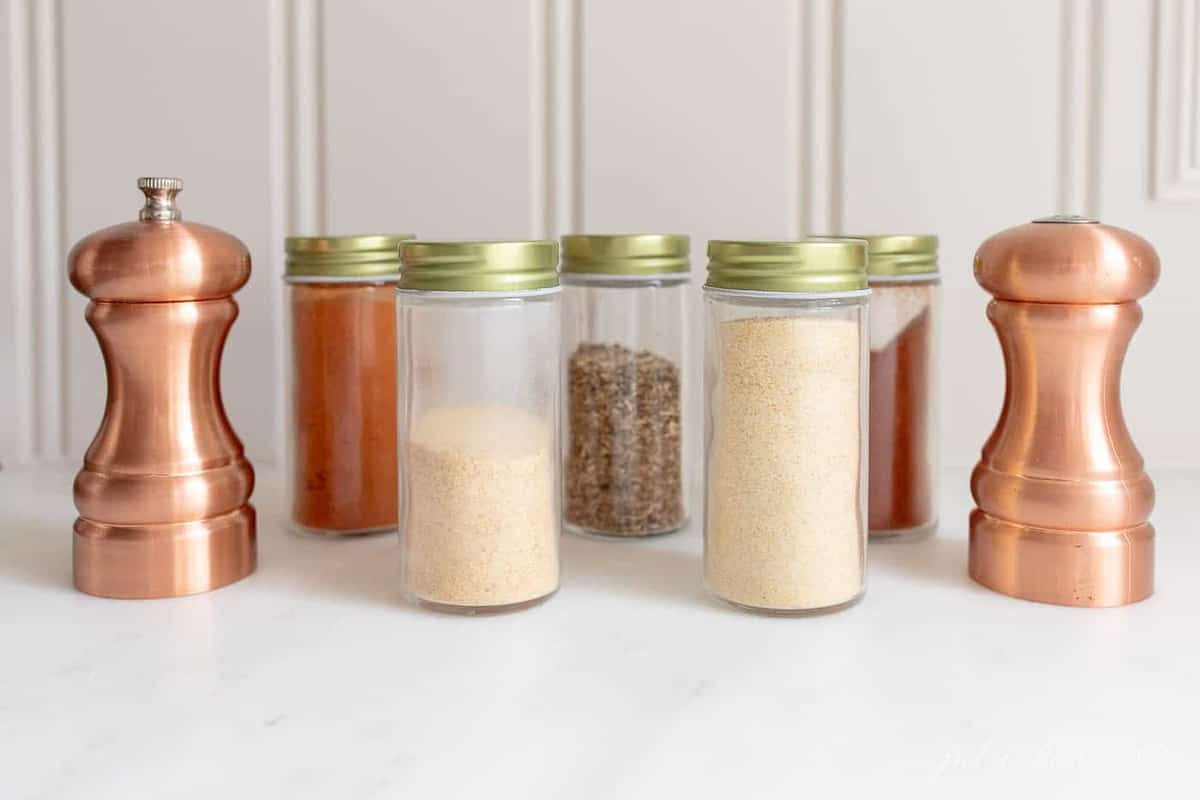 More Spice Blend Recipes
Check out some of my other incredibly simple spice blend recipes!
Allspice – Only 3 staple ingredients!
Cinnamon Sugar – Our favorite topping for toast or waffles!
Cajun Seasoning – Fresh and flavorful with a little kick!
Taco Seasoning – Who knew it was so easy to make your own?
Pumpkin Pie Spice – this works beautifully in baked goods, coffee, and more… in the fall or anytime!
Poultry Seasoning – this simple seasoning blend is perfectly neutral and allows your poultry dishes to shine regardless of side dishes, etc.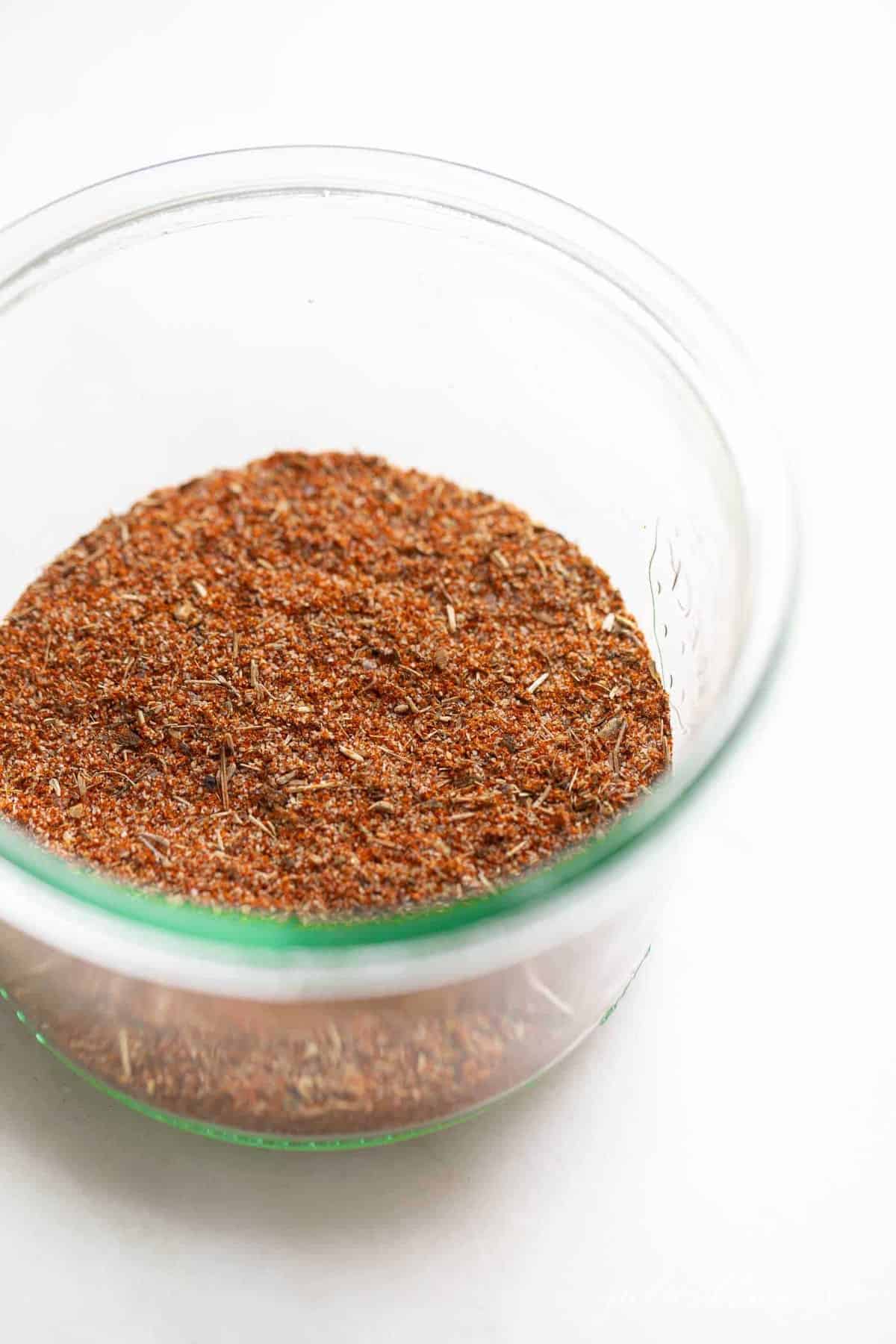 If you try this recipe, please come back to share using my 5 star rating in the comments below! Not only do I appreciate it, but I know readers do, too!
Hungry for more? Receive the best ideas directly to your inbox and connect on Youtube Instagram Facebook and Pinterest!
More Cajun Flavor
Check out a few of our favorite blackened and Cajun-inspired dishes for a little heat in your dinner line-up!
Creamy Chicken Pasta with Cajun Sauce

– This easy chicken and pasta dinner is one of my most popular recipes! It's delicious and effortless!

Cajun Spiced Chicken – An incredibly easy way to add delicious flavor to your chicken, so it's a super flexible protein option for pastas, salads, and more.
Blackened Chicken Recipe – this flavorful chicken is coated in melted butter and this delicious blackened chicken seasoning. It's unforgettable!
Chicken Fajita Bowl – A simple way to use blackened chicken that combines the flavors of Cajun and Mexican foods. The perfect little kick of spicy fun!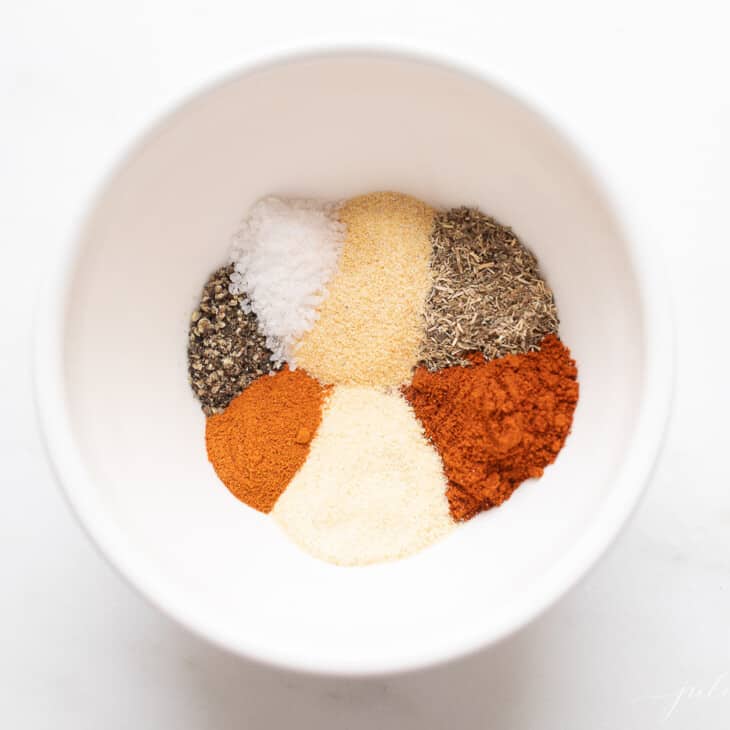 Blackened Seasoning Blend | Simple Blackening Spice Recipe
Make your own blackened seasoning for chicken, seafood and more. This blackening spice blend is an easy 7 ingredient recipe with the perfect amount of heat!
Ingredients
2

tablespoons

paprika

1

teaspoon

cayenne pepper

1/2

teaspoon

black pepper

freshly cracked

1

tablespoon

dried thyme

1

tablespoon

garlic powder

1

tablespoon

onion powder

1

teaspoon

salt

thick flakes
Instructions
Measure ingredients into a small mixing bowl.

Enjoy in your favorite recipes.
Tips
Add more or less of any seasoning to customize to your taste.
Nutrition Information
Calories:
4
kcal
,
Carbohydrates:
1
g
,
Protein:
1
g
(2%)
,
Fat:
1
g
(2%)
,
Saturated Fat:
1
g
(5%)
,
Sodium:
117
mg
(5%)
,
Potassium:
23
mg
(1%)
,
Fiber:
1
g
(4%)
,
Sugar:
1
g
(1%)
,
Vitamin A:
394
IU
(8%)
,
Vitamin C:
1
mg
(1%)
,
Calcium:
5
mg
(1%)
,
Iron:
1
mg
(6%)
Estimated nutrition information is provided as a courtesy and is not guaranteed.