Step inside our home – at night, for a tour of our Christmas decorations. There's something about the magic and glow of Christmas lights that bring the joy of the season to life!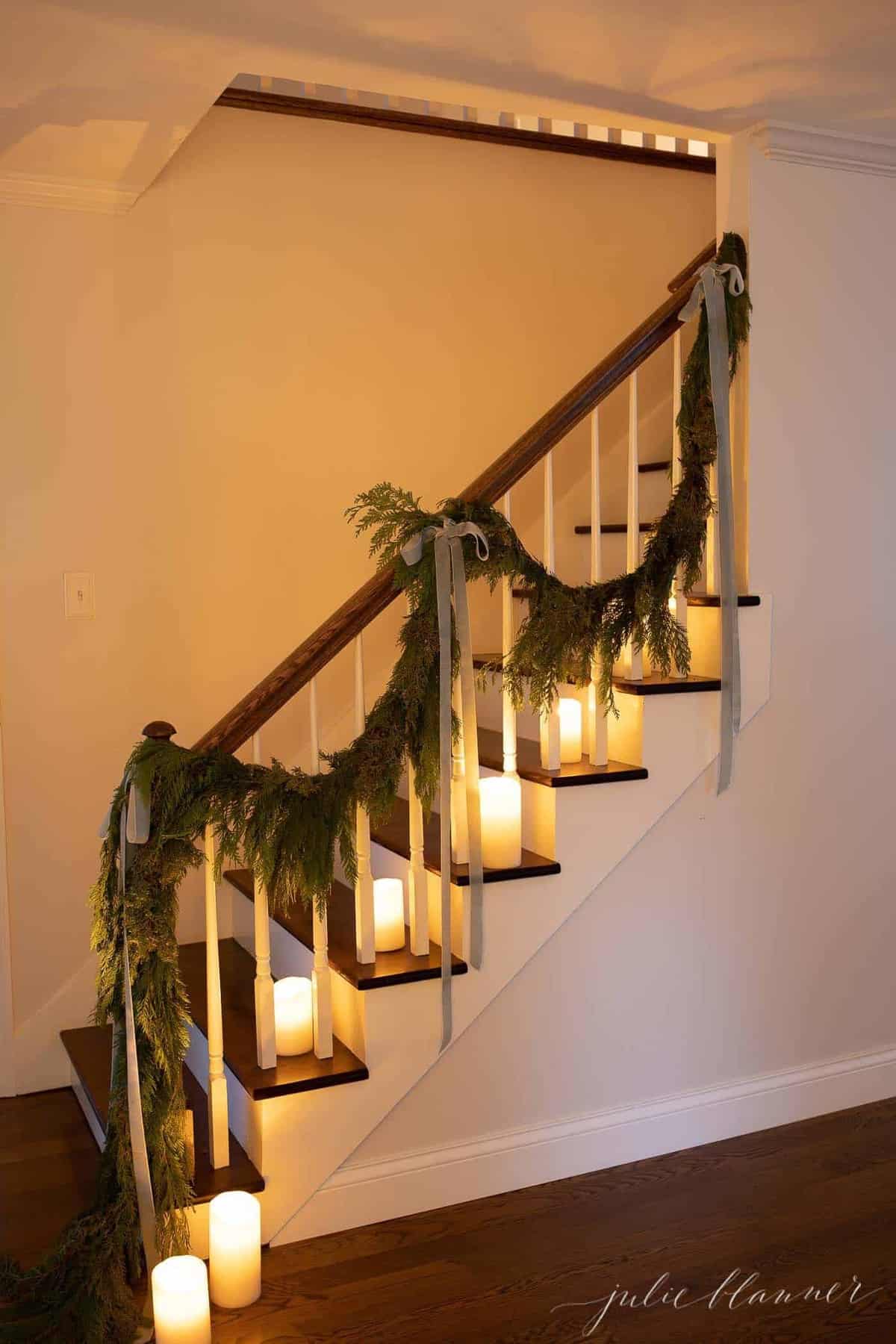 All Aglow
Nat King Cole captured the magic of Christmas when he sang those "tiny tots all aglow" lyrics, didn't he? The excitement and warmth of this season truly lights up our home and the eyes of our little girls!
I don't often take photos of our home at night. As much as I enjoy taking and sharing photos with you, I find night time lighting situations to be difficult to capture!
Grab a cup of homemade hot chocolate and come on in!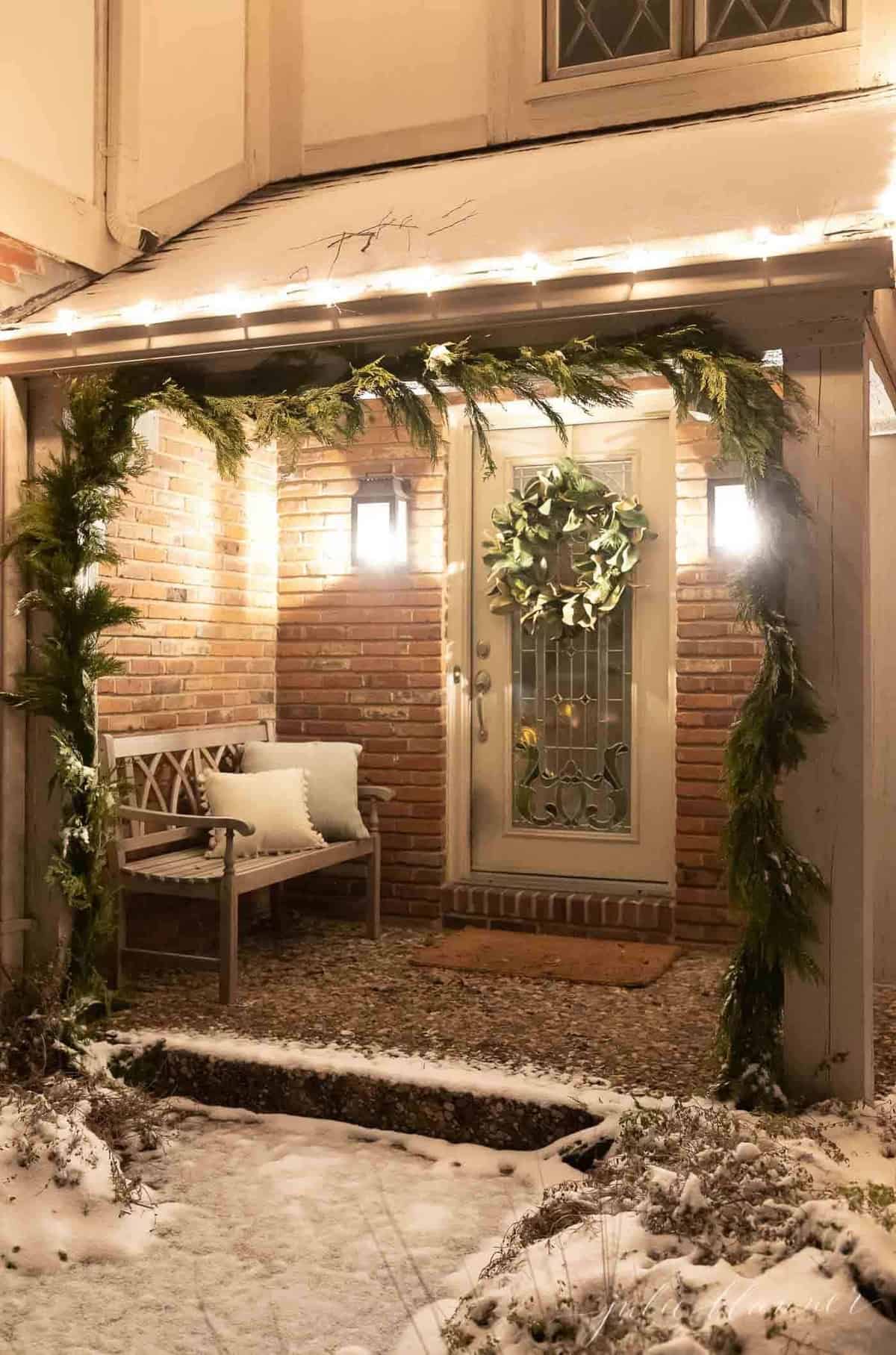 With that said, I'm learning every day and I love sharing the small, special moments in our Christmas home with you. We were lucky enough to get a pretty snowfall when I took these photos, and I love the layer of magic it added to our exterior.
Today I'm taking you on a tour of our home on a glowing, snowy evening. I've captured this tour on video, as well – with many areas of our home that aren't seen in these photos – so don't forget to watch!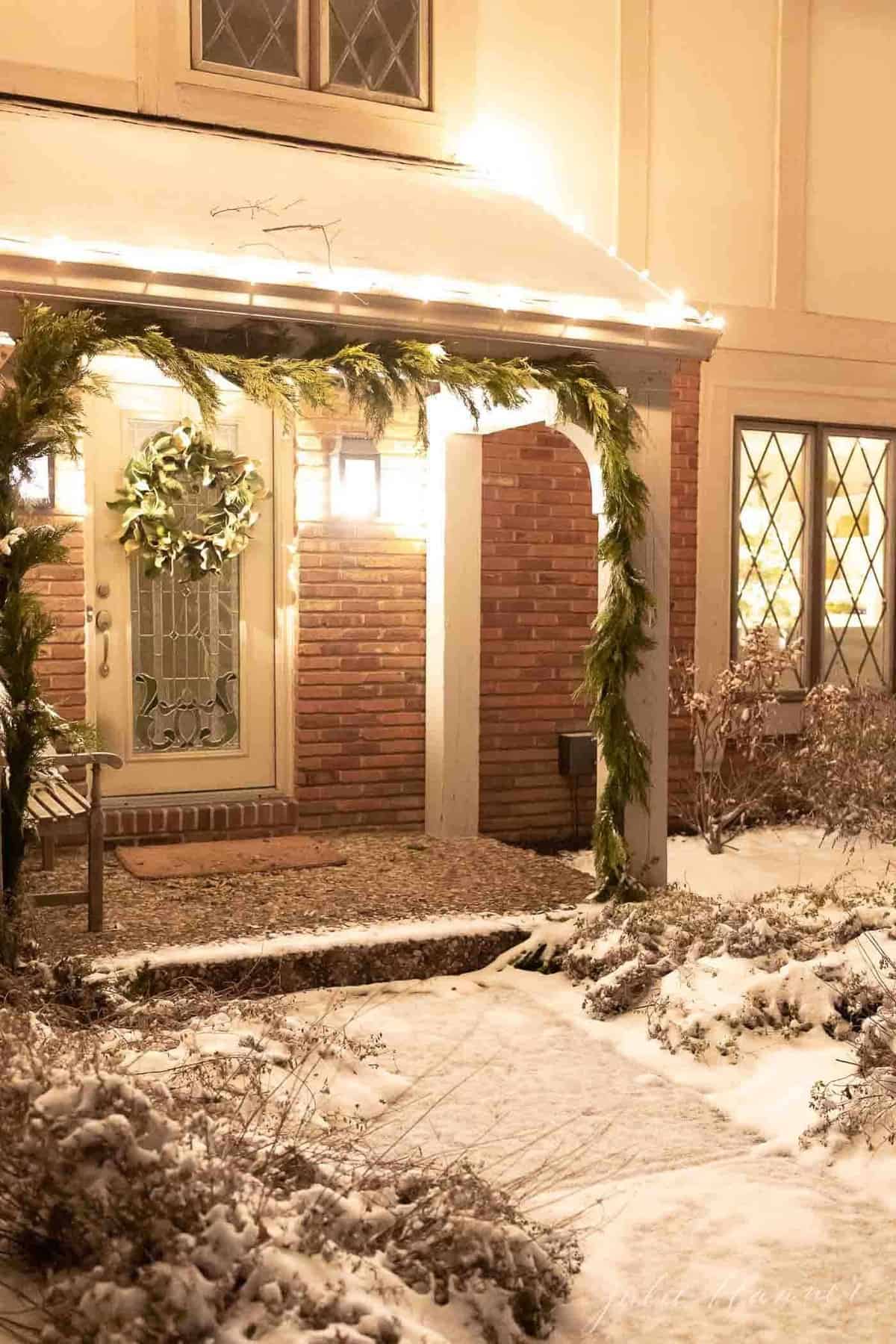 One of the best parts of Christmas for our family is the lights. We can't get enough! We love the magical glow of Christmas both indoors and out. I'm so grateful for the cozy, warm feeling of our home all aglow and I'm excited to share it with you today!
You can see more of our home at night in my latest YouTube video.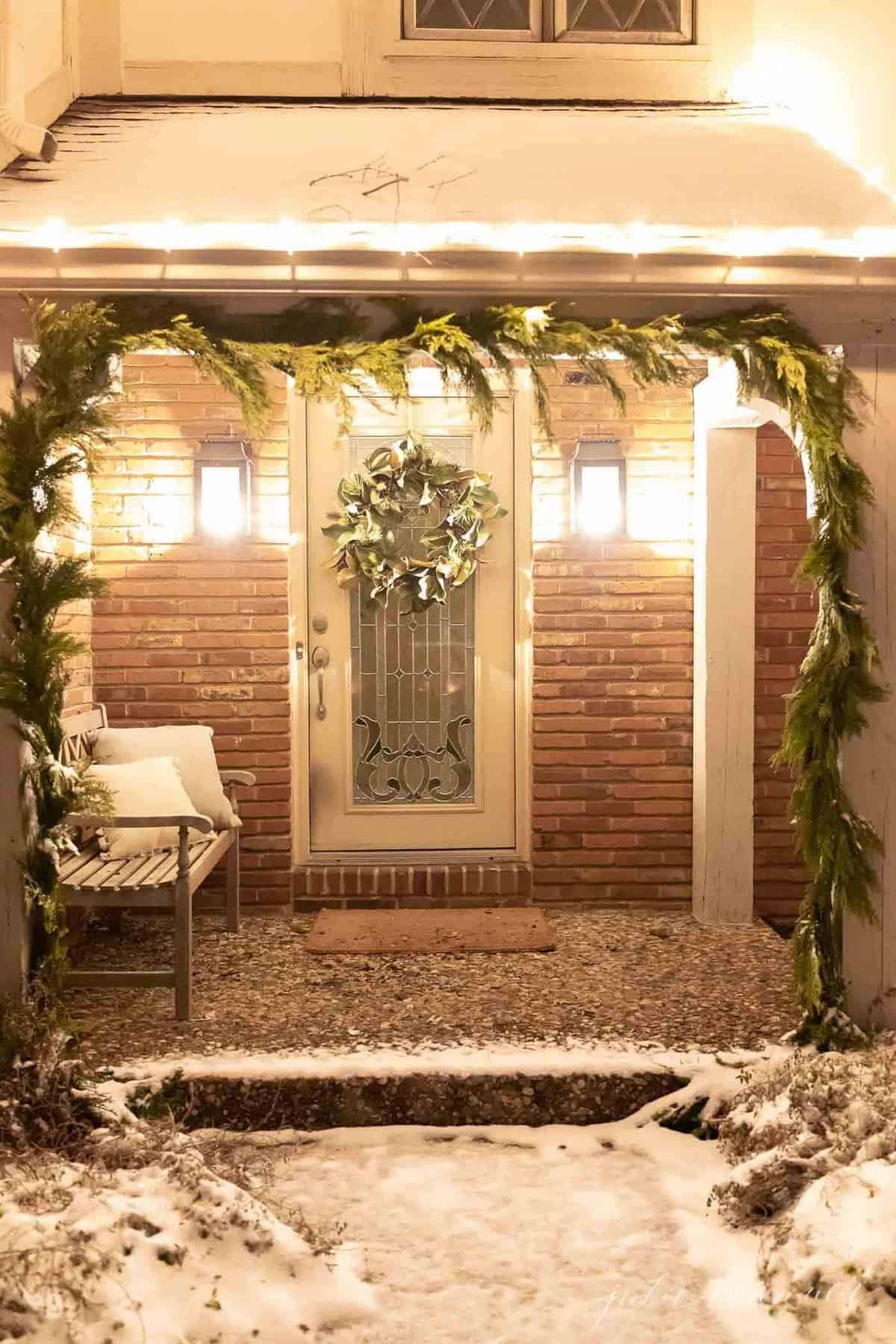 Candlelit Elegance
Beyond the twinkling Christmas lights that we include throughout our home, I have fallen in love with the technology of these flameless, flickering candles. I love real candles as much as the next girl, but the safety and convenience of these candles certainly wins out for our family!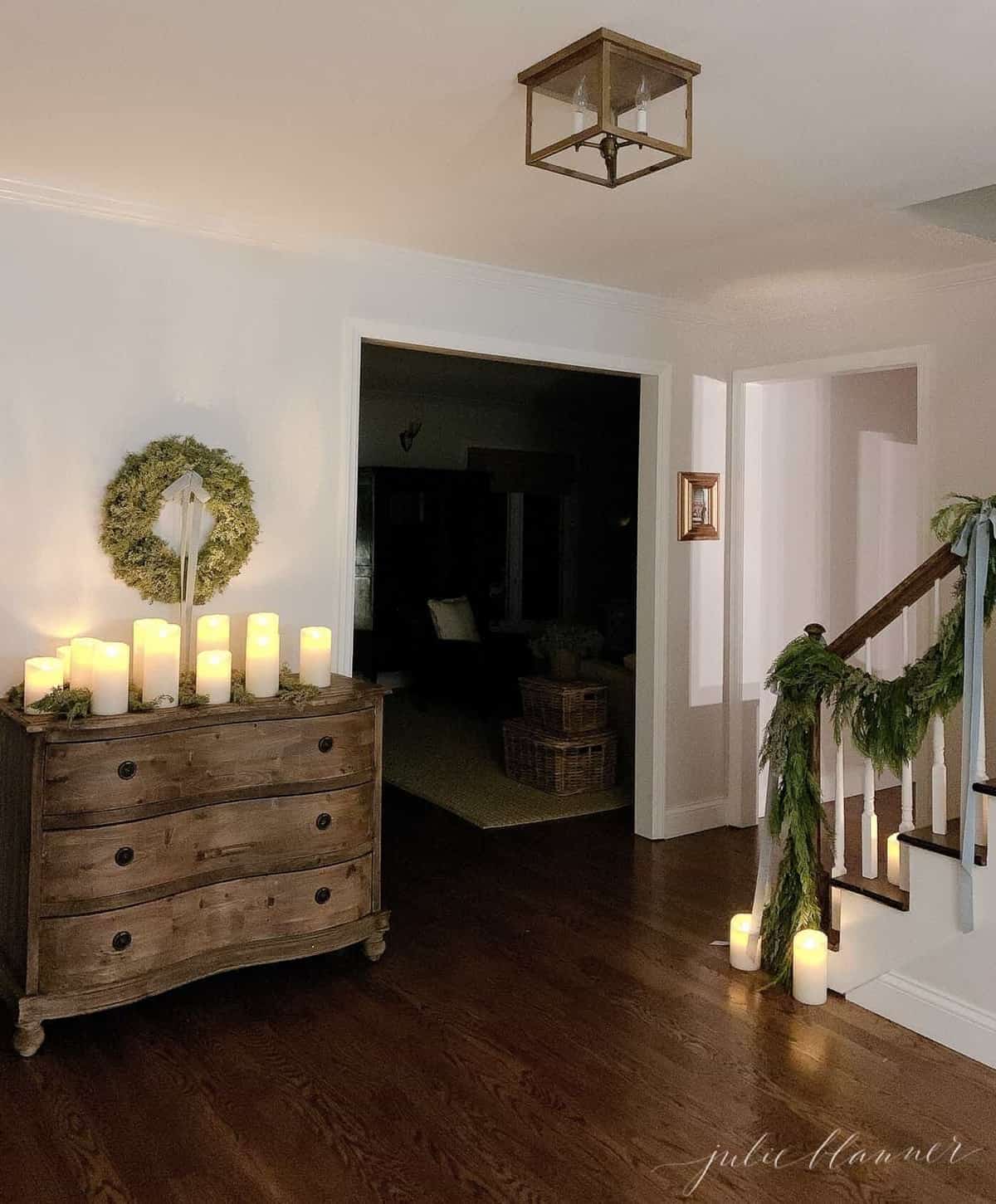 Adding miracle flame candles in the entryway made a big impact because you can see them the moment you walk in the door, from the family room, office, living room and upstairs. I timed them so the moment it's dark they turn on and they go off just after we turn in for the night.
These particular candles in my images are from Balsam Hill and in person, they look so authentic! We even have some flames set to a fast flicker and others a slow flicker so they vary. These candles are a good alternative with fast shipping.
When combined with the fresh cedar garland on our staircase, I think these candles are the most romantic way to add warmth to our home. I'm so thrilled with the outcome!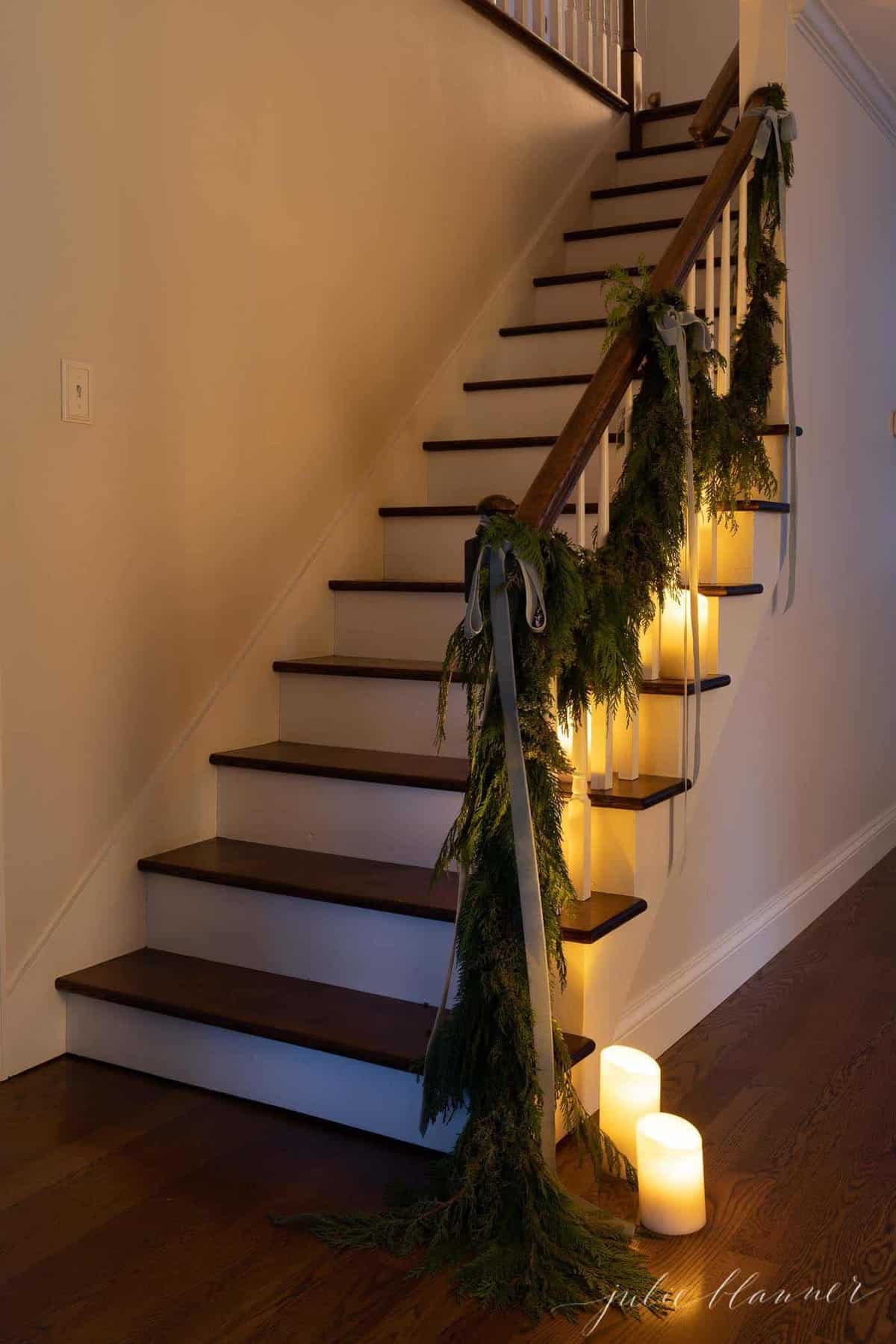 Warm and Cozy
As I have discussed in previous posts, I am a bit of a minimalist. However, that doesn't mean that my home is stark or cold! Get my best tips for creating cozy minimalism right here.
Because I am not one for storing and keeping crates and bins full of decor from year to year, I love to decorate fresh. I love the warmth and fragrance of fresh greenery, and that's what we incorporate each year!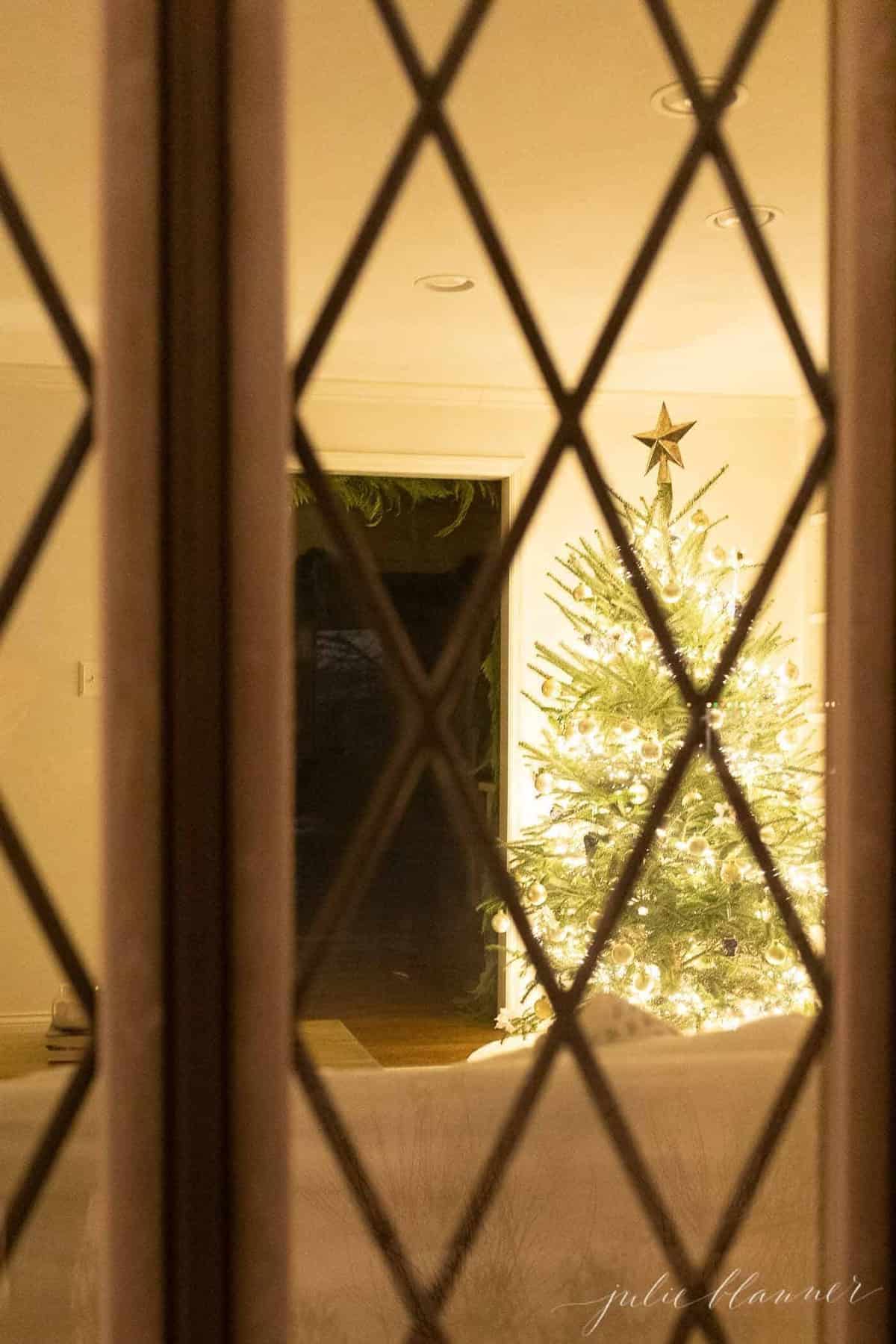 Our Christmas tree this year features my favorite new lights that I had spotted during one of our many Branson trips to Big Cedar Lodge. I love the garland effect of these tiny twinkling lights, and I especially love the ease with which we added them to the tree!
You can find these pretty twinkle cluster lights here.
This year's fresh tree went up quite late in the season, and we kept it very simple and minimal. The girls added a variety of ornaments and together with the lights it's a quiet, glowing look that we love.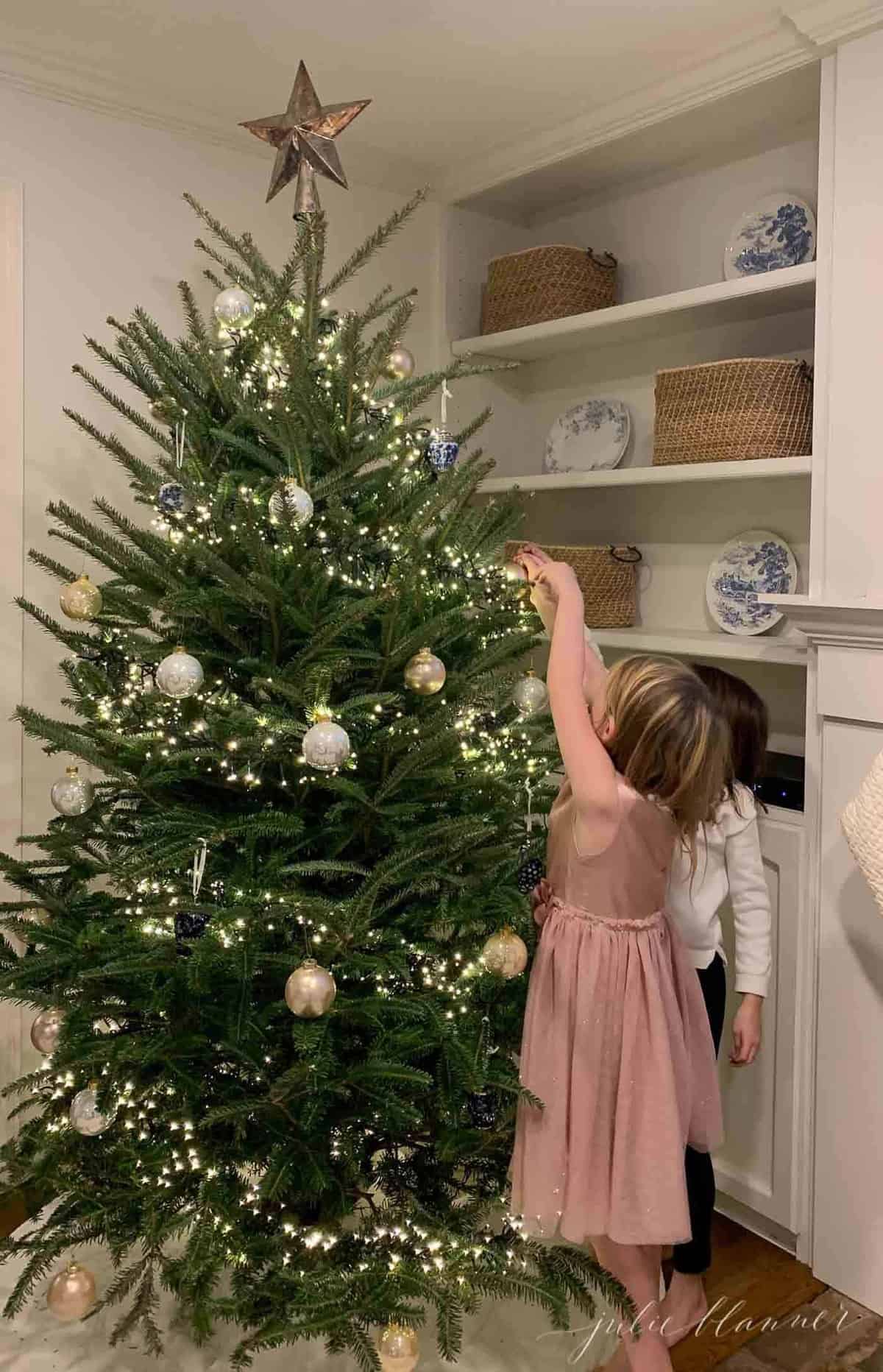 Last year we converted our wood burning fireplace to gas and I'm not sure why we waited so long! At the flip of a switch or touch of a remote we have added warmth and a beautiful glow. It's made it difficult to leave the room because it feels so cozy!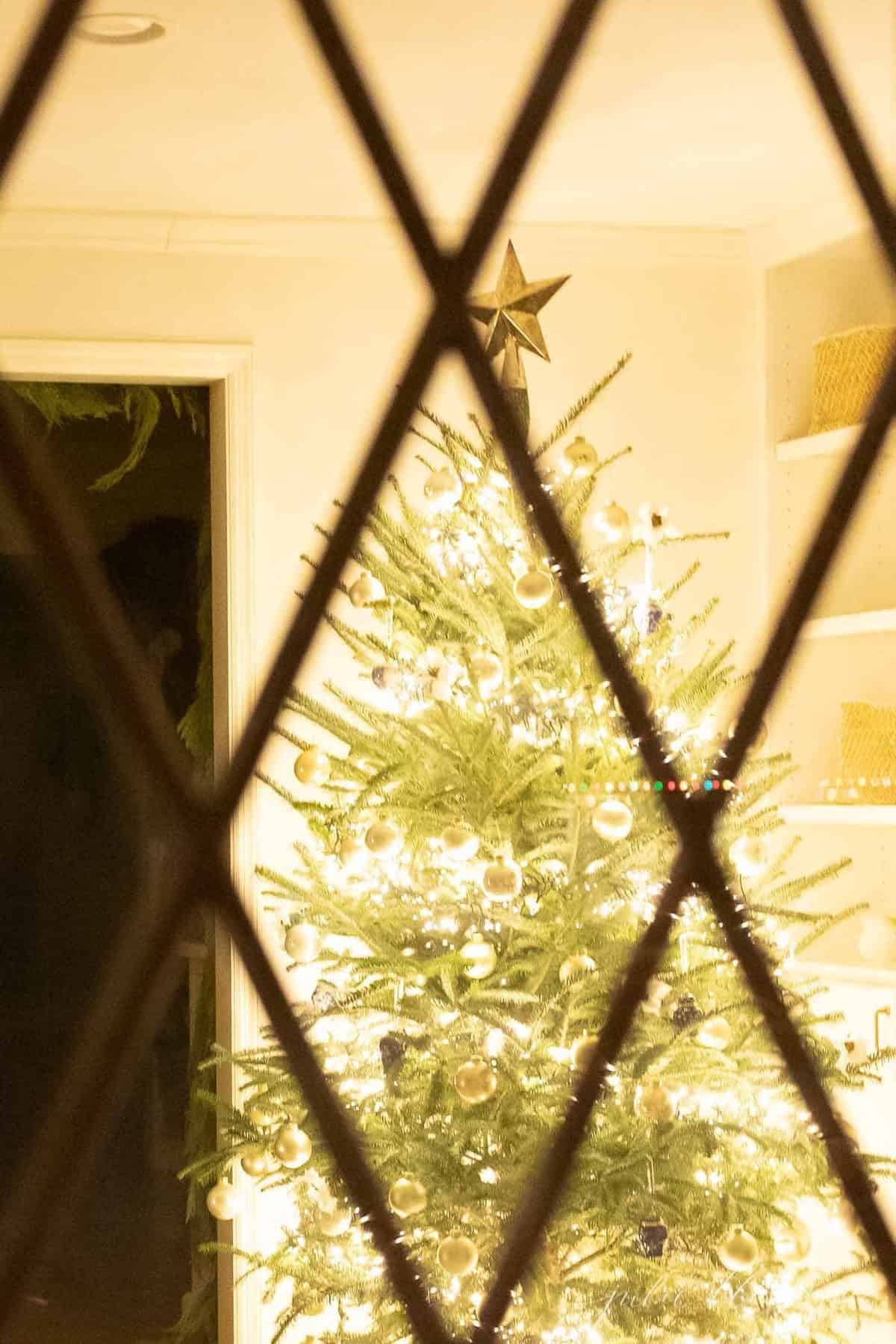 Bedrooms Can Glow, Too
Often, bedrooms don't get much decorations for Christmas because they are not the public rooms that everyone sees when they come to your house. However, our entire family loves falling asleep and waking to a little twinkling magic!
As you'll see in the video included in this post, we've added a variety of lights to each of our three girls' bedrooms, and our bedroom features a pre-lit tree with the simplest crystal garlands as decor. Don't miss these pretty details!
In Adalyn's bedroom, we added a simple cedar garland along her dresser. A trio of cylinder vases captures the twinkling fairy lights she loves, creating the most magical glow! This was such a simple way to add some charm to her room for the holidays – and she might just leave those glowing vases there all year round!
In Ani's room, we chose to accent a blank wall with the cutest pre-lit star! We also added a sweet and simple birch tree that lights up for a little added magic.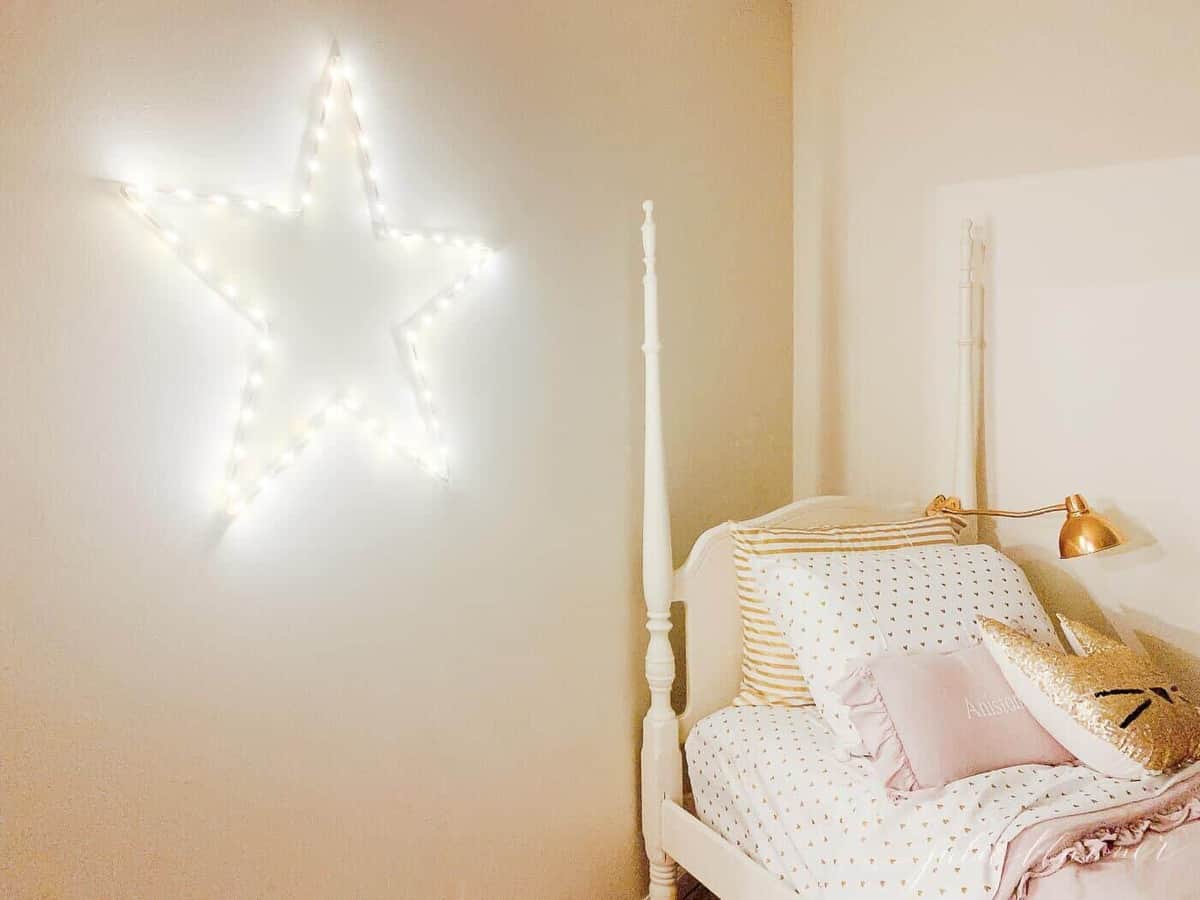 For Isla's bedroom, we added another larger pre-lit birch tree, as well as the sweetest little starry globe night light that she absolutely adores.
Our master bedroom received a Christmas makeover with the prelit faux tree that was previously used in our living room! I wanted to keep it simpler here, though – so I just added the sparkling garlands for an additional glow when they reflect the tree lights.
Our Frame TV art is a snowy evergreen scene that brings so much wintry charm to our simple bedroom.
*a full list of sources is available at the end of this post!
Candlelit Dining
Another area of our home that I love to add a little glowing magic is the breakfast room. Because it's larger than our formal dining room, we tend to gather here for all our meals.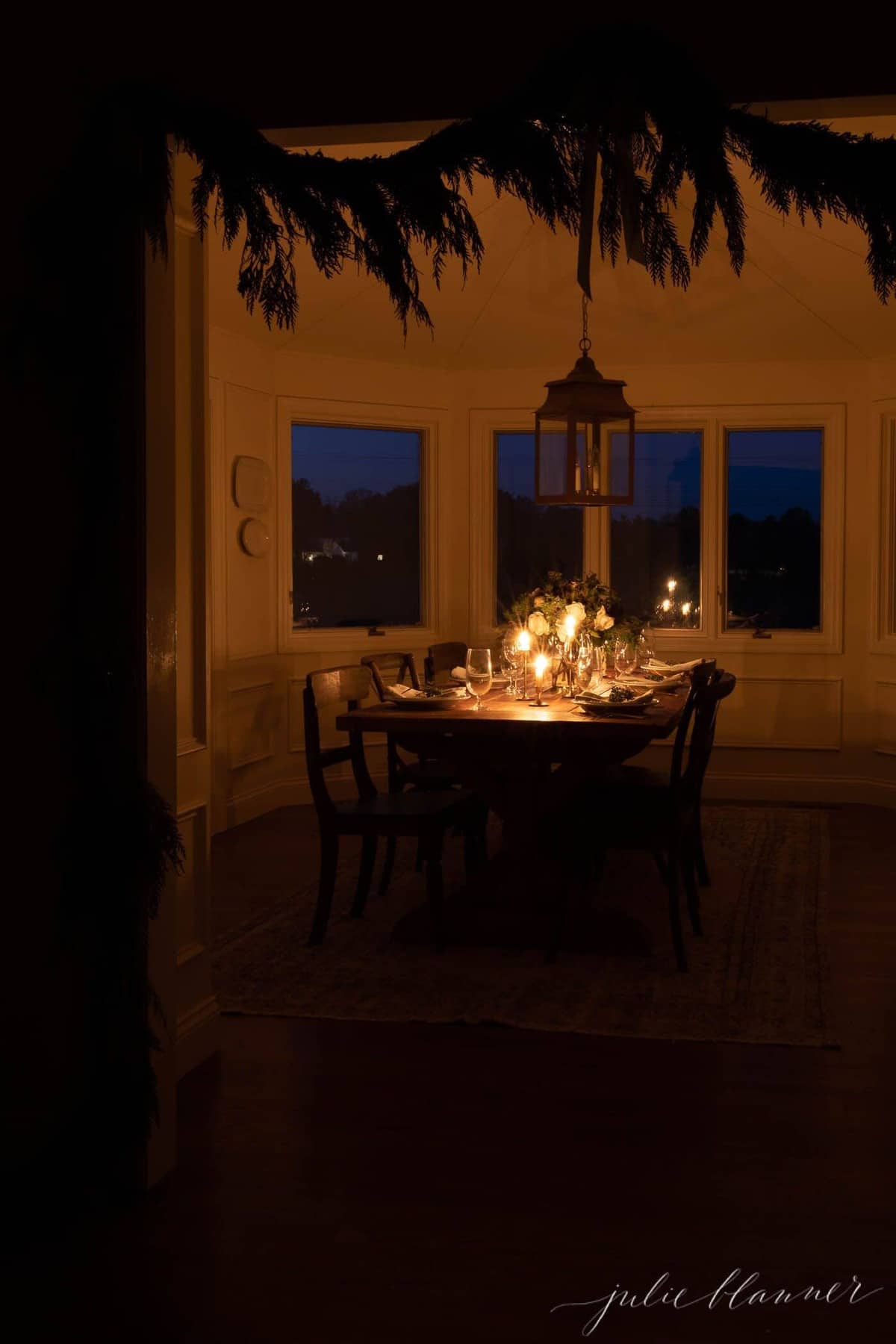 It's easy to make this space feel special with fresh greenery and candles throughout the season. The view in here is beautiful, and we love to look out at the snow and the Christmas lights in the evenings.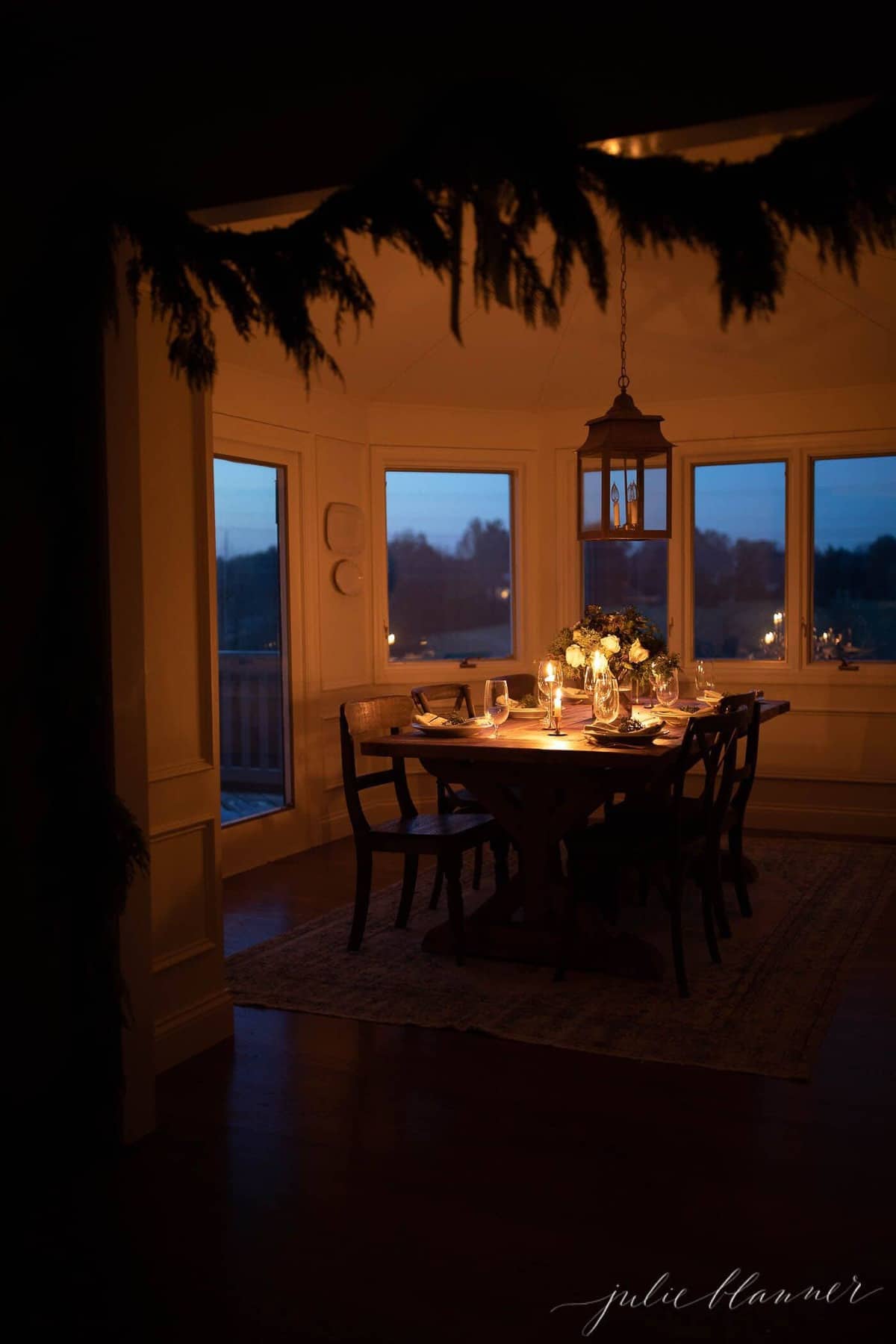 Simple yet Magical
Christmas waves a magic wand over this world and behold, everything is softer and more beautiful. -Norman Vincent Peale
Looking for more ways to bring the Christmas spirit into your home this year? Get started with 30 easy Christmas decoration ideas to bring your decorating to a whole new level! I can also help you get organized after the holidays are over – check out my best tips for organizing the after Christmas chaos.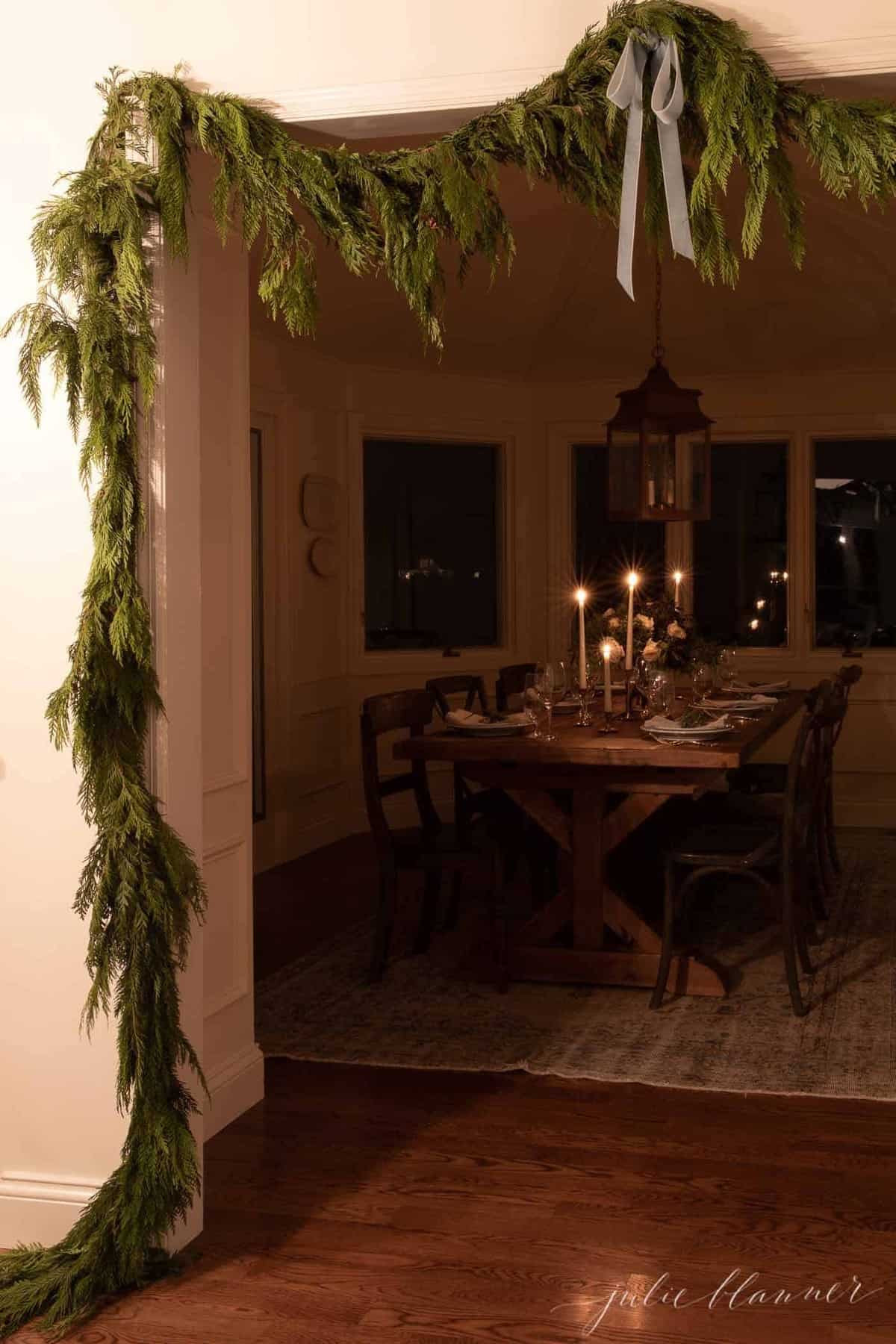 Below, you'll find the photos of our nighttime tour from last year, with all of our home sources listed as well.
Last year's Christmas at night tour: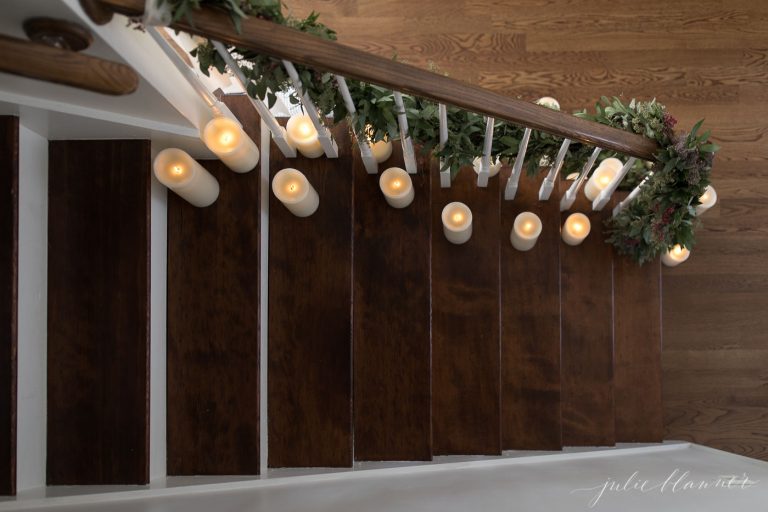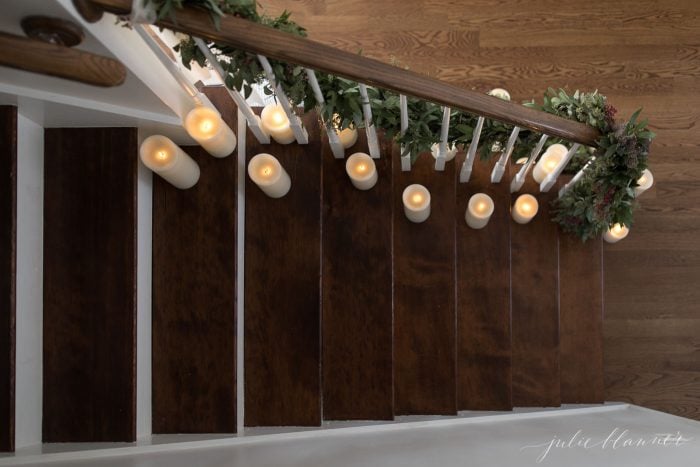 Honestly, I think our home is even more beautiful at night – it's warm, cozy and full of glow, but I learned capturing it isn't all that easy. For truly inspiring photos, don't miss all of my friends' home tours listed below!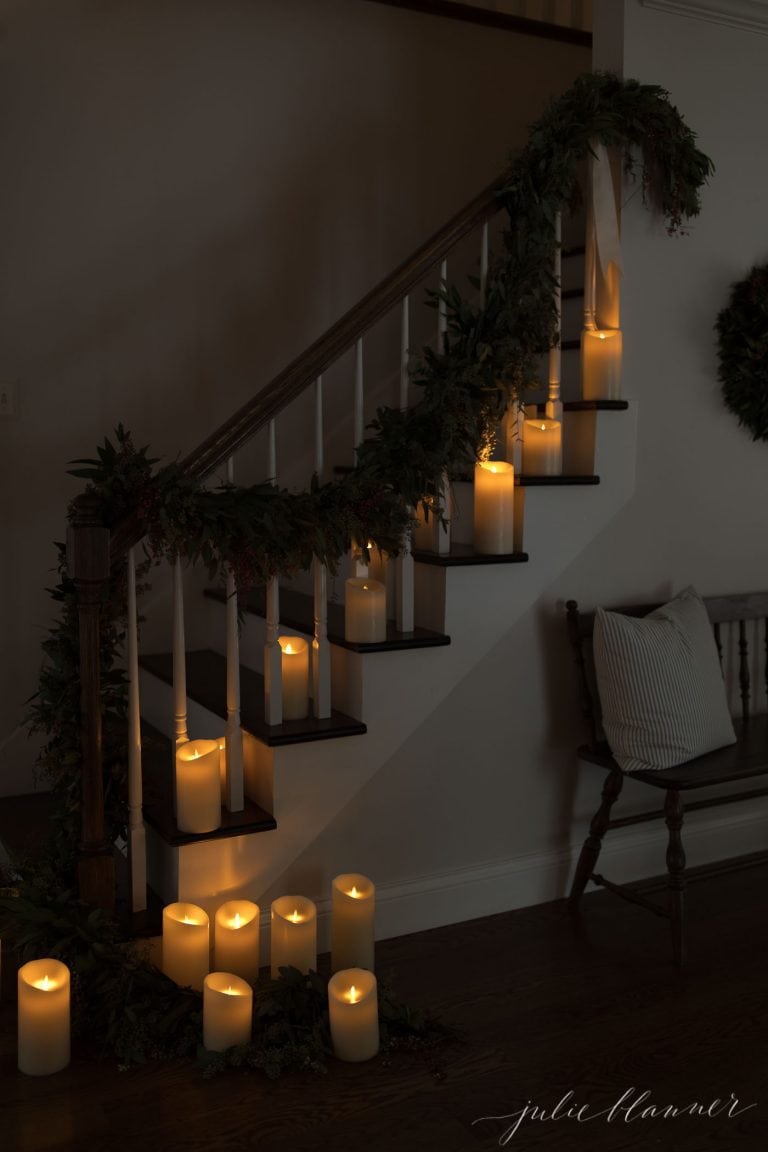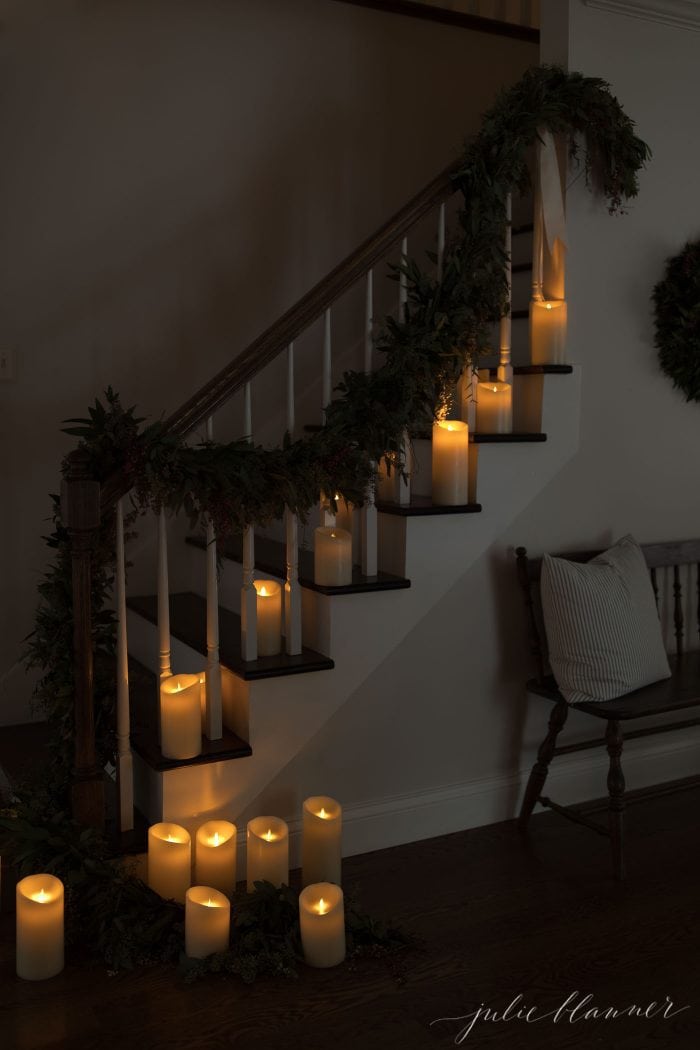 I deem this evening home tour "all is calm, all is bright" because that's the feeling our home evokes at 8pm when the girls go to bed. A quiet sense of calm and peace, yet bright warm tones and feeling in our hearts as we reminisce about our girls sharing their days with us.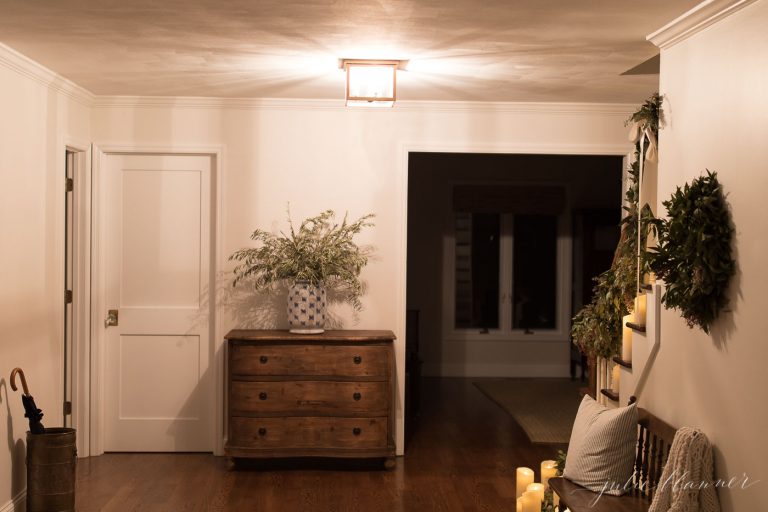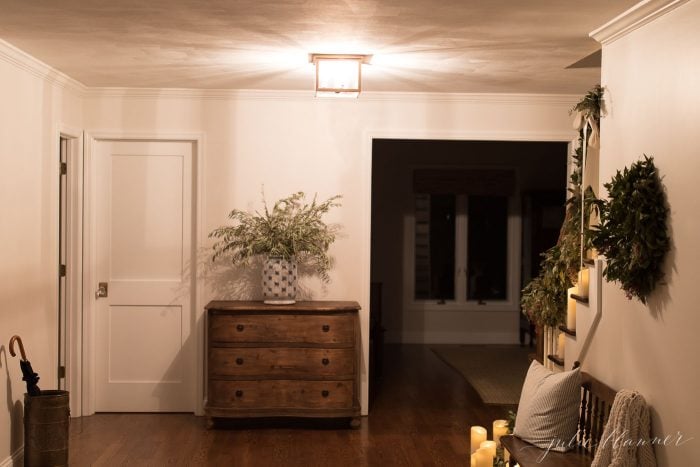 We don't use an abundance of Christmas lights but I thought our lanterns looked particularly pretty this year glowing garnished with olive branches and ribbon.
Blessed is the season that engages the whole world in a conspiracy of love. – Hamilton Wright Mabie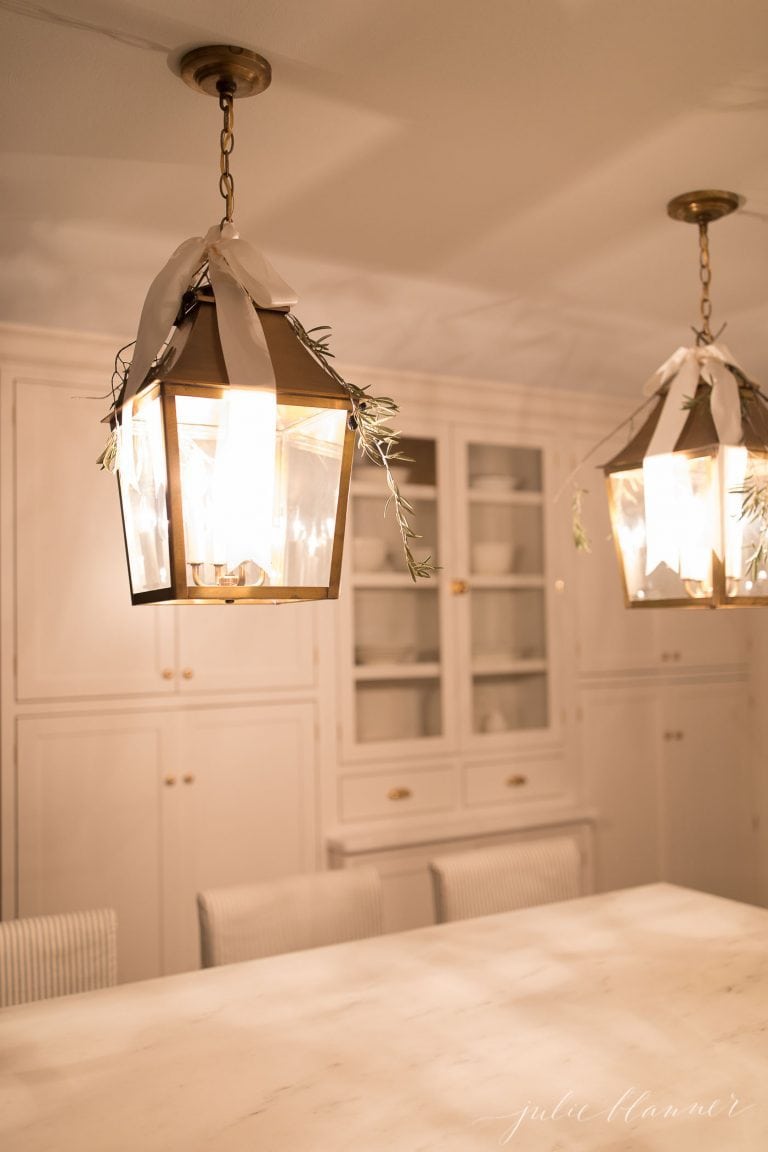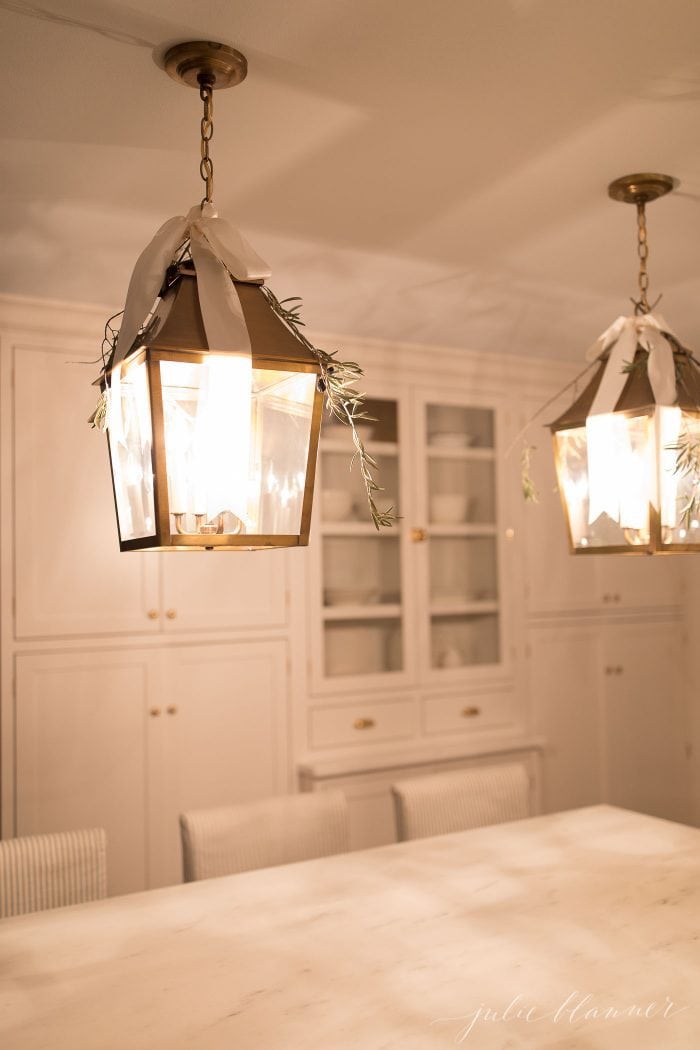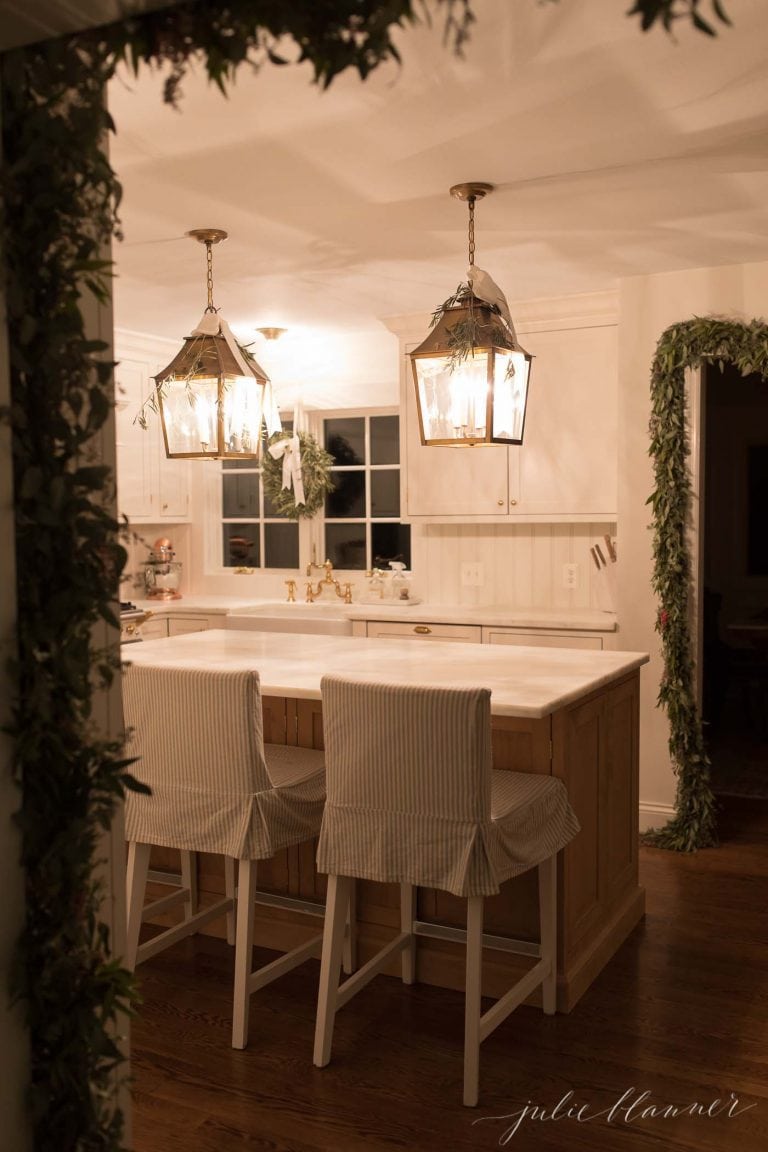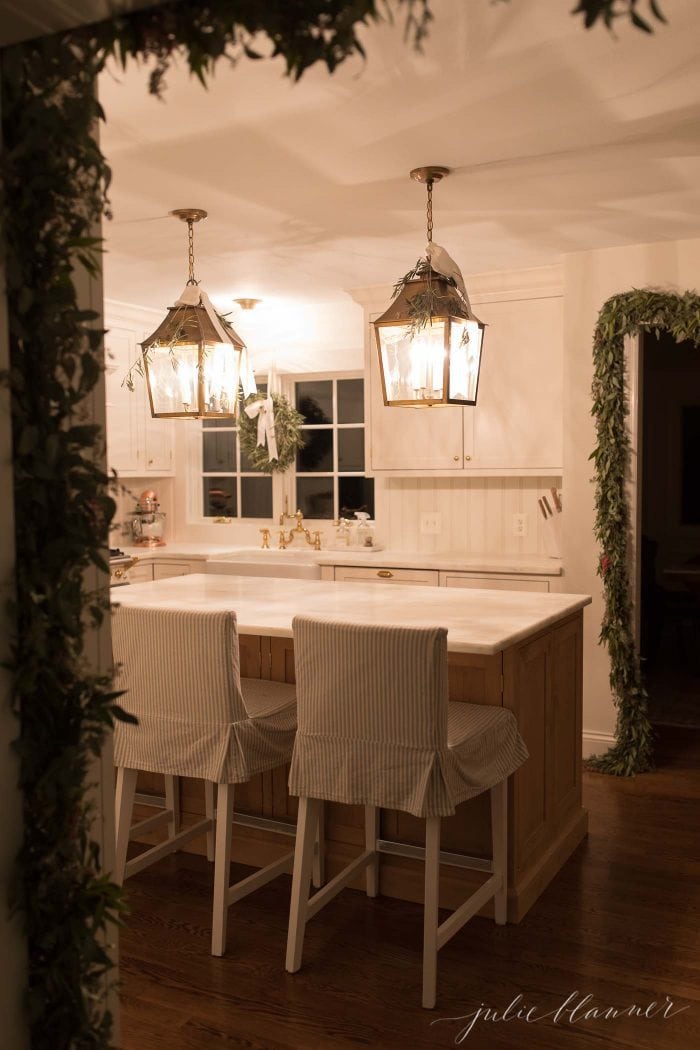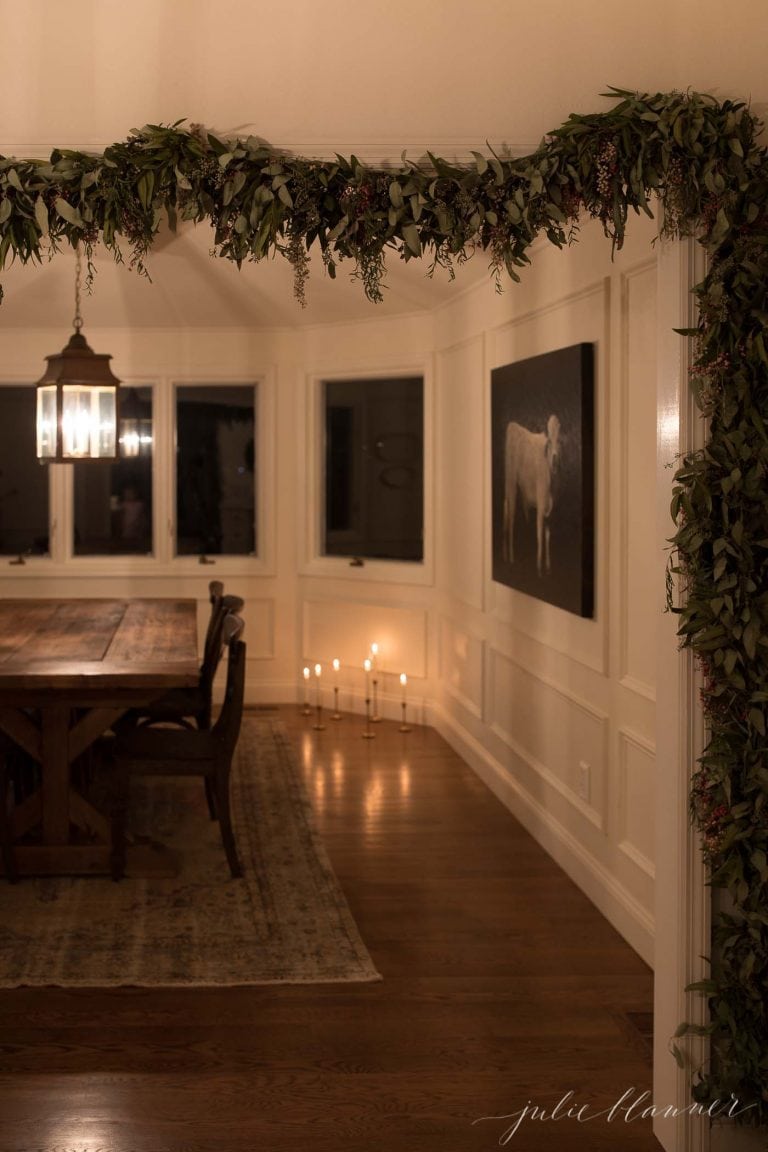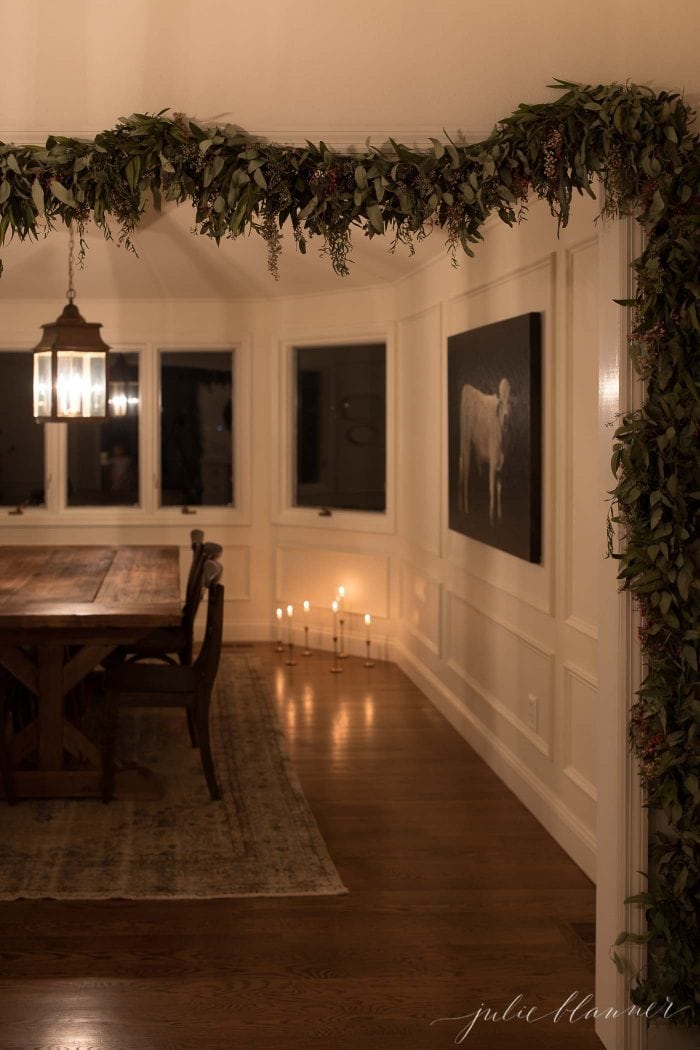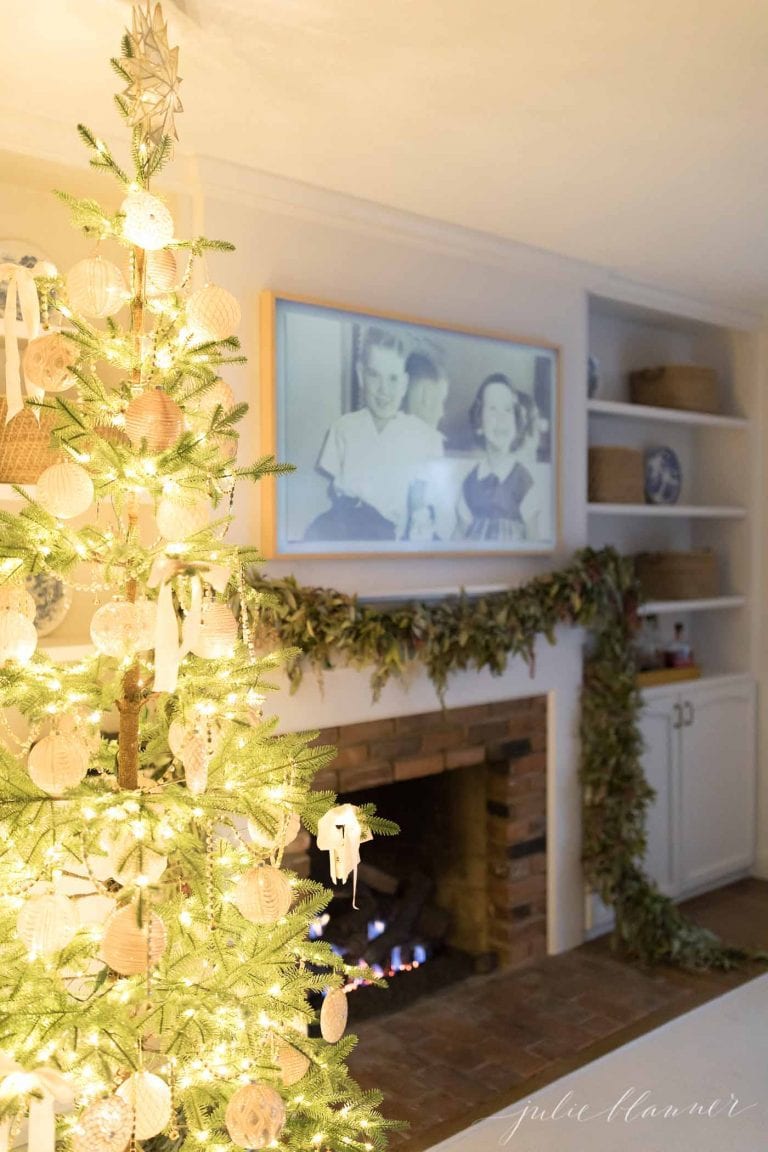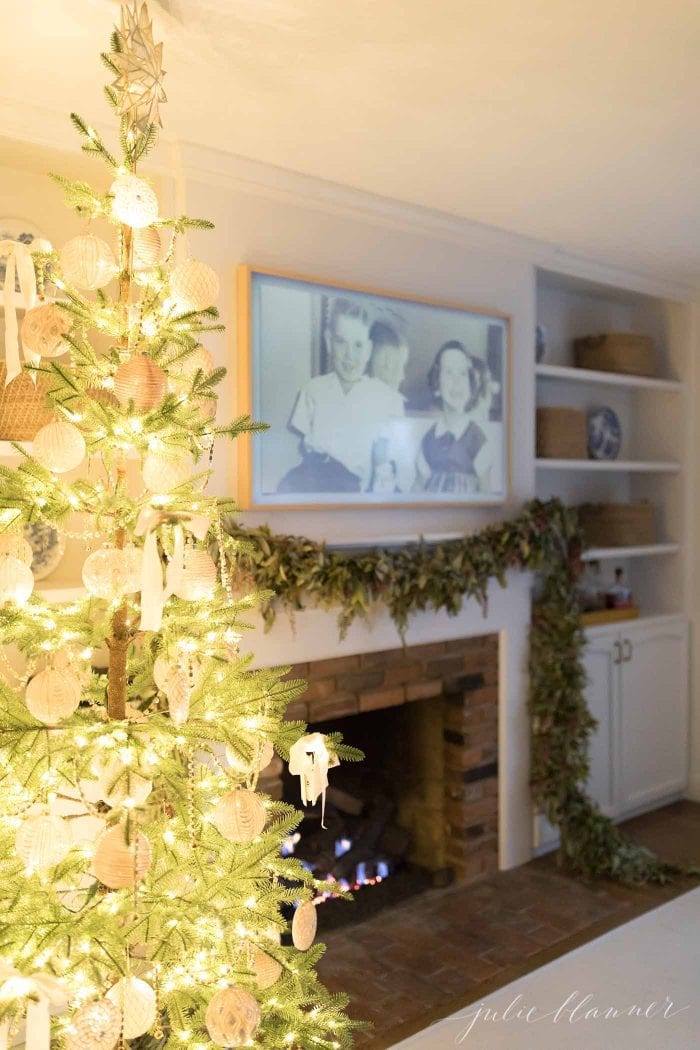 The photo above is my mom and uncle's childhood Christmas card displayed on our tv. It brings me so much joy!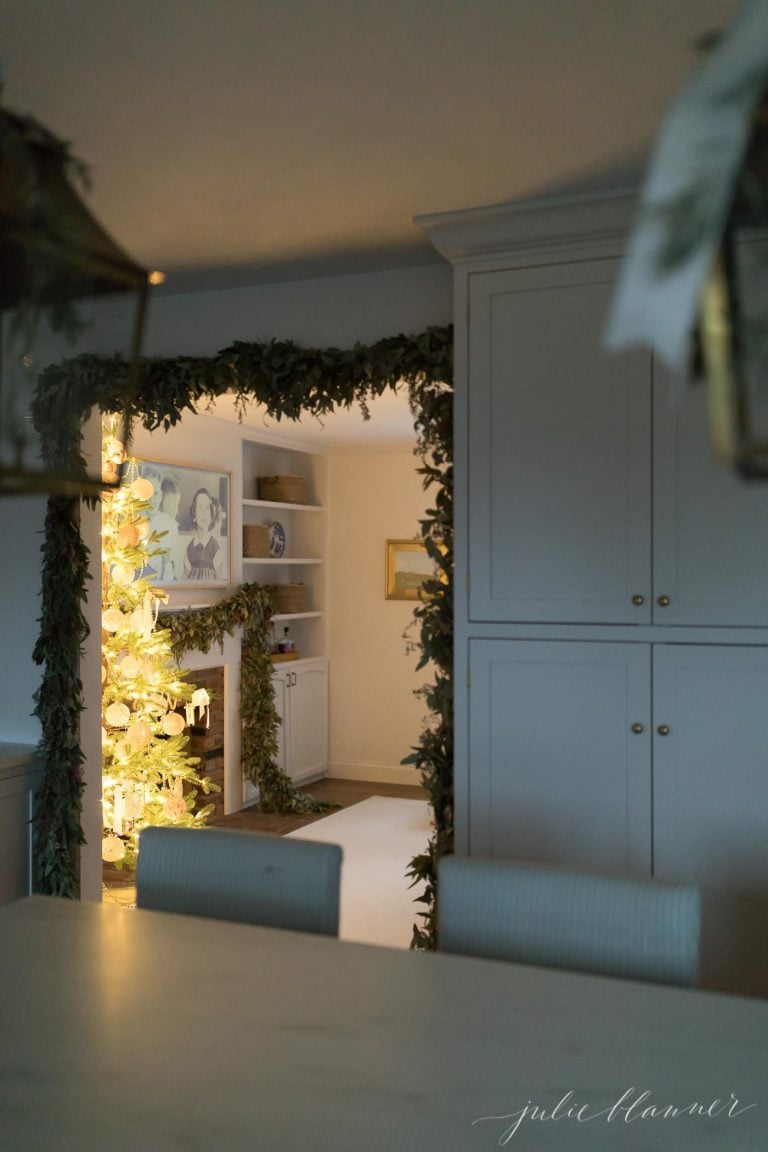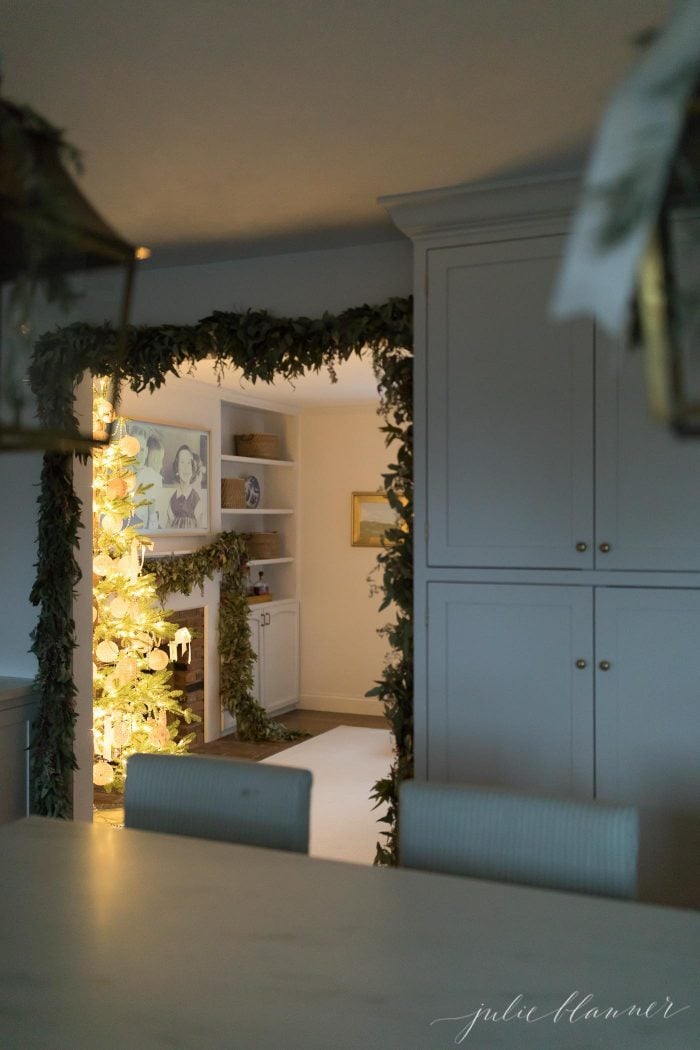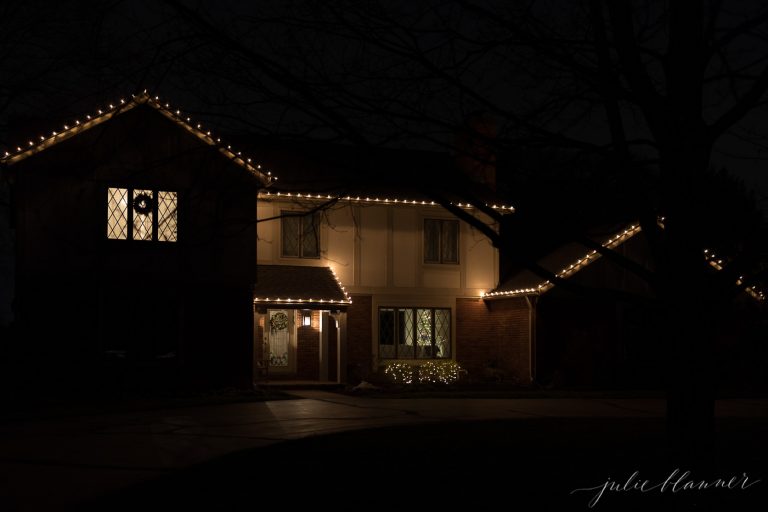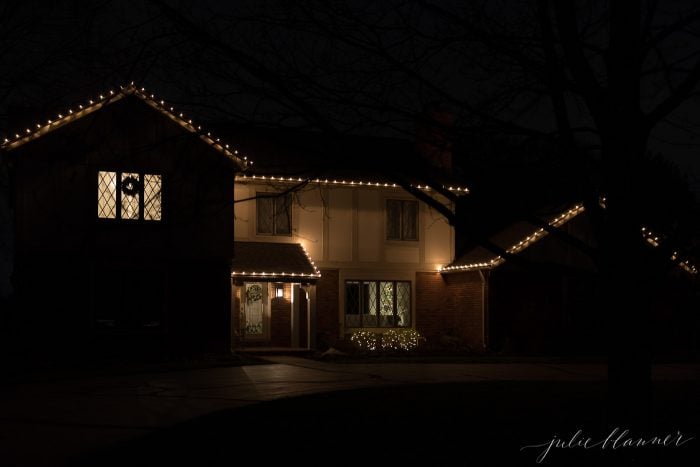 Wising you a very Merry Christmas!
This post may contain affiliate links, which means I make a small commission at no extra cost to you. As an Amazon Associate I earn from qualifying purchases.
Shop this Video:
CHRISTMAS
Cedar Garland | https://rstyle.me/+CYvPsw1yrGD2cmhT39vvIw
Velvet Ribbon | https://rstyle.me/+SIdmFZhPC_lNdlV5g7KENA
Candles | https://amzn.to/2Tl0Tyd
Twinkle Cluster Lights: https://rstyle.me/+mn53KLZ9MaalHypGprY20A
My Dress | https://rstyle.me/+Ddi8zWN4n2j65nDZLHfX_A
My Shoes | https://rstyle.me/+BQ-CHM79OzBakkYch_onsA
My Girls' Dresses | https://rstyle.me/+A7OEDswy-ETjqAagHn7MxA
BREAKFAST ROOM
Candlesticks | https://rstyle.me/+n2JUDwVyH6XQBVTKTvfhag
Dinnerware | https://rstyle.me/+L7sXs0ZBdyPpGBU7rGfI8w
Flatware | https://rstyle.me/+SKx7OxDVB_-_Ur0MMM_7SQ
Lantern | https://rstyle.me/+1nn25LgwuvKfkuHNu-fvNA
BATHROOM
Soap + Lotion Set | https://amzn.to/2L3kZ3k
Toilet Paper Holder | https://rstyle.me/+fauTMox71WZNFgrpuks3Dw
Door Knobs | https://rstyle.me/+CFQ_V5c1ihTfpGtwDXndBg
ENTRY
Small Buffet | https://rstyle.me/+2jW7QeEMV7AyStAVYMDstw
KITCHEN
Hinges https://amzn.to/2BThI10
Pulls https://amzn.to/2GNxd0m
Knobs https://amzn.to/2SviDfi
Latch https://amzn.to/2VgXyXK
Faucet https://amzn.to/2BNW0LZ
Sink | https://rstyle.me/+-h4eOi7INwDLc6kXfvGErw
Hardware | https://rstyle.me/+8RpCA02h6Q13V6BLeD3SaQ
Copper Mixer | https://amzn.to/2M7KmyG
LIVING ROOM
Slipcovered Sofa | https://rstyle.me/+sNFa4jo3xIYv8yLabxPyNg
TV | https://amzn.to/2O1R6Td
Basket | https://rstyle.me/+geLyhxZBJ03blWjp9XuLTA
Lamp | https://rstyle.me/+dafWSar8PolfyuhuOFaCNA (similar)
Throw | https://rstyle.me/+E8QtK6YHosM8nOw_-PaejQ
Texture Pillow Cover | https://rstyle.me/+yDnGjv3IJa-pUVm2R8xbvQ
Art | https://rstyle.me/+LS4HiCZxciEn2J8v_NTgFw
Frame | https://rstyle.me/+has4SGGzOVIB36TCKslXMw
Coffee Table Books | https://www.amazon.com/shop/julieblanner?listId=2LBV72LNUFCAI
More Living Room Details | https://julieblanner.com/living-room-decor-living-room-design-ideas/
MASTER BEDROOM
Linen Bedding | https://rstyle.me/+Y3O9abUz63Zi52cQdMGckA
Ani's Room
Clip on lamp | https://rstyle.me/+9cavbpkeThK0_S0eHX…
Cat pillow | https://rstyle.me/cz-n/dtbfvzxgp6
Cat art | https://rstyle.me/cz-n/dtbgiqxgp6
Pin board | https://rstyle.me/cz-n/cu88q3xgp6
Lamp | https://rstyle.me/cz-n/cu88r5xgp6
Wastebasket | https://rstyle.me/+lhKASfJVVKxiqZq6qd…
Sheets https://rstyle.me/+cVXNfSPtzrT0gKObhe…
Stripe sham https://rstyle.me/+lyygL_c7wmOHspN6Pm…
Dresser | https://rstyle.me/+T__oj5j0VBoj07_IIU…
Desk | https://rstyle.me/+uSLCQrlVR4LCFjP_NR…
Chair | https://rstyle.me/cz-n/dt5x4rxgp6
Pencil holder https://rstyle.me/+EKEgjuSfPLgzo7MwWF…
Chandelier | https://rstyle.me/+nAwr0Ed_hcQZHvPjFj…
Adalyn
Frames| https://rstyle.me/cz-n/dt5x2fxgp6
Peony wallpaper| https://rstyle.me/cz-n/dtfypcxgp6
Woven Wastebasket| https://rstyle.me/cz-n/dtfyc7xgp6
Desk| https://rstyle.me/cz-n/djkbkexgp6
Bed| https://rstyle.me/+U7kFQkwIywcJiDUFz7…
Dresser| https://rstyle.me/cz-n/djkbmgxgp6
Jewelry box| https://rstyle.me/cz-n/dbc38hxgp6
Pins| https://rstyle.me/+aUIOs3g5p0uFJj7F8x…
Chair| https://rstyle.me/+r8E5idnQ0Rpyvv6Swy…
Isla's
Canopy| https://rstyle.me/cz-n/dtbfhjxgp6
Lamp| https://rstyle.me/cz-n/ds4ufaxgp6
Star nightlight| https://rstyle.me/cz-n/dsvxu4xgp6
Dollhouse| https://rstyle.me/cz-n/dsjyzdxgp6
Sham| https://rstyle.me/cz-n/dsjytgxgp6
Crown Pillow| https://rstyle.me/+tiCPj8wAPJE89W48Cj…
Swan Stuffed Animal| https://rstyle.me/+88sFswJ2RW_CfE1YJx…
Swan Wall Art| https://rstyle.me/+AafAbB4qUf22G7vKHp…
Floral Art| https://rstyle.me/+suteJ7_d3F2ZvQZZkR…
Pins| https://rstyle.me/+pVc54Bk3YRNUbjddeh…
Curtains| https://rstyle.me/+XXl19fMak-nstFCfQq…
Picture Frame| https://rstyle.me/+HYsY_zRJHnASgvmOSf…
How to Keep Garlands Fresh | https://julieblanner.com/live-christmas-wreaths-live-garland/
Minimalist Christmas | https://youtu.be/JsGZcu7F7jg
Cinnamon Applesauce Ornaments | https://youtu.be/eGSHFh90ScA
My Video Equipment:
Camera | https://amzn.to/2wRo2EH
Lens | https://amzn.to/2wL4Ybd
Lights | https://amzn.to/2wOkVfQ
Microphone | https://amzn.to/2oOVYx7
Tripod | https://amzn.to/2Qc7gIe
? AMAZON FAVORITES: https://www.amazon.com/shop/julieblanner