This post is sponsored by Serena and Lily. All opinions are my own.
A classic wicker sofa can speak to a variety of different design styles. In fact, the Pacifica sofa from Serena and Lily can actually be used as an outdoor wicker sofa, or use it indoors – that's for you to decide!
Whether your style is coastal modern, boho, traditional, cottage or even retro, there's a wicker sofa out there for you! Learn the ins and outs of this style of furniture in order to decide if it's right for your home.
One of our favorite things about adding our new vinyl deck, glass railings and underdecking at our little Modern Lake House is that it truly added an entirely new space for entertaining and enjoying our lake views.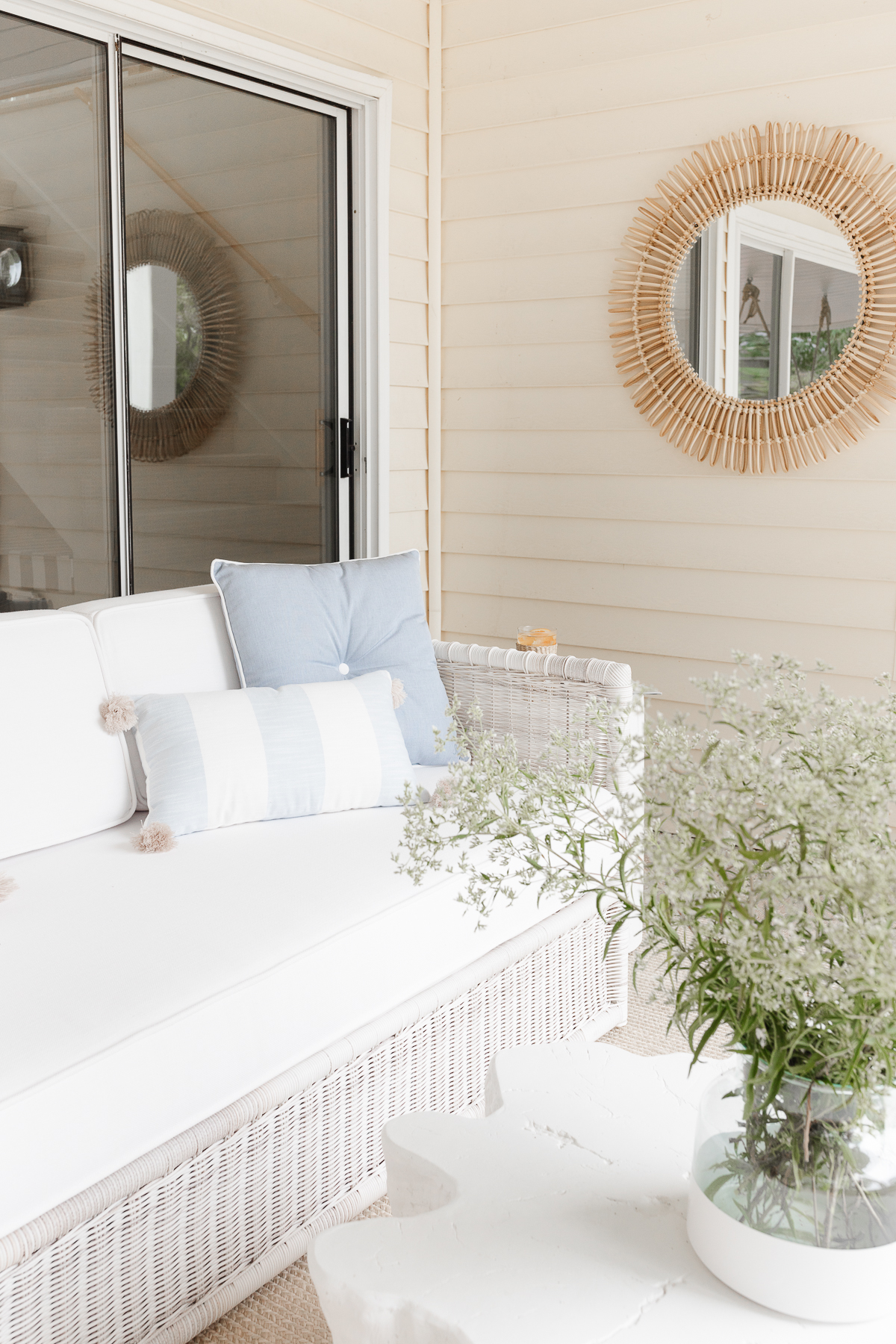 We now spend endless hours in this area, simply enjoying the views, having s'mores over our Solo stove, or playing games and having cocktails with friends. Luckily for us, our new furniture truly creates the feeling of an outdoor room in this space!
We chose the Pacifica sofa from Serena and Lily because of its clean, modern lines, comfortable profile, and quality. We're so pleased with the way this space is shaping up! It's everything we envisioned it to be, and more.
Today, we'll dive in to learn a little about the Pacifica sofa and wicker sofas in general. Much like our Rattan Bed, Rattan Bar Carts, Rattan Bar Stools and Rattan Mirrors, this style of sofa adds texture and warmth to any area of your home – indoors or out!
What is a Wicker Sofa?
A wicker sofa is just like any other kind of sofa or couch, with some elements made of wicker. This can be the back, base, legs, or arms, depending on the style that you choose.
Wicker sofas have long been used in both interiors and the exteriors of homes. Because wicker is a technique, and not a material in and of itself, it can be created with a wide variety of weaving materials.
Many of today's more popular wicker sofas on the market are made of resin materials, which help to ensure a longer life in the elements.
History: Wicker was most popular popular during the peak of the Victorian Era (1860-1880).

Wicker furniture (a wicker baby cradle, in fact) first landed in America on the Mayflower in 1620. The origins of wicker furniture go as far back as 3,000 B.C.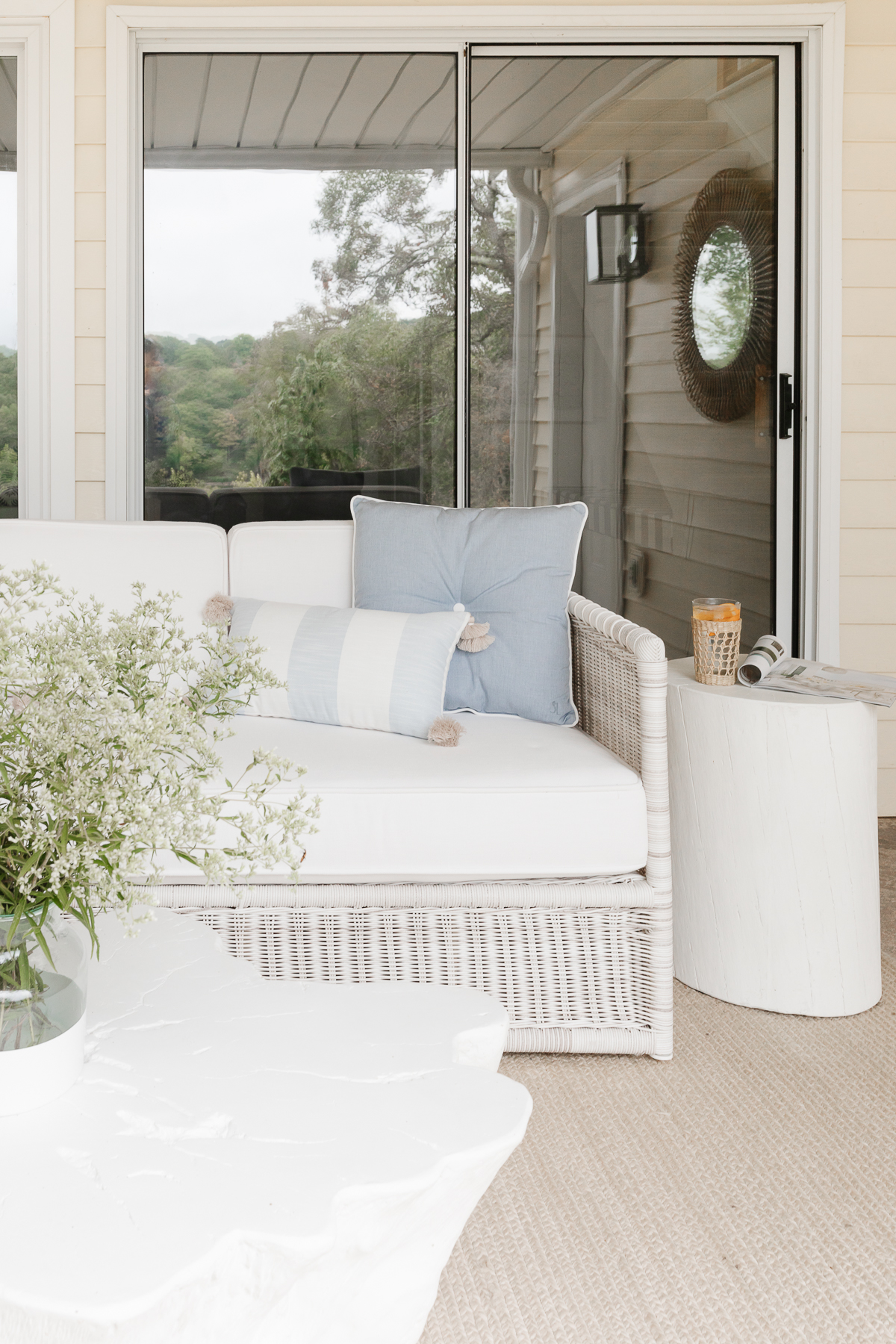 Pacifica Sofa
I absolutely love the Pacifica sofa by Serena and Lily because it encompasses the beauty of a classic wicker sofa while blending function into the design. The Pacifica is perfectly tailored and built to endure the seasons.
This sofa is suitable indoors or out and can weather any storm – including children. In addition to its durability, it's the perfect place to cozy up and watch the sunset, play games and spend time with one another.
It's available in three colors with varying tones to add an element of personalization to any space, whether indoors or outdoors! While we anxiously await for the final pieces to arrive including the Belmond rug and Sundial Chairs, I wanted to take a moment to highlight this special piece!
Here's just a few of the things you should know about the Pacifica:
Crafted of all-weather resin, with an aluminum frame for sleek, rust-resistant styling.
Cushions are made with all-weather foam and polyester fill with removable covers for easy care and maintenance.
The cushions are created with high quality performance fabrics to resist moisture and mildew. They are built to withstand sun, heat and rain without fading.
Cushions are available in a variety of beautiful patterns and colors to fit any style.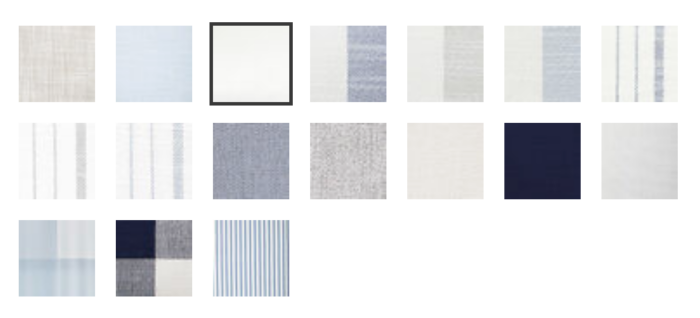 Pacifica Sofa Dimensions
Overall Width: 83".
Seat Depth: 34".
Back Height With Cushions: 30".
Inside Seat Depth: 24.5". – The perfect depth for comfort
Seat Height: 16".
Arm Height: 24".
Seat Cushion: 80 3/4″ x 33 1/8″ x 5″.
Back Cushion: 26 1/4″ x 13 5/8″ x 8 3/4″.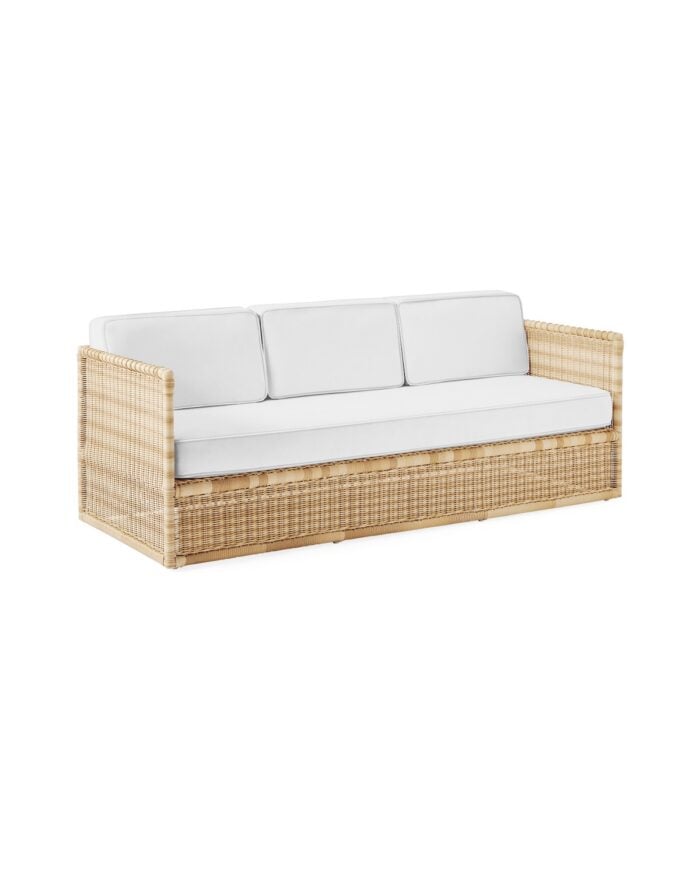 PACIFICA SOFA IN NATURAL
Natural rattan color with nuanced tones.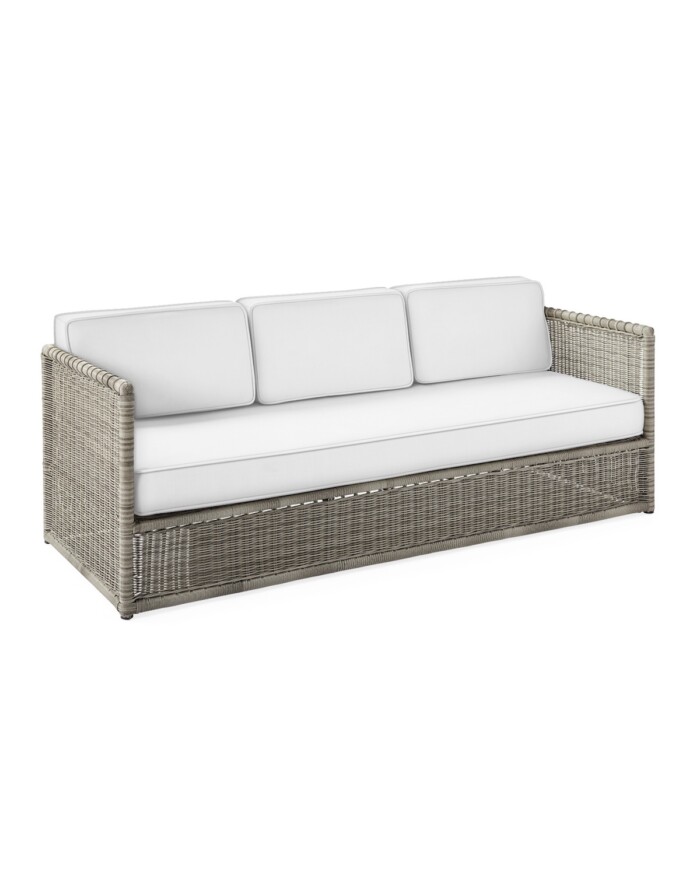 PACIFICA SOFA IN HARBOR GRAY
Sleek and modern with varying tones for added depth.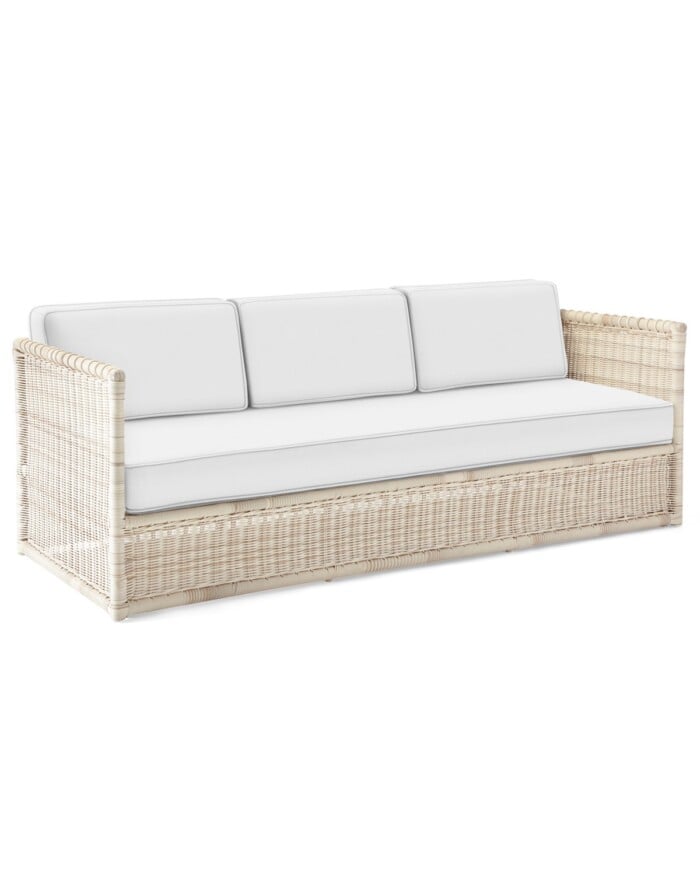 PACIFICA SOFA IN DRIFTWOOD
Soft white wash mimics bleached driftwood.
Outdoor Wicker Sofa
Outdoor wicker sofas are popular because they are lightweight, easy to care for, and add texture to any exterior area of your home. Above all, they add a certain type of woven warmth no matter your personal style.
Whether you're looking for an outdoor wicker sofa for your porches, patios, decks or anywhere in between, there's something for everyone on the market today! There are certainly options for every budget.
One of the things that we loved most about the Pacifica is that because it's made for long term endurance outdoors, it's suitable for indoor use as well. Indeed, maybe one day we'll use it in our lower level modern living room to switch things up!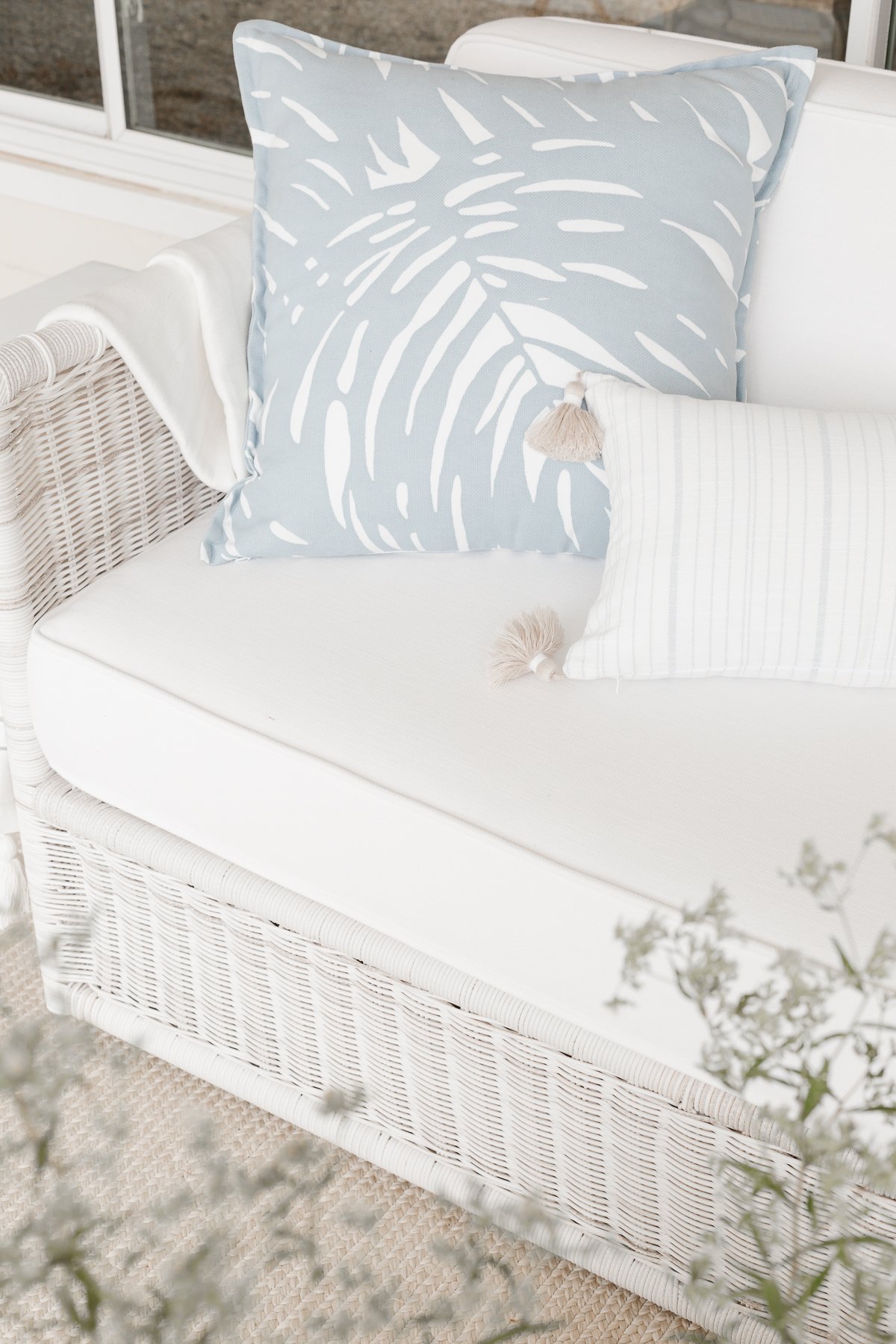 Learn all the secrets and techniques for how to measure furniture, and get it right the first time!
Frequently Asked Questions
What's the difference between wicker and rattan?
The basic difference is that wicker is a technique, while rattan is a material. In fact, wicker is a actually just a word that describes all types of woven furniture.

Wicker furniture can be created from a variety of materials. For example, wicker is often made of rattan, reed, cane, bamboo, willow and more. It can also be made with synthetic materials like resin, which tend to be more durable in outdoor environments.

Rattan is a renewable palm, basically a type of wood. It's strong and very pliable, making it ideal for furniture. Resin rattan (like the Pacifica sofa) is made from polyethylene fibers, which makes it more durable than the natural, original rattan material.
How long does outdoor wicker furniture last?
If it's properly cared for and well built, wicker furniture can last for many years. In fact, synthetic (resin) wicker can last much longer than wicker of natural materials, as it's much more durable and tends to be easier to care for over time.
Tips
Cover furniture when not in use to protect. You can purchase a tailored cover here.
Rinse the frame regularly if it is being used near the ocean.
Clean spills and stains with a damp wet cloth.
Clean cushions with mild soap and warm water. Hose to rinse clean. Allow to air dry.
Avoid harsh chemicals.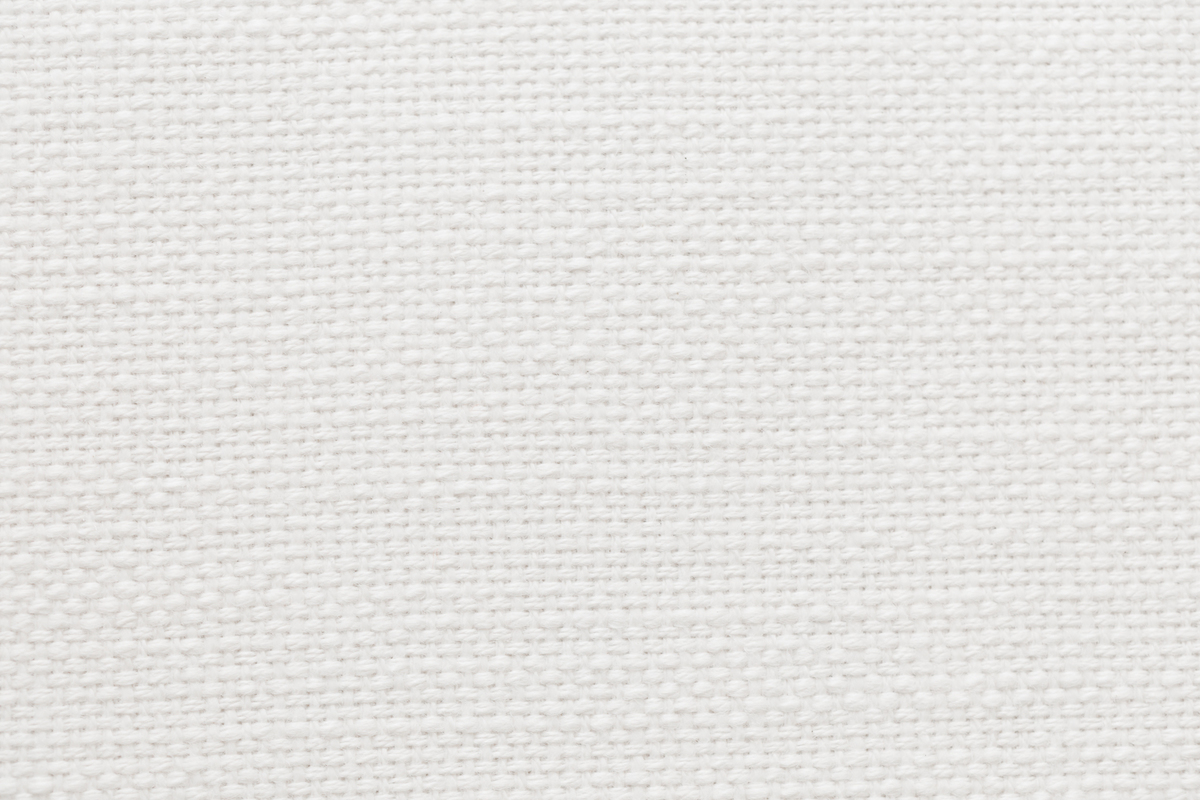 Let's stay in touch! Join our newsletter for access to exclusive content, never-before-seen photos, your questions answered, and our favorite projects. You'll receive the best design secrets delivered directly to your inbox! Sign up here!