Teak is a resilient wood that is resistant to water damage and rot. While often used in ship-building because of its incredible durability, teak is also an excellent choice for long lasting patio furniture!
Teak outdoor furniture is timeless, durable, versatile and fits beautifully into any outdoor setting whether you want to dine al fresco or simple create an outdoor patio. Teak is long-lasting and naturally weather resistant, making it the perfect choice to create your outdoor oasis.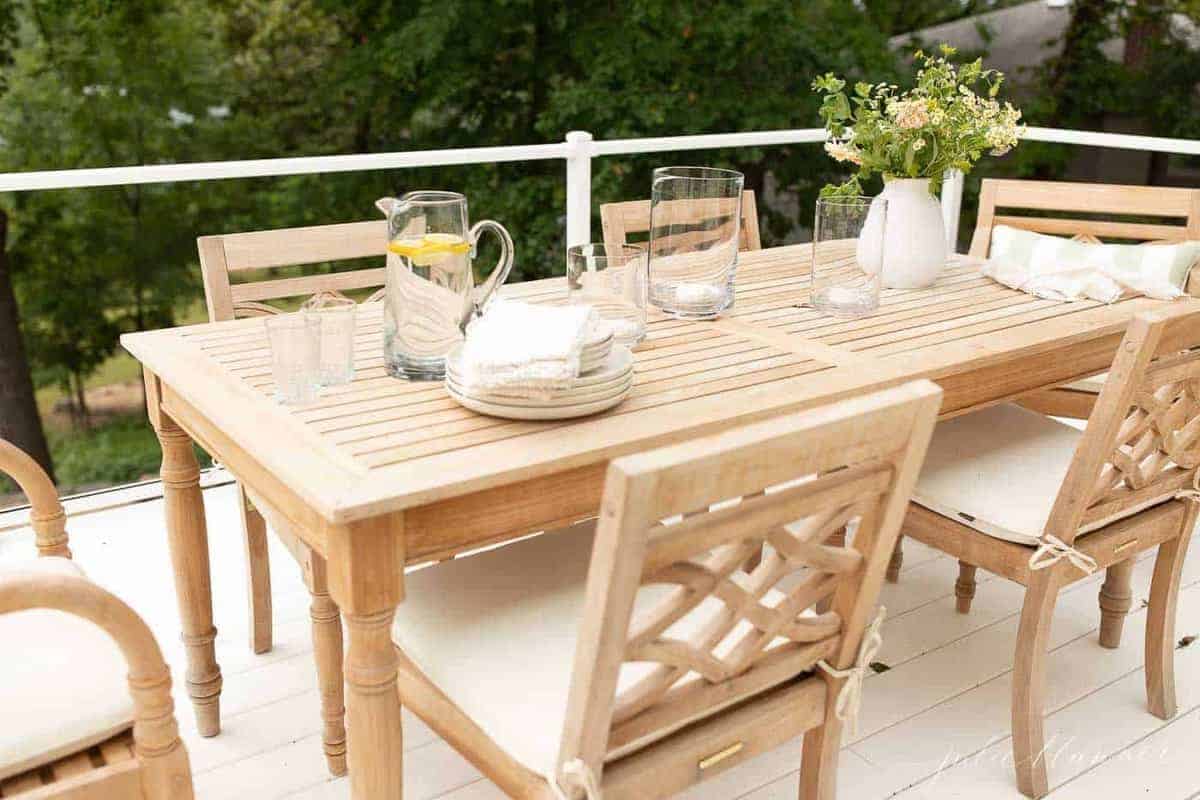 If you've done any shopping for outdoor furniture lately, you know exactly how intimidating it can be! Patio furniture is quite an investment, and you want to get it right so you don't have to replace every other year.
Thankfully, teak outdoor furniture checks all the boxes! It's beautiful, durable, and long lasting. It's also timeless, which means it won't be dated in five years!
However, it can also be quite an investment! Set your budget, do your research (I'm here to help you with that) and take the leap – I promise you won't regret it!
Originally published September 5, 2016 and updated September 2, 2021 with fresh content and images.
I love chatting outdoor living with you! Don't skip the details on our Solo Stove and this charming Tree Swing.
Teak Outdoor Furniture
I'd had my heart set on this beautiful patio furniture for several years as we dreamed of purchasing a lake home away from home. I loved its timeless design and clean, classic lines.
As soon as we found our little oasis, Calm Water Cottage, I ordered two beautiful chaise lounges and they exceeded my expectations. The teak is soft both in color and texture and the detail is stunning.
I couldn't stop thinking about adding the dining set and wingback chairs, and well, here we are, and I'm one happy girl! We're now dining al fresco with pizza on the grill, taking in the beautiful lake views and fresh country air. Ready to admire with me?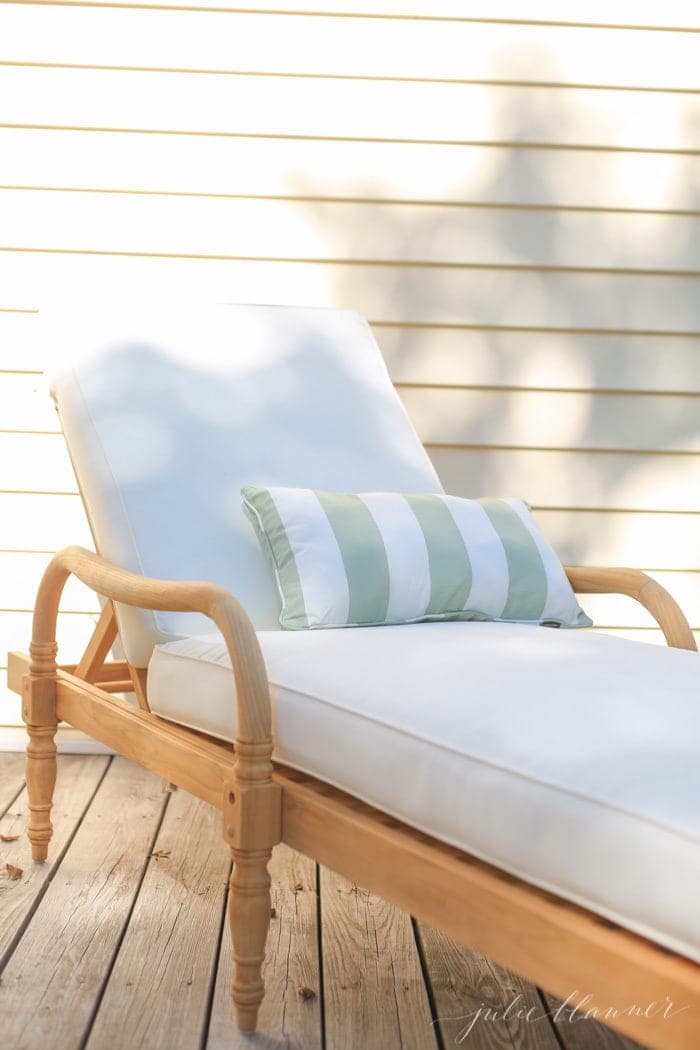 Our new vinyl deck extends from the living room, kitchen and garage, so I placed the chaise lounges just to the side of the living room window facing the lake. Positioned there, they don't obstruct the lake view from indoors, but still allow for beautiful views outside.
One of the reasons I love this furniture so much is that the back is even more breathtaking than the front, so the little glimpse you do see from inside is beautiful, too.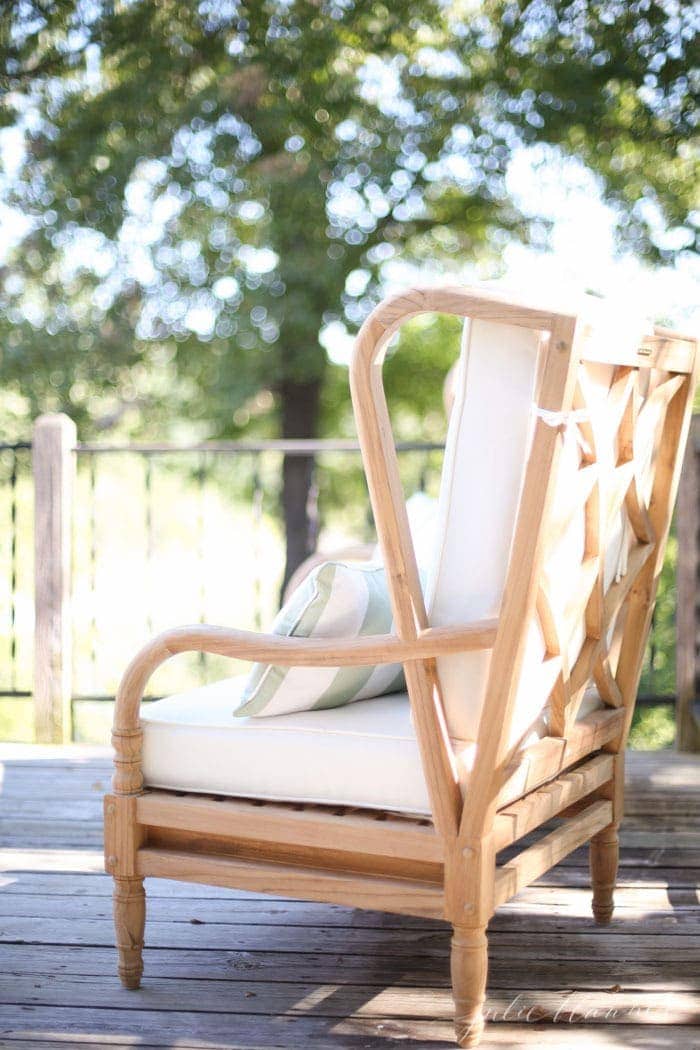 As you can see from a few of these photos, we've had this furniture for several years and have since replace our old wood deck with a new vinyl one. The furniture has held up beautifully with zero maintenance- we haven't even oiled it yet and we've had it for five years now!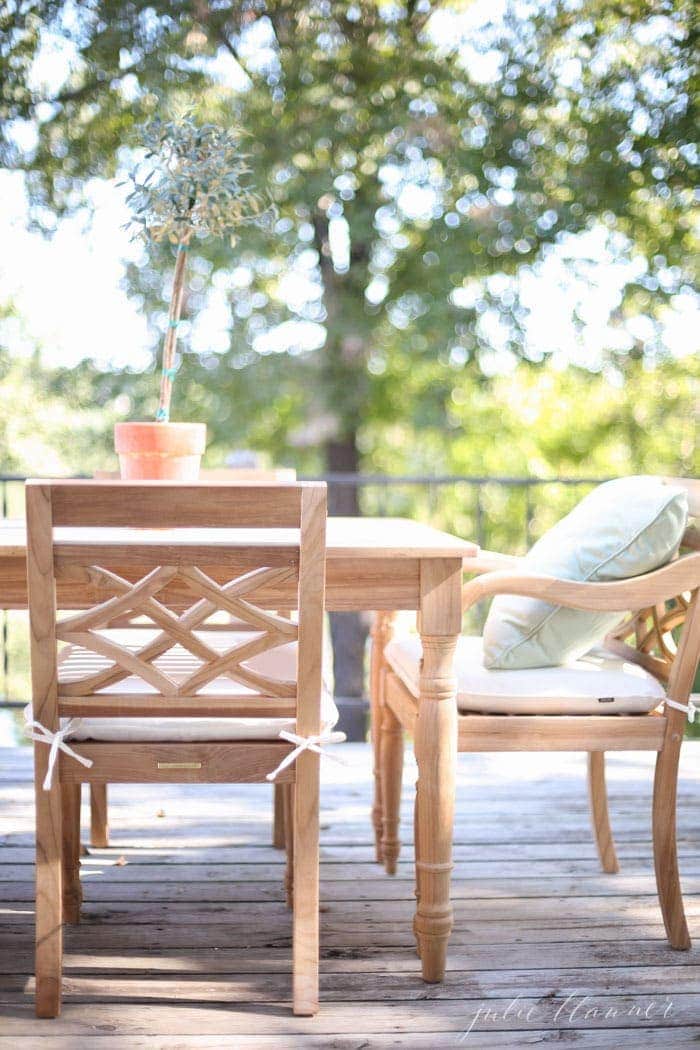 Teak Wood Furniture Tips
Because teak outdoor furniture can be more expensive than other patio furniture options, it's important to do a little research and make sure you're making an investment you'll love for years to come!
The name comes from the teak tree, Tectona grandis in Latin. The teak tree is common in Southeast Asia.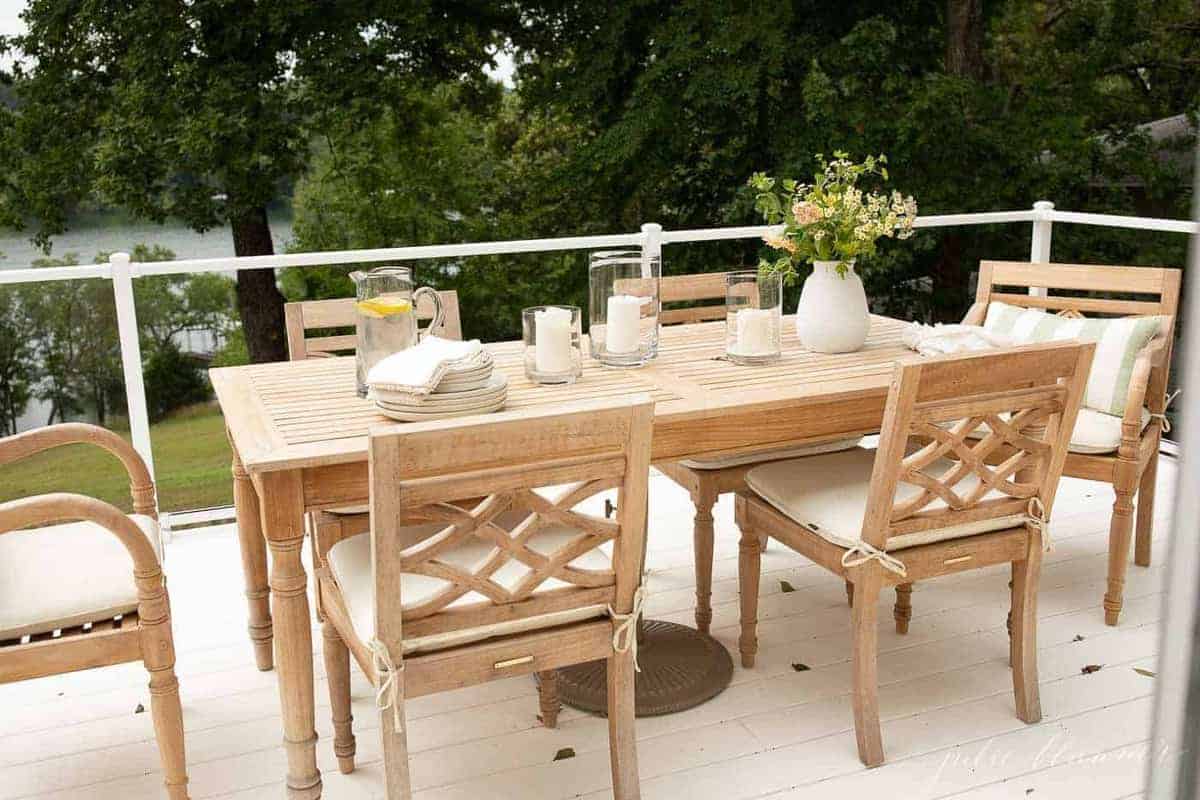 Pros of Teak Patio Furniture
It can be unfinished or protected with Teak Oil.
Virtually maintenance-free.
Teak outdoor furniture can remain outdoors all year round, regardless of climate.
It's considered eco-friendly because of its incredibly long life span.
Less susceptible to sun damage, in comparison to plastics especially.
Lighter in color and cooler to the touch than most metal patio furniture.
Naturally resistant to decay and termites.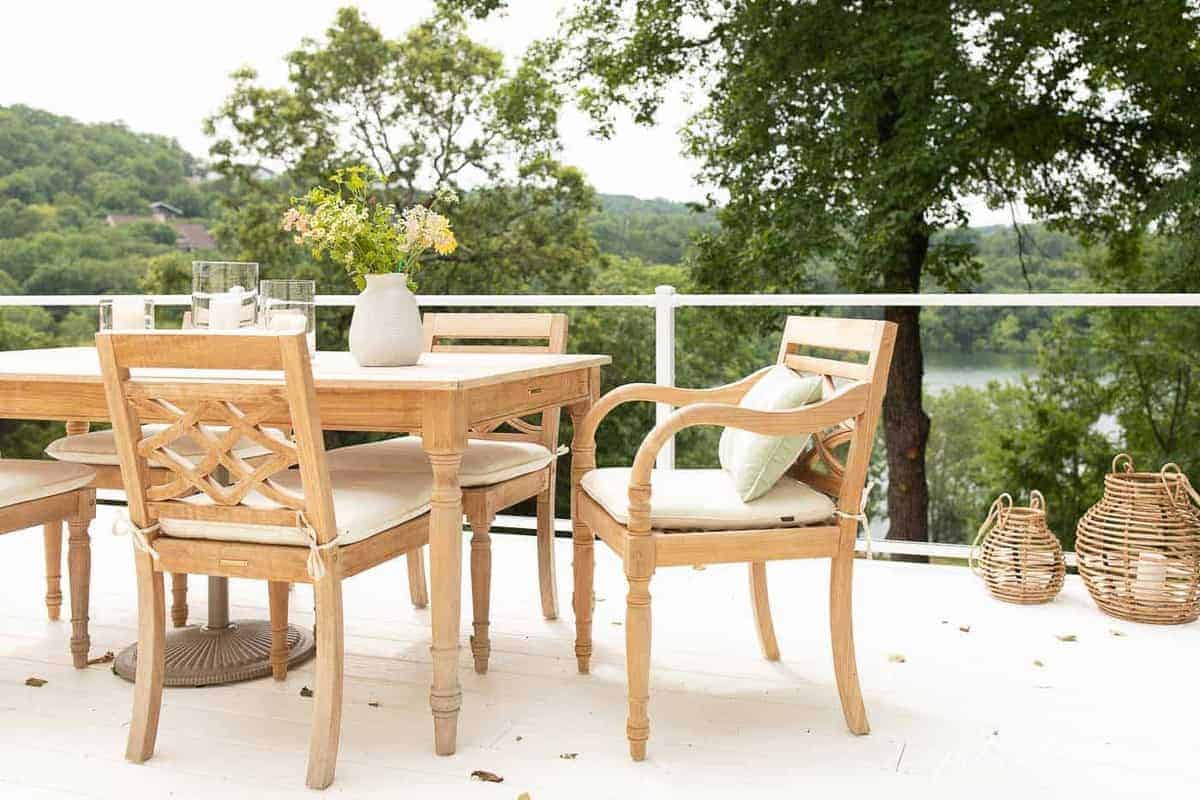 Cons of Teak Patio Furniture
Teak wood furniture is significantly less affordable than other wood patio furniture.
Because of the higher level of supply and demand for slow-growing teak wood, it can also be difficult to source.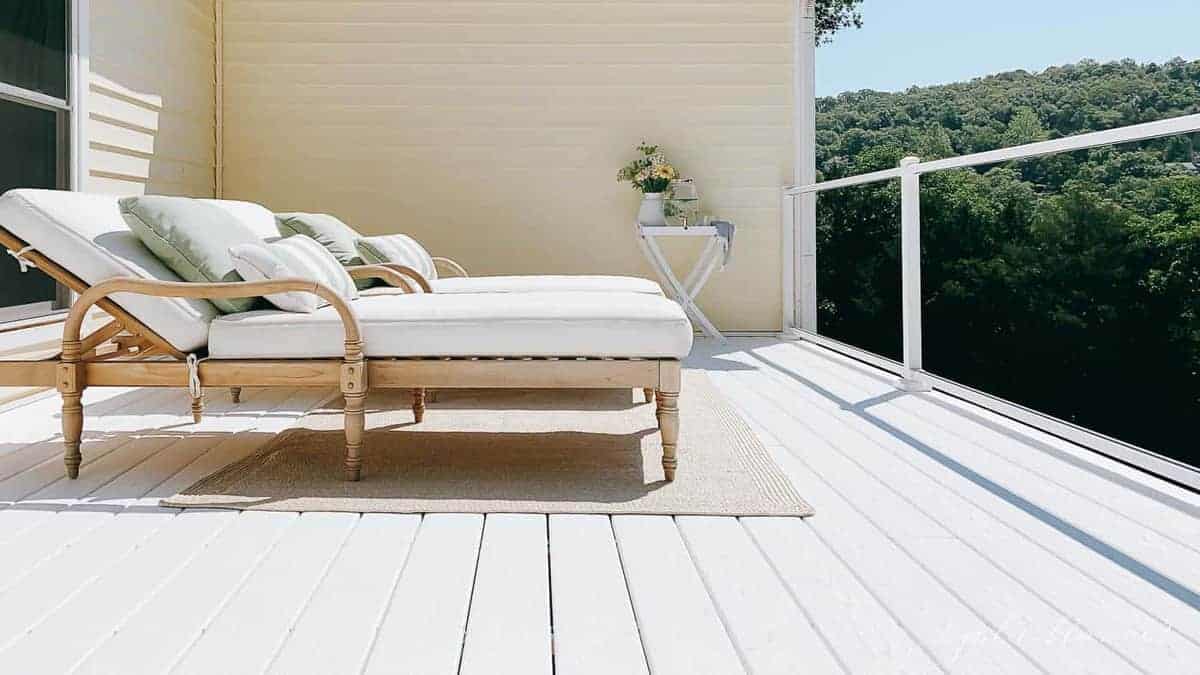 Love our new Vinyl Deck? Don't skip the updated outdoor room we created below with Underdecking!
Is teak wood good for outdoor furniture?
Teak is resistant to harsh weather conditions because of its natural oil, silica and tight grain. It's strong, durable and long-lasting making it suitable for outdoor furniture.
Can teak furniture be left outside?
Teak is naturally weather resistant. It can be cleaned and sealed to maintain its natural color or weathered to fade to a beautiful silvery gray.
How long will teak furniture last outside?
Teakwood can last up to 100 years outdoors!
Is teak wood waterproof?
The natural oils in teak help it to resist water, making it water resistant, but not waterproof.
Let's stay in touch! Join our newsletter for access to exclusive content, never-before-seen photos, your questions answered, and our favorite projects. You'll receive the best design secrets delivered directly to your inbox! Sign up here!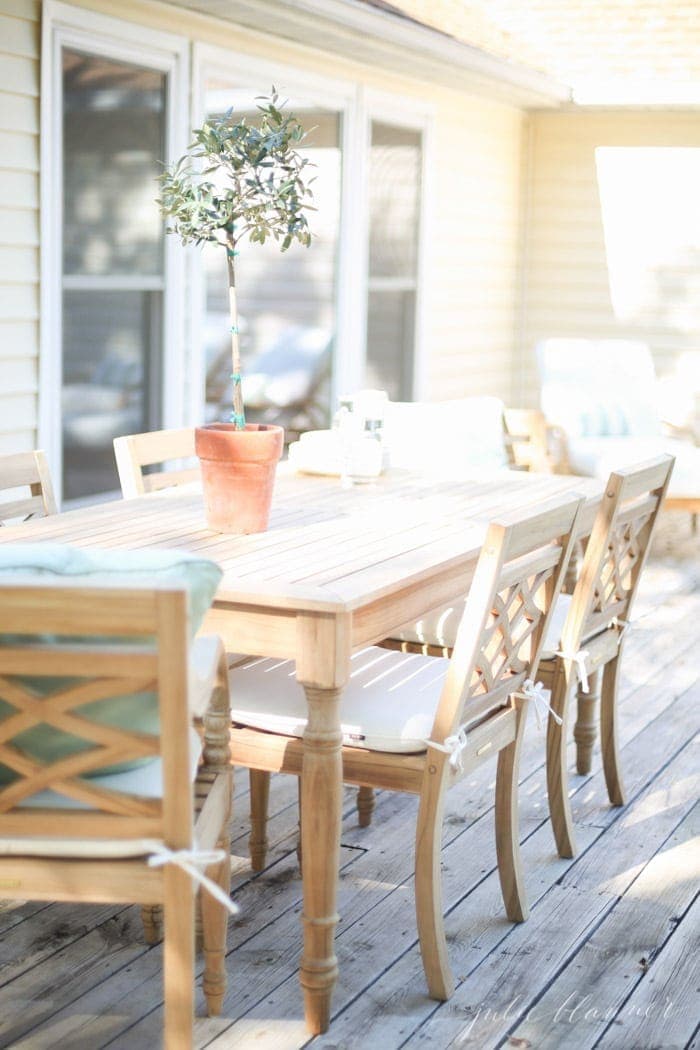 ---
Shop This Post
---
It's incredible how well our teak furniture is holding up. For reference, here are photos, below, from 5+ years ago when it was brand new! We do use furniture covers for these pieces when we are gone, though, to help them stay in great shape!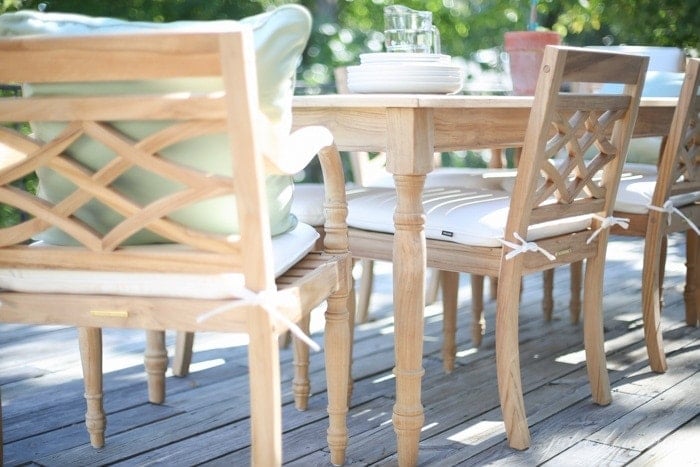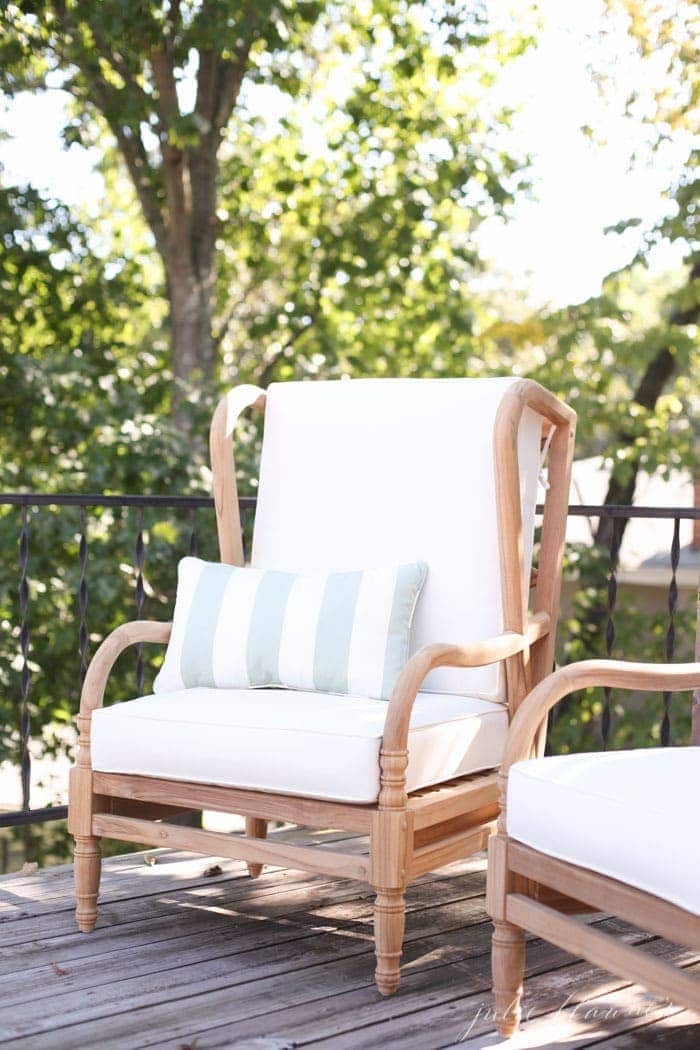 Learn all the secrets and techniques for how to measure furniture, and get it right the first time!
Let's keep in touch! Receive exclusive content, including never-seen-before photos, our favorite home decor DIYs and more!
More Inspiration for Outdoor Living