English Lavender (also called Lavandula angustifolia) conjures up images of quaint English gardens. It is beautiful on its own planted in a pot as a statement piece, and it is equally stunning in rows of lavender that sway together in the spring breeze.
Here's everything you need to know about this delicate-looking yet powerhouse of a plant.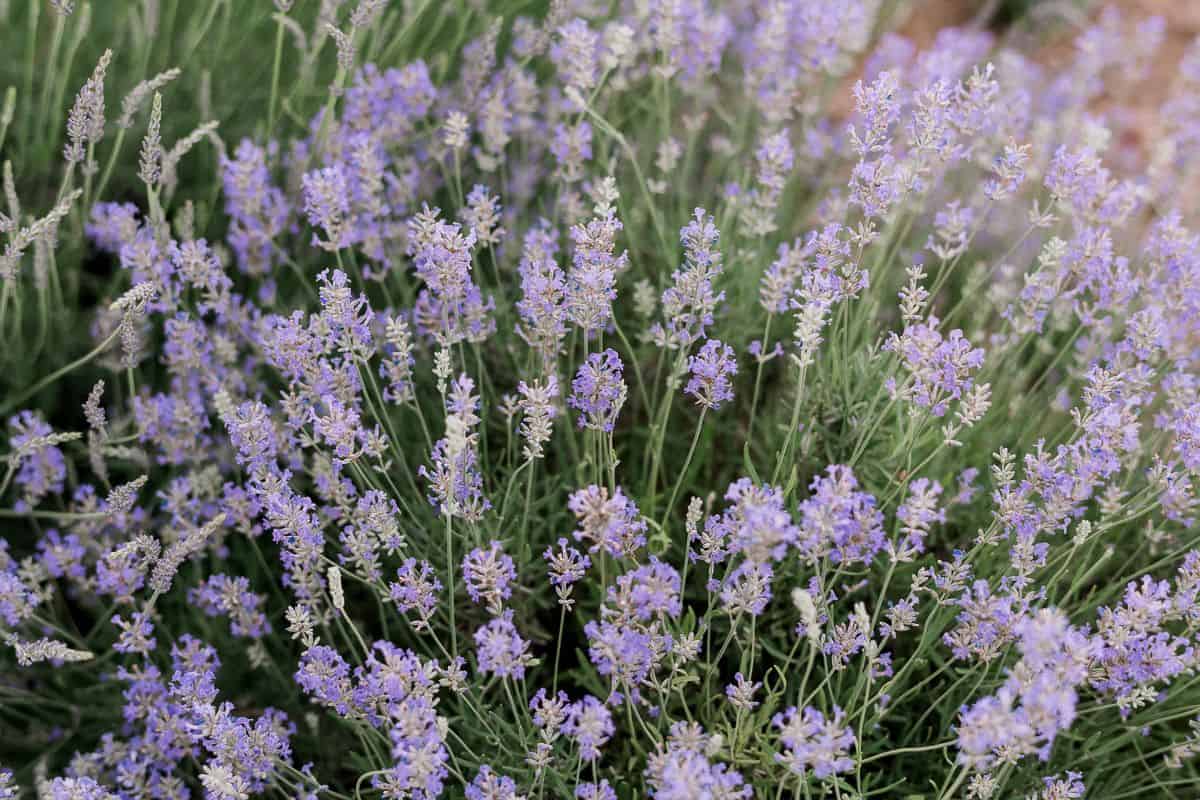 Lavender is a beautiful plant that is found the whole world wide in gardens, flower beds, and pots. Its beautiful deep purple color contrasts nicely with sunny yellow flowers and vibrant reds. Conversely, the purple blossoms and grayish green leaves are mellow enough to blend with a milder-colored garden.
With over 450 varieties of lavender, it may seem daunting to choose the right variety for you. A good place to start is to consider English lavender, the most popular type of lavender grown in the United States. (Read more about French Lavender here as well as Catmint (Nepeta Faassenii)!)
After our recent visit to a local lavender farm for family photos, I knew I needed to share more about one of my very favorite plants!
Lavender is a plant that plays nicely with other plants in any garden. It is practically effortless to grow. Look at my maintenance free garden ideas to see how I incorporate lavender and other plants in my garden.
I also think lavender is striking right up against my house. Learn how to make window boxes that house lavender beautifully!
For a charming and unique plant, learn more about adding a lavender tree to your garden. It keeps the whimsy of lavender contained in a topiary!
English lavender is an all-around winner. Its beauty, aroma, hardiness, and longevity are unsurpassed. Let's delve deeper into the world of English lavender.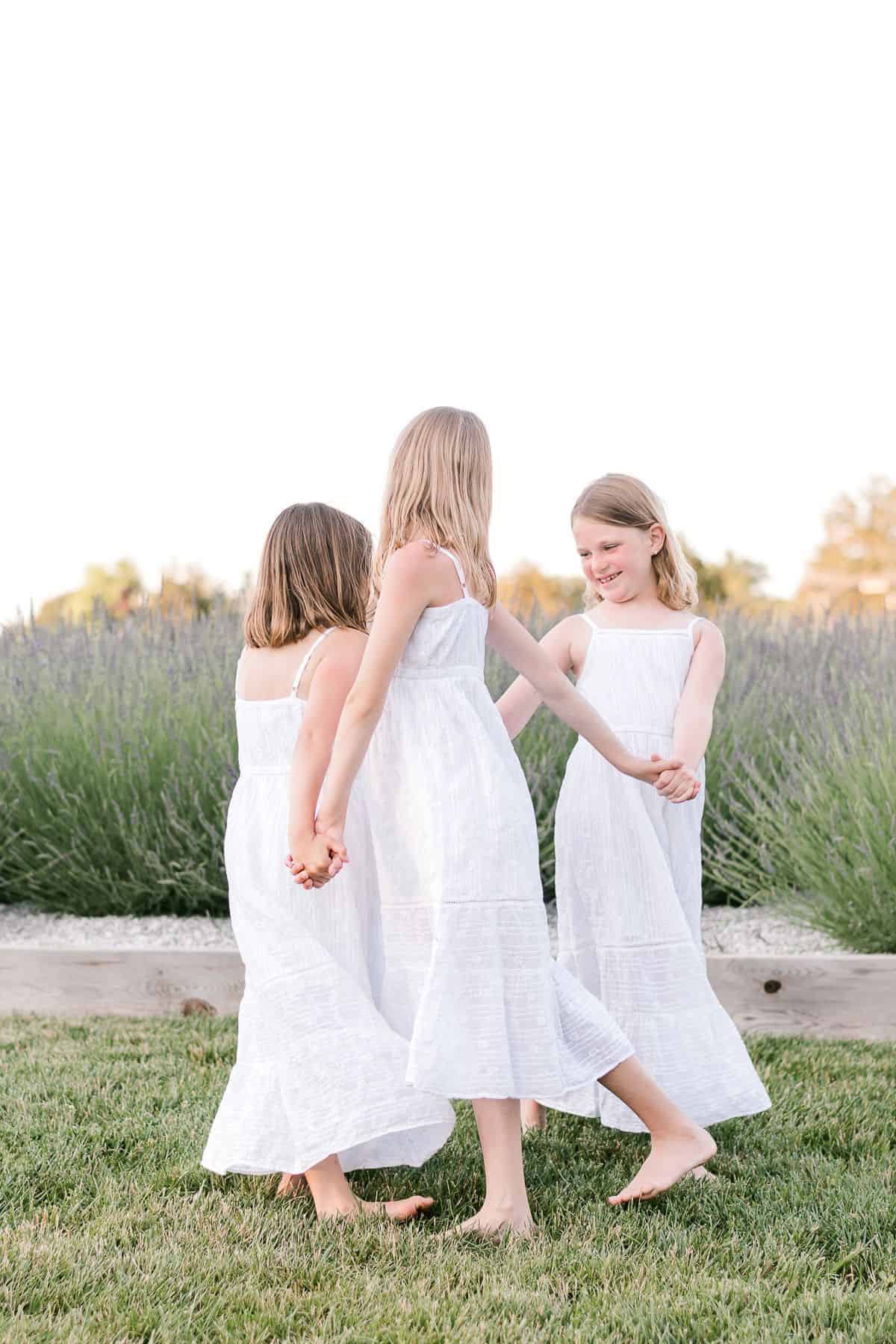 Why You'll Love English Lavender
Deep-purple flowers and gray green leaves
Strong, lovely fragrance
Attracts butterflies and bees for pollination
Repels deer and rabbits
Lavender Basics
Lavender is an aromatic perennial that is part of the mint family. It is semi-woody and produces bluish-purple blossoms from late spring to summer.
It is native to the Mediterranean so it is able to grow in hot areas, sandy ground, and loves full sun.
Lavender blooms and leaves are very fragrant and are often harvested then dried to use in aromatherapy. Some of my favorite homemade bath products are lavender and lemon body scrub and homemade lavender milk bath.
Lavender oil has a strong yet soothing aroma. It's used in bath products, candles, cleaners, and more for a fresh and relaxing scent.
Lavender naturally repels deer and rabbits. So, lavender will help to protect other plants in your garden. It also attracts butterflies and bees. They add beauty and help pollinate your garden at the same time!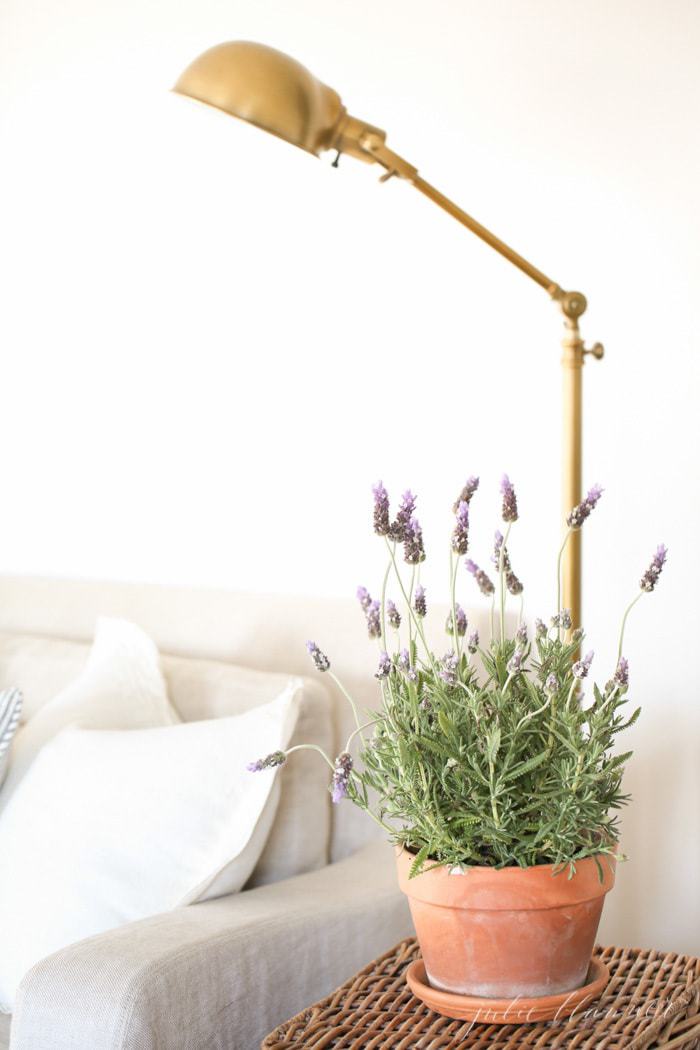 English Lavender/ Lavendula Angustifolia
The 450 varieties of lavender can be divided into four main types: English lavender, French lavender, Spanish lavender, and hybrid lavender. Despite the names, they all originated in the same region of the Mediterranean and western Europe. English lavender got its name because it actually grew well in the moist climate of England.
This lavender is the most widely-grown variety for a number of reasons.
First, English lavender is charming. Grown in rows as a border, placed individually in pots and beds, or randomly placed throughout a garden, lavender really stands out.
The deep purple blossom is beautiful. Little buds form at the end of long, thin stems. Each bud opens to form small delicate flowers. The thin leaves of lavender are grayish-sage green. All of these features combine to make a small shrub that is both delicate and robust looking!
Next, English lavender is really hardy. It can thrive through zone 5, even through winters with frost and snow. Plus, it isn't picky about its soil. Sandy, well-drained soil will keep lavender happy. It doesn't really need anything else. Any level of gardener can manage that!
English lavender has the strongest scent out of all the lavenders. This variety is used for its intense-scented oils, its dried aromatic leaves and blossoms, and also for culinary purposes. Yes! It's edible! Dried or fresh, it can be added to desserts, salads, teas, and more! Just remember that it doesn't take much to add flavor.
Finally, English lavender can live up to 15 years. That's up to three times longer than some other varieties. Take good care of it and you can enjoy it for years to come.
Types of English Lavender
'Hidcote' – Has beautiful color and scent that are strong and last a long time. Doesn't get as wide as other varieties, about 1′ to 2′ spread.
'Munstead' – A great choice for colder zones. Grows a little shorter than the other varieties.
'Jean Davis' – While most varieties of lavender are purple, this one is pink! Its scent and flavor tend to be more fruity.
'Royal Velvet' – A rich and beautiful lavender with lengthy blooms and a long blooming season.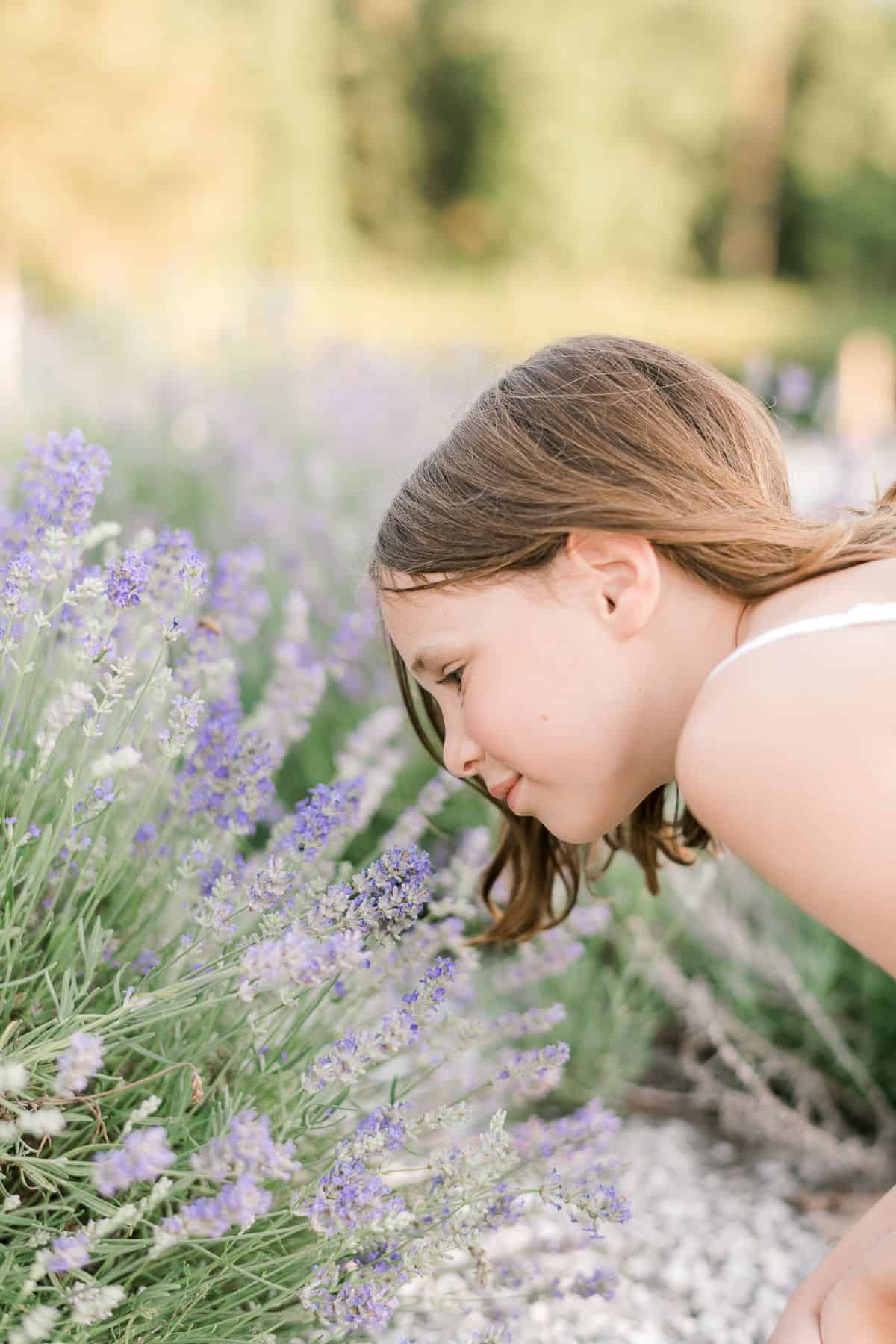 How to Grow Lavender Outside
You'll love growing lavender in your garden. It looks natural and perfect in this setting. Plus, it is a bush you can plant and it will almost take care of itself.
Like most plants, dig a hole that is twice as big as your root ball. English lavender prefers sandy soil that drains well. Fill the hole with potting soil around your lavender plant. Don't worry about fertilizer because these plants were made to grow in the poor soil of the Mediterranean.
Plant in a place with plenty of sunlight, basically full sun. While they can still grow in partially shaded areas, they tend to get leggy and scraggly looking. Give them full sun for a healthy and tidy look.
Water regularly when you first plant your English lavender. But once your plant is established, the soil needs to dry out between watering. Lavender does great in dry climates, but can also grow well in humid places.
Prune your lavender in the fall, when the flowers have browned. Using sharp shears, cut the stems below the wilted flowers. This should be about a third of the plant height.
The leaves will continue to provide beautiful green color through the winter in warmer climates. On the other hand, in colder climates, cut back the stems after they have died to make room for new spring growth.
Cutting back your lavender will encourage root growth and make space for air to move among the stems. This keeps your plant healthy and ready for more flowering in the spring.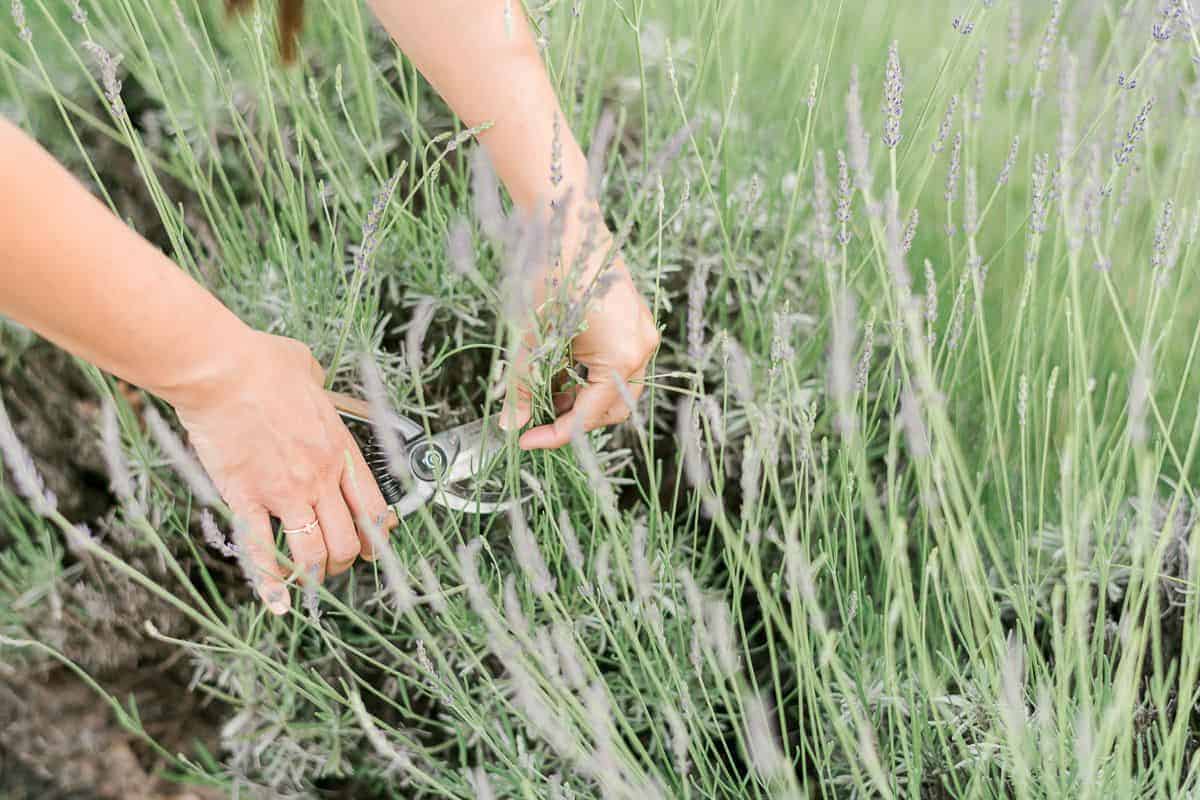 Growing Lavender Indoors
English lavender loves being outside in the sun, but can also transition to indoors. It is a very forgiving plant and will likely grow successfully in a variety of environments.
To start, choose a pot that is only slightly larger than the root ball of your starter plant. A terra cotta pot works really well because it absorbs water quickly. Fill with a potting soil that is designed for container gardening.
Water when the top inch of the soil is dry. Overwatering could potentially cause root rot and harm your plant.
Light is one of the most important factors of growing lavender. It really loves the sun! Put close to a window that gets a lot of natural light and rotate the container periodically so all sides of the plant receive light.
You may want to consider letting your plant live outside in the summer to absorb all of the goodness of the sun. Then bring it inside during the colder months. Don't put it by heating vents, though. The direct heat blowing on the plant can hurt it.
Prune up to twice a year, in the spring and after the blossoms have turned brown. Cut back to shape your plant and to deadhead. I recommend choosing a small variety for an indoor plant.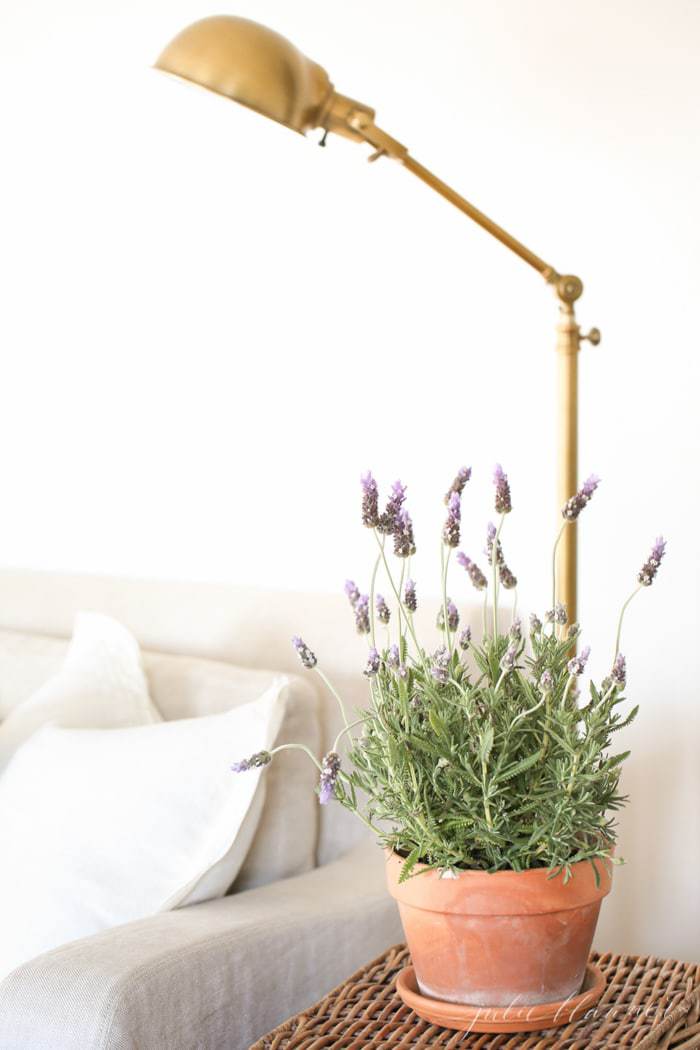 How to Harvest
You can dry your own lavender for potpourri and bath products. Snip a few stems a few inches below buds – don't wait for them to flower. Don't cut all the way down to the bottom of the stem because the stem won't grow back if you do that.
Bundle a few stems together and tie with string. Hang upside down to dry. Feel free to display your little bundles of dried flowers – they look adorable! When they are fully dry after 2-3 weeks, you can remove the buds.
Store in a jar or other container until ready to use, and feel free to make this fragrant Lavender Milk Bath.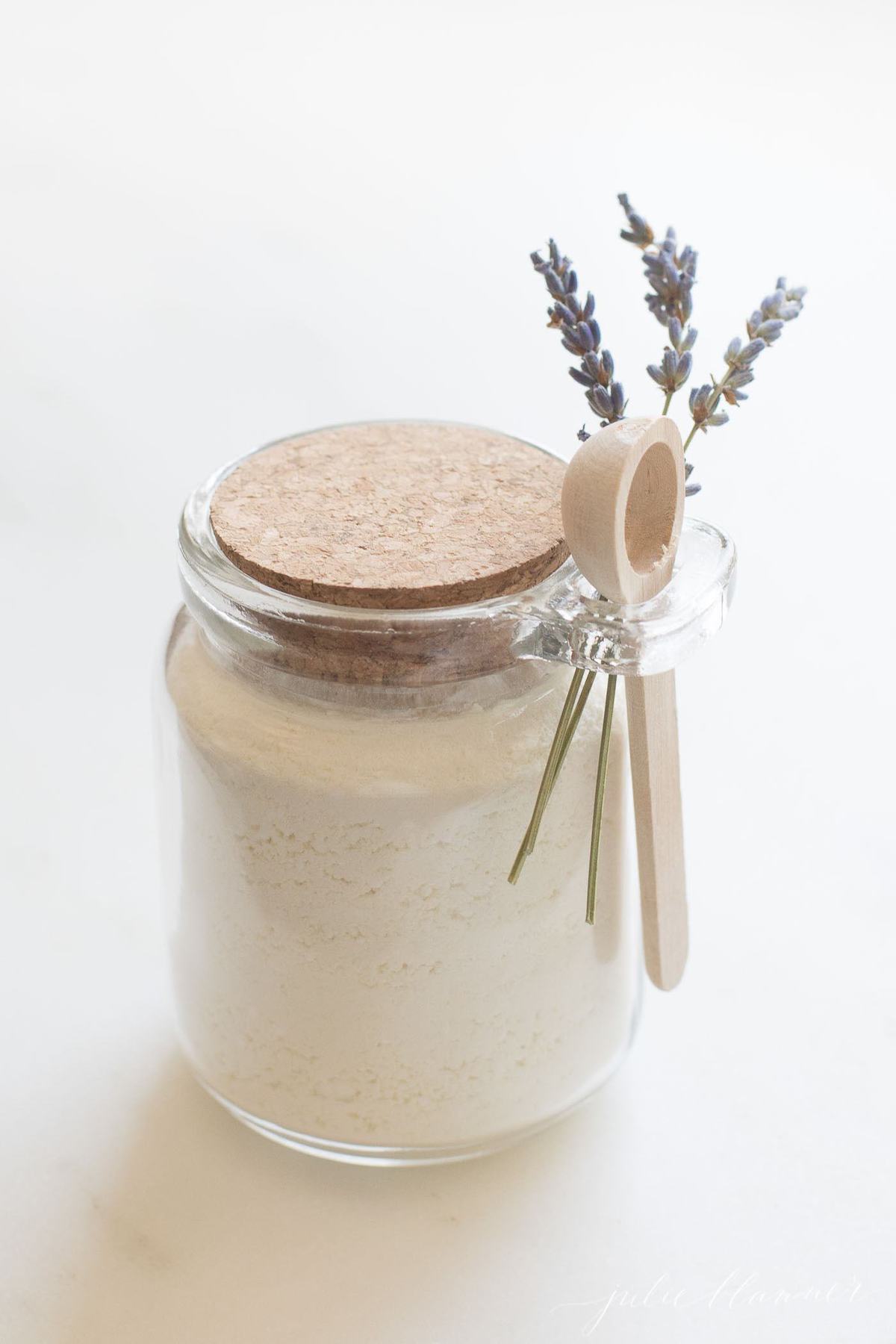 Tips
Pruning twice a year – in the spring and the fall – will help your plant live longer. This prevents the stems from turning to wood. No new growth will come from the woody portion of your plant.
Lavender loves full sun, but in extremely high temperatures, shading from afternoon sun for a couple of hours might be appreciated.
Propagate your own lavender by snipping a stems a few inches long. Place the ends in a rooting hormone. Plant in soil until roots develop.
Frequently Asked Questions
Will English lavender die in the winter?
In warmer climates lavender can actually be an evergreen. In the colder zones English lavender will experience die back. Trim the dead stems for the winter and watch the plant regrow in the spring!
What part of lavender is fragrant?
The flowers and leaves of lavender are both aromatic. They release their fragrance when you touch them and then continue to have an aroma when they are dried.
What is the difference between lavender and Lavandula?
All plants in the Lavandula genus are true lavenders. However, Lavandula angustifolia generally what the aromatherapy industry refers to as "true" lavender.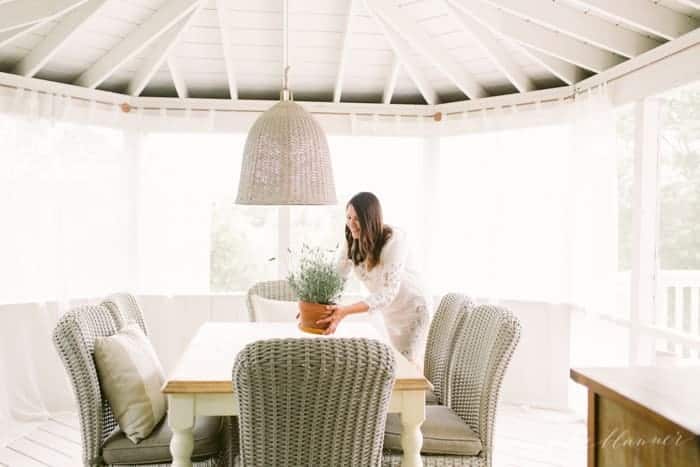 More Garden Inspiration