Easy and inexpensive outdoor fall decorating ideas that make a big impact with minimal effort.
Decorating your outdoors for fall can be as simple or as elaborate as you choose it to be. For me, I take the simpler, more budget friendly approach with traditional mums and pumpkins. Each of these items are readily available at grocery stores, farm stands and garden centers, and both come in a variety of colors and sizes to suit every taste and budget.
As the weather turns cooler, here are some simple yet effective outdoor fall decorating ideas to help inspire you.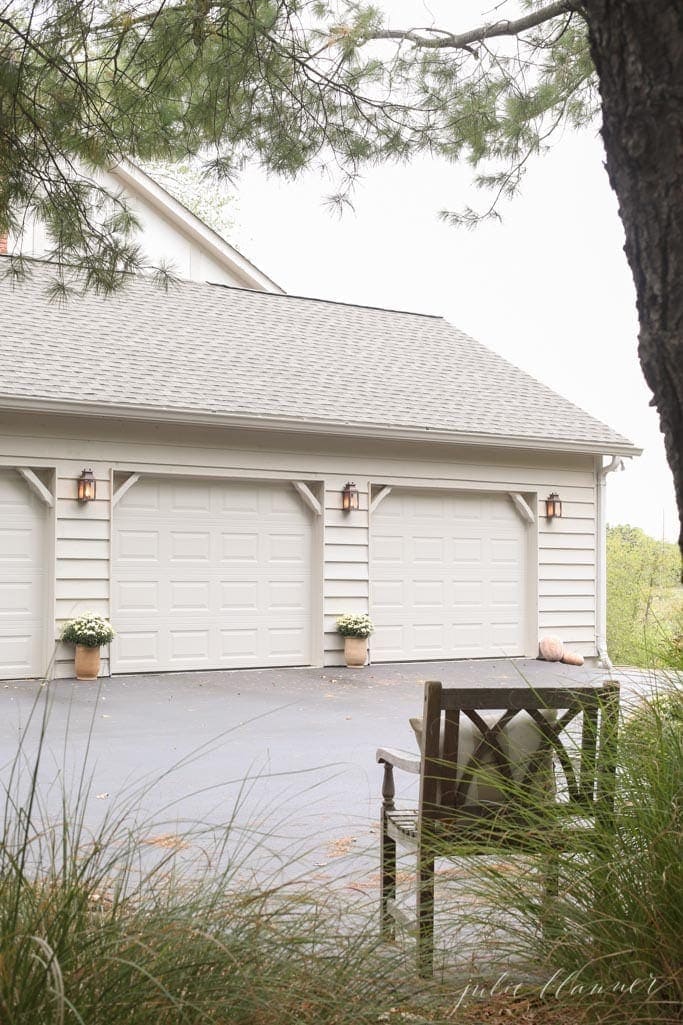 I love bringing you decor inspiration for each season! Don't miss my Studio McGee at Target post for affordable buys to bring cozy charm to your home. I've also got a beautiful photo tour of our Minimalist Fall Decor for your enjoyment!
Fall Planter Ideas
When driving up our street, our garage is prominent because how our home is positioned. I've always preferred concealed garages or carriage houses (who wouldn't?), but to make the most of it, we painted the garage doors the same color as the home to minimize them (Sherwin Williams Realist Beige) and added copper lighting between each stall to add a little character.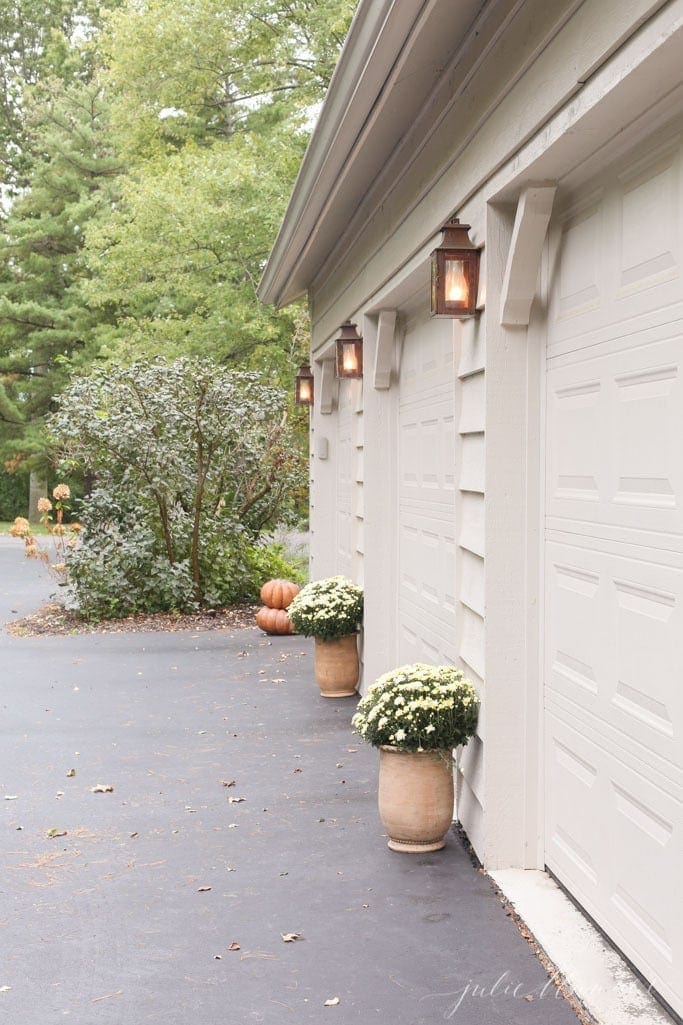 I've often been guilty of buying flowers that never make it into the dirt, so here's my little secret about planters – if they're temporary, you don't have to actually plant them! Just fill the pot with crumbled bags or newspaper and drop the plastic container in!
Voila! The cooler temperatures mean they don't need to water too frequently, but they do like some water at least twice a week during the fall.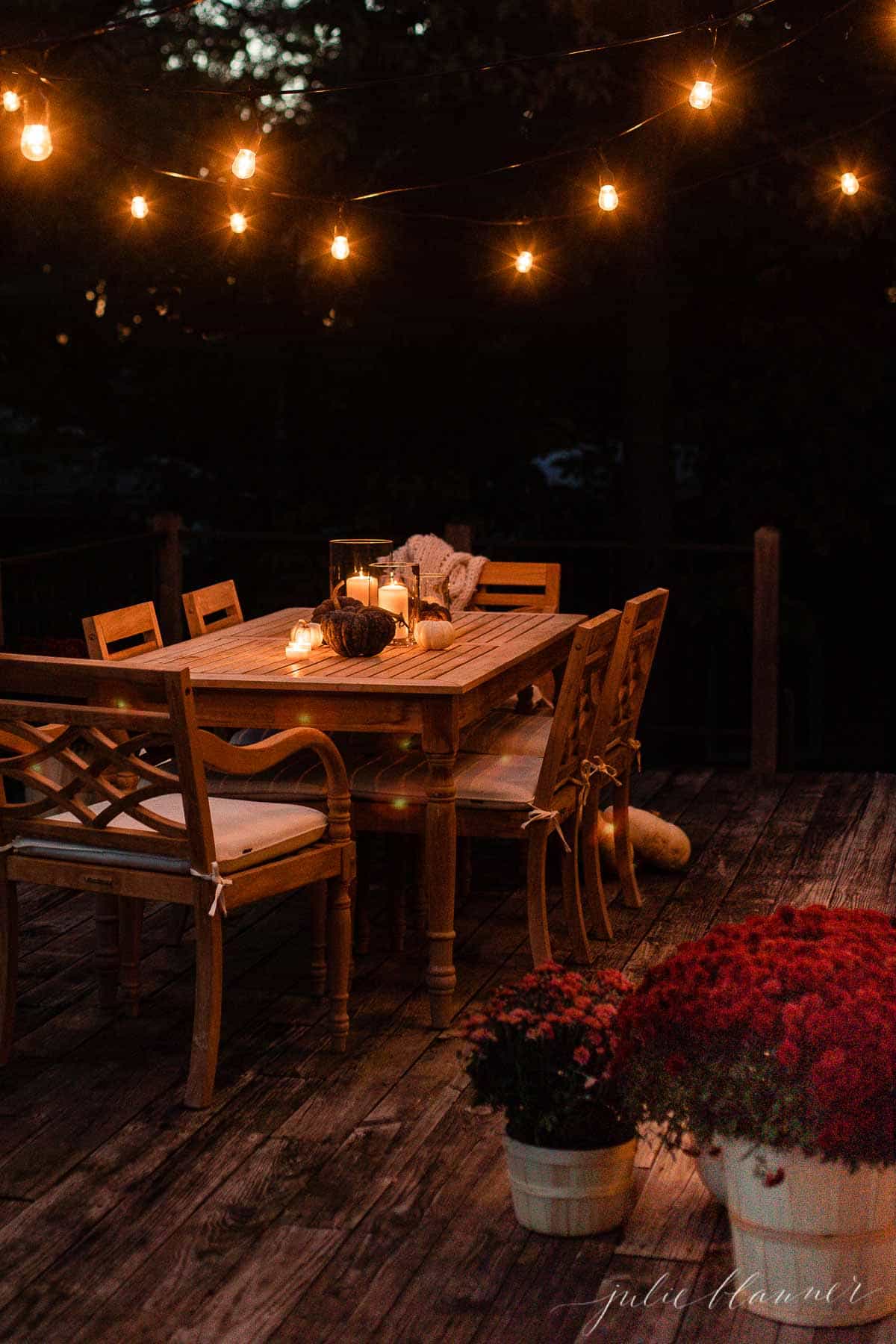 I like to place mums in baskets (you can shop my favorites here). Bushel or peck baskets work particularly well.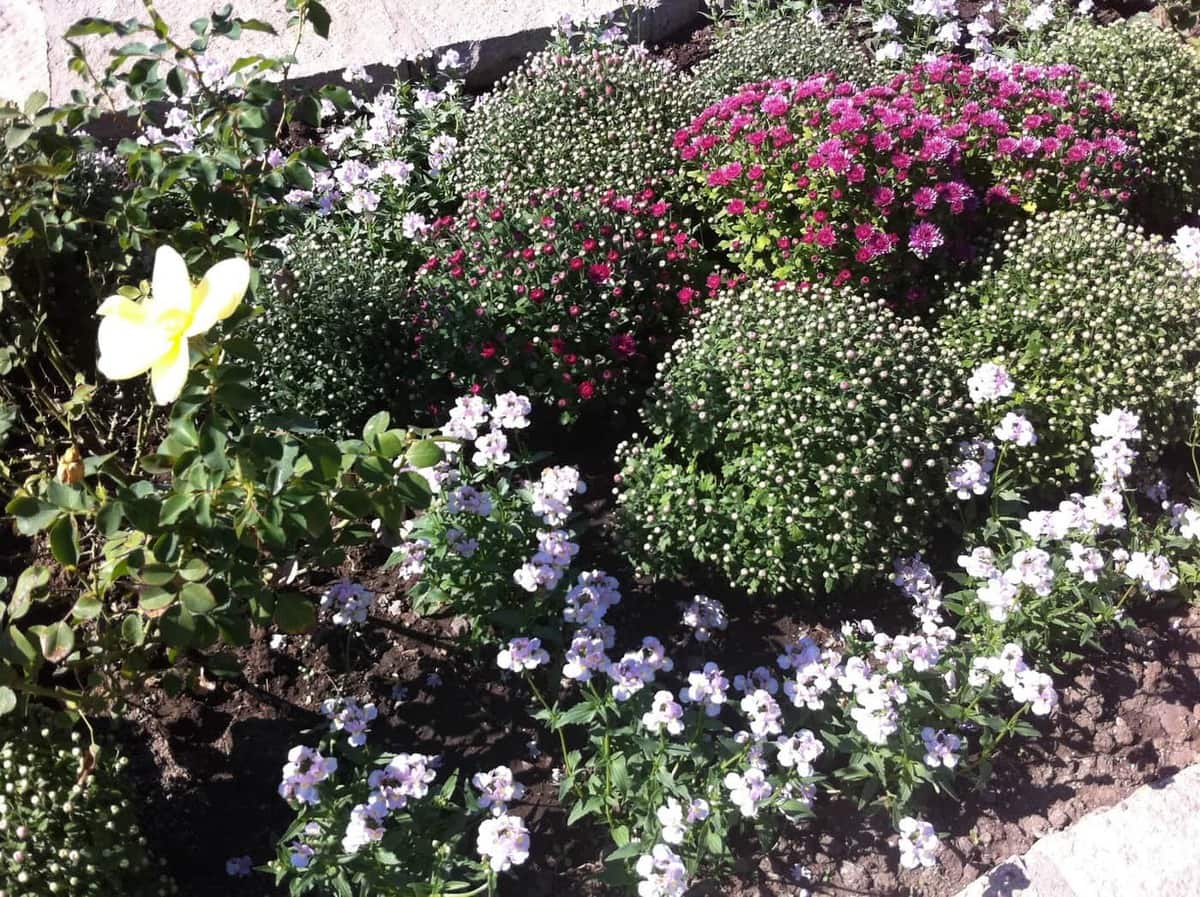 If you are feeling more ambitious, mums are beautiful when planted in a flower bed, along a walkway or as foundation plantings. If you purchase the hardy variety and plant them in the summer, it will give the root system enough time to get strong enough to survive the winter.
Mums planted later in the fall, usually will not have been in the ground long enough to survive through the winter, especially in colder climates.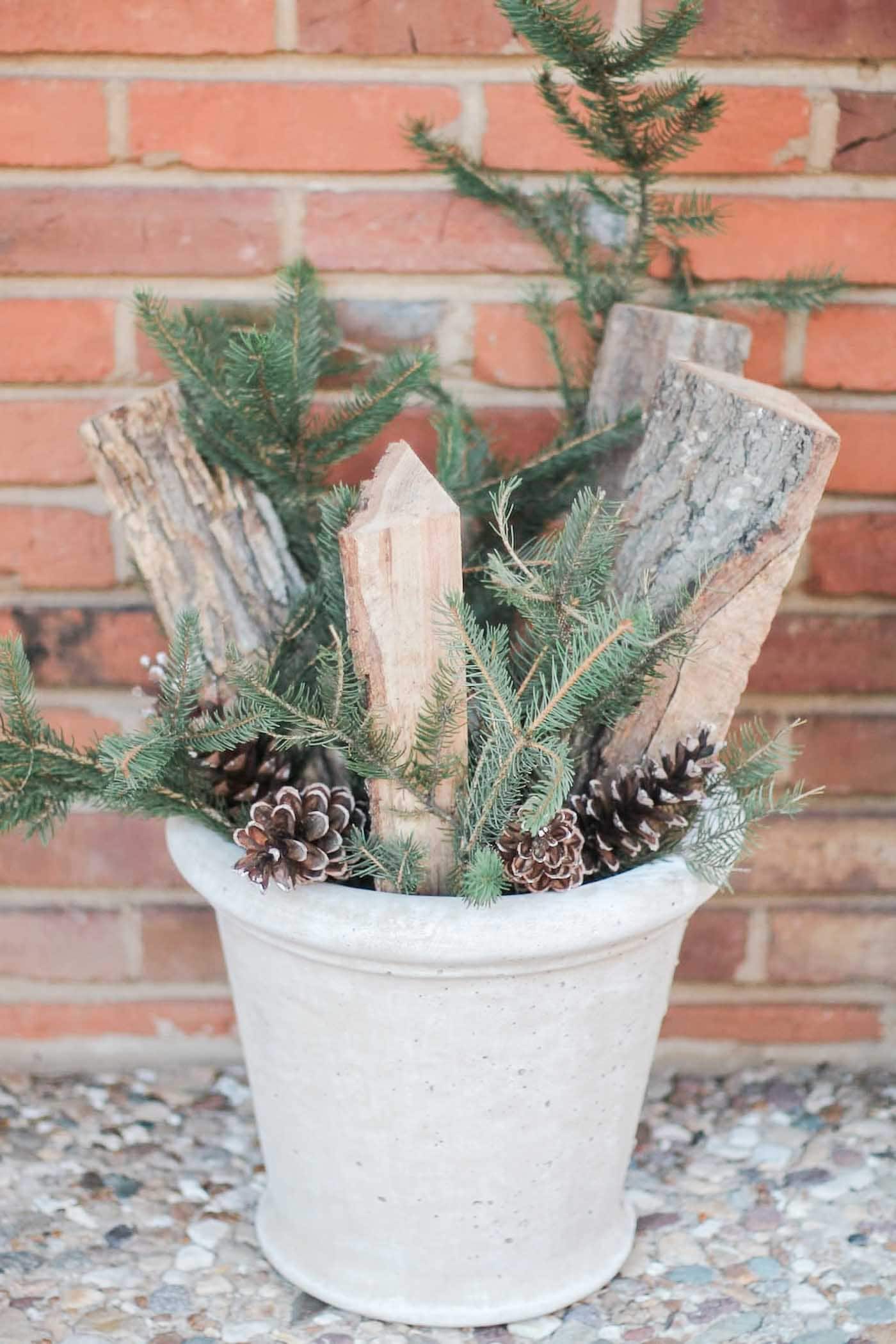 Another practically free fall planter idea is to gather some firewood or birch logs and place them vertically in a planter alongside foraged pine or spruce clippings and some large pinecones. It's a simple arrangement that has big impact and can transition from fall to winter.
This topiary is easy to customize. The options are endless! (As seen in People Magazine).
Another easy way to fill your topiaries is to simply stack two pumpkins on top! Stack the larger on the bottom and taller on top in the same or varying colors!
Front Door Fall Decoration Ideas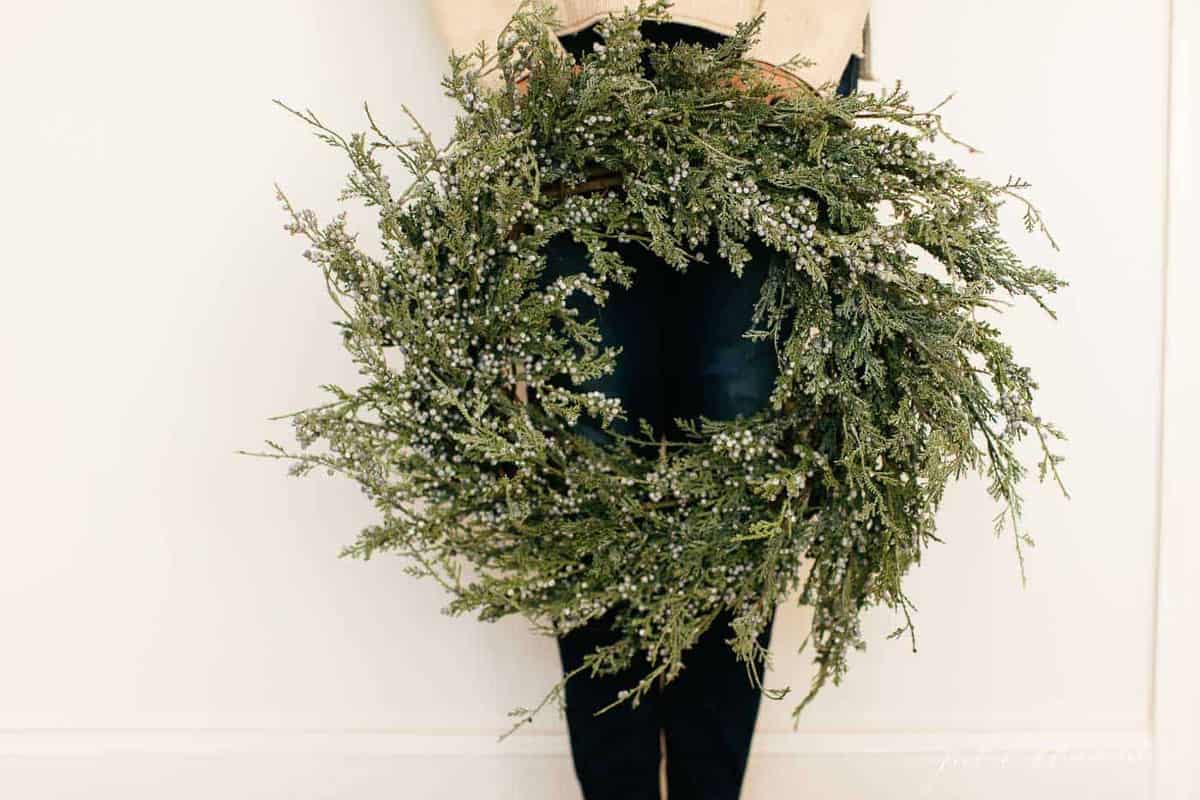 A purchased fall wreath will look beautiful on your front door, but a hand made Wheat Sheaf Wreath is not only simple to make, but can be customized with whatever ribbon coordinates with your front door or fall planters.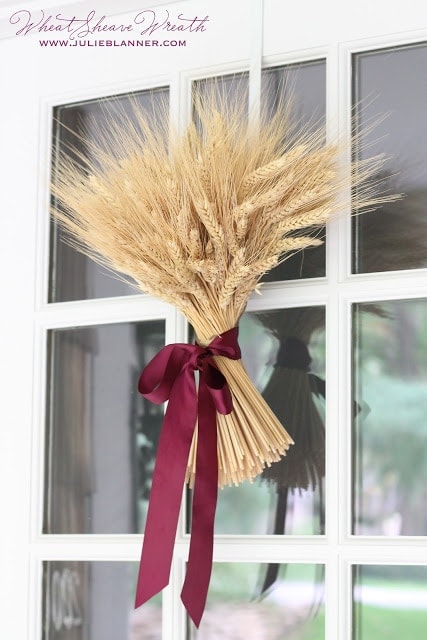 You can also take a basic store-bought wreath and update it with seasonal fruits or gourds for a one-of-a-kind fall wreath that only looks expensive!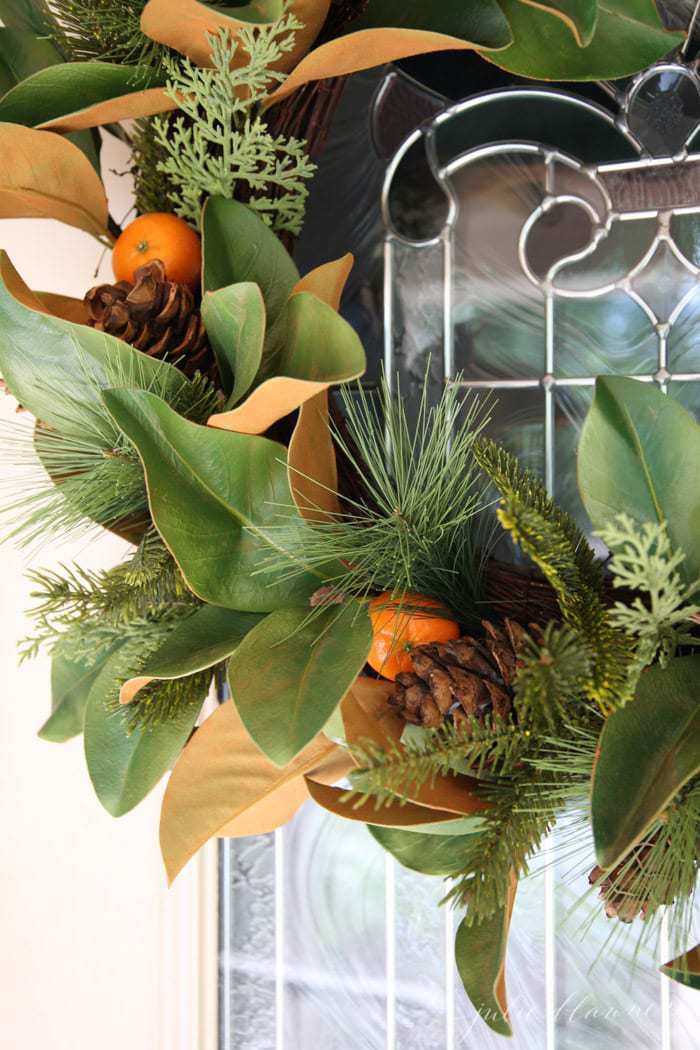 I still can't get enough of this simple laurel wreath, beautiful for a covered porch!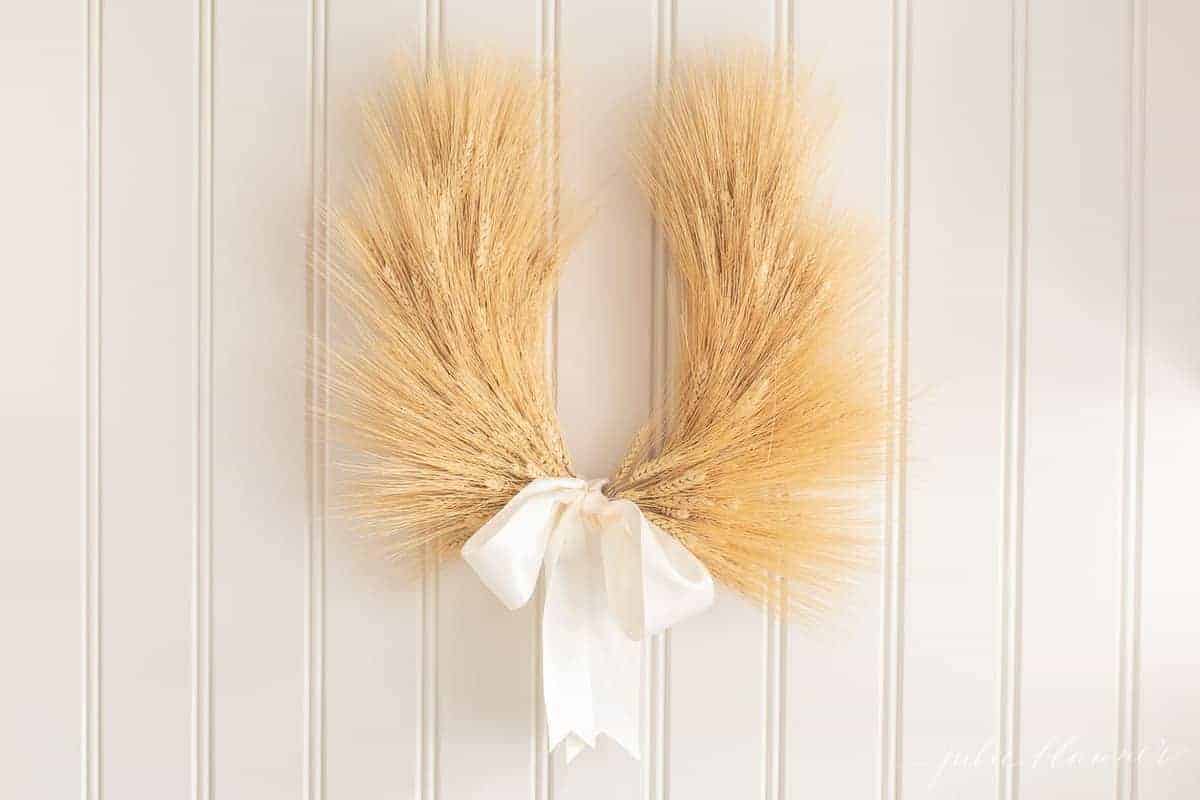 Outdoor Pumpkin Decor
Whether you prefer to take the traditional route with large orange pumpkins, or your prefer a more modern approach with the pastel colored heirloom varieties, you can't doubt that pumpkins are a mainstay of outdoor fall decorations.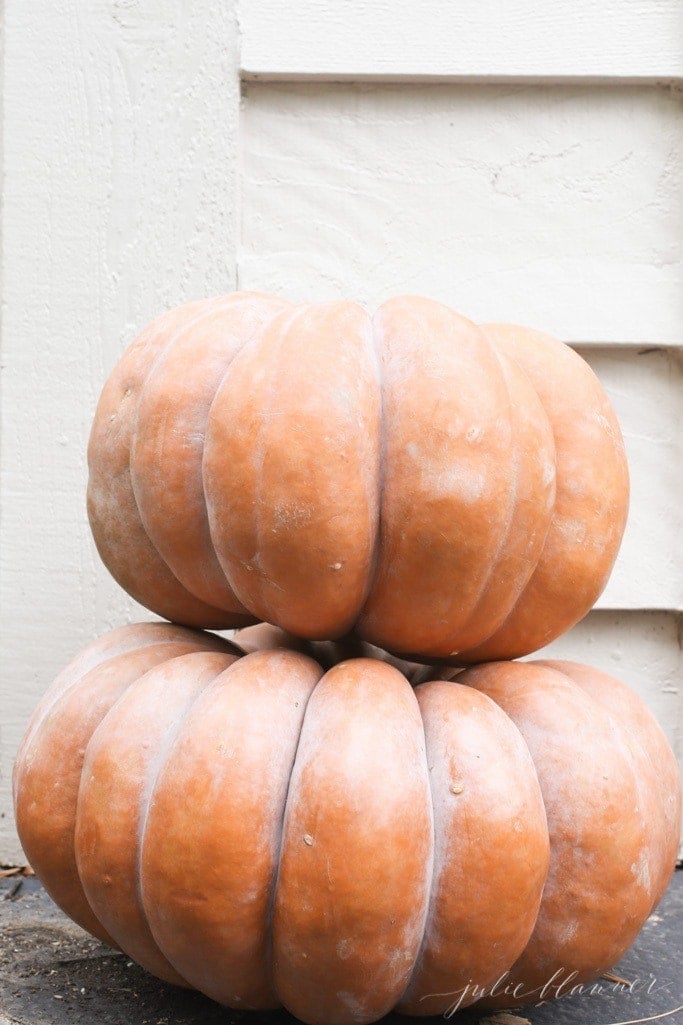 I like to buy pumpkins in variety of shapes, colors and textures. I love to bring natural elements of the season indoors, but equally love to showcase nature in front of my home, too.
Pumpkins can be stacked on top of each other, alone or in a planter; placed alongside a planter overflowing with mums or other seasonal flowers; or embellished with a family name or even a monogram! I have more fall front porch decorating ideas that you will love, too!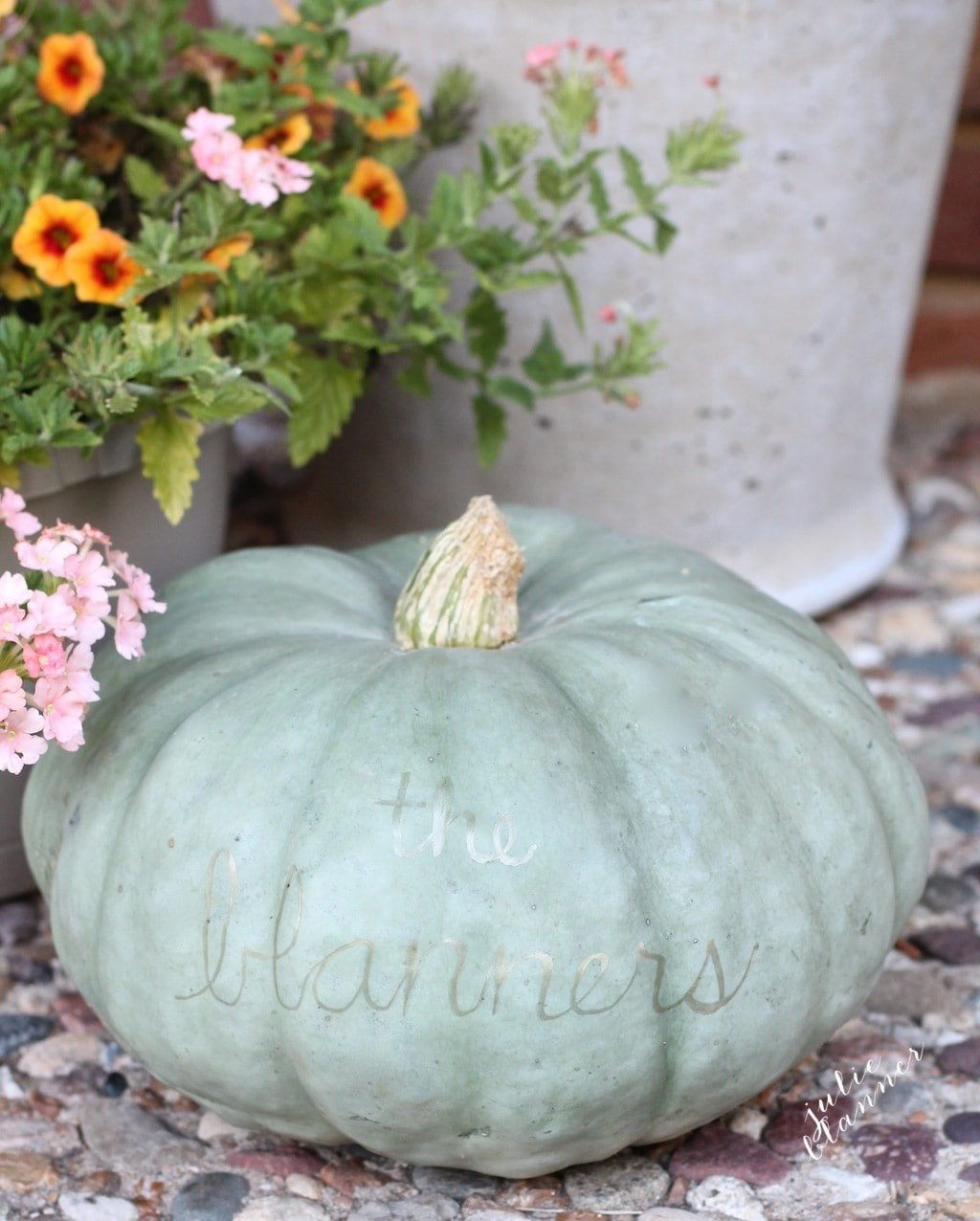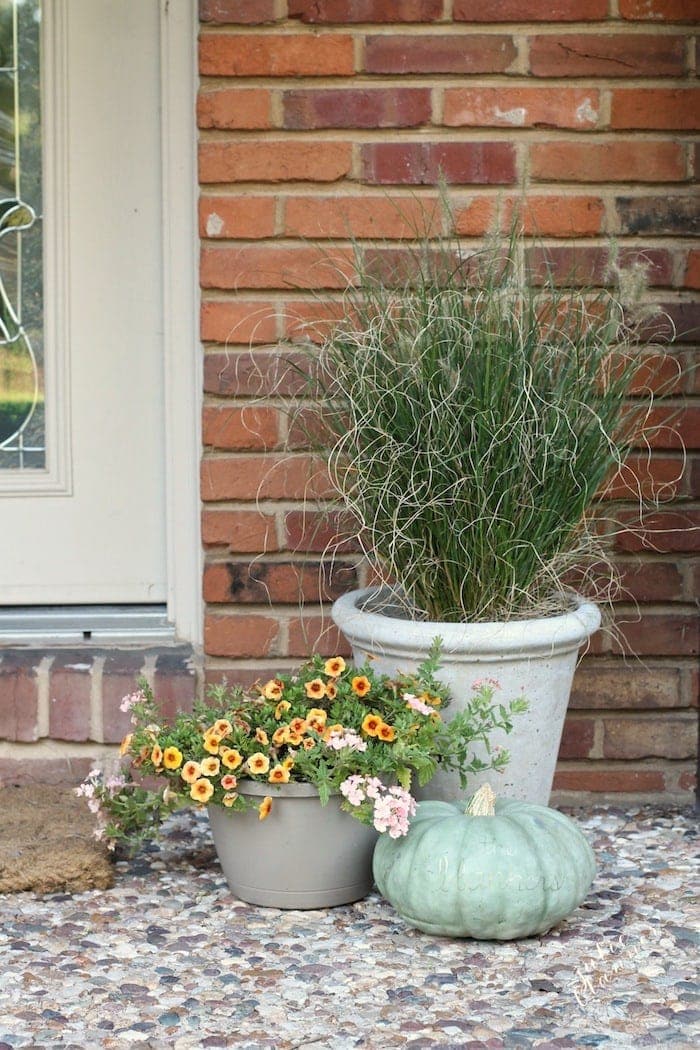 You can use pumpkins to line a walkway or to create a walkway! But of course even a pile of pumpkins adds a lot of fall charm.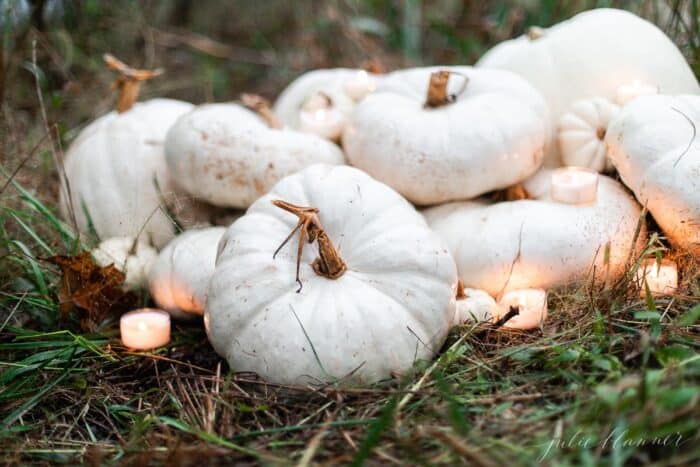 You can prop them up as well – I love this heart shaped ghost gourd!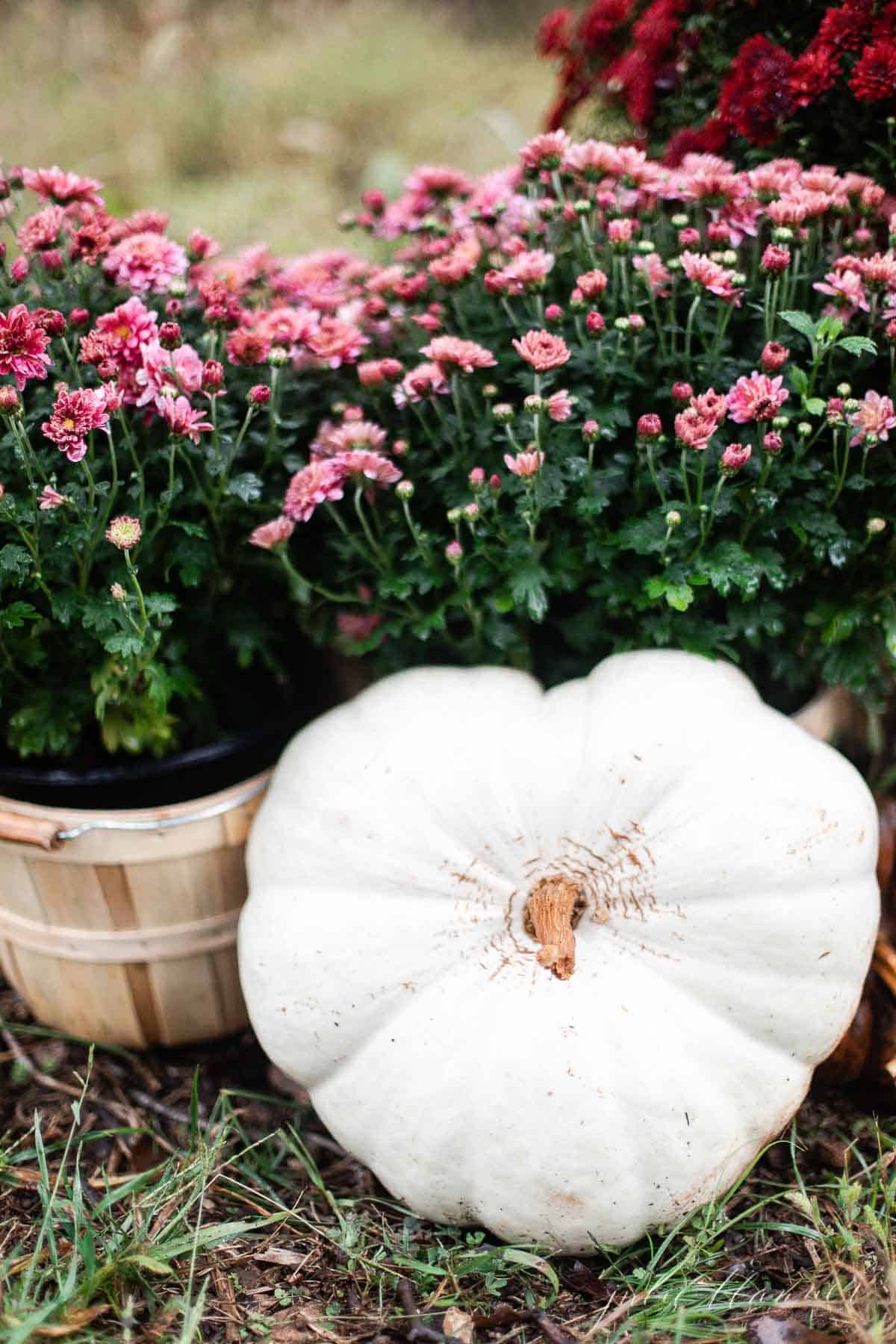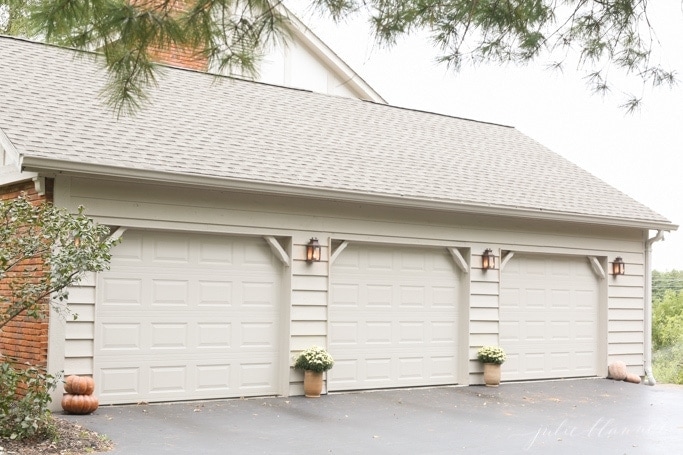 Make it Cozy
Fall is one of my favorite seasons to sit outdoors – the cool air, crisp breeze and falling leaves are really a feast for the senses.
Adding a throw and pillows to an outdoor bench or other seating area invites guests and family members to cozy up, sit back and enjoy all the nature has to offer!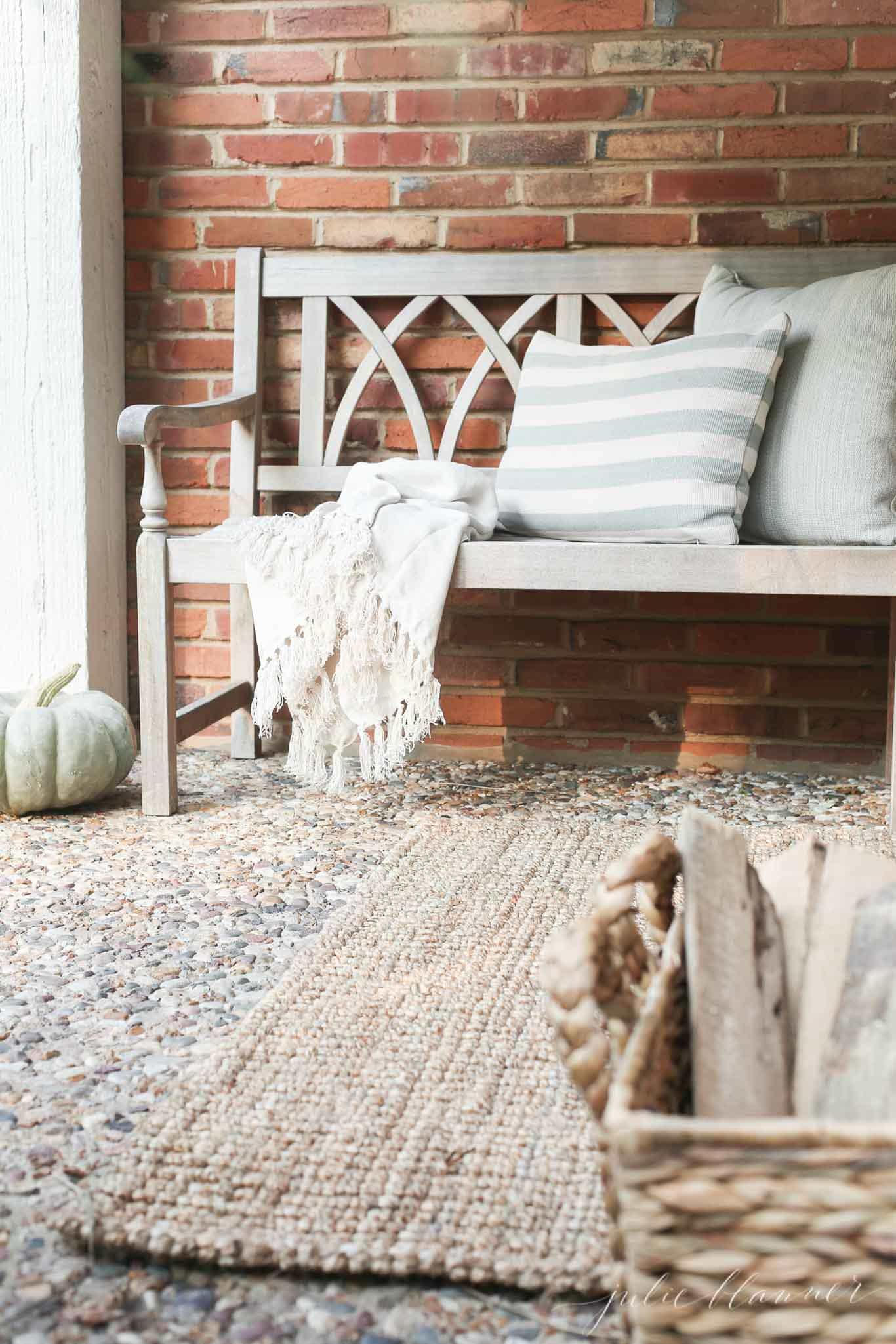 Add Lights
The evenings are shorter, but that doesn't mean you can't still enjoy as much time outside as possible. Outdoor lighting makes any space feel more enchanting. Add string lights to a deck, patio or even topiaries, to ambience and warmth. It's perfect for outdoor dining or hot chocolate by a fire.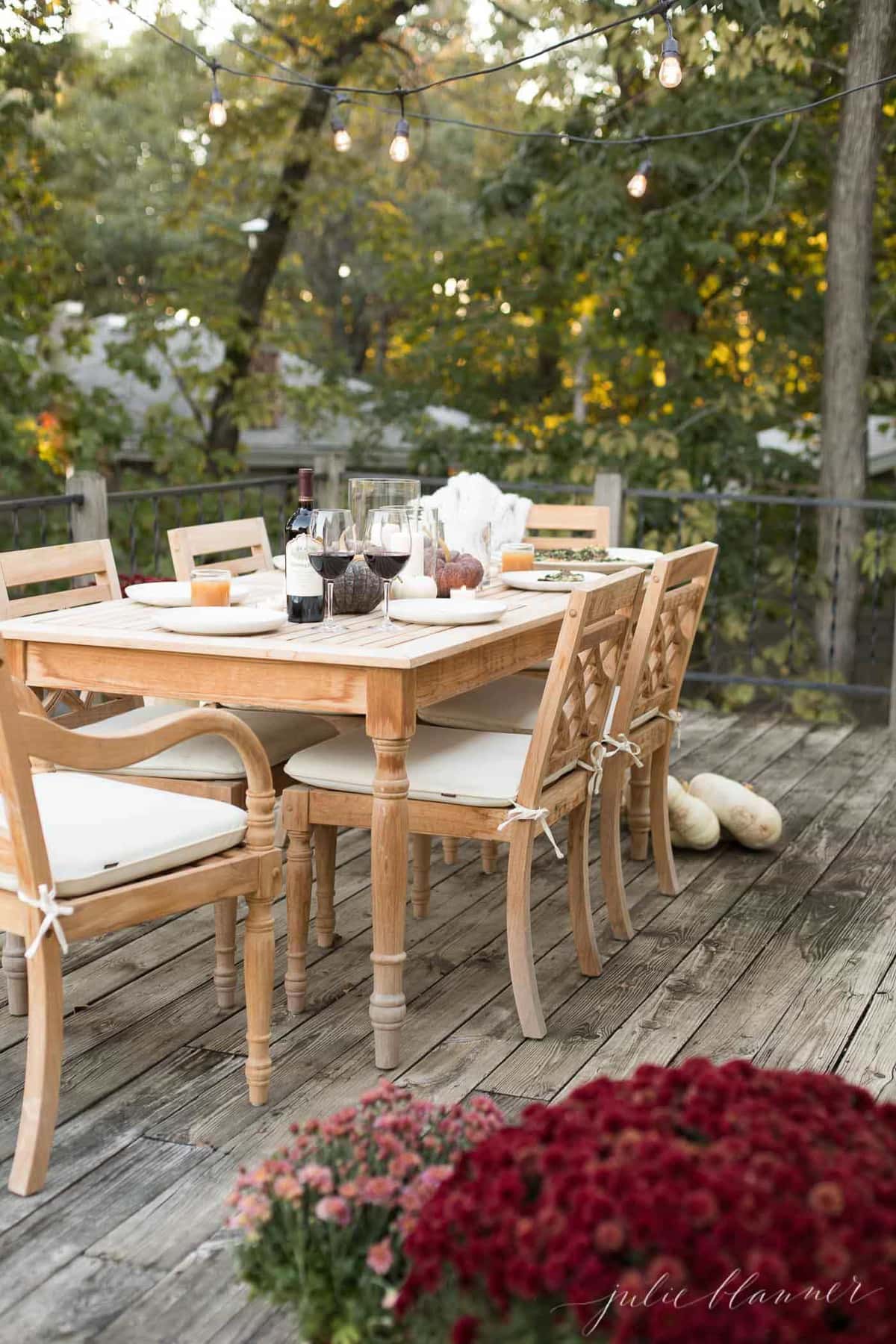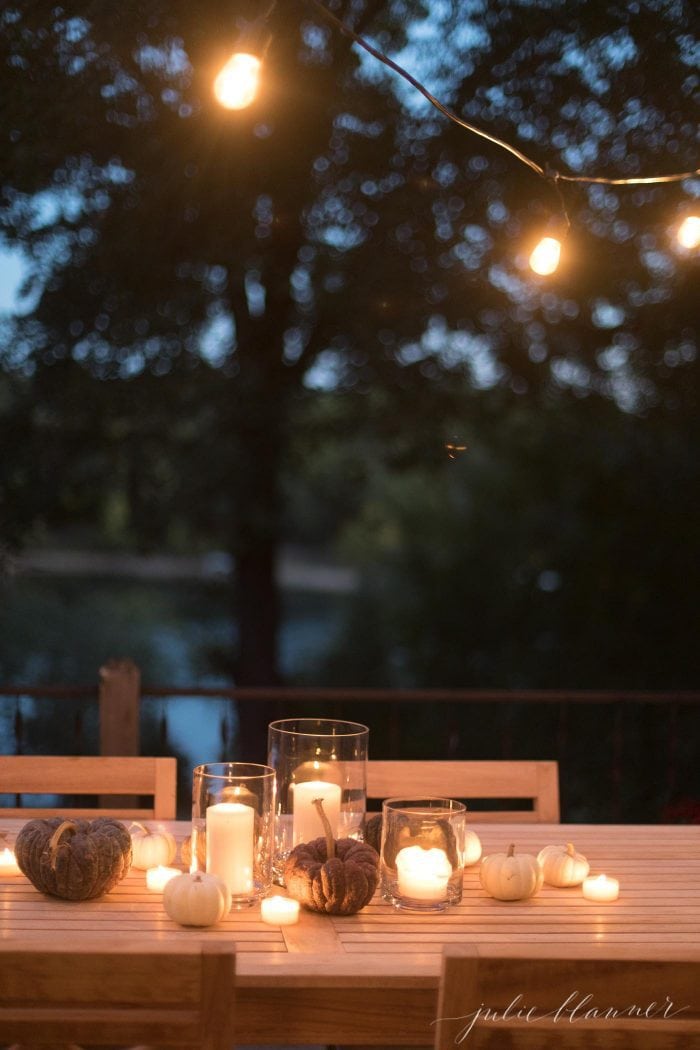 Candlelight is always welcome as well! Nestle real or battery operated across your outdoor dining table or candles between pumpkins to make them glow.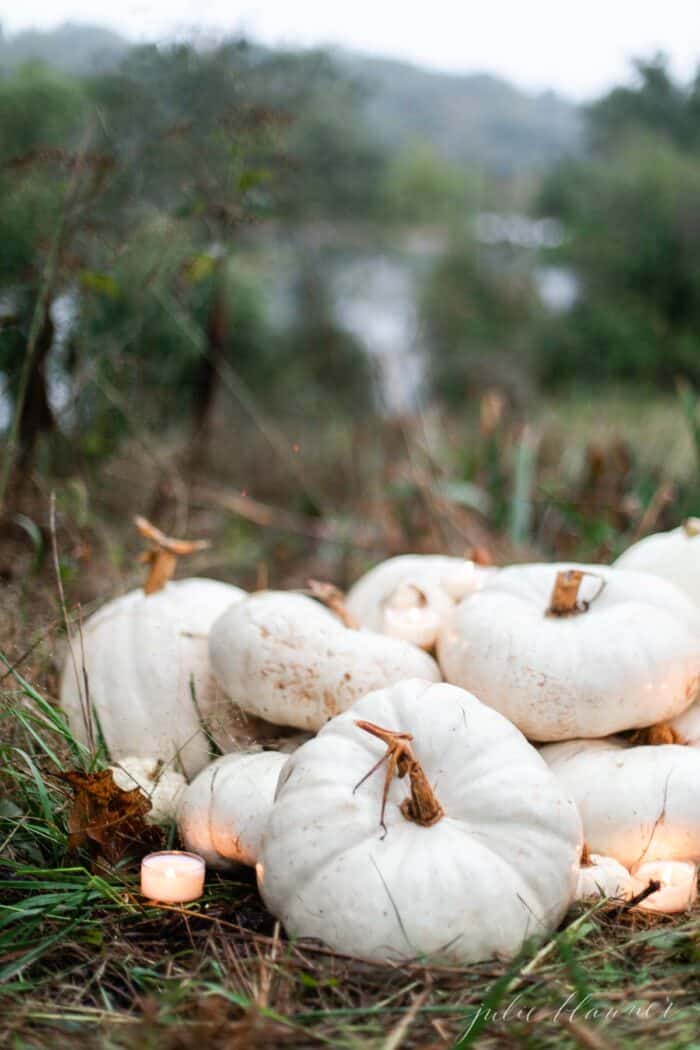 You can also use candles to light the way, creating and illuminating a path.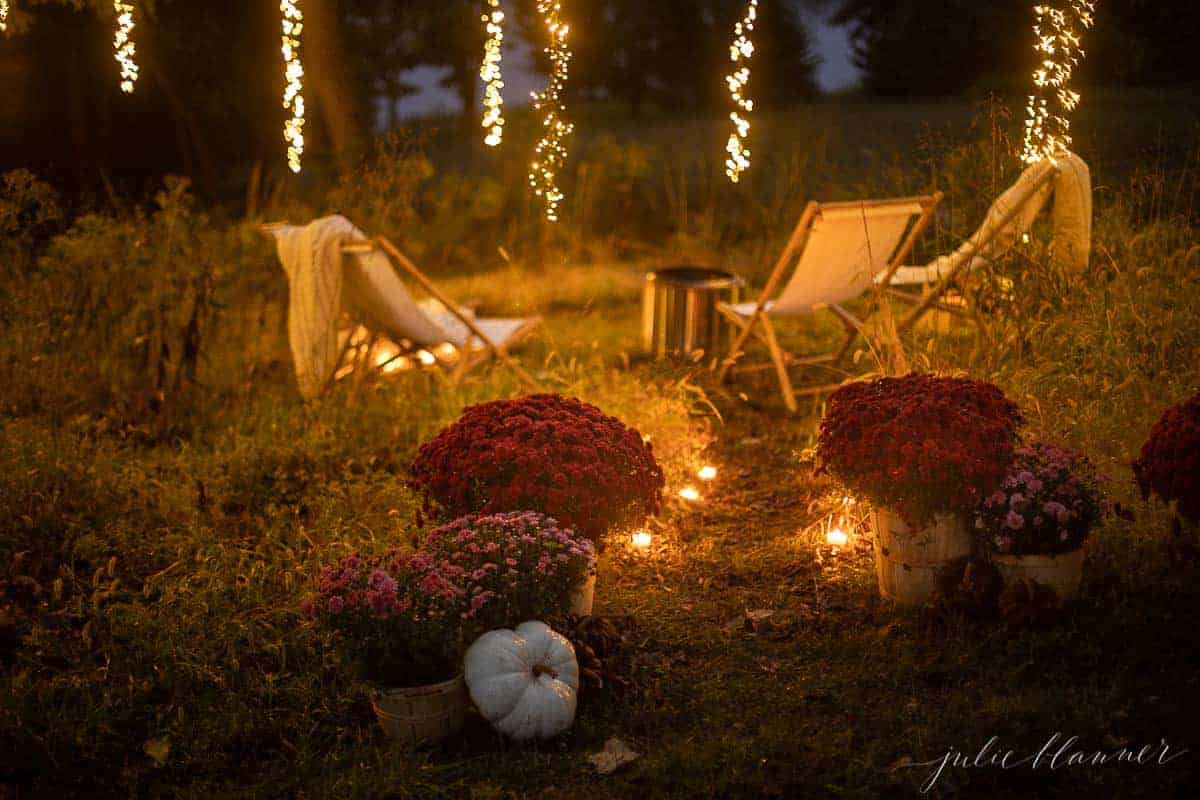 Fall Outdoor Decorating Ideas on a Budget
Mums are going to be the best bang for your buck every year. Most grocery stores sell them for around $5, and you can buy as few or as many as you like. If you take care of them, including deadheading and frequent watering, you can expect them to last through until the first freeze.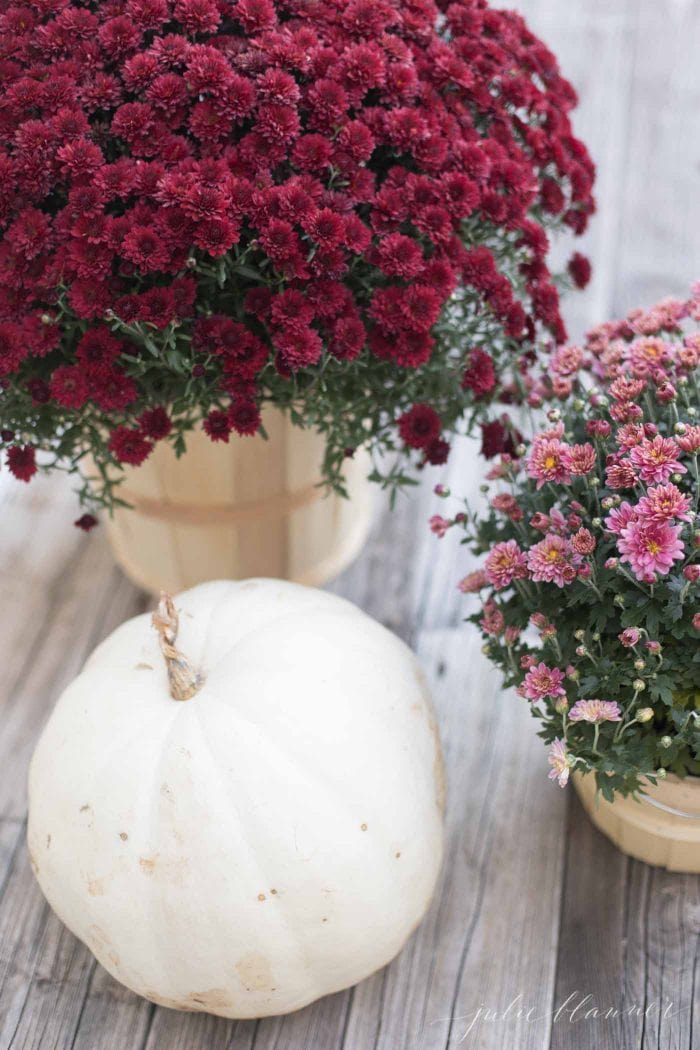 I've also included a couple of heirloom pumpkins on each side of our garage. It's simple but effective, but relatively inexpensive often at just $6 apiece.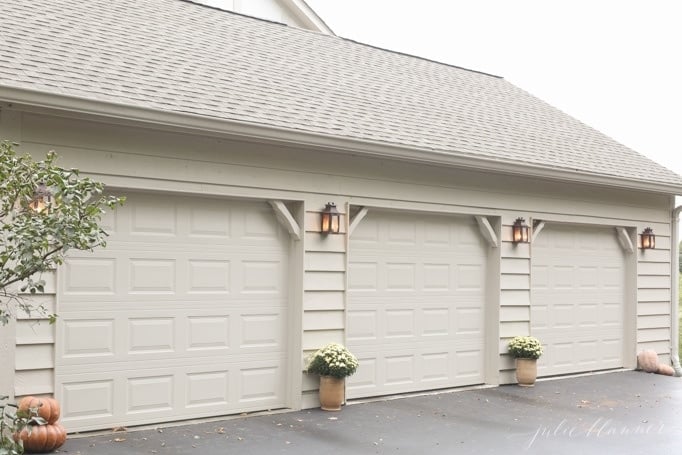 As you can see, a few simple additions make a big impact. While I find blogs and magazines inspiring, it's also easy to get caught up in comparison of all the over the top beautiful decorating ideas. If you find yourself feeling overwhelmed, remember there is beauty in simplicity and if you don't find time to decorate, nature will do it for you.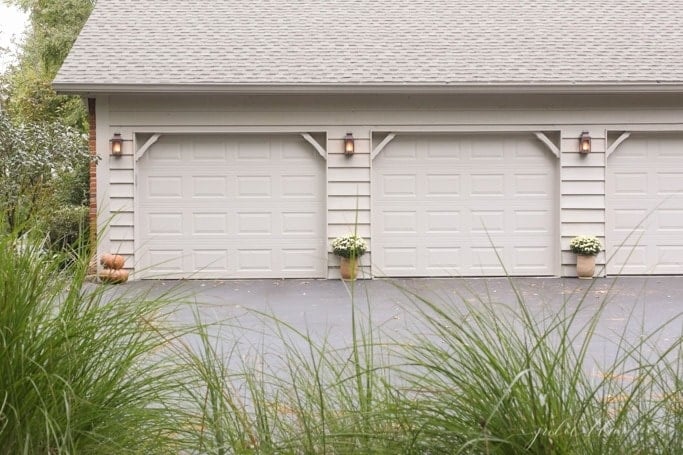 "Autumn: the year's last, loveliest smile." – William Cullen Bryant