If you're looking for inspiration for the best garden gifts for mom (or any gardener in your life), you're in the right place. Gardening tools feel a little magical, because a new gardening apron, gloves or digging tools can inspire you to dig deeper and get more done!
Garden gifts are so much fun to shop for, because while these items are often utilitarian, they can also be oh-so-beautiful. In fact, many of these gardening tools are so pretty you don't even need to hide them in the garage!
Learn about my favorite tools used for gardening in this shopping round-up for green thumbs (and those who only wish their thumbs were green).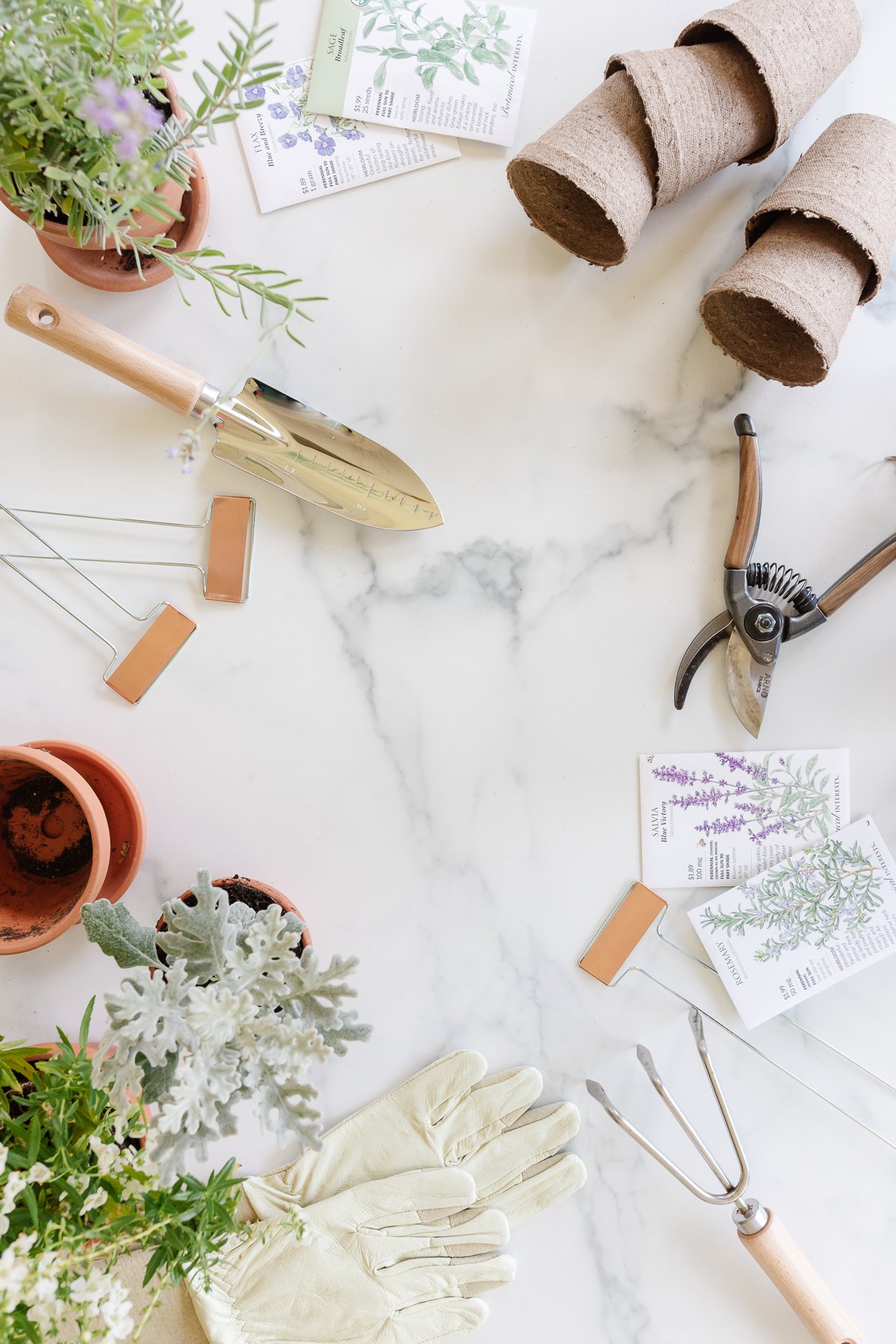 One of my favorite things to do in my downtime is garden. It's the ultimate stress reliever, and allows me to feel productive while also enjoying the outdoors and getting a little exercise in, too.
It's also one of my favorite ways to connect with our home and all the best parts of outdoor living. We've worked really hard to update our landscaping and backyard at our home in St. Louis, and also our lake cottage.
Did you see our new potting bench in the garage? It's a dream come true and would make a wonderful gift for a special gardener in your life! Ever since we added it, I've been so excited, planting new lavender trees and so much more.
Of course, it's always a challenge to see if we can circumvent the local deer and other critters who love our blooms almost as much we do! It's been a pleasure to create a charming garden that gives us a sense of pride when we pull into the driveway.
Best Garden Gifts
Use the drop down Table of Contents feature to guide you through this post with ease. Today, I'm bringing you my favorite garden tools and gift ideas from Amazon, Target and more!
These gardening tools make the tasks at hand even easier and more enjoyable. They're so beautiful they don't even have to be stowed away. They make the best garden gifts for mom, or any of the gardeners in your life. Maybe that means YOU!
Love a garden inspired look? Don't skip this round up of adorable garden stools!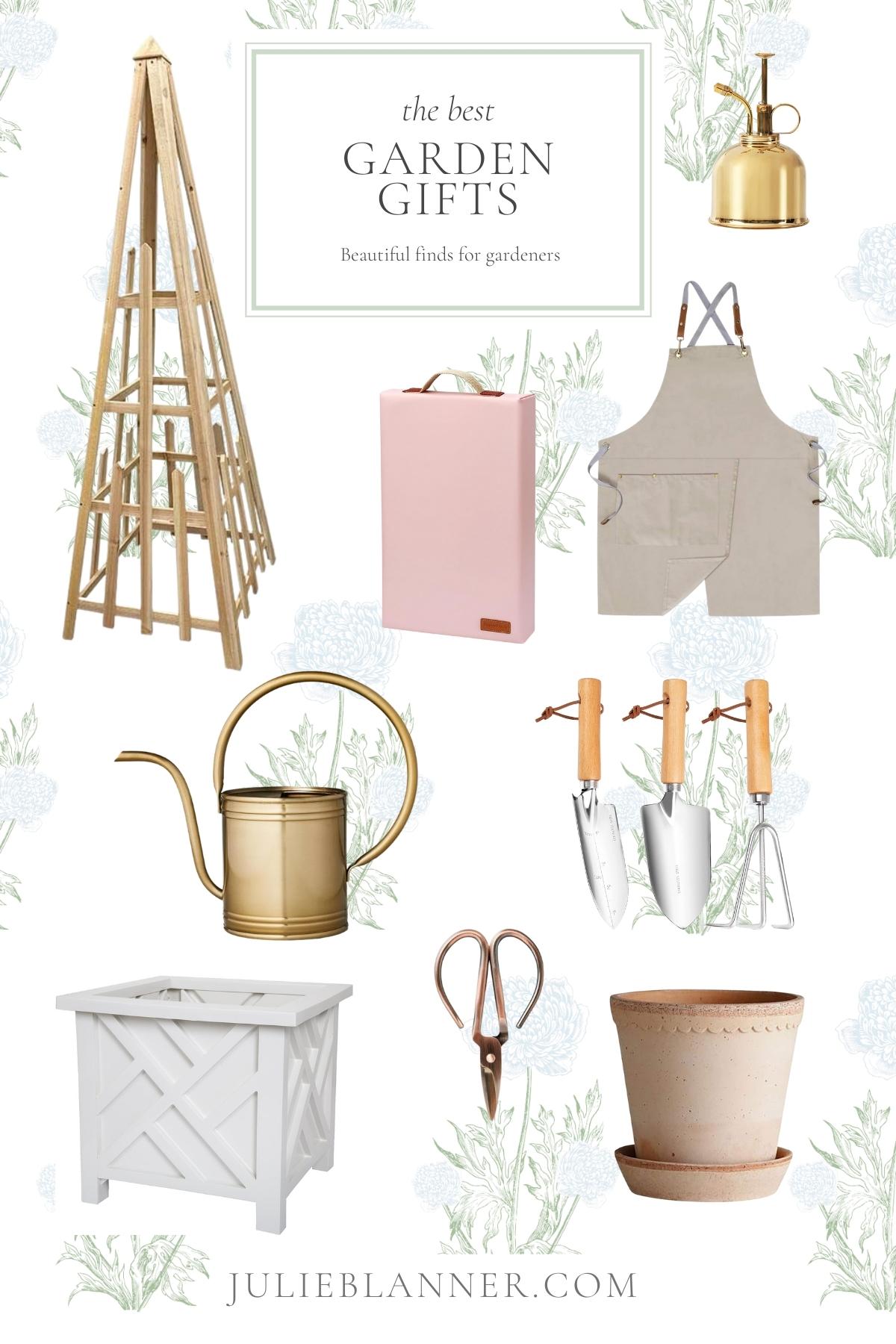 The Best Gardening Tools
Even if you're not much of a gardener yourself, I hope this post inspires you for gifts for the gardeners in your life!
I'm such a fan of personalized gift ideas! As you can see in this gardening gift basket, many of these items can be gathered into a charming gift for a gardener on your list.
The best gardening tools don't have to be expensive, and they certainly don't have to be hidden away in a garage cabinet any longer! Let's choose items that are beautiful, useful and affordable, all at once.
Gather these beauties into a gardening gift basket, or hang them on a peg rail to enhance the functionality of your mudroom or garage storage spaces.
Find more gardening inspiration in Magnolia at Target: Hearth and Hand, too!
Digging Tools
I love a wooden handle! It makes your gardening tools feel more natural and somehow more connected to the earth as you dig.
With ergonomic handles and the perfect size and weight, each piece comes in so handy for planting bulbs like paperwhites and garden containers filled with annuals.
Dandelion Pullers
This has proven to be one of the most useful tools in our garden tool kit! Like it or not, weeds are a part of life… and the easier we can get them out, the better!
This comes in handy because it reaches directly into the dirt to pull the weed at its root. It helps keep them from coming back by digging the full root from below the earth!
Pruning Shears
These are my favorite garden pruning shears! I used them as garden clippers for pruning back lightweight branches, as well as roses, thicker perennial stems, etc.
With reinforced blades and an ergonomic handle, these can even work for floral design! Learn how to be your own florist here.
Garden Hose Nozzle
These are a utilitarian item that can make you so happy when you're watering your plants, so why not make it beautiful, too?
The Best Gardening Accessories
While those tools for gardening are just as beautiful as they are useful, it's the gardening accessories that really have my heart!
I love pretty pots, gloves, labels, gardening aprons and more. Find all my favorite gardening accessories right here – these are truly the best garden gifts for mom!
Gardening Gloves
Nothing beats a hard working pair of gardening gloves! These makes such a great gift and are beautiful in a gift basket.
Gardening Aprons
A great gardening apron adds value for so much more than just your garden. It's so easy to slip one on and do some weeding, pruning, or perusing through your cutting garden without worrying about getting too dirty.
Watering Cans
Another item that I find so useful it is often out on my kitchen island during the warmer months. And why not, since it's a beautiful accessory, too?
Kneeling Pads
A kneeling pad for gardening is a must! This one is my favorite because it's lightweight, waterproof and such a great size for comfort.
Garden Decor
These are such a statement piece that bring a European touch to any garden. Use one of these beauties as a prop for your tomato plants or even dahlias – they are a gorgeous way to add refined height to your garden.
Garden Totes
Use a heavy duty canvas tote or basket- the perfect way to carry everything you need. It also makes an incredible storage basket or a base for your gardening gift basket!
Planters and Pots
Plant Markers
These copper plant labels are the prettiest way to label your vegetables, flowers and fresh herbs. Learn how to make homemade garden markers here!
Plant Mister
This gold (brass look) mister is so beautiful that it generally stays out on my end tables near our house plants in the living room. It's so handy to have and such a gorgeous home accessory, to boot!