Get simple and functional garage storage to maximize space. These are garage storage solutions that work – without spending thousands on professional systems!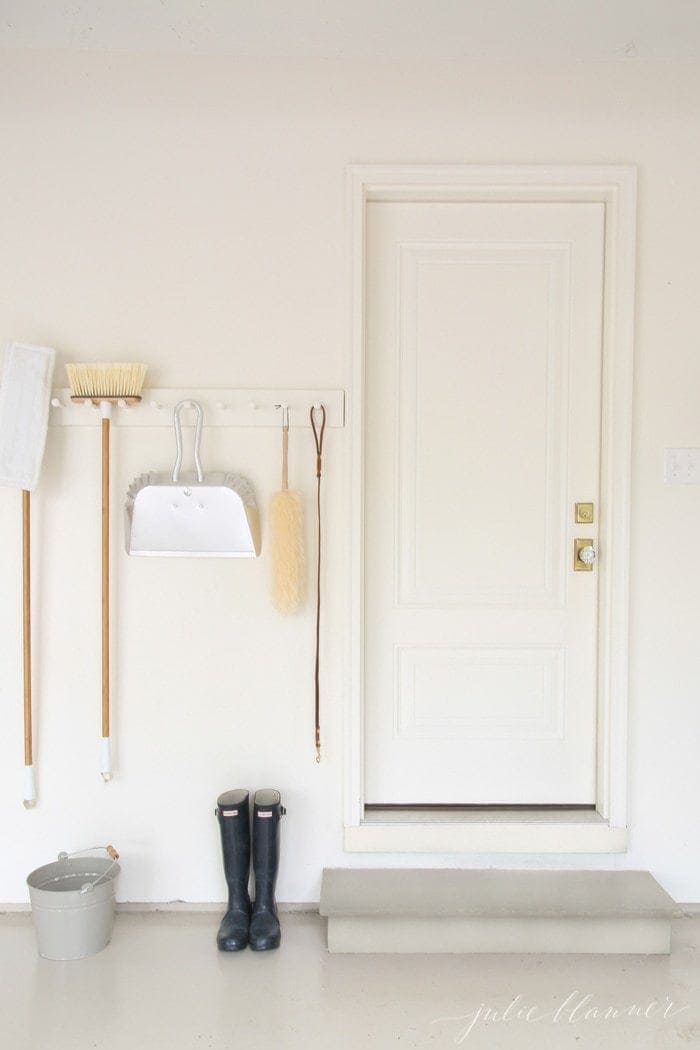 Admittedly, I'm not always the best about finishing what I start. But recently, I made a resolution to complete projects this year, and I've been checking them off left and right.
I'm hoping the elimination of some of these to-dos will make our impending kitchen remodel a little less stressful. One project I can finally check off of the list is adding garage storage.
We started the project last March when we painted the garage walls and floor.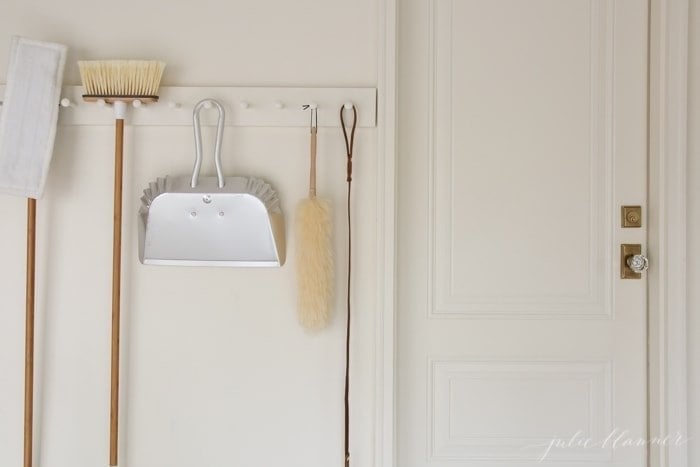 Chris and I had very different ideas on how to organize the garage – he wanted to use garage storage systems and I wanted to use prettier, more historically-inspired elements, so we compromised and took zones.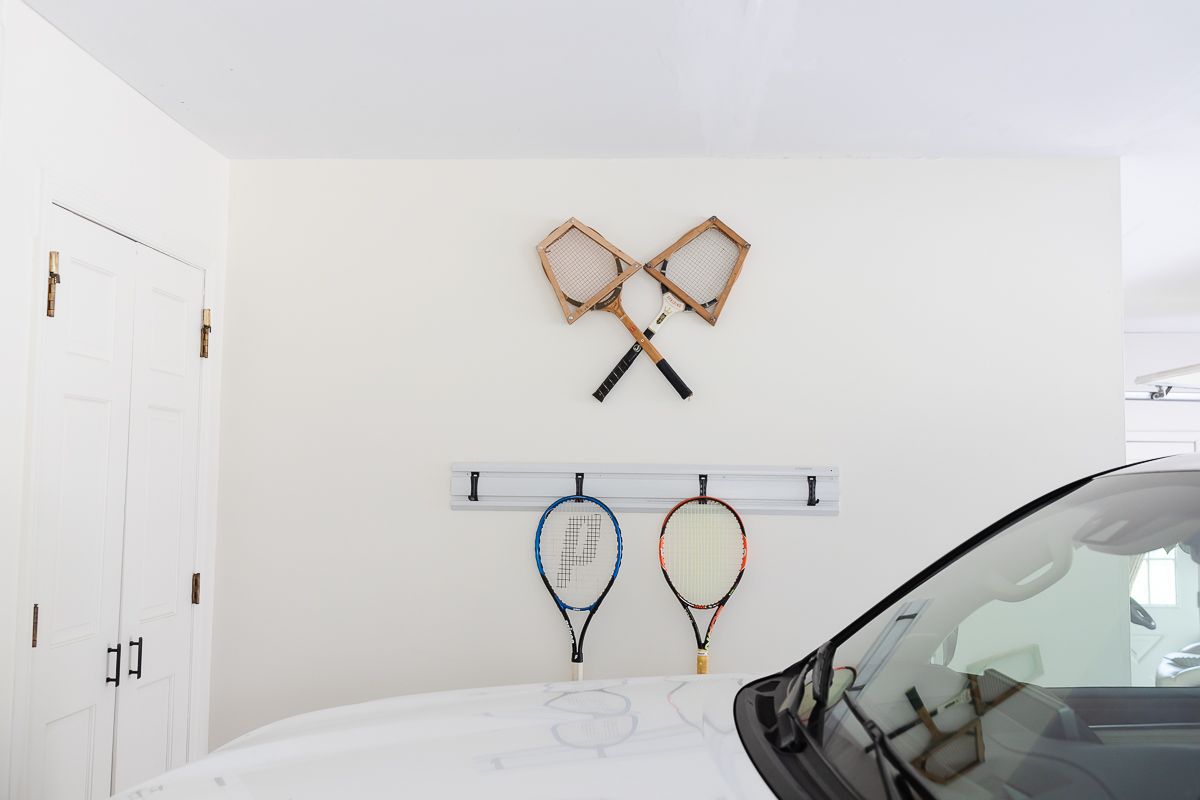 Five Simple Garage Storage Ideas
There are so many simple ways to increase your garage storage and get organized for good! It doesn't have to be expensive or overwhelming. Start small and create zones, like the ones below!
First, a few of my best tips and some answers to frequently asked questions.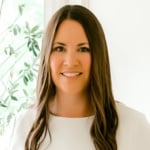 Tips
Eliminate excess – start every organization project by decluttering.
Leave empty space for more items to come in. This is the best way to keep your organization efforts in place!
Label any items that benefit from a label – chargers, remotes, etc.
Keep kid-related items at their height! Lower hooks, baskets and organization systems means they are more likely to use them.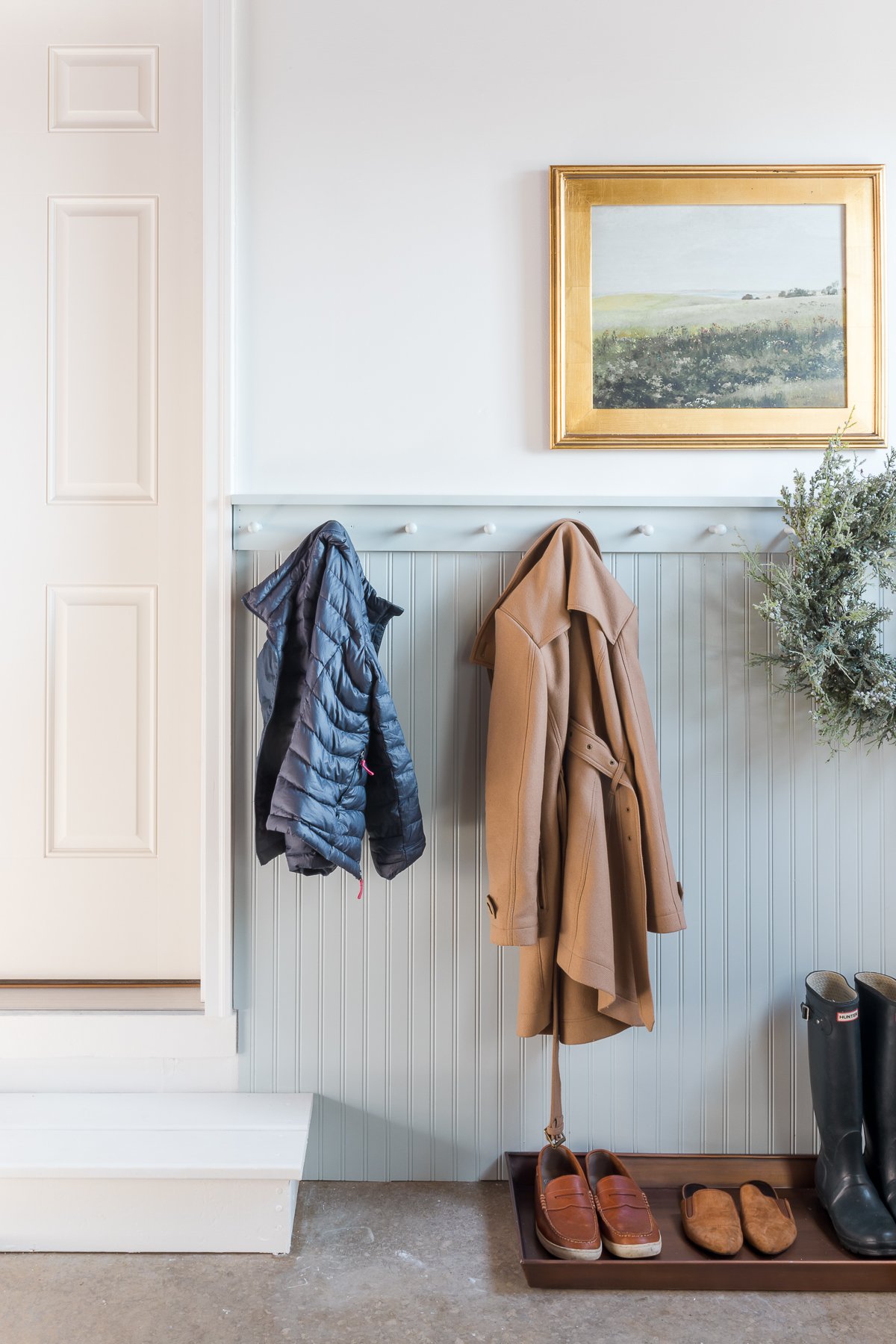 Frequently Asked Questions
What is the cheapest way to organize a garage?
Use inexpensive bins and baskets to help keep like items together. Add hooks to the walls and even a peg board for flexible storage!
Where do I start to declutter my garage?
The first step in an organization project is always to create piles to help you get started. We like to do a "keep" a "donate" and a "trash" pile, which gives us a much better idea of what we're working with.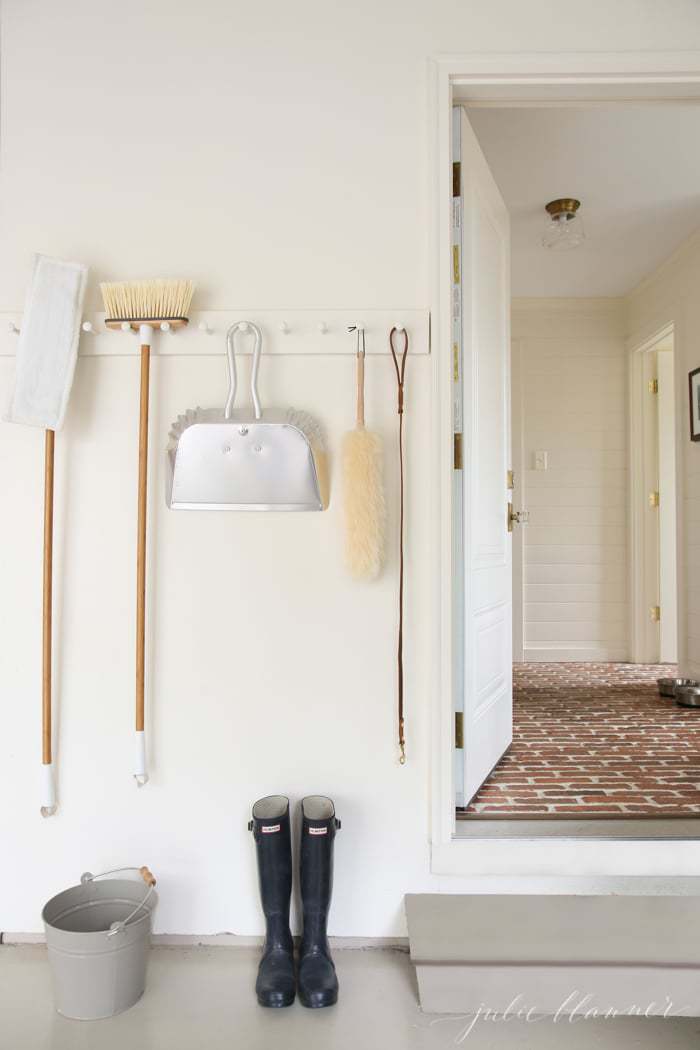 I had a peg rail made to fit the length of the wall, specifying the distance and number of pegs. Then, it sat in our garage for months. Okay, nearly a year, but I have no excuse as to why. Finally over the weekend we hung it.
Can you believe a little level and two screws hung me up that long? Maybe I need a little more ambition. Anyways, the peg rail has finally been hung and it's glorious!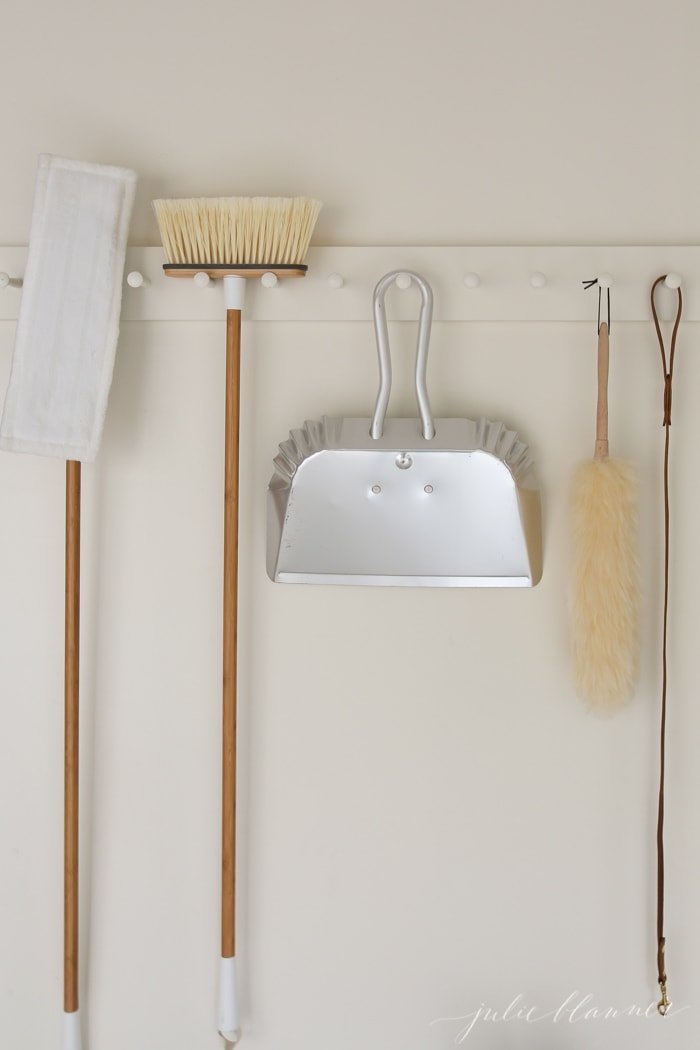 Or, call it a garage drop zone! Whatever you want to call it, I call it genius!
Between kids, pets, shopping trips and daily routines, a garage mudroom might be the perfect solution. Learn how to create a garage drop zone that will help you stay organized for good!
Depending on the decade and size of your home, a traditional mudroom might not an option in your layout. If you have a garage, though… the answer is right at your fingertips. (Or should I say doorstep?)
Add form and function with a garage mudroom that the whole family can use with ease. Find tips, tricks and ideas to add this incredibly useful space to your own home – with sources that are sure to inspire!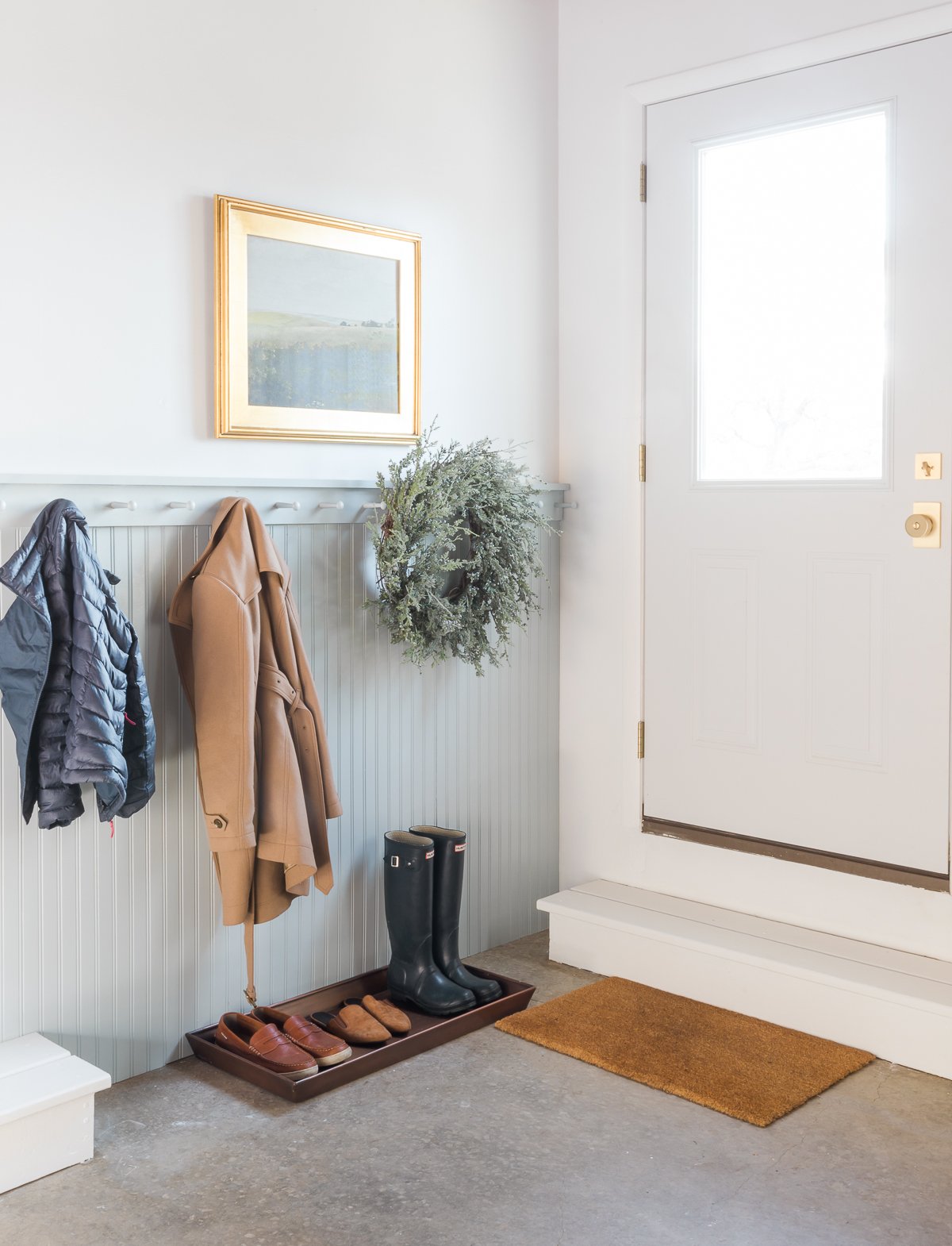 Learn how to create the simplest potting bench with stock cabinetry, countertops and some charming shelving. We're also rounding up the best options for cute, affordable potting benches that you can add anywhere!
Let's get our gardening gloves on and get to work! We'll walk you through the process for adding this pretty potting bench to your garage or anywhere you're feeling inspired.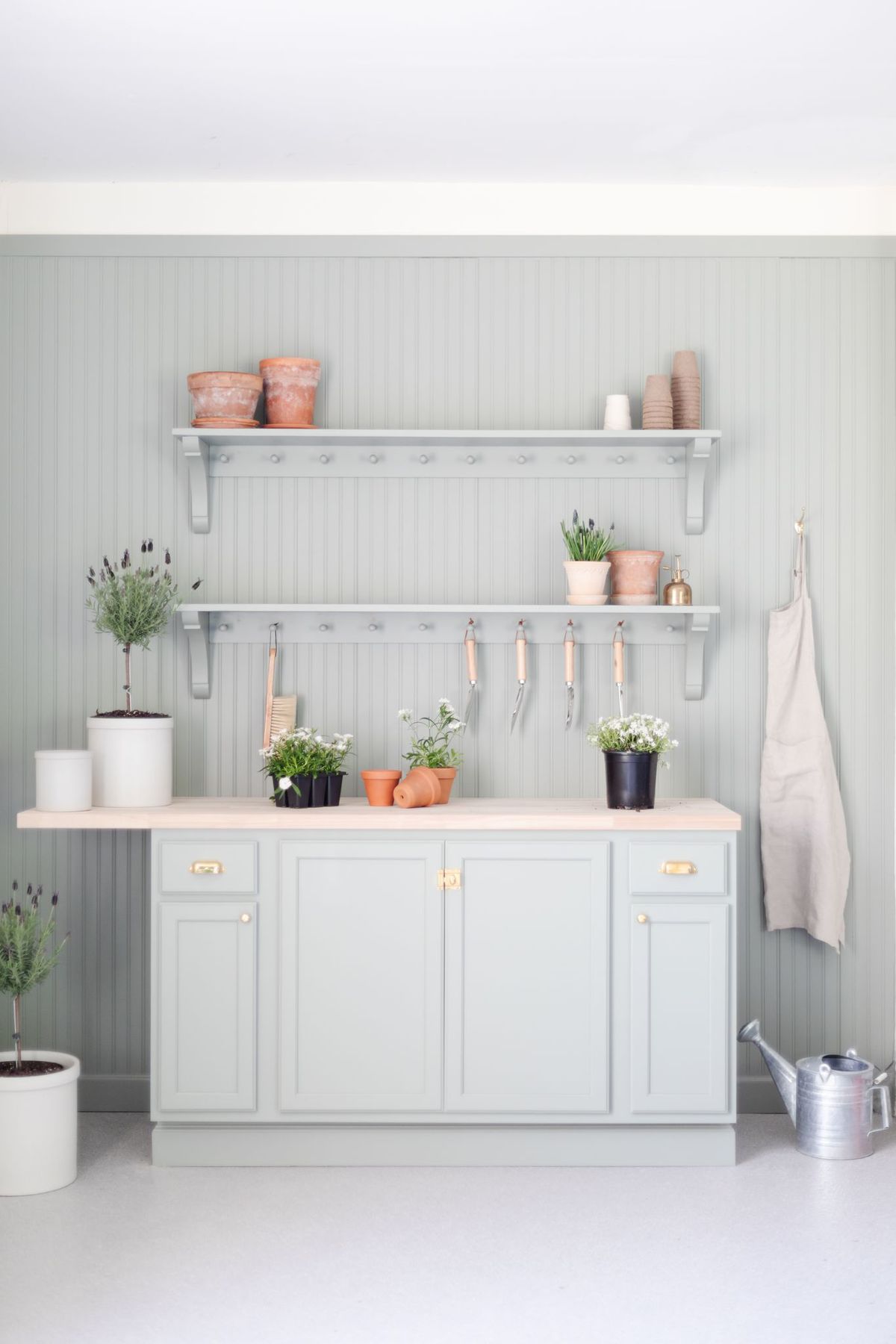 Consider a polyaspartic floor coating to coat your concrete into a durable, beautiful surface that will withstand wear and tear with ease!
Your garage is an extension of your home and should be as functional and utilitarian as possible. Learn all about the different types of garage floor coating options for a long-term look you'll love.
You'll see why we chose this durable option that can be added to basement floors, too. It's so easy to maintain and can be vacuumed or mopped. Let's learn a little more about the choices!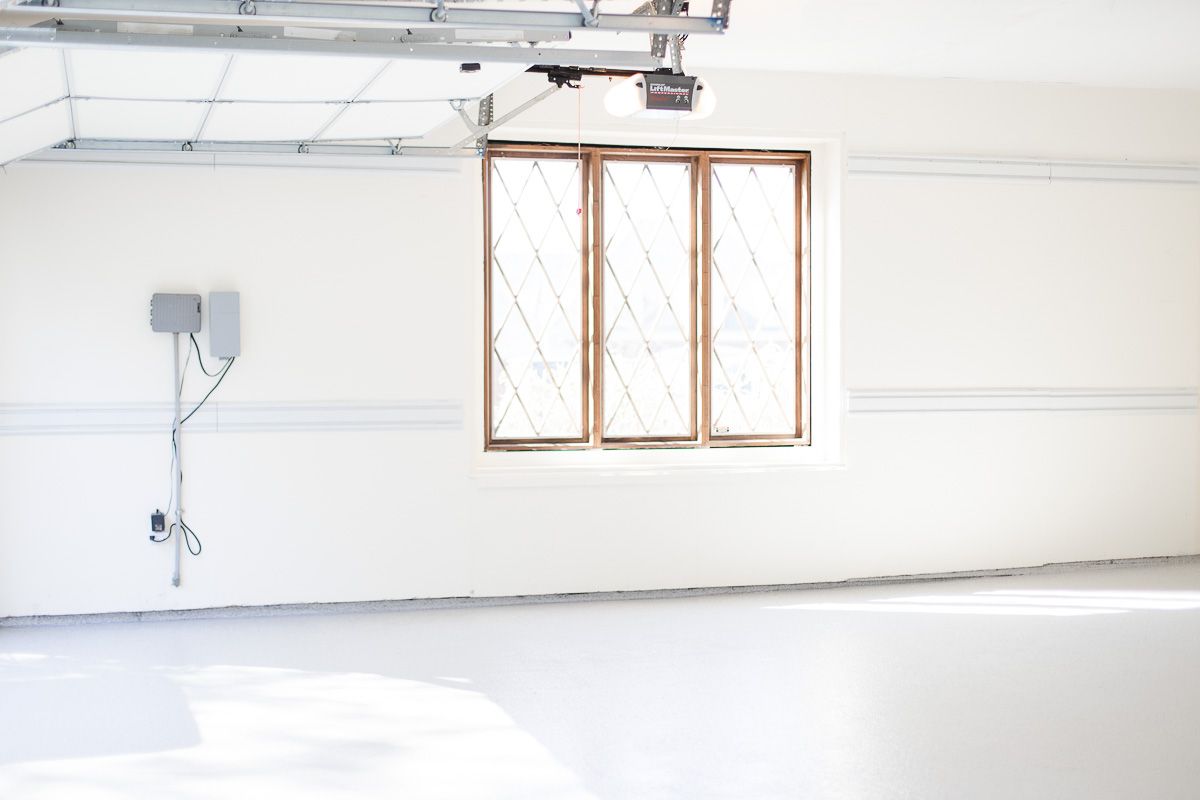 Create Specific Storage Areas
Consider your family's real needs to help you create specific storage zones in your garage! It might be bicycling supplies, gardening or yard care items, or even a drop zone for backpacks.
Take this little running storage zone, for example. We created an outdoor running gear storage space for Chris, using garage organization systems and added garage storage solutions for the girls' toys, helmets, etc.
This rail system is inexpensive and comes with a variety of shelves, baskets and hooks. We installed it in one afternoon and it immediately made such a difference for us!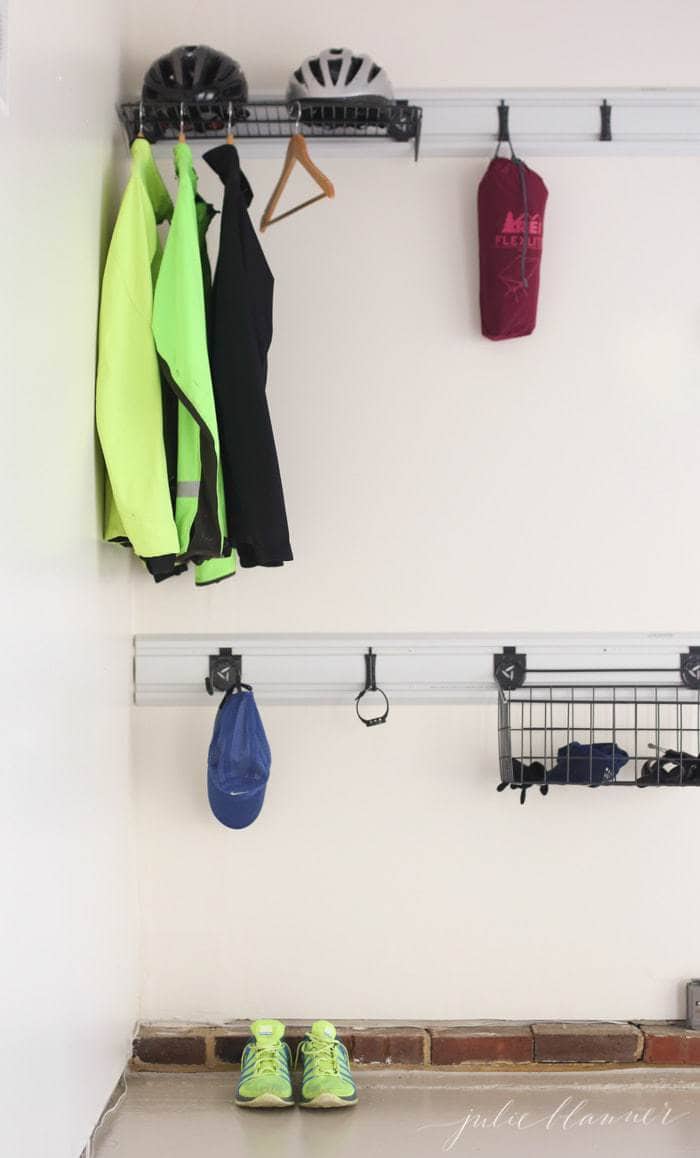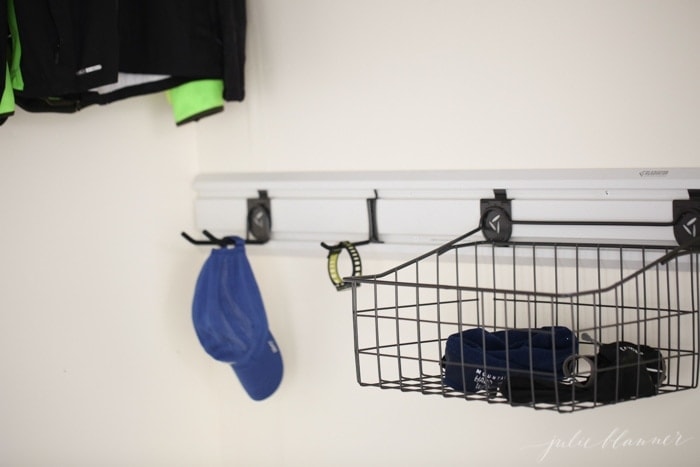 Sources
paint: Farrow and Ball White Tie
hardware: crystal door knob and deadbolt
cleaning supplies: amazon
More Organization Inspiration