Pale Oak by Benjamin Moore is a soft neutral greige paint that can work beautifully in a variety of spaces and lighting situations. It's a warm, balanced color that reads as an off-white in some rooms and a true greige in others.
No matter where you're thinking of adding this color, Pale Oak is a delightfully neutral color that adds warmth and charm to any space of your home.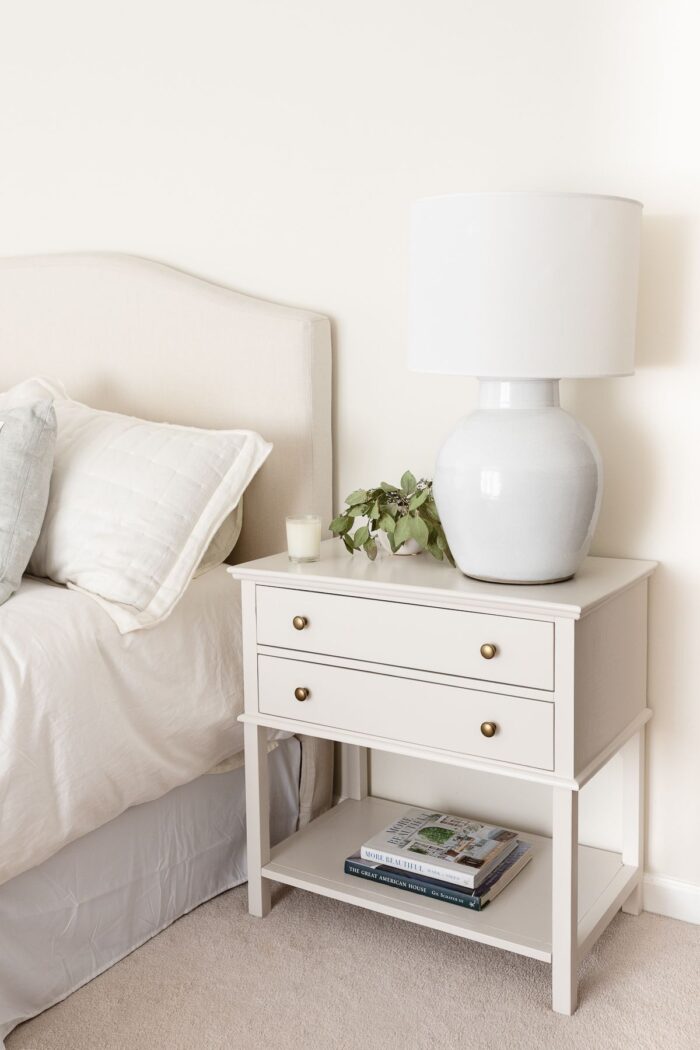 I love chatting my favorite paint colors with you! It's one of the things that I know so many of my readers really enjoy, too. Don't miss my favorite Warm Whites and Greige Paint Colors!
That's because, let's face it: paint can be stressful. A room transformation with paint doesn't come together without some thoughtful prepping and planning! No matter what color you're searching for, there are too many options and so many decisions to be made.
I love to take the guesswork out of this process for you. That's why I've written in detail about many of our favorite paint colors in the past. Don't miss the best cream paint colors, our favorite neutral paint colors, and even The Best Paint for Furniture.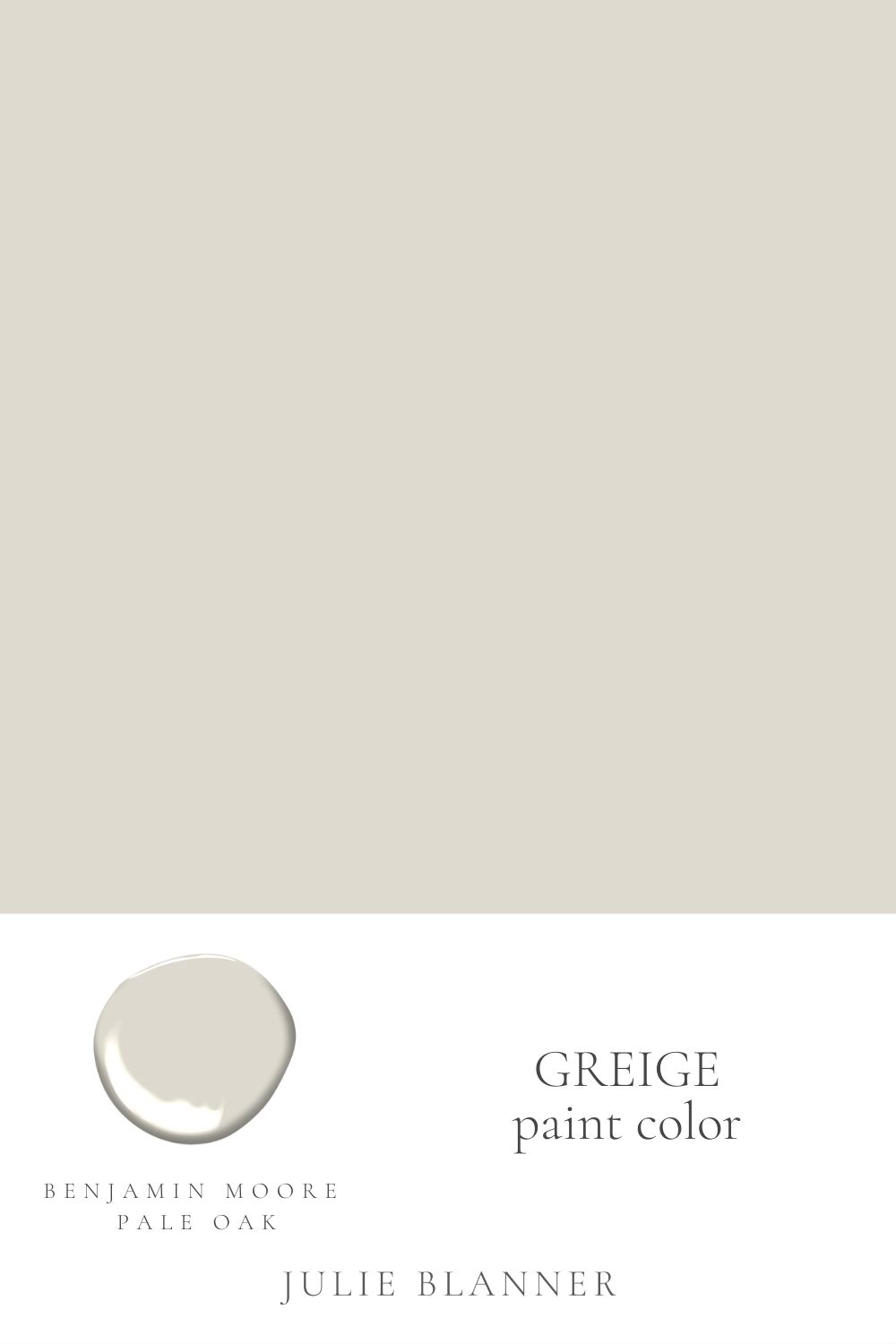 In our primary bedroom, we recently used Pal Oak to paint our new nightstands. I was hoping to add the slightest hint of contrast from our walls and bedding. Learn about Nightstand Decorating here!
I wanted a soft mushroom color that would stand out just a touch from the Soft Chamois paint color on the walls, and this paint color is perfect. So today, I'm sharing Benjamin Moore Pale Oak with you!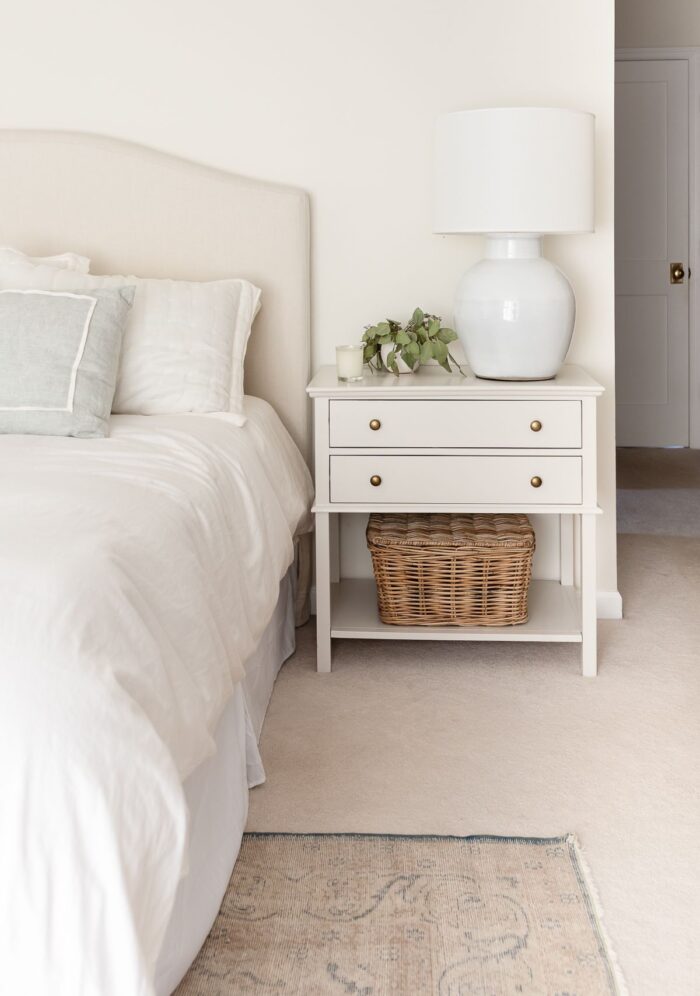 Benjamin Moore Pale Oak Details
Pale Oak by Benjamin Moore (# OC-20) is a soft, light, neutral greige tone. In natural lighting, it tends to read as an off-white color. Much like Sherwin Williams Accessible Beige, the accent colors and lighting in your room make a world of difference!
In rooms with less natural lighting, BM Pale Oak reads as a very soft greige tone. To get the biggest impact between color and trim, paint your trim a true, clear white; this shows the difference between the greige of pale Oak next to a real white tone.
This color is so beautiful and warm, especially in North-facing light. It's a true chameleon that leans on the lighting in your home!
To help you decide which paint color is right for you, I'm breaking them down with pros and cons of each, where they're best used, etc.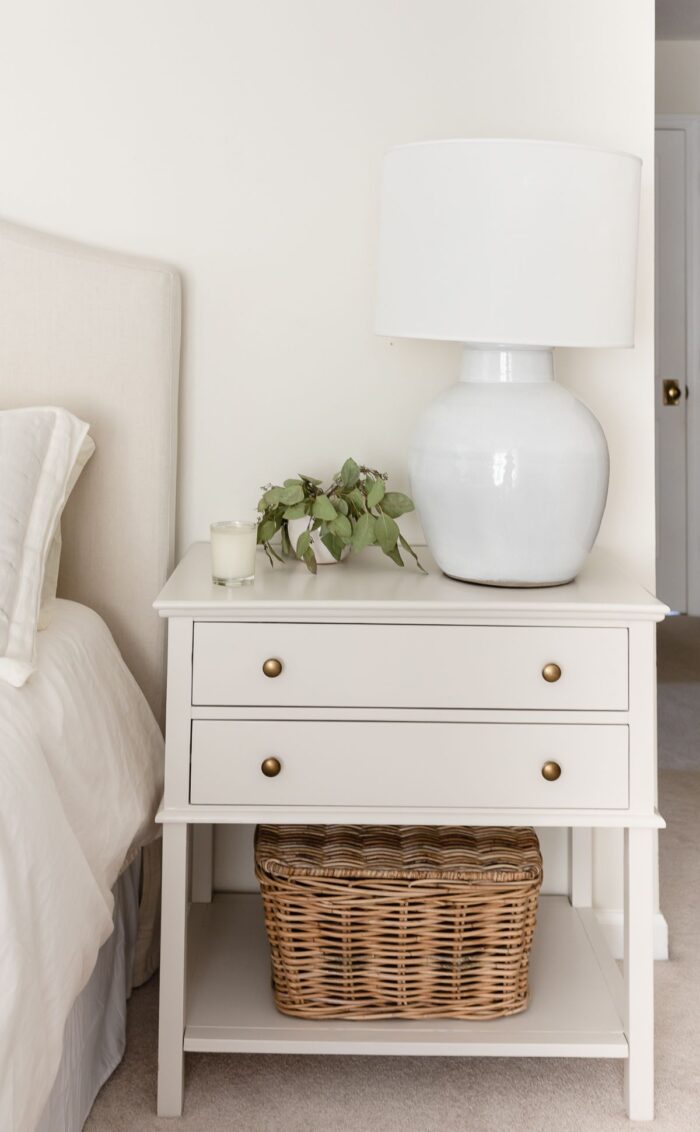 Why You'll Love Benjamin Moore OC-20
Perfect neutral if you're wanting to avoid white or gray
Soft, but not white
Flexible, chameleon color
Works on trim, walls and exterior
Beautiful with white oak floors, and even carpeting
Works Well For
Furniture
Interior Walls
Trim
Cabinets
Exterior
Feels
day – warm, often more of an off-white or a true greige
evening – a touch more gray tones show up under LED light bulbs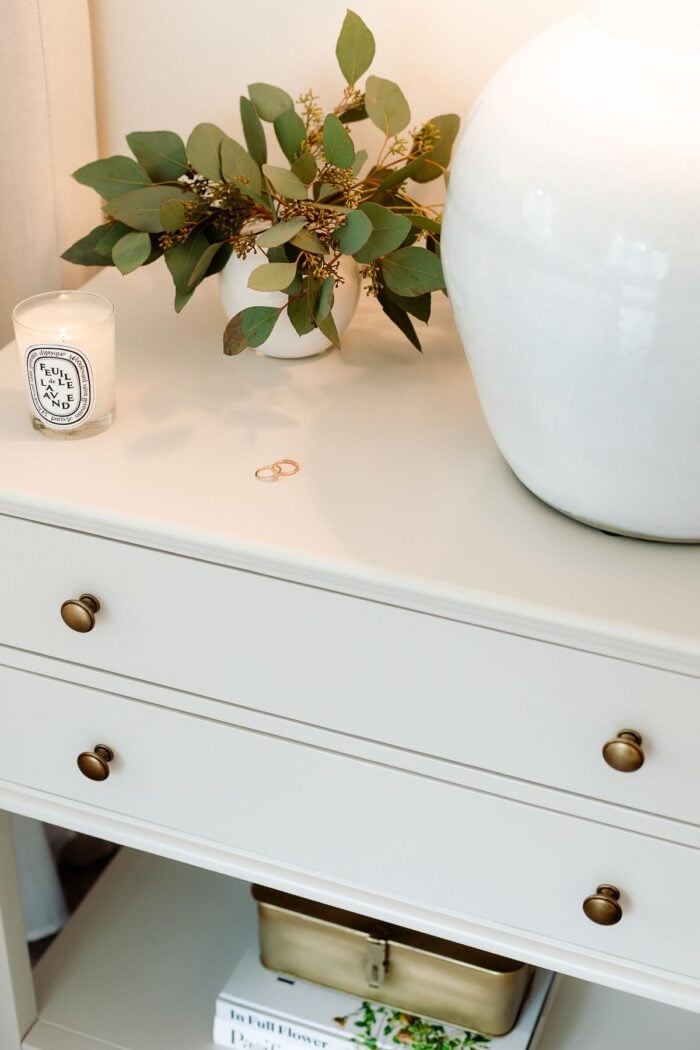 Undertones
very slight purple
very slight pink
Light Reflective Value (LRV)
Pale Oak has an LRV of just under 70 (69.89).
To clarify, LRV (Light Reflectance Value) measures the percentage of light that is reflected from a surface. It's commonly used by design professionals and helps to show the light and bright level of a color.
The higher the number, the more light that paint color reflects. So the more "white" a paint color is, the higher the number.
For reference, Accessible Beige is a 58, and Realist Beige is a 59. So as you can see, Pale Oak is a bit lighter than both of these other great beige tones!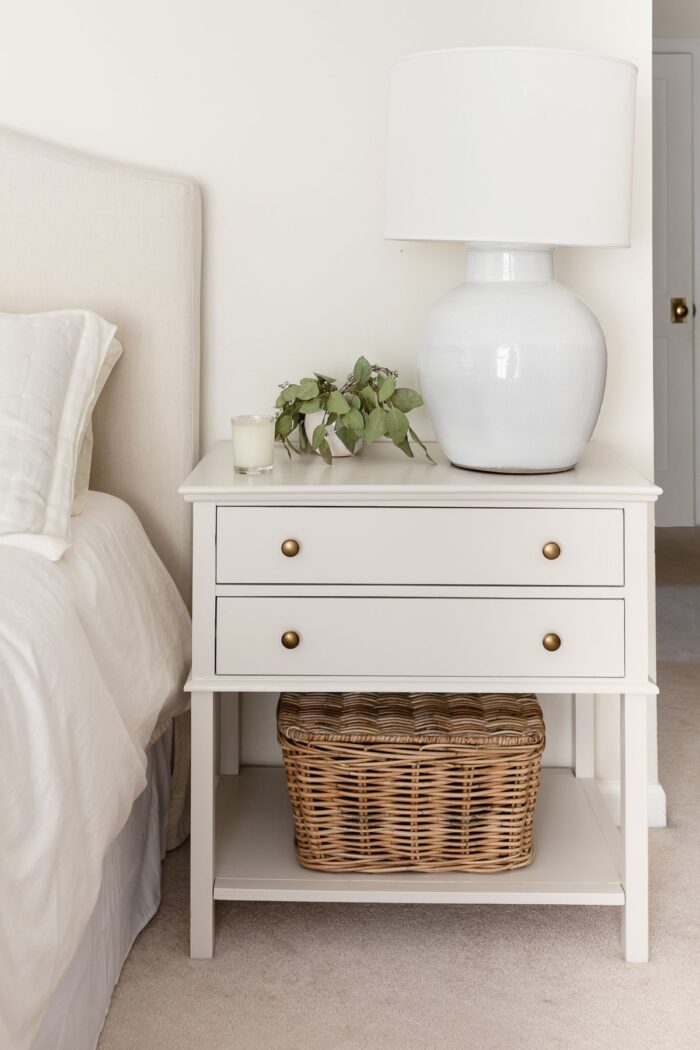 Styles it Fits
traditional
country
modern
transitional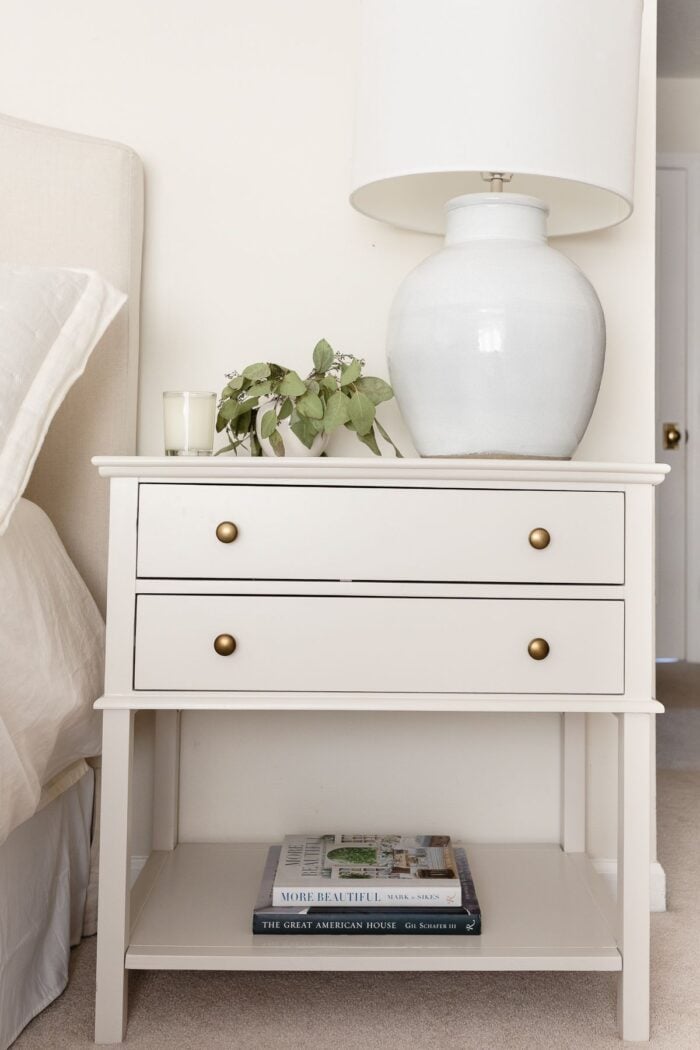 Similar to
Accessible Beige and Sherwin Williams Realist Beige. Also see Agreeable Beige and Edgecomb Gray for more greige options.
Benjamin Moore Pale Oak Exterior
This color would be beautiful on an exterior, just like this white brick house. Pair with a darker taupe or gray for more of a contrast.
Tips
Always start with a paint sample and look at it at several times of day, in different lighting.
Try it on two walls in the same room or different sides of your exterior.
Test it with your trim or accent color.
Frequently Asked Questions
Is Pale Oak warm or cool?
Pale Oak is a light gray/beige color (greige) that reads quite warm and soft in most natural lighting situations. However, at night it can look just a little more gray than beige, depending on your light bulb choices!
Is Pale Oak lighter than Edgecomb Gray?
While the colors are very similar, Pale Oak is a little bit lighter than Edgecomb Gray. Pale Oak has an LRV of 70 and Edgecomb Gray has an LRV of 63, meaning it reflects a touch less light.
You can also find my complimentary paint color chart here to keep all your paint colors organized!