Sherwin Williams Rhinestone
Get all the details on Sherwin Williams Rhinestone – one of our favorite light and bright neutral paint colors! It's a soft, very pale gray color with the slightest blue undertone, and it works beautifully for brightening your home.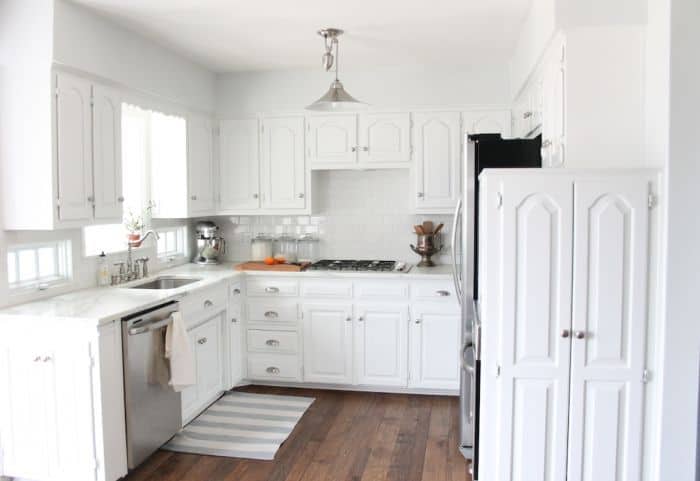 Paint can be such a difficult decision. It's always touted as an easy, inexpensive change in your home, but I completely disagree! It can be stressful to make a choice you know you have to live with for a long time.
It's a big undertaking whether you are taking on a project yourself or hiring it out to professionals. It can be expensive and you don't want to make any mistakes!
That's why I am back with another great wall color resource for you! I love sharing our adventures with paint over the years- because while a white paint color might seem simple, it's anything but.
Be sure to check out my posts on our neutral paint palette in our current home, the best cream paint colors, as well as a variety of detailed posts about specific colors we love. You can even find information about ceiling paint and painting trim white – I've covered it all!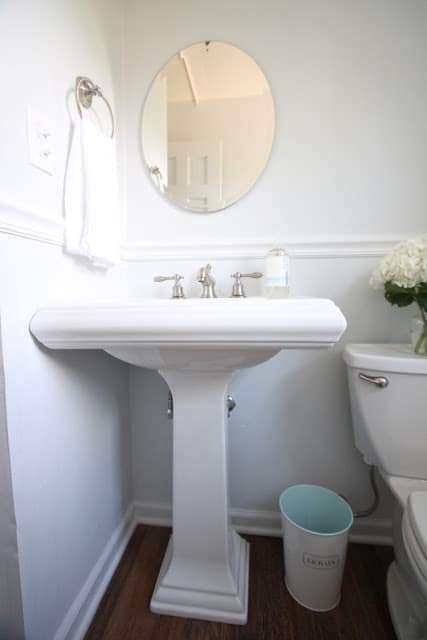 Sherwin Williams Rhinestone
Today I wanted to share about a very pretty, pale gray (almost white) color that we used in the colonial with great success.
In our kitchen, living room, half bath, and mudroom we used Sherwin Williams Rhinestone. It's a soft gray, light and bright.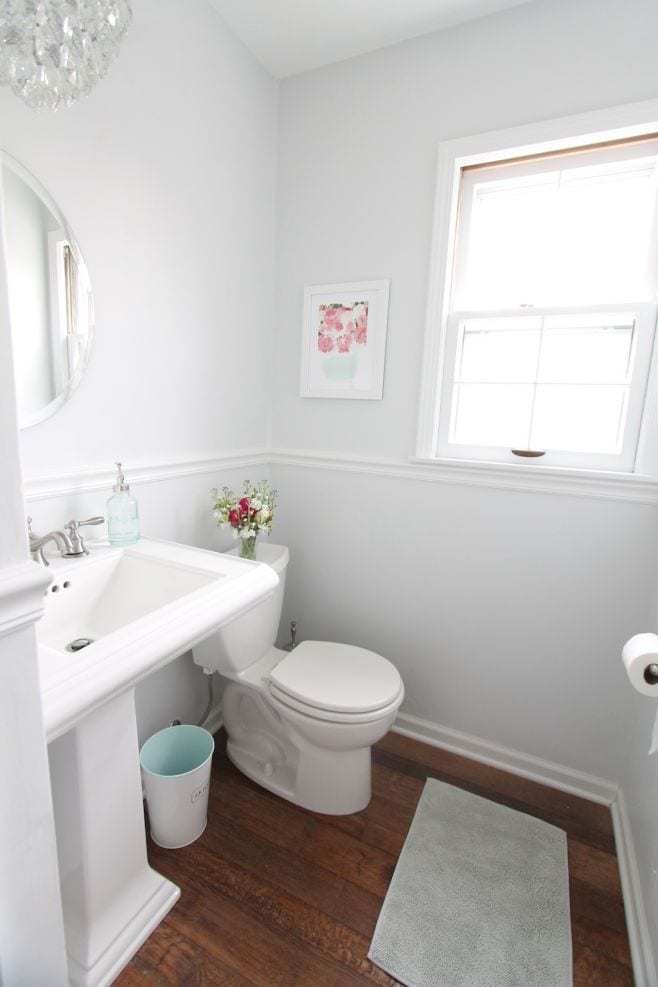 In fact, Rhinestone has a very slight blue undertone, which works for the clean, fresh feel I wanted for those spaces. It's not a pure white, more of the softest possible gray.
In some lights it reads a little gray, in others a little blue, and many times it looks like a solid white! It's so fresh and clean.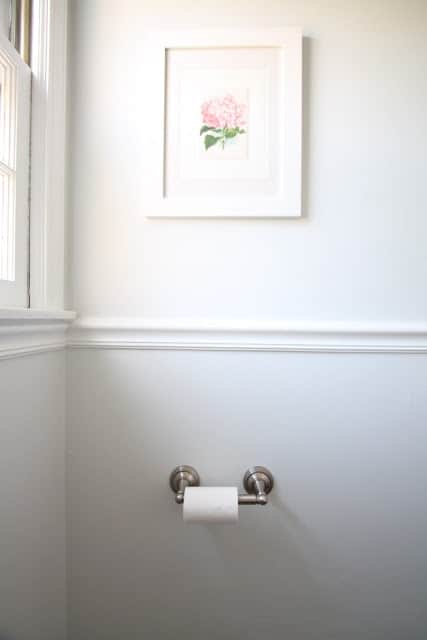 I loved how it felt in different rooms of our home. In fact, it looked more white in our bathroom, but slightly more gray in our kitchen because we used a pure white paint for the cabinets there.
In our living room, it felt like more of a silvery gray. In the image below, you can see the slight contrast between trim and walls!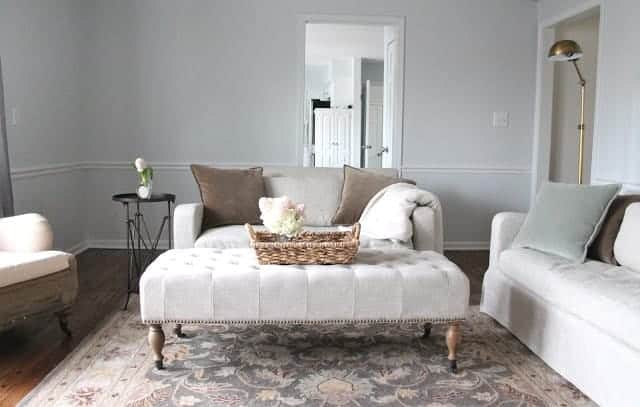 Details on Sherwin Williams Rhinestone
Rhinestone is on the paint charts as SW 7656.
Feels fresh and clean and often reads as a white, depending on lighting and trim.
A great neutral for anyone wanting a white+gray combo.
Looks great in West or East facing rooms especially – tends to read a little blue (and colder) in North and South lighting.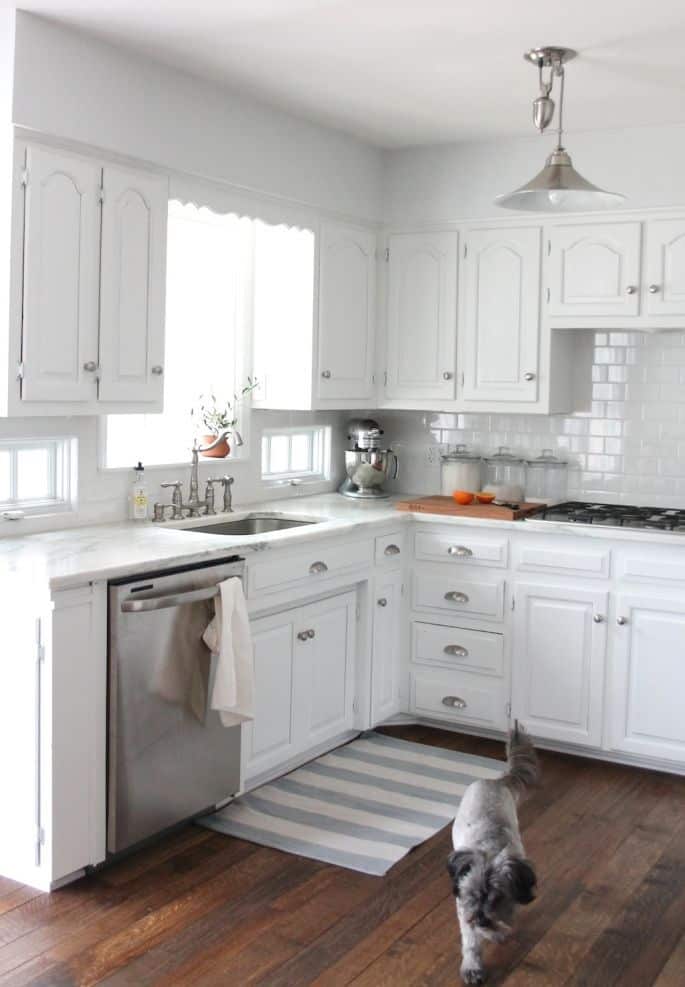 Looking for more soft white and creamy paint colors? Don't miss my detailed discussions on the following options:
I'd love to hear from you! Have you used Sherwin Williams Rhinestone anywhere in your home, or are you considering it as an option? Be sure to leave a comment, it helps me and other readers, too!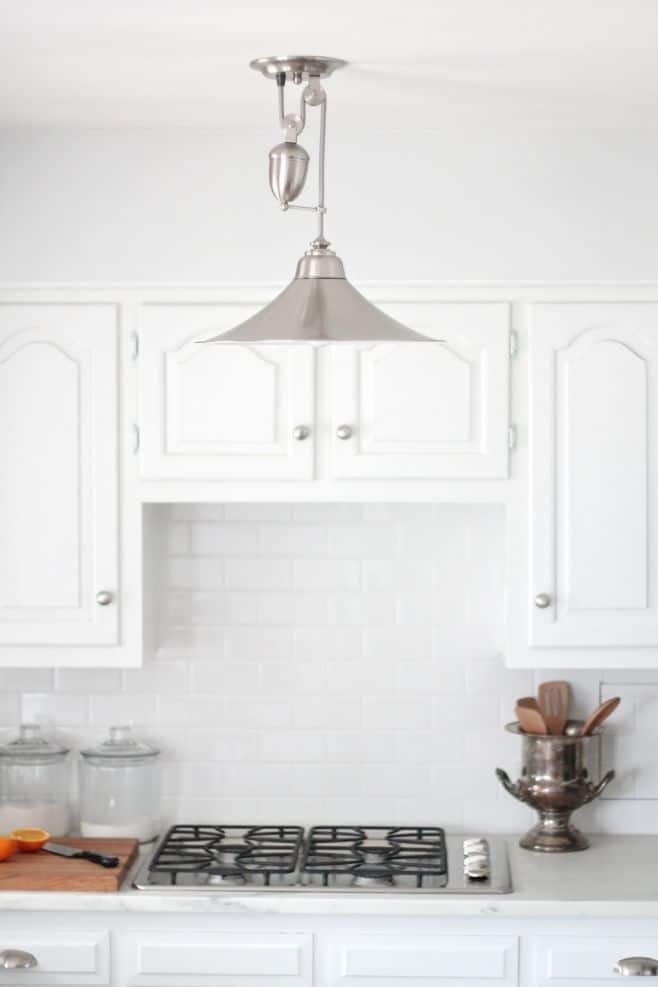 More of the BEST Neutral Paint Colors
Don't forget to check out my list of the BEST cream paint colors and this great selection of neutral paints.