Maximize space and function in your kitchen pantry. You'll love these tips on how to organize your pantry cabinet utilizing pretty pantry storage containers that allow you to see what you have and what you need. These pantry organization ideas will help you get organized in minutes!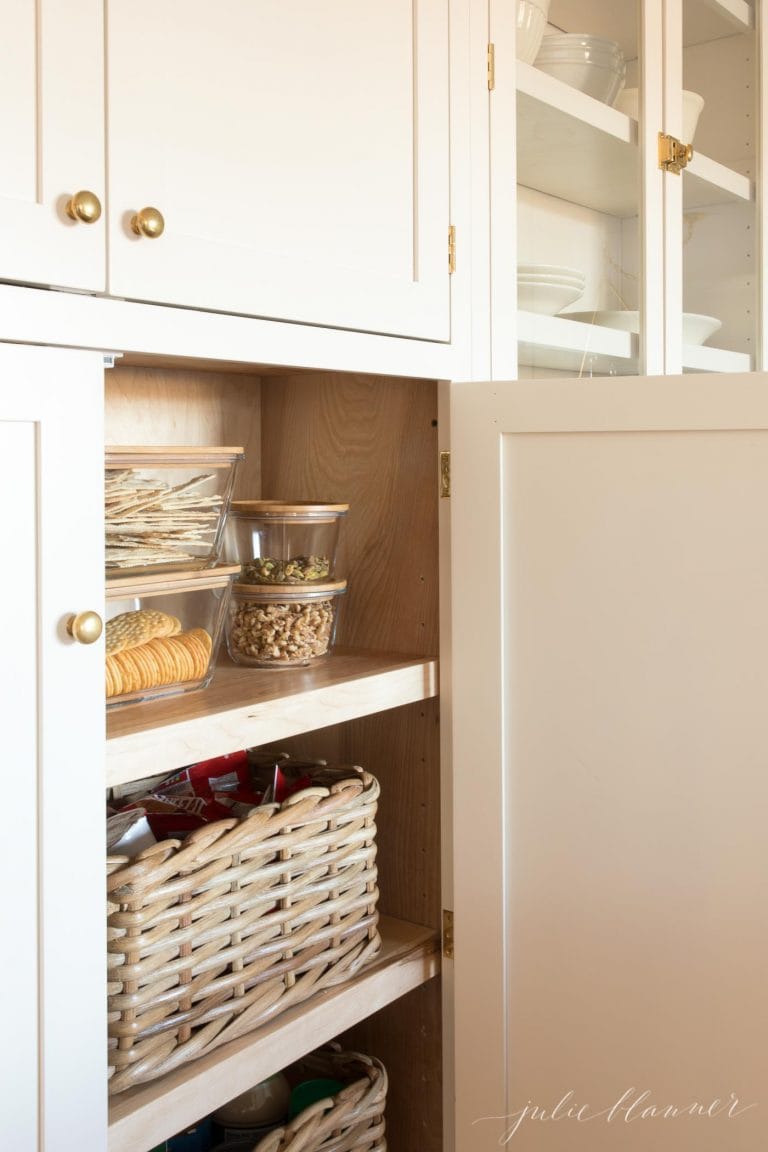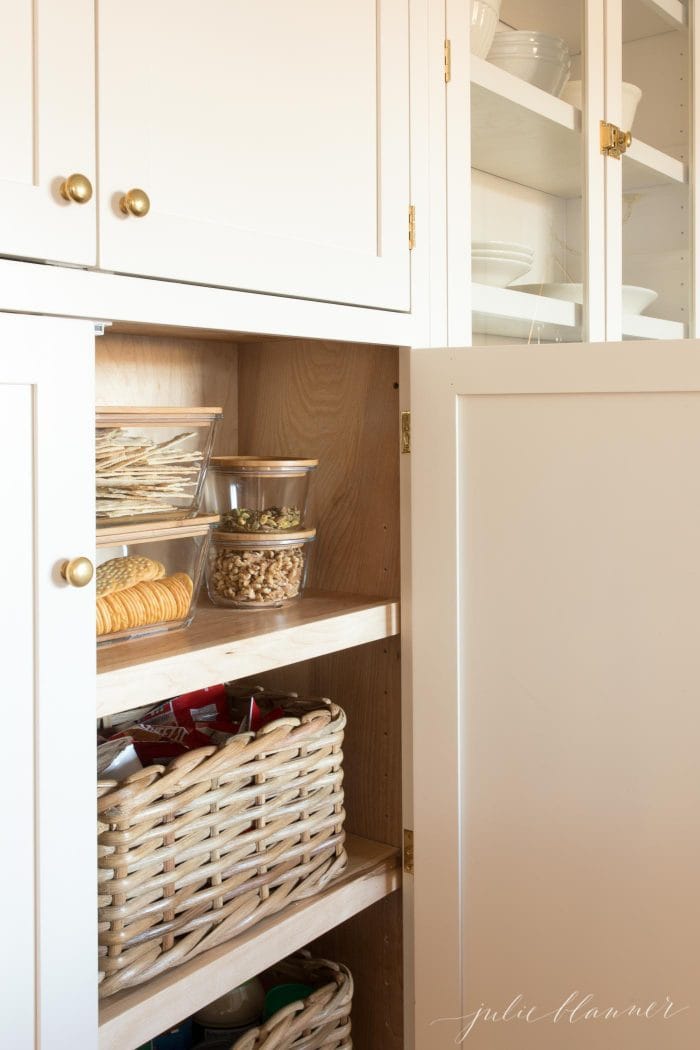 You've seen our kitchen time and time again, but now I'm taking you inside our cabinets, including our kitchen pantry. Even better? I'm showing you our dirty little secret – just how bad they were to begin with. 3 weeks later not only do we love our pantry cabinet, but the girls have effortlessly been able to maintain it, too.
Before we get into pantry organization, I'll show you what it looked like before!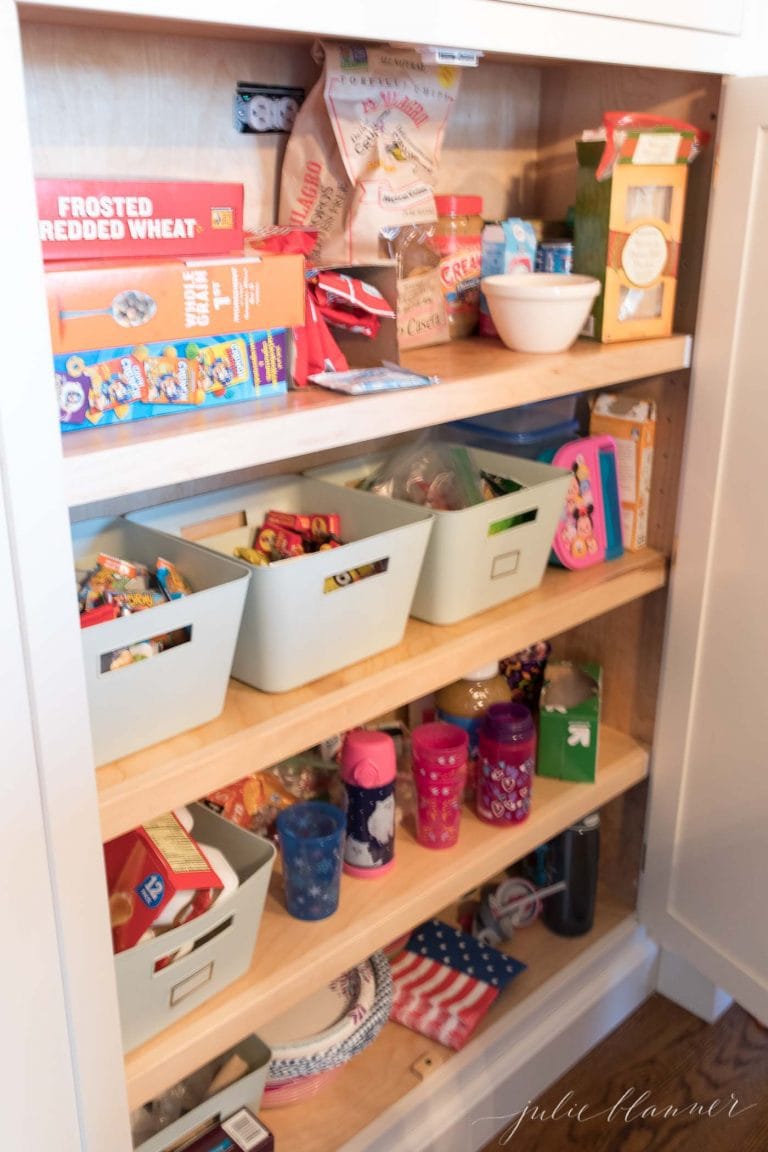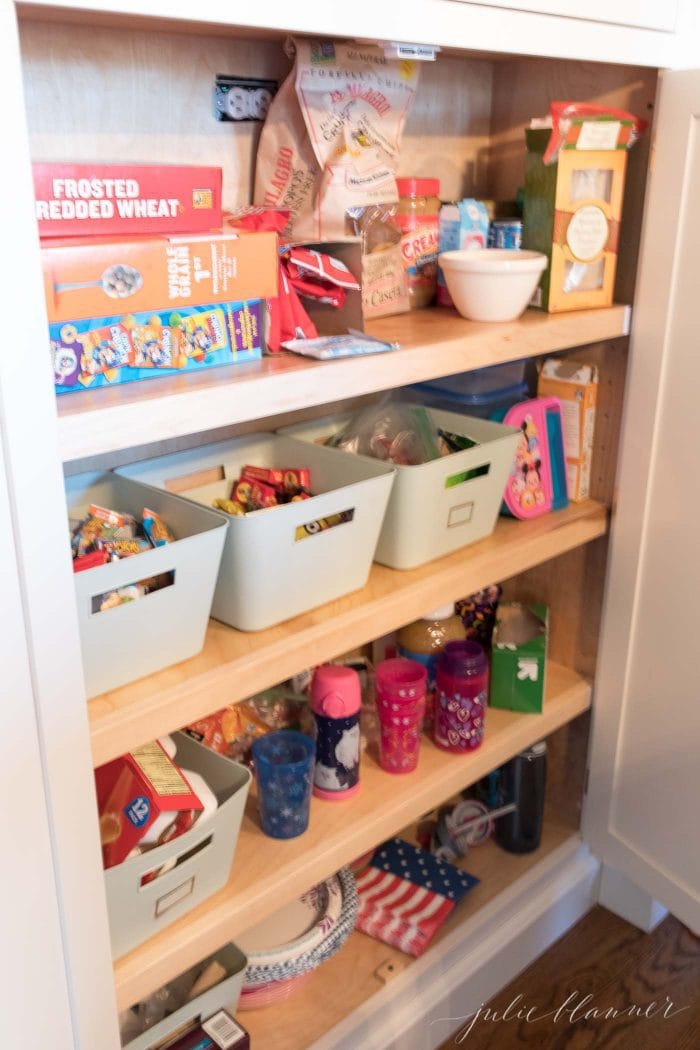 Eek! Okay, now I showed you mine, you show me yours! Did you know I started a Facebook group so you can share, too? It's pretty lonely over there right now since I just started it and I'd love for you to join me! You're also invited to join me to get organized in 30 days! So far over 1,200 have started the challenge! Don't miss out!
So the before. Obviously it's a horrible photo that's a horrible mess. You can see very little organization, random cups everywhere, and napkins from when we hosted a Fourth of July get together. There were also paper plates and plastic containers my sister brought over to take goods home after we bake/cook on Wednesdays that we don't use. Guess what? I evicted it all! Organizing also encouraged me to finally put a light switch plate where our contractor forgot to. It's the little things. (PS – I use it for video!)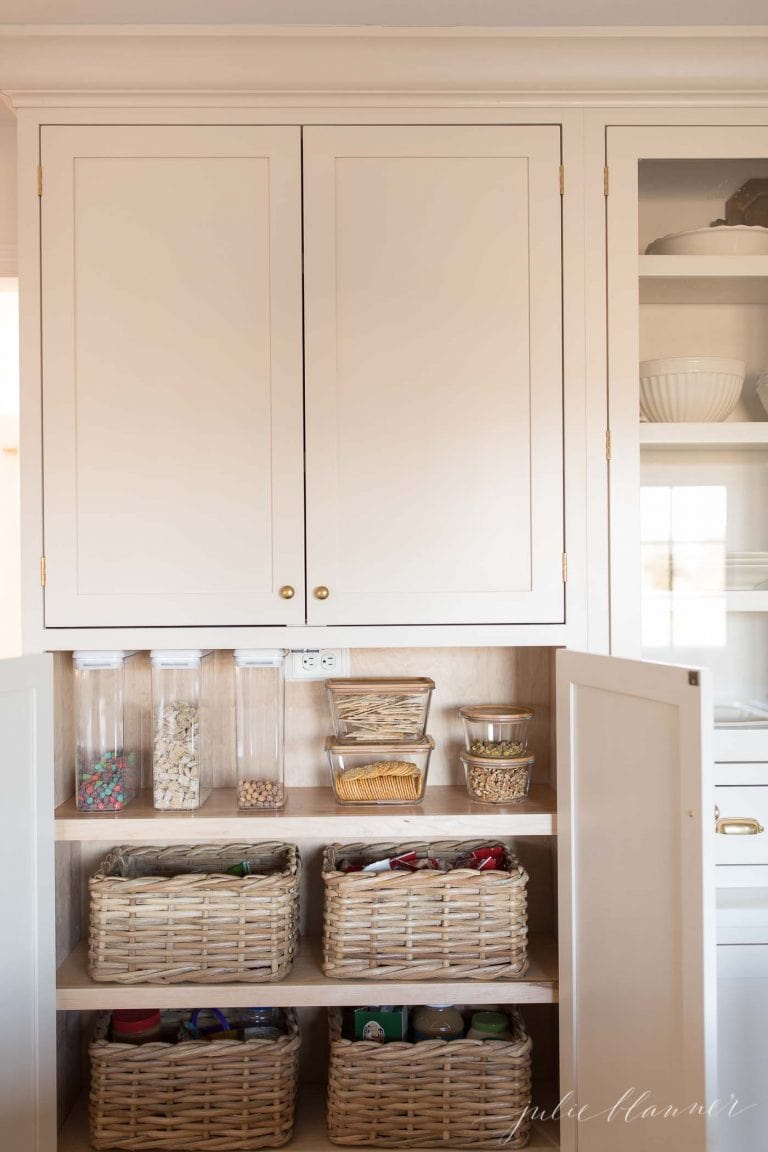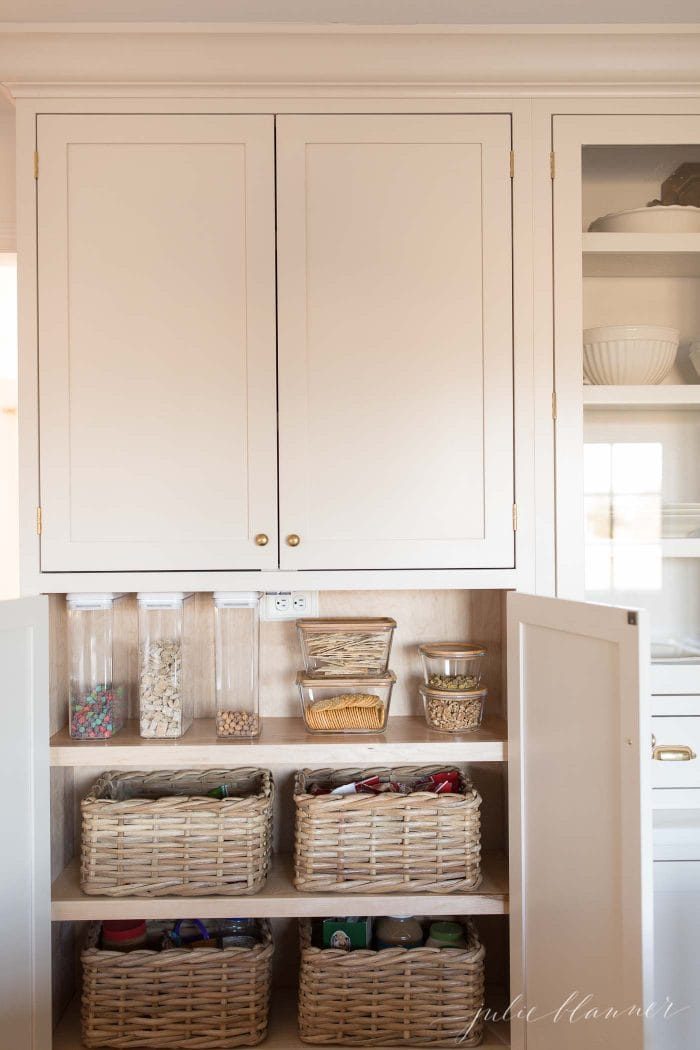 As with all organization projects, organizing your kitchen pantry is not just aesthetically pleasing, but can add a lot of function, too. While I occasionally go into our kitchen pantry, it's primarily used by the girls. So, I designed it for them. Before I share I organized it, but first, a little detail about our pantry design, then tips for yours!
You may recall that when we designed our new kitchen we had our pantry made just 12′ deep. That's all we needed and it allowed for a larger island and plenty of space to pass through. The upside to this narrow pantry cabinet is that everything can be easily seen and nothing gets loss in the abyss.
Whether you have a big or small pantry, I hope you enjoy these tips and tricks to maximize space and function. You can see how our entire kitchen is organized in the video below. Don't forget to click subscribe!
How to Organize a Kitchen Pantry
The first step to organizing any space is to eliminate. This should take just 5 minutes or less. Quickly go through and see what's expired, stale, doesn't belong, pulling every item out.
Next, consider how you use your kitchen pantry. As I mentioned ours holds a few staples like crackers and nuts, but mostly lunch items the girls' dishes to keep them easily accessible.
Find solutions to your storage problems. Our problems included never knowing how much cereal was left, so always purchasing more. Also, large cereal boxes don't the existing shelf height which helped us maintain function on other shelves.Another problem we had was that mismatched dishes didn't stack up and would come tumbling out.
Most pantries have adjustable shelves. Adjust shelf height to accommodate your needs.
Clean your shelves.
Purchase pantry storage containers that solve problems. For us it was baskets, cereal containers and a few glass and bamboo storage containers. These not only keep our crackers and nuts fresh, but visible.
Get organized! Filter your pantry items into your pantry in a way that it makes sense for you.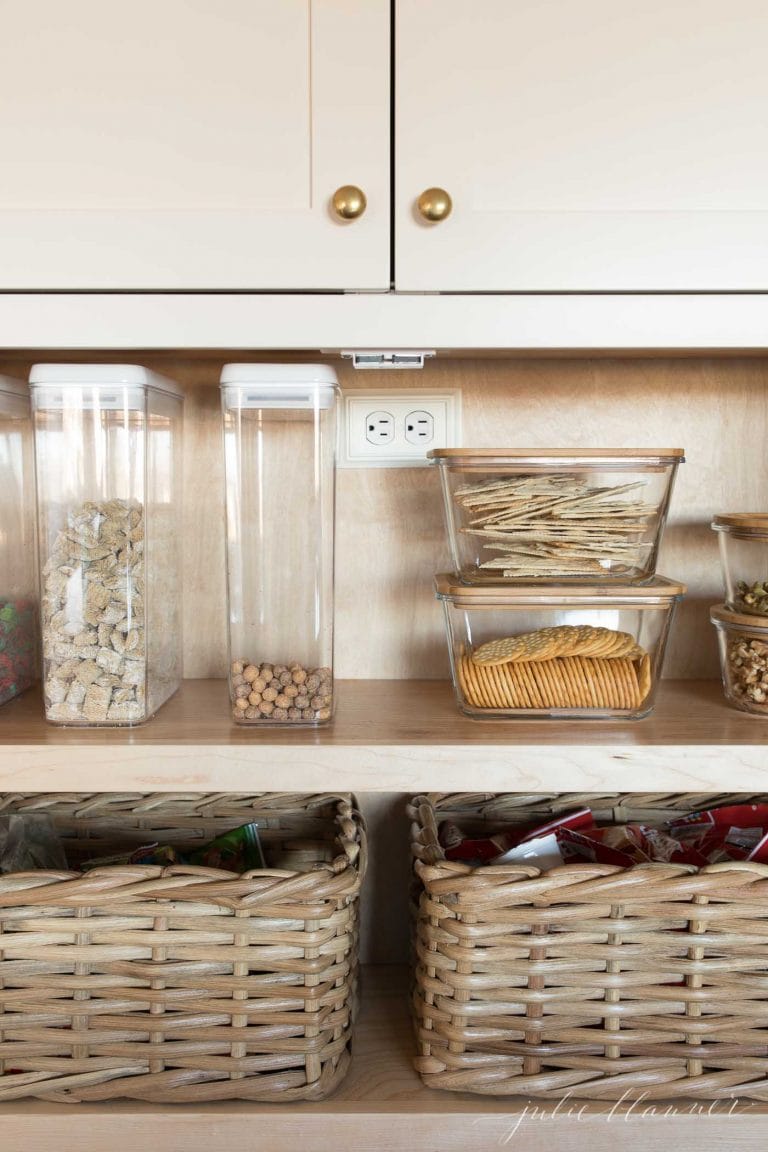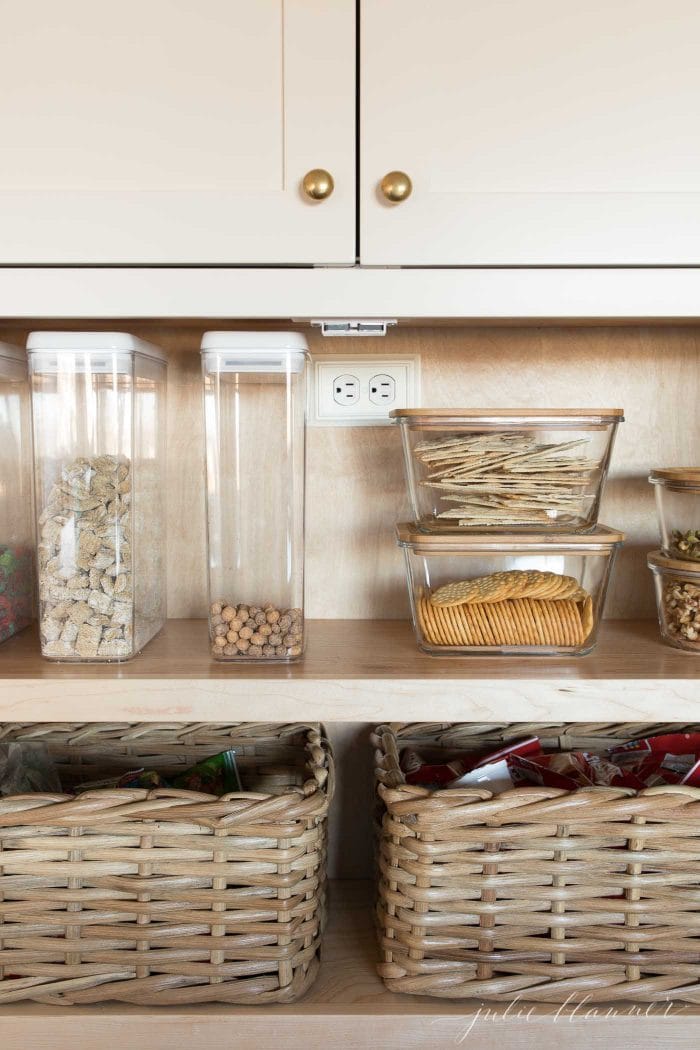 Pantry Storage Containers
Of course you can find all of my favorite home and organization products in my shop and on Amazon. After a long search, I finally found baskets that were durable enough for our family, washable and fit into the 11″ space.
Integrate storage solutions that work for you

A Few Tips for Your Pantry Cabinet
If it's dark, paint it. Our previous kitchen had dark kitchen cabinets. We painted them white, but had initially left the interior dark walnut. Eventually we painted them white and it made a significant difference. Having a lighter interior pantry color allows you to see everything.
Use storage solutions that work for you and fit your storage space. Most kitchen organization ideas remove everything from packaging, but that's not always practical. While we put crackers and nuts in containers to keep them fresh and visible, other less frequently items like dry goods I have chosen to keep in a basket where they don't fall over or get lost behind something else. For example, who wants to move peanut butter to a separate container? Not me! Cleaning that container later is not my idea of fun!
Get your family involved! They may have ideas on how to make it more efficient or effective.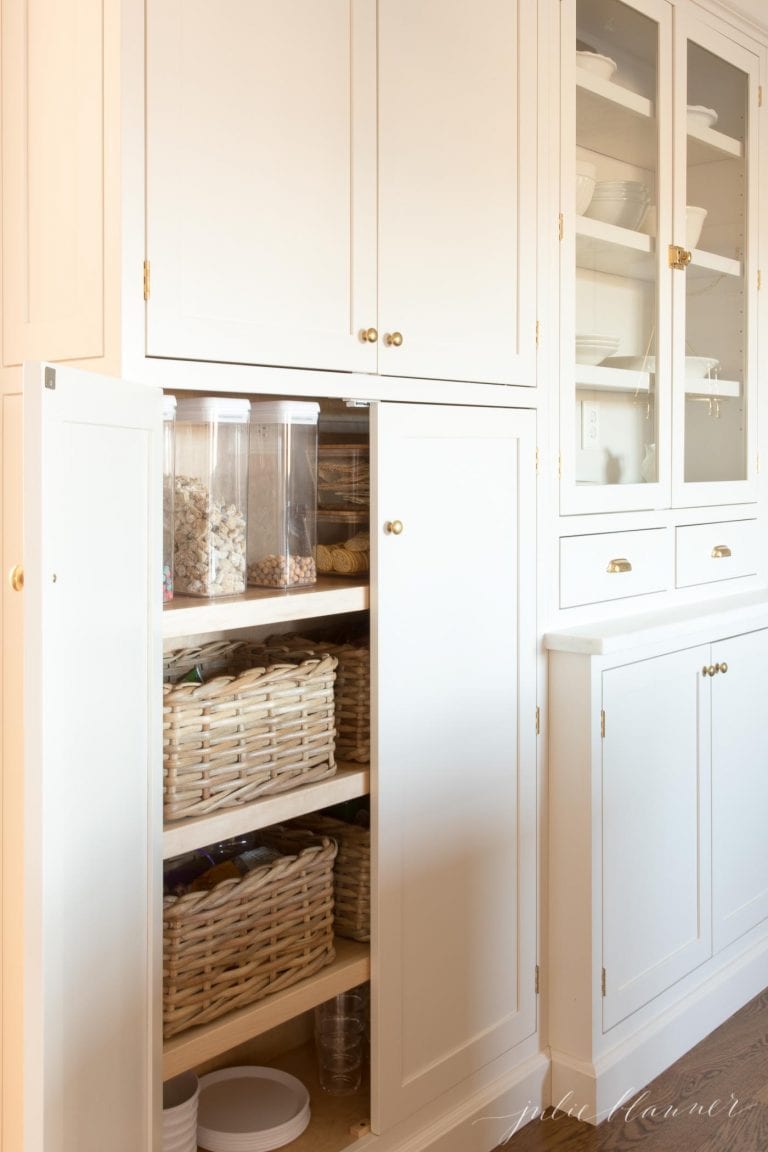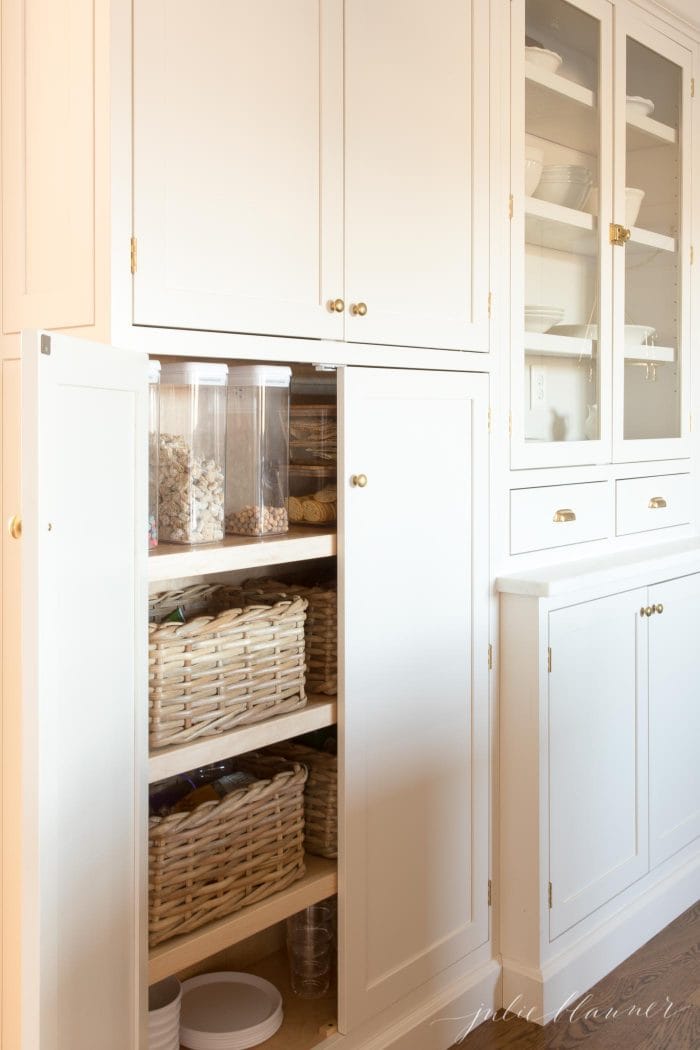 Our Pantry Organization
Having the pantry cabinet primarily dedicated to the girls gives them a sense of responsibility. They were so excited to organize it with me and had a few suggestions of their own. I worried that they wouldn't want to give up their cups, plates and bowls in favor of white, stackable melamine, but I was wrong! The girls were overjoyed to eliminate the existing and replace them because they, too, were tired of putting them away and having them falling over.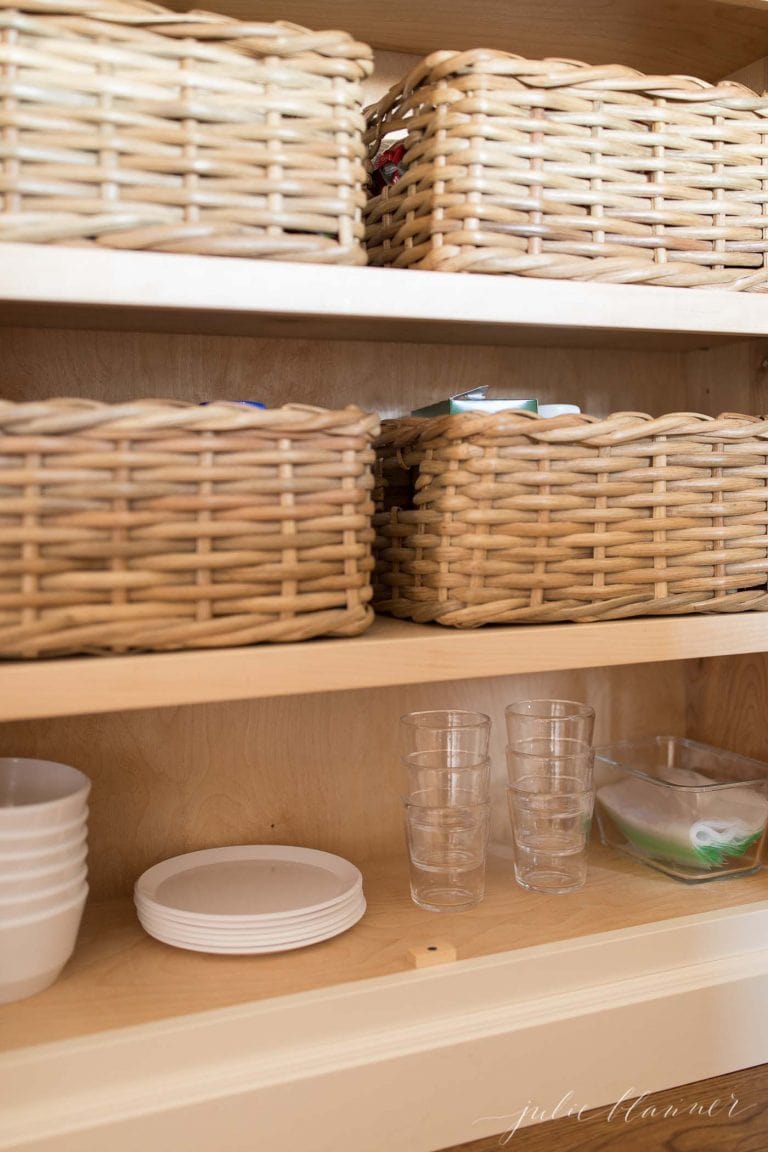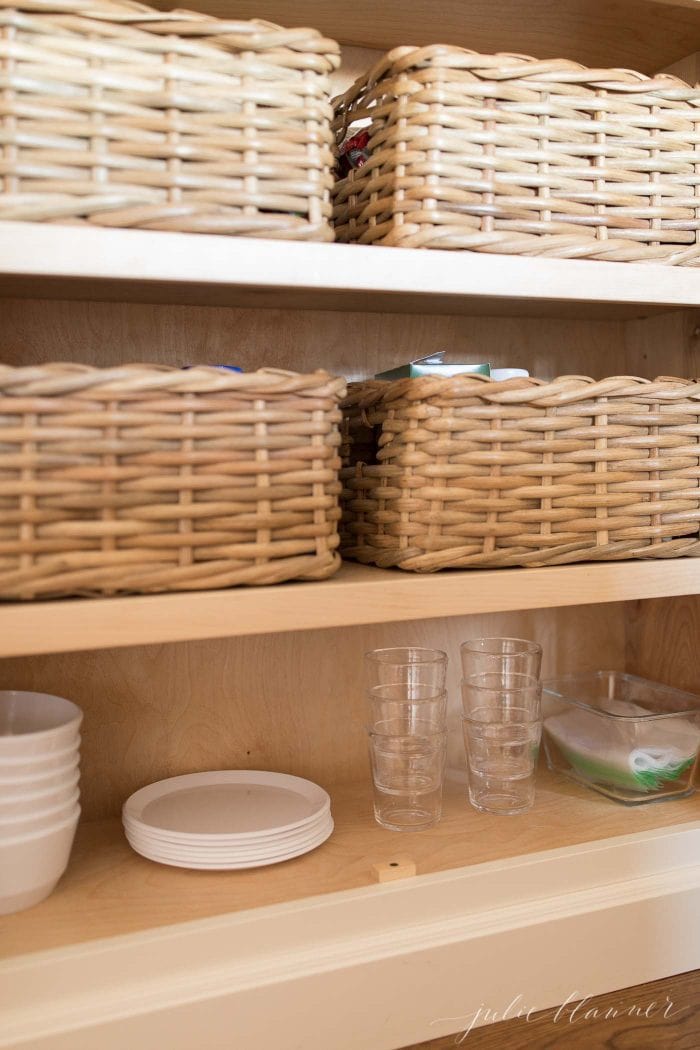 We set up the cabinet based on how we use it. The top shelf hosts breakfast items and staples. The baskets are divided into 4 different categories – one for peanut foods like granola bars, another with packaged fruits and one with individually wrapped chips and crackers.
The girls pack their own lunches and school snacks. Dividing the pantry into categories makes it easy them to select what they need. Their classrooms are peanut free, so they know not to pack them for snack, just lunch. They can select an item from the fruit bin for lunch and an item from the chips and cracker bin for snack. You can learn more about them packing their lunches in my Refrigerator Organization post.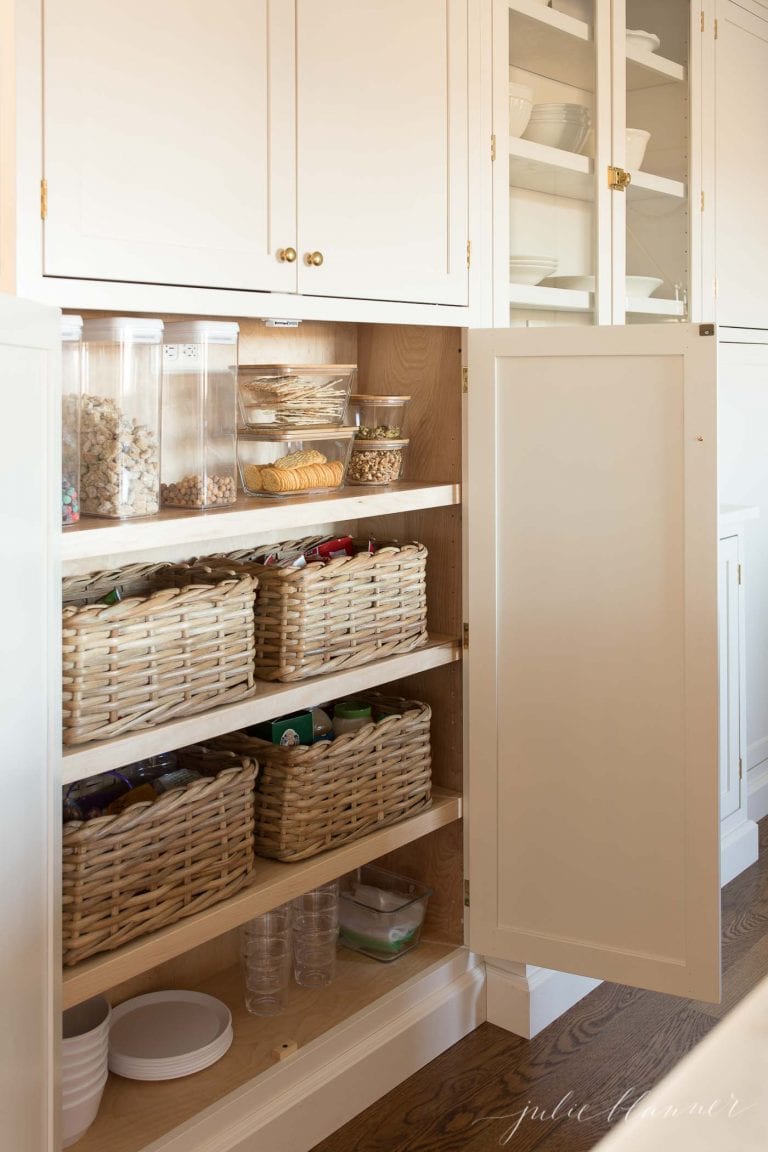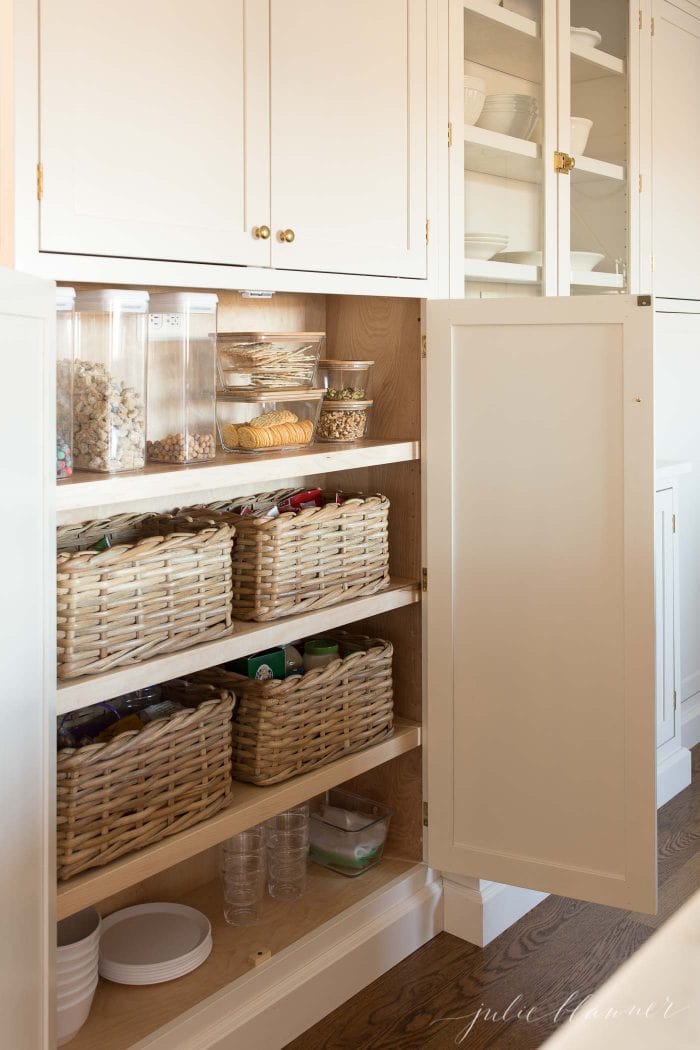 The final basket is for staple items that I didn't want to repackage (like peanut butter). These items are pretty limited since I primarily cook fresh but you can add more baskets or put dry goods like pastas and rice in these containers or these.
You've seen my before and after, now I want to see yours! Don't forget to join my group or tag me on Instagram here! As always, if you have any questions, I'm here!