Get fast and easy ideas for taking any outdoor space and creating an outdoor living room design! Your outdoor decor can be just as warm and cozy as the interior of your home – learn how!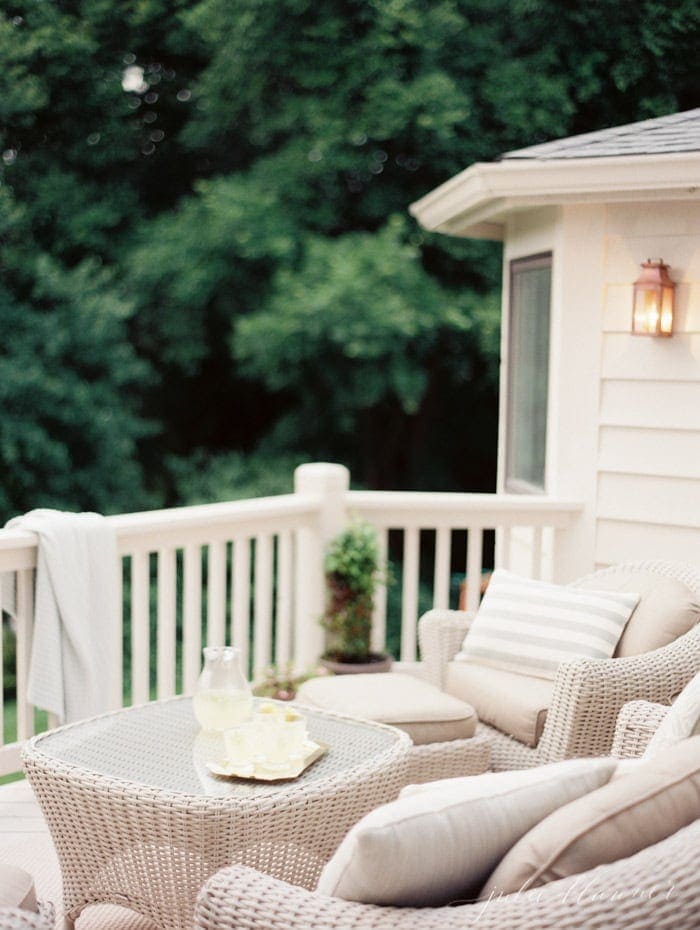 Sometimes you don't need a big makeover, just little tweaks to make your home feel more inviting. I love that the same decorating ideas that apply indoors can create incredible outdoor living design inspiration, too!
Today I'm sharing some outdoor design ideas that take very little time, but add a lot of ambience to your outdoor spaces. It's possible to take any outdoor space and turn it into a charming retreat that will add significant value to your home.
I love bringing you ideas for upgrading all the spaces in your home – it's one of my favorite subjects! Find my tips for creating a warm and cozy minimalist home, 10 ways to make an old home feel new, and 15 ways to add charm to your home.
Tour our Neutral Living Room and our Modern Living Room, too! We recently added a new screen porch kit for an update, as well.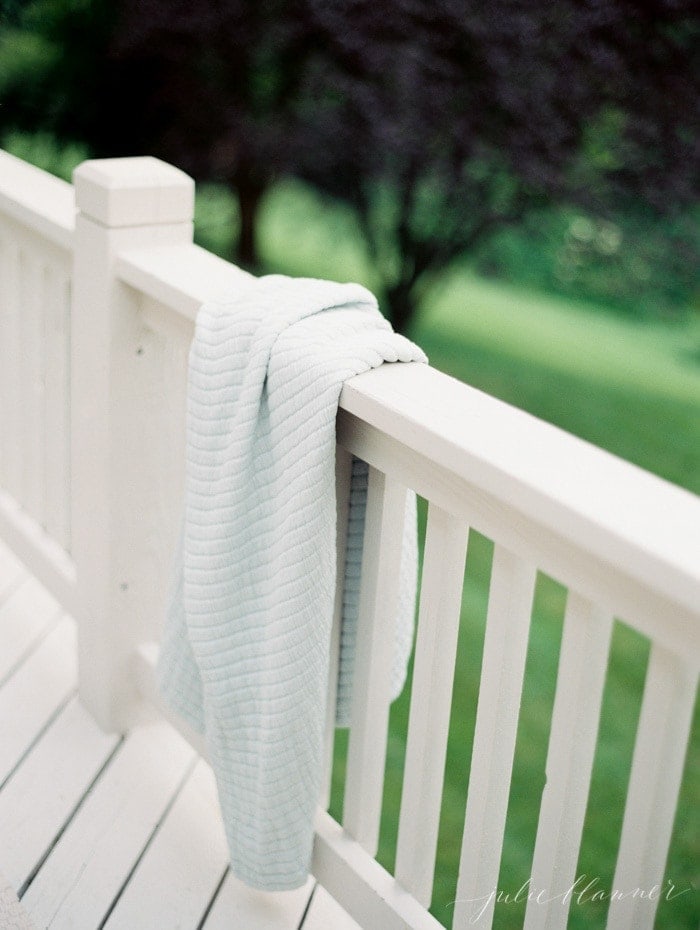 Creating an Outdoor Living Space
Yes, I like to think of the exterior spaces of our home as living areas. We are lucky enough to have a screened in porch that we now use as an outdoor dining area, and this little deck space off to the side serves as a cozy place to enjoy a glass of wine while watching the sun set.
Psst… if you're interested in seeing how we took this deck from drab to fab with a soft paint color, check it out!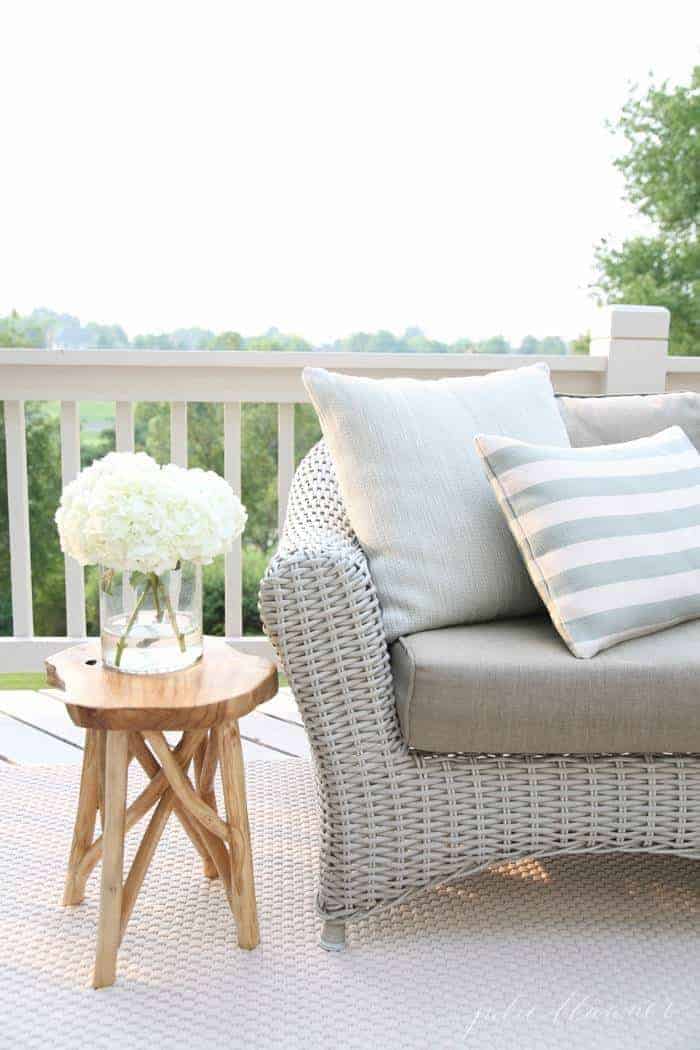 Whether it's in your front yard or your backyard, or even a tiny space you carve off to the side somewhere, outdoor rooms can truly add square footage to your house.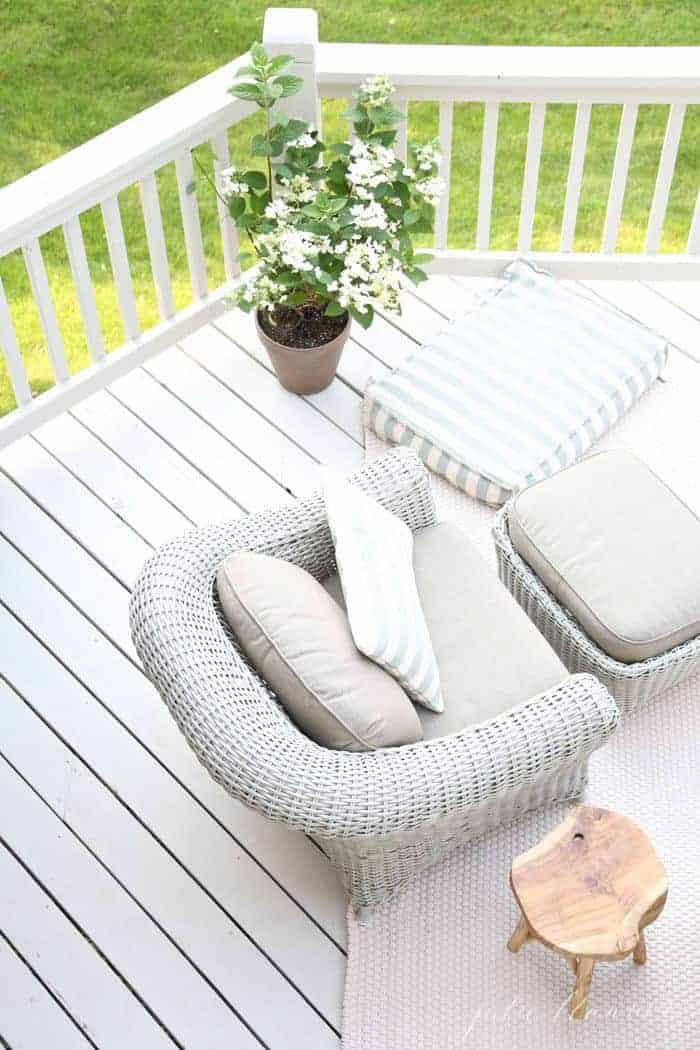 Finding Outdoor Design Inspiration
I love perusing the outdoor spaces in magazines and even real estate listings, because it's just as much fun as looking at the interior of homes! There are incredible ways to upgrade your spaces – gorgeous landscape design, outdoor kitchens and more.
However, those options aren't always feasible and they're certainly not fast, even if your budget eventually allows. These outdoor décor ideas are easy to implement, many of them in 10 minutes or less!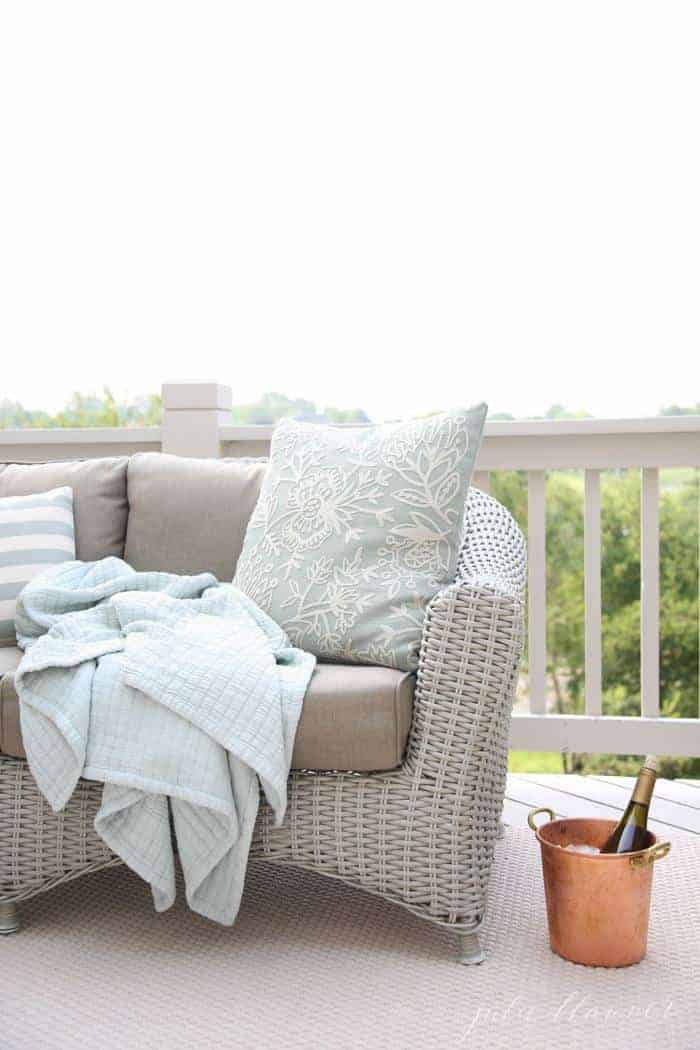 Read about the outdoor living room we created with Underdecking as part of our new Vinyl Deck at the lake!
Fast and Easy Outdoor Living Design Tips
These ideas are not only easy to implement, they are often inexpensive, too! Learn how to create a cozy outdoor living room one step at a time.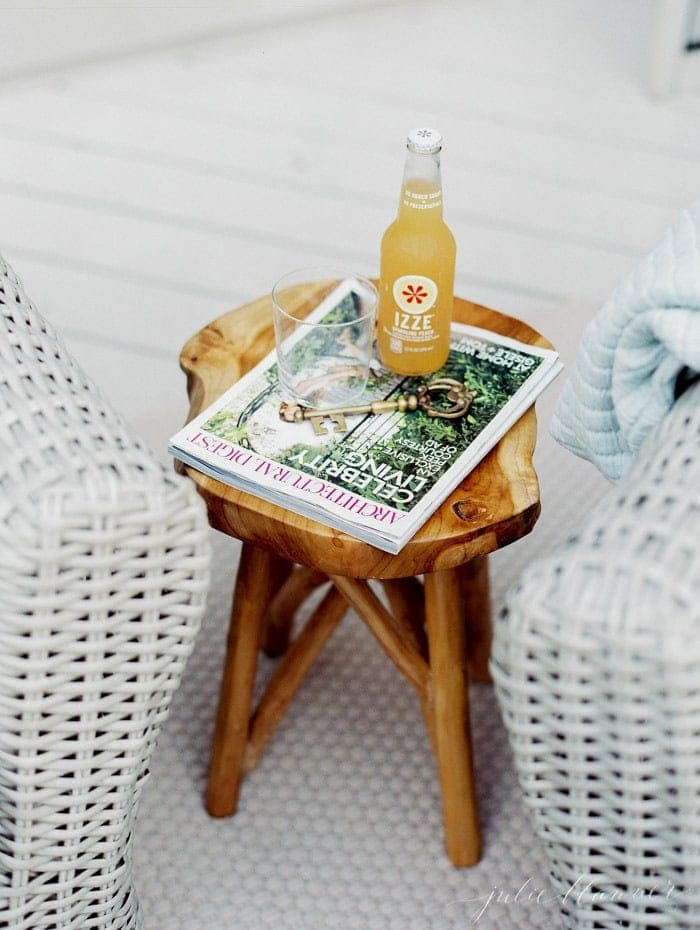 Choose patio furniture that is comfortable. This is very important. I always consider comfort when we are contemplating a furniture purchase.
We wanted our kitchen stools to be comfortable to encourage lingering at parties, and we wanted comfortable dining chairs so our guests would feel welcome for longer!
The concept is the same for outside. If you want to truly linger in an outdoor living room, you need your furniture to be as comfortable as possible! Choose pieces with thick cushions and comfortable arms – you'll never regret upgrading those key pieces.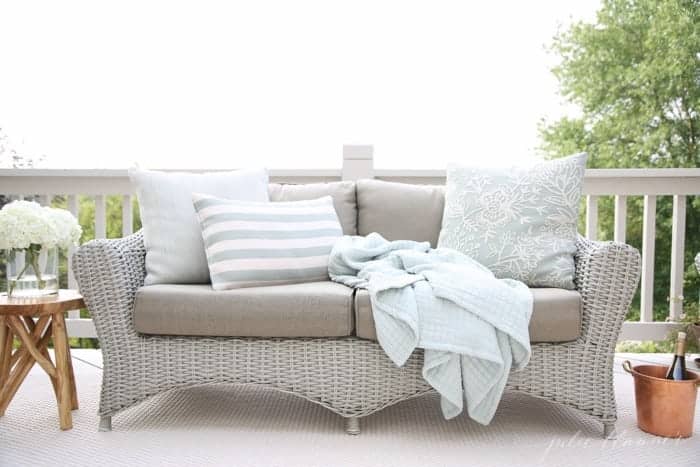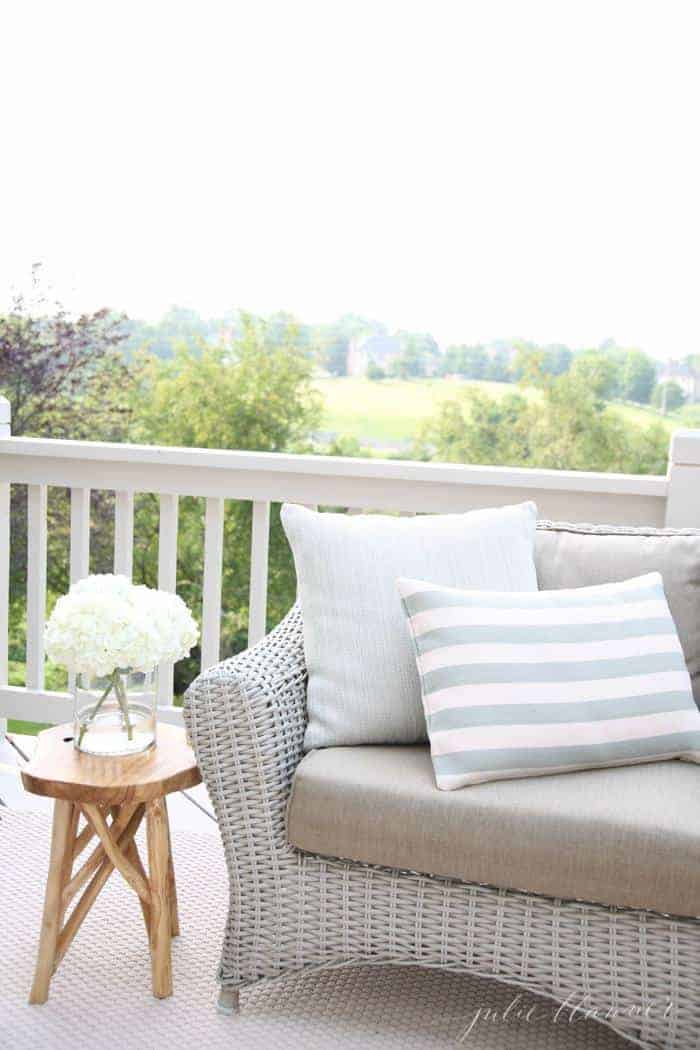 Add a side table. Offer plenty of places to set books and drinks with side tables. This is a wood stool doubles as a side table, providing versatility and bringing in another element to an otherwise matched set of furniture.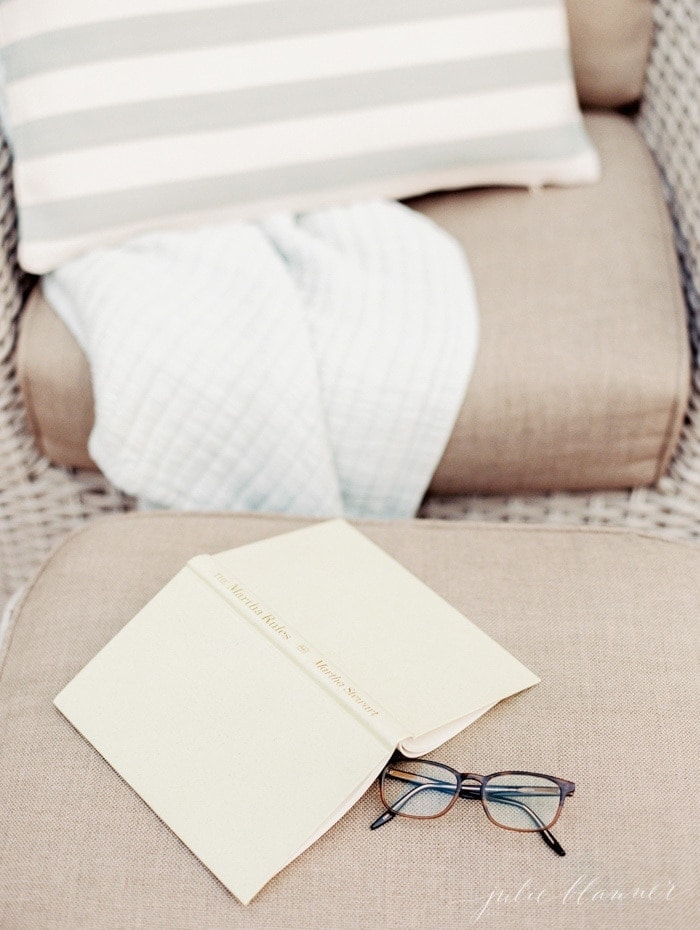 Add a throw! Is there anything more cozy? It makes you want to curl up on a chilly night, extending the use of your patio or deck. It's also a great way to add a pop of color.
Add throw pillows. Pillows are a beautiful way to add comfort and patterns. They can be easily updated as your taste and trends change.
Incorporate plants! They're my favorite decorative element! Use them to add various heights, textures and colors. They're also great to fill awkward corners.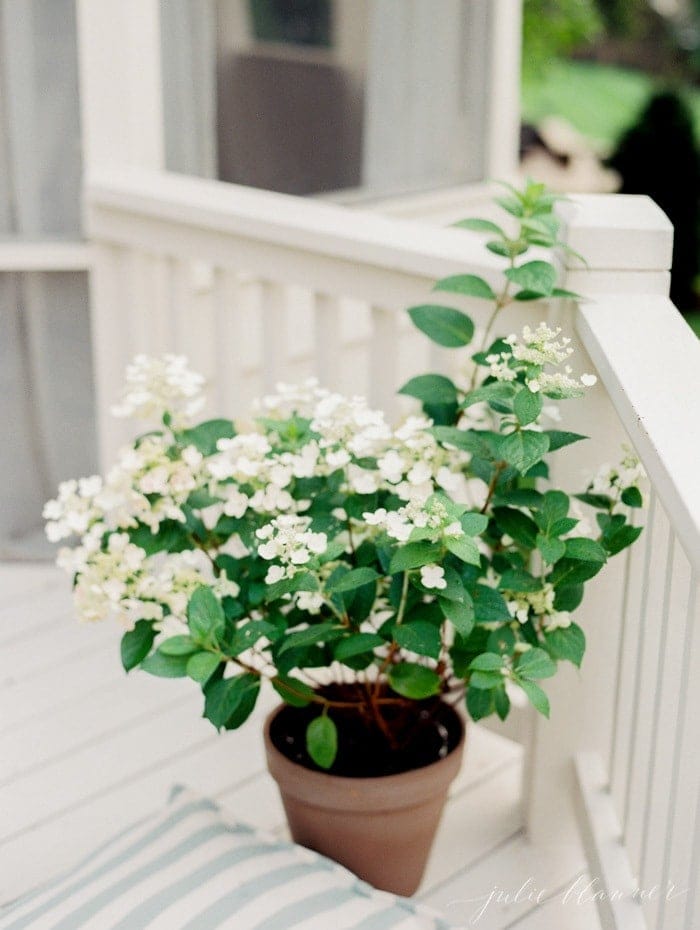 Add lighting. String lights, candle light and fixed lighting all add to a space. Lighting is just as important on the exterior of your home as it is on the inside. It will truly add the ambiance that your home deserves.
Define the area with a rug. Just like inside your house in a living room or dining room, a rug can define your living space and ground the elements in a furniture grouping. This creates a cozy feeling and connects all your furniture (and people!) when you're sharing the space.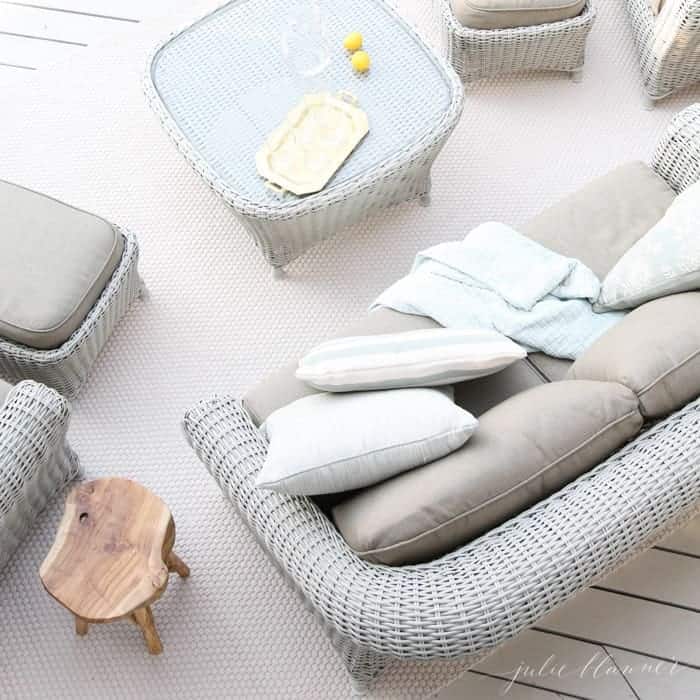 Incorporate functional accents that your whole family can enjoy, like a copper hummingbird feeder! We all get so much enjoyment out of those tiny little birds in a feeding frenzy!
Even if it's something like a purely functional outdoor thermostat- these items can create interest and add to conversation each day!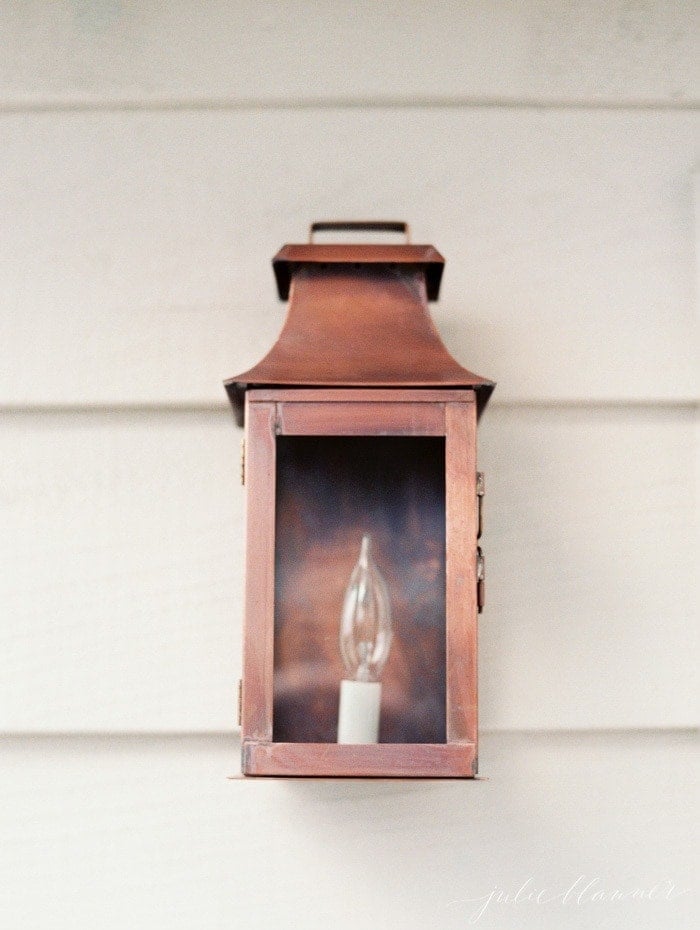 Consider an outdoor fireplace for a true focal point in your outdoor areas. You can even add a more portable style of fire pit for a cozy gathering spot to make s'mores and enjoy family time!
What about a water feature? And no, I don't mean a swimming pool – although wouldn't that be nice? Add a modern outdoor fountain. They can cover any background noise and create a feeling of zen that is a proven calming technique!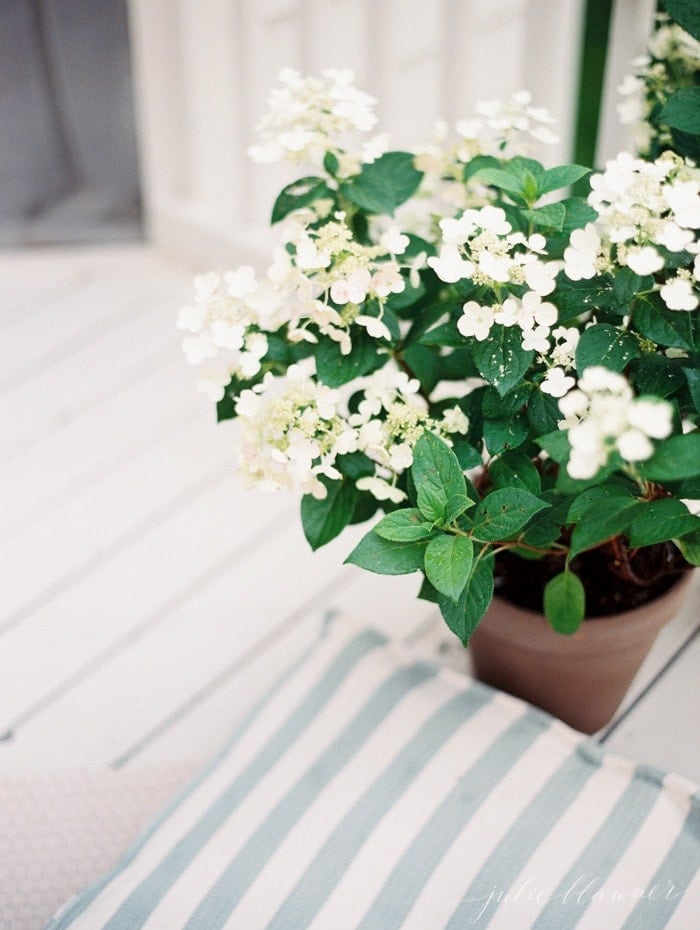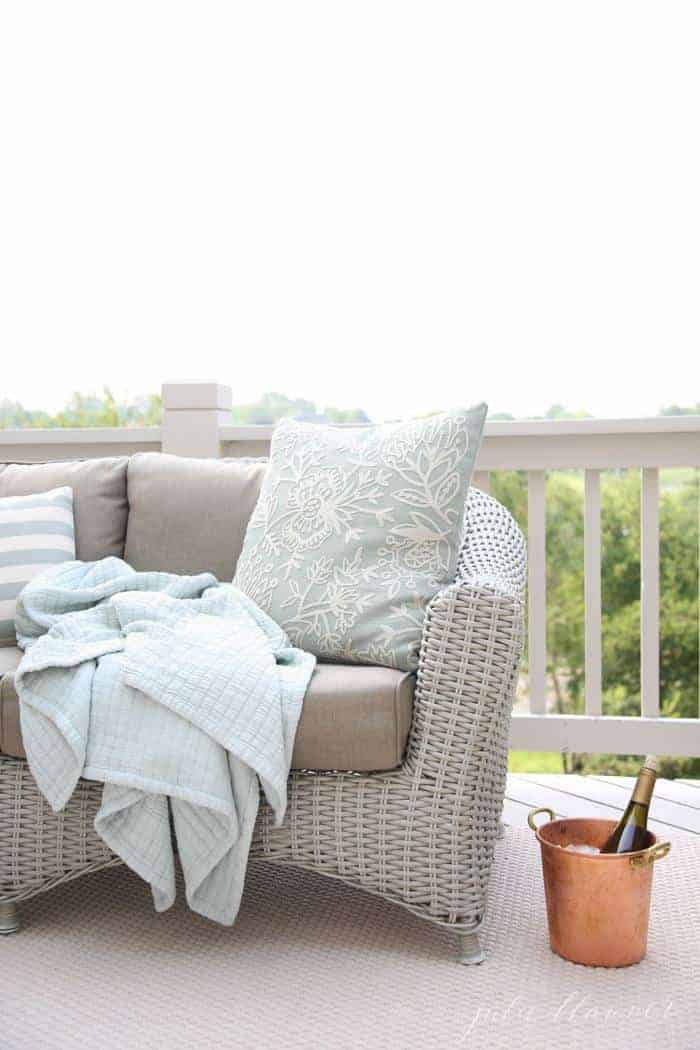 Photography: Clary Pfeiffer
Let's keep in touch! Receive exclusive content, including never-seen-before photos, our favorite home decor DIYs and more!
More Inspiration for Outdoor Living