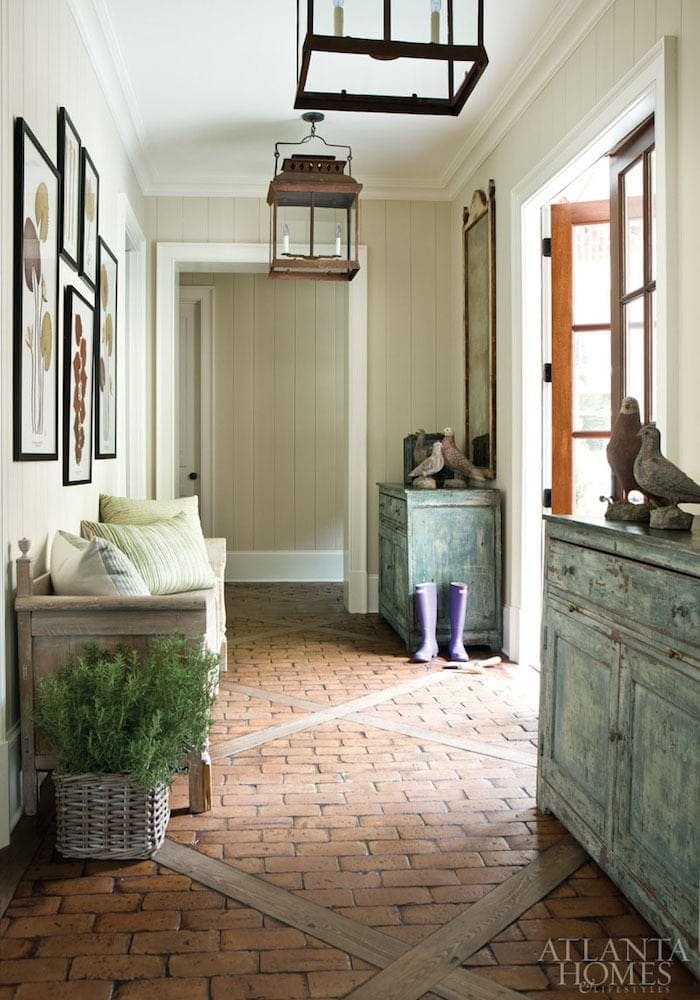 I have so many projects going on right now that I'm somewhat paralyzed on them all. I'm a little scared to take the leap to delve into them because living among construction doesn't seem too appealing, but I'm ready to delve in and get dirty in the mudroom! As is, it's barely functional. I'm thankful to have space for a mudroom, but there are no hooks, cabinets, etc to make it a true mudroom, thus it's complete chaos. Here's an unfiltered view: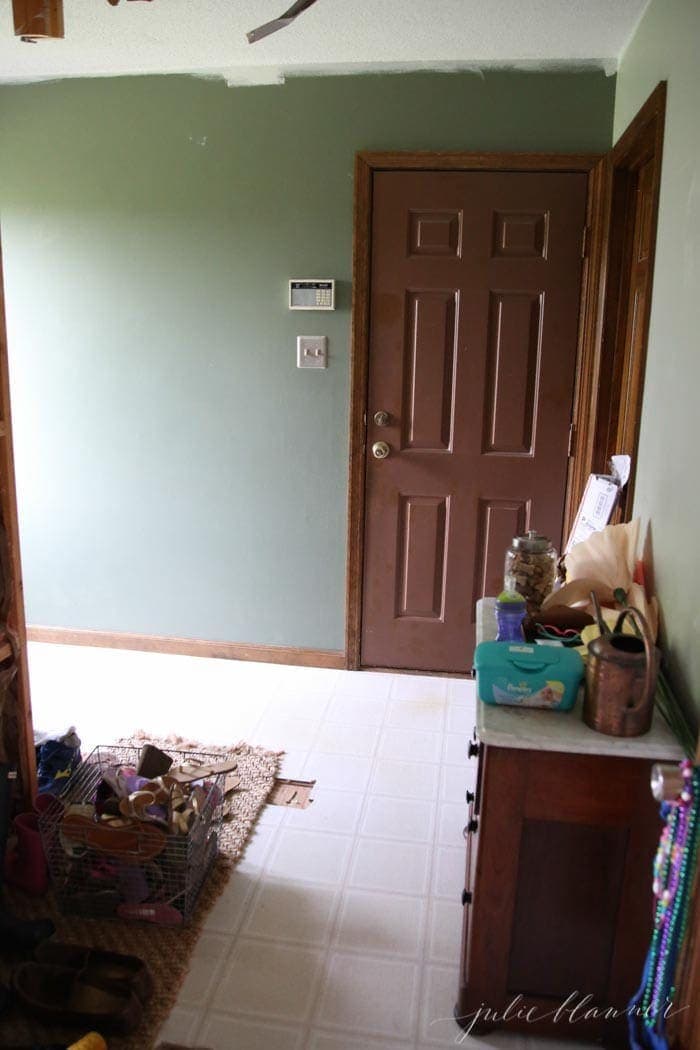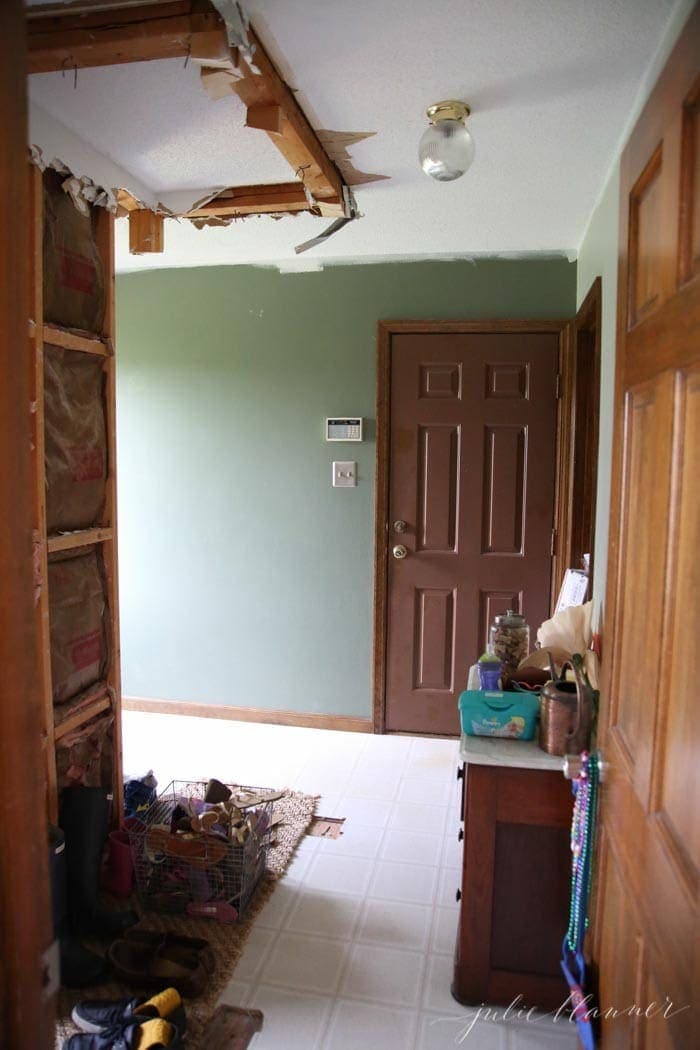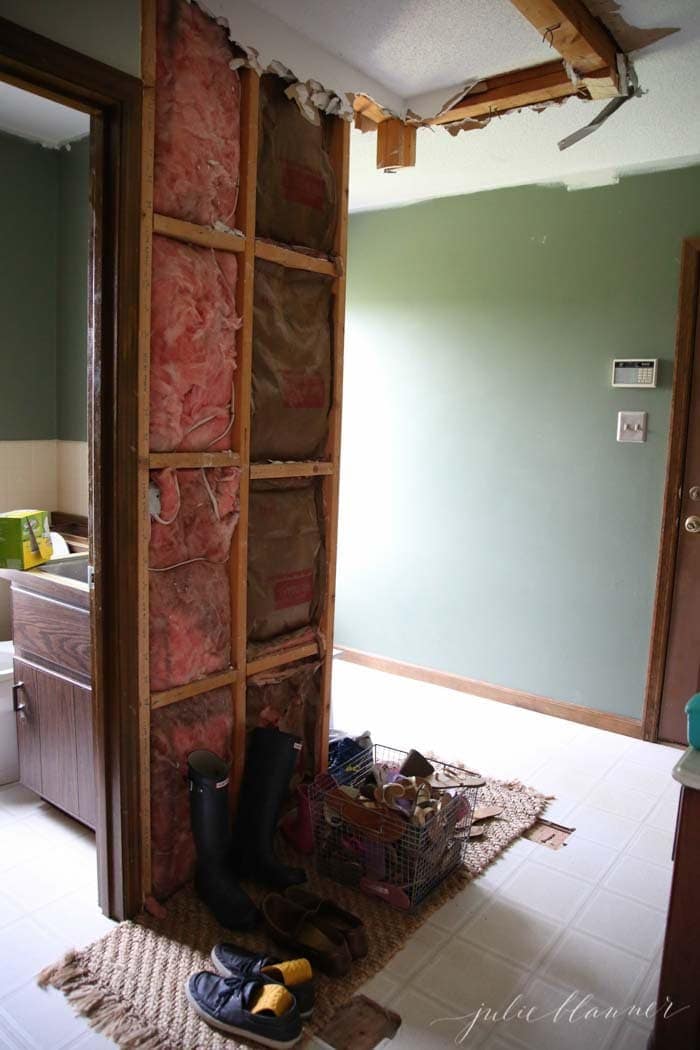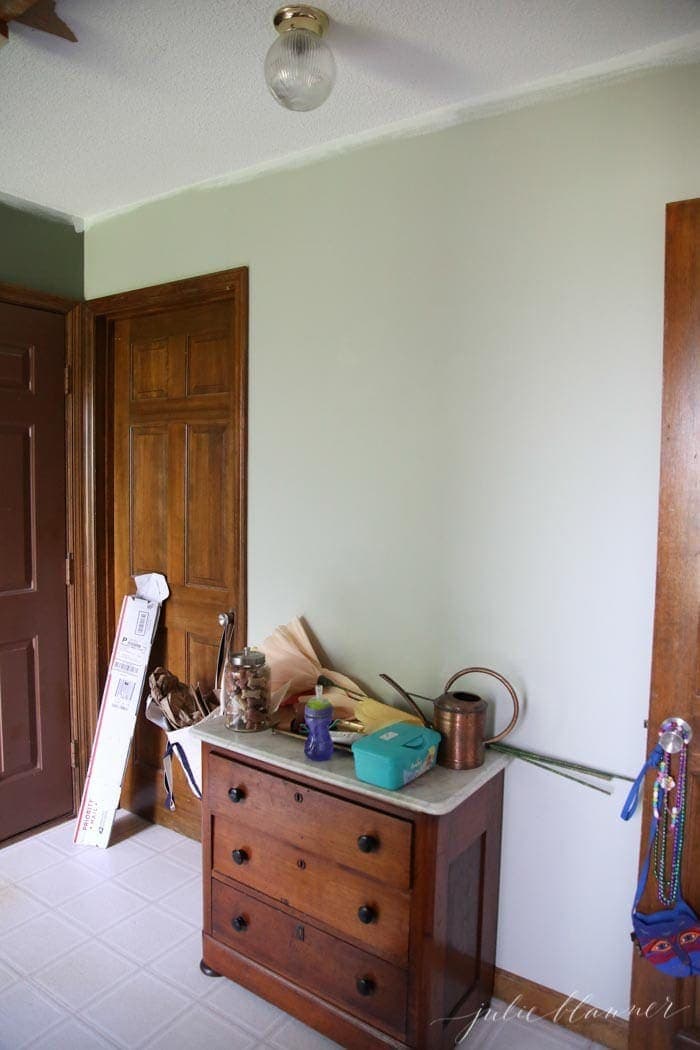 Our mudroom plans began months ago with us considering our needs and seeing how we use the space. While it was tempting to redo the mudroom when we first moved in, we needed to live in it to determine the best use for the space. The mudroom is a space that won't often be seen by guests, yet we have decided to invest in it because it is one of the most heavily used spaces in our home. We hope that making this space functional will keep us organized and reduce our stress.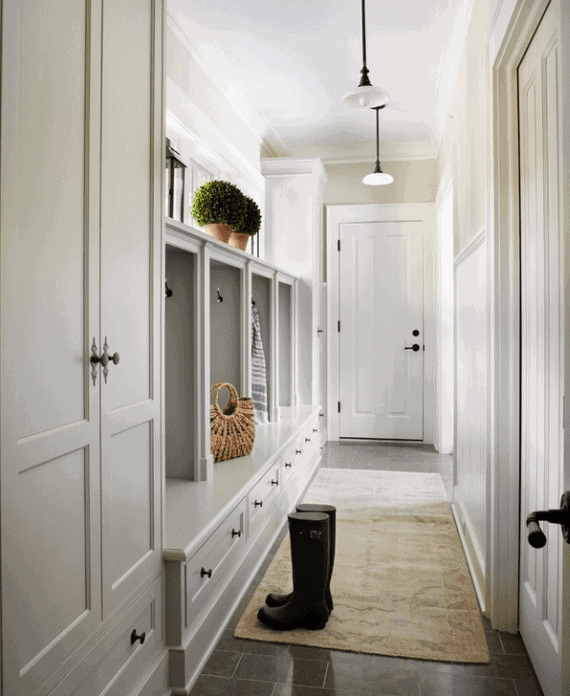 Our home is 2 stories, which means it's essential that the girls store their shoes in the mudroom. We're always in a rush and the last thing we need to do is run to the opposite end of the house and up the stairs to retrieve a pair of shoes. In addition, the mudroom holds Chris' running accessories, sunscreen, hats, dance shoes, jackets, keys, etc. Finding a way to manage it all initially felt overwhelming, but we have found a solution that we can adjust to fit our changing lifestyles. Rather than doing built-ins, we're creating a solid space that can wipe down easily and utilizing furniture rather than built-ins. This is very different from our previous approach.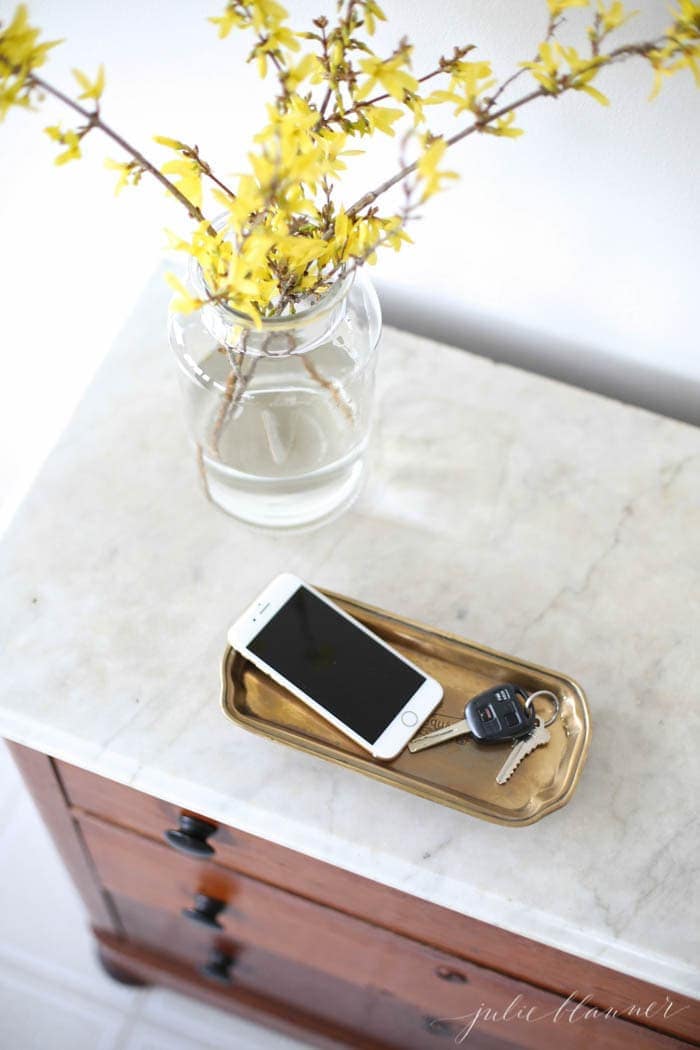 I purchased this antique chest with a marble top at an estate sale. It's already a little worn so that I don't cringe when someone sets a drink on it or bumps it as they enter the house. It was a minimal investment, so if our needs change, we can change it. For now, it hosts running accessories, sunscreen, hats and keys.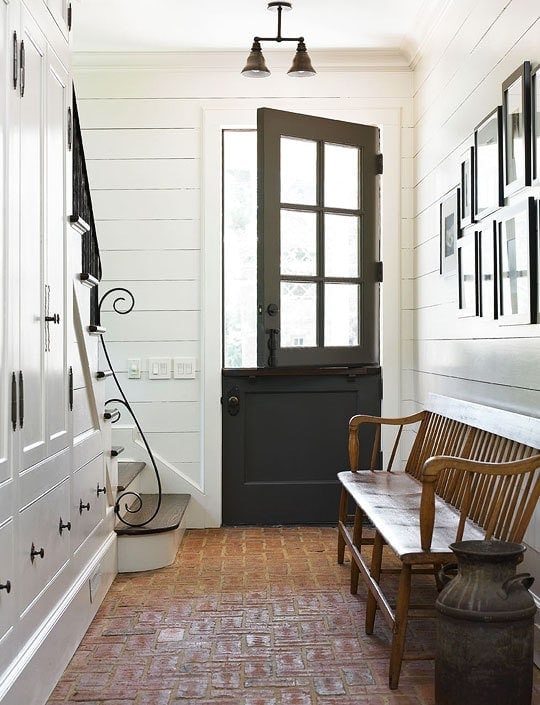 We got this wood bench to create a space where the girls can sit down and put their shoes on. Because it's not built in, it is a great fit for 3 different places in the mudroom, offering a lot of flexibility. I was drawn to the turned legs. It feels so traditional!
This is where the expense comes in. I had a wild idea to do cedar plank walls. It's very labor intensive, but will make the room feel warm, polished and durable. It should add a lot of character to our home, but not as much as…
our brick floors! Chris isn't nearly as excited about the brick floors as I am, but they're going to be beautiful! I did everything I could to talk myself out of them, but I couldn't stop dreaming about them after seeing these images: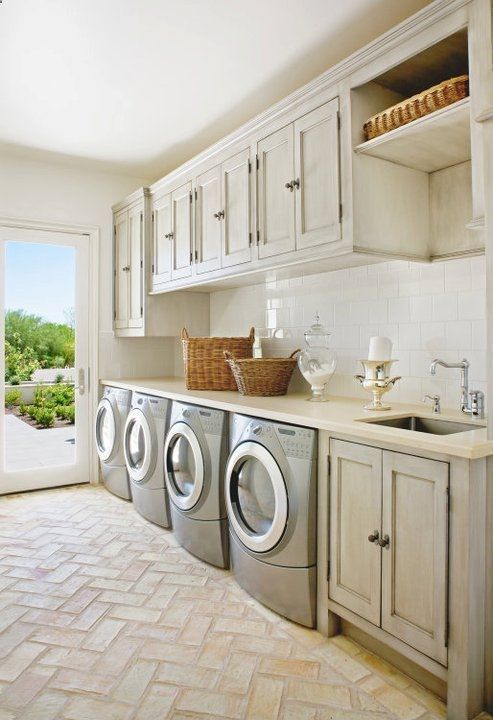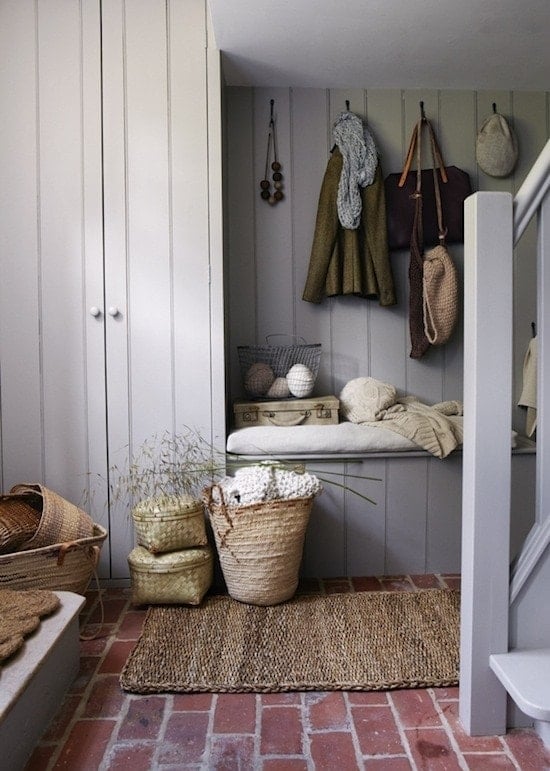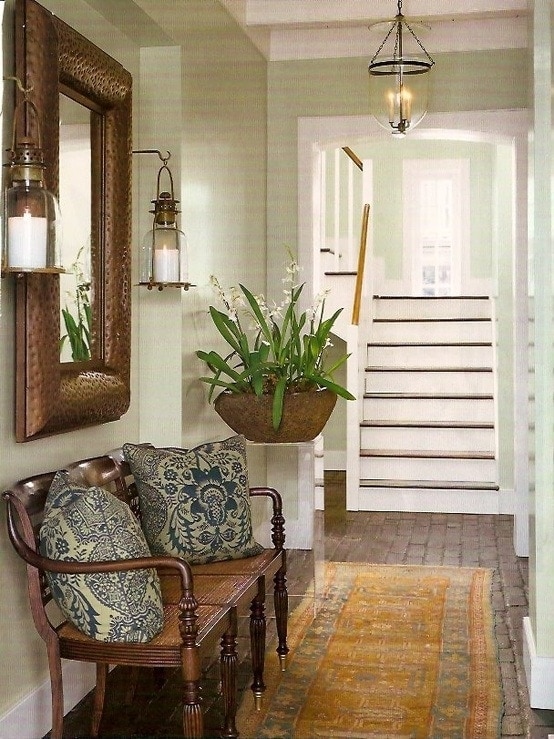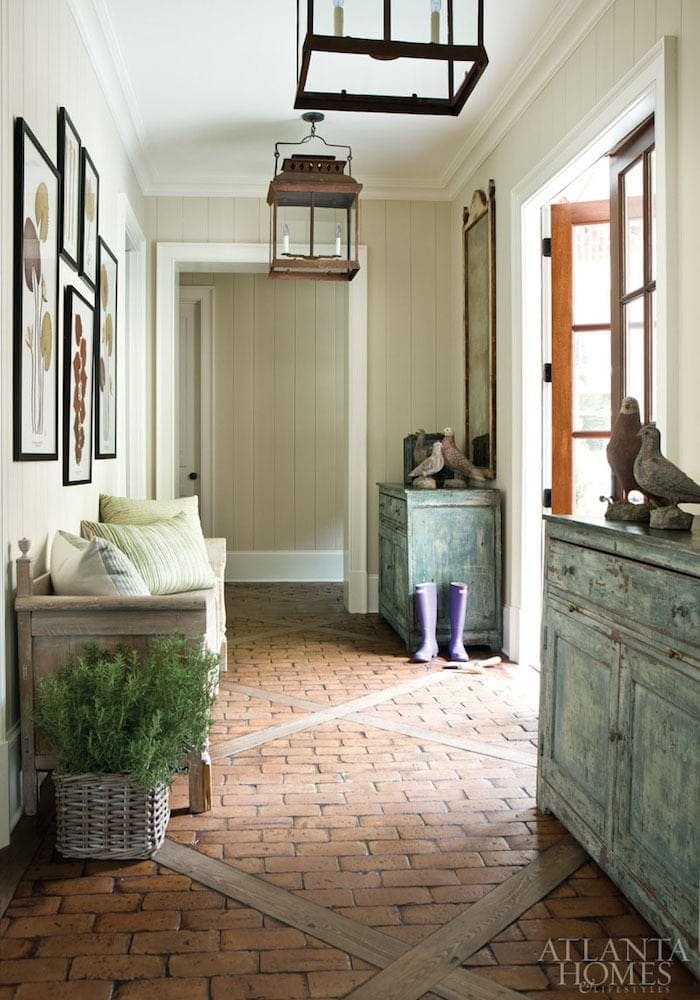 The room will be completed with heavy brass hooks I purchased from a local boutique and a sarouk style runner.
Currently, the quartet of doors feels uninviting. There's the door to the garage, another to the basement, one for a bath and one from the kitchen to the mudroom. To make it more appealing, we're adding a set of narrow french doors. All wood in the area will be painted in a soft cream.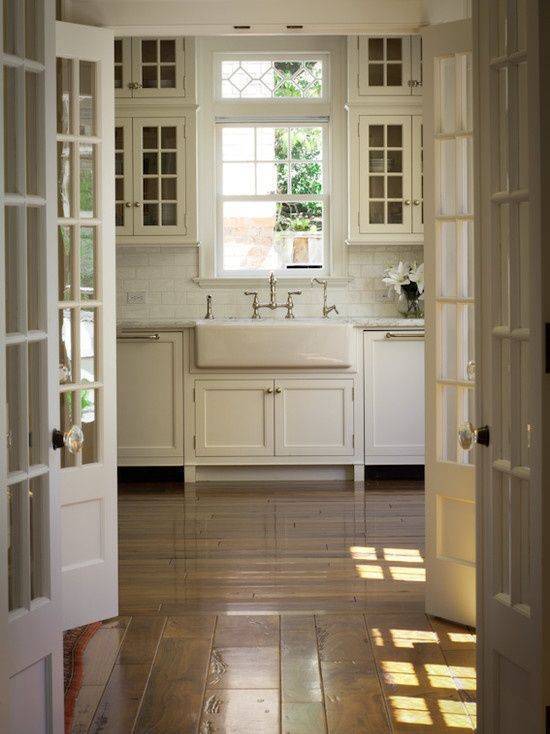 Image sources: Houzz | Traditional Home | Atlanta Homes | KB Tribe
Now it's time to get started! We plan to finish the demo this week so that the floors can go in. After that we'll be tediously installing the cedar plank walls. Wish us luck!