These mudroom ideas are simple to implement in any space you can carve out, no matter the size of your home!
Mudrooms serve an important function in any house – they welcome you home, collect your dirt, and give you a place to hang coats and leave your keys.
Learn how to create a mudroom that will function for your family but that's also durable and beautiful.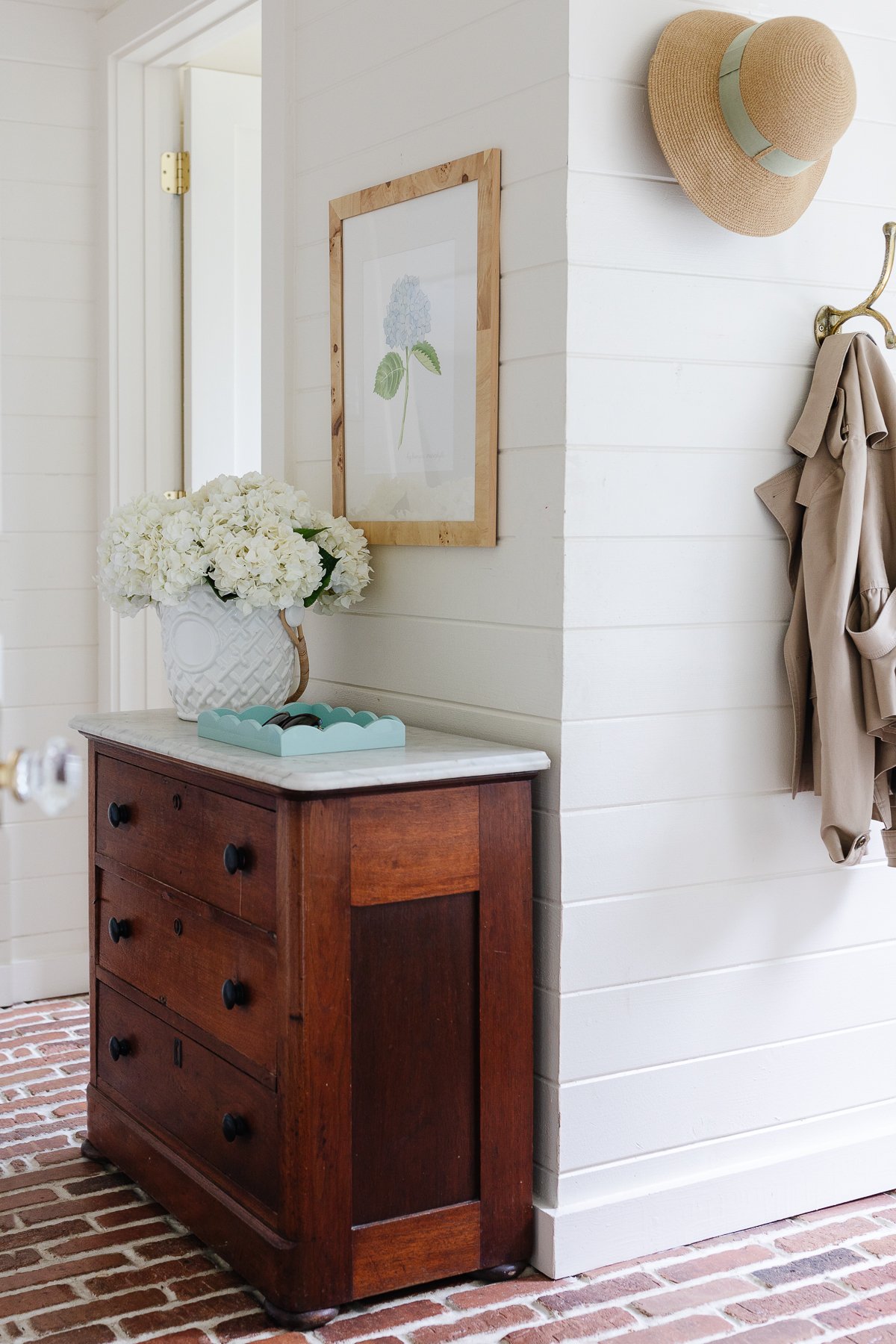 For many purchasing a new home, a major criteria is to have a designated mudroom. Our previous Kansas home didn't have much of one when we purchased it, but with a little tweaking, we did manage to DIY a closet mudroom.
Our current home in St. Louis had somewhat of a mudroom, but it was a really awkward space that lacked function. Now that we opened it up a bit and added storage techniques that work for us, the mudroom is now my favorite room in our home.
Have you seen our home's full before and after? Don't skip it!
Even if you don't have a designated mudroom, you can easily create one. By defining a space in any entryway to your home, (making it easy to clean and full of storage) you'll have a space that will functional well for you family.
No matter where you end up creating your mudroom, putting effort into the right organizational systems is what will help you and your family stay organized, and help keep the dirt and clutter out of the rest of your house!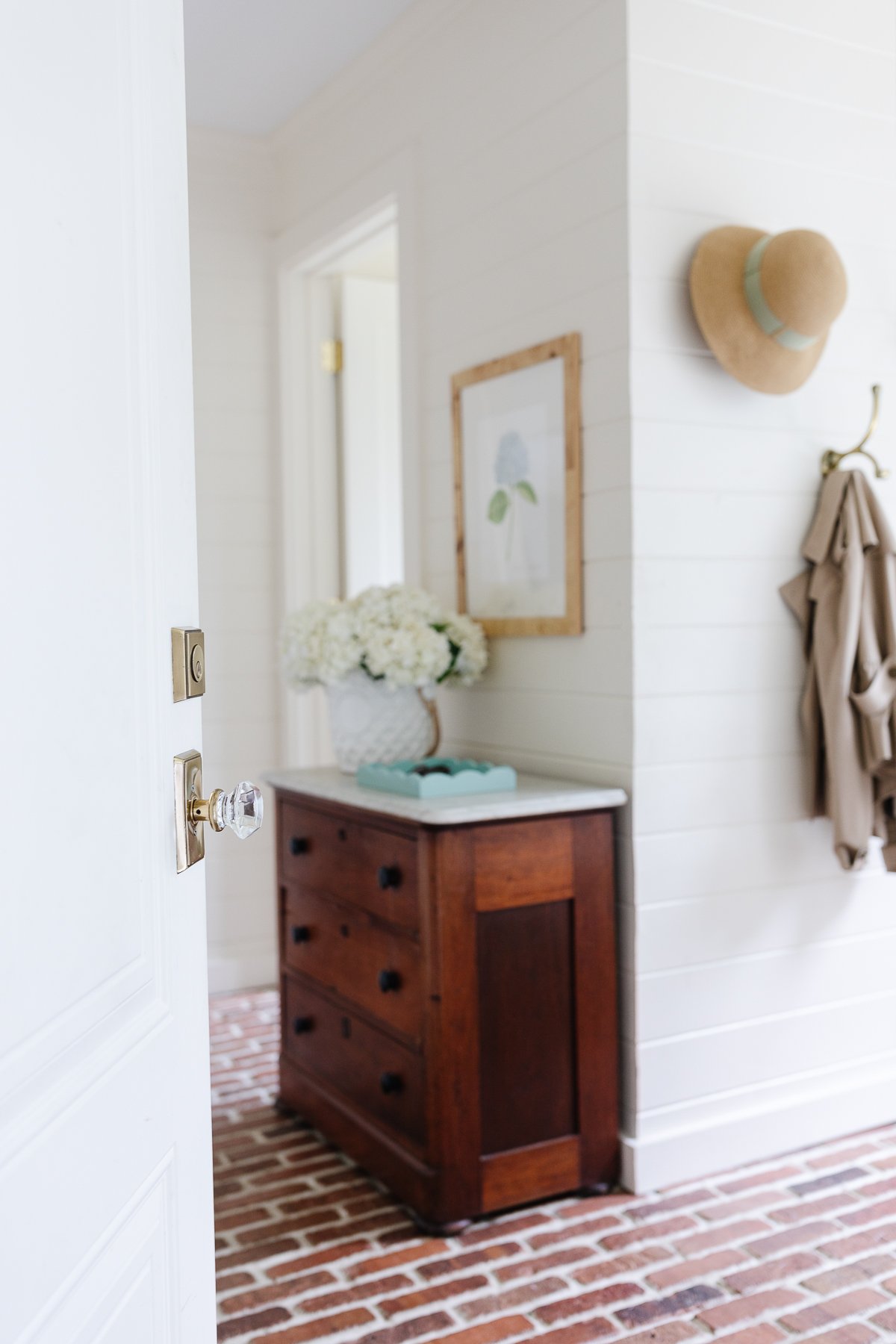 Mudroom Ideas
Having a mudroom to transition between the outdoors and indoors can help keep your home clean and free of clutter.
Let's walk through a few of my favorite mudroom tips and tricks, as well as the answers to your frequently asked questions.
Tips
When everything has a place and a purpose, with defined systems for organization, you'll be amazed at the difference in your home!
Paint your mudroom in a light, bright color for a soft neutral backdrop that's easy to clean. My motto: If I can see the dirt, I can clean the dirt! We chose Benjamin Moore Navajo White.
While decorating a mudroom is certainly not necessary, it does make me happy to have a few items that look as beautiful as the rest of our home. Get the sources and details at the end of this post!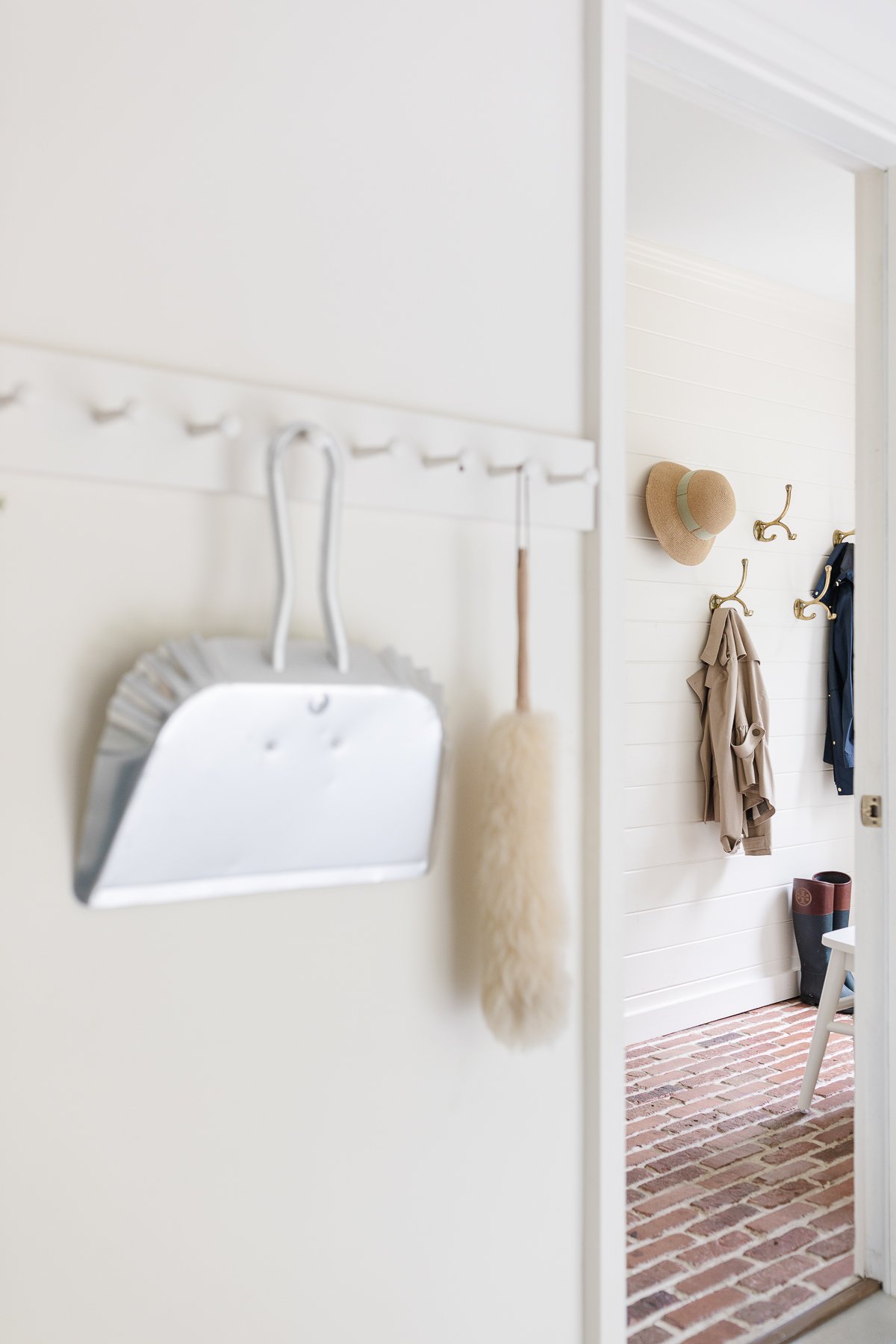 Frequently Asked Questions
Does a mudroom add value to a home?
Yes! When it comes time to sell your home, mudrooms help increase the resale value. Buyers love additional storage as well and features that help them stay organized. Since a mudroom offers both of these, it can be considered a desirable selling feature.
What is the purpose of a mudroom?
As the name suggests, a mudroom is a room that transitions between the exterior and interior, where you can drop your shoes and not track mud into the house.
What is the best flooring for a mudroom?
Choosing the correct floors for a mudroom is important. A mudroom needs to be safe and easy to clean.
Wet shoes and boots will be tracked in during the winter months, and barefoot children may run through here during summer months. Choose a floor that is durable and effortless to clean! LVP and Indoor Outdoor Rugs are great options that are so easy to maintain.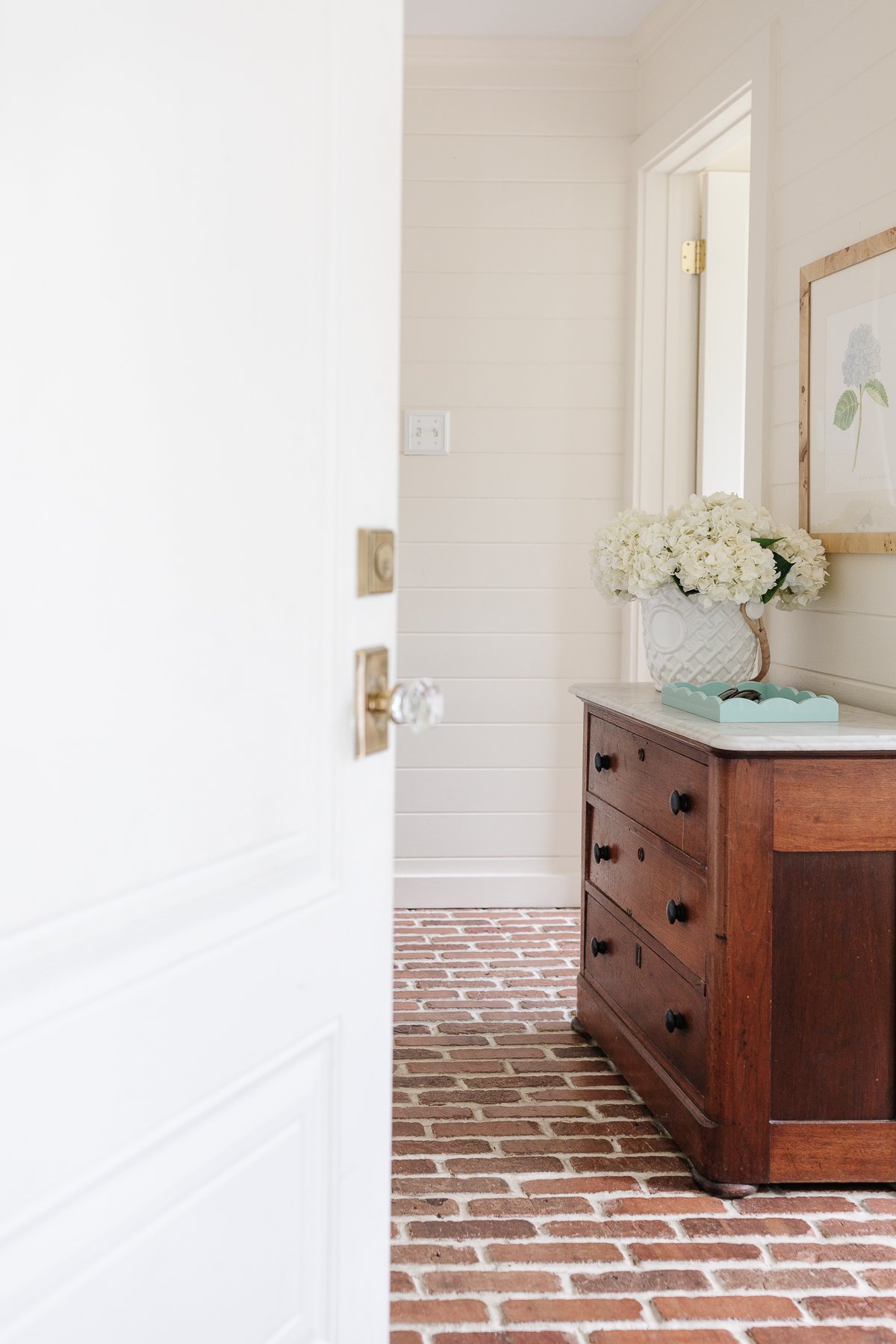 How to Create a Mudroom Space
Think you have no space for a mudroom? Think again! A mudroom can be created in an entryway, in an un-used closet, a laundry room or even in the garage.
By adding a few essential components, you'll have the perfect drop zone for coats, shoes, backpacks and more. Try the following ideas!
Use an Empty Wall – Create a mudroom on an empty wall in the entryway. By adding a few hooks, a bench and some baskets, you have a simple mudroom setup.
Closet Converted Mudroom – Take the doors off a closet and you've got a nook that's instantly conducive to a mudroom. Build a simple bench, add some hooks to the wall and baskets for storage, and voila – the cutest little mudroom is now yours.
Garage Mudroom – If space in your entryway is a problem, consider creating a mudroom in the garage like we did at the lake, using affordable Peg Rail and Beadboard.
Drawers and Doors – If budget allows, affordable lockers or cabinets are a great way to hide everything behind doors.
Track System – Installing a track system is a great way to utilize the empty walls many of us have in garages as a mudroom. Not only can you add baskets and racks for your usual mudroom items, but it can also serve double duty by creating a space for workout gear and sports equipment that you may not want to bring into the house.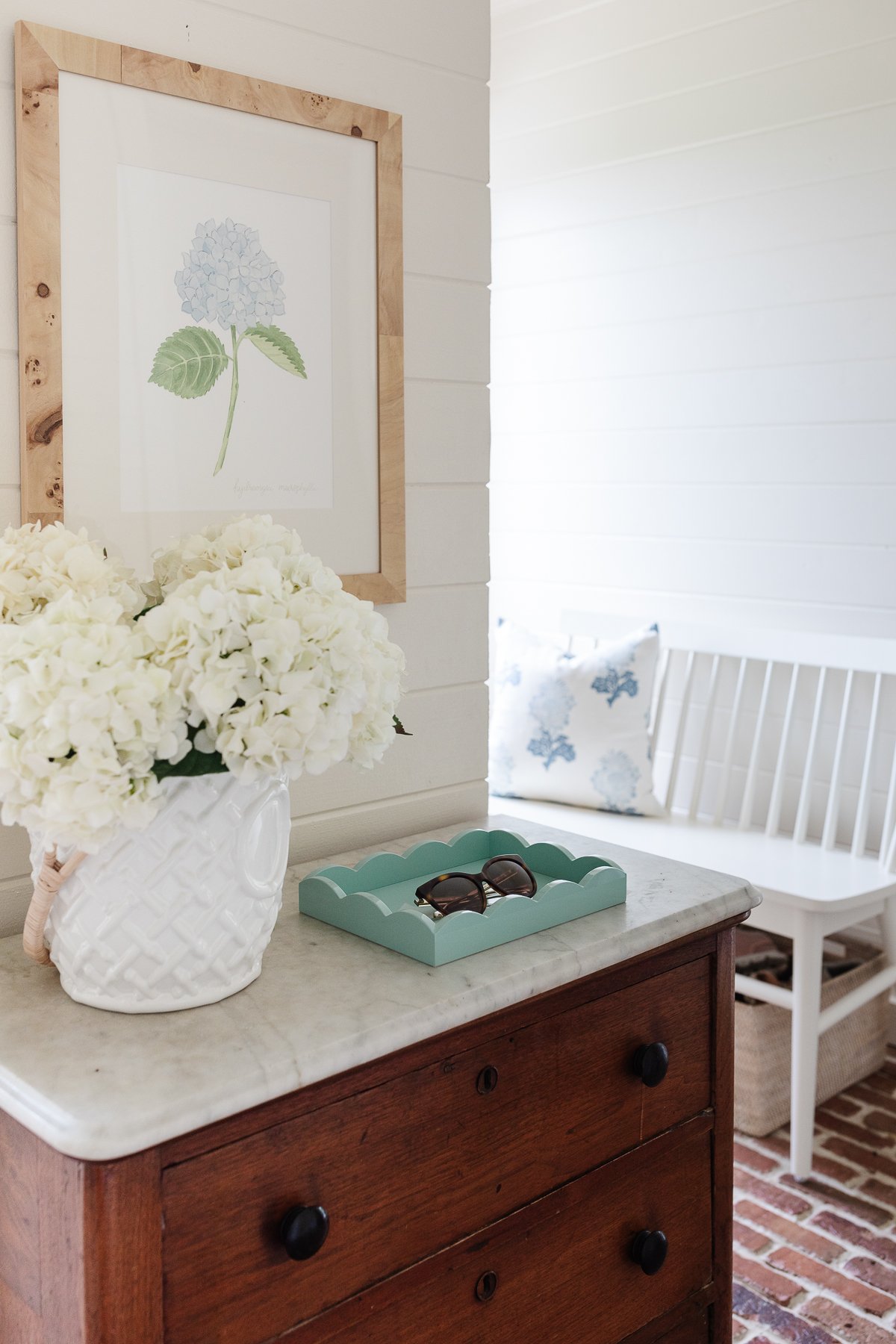 Our Mudroom Ideas
Here are some fun features of our mudroom to inspire you as you design your own space! Learn how we have carved out space for a mudroom in various homes over the years!
This may seem like a surprising choice to some, but they are one of the best flooring choices for a mudroom for several reasons.
Brick floors are inherently non-slippery. They are also incredibly durable. Mudroom floors see a lot of wear and tear – think of how many times a day you enter and leave your house.
Many of us feed our pets in mudrooms, too, so the floor needs to be able to withstand spilt water and food as well as sharp claws.
Brick floors are amazing dirt catchers. The dirt from sneakers and boots falls right into the crevices and dries up, making it easy to vacuum.
Finally, brick looks beautiful and it's low maintenance. It's classic, timeless and adds character to a home. Just because a mudroom needs to be a highly functional space, doesn't mean it can't also be a pretty one!
Regardless of the floor you choose, make sure that it is low maintenance and easy to keep clean!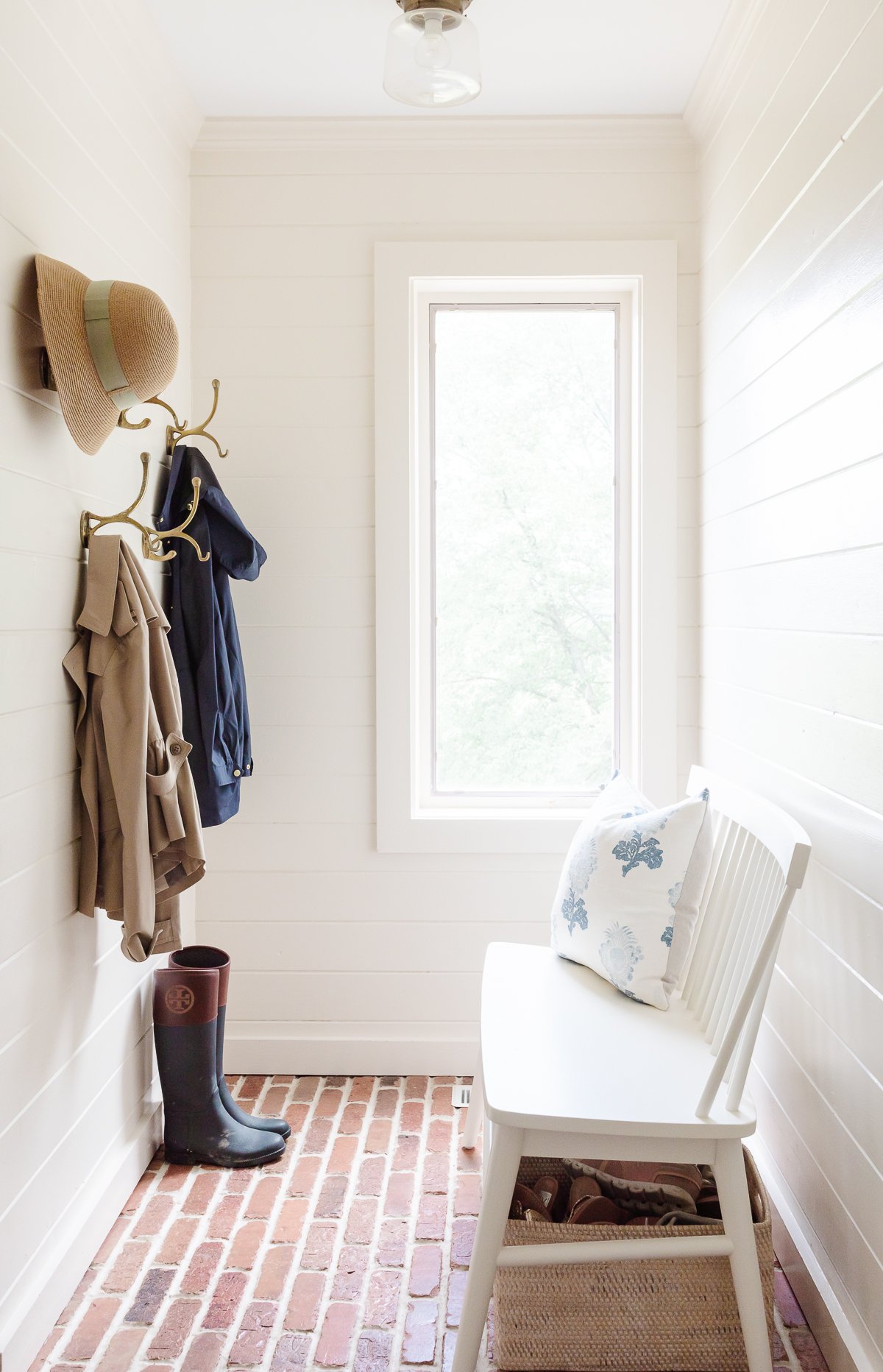 Cedar Paneling
If you are starting from scratch creating your mudroom, you may be wondering whether to install traditional drywall or if there's another more low maintenance option.
While drywall, properly sealed and painted, is perfectly acceptable, tongue and groove cedar walls are another option that's both durable and low maintenance.
Cedar planked walls easily wipe clean and add a sense of warmth and character to an otherwise utilitarian space in the home.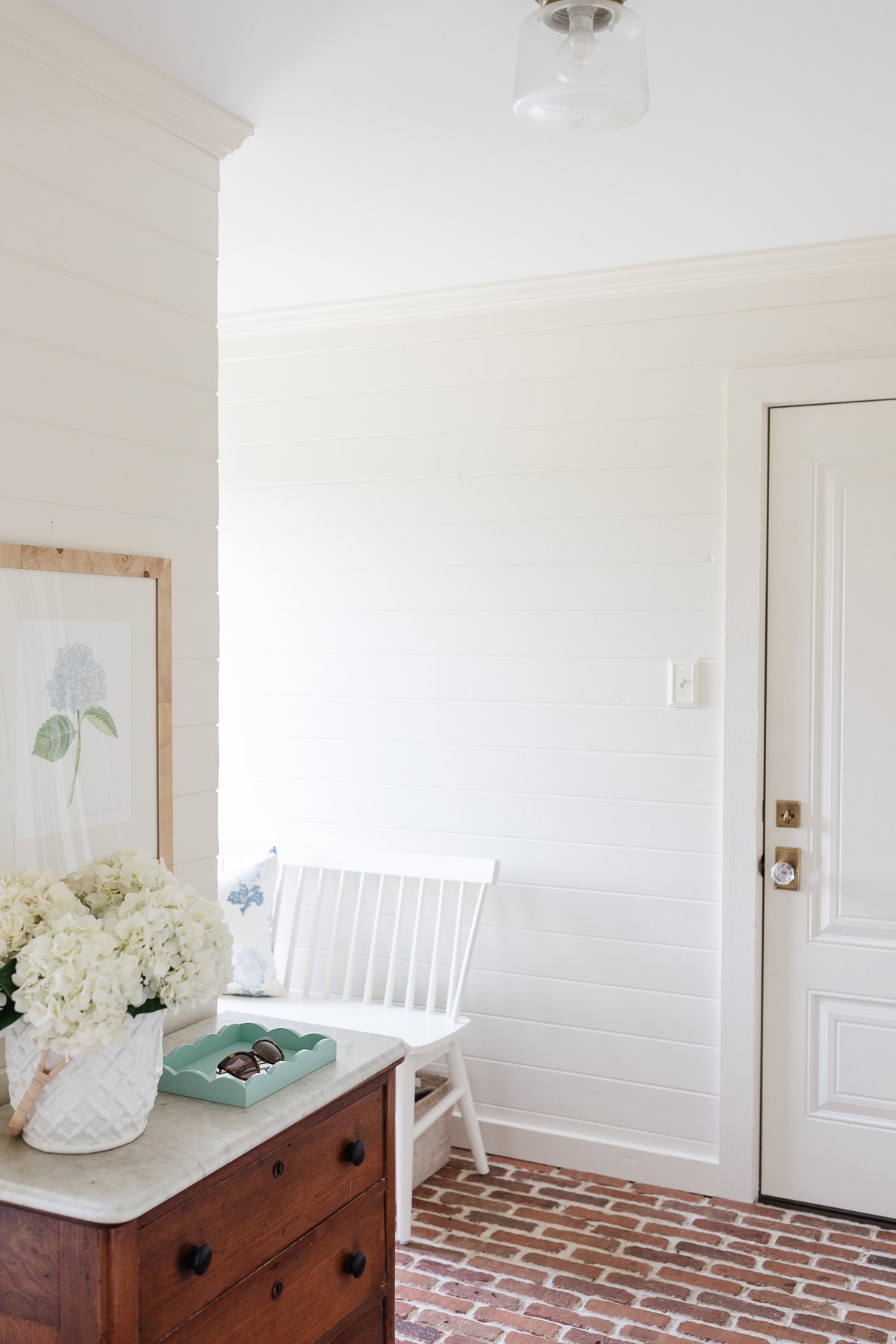 Mudroom Bench
Having a seating area in the mudroom is essential to be able to sit down and take shoes off or put them on.
An entire mudroom can be custom built from scratch to include built in benches and all sorts of fancy organization systems. But sometimes simple is better.
By using furniture rather than built-in storage, a mudroom can transition with a family's needs as children get older. Simply switch out the bench for a larger one as needed.
A mudroom bench adds flexible seating for our girls to put their shoes on, which are stored in the baskets below.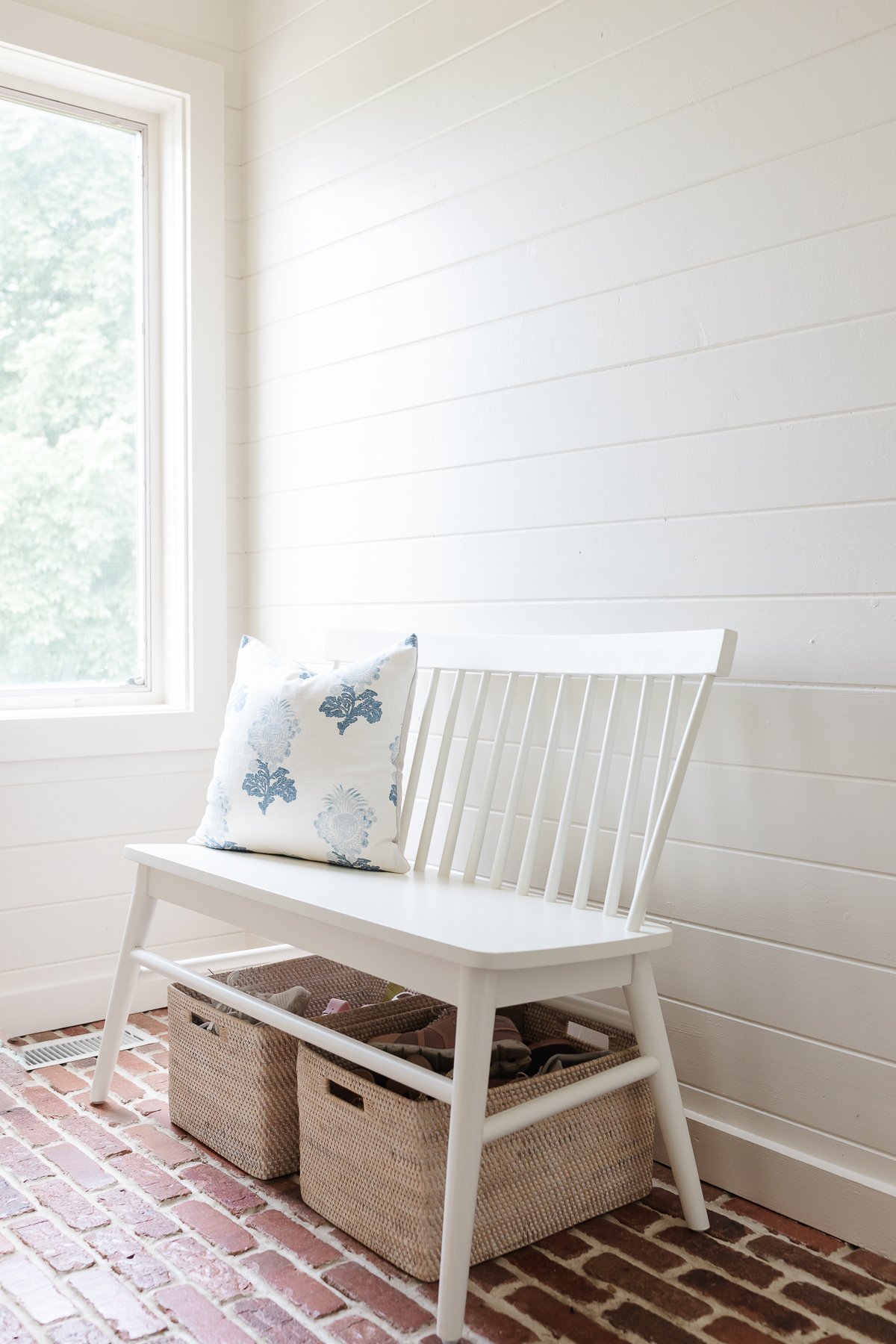 Drawers or Cabinets
Additionally, a three drawer chest that I found at an estate sale acts as a storage spot for spare keys, sunscreen, hats and accessories, so that we can grab them quickly when we're on the go.
Read all about our Mudroom Storage and Organization ideas if you're looking for more mudroom organization and functionality in this room of your home!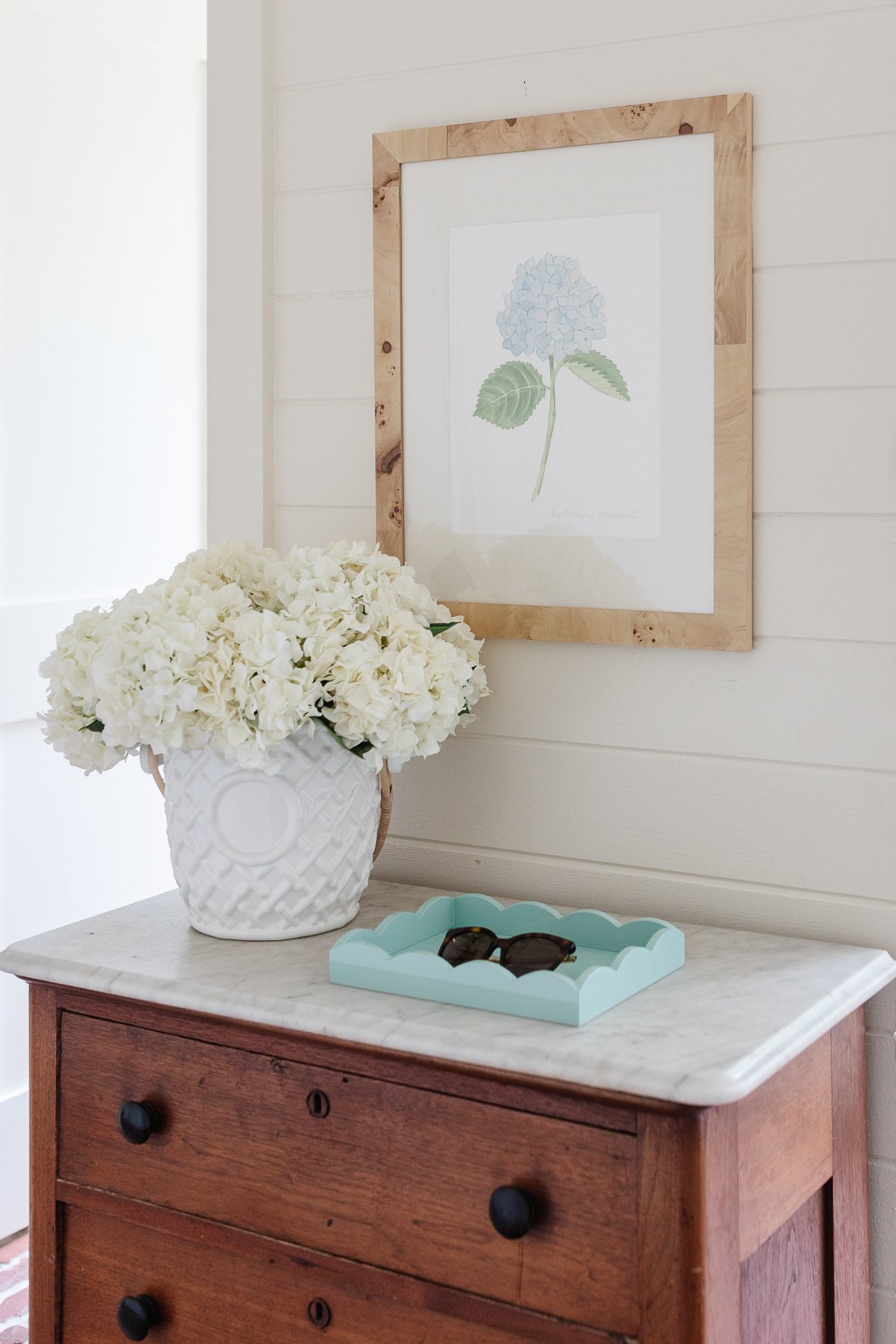 The second most important part of a mudroom, besides shoe storage, has to be having a spot for coats and backpacks (and leashes!).
Even a small space can accommodate several hooks if they are staggered. Kids' hooks can be placed lower so that it's easy for them to hang up their belongings.
A designated hook for each family member also helps everyone put their jackets and bags in the right spot every single time.
Hooks are another item where you can bring in your design style. Hooks come in a variety of styles and finishes, from antique brass to matte black and chrome.
While our hooks were from a local boutique, you can find many similar options at the link above!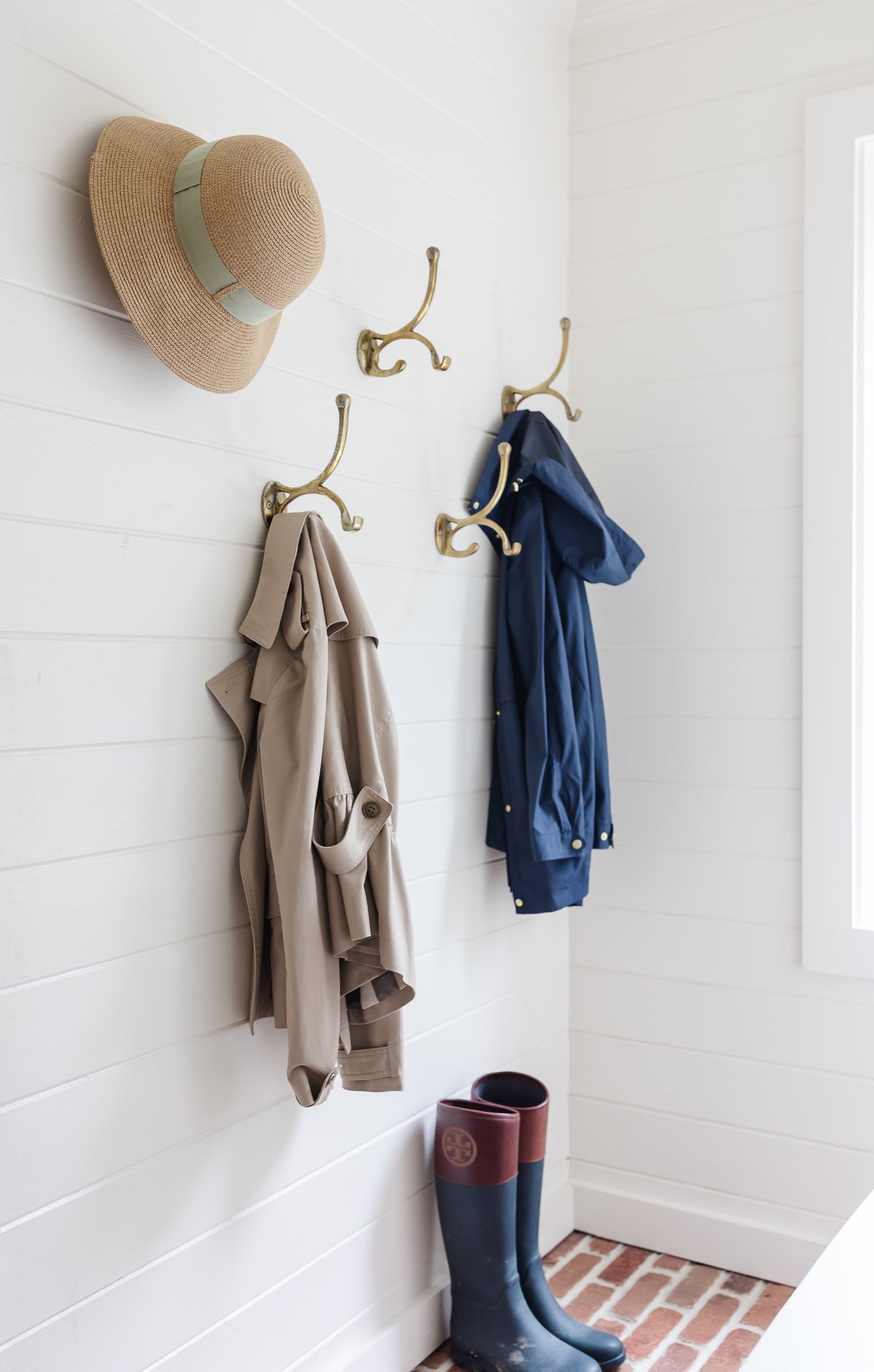 Add a Catch-All
Use a basket or a tray for a drop zone when you enter your home. We are always in a rush coming in or out – so why not make life a little easier? A tray can keep items like phones, sunglasses and keys corralled into an organized spot.
If you've got to have them, you might as well make them look good, right?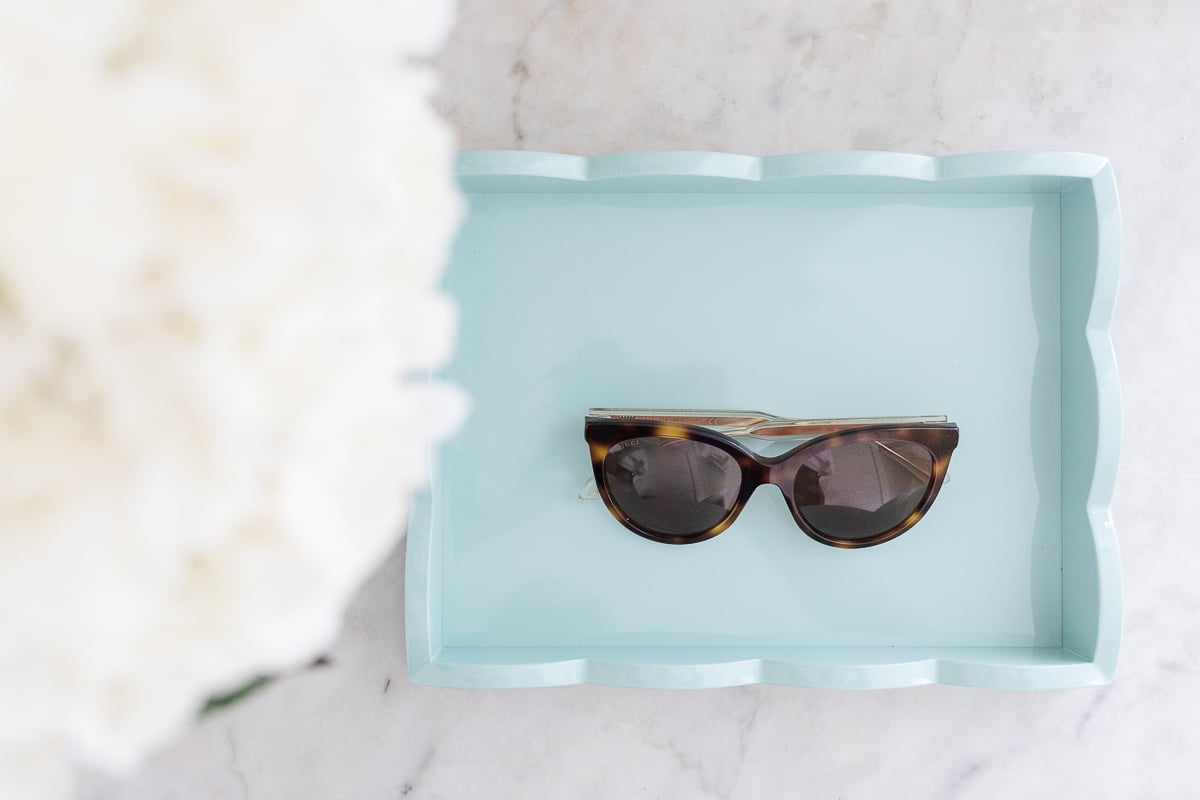 Shop this Post