Mascarpone Cream is a rich, creamy topping for panettone, pandoro, colombo, classic cakes, pies, and more! It's made with just 4 ingredients in a few minutes.
Unlike whipped cream, it is stabilized, so it can be made ahead while retaining it's luxurious texture and shape!
Layer this decadent dessert topping between ladyfingers to make tiramisu, fill cream puffs, serve with fruits for a light dessert, or serve as a Mascarpone Fruit Dip. It's incredibly versatile!
Mascarpone is an Italian cream cheese made from heavy cream and citric acid. It's a double or triple cream cheese with high fat content. It's amazing for sweet and savory recipes like egg ravioli and pear ravioli.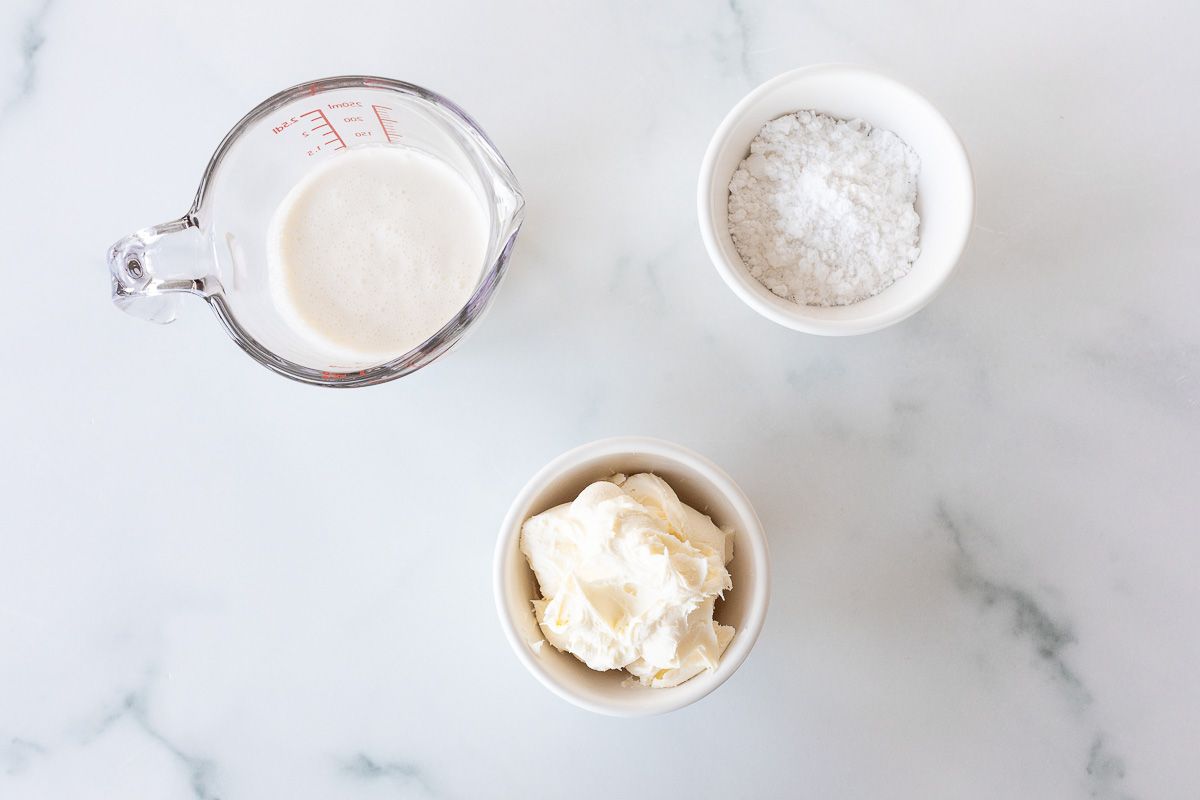 Heavy Cream – Heavy whipping cream, also known as heavy cream, has a high fat content. It makes it luxuriously cream and adds rich flavor. When you beat it, it traps air making it light and fluffy. Substitute with half and half to reduce fat.
Mascarpone Cheese – An Italian cream cheese that is incredibly rich and has a velvety texture. Bring the cheese to room temperature for the best results.
Powdered Sugar – Also known as confectioner's sugar, this fine sugar sweetens while maintaining a silky smooth texture. Add more to thicken the cream, if you prefer.
Vanilla – Pure vanilla extract, vanilla bean paste add a hint of flavor. Substitute clear vanilla if you prefer a whiter topping.
Substitute your favorite extract – almond, orange, and lemon pair well with mascarpone.
How to Make Mascarpone Cream
Beat heavy cream until foamy and thick. Beat in mascarpone and vanilla until it starts stiffening.
Slowly incorporate powdered sugar. Refrigerate until serving.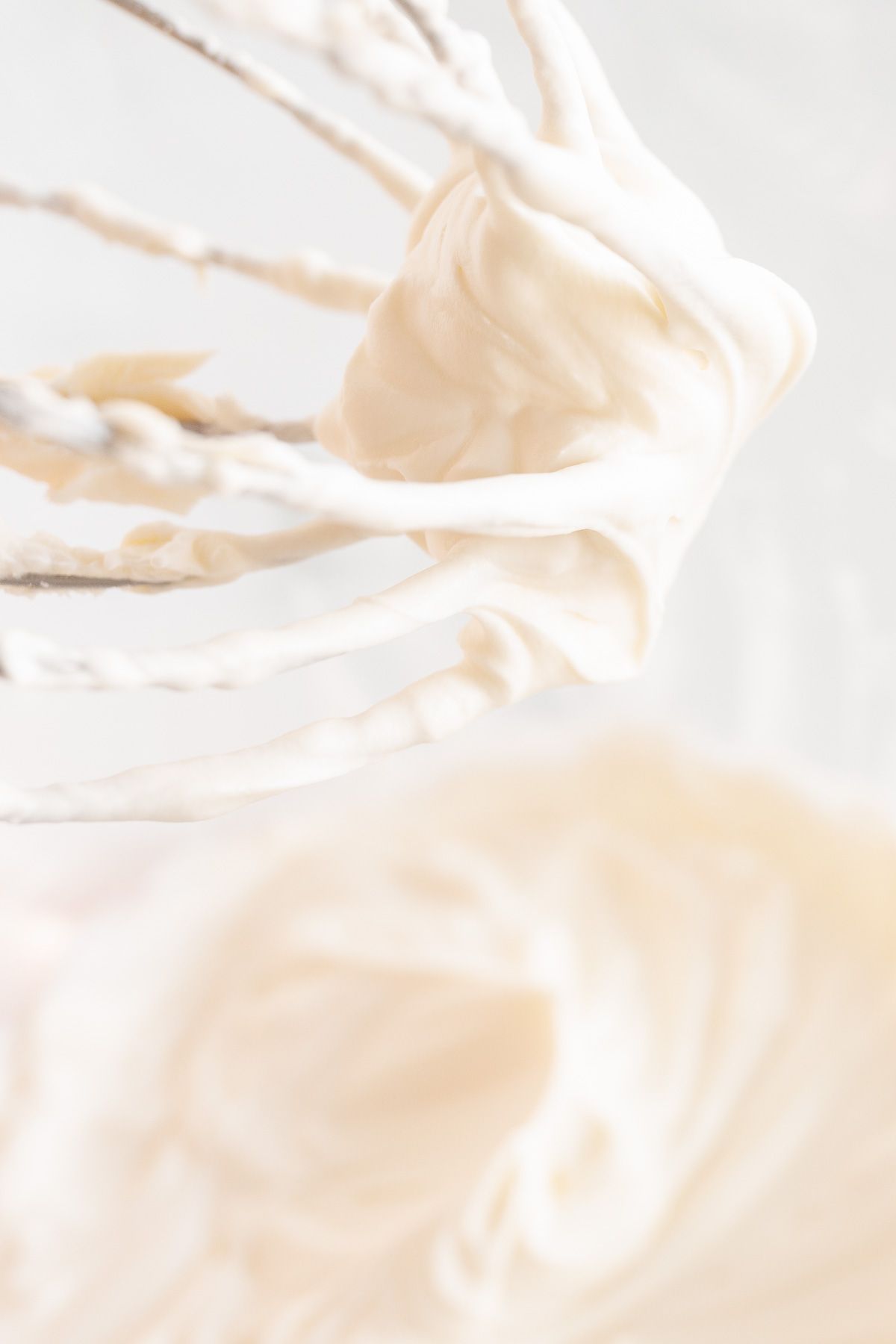 What is difference between cream cheese and mascarpone?
Cream cheese is firmer, bolder, and more acidic. Mascarpone is velvety and richer, because it is higher in fat.
What can I substitute for mascarpone cheese?
You can sub with cream cheese in a pinch, or try this homemade creme fraiche!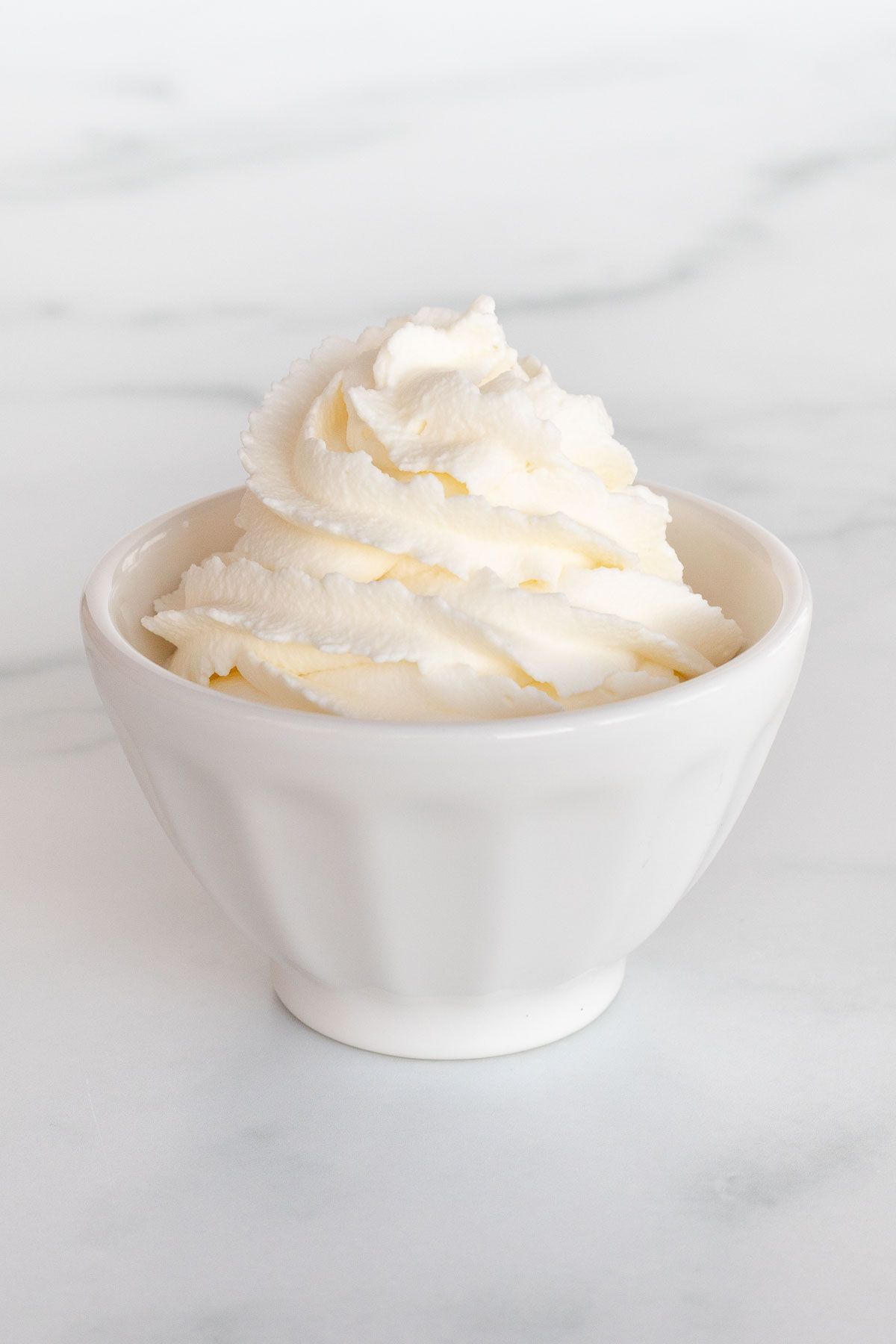 Make Ahead
Make this mascarpone cream up to 48 hours in advance of serving!
How to Store
At Room Temperature – It will keep up to two hours at room temperature to serve.
Refrigerate – Store in an airtight container and refrigerate up to 4 days.
Freeze – Do not freeze. It can become grainy when defrosted.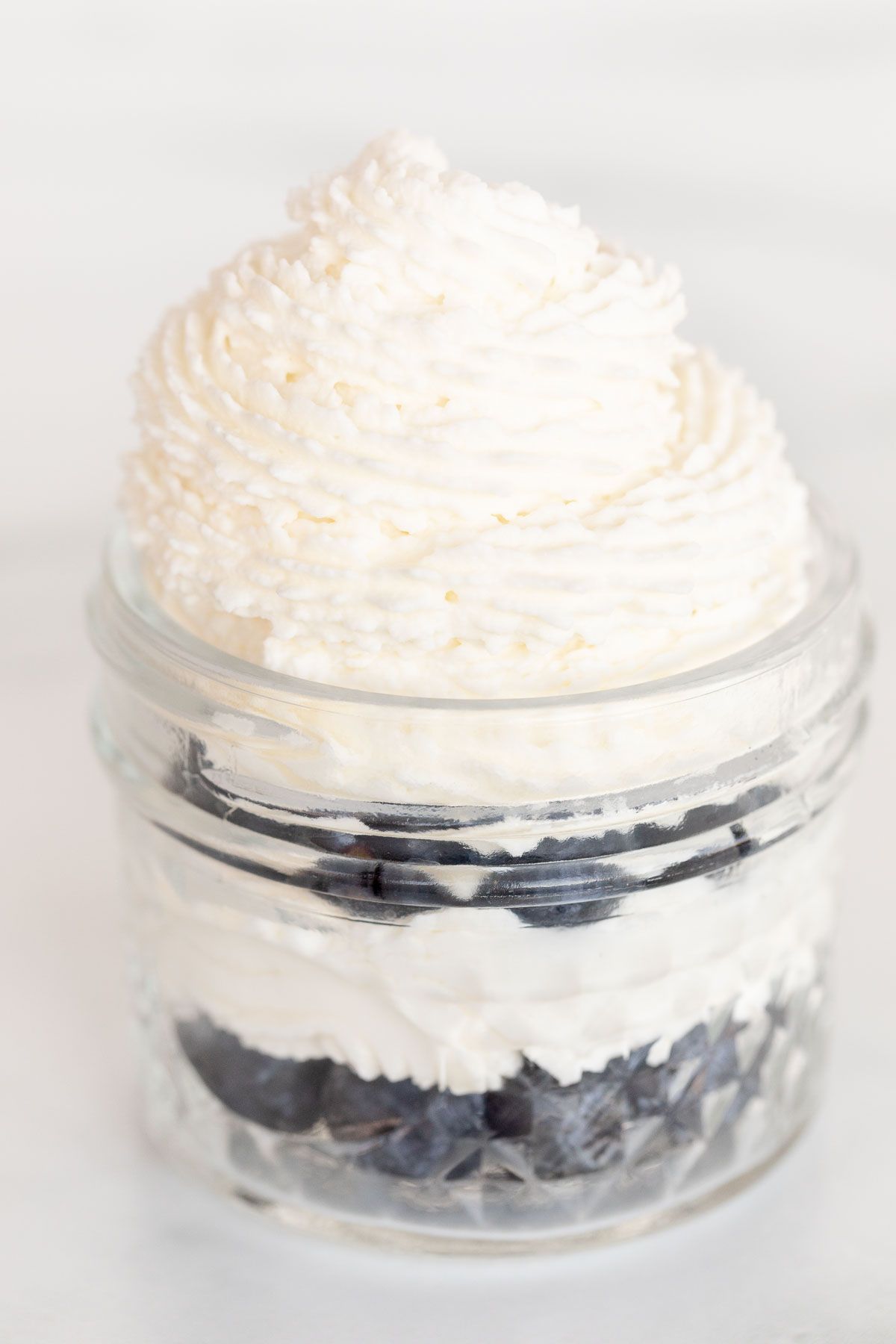 Dietary Considerations
Gluten Free
Vegetarian
Nut Free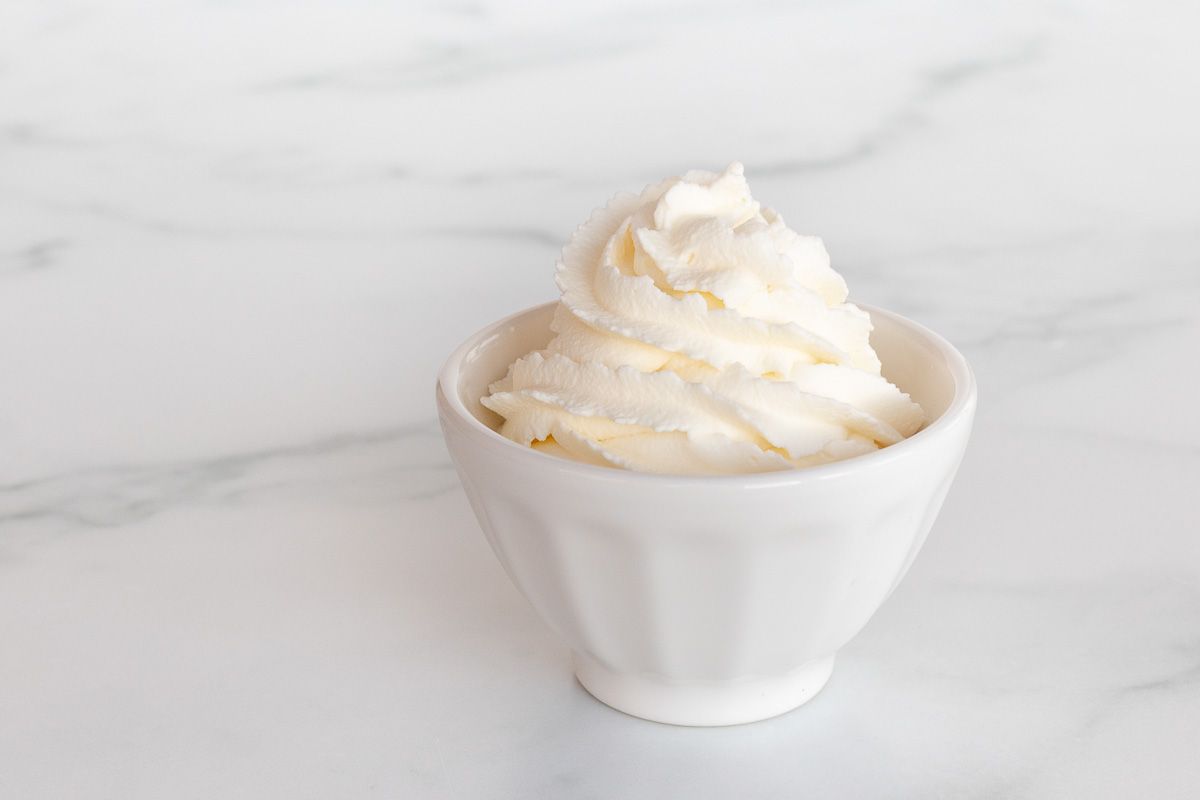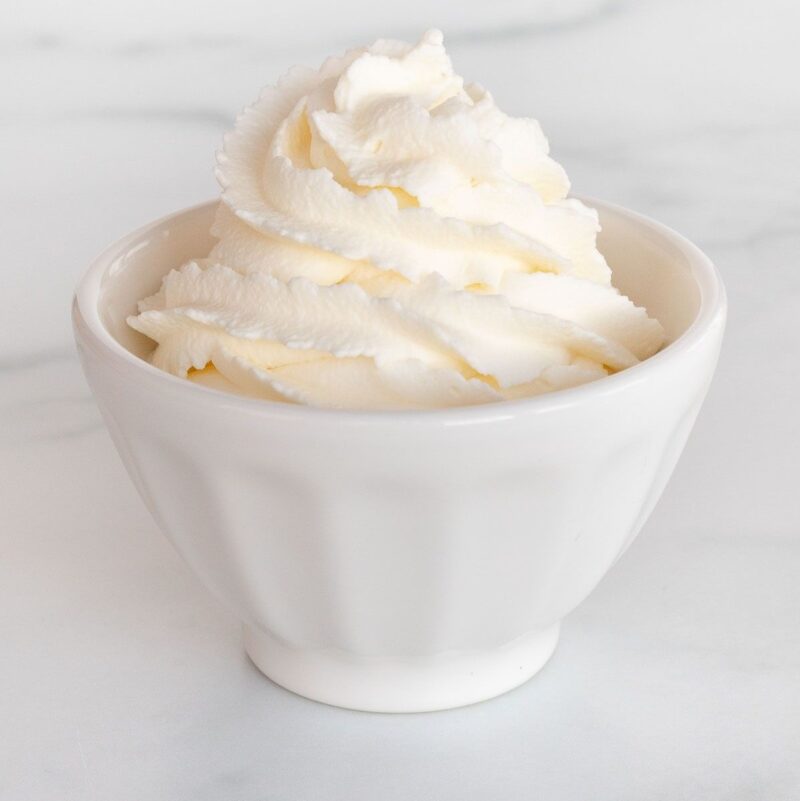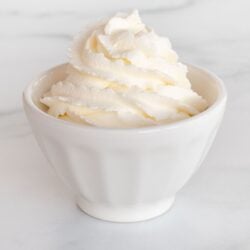 Mascarpone Cream
There's so much to love about this incredible mascarpone cream recipe. It's a lot like whipped cream, but richer, creamier and even more delectable! Learn how to make it and serve it with all your favorite desserts, taking them to a whole new level.
Ingredients
½

cup

heavy whipping cream

½

cup

mascarpone cheese

room temperature

¼

cup

powdered sugar

½

teaspoon

vanilla extract
Instructions
Beat heavy cream until foamy and thick. Beat in mascarpone until it starts stiffening.

Slowly incorporate powdered sugar. Refrigerate until serving.
Tips
Tips
Freeze mixing bowl.
Use room temperature mascarpone.
Do not overmix.
Calories:
173
kcal
|
Carbohydrates:
6
g
|
Protein:
2
g
|
Fat:
16
g
|
Saturated Fat:
10
g
|
Polyunsaturated Fat:
1
g
|
Monounsaturated Fat:
2
g
|
Cholesterol:
46
mg
|
Sodium:
18
mg
|
Potassium:
15
mg
|
Sugar:
5
g
|
Vitamin A:
554
IU
|
Vitamin C:
1
mg
|
Calcium:
39
mg
|
Iron:
1
mg
Estimated nutrition information is provided as a courtesy and is not guaranteed.
Explore More