With a little time and effort, we transformed an outdated mudroom laundry room into a pretty space that is 100% functional. Check out all of our budget-friendly design choices and why they work so well.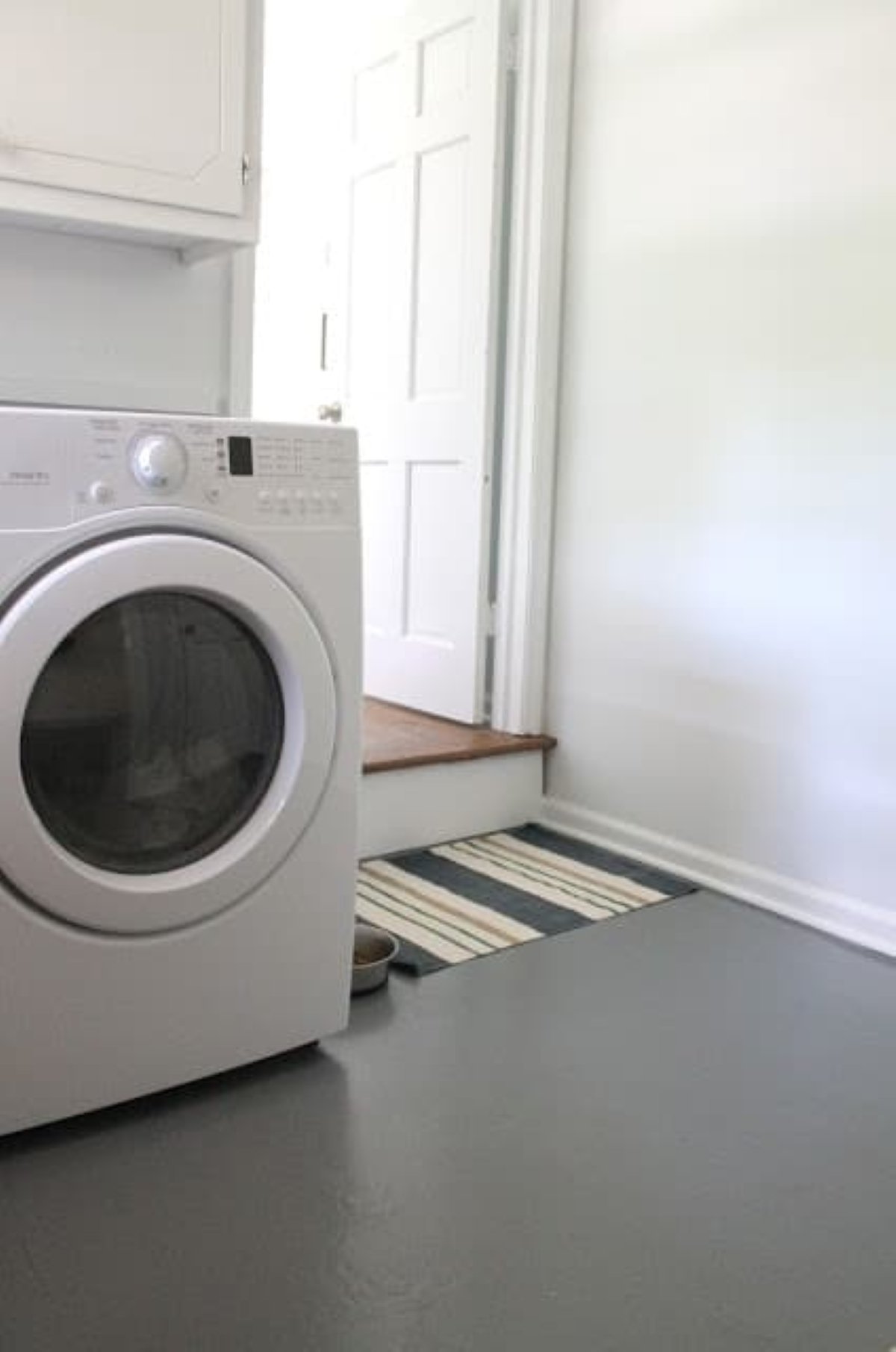 When we were house shopping for our last home, a mudroom laundry room on the main level was a must have. The one we ended up with wasn't very pretty. It had navy blue carpet from the 1960s and was covered in dirt and dust.
However, it did have some things going for it. Like I said, it was on the main level, which meant doing the laundry would be a breeze during the course of the day.
It was also right off the garage, making it the perfect place to enter the house and kick off coats, backpacks, and dirty shoes. That meant those things would stay out of the rest of the house. That in and of itself is a small victory!
I knew with some creativity, organization, and elbow grease, this small mudroom laundry room could become a functional powerhouse for our family.
Keep reading to see how we took this space from drab and dreary to light and fresh – and to see how it worked for our family!
Mudroom Laundry Room Before
First, here are some before photos, so you can appreciate how far this space came. Those dark closet doors and dated window treatments weren't doing the room any favors.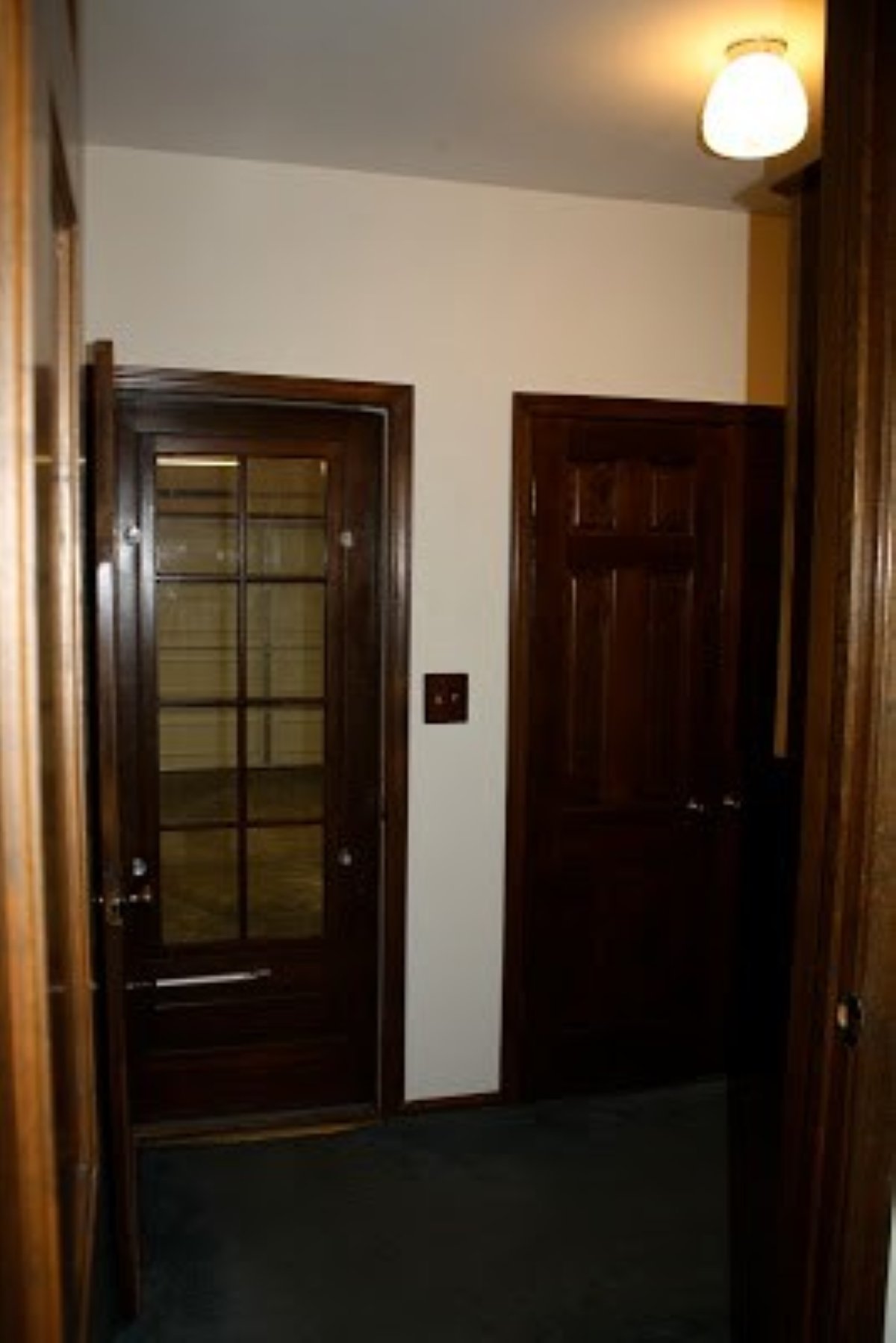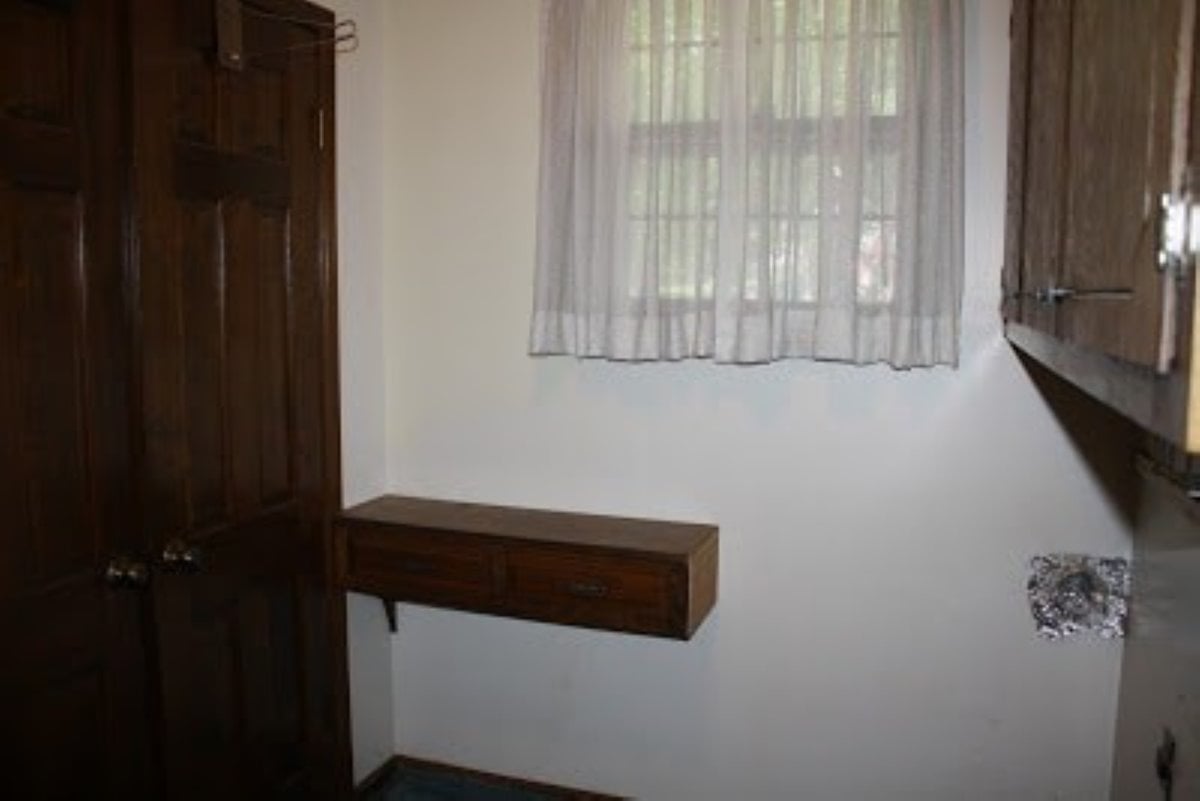 Laundry isn't my favorite chore to do to begin with. Having a space that was cheerful and bright made the task a bit less cumbersome.
Try cheering up your laundry space, even if all you have is a closet. Add some potted lavender or hang a small picture or pressed botanical – anything that will make you smile when you see it.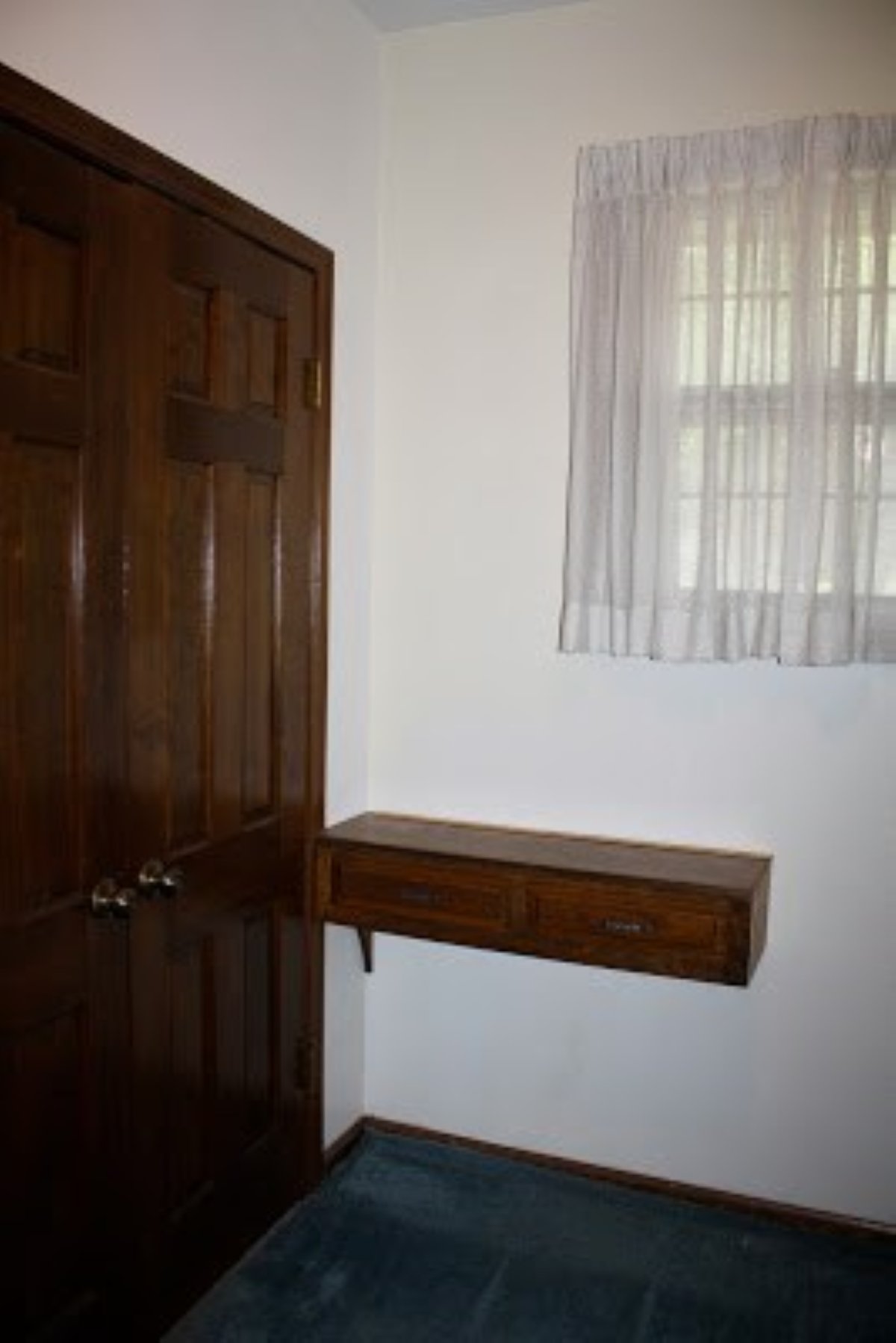 DIY Closet Mudroom
My goal was a light, fresh, cheerful space that worked hard for our family. With careful planning and a lot of hard work, we got exactly what I had envisioned.
First, we converted the dark closet into a bright mudroom, including a bench with cubbies underneath for shoes, wall hooks for bags and coats, and a shelf above for essential seasonal items. It's the perfect stop on our way in from the garage.
I designed a space that worked hard and was pretty to look at, too. We used simple curved corbels for the shelves and installed a board and batten treatment on the walls for a classic style. This was easy to do yet added so much style to the space.
I know a lot of new homes have separate mudrooms and laundry rooms. That would be nice, but I'm here to tell you that a mudroom laundry room all-in-one is totally doable and functional. Work with what you have!
For all the DIY details on our mudroom bench, click here.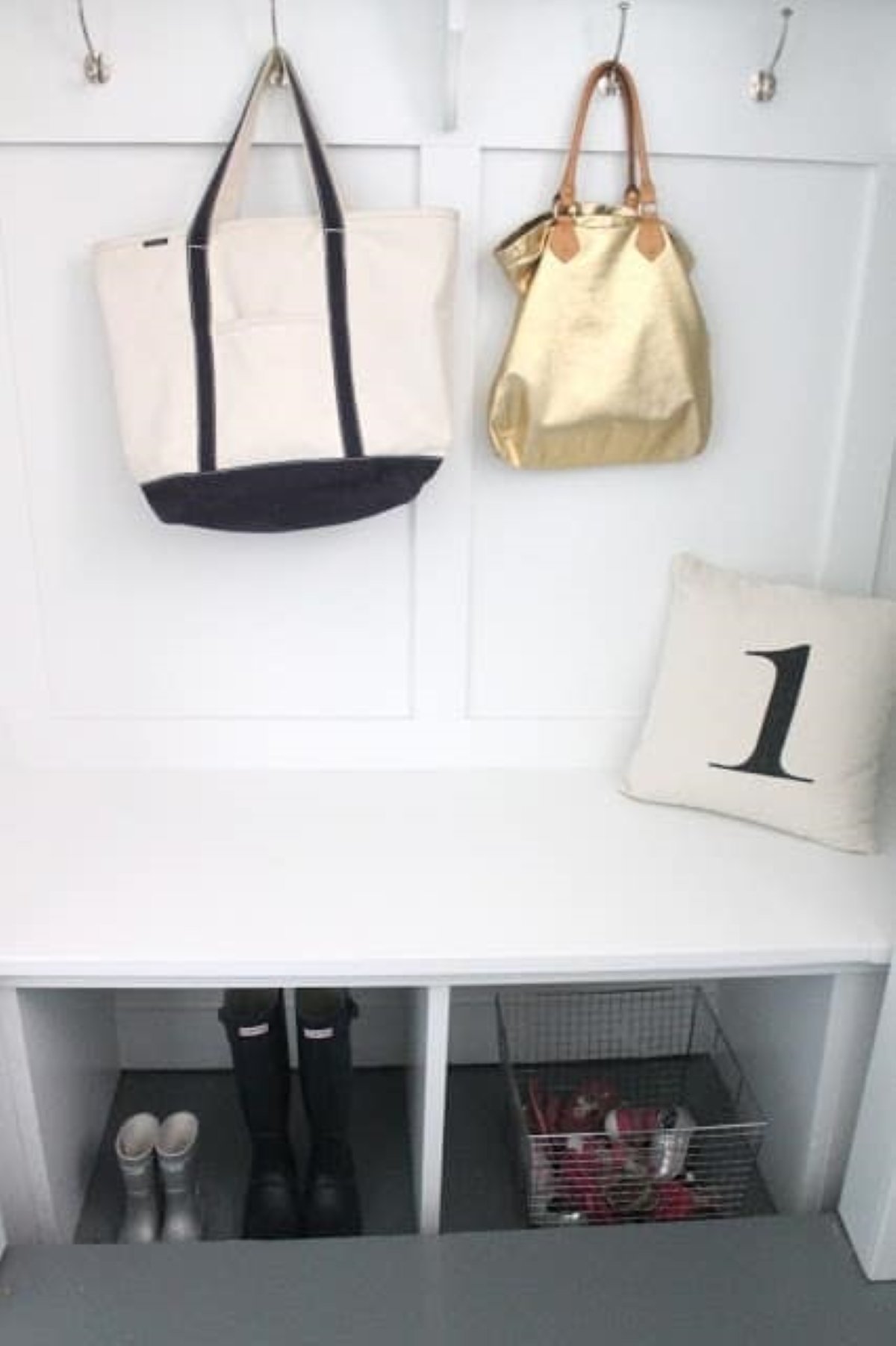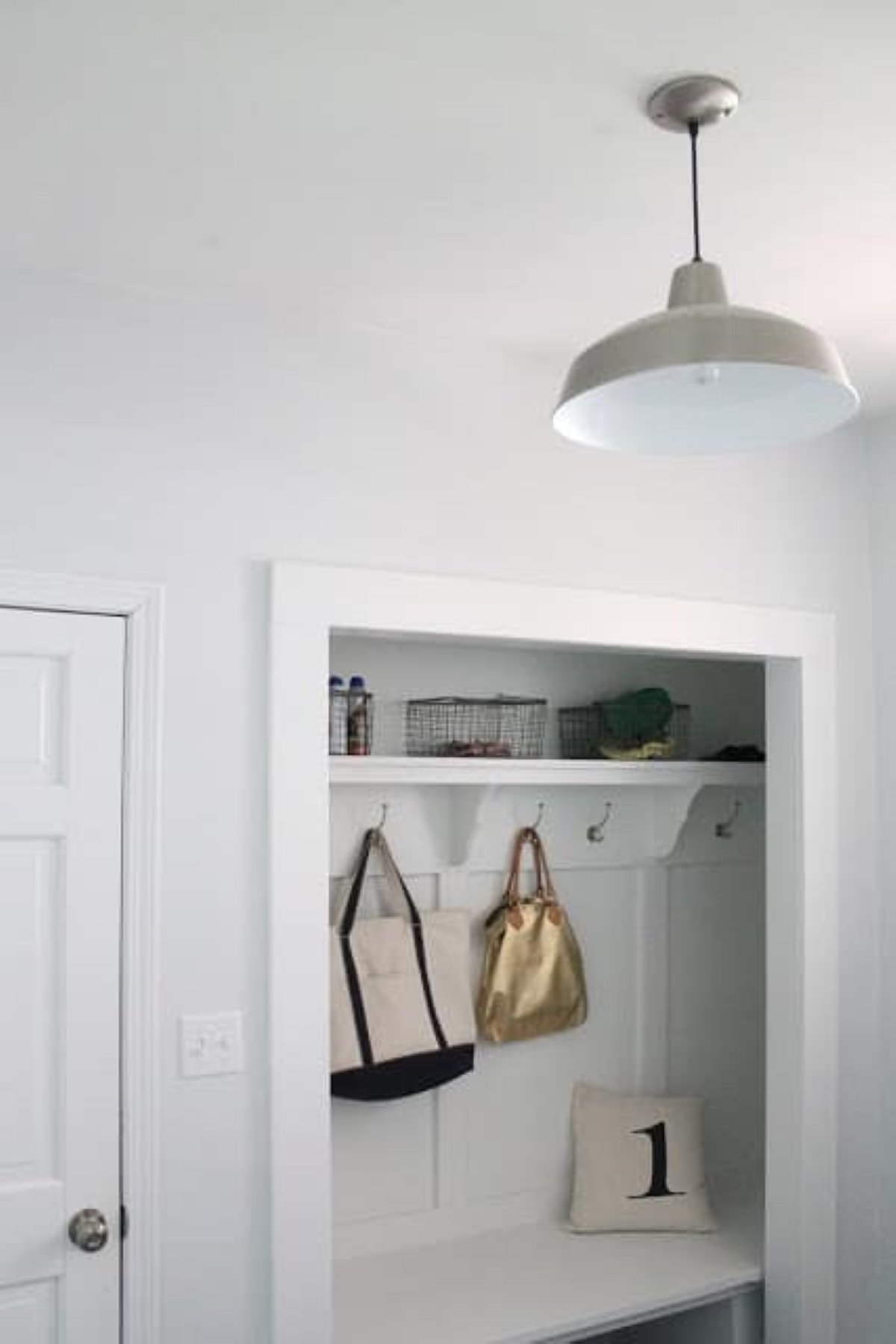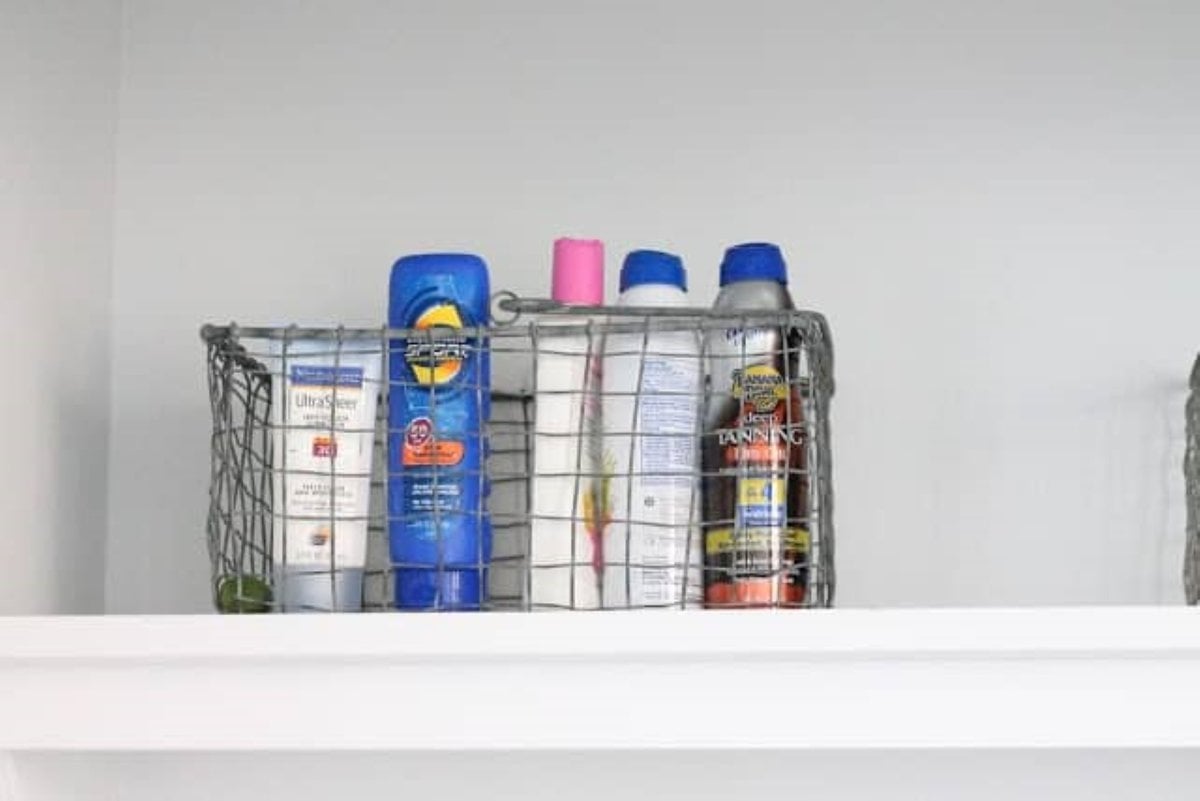 Mudroom Laundry Room Lighting
When you're updating a space, one of the most important design elements to consider is the lighting. Here are my 5 Must Have Lighting Design Tips.
When you're designing a laundry room, you have to consider the functionality of your lighting as well as its aesthetic.
I knew the light I chose for my space had to be bright enough to handle the demands of the work we'd be doing in the room. I didn't want us having to do laundry in a dimly lit space!
With that in mind, I chose a large metal pendant light with a slightly industrial vibe. It's a bit modern and it updates the space perfectly. And even though it has a single bulb, with the right kind of bulb it puts out plenty of light. The white paint on the inside helps to reflect light and bounce it around the room.
I loved the stylish vibe this light put off in this room. It was the perfect touch in this updated mudroom laundry room.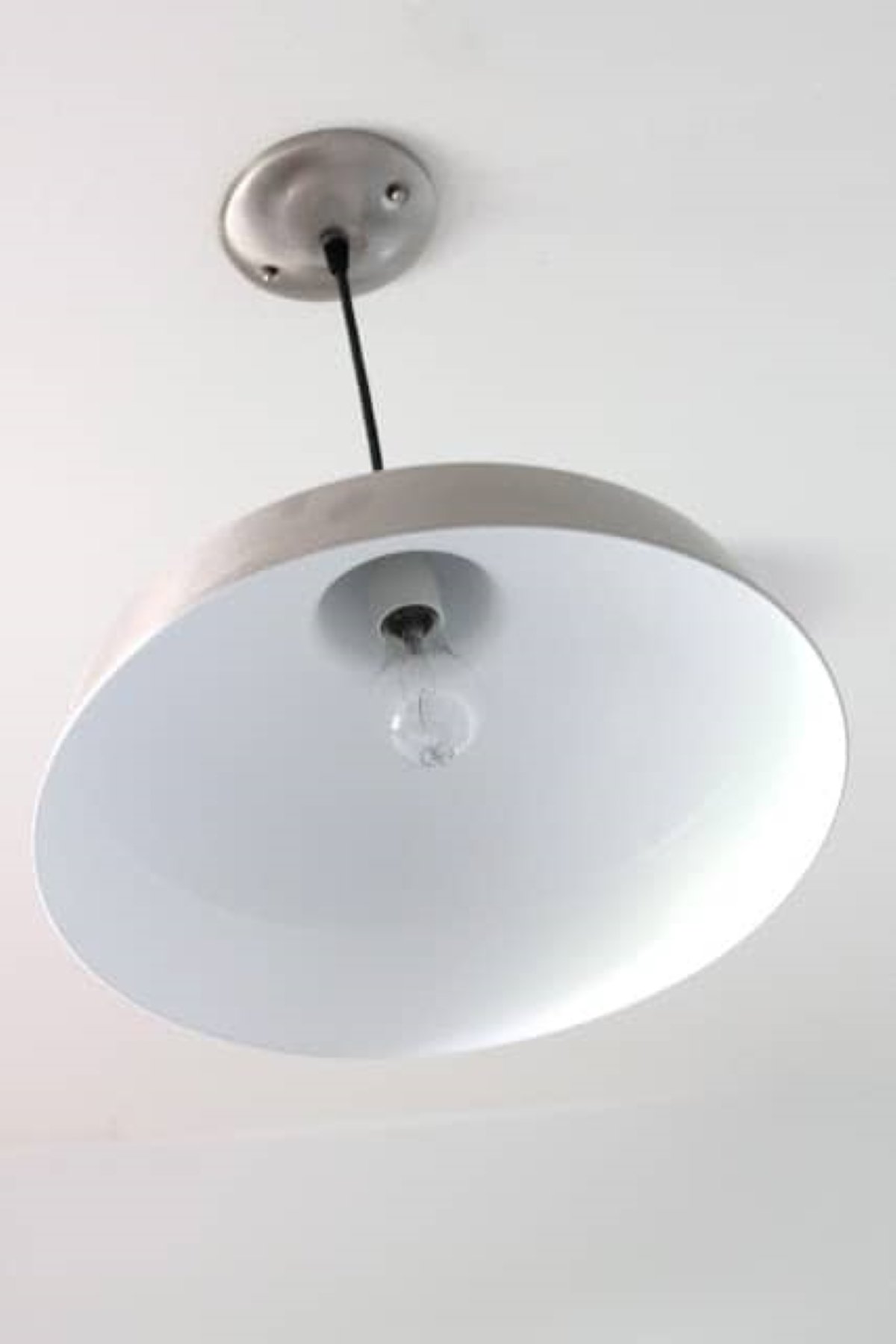 Paint Makeover
We painted everything. We painted the walls a pale gray for a soft, subtle color. Then we painted the doors, cabinets, and trim a lovely white for contrast. It pops against the gray and looks so classic and pretty.
I'm always amazed at the power of paint to transform a space. I can hardly believe this is the same dark room we started with!
Concrete Floor Paint
Yes, we even painted the floor! We used a durable concrete floor paint in a darker gray color than the walls.
At first I was a little skeptical about using concrete paint on our floors. I wondered if it would look cheap or utilitarian, but I'm happy to report that I love them!
Painted floors are perfect in a mudroom laundry room because they look great and are so easy to maintain. They are a breeze to clean, and I never had to worry about nicks and scratches. If one did happen, I could always touch it up with a little extra paint. It was so nice to have a floor I didn't have to worry about at all!
For all the details on how we did our floor, including the best concrete paints and products, check out my post on How to Paint Concrete Floors.
Stop by to read about how to add charm with a vintage-inspired Wall Sink for your laundry or utility room!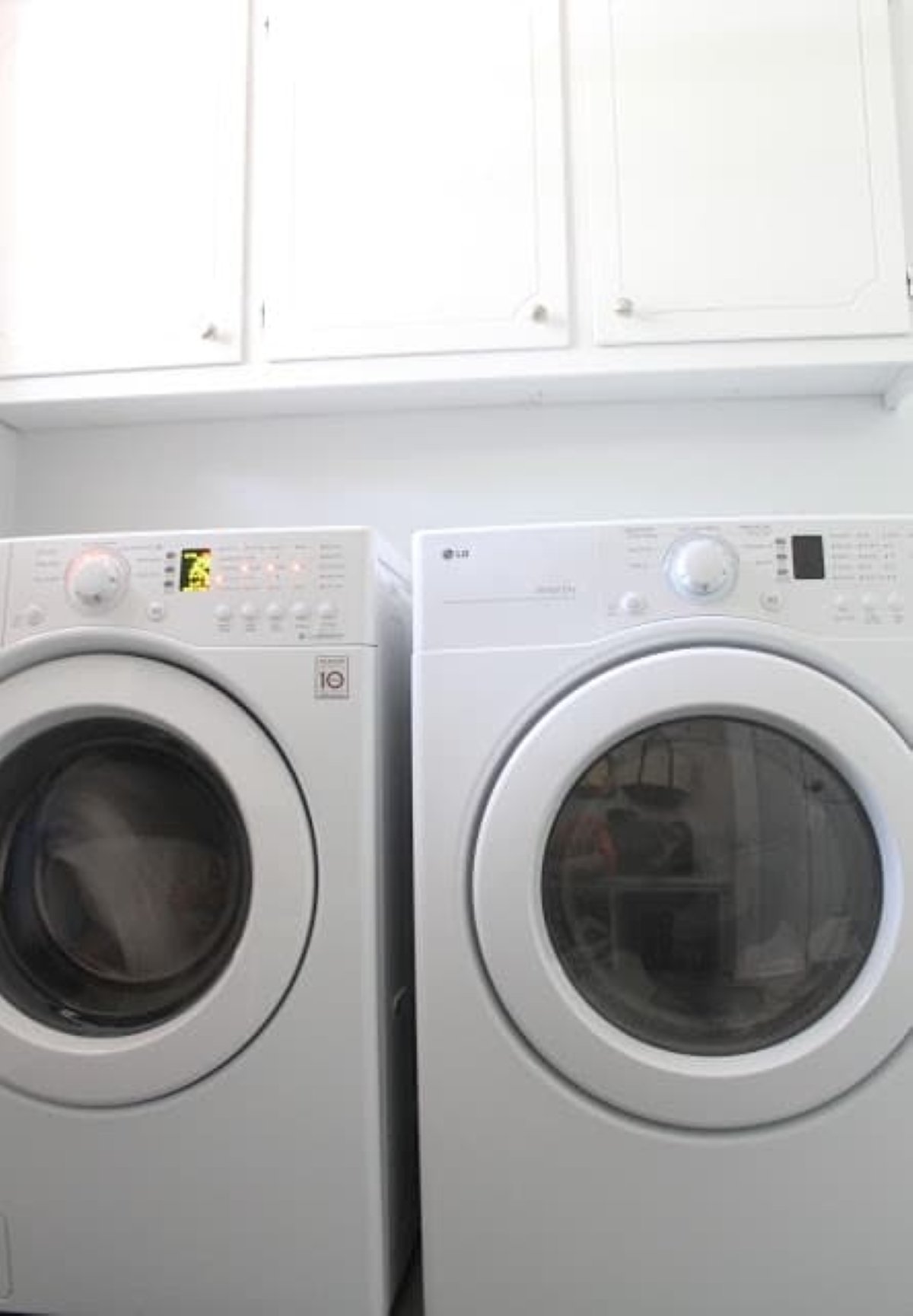 Built Ins
At first we had planned to add a countertop over the washer and dryer, to use as a place to iron and fold clothes. We never did get around to it. While it would have been nice, it turned out I didn't really miss it. The space was completely functional without it!
Fresh paint and new hardware made these cabinets feel like new! They held everything we wanted within reach but didn't want to showcase – dog food, a leash, medicines, laundry detergents, touch up paints, and so much more.
This room served so many functions for our family – and for our family pet, too! Our dog Dusty had his bowls here, nestled just below the stair to our kitchen.
This space was perfect, because it was easy for him to get to but it was still out of the way. And when the occasional mess happened, it was so easy to sweep up off of the concrete painted floor.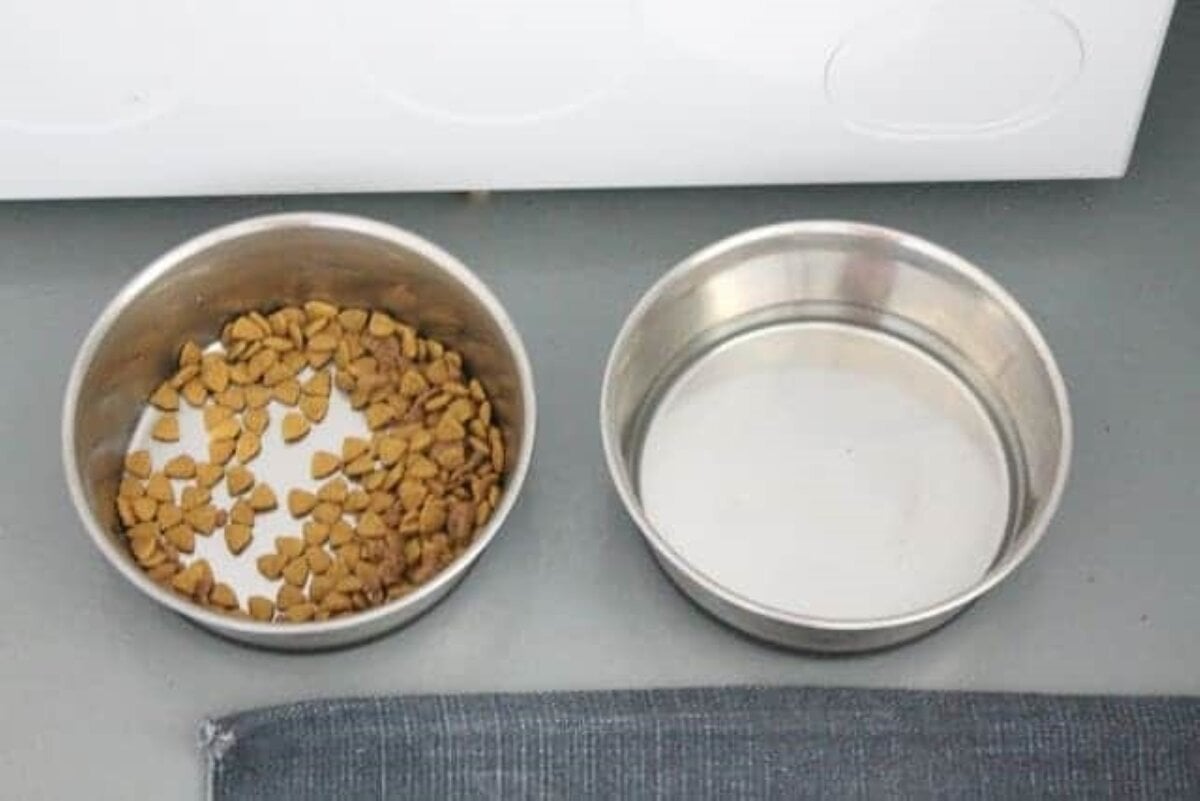 It may sound crazy, but this became one of my favorite rooms in this house. I loved how hard it worked for our family.
Take a look at your space. Maybe you have a dedicated mudroom and a separate laundry space. Or maybe you're like me and have a combined mudroom laundry room. Or maybe you don't have either and instead you have a laundry closet.
Whatever you have, consider how you can improve it to be more functional and better meet your needs. Does it need a shelf, some hooks, or a hanging rod for clothes? Could it use some fresh paint or a new rug?
Put your space to work for you. You'll be glad you did!