These lavender pots make the sweetest gifts for friends, neighbors, or just for yourself! Lavender is easy to plant and maintain, and it is a beautiful addition to any room, porch, patio, or tablescape.
Lavender is a flowering plant original to the Mediterranean. However, its round shape, vibrant purple flowers, and lovely scent make it a favorite around the world. The fact that English lavender and French Lavender are easy to plant and care for is another plus.
Planting your own lavender pots is a simple, quick DIY, making them a perfect accent for outdoor celebrations such as bridal showers, wedding receptions, or spring birthdays.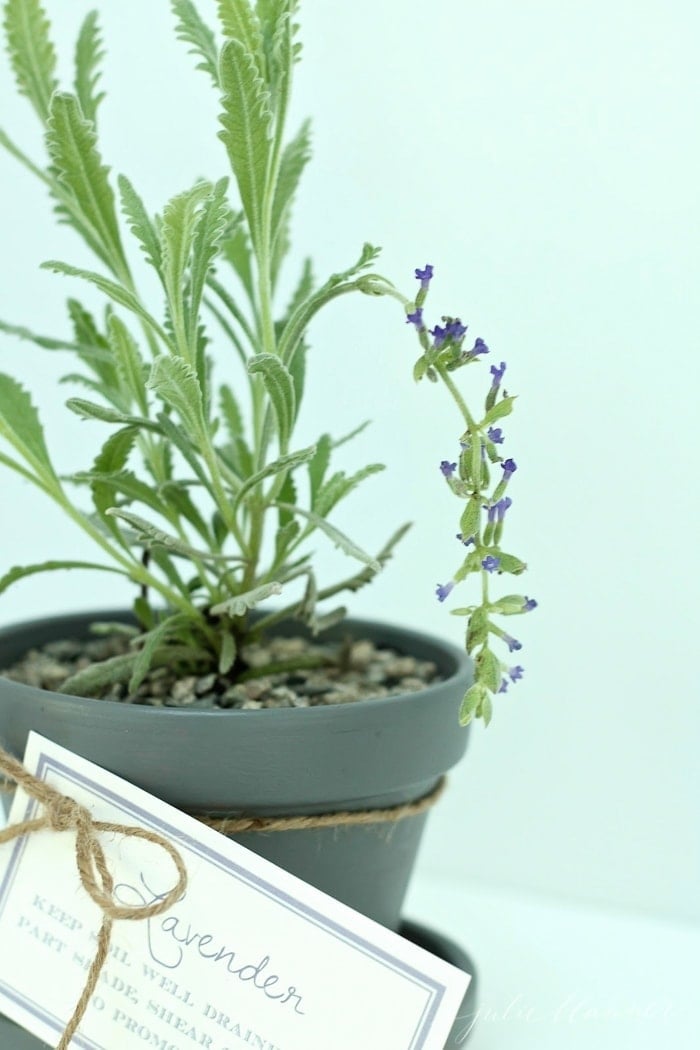 They are also an easy way to bring the outdoors into your home – their soft scent will fill your home and make everything smell clean and fresh.
DIY lavender pots would be a lovely accent in a neutral living room, on a kitchen countertop against a crisp white subway tile backsplash, or on a nightstand to brighten a small bedroom.
Gifting Potted Lavender
I've always loved lavender for its beautiful scent and its ease to maintain, but was even more inspired by it during our trip to St. Helena last Spring. I hope to find a little spare time this year to visit a lavender farm outside of St. Louis or in Kansas. And of course, I'm going to plant my own lavender this year as well!
I love gifting these sweet lavender pots to new neighbors. They are the perfect welcome gift. Along with my free care instructions printable, they also make beautiful gifts for Mother's Day, housewarming parties, or just a quick "thinking of you." It's a gift that is sure to brighten anyone's day – even your own!
One great thing about potted lavender is that it makes excellent shower favors that double as decorations. Use it as an accent at your next event, then send guests home with their own lavender plant that they are sure to love.
I personally love incorporating it in our kitchen and laundry room. The fragrance is unmistakable and very welcoming. On the patio lavender will keep pesky mosquitos at bay, while infusing the space with its soft, subtle scent.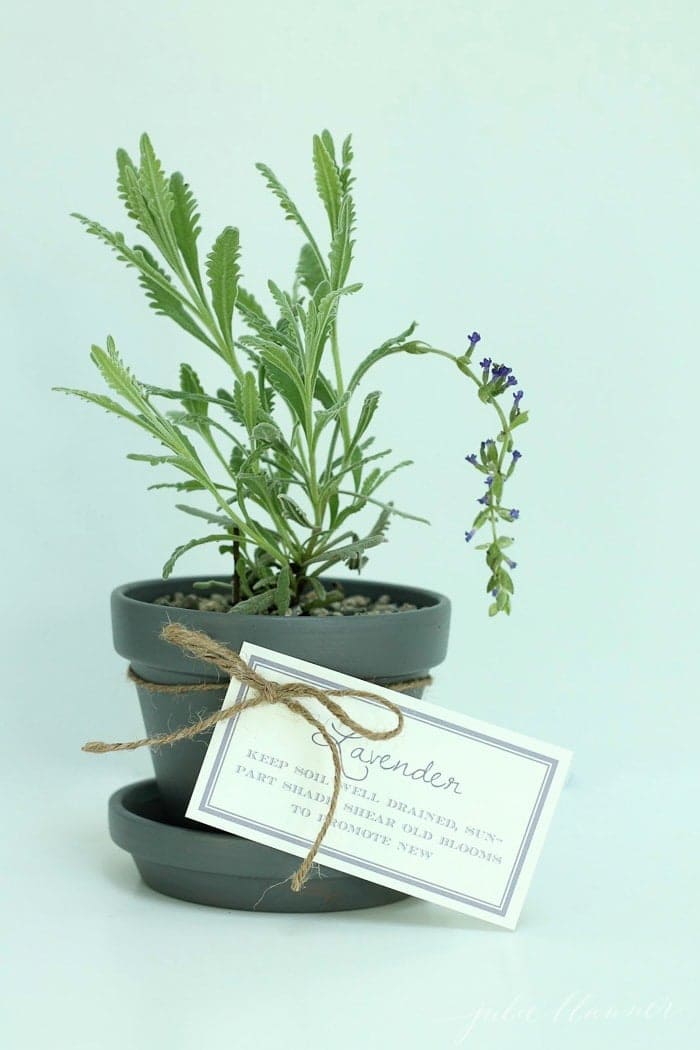 Growing Lavender in Pots
Lavender needs to have proper drainage in order to thrive. It grows best in a sandy potting mix, since this allows water to drain through more easily. Some small stones in the bottom of your pot will also help with drainage.
Once planted, lavender is easy to care for. It loves sunlight and needs at least 6 hours per day. Avoid placing your lavender pots in shade, since shade will prevent growth and diminish its fragrance.
For care, allow the soil to dry out completely between watering. Then drench it with water, allowing it to drain freely from the bottom of the pot. Never allow the lavender plants to become so dry that they begin to wilt.
Many varieties of lavender are hardy enough for heat and dry conditions. However, growing your own lavender in pots ensures that you can enjoy these lovely blooms no matter the outdoor conditions. They are easy to move inside whenever needed.
With minimal care and effort, you can grow lovely lavender plants for you, your family, and your friends to enjoy.
What You Need to Make Lavender Pots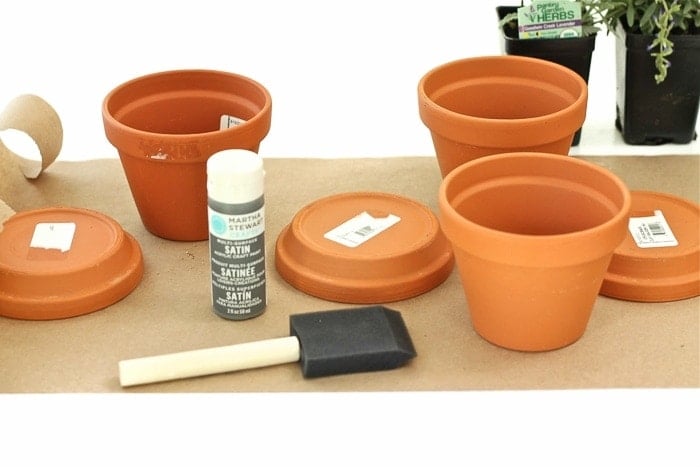 Pots – About 12 – 16″ in diameter to allow room to grow. Optional: Use a smaller pot for a sweet little gift. The lavender can be transplanted to a larger pot later.
Saucers – To allow for proper drainage.
Paint – Decorate your pots in any color and pattern you love.
Paint Brush – A foam brush works well for full coverage, and small brush is ideal for adding details and embellishments, if desired.
Small Lavender Plant – Choose a variety well-suited to your climate for best results.
Soil – Choose sandy, alkaline potting mix to ensure adequate drainage.
Cactus Rocks – To accent the base of the lavender plant (optional).
Paint
Before you plant is the perfect time to personalize your pots with paint. Choose a color that makes you smile, but keep in mind how it will look with the lavender's purple flowers. A soft grey is a lovely choice that will look at home in any space.
Paint both your pots and saucers…this process just takes about 5 minutes per pot. Make sure the paint is completely dry before adding potting soil. The good news is, with thin coats the paint dries quickly!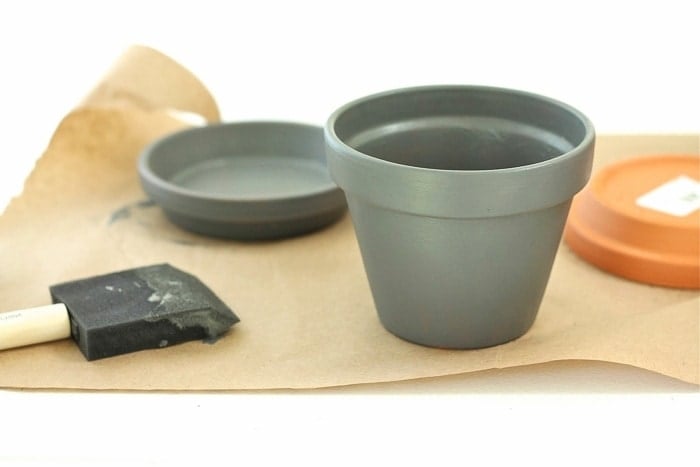 Tips for Planting Lavender in Pots
Follow these steps to plant your own lavender pots. If you need several plants for decorations or to gift, it's easy to plant more than one at a time. Just line up your plants, pots, and other supplies, and get started!
Choose the Right Pot
Choose a pot that is 12″ – 16″ in diameter, so the lavender will have plenty of room to grow. It should have at least a 1/2″ hole in the bottom for easy drainage.
Optional: Plant your lavender in a smaller pot (as shown in photos). Smaller pots are the perfect size to create sweet centerpieces, party favors, or gifts. Smaller pots will require more frequent watering, but it is easy to transplant lavender to a larger pot later on, following these steps.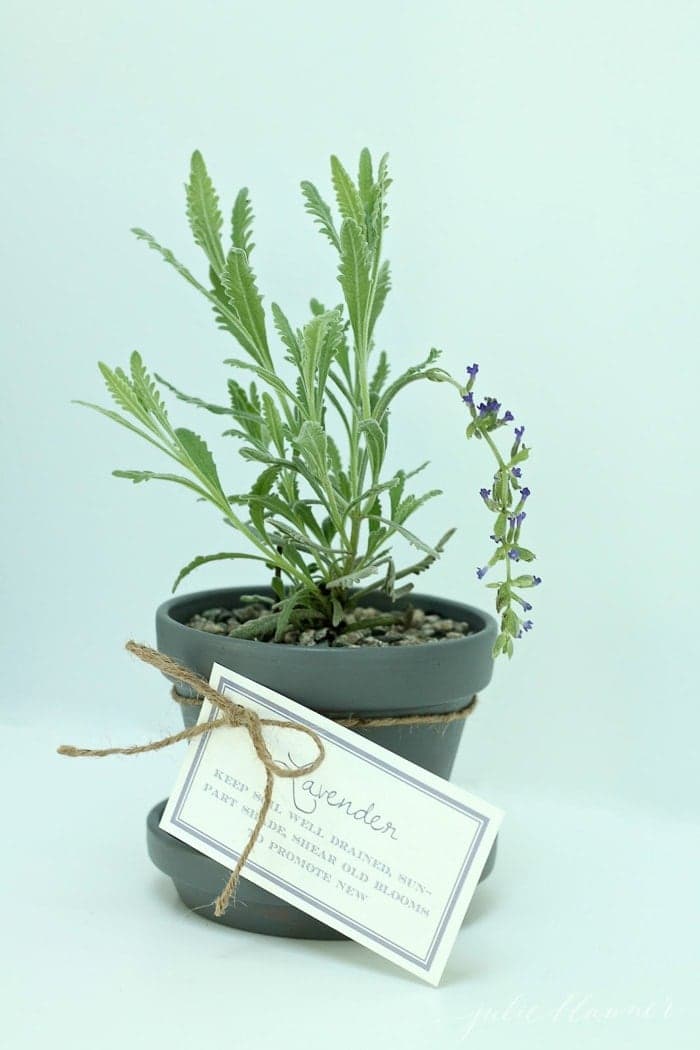 Add Rocks and Soil
Add a thin layer of small rocks to the bottom, spreading them out evenly. Make sure no rocks are blocking the drainage hole. This layer of rocks lets excess water flow freely from the pot, allowing soil to dry completely between watering.
Use a well-draining alkaline potting soil, available at garden centers. It will be sandy to allow for better water drainage. Break up large clots with your hands before use. Add a 1″ layer to the bottom of the pot, spreading evenly over the small stones.
Plant Lavender
Place your plant in the center of the pot. The root ball should sit a couple of inches under the top of the pot. If it is too low, add more soil over the stones at the bottom.
Note: Handle the plant carefully to avoid damaging any roots. Gently loosen the roots so they are not bound too tightly in the root ball. This will encourage roots to grow outward into the pot, fostering a healthier plant.
Fill the area around the lavender with soil, up to a couple of inches beneath the rim of the pot. Lightly pat the soil to remove any air pockets. Do not pat firmly, since loose soil allows for better drainage. The crown of the lavender's root ball should be about 1″ above the top of the soil that you've added.
Add mulch or small stones to the top of the soil. Not only are these pretty, but they also prevent rot in the roots and stems of the plant.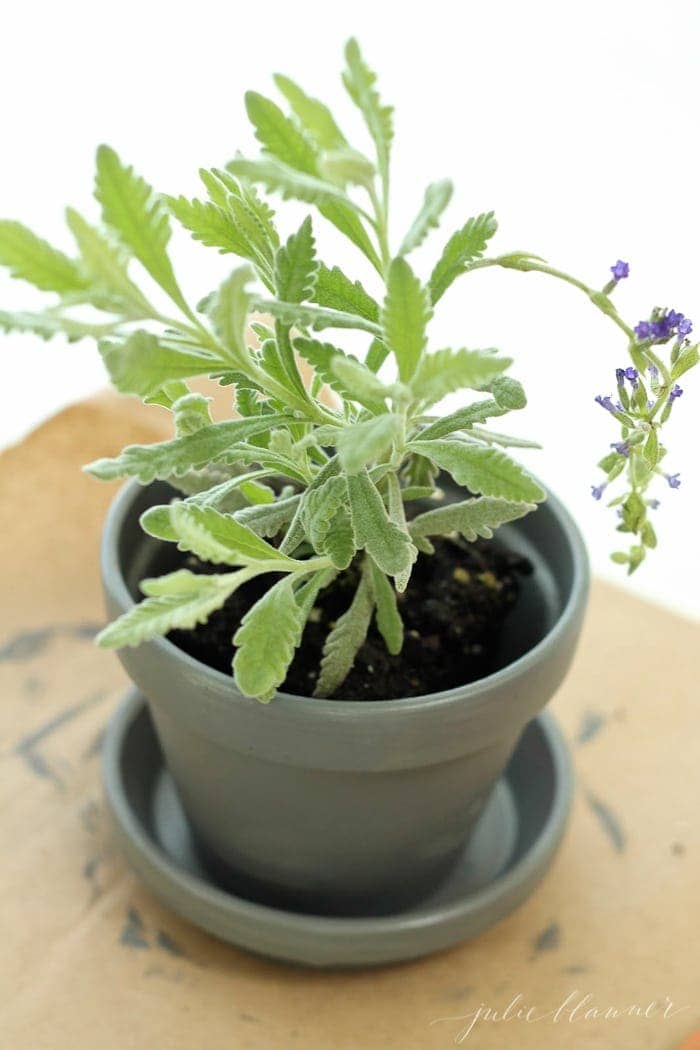 Potted Lavender Care Instructions
I like to include care instructions when gifting plants. You can download free printable care cards here. There are several different varieties, but they all require the same care and minimal effort.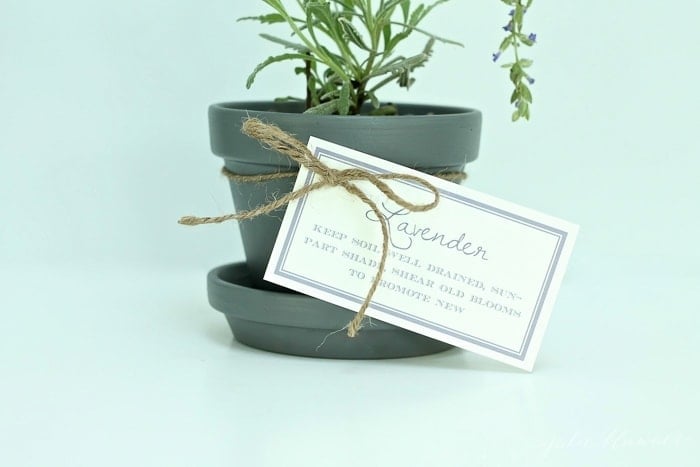 Tips to Grow Lavender
Drench with Water – Lavender needs to be watered heavily to make sure the plant gets enough water, but it must be allowed to dry out between watering to prevent root rot. Watch your plant – let the soil dry out but do not let the flowers and stems begin to wilt.
Sunlight – Lavender needs 6 – 8 hours of sunlight per day, so place your pots where they will receive plenty of light. Shade will discourage growth and diminish the fragrance.
Eliminate Cold Exposure – These plants are hardy at high temperatures, but they do not do as well in cold. During the winter, especially in colder climates, move your potted lavender inside or into a garage to prevent exposure to freezing temperatures and snow.
Prune – Prune lavender plants a couple of months before cold weather sets in. Using garden clippers, cut stems a few inches above the top of any new growth at the base of the plant. Regular pruning helps lavender to maintain a nice shape and extends its lifespan.
Lavender Uses
Frequently Asked Questions
Does lavender do well in pots?
Yes! Lavender is a hardy plant that handles potting well. Just make sure you give your potted lavender plenty of water, allow it to dry out between watering, move it inside during freezing conditions, and prune old growth. See my care instructions above for more information.
Can lavender survive winter in pots?
Lavender handles heat better than it does cold. While it can survive cold weather in pots, it should not be left outside in freezing temperatures. The water and moisture in the soil could freeze, damaging the roots. It could also cause the pot to expand and crack. For best results, move potted lavender inside the house or into a garage during winter months in cold climates.
Do lavender plants need a lot of sun?
Yes, lavender plants need 6 – 8 hours of sunlight per day, so make sure the pots are placed in a sunny area. Shaded plants will not grow as well or produce as vibrant a fragrance. Make sure to watch plants in a lot of direct sunlight, however, to make sure they are not overheating. Soil should be allowed to dry out between watering, but the plant itself should never be allowed to wilt. Plants in small pots will need more frequent watering, since the soil will dry out faster.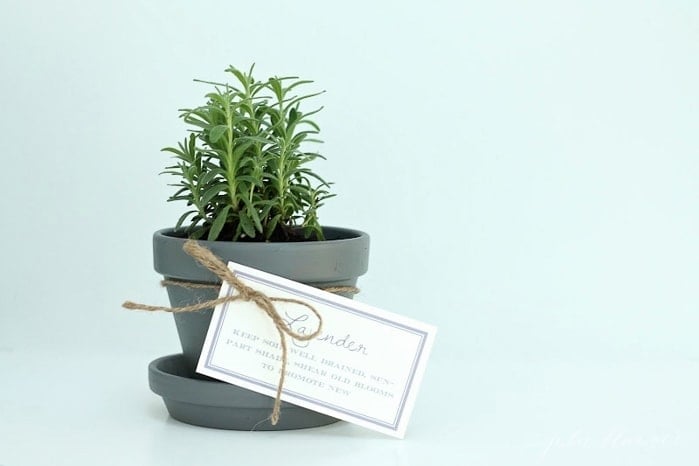 Shop This Post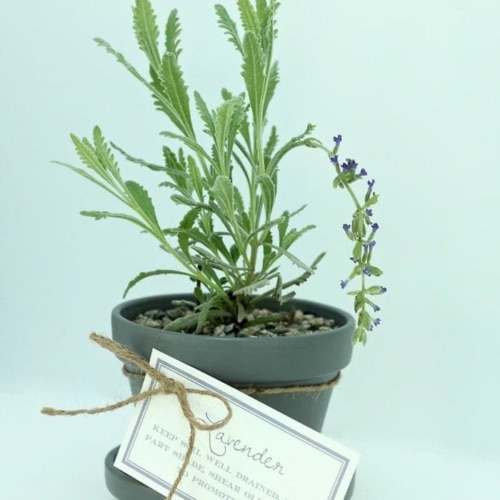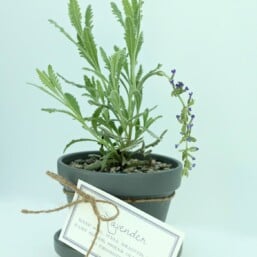 Lavender Pots
Potted lavender makes a beautiful gift and also make excellent shower favors that double as decorations.
Ingredients
pots

saucers

craft paint

small lavender plant

soil

cactus rock
Instructions
Paint pots and saucers with a foam brush. Let them dry completely before planting.

Add a layer of small rocks to the bottom of a 12" – 16" pot with a ½" hole for drainage. Spread evenly, making sure no rocks are covering the drainage hole. Note: Can use a smaller pot initially, then transplant to a larger pot later on.

Using a well-draining alkaline potting mix, break up large clots with hands. Spread a 1" layer over the small rocks at the bottom of the pot.

Place your plant in center of pot, gently loosening roots. Fill the pot with soil to within a couple inches from the top, then lightly pat soil.

Add mulch or decorative rocks to top of soil, if desired.
For Gifting
Print care instructions and tie onto pot with garden twine.
Tips
Care Tips
Drench with Water
Sunlight
Eliminate Frost Exposure
Prune