Pumpkins are the ultimate addition to add an extra dose of charm to your home this season. These pumpkin decor ideas are full of inspiration for turning your home into an autumn wonderland – tastefully, of course!
Fall pumpkin decor is so much fun! And whether you're looking for outdoor pumpkin decor or planning to use them indoors, there's something for everyone here. Anywhere you add a pumpkin will add a little more fall beauty to your home!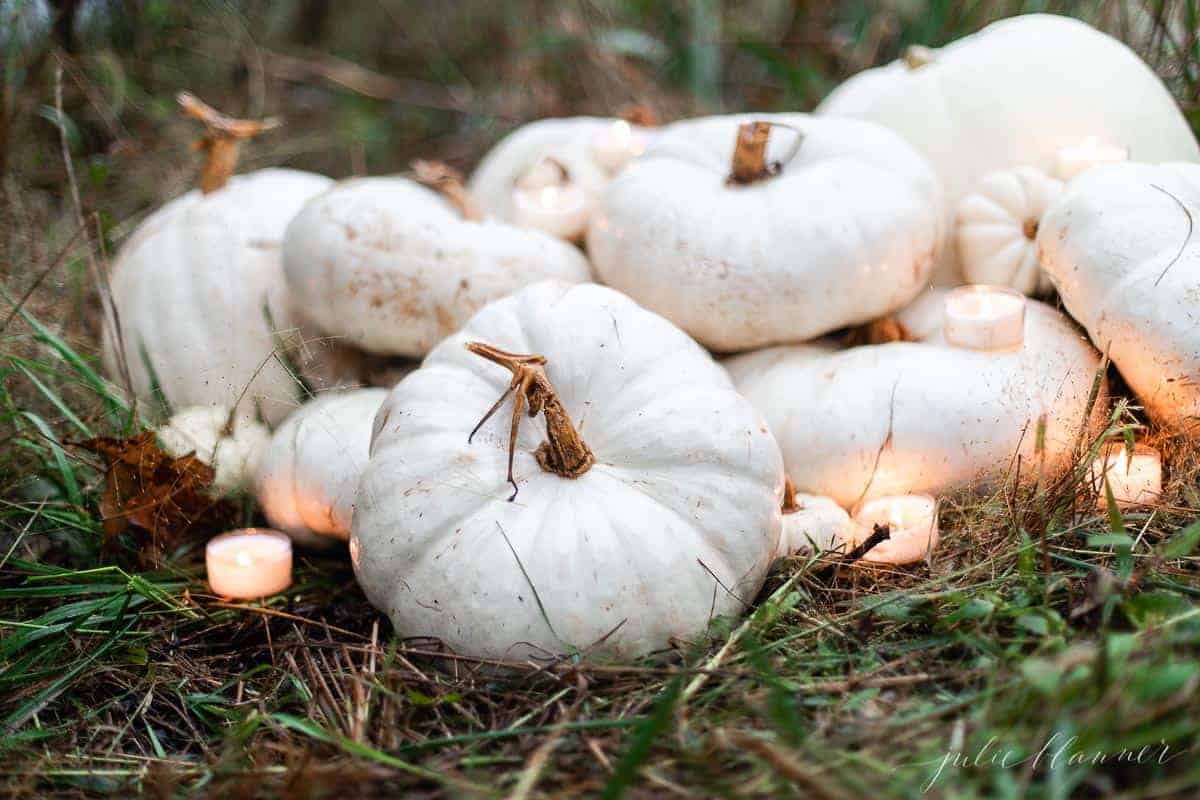 That's one of the best parts of living in the Midwest – celebrating the changing seasons with your family.
The Best Pumpkin Decor Ideas
We've used pumpkins in all types of centerpieces for fall events. They've graced our front steps many times, and we've added them to bookshelves, coffee tables, and so much more.
I'm excited to share this post with you today because it felt like a walk down memory lane for me – it's so fun to see what we've created in the decade+ that we've been sharing in this space.
Pumpkin decor is the easiest way to add instant fall magic to your home. The only effort required is lugging them from the trunk of your car, in fact! Let's take a look at some of the best pumpkin decor inspiration we've shared over the years.
First – a little to learn about pumpkins, just for fun! Then I'll link to each inspiration post and also show you a few great options for faux pumpkin sources. Read on for all the details!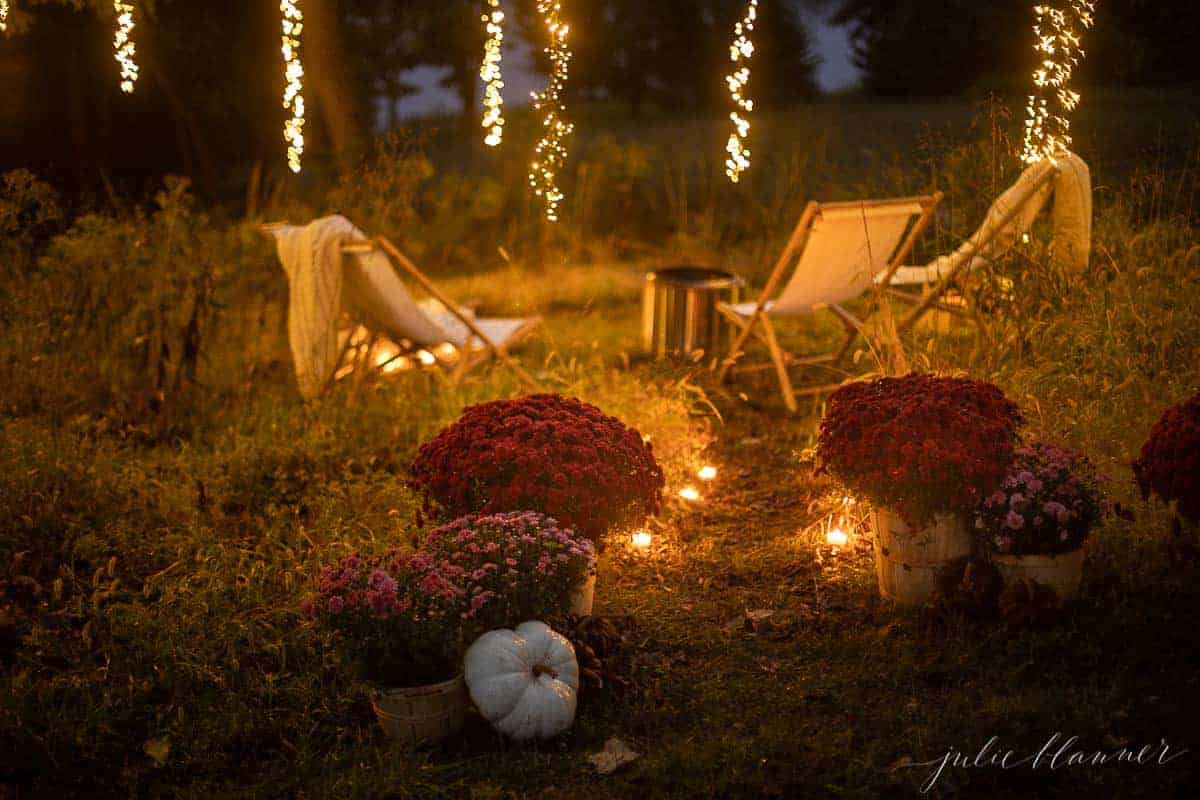 All About Pumpkins
To say that we have a wide variety of pumpkins to choose from is just not saying enough. There are pumpkins that are huge, up to 20 feet long… and then there are tiny pumpkins, colorful pumpkins, classic white and orange pumpkins, and virtually everything in between.
You get the idea, of course. I think that's what makes them so much fun – they are a seasonal treasure, and it's easy to customize the look and style you want to add to your home.
Here are a few trivia tidbits to impress your friends and family on the way to the pumpkin patch this year!
Pumpkins are a type of squash (Curcurbita family), which makes them fruit… not a vegetable!
Indigenous people in the US grew pumpkins (and ate them) for centuries before the arrival of Pilgrims.
Illinois is the state that produces the most pumpkins, harvesting over 12,000 acres of pumpkins annually. In fact, the Pumpkin Capital of the World is in Morton, Illinois.
The largest pumpkin on record weighed in at 2,624.6 pounds in Germany in 2016.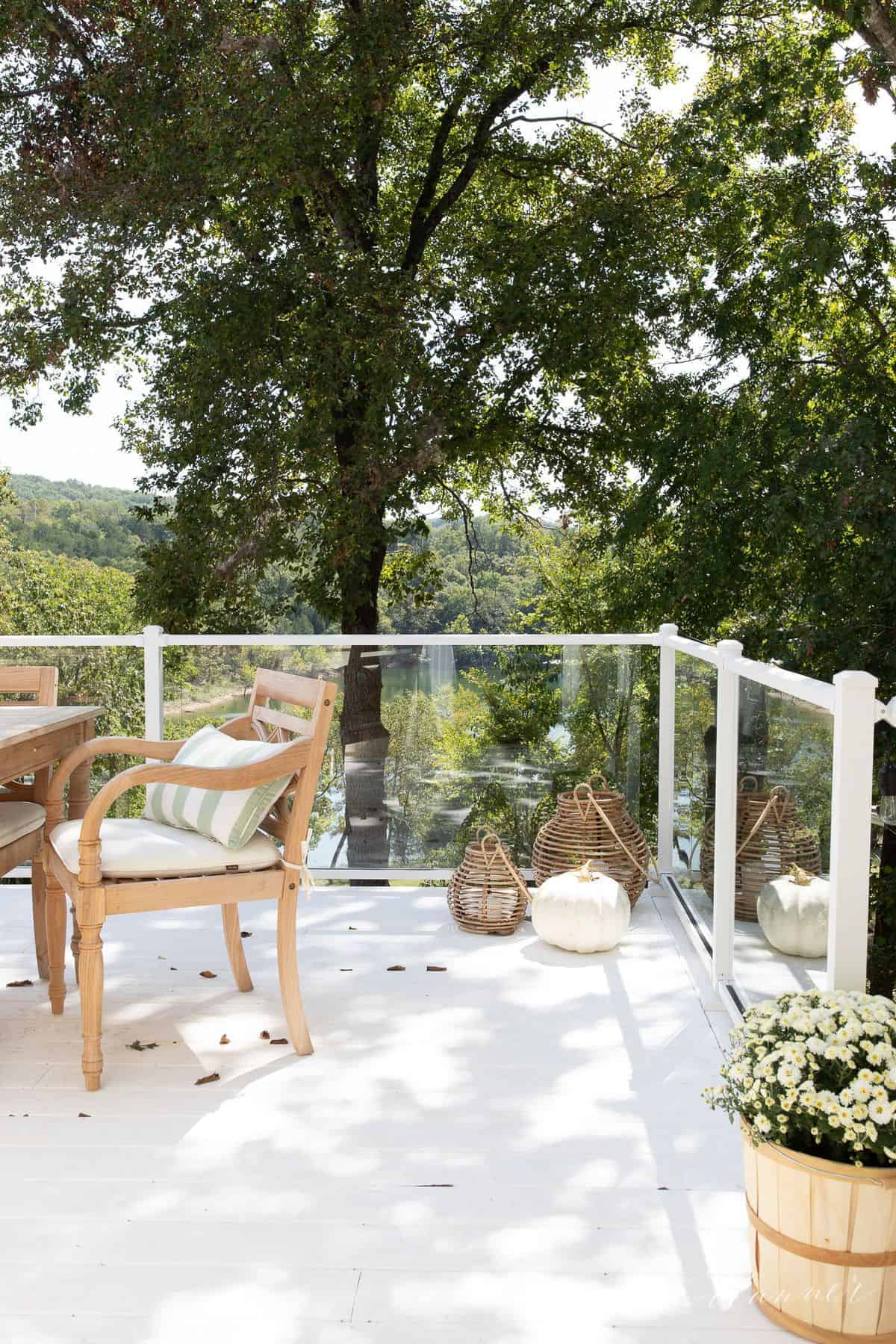 How to Make your Pumpkins Last Longer
As much as we love them, so do the squirrels- at least here in the Midwest! Between the heat and our little furry friends, pumpkins don't always last as long as we'd like around here.
At the bottom of this post you'll find sources for my favorite artificial pumpkins this season. However, we do buy fresh every year as well – there's just something about that trip to the pumpkin patch!
Here's a few ways to try to keep your fresh pumpkin decor looking great for longer:
Clean the surface of your pumpkin (along with the interior once you carve it) with a bleach mixture: one teaspoon bleach to one quart of water. This sterilizes your pumpkin, eliminating any bacteria. We like to use a spray bottle to ensure we reach the entire exterior.
You can also try vinegar if you want to avoid bleach! Spray (or brush) vinegar and lemon juice on your pumpkin. Try 1/4 cup white vinegar, a tablespoon of lemon juice and a quart of water for this solution and soak your pumpkins in a bath of sorts. Note: I don't think this works as well as bleach but it's worth a try!
Pumpkin Decor
Pumpkin decor is the easiest way to add instant fall magic to your home. Place one in any corner and create a little festive autumn moment.
The Best Faux Pumpkins
White Wool Pumpkins | Warty Orange Heirloom Pumpkin | 12 Pack of Mini White Pumpkins | Cream Corn Husk Woven Pumpkin | Sage Green Heirloom Pumpkin | White Heirloom Pumpkin | Giant White Heirloom | 6 Pack of Creamy White Mini Heirlooms | Cinderella, Small and Tall Faux Heirloom Pumpkins | Herringbone Woven Pumpkin