Find out everything you need to know about Danby Marble in this comprehensive guide. Kitchen renovation decisions can be difficult, but this decision is easy!
Get insight on cleaning, sealing, pricing and more from someone who has chosen this type of marble for two different kitchen remodels.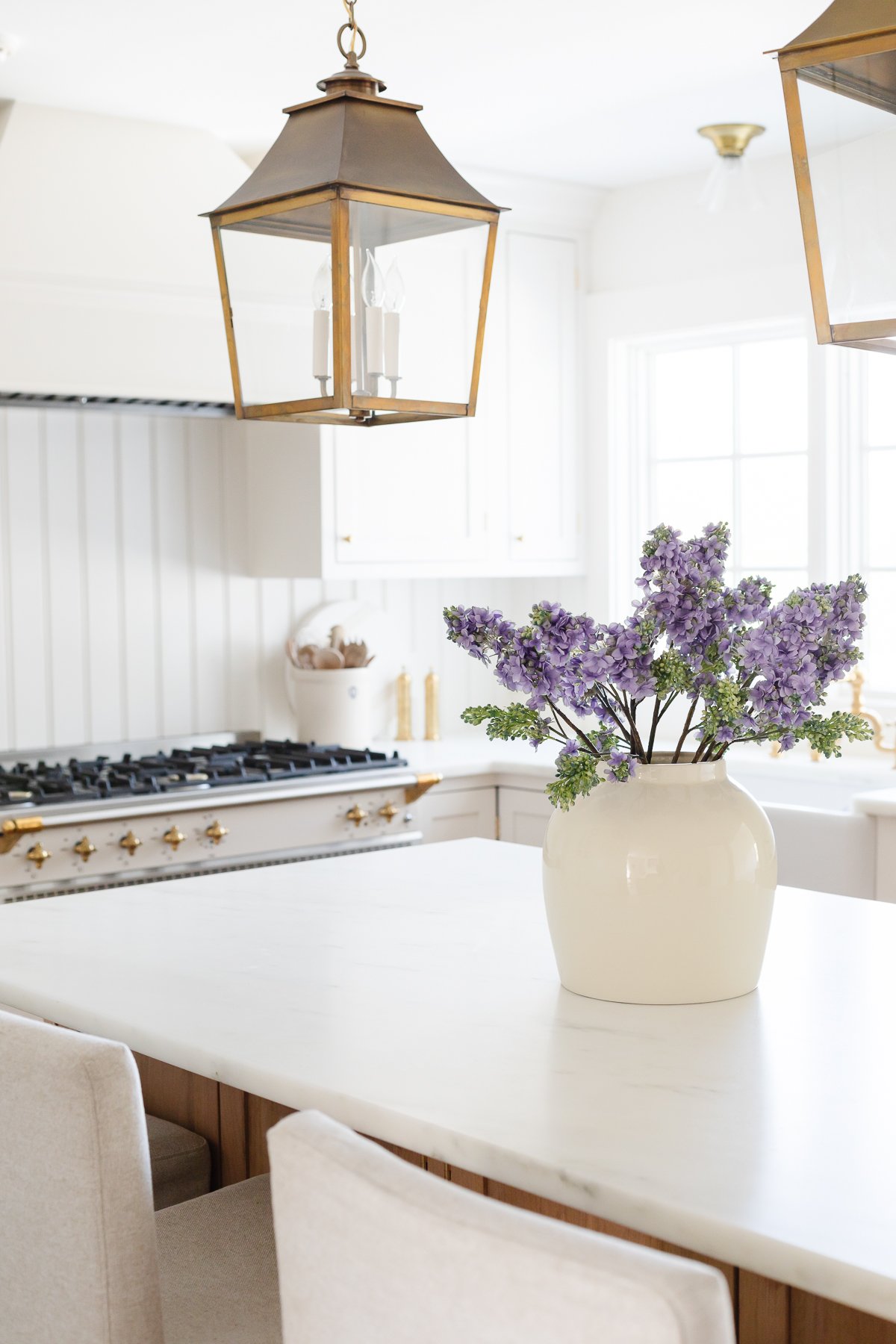 There are so many little decisions to make and products to source when it comes to a kitchen remodel. Fortunately, the easiest decision that we have made for both of our kitchen remodels is countertops.
I receive a lot of questions about our marble kitchen countertops. We have used marble in our previous home and our current home – as a family of five!
Yes, marble can be somewhat risky, but we love it.
Danby Marble
I have thoroughly researched countertops over the years between our two kitchen remodels, evaluating all of the options including quartz and the various types of marble.
Check out my popular post for excellent alternatives to Carrara marble. In fact, we chose quartz countertops for our lake kitchen remodel, and we've installed butcher block countertops too!
We used Mountain Danby marble in our previous home and Olympia Danby in our current home. The difference between the two is simply where they are taken from the earth. While both are beautiful, Olympia has less veining which is a fit for our current kitchen.
I've always loved marble, but feared it was out of our price range at the time, until I once again perused Martha Stewart's kitchens and saw her Danby marble.
It's at a similar price point of carrara and less expensive than calacatta marble, with a very similar look, but often in the same range as quartz. But there is one big difference. Okay, a few.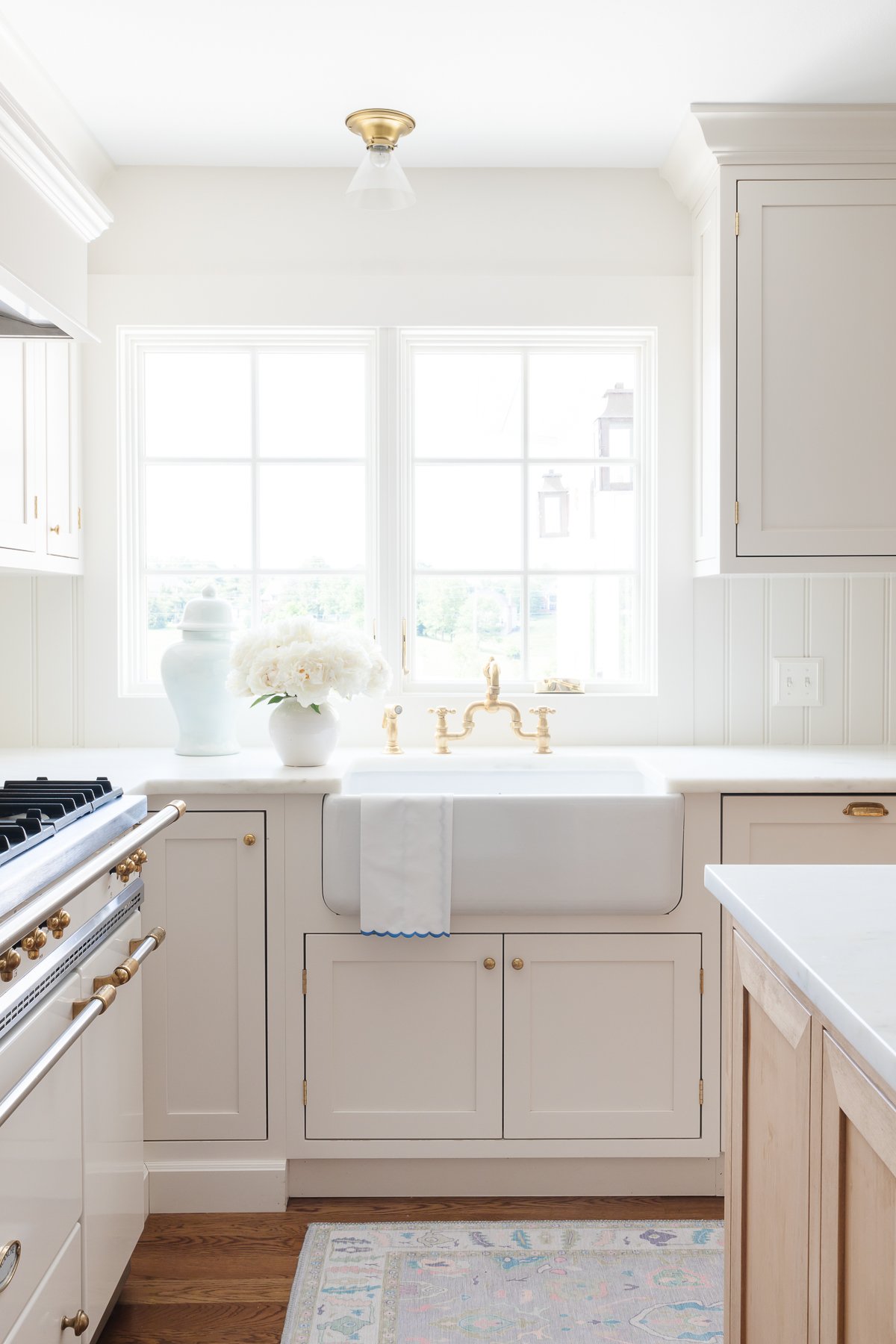 What Makes Danby Marble Different?
First, Danby marble comes from Vermont, not Italy. However, it has a lot of the same characteristics like grey veining and some cream (gold) splotches like calacatta. Who knew we could find such beautiful marble natural to the States?
Second, Danby is less likely to stain because of its density – it is very simply less porous than other marbles. (Of course sealer helps as well, more on that later.)
Third, you can use Comet to remove etching. We have used this method on multiple occasions with minimal effort! Though it requires a bit of elbow grease, it has proved effective to eliminate etching from acidic elements like citrus.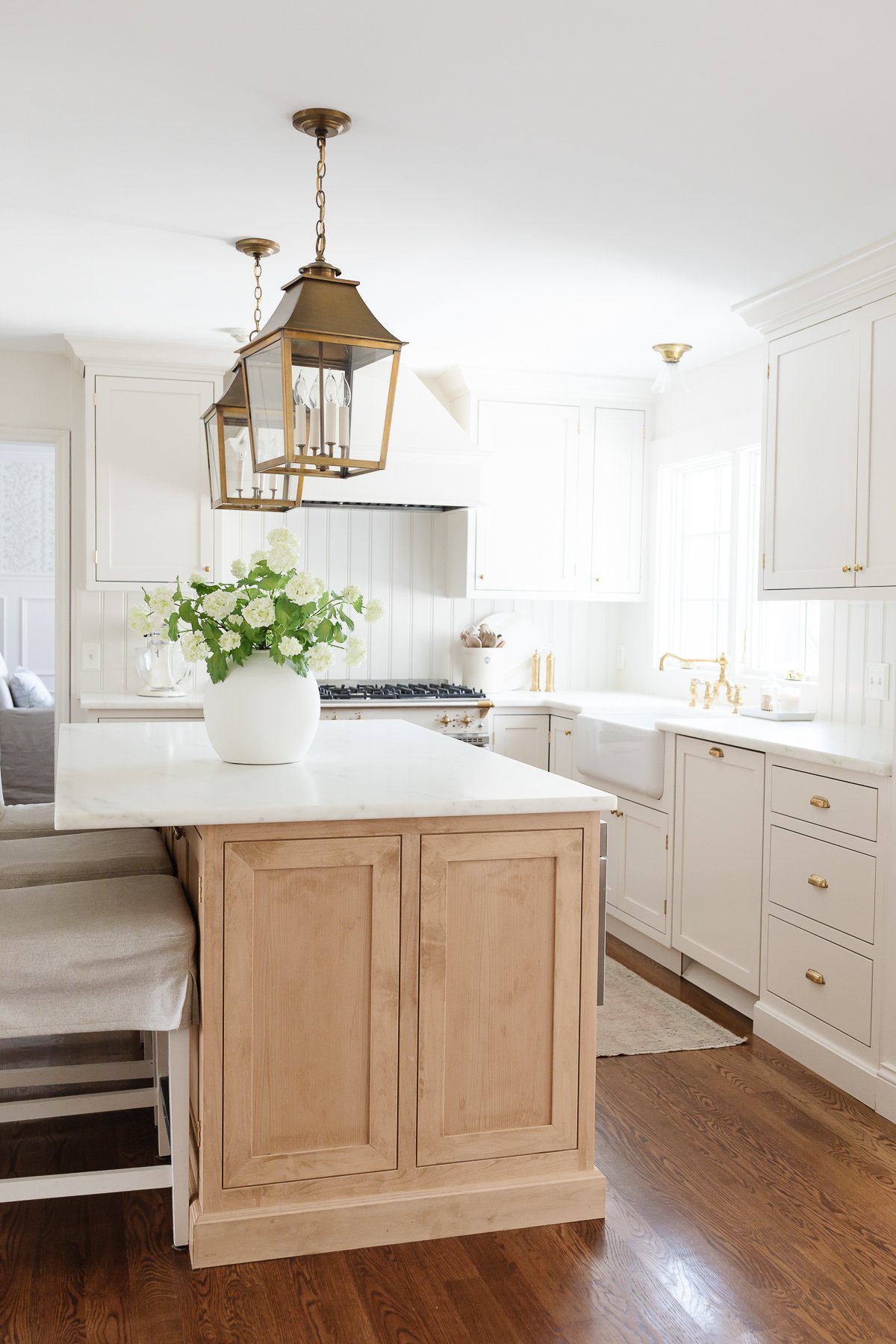 Danby Marble versus Carrara Marble
Danby is a US marble, meaning it comes straight from the earth in Vermont! Carrerra is quarried in Italy, but there are some that look like one another.
In our former kitchen, we incorporated Danby marble and I loved it so much I knew I had to do it again. Aside from appliances and backsplash, it was really one of our only investments in that little kitchen, and the best decision we made.
These countertops turned our budget kitchen in our colonial into a beautiful sanctuary. They're classic, timeless and age beautifully. See our former home's full kitchen remodel.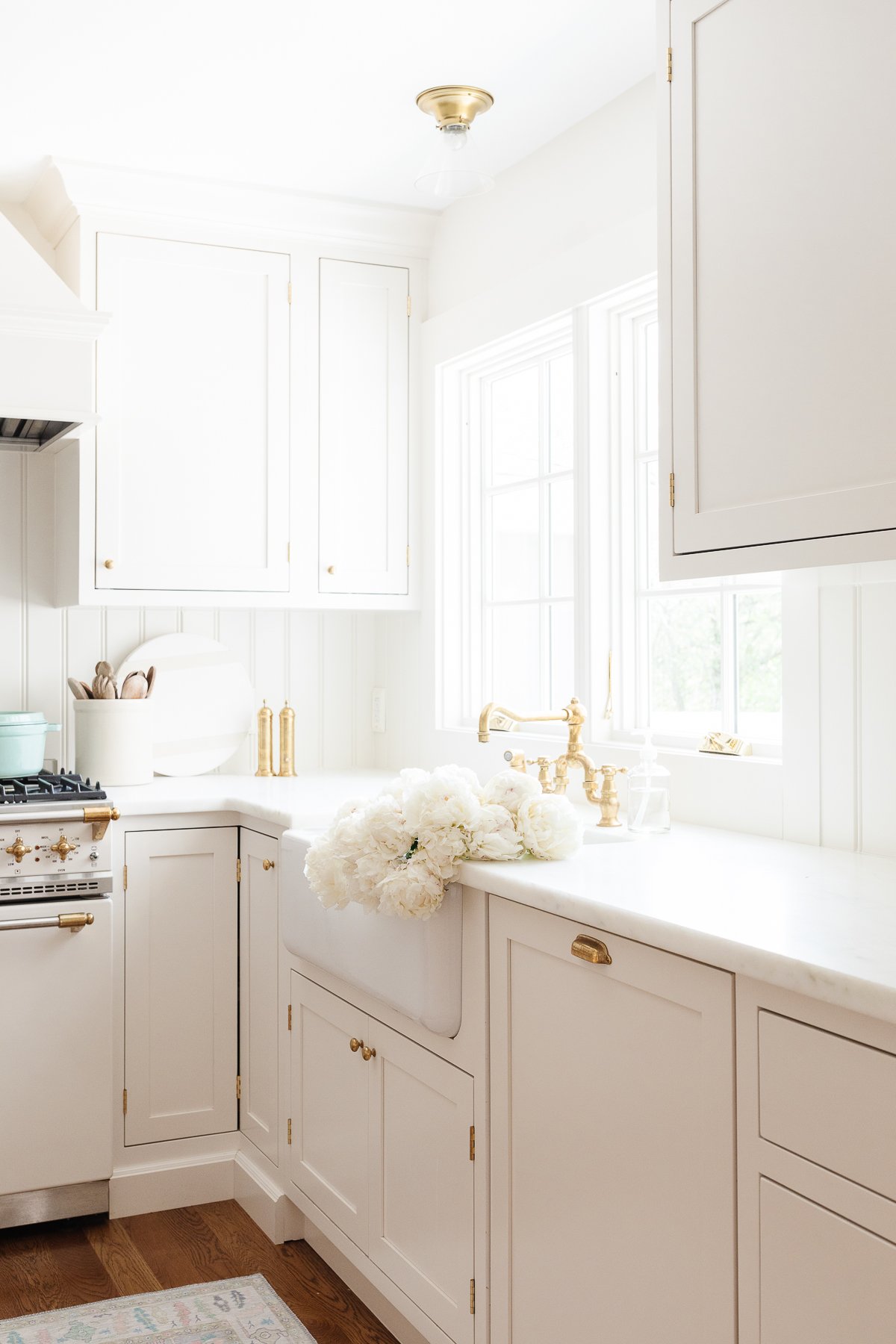 How Much Does Marble Cost?
This is such a difficult question, as the type of marble, supplier and fabricating costs can make an incredible difference. Another item to note is that simply getting a whiter marble can double the cost. Crazy, right?
We had very little countertop space in our first home, which made it a minimal investment. However, even with our much larger kitchen and island in our St. Louis home, the price was less than I anticipated for our current remodel.
Our total came in at just $5,600 installed for 2 slabs of Mountain Danby in 2014. We ultimately chose Olympia Danby for this home a couple years later – at the end of this post you can see photos of Mountain Danby from our previous home.
I asked our fabricator to give a rough estimate of price points for countertop materials for comparison because when we were looking four years ago I found numbers nearly impossible to find.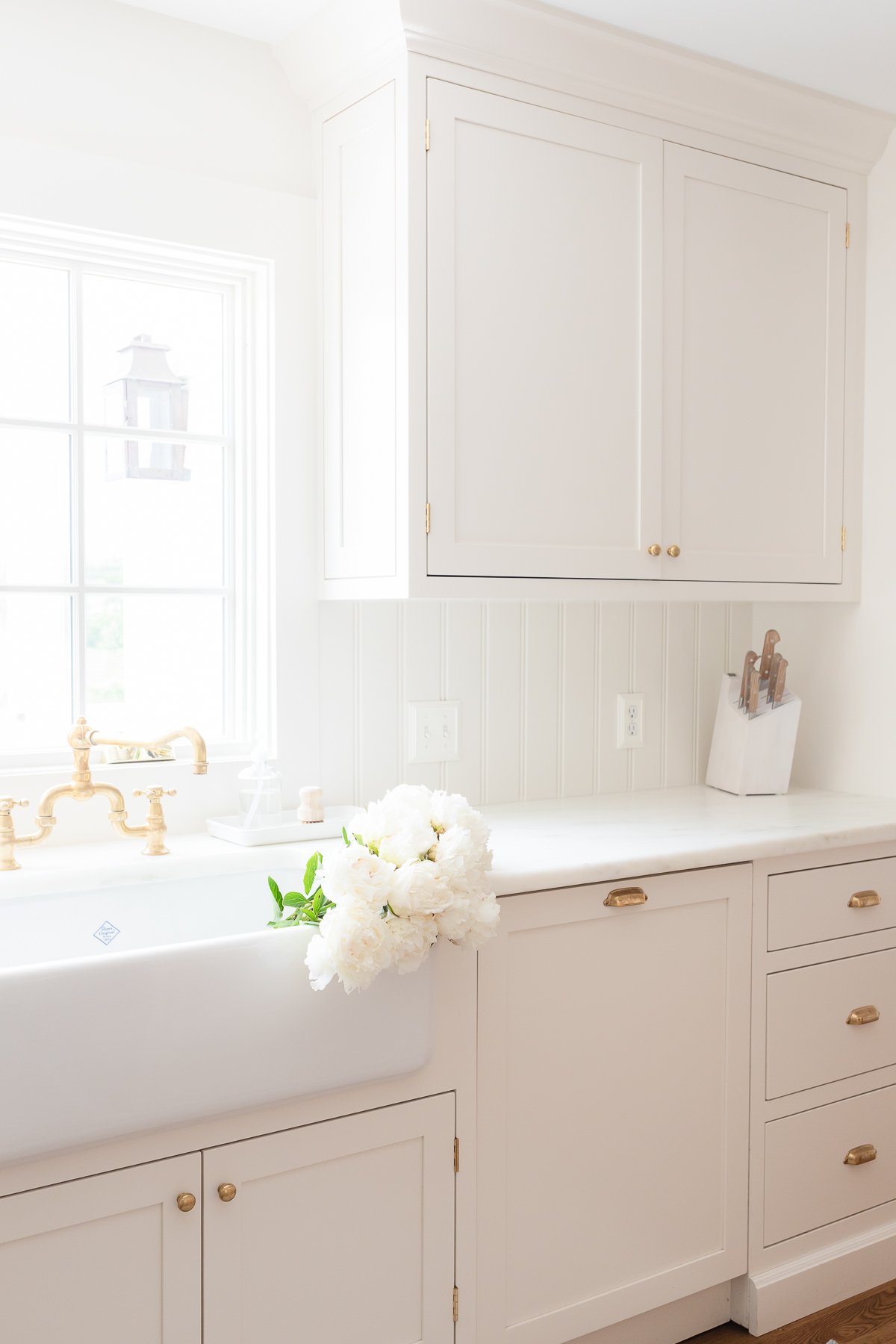 Danby Marble Price Per Square Foot
*Note that these prices were our quotes from 2017!
Carrara marble $70 range
Montclair Danby $75-85
Mountain White Danby $75-85 (used in our previous kitchen)
Granite $50 to over $100 depending on color
Quartz $60 to over $100 depending on color
Imperial Danby $100+
Olympian Danby $100+ (used in new kitchen)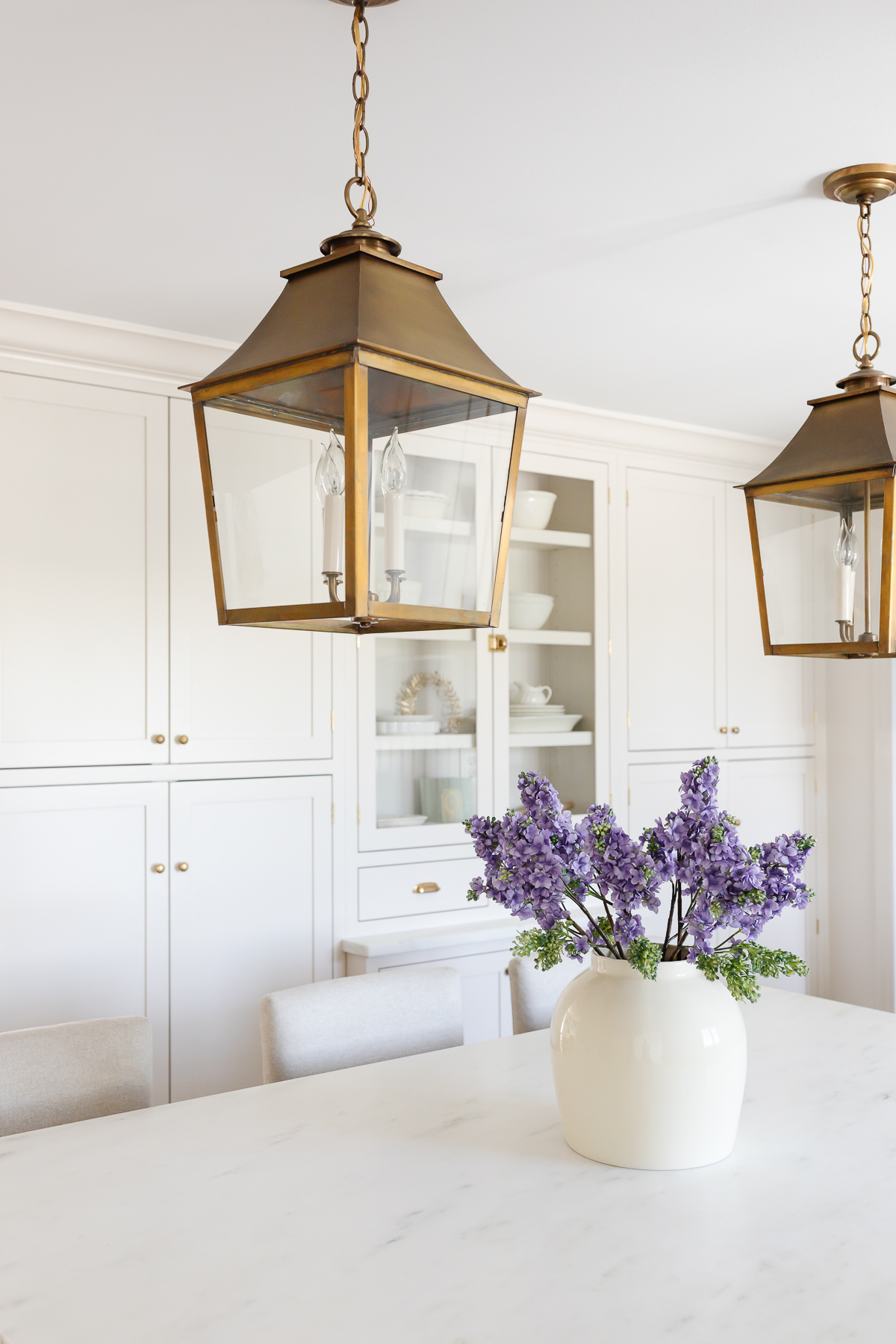 How to Seal Marble
The most important thing you can do to prevent staining is to seal your marble. Ask questions. Fabricators offer multiple options. We ultimately invested in BulletProof Sealer. Click through to read more about the "why" behind that buy, all the details about this product are in a separate post!
We paid $800 to have it applied by the fabricators at the time of installation, which comes with a 25 year warranty. You can easily apply it yourself and save about $750.
In fact, we do, 1-2 times a year, after using Comet to remove etching. This is required to maintain protection. You can purchase the sealer here. Whether you are applying or your fabricator is installing, it's essential that the marble thoroughly dries first for the sealer to be effective. Otherwise, it's susceptible to oil stains.
The most important thing you can do to prevent staining is to seal your marble. Whether you are applying or your fabricator is installing, it's essential that the marble thoroughly dries first for the sealer to be effective.
How to Eliminate Etching
Create a paste using Comet, water, a soft cloth or sponge.
Working corner to corner apply elbow grease.
Rinse and repeat until there is no noticeable etching.
If you're choosing a marble countertop of any kind, you must expect etching. It's a reality of owning marble, but in my opinion, it just adds to the charm!
Sure, I cringed when I'd come home and see a babysitter left a bottle of olive oil or butter knife directly on the countertop, but if you're selecting marble, choose it for the character.
It only looks more beautiful with time and wear – there's a reason you can occasionally find the original marble counter tops in old homes. It's timeless and quite simply never goes out of style.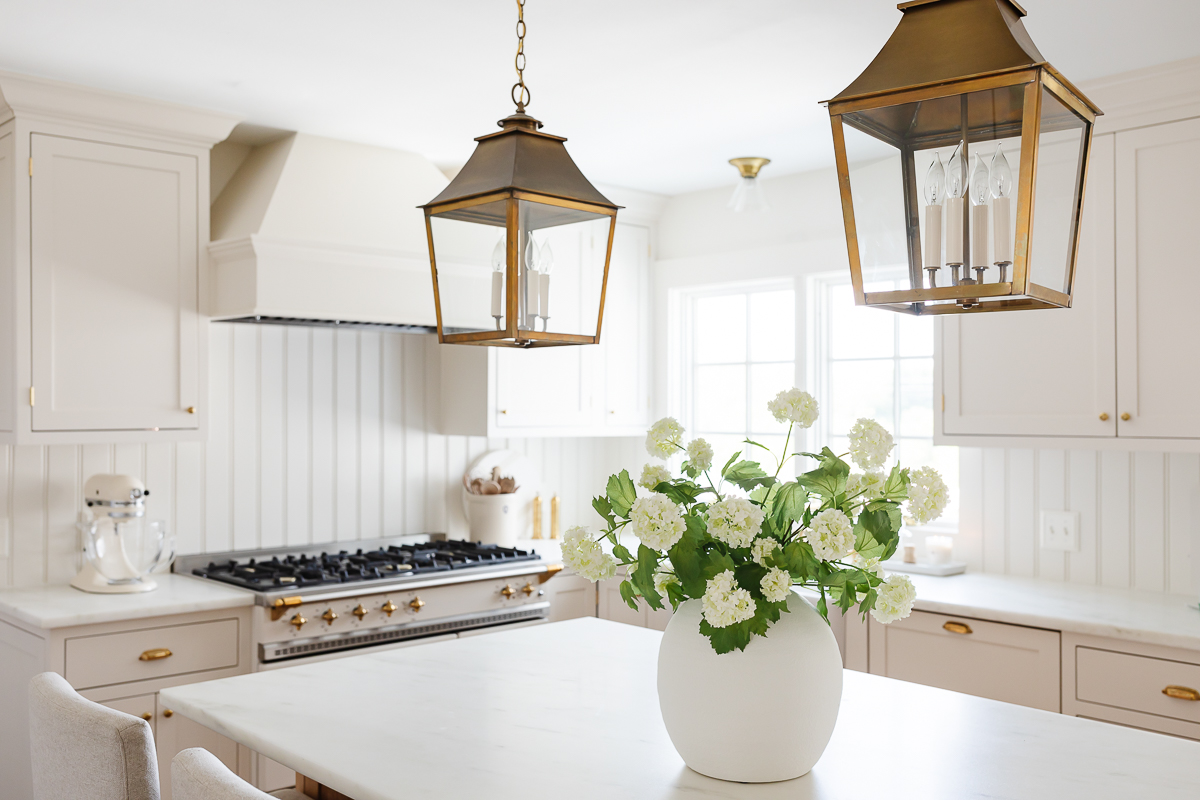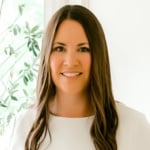 Tips
Marble chips, primarily at the edges. I highly recommend using a soft edge to reduce potential chips. If (and when) they do, remember they just add to the character and charm.
It will etch. Avoid contact with anything acidic including citrus, vinegar, ketchup, etc. IF it bothers you, set aside a couple hours once or twice a year and remove with Comet.
It will stain without properly sealing. See below for more details.
When hosting dinner parties, I prefer to clean up after my guests leave, which is often late, so it generally is left for the following morning. We've had countless times when wine sat on the marble overnight and didn't leave a mark.
I have spilled wine, left a few messes overnight, and nothing seemed to impact the marble in the slightest – except oils. Butter and olive oil needed to be removed immediately to avoid yellow marks. And don't spill candle wax on your countertops if you can help it. Ask me how I know!
Learn all about the different types of Countertop Edges here.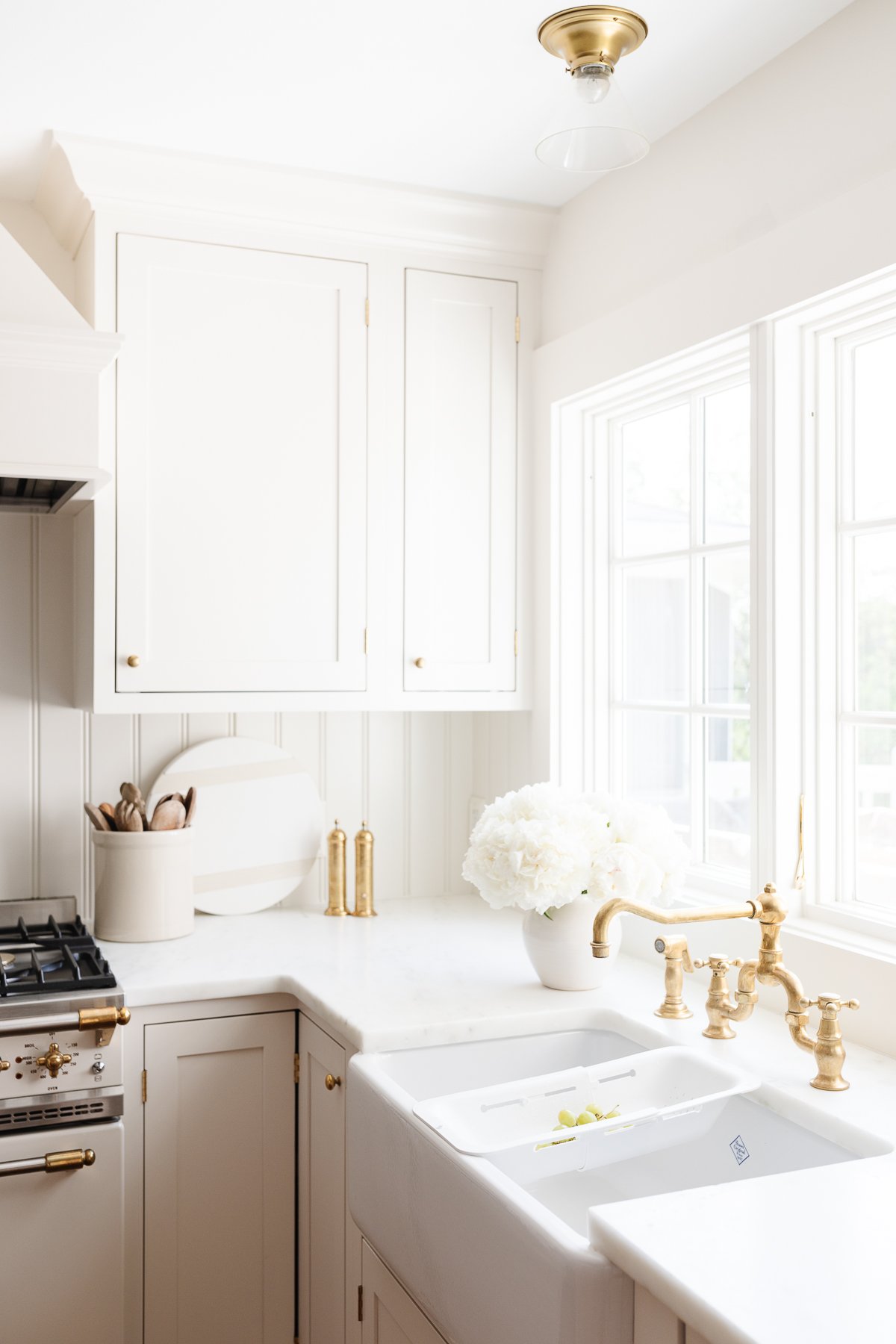 Frequently Asked Questions
What is the Difference Between Marble and Granite?
Both are natural stones, but granite is less porous and significantly stronger. It's resistant to stains and abrasion. Granite also comes in a much wider variety of colors and in the more common colors, it can be much less expensive than marble.
How do you Clean Marble?
Great news! You don't need any special cleaner for marble – Danby marble or any other variety! In fact, it's best if you stick to the basics. You can learn more about my homemade Marble Cleaner here. Try to clean up oil stains quickly, when possible.
What's the Best Depth for Marble Countertops?
In our current kitchen, we used 3 cm marble countertops, which is about 1 1/4″. Typically, kitchen counters are 3 cm and bathroom vanities are 2 cm.
However, there is no rule on how thick your counters should be. Designers like DeVol Kitchens often use 2 cm marble, which is less expensive.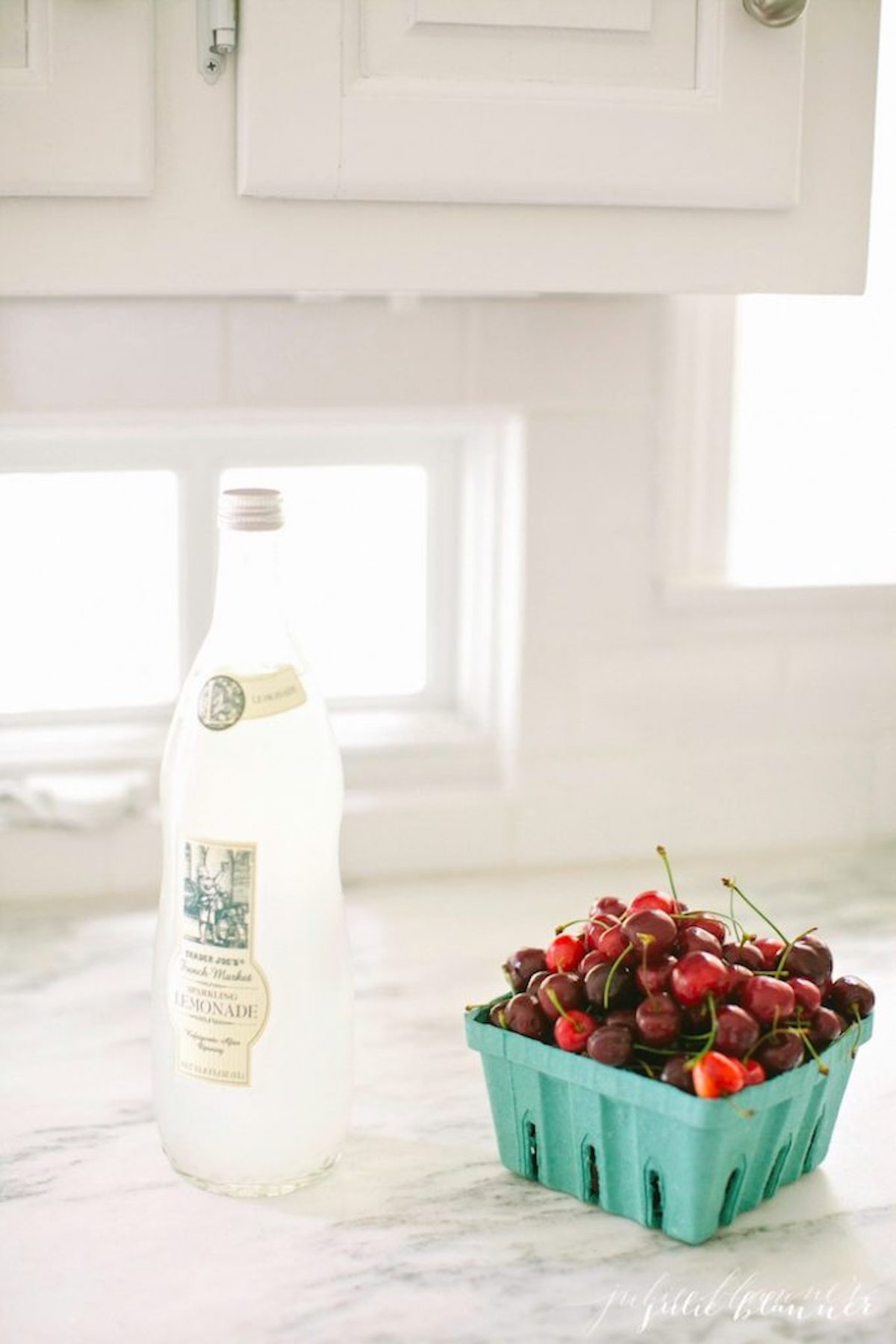 I hope I covered all the basics about Danby marble. It's so important to have firsthand research when you're trying to make big purchase decisions like this one!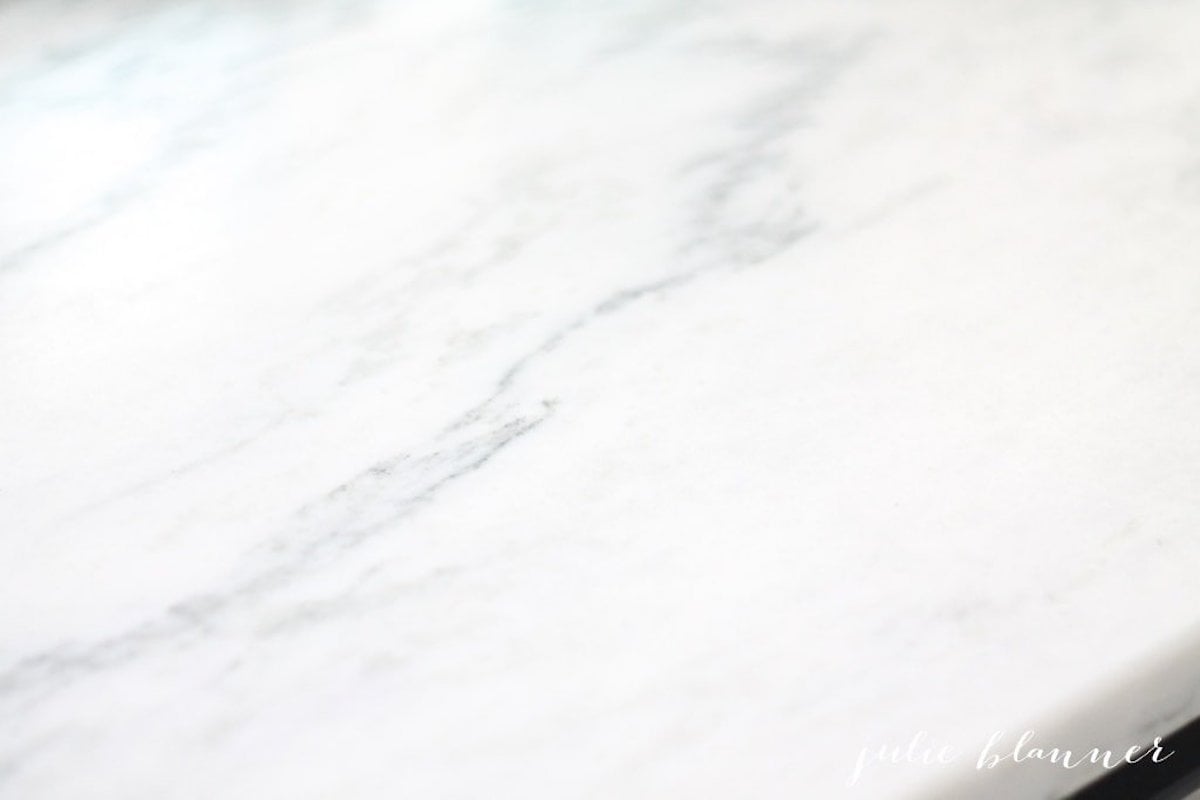 Let me know if you have any questions about using marble in your kitchen or bath!
More Kitchen Design Inspiration
Design Guides, Decor & Tips