You can enjoy cinnamon ice cream any time you want with this easy recipe for your favorite cool and creamy dessert, without the use of an ice cream maker or stovetop. That's right – homemade ice cream with no churning and hardly any effort at all!
This fool proof cinnamon ice cream is whipped up in five minutes and then frozen for luxurious, creamy ice cream everyone will love!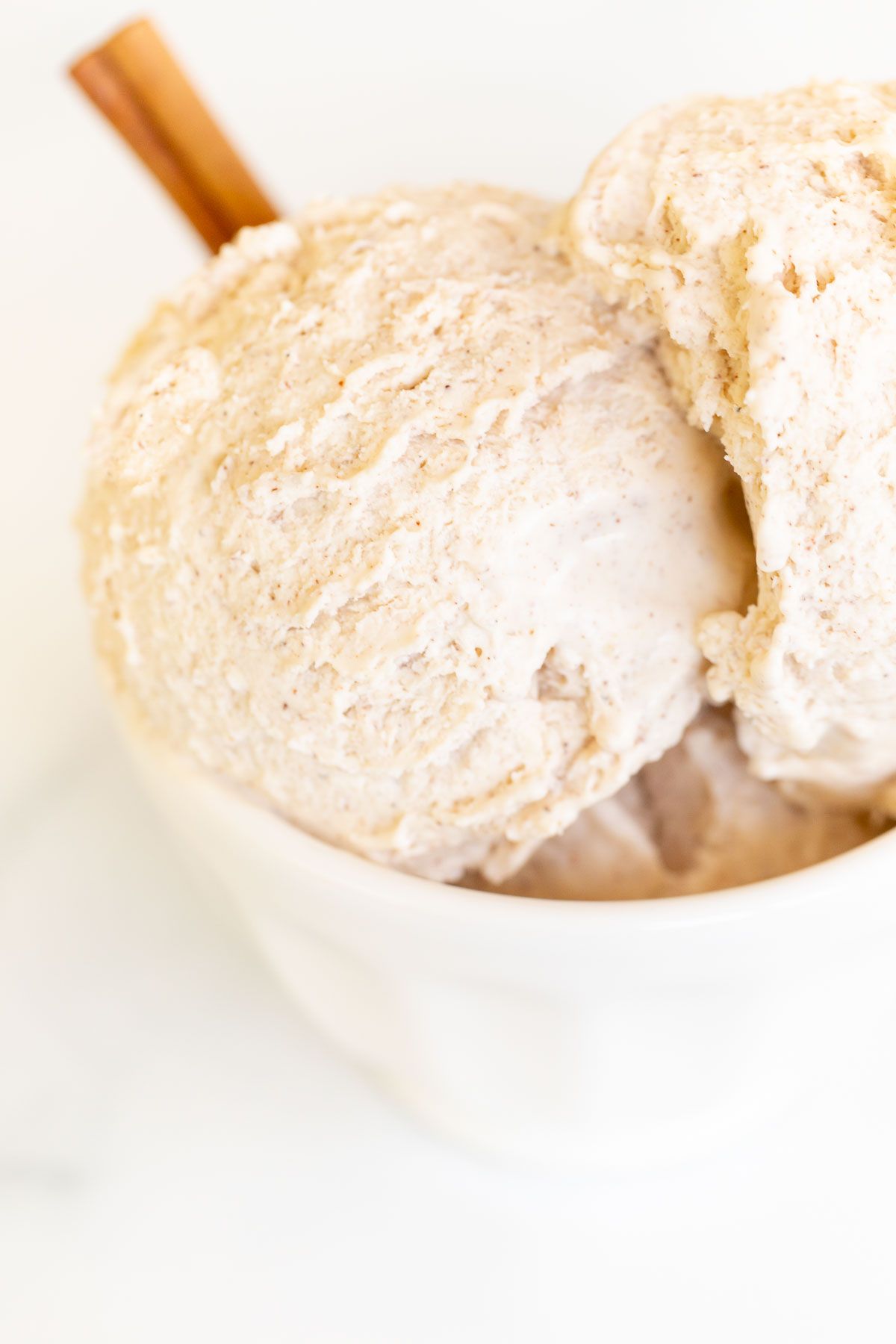 Cinnamon is a year-round spice in our home, but it takes center stage during the fall and winter. This warm and sweet spice works to enrich so many dishes.
Try Cinnamon Roll Bread, Cinnamon Pound Cake, and Cinnamon Sugar Cookies for more recipes that will spice up the season.
Cinnamon ice cream combines that bright and vibrant spice with cool cream for a fun taste that will wow your taste buds. It's flavorful and delicious enough to eat on its own, but it also has a simple enough flavor to be the à la mode on other desserts.
It really is pure bliss to take a bite of cinnamon ice cream and savor the cinnamon creaminess.
Why You'll Love This Cinnamon Ice Cream
Simple and Fresh
Bright Cinnamon Flavor
Creamy and Smooth
No Cooking, No Churning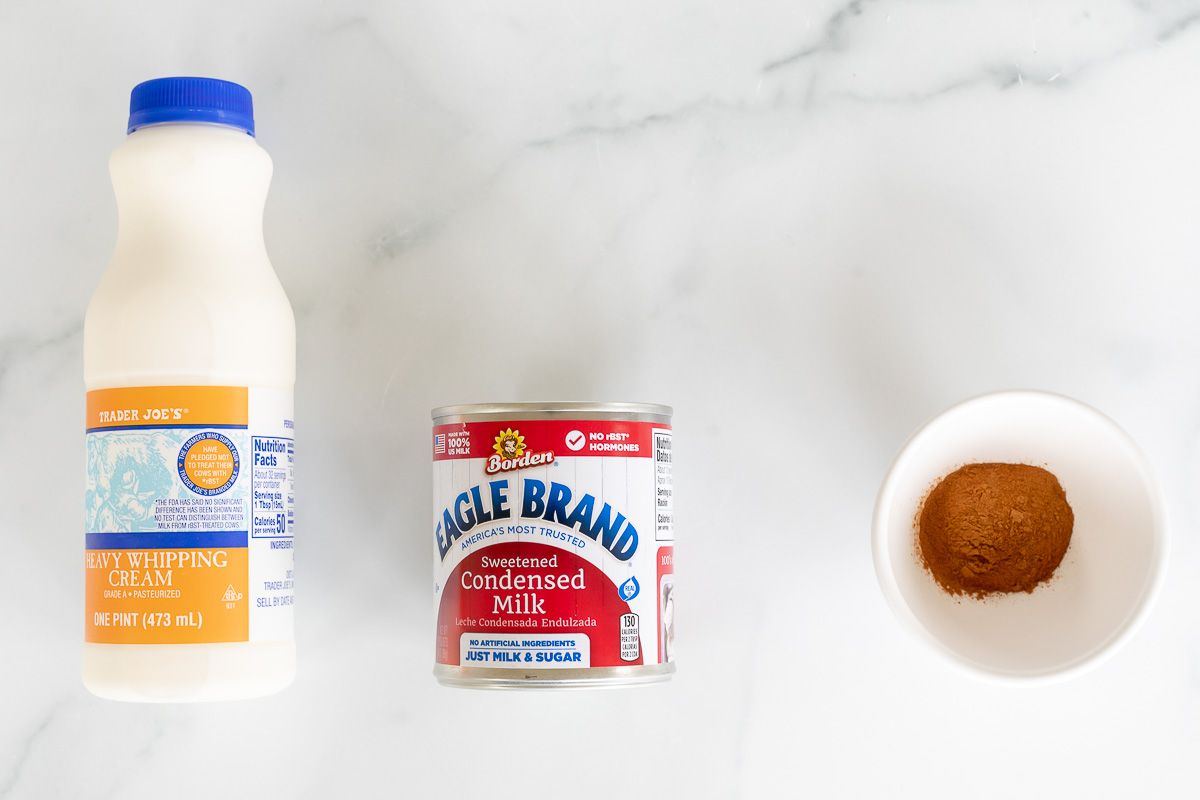 Ingredients and Substitutions
Heavy Cream – This is also labeled as Heavy Whipping Cream. It whips the best when it is really cold, so keep chilled until ready to use.
Sweetened Condensed Milk – Sold in 14 ounce cans, this is a sweet, syrupy milk. It is not the same as evaporated milk. It sweetens and adds a luxurious consistency.
Cinnamon – Use a good quality cinnamon for the best flavor.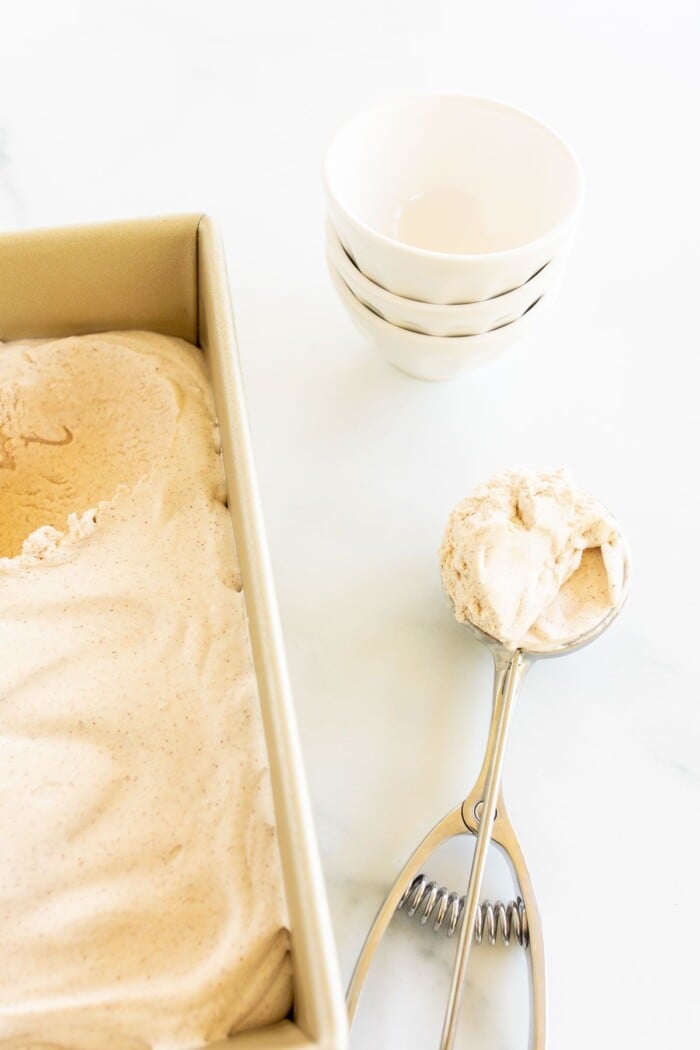 Variations
Add a pinch of complementary spices like cloves or nutmeg. Try it with Apple Pie Spice or Pumpkin Pie Spice, too.
Stir in cinnamon chips for little bursts of cinnamon and added texture.
Mix in crumbled cookies.
Fold in chunks of cheesecake or apple pie.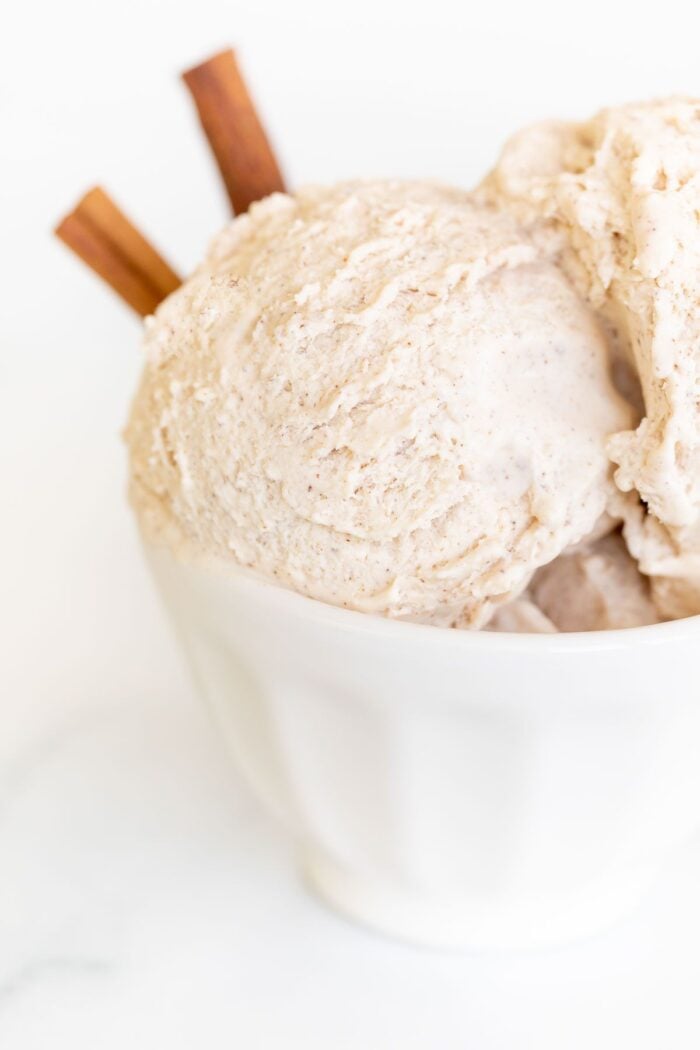 How to Make Cinnamon Ice cream in Just 3 Easy Steps
Beat Heavy Cream
Combine
Freeze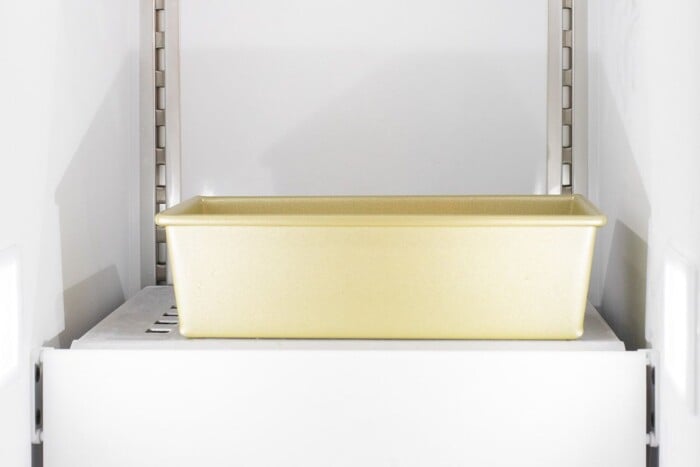 Watch the video where Julie will walk you through each step of this easy recipe. You will find a collection of recipe videos right here on our website with corresponding recipes.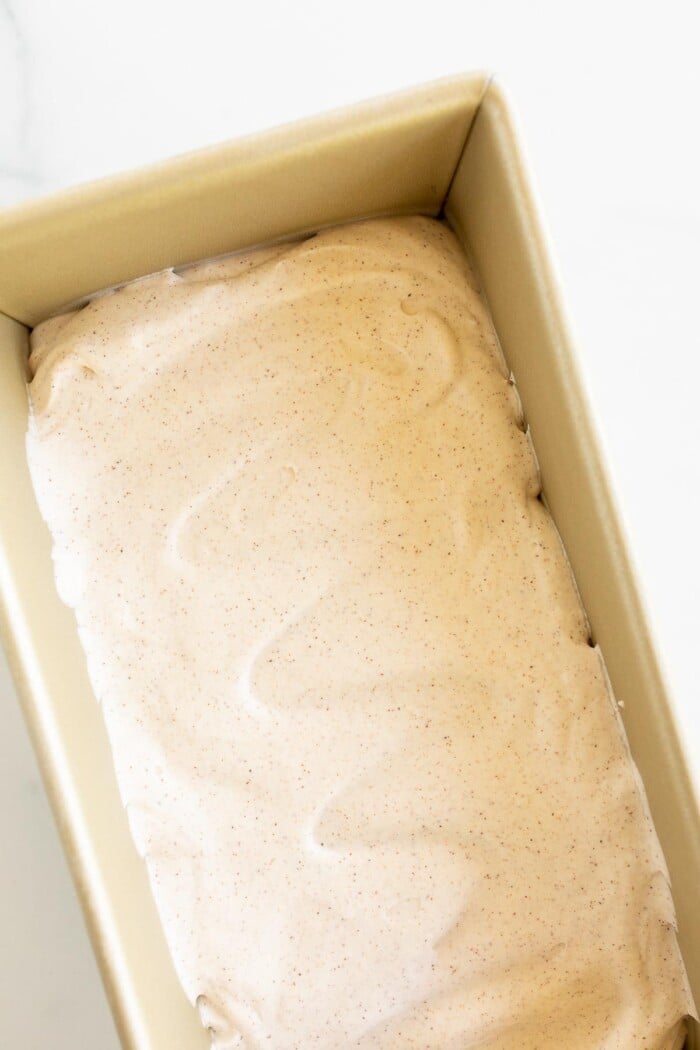 Tips
Place your mixing bowl in the refrigerator for a few minutes before whipping the cream. A cold bowl helps the cream whip faster.
Pull your cream out of the fridge right before you use it. It won't whip up quickly if it is warm.
Your freezer's coldest area is probably in the back. Store your ice cream there for a quicker freeze and to store.
Scaling up, down or substituting? You'll love this printable Measurement Conversion Chart!
Serving Suggestions
Let us count the ways! Serve with any of the following options for a delicious dessert you'll crave.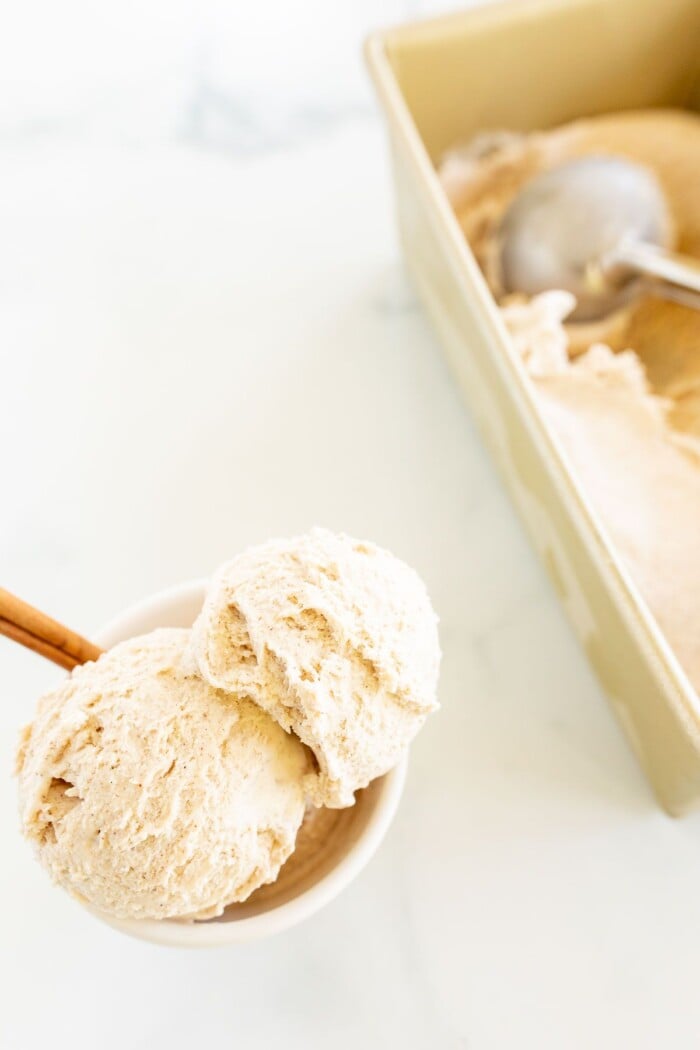 Frequently Asked Questions
How does this process work to make ice cream?
We're still using basically the same ingredients as churned ice cream. Our cream just gets whipped beforehand, whereas in an ice cream maker the cream is mixed continuously during the whole process.
We also use sugar, but in a concentrated sugar form without much water. This keeps the ice cream smooth and soft.
What does no churn, no cook ice cream mean?
No churning means that you don't need to use an ice cream maker. An ice cream maker has a paddle/dasher that churns (mixes) the cream as it freezes. A no churn recipe is nice because you don't have to find room in your kitchen for another appliance.
Some ice cream recipes require you to cook some ingredients (milk, cream, egg, sugar) to make a custard before it is frozen. That can be good, but I'm all about using less steps.
How to Store
If you didn't finish off the ice cream, cover it with a lid or plastic wrap. Place in the coldest part of your freezer for up to 2 months.
If it starts getting ice crystals or the texture has changed, then it isn't fresh anymore. You can always mix it in a shake. And then mix up a new batch to enjoy fresh.
Dietary Considerations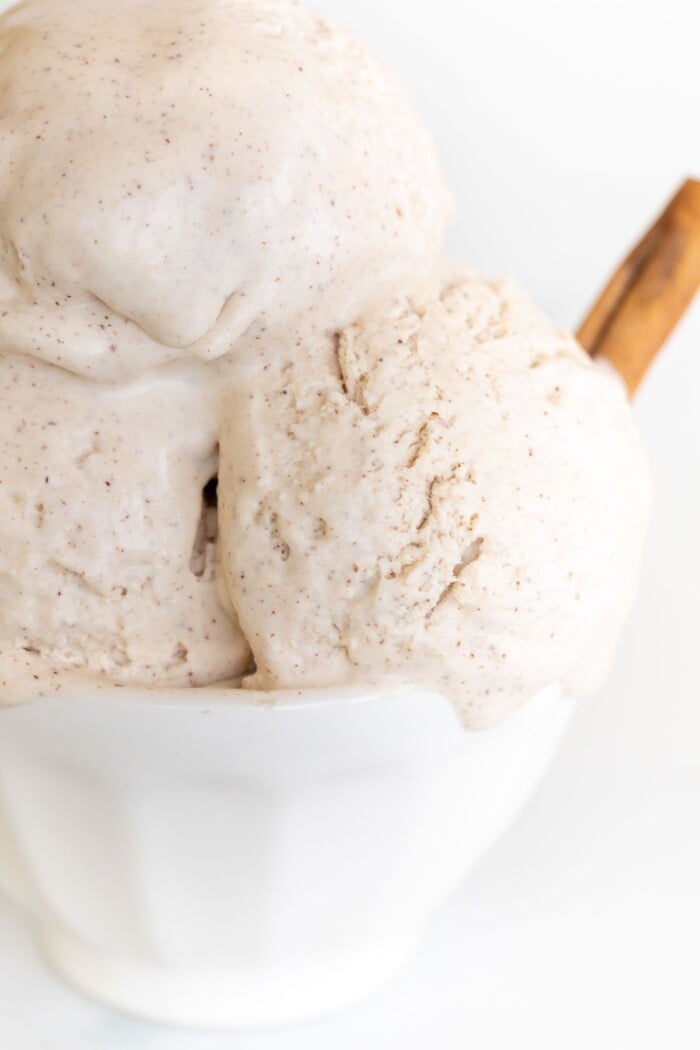 More Easy Ice Cream Recipes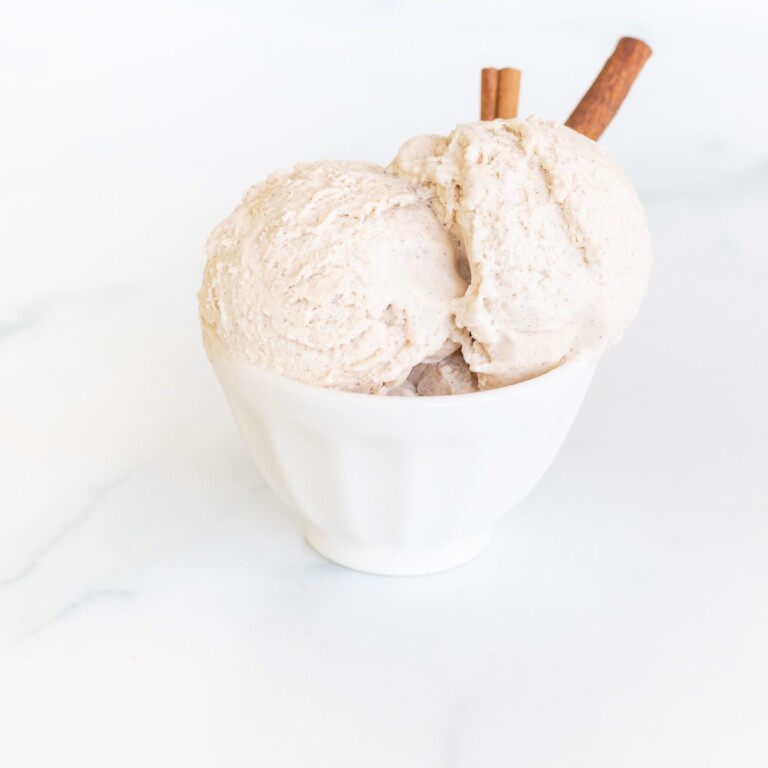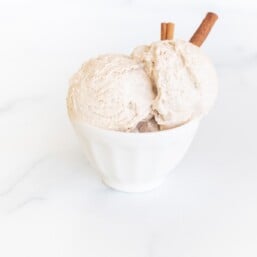 Cinnamon Ice Cream
Rich and creamy ice cream with the flavor of warm cinnamon. Mix it up in less than 5 minutes, let it freeze, then enjoy the perfect ice cream!
Instructions
Whip heavy cream until stiff peaks form.

Mix in sweetened condensed milk and cinnamon until distributed evenly.

Pour in loaf pan and freeze for 4-6 hours.
Tips
Add a pinch of a complementary spice like cloves or nutmeg.
Stir in cinnamon chips.
Add crushed cookies.
Add chunks of cheesecake or pie.
Tips
Place your mixing bowl in the refrigerator for a few minutes before whipping the cream. A cold bowl helps the cream whip faster.
Use chilled cream straight out of the refrigerator.
Store ice cream near the back for a quicker freeze.
How to Store
Cover with a lid or plastic wrap. It is best fresh, but can be placed in the coldest part of your freezer for up to 2 weeks.
If it starts getting ice crystals or the texture has changed, then it is no longer fresh.
Calories:
272
kcal
|
Carbohydrates:
27
g
|
Protein:
4
g
|
Fat:
16
g
|
Saturated Fat:
10
g
|
Polyunsaturated Fat:
1
g
|
Monounsaturated Fat:
4
g
|
Cholesterol:
60
mg
|
Sodium:
60
mg
|
Potassium:
31
mg
|
Fiber:
1
g
|
Sugar:
26
g
|
Vitamin A:
696
IU
|
Vitamin C:
1
mg
|
Calcium:
141
mg
|
Iron:
1
mg
Estimated nutrition information is provided as a courtesy and is not guaranteed.
Explore More