Creamy, dreamy Cookie Butter Ice Cream, made with just 3 ingredients in 5 minutes hands on time without special equipment! With just one lick, you'll fall in love with Speculoos Ice Cream!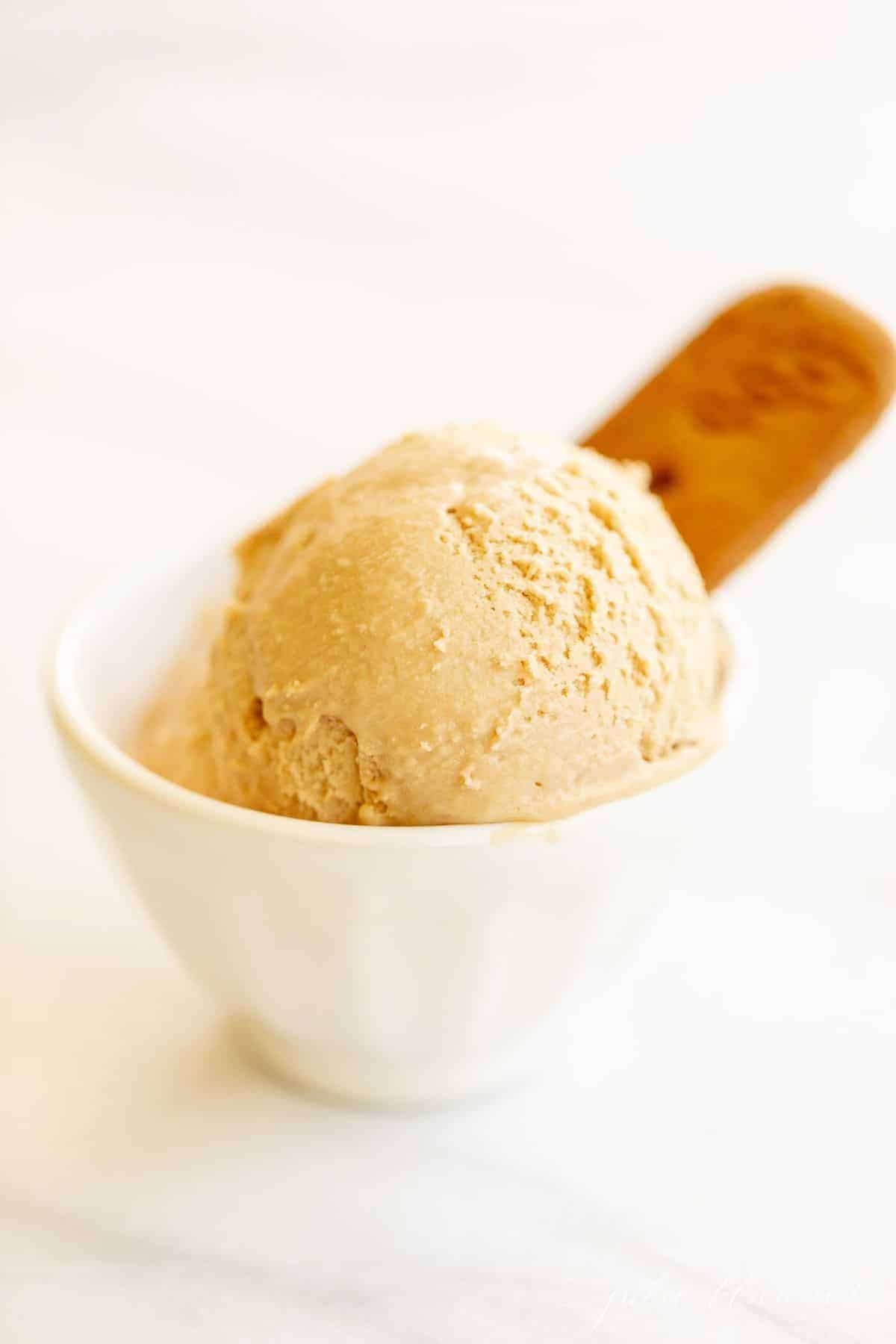 The Magic of Cookie Butter Ice Cream
What is Cookie Butter, you might ask? Well… it's magical. That's what it is. You have to try it to believe it. If you've never had cookie butter, get yourself over to Trader Joe's as quickly as possible.
In all seriousness though, it's a spread, much like peanut butter in consistency, made from crushed speculoos. Speculoos are spiced cookies, similar to gingerbread, with a shortbread-like buttery flavor.
When pulverized, magic happens… turning the cookies into a delightful spread. I've used cookie butter in a variety of recipes – you've got to try my Speculoos pie crust, cookie butter cheesecake, and cookie butter cake!
If you've never had cookie butter, get yourself over to Trader Joe's as quickly as possible.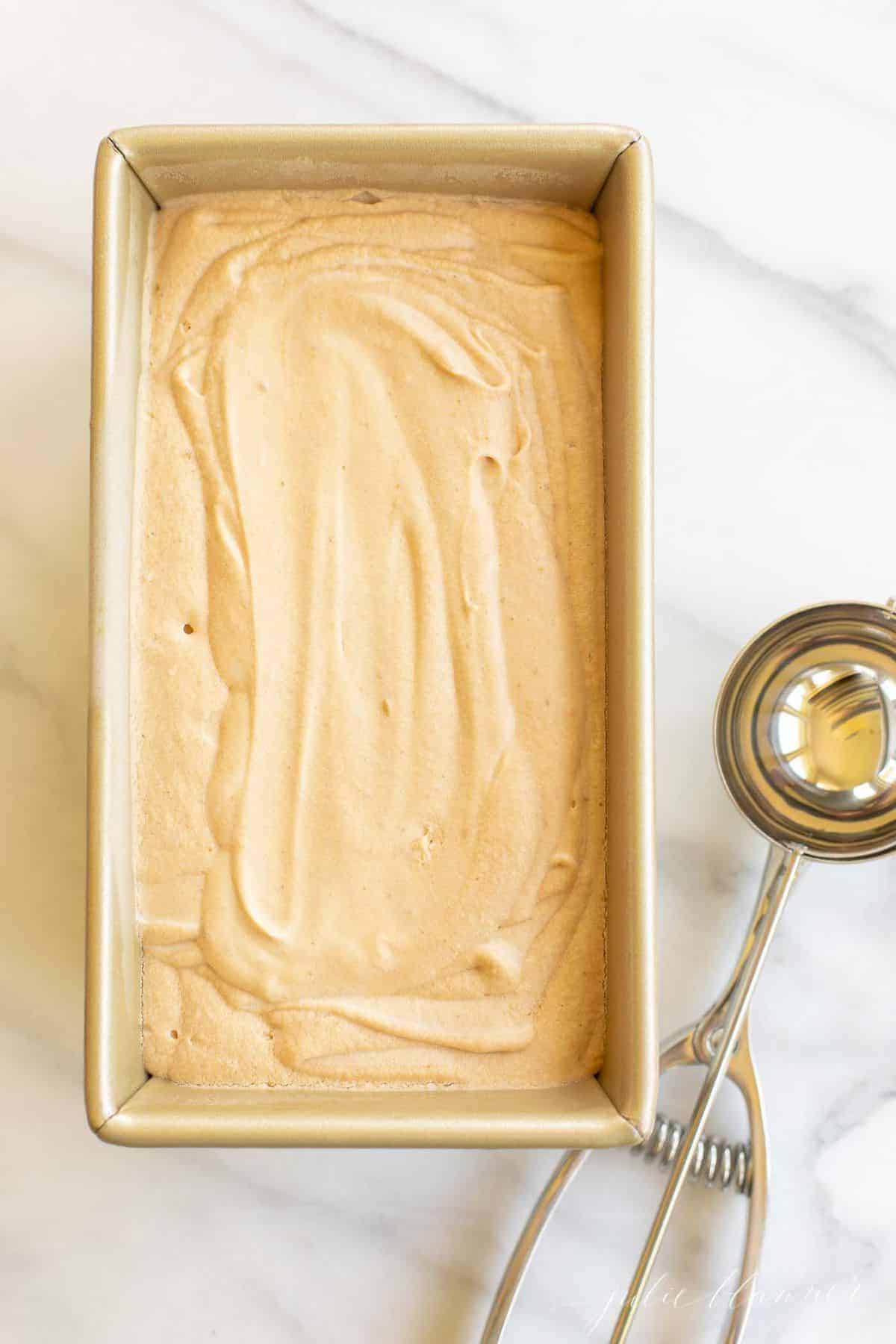 I can't keep my spoon out of a jar of Speculoos Cookie Butter. It's insane.
I love using it as a dip and incorporating it into desserts like these amazing no bake Cookie Butter Bars. After having Trader Joe's Cookie Butter Ice Cream, I decided I could do it better and I'm proud to say it was a huge success!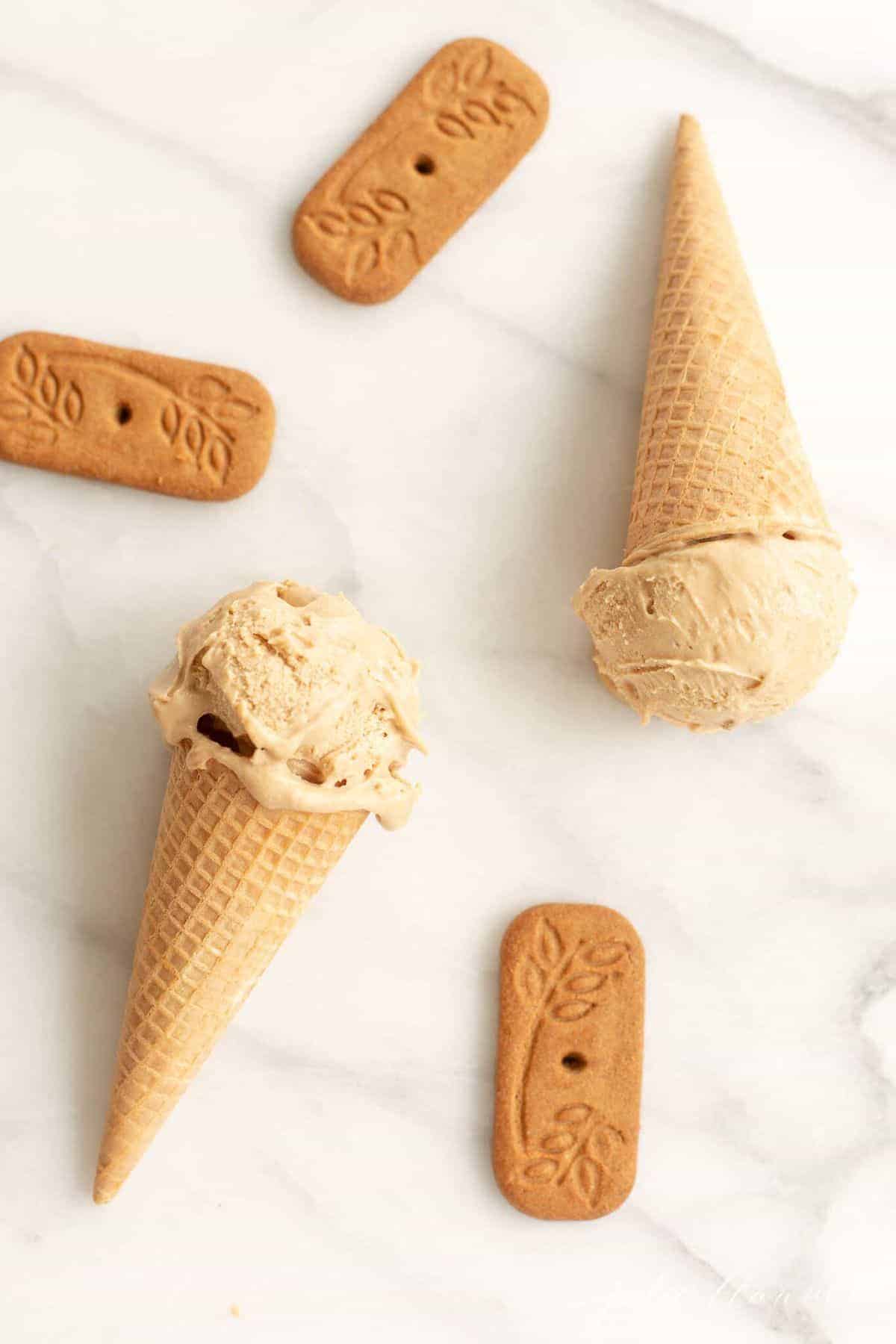 Why You'll Love this No Churn Speculoos Ice Cream
This Cookie Butter Ice Cream comes together in just five minutes hands-on time and only three ingredients! You read that correctly- three ingredients.
It's a no churn ice cream recipe that doesn't require any special equipment like an ice cream maker or additional effort like a stove top.
That's right, there's no cooking involved in this recipe! Who has time for that? Just rich, creamy, dreamy Cookie Butter Ice Cream in minutes!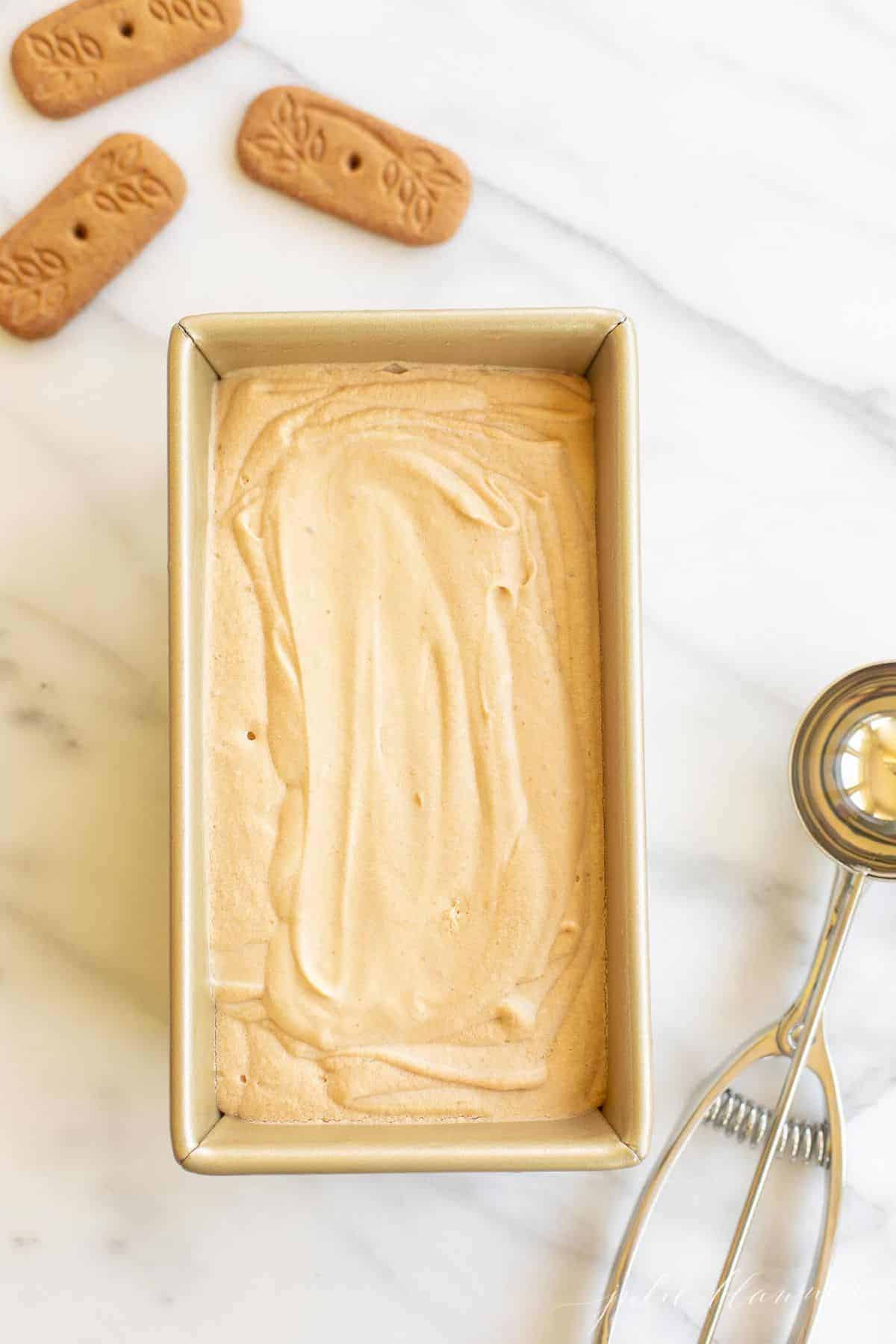 It's amazing on its own, but who could resist a scoop on top of a warm chocolate chip cookie or brownie? I challenge you to throw it in a sugar cone. I just indulged straight from the container.
Any which way, I know you will love it, too! This Speculoos Ice Cream recipe is a slight adaptation from my famous Peanut Butter Ice Cream. If you thought that was creamy, wait until you get a lick of this!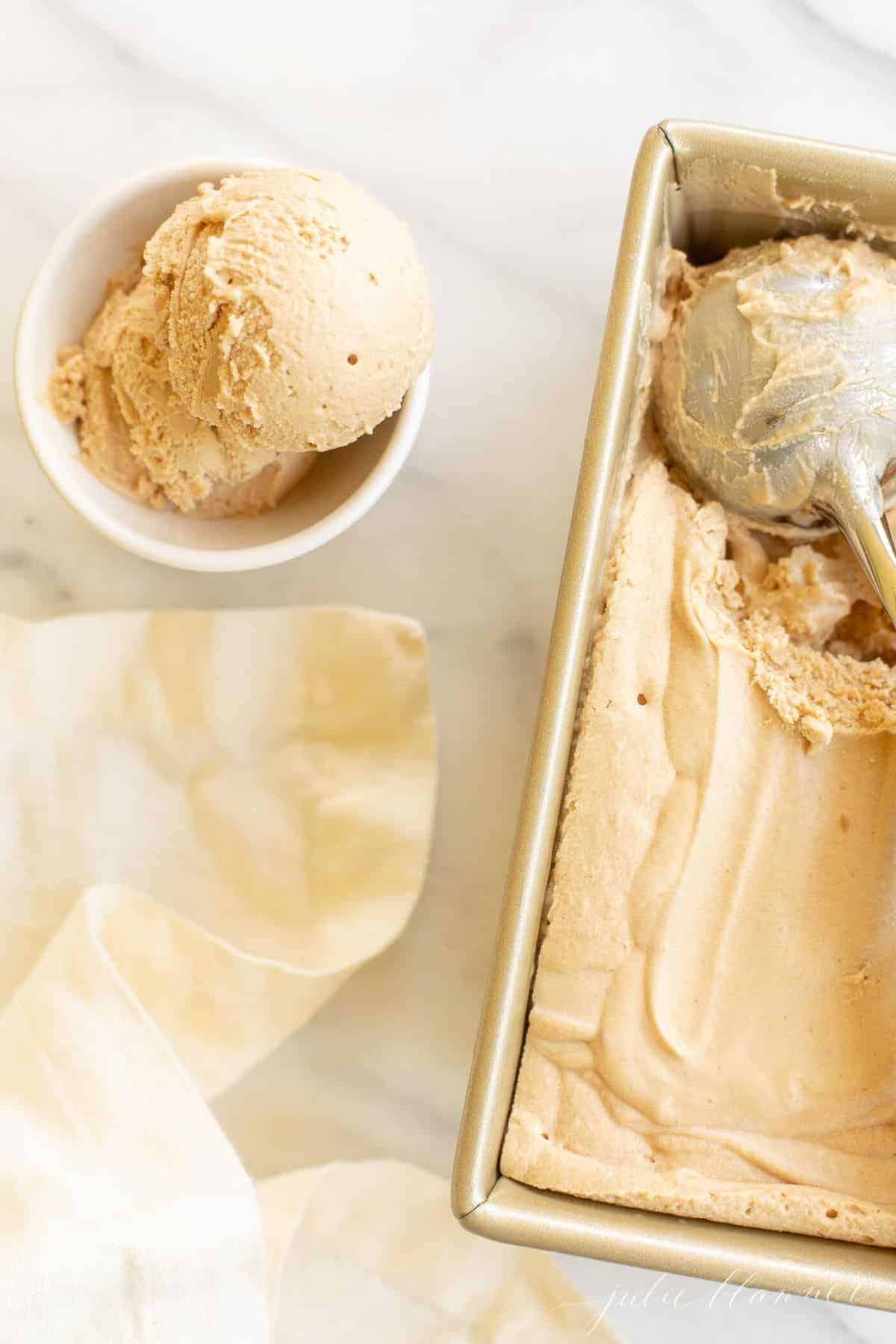 Cookie Butter Ice Cream Ingredients
This easy Cookie Butter Ice Cream recipe requires just three ingredients.
Heavy Cream – The base for no churn ice cream.
Sweetened Condensed Milk – The ingredient that takes it from cream to ice cream. Sweetened condensed milk helps create the creamy sweetness to crave!
Cookie Butter – This spreadable butter is comprised of pulverized spiced shortbread cookies (usually called Biscoff in the States, or Speculoos in Europe) and adds amazing flavor to the ice cream.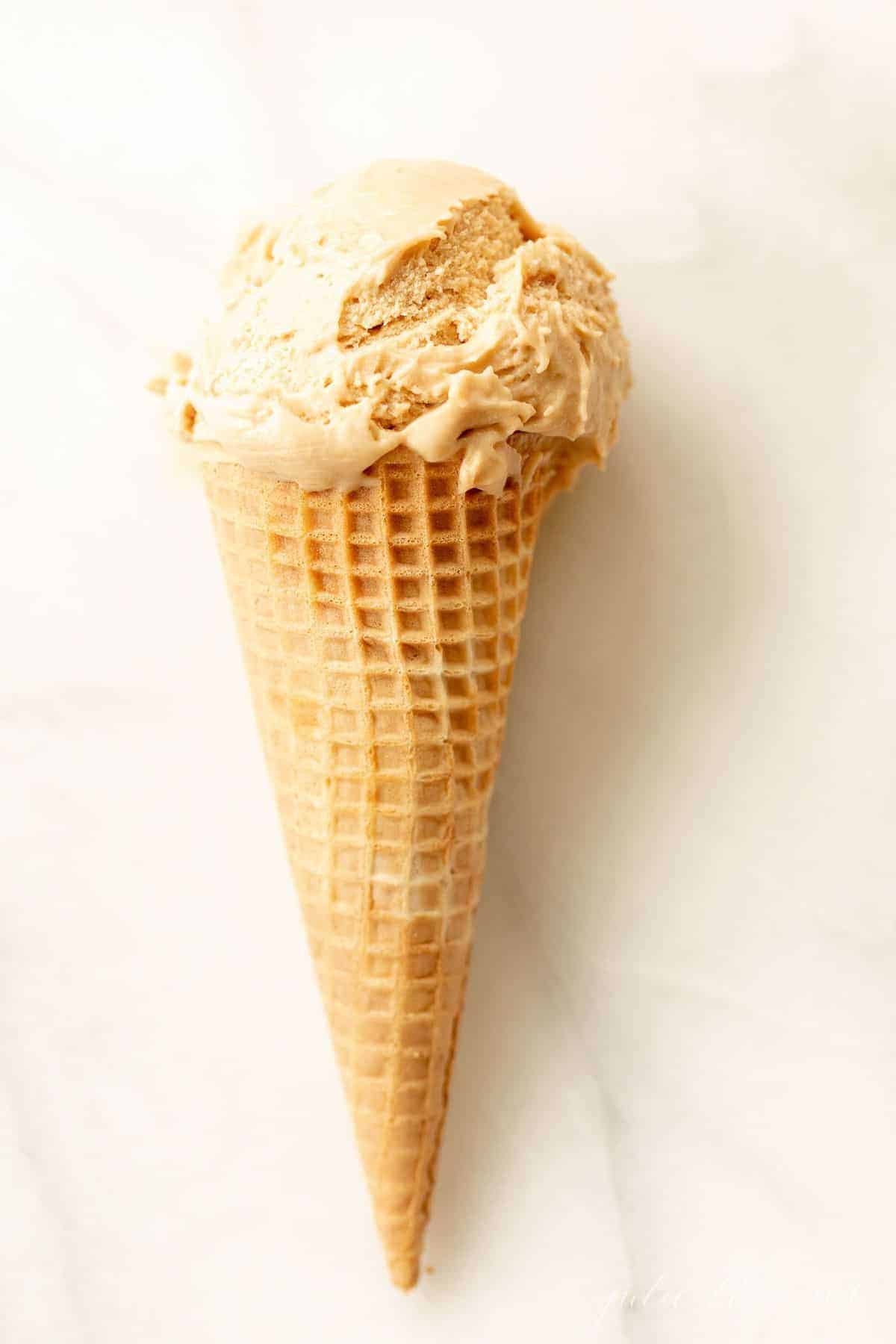 Variations
Swirl in crushed speculoos
Swirl in candy or chocolate chips for a little added crunch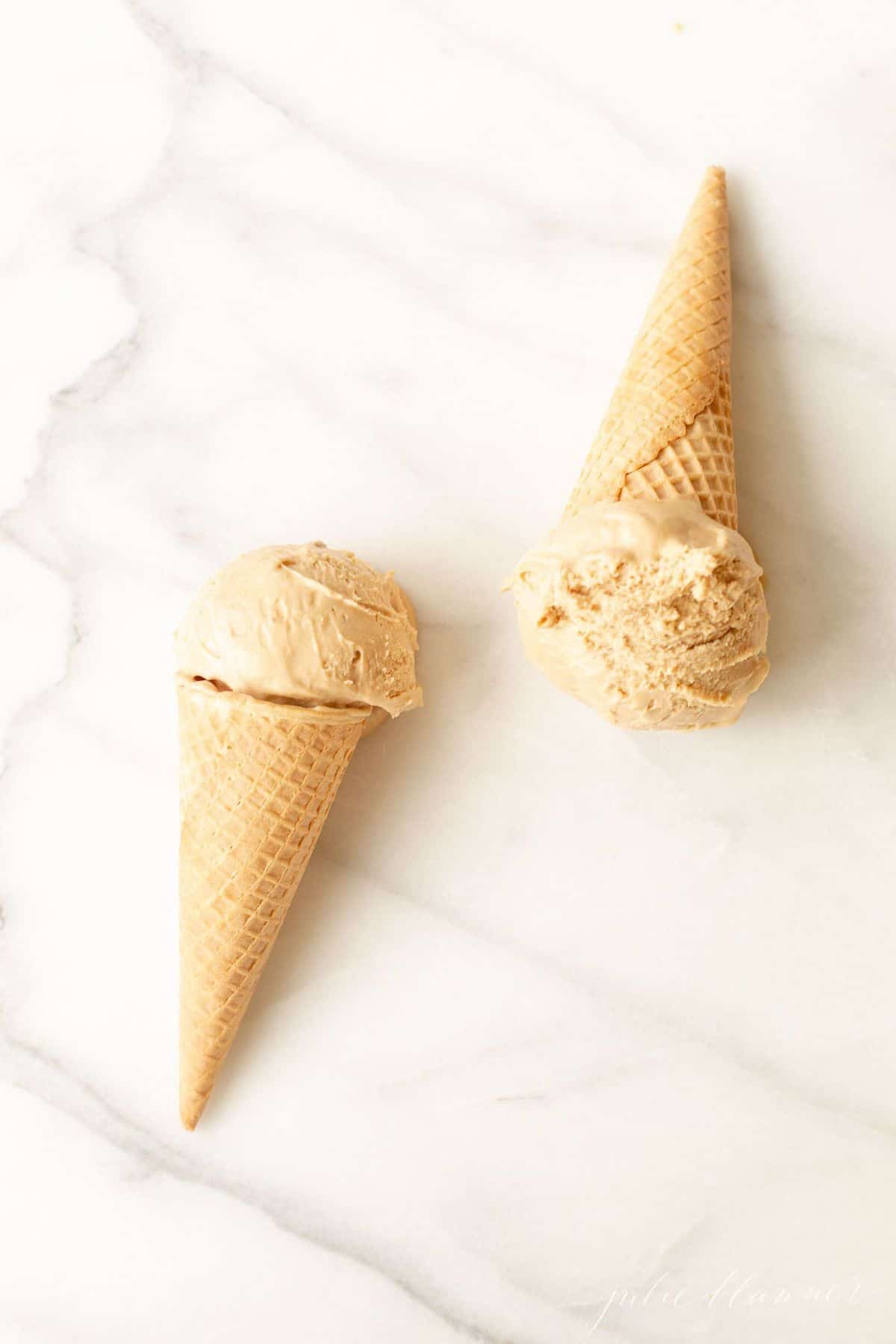 Where to Buy Cookie Butter
You'll find it under several names like Speculoos Cookie Butter and Biscoff Cookie Spread.
Trader Joe's
Target
Walmart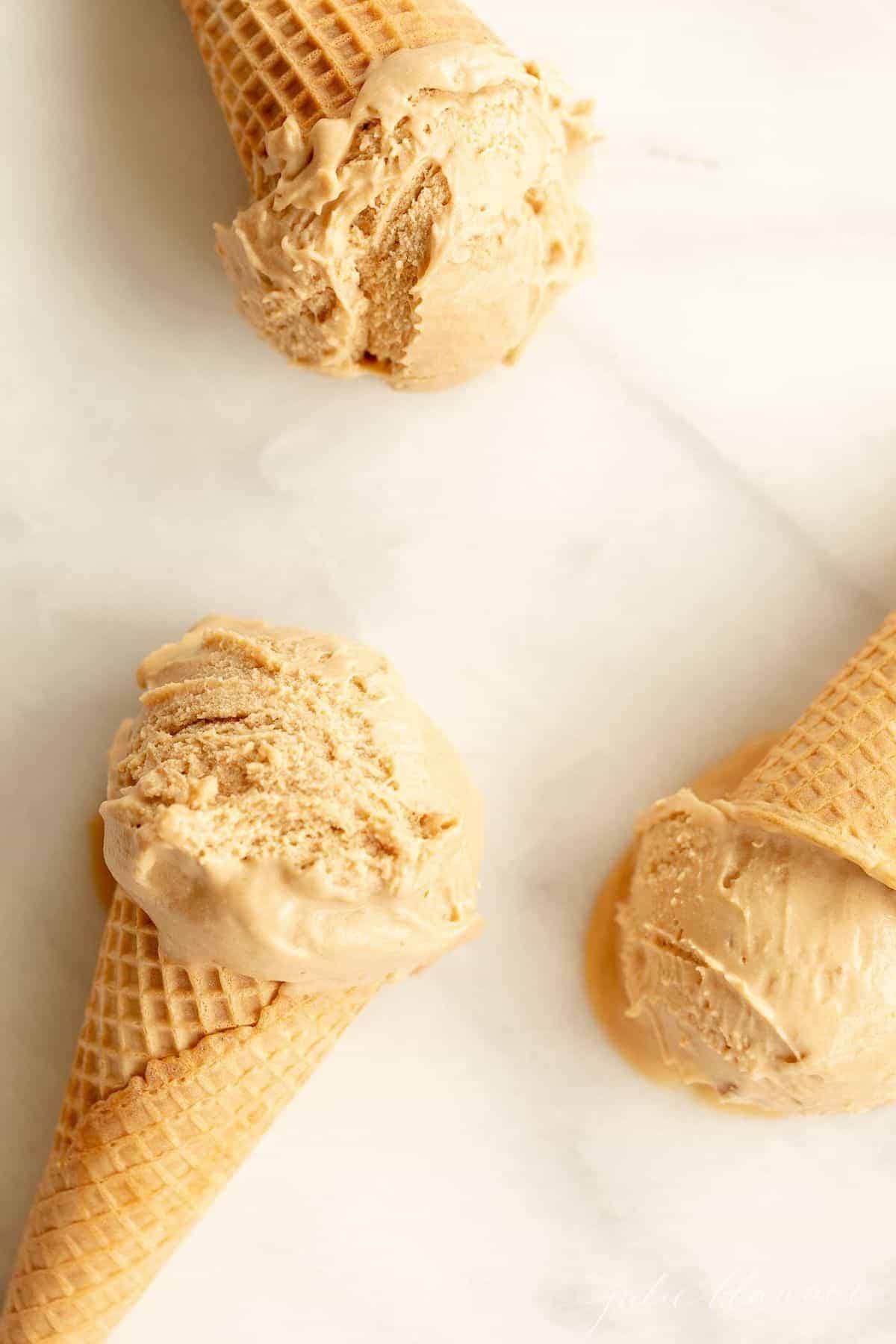 How to Make Cookie Butter Ice Cream
In a mixing bowl, whip heavy cream until stiff peaks form.

Blend in sweetened condensed milk and cookie butter until smooth.

Pour into loaf pan.
Freeze until solid.

Tips to Make Speculoos Ice Cream

Don't over beat. Whipped cream can go from smooth to a chunky, grainy texture quickly, so it's important not to over whip the whipped cream.
It will keep in an airtight container like this ice cream container in the back of the freezer for 2 weeks or until crystallization forms. I also add a layer of plastic wrap directly on top of the ice cream (before adding a plastic lid). I don't worry much about storing it for long, because the truth is- it won't last long in our house!

Layer this homemade ice cream into a no-bake ICE CREAM PIE. You'll never regret this choice! Try my Oreo Cookie Crust, Pretzel Crust, or Sugar Cookie Crust.

Now there's two ways you can do this – you can swirl it in or blend it all together. Guess which one I'm in favor of? Cookie butter in every bite!

My sister's comment? "This is ridiculous." We couldn't keep our hands off of it – and that was before it was in frozen form. You just may want to make a double batch. Or don't. It you don't want to devour the entire batch, have a share plan because it's truly addicting!

What's your family's favorite ice cream flavor? We love them all. I can't wait to hear what you think of this one! Please come back and leave a five star review or Pin on Pinterest.

Want more? Receive the best ideas directly to your inbox and connect on Youtube, Instagram, Facebook, and Pinterest!

More No Churn Ice Cream Recipes

If you haven't noticed, we love ice cream. Through the years I've shared a number of amazing no-churn ice cream recipes, including the following:

Cookie Butter Ice Cream

Creamy, dreamy Cookie Butter Ice Cream, made with just 3 ingredients in 5 minutes hands on time without special equipment! With just one lick, you'll fall in love with Speculoos Ice Cream!

Instructions

In a mixing bowl, whip heavy cream until stiff peaks form.

Fold in sweetened condensed milk and cookie butter until just combined. Don't over beat.

Pour into loaf pan. Freeze until solid.

Notes

Don't over beat. Whipped cream can go from smooth to a chunky, grainy texture quickly, so it's important not to over whip the whipped cream.

Freeze in an airtight container for up to weeks or until crystallization forms.

Nutrition

Calories:

652

kcal

Carbohydrates:

57

g

Protein:

8

g

Fat:

44

g

Saturated Fat:

20

g

Cholesterol:

88

mg

Sodium:

72

mg

Potassium:

45

mg

Sugar:

45

g

Vitamin A:

999

IU

Vitamin C:

1

mg

Calcium:

163

mg

Did you Make This Recipe?

Mention @JulieBlanner