No ice cream maker necessary for this incredible cream cheese ice cream! It's everything you love about sweet and savory cream cheese frosting combined with the frosty joy of homemade ice cream.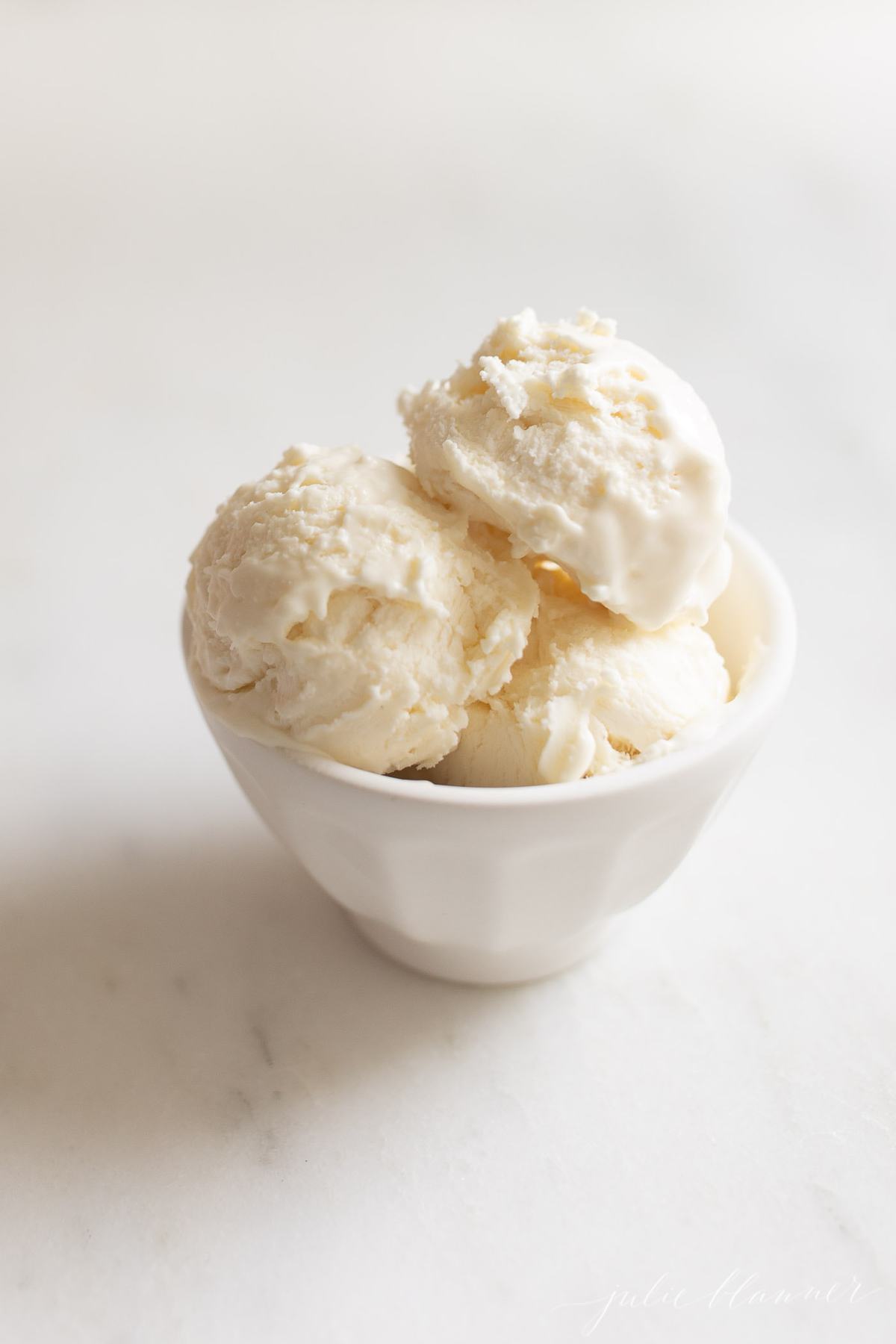 Cream Cheese Ice Cream
When we lived in Kansas City, we frequented Christopher Elbow's Glacé. They always offered inspired ice cream flavors including Cream Cheese Ice Cream, Sweet Corn, Lavender, Goat Cheese and so many more.
I longed for the simplicity and rich flavor of cream cheese blended into ice cream and started making it at home. Psst… if you love cream cheese flavor, you don't want to miss these classic cream cheese mints – they are the perfect addition to any party table! I've also got a great round up of all the ways to soften cream cheese – so easy!
When it comes to this delicious ice cream, I think it's the tangy flavor of the cream cheese that lends a sophisticated element to your standard ice cream treat. The cream cheese adds a savory touch! It balances with the sweetness of the ice cream and makes it incredibly creamy.
Love cream cheese as much as we do? Don't skip this Cookies and Cream Spread with just three ingredients!
Fast and Easy Homemade Ice Cream
My love for homemade ice cream runs deep (as you can see from the number of homemade ice cream recipes I've shared over the years below). However, this is among my favorites because it's rich and creamy. It's unlike any other ice cream and elevates any occasion. I love serving it when we have guests for dinner.
While the girls gravitate towards candy-inspired options mixed into our homemade ice cream, I tend to love recipes that are a little more refined. This recipe is a perfect example! However, even the girls can't get enough of this Cream Cheese Ice Cream recipe. Especially when it's served with a strawberry Pinot Reduction.

No Churn Ice Cream
In a way, perhaps I should consider myself lucky that I spent years in the dark on this one. It's true! I never knew how easy it was to make my own ice cream at home. And yes, maybe that's a good thing…because now? I can't get enough!
For years, my mom, sister and I spent hours outdoors alternating ice and salt in the ice cream maker to make her famous homemade vanilla ice cream. While I have so many fond memories, I also remember often eating ice cream "soup" because it took so long, we became impatient.
That's one of the reasons I turn to no churn ice cream. All of the flavor, without all of the fuss. It's quick and easy to make.
There's a great secret to making homemade ice cream without churning. Two ingredients are the basis for all my homemade ice cream flavors. This delicious creamy treat comes together with the most delicious shortcut you're going to love! What's in no-churn ice cream? Heavy whipping cream and sweetened condensed milk!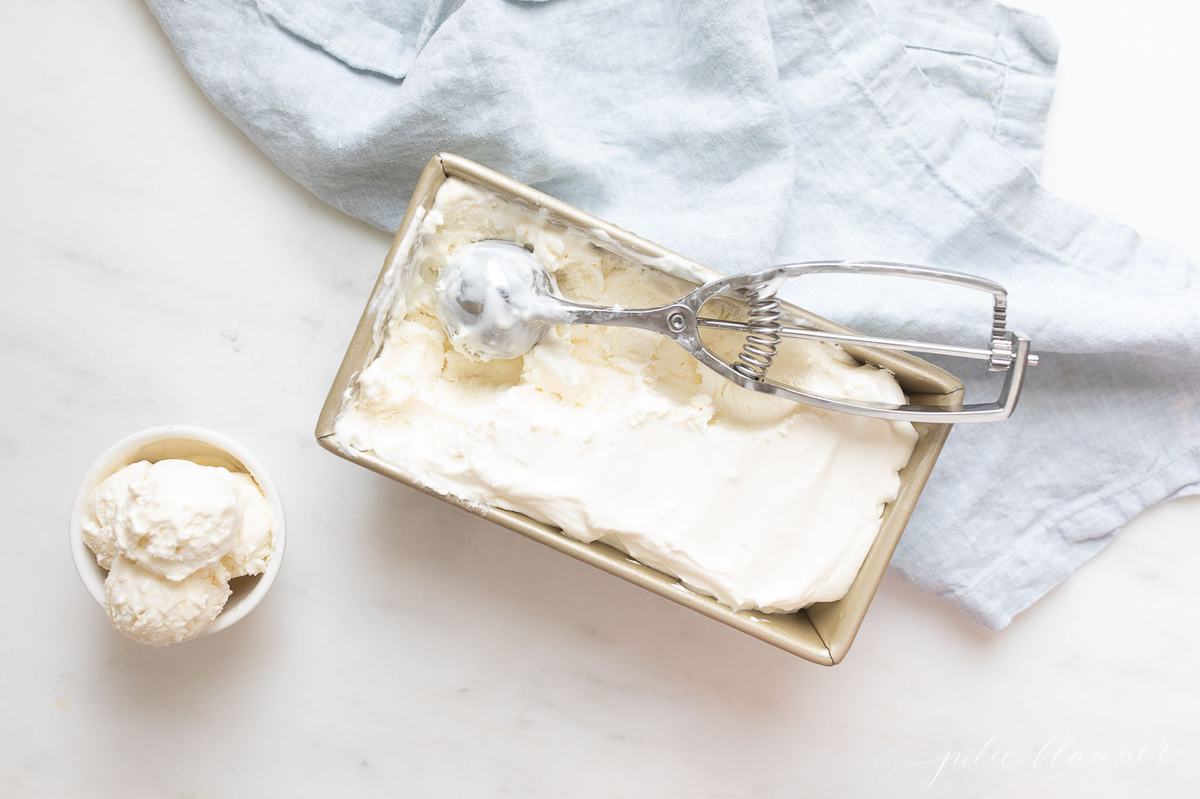 How To Make Cream Cheese Ice Cream
You can make this ice cream in just few simple steps and a couple hours of freezer time. It's a decadent treat that you'll want to make again and again. Tip: use very cold whipping cream.
In a mixing bowl, whip heavy cream until stiff peaks form.
Blend in sweetened condensed milk, vanilla and cream cheese (room temperature).
Pour into loaf pan and freeze until solid.
Serve and enjoy!
Too much? Just pour the mixture into 4 miniature ceramic loaf pans (available at Michael's for just $1). Enjoy one yourself and share the others with neighbors and friends. This ice cream is a little more solid than my other recipes which makes it perfect for gifting.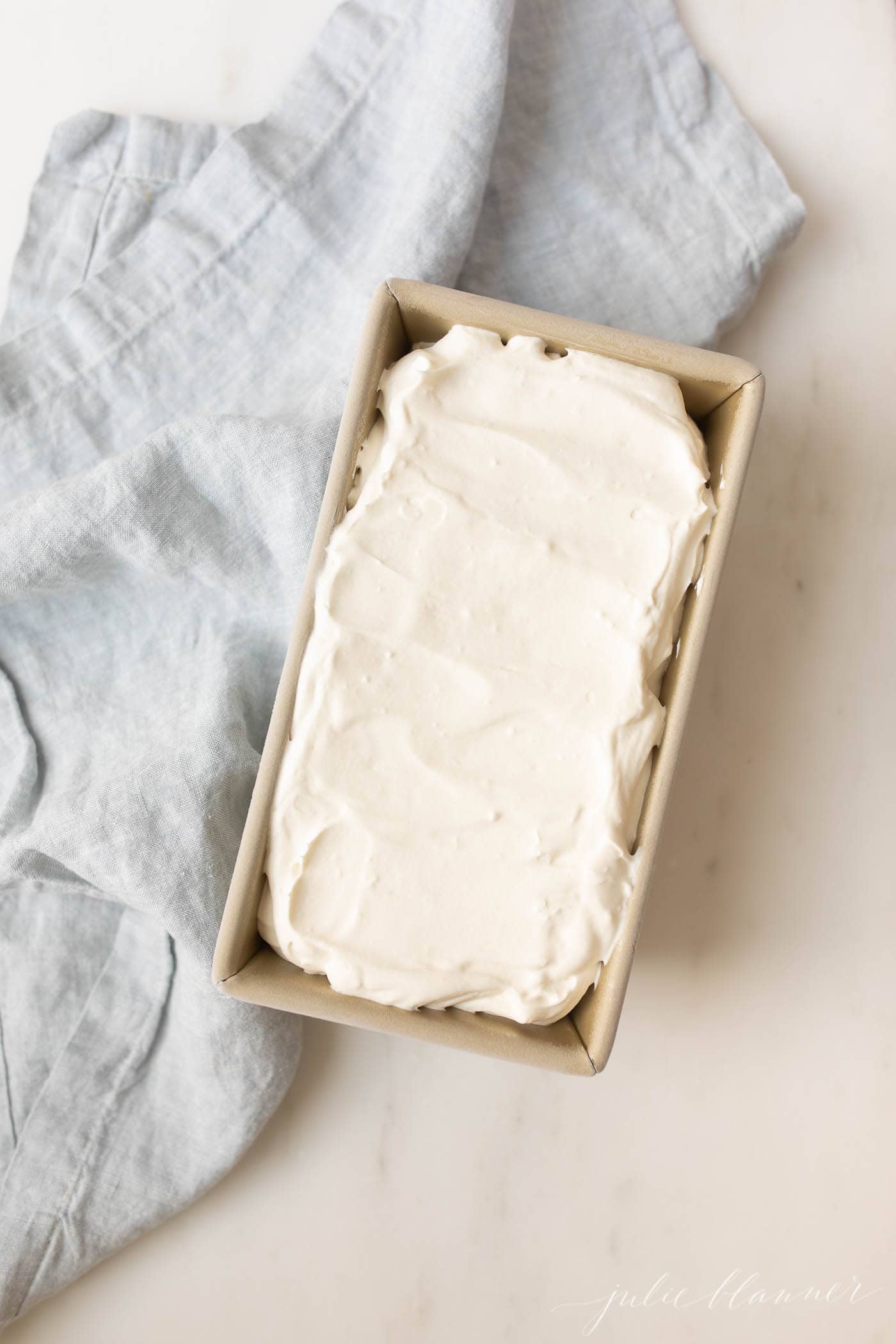 What To Serve With Cheese Ice Cream
While adding any kind of cheese flavor to ice cream is not a new concept (goat cheese ice cream, anyone?), it's one that works beautifully while served alongside other sweet treats. It goes perfectly with fruit pies of all kinds, and it's accented so well with simple servings of fruits and berries.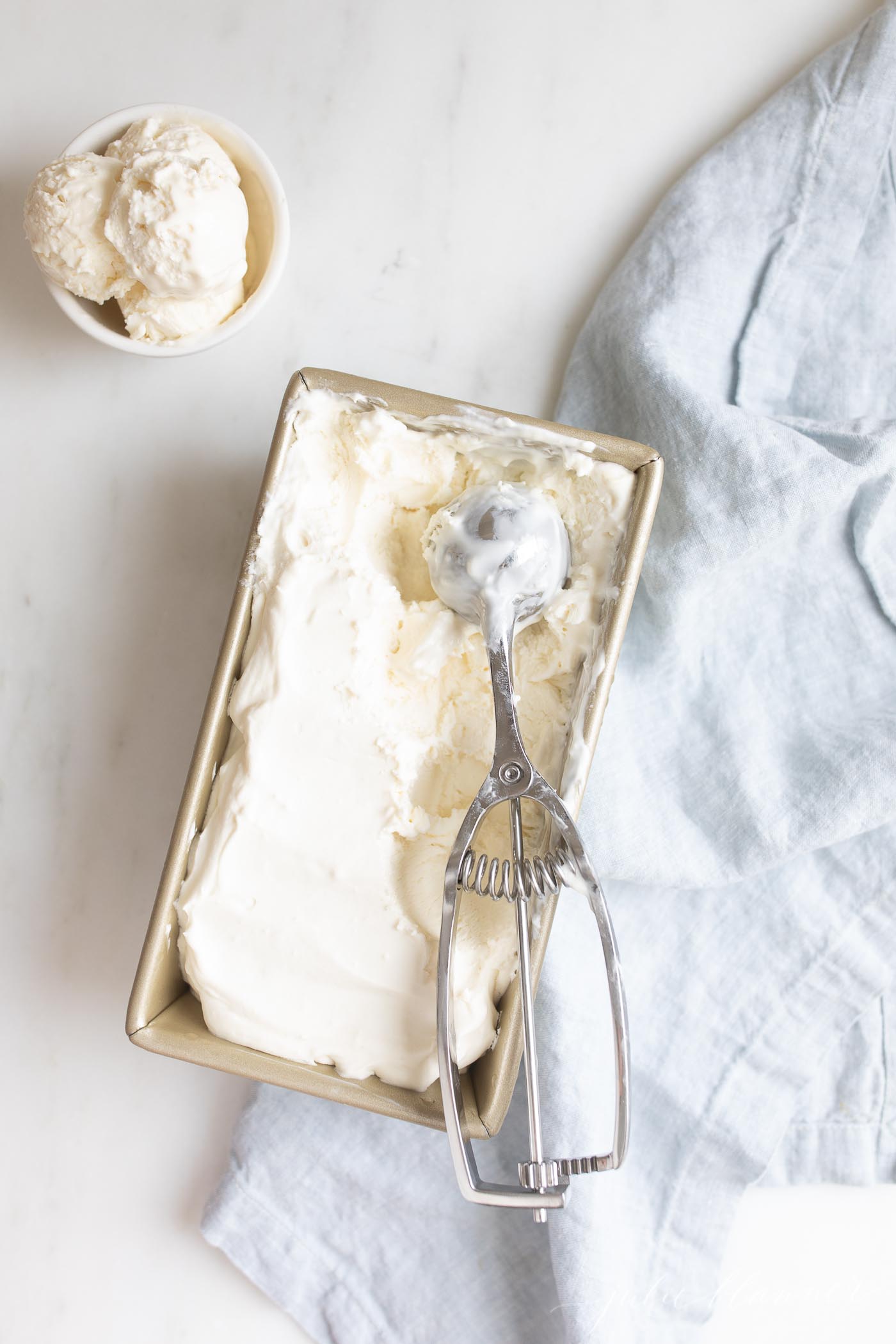 The savory nature of the cream cheese means that this ice cream is also perfect with the same accents you would use for cheesecake! In fact, it's like cheesecake, in a bowl!
Pair it with graham cracker crumbs, caramel and chocolate are all a delicious addition to this ice cream. You can also make an incredible ice cream sandwich if y0u pair this cheese ice cream with any of my favorite cookie recipes!
More suggestions to pair it with: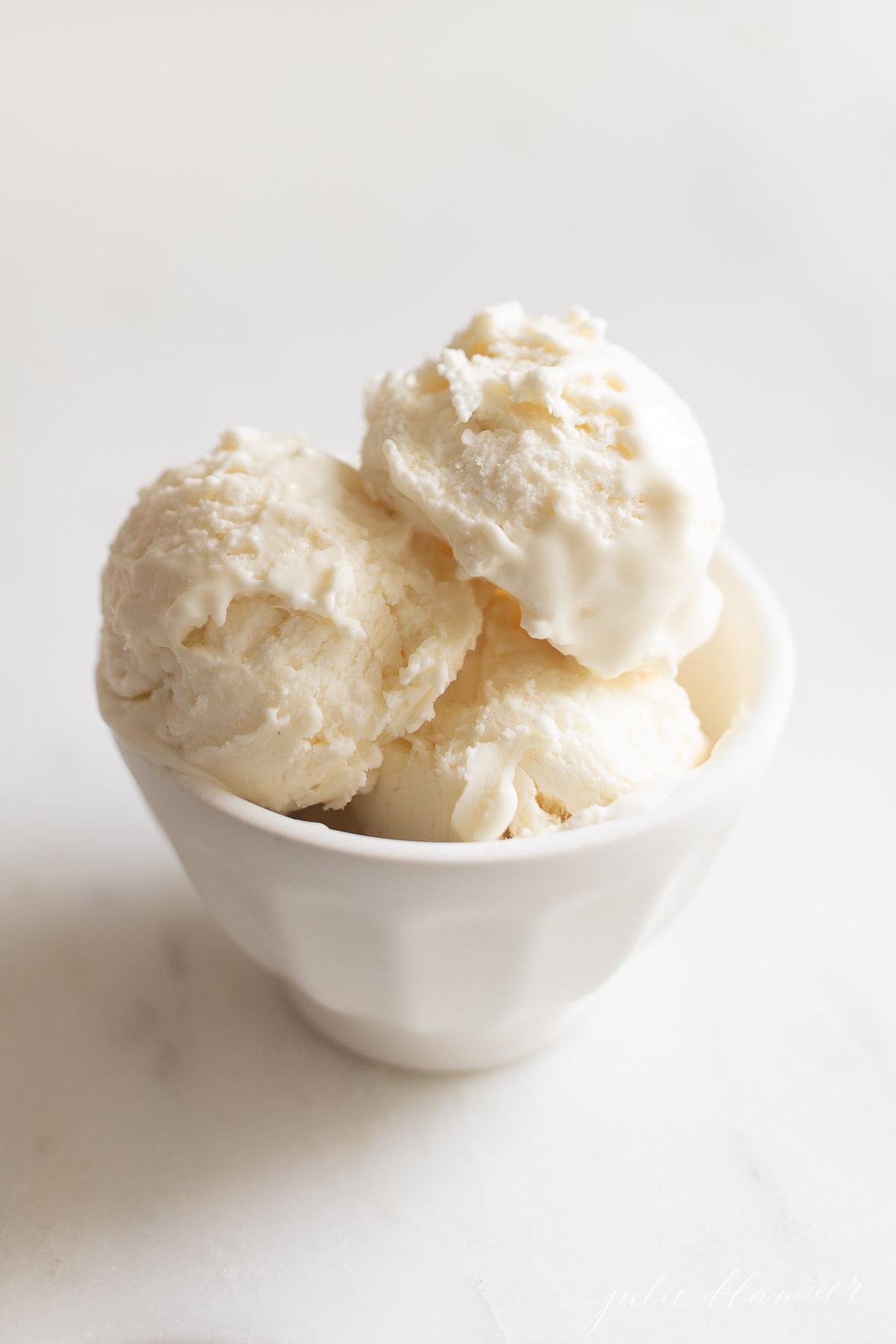 How To Store Homemade Ice Cream
It will keep in an airtight container like this ice cream container in the back of the freezer for 2 weeks or until crystallization forms.
If I have time, I also add a layer of plastic wrap directly on top of the ice cream (before adding a plastic lid). I don't worry much about storing it for long, because the truth is- it won't last long in our house!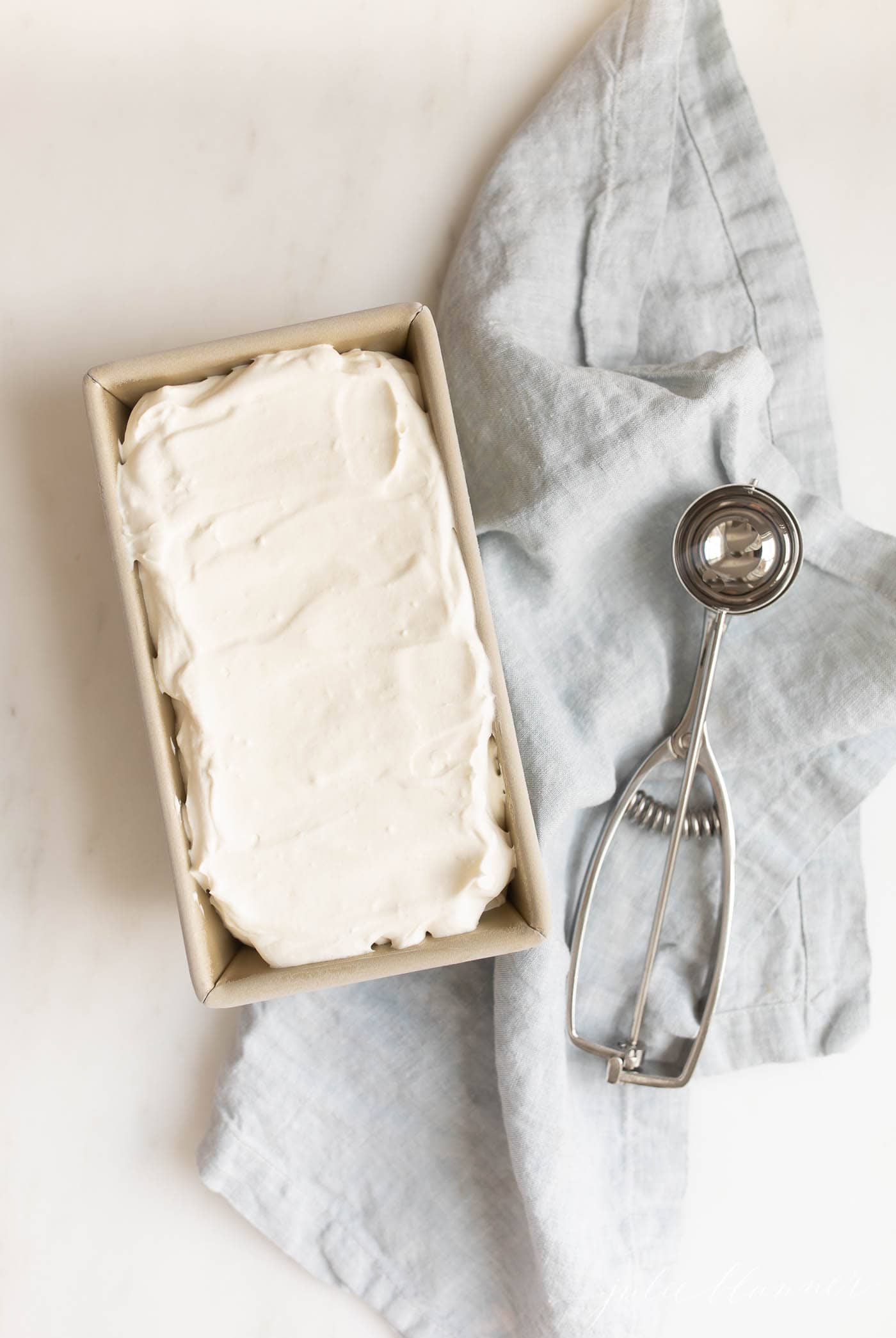 Curious to learn more about using cream cheese in your recipes? Read more in Can you Freeze Cream Cheese and How to Soften Cream Cheese Quickly to learn all about what works and what doesn't!
I hope you love this easy recipe as much as we do! I look forward to hearing what you think!

Hungry for more easy recipes? Sign up for my free recipe club and have amazing recipes delivered directly to your inbox each week!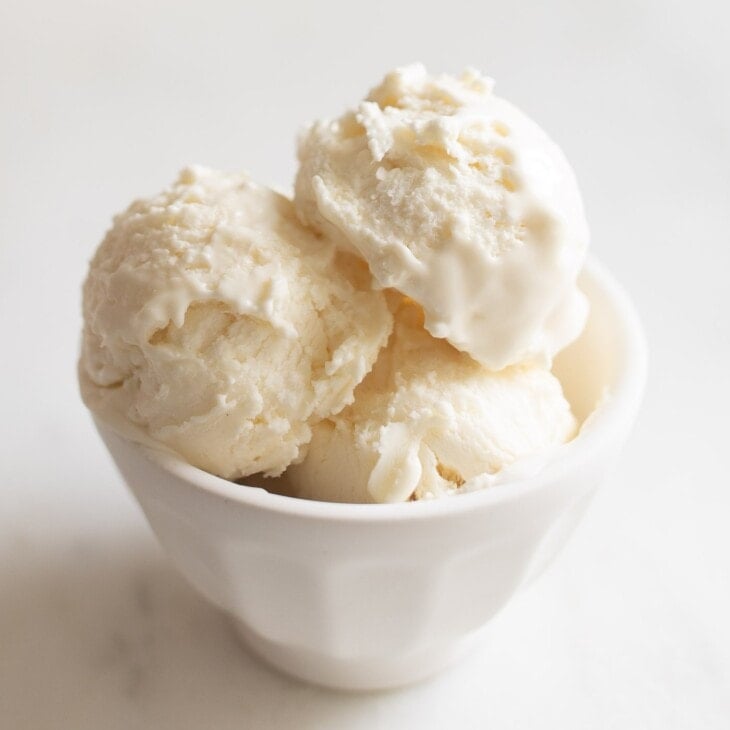 Cream Cheese Ice Cream
No ice cream maker necessary for this incredible cream cheese ice cream! It's everything you love about sweet and savory cream cheese frosting combined with the frosty joy of homemade ice cream.
Instructions
In a mixing bowl, whip heavy cream until stiff peaks form.

Blend in sweetened condensed milk, cream cheese and vanilla, and pour into loaf pan.

Freeze until solid.
Tips
Serving Suggestions: Fold in your favorite fruits or strawberry syrup.
Nutrition Information
Calories:
227
kcal
(11%)
,
Carbohydrates:
16
g
(5%)
,
Protein:
3
g
(6%)
,
Fat:
17
g
(26%)
,
Saturated Fat:
10
g
(50%)
,
Cholesterol:
59
mg
(20%)
,
Sodium:
82
mg
(3%)
,
Potassium:
42
mg
(1%)
,
Sugar:
15
g
(17%)
,
Vitamin A:
690
IU
(14%)
,
Vitamin C:
1
mg
(1%)
,
Calcium:
95
mg
(10%)
,
Iron:
1
mg
(6%)
Estimated nutrition information is provided as a courtesy and is not guaranteed.