Blackout curtains effectively block light and heat coming through your windows. And now you can even find a variety of colors and patterns, which have come a long way from the first generation dark colors.
There are a lot of reasons to use curtains in your decorating. Some reasons are for aesthetics – to help add height to a room, to create softness through fabric, and to maintain your style and color schemes. Other reasons, though, are functional – to provide privacy, to block heat and light, and to protect furniture and decor from UV rays.
Keep reading to see if blackout curtains are the right choice for your next window treatment project.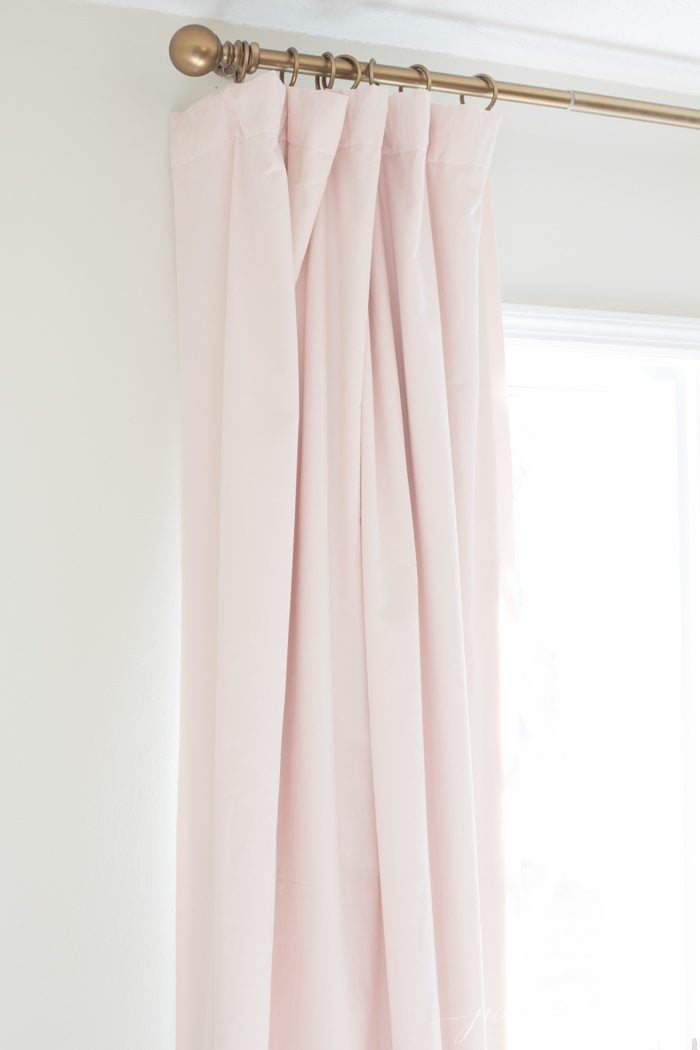 Curtains or drapes can really be a finishing feature in a room, adding the final bit of softness around windows. They're really quite easy to install yourself. Learn how to hang curtains to look like custom drapes for your next project. You can even have curtains in a bay window like I did with my custom copper curtain poles.
I use a variety of window treatments in my house, carefully selecting the right product for each room. I used blackout roman shades in our spa bathroom, laundry room, and a bedroom to add a little charm and softness. They also block the light and provide privacy, which is essential in a bedroom and bathroom!
In our lake house guest room I wanted a bit of luxury, so I used blackout roller shades. In the more modern style of this home, these fit perfectly. No one wants to wake up too early with the sun on vacation, so the blackout feature was important.
We avoided cords by using a remote system – and it is so heavenly to open and close the shades from the comfort of our bed. I love when the perfect solution presents itself, don't you?
Let's learn more about blackout curtains today!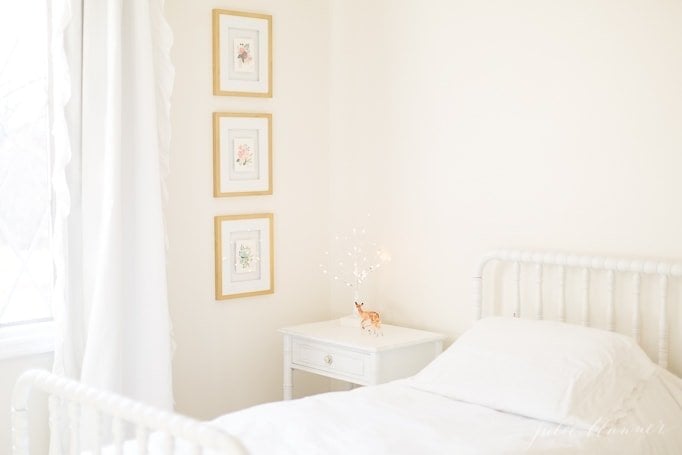 What Are Blackout Curtains?
Blackout curtains block 100% of the light. Be aware, though, that light can still enter the room through the gap between the curtain and windows or walls. To block that light you'll need to make the curtains flush against the wall. But for most people, a little light coming through the gaps isn't too bothersome.
You may also have heard about room darkening curtains and light filtering curtains. Room darkening curtains block about 95% of the light. And light filtering curtains allow most light through, but stop the intensity of the light.
Blackout curtains contain a layer of tightly woven polyester that doesn't allow light to filter through. Your curtains will either have that layer incorporated into the fabric, or it may be a second layer of fabric sewn onto the back of the curtain. This blocks light as well as provides insulation.
Originally, blackout curtains were dark and drab and left a lot to be desired for design purposes. But they've come a long way! Now you can find blackout curtains with pretty patterns and even in light colors.
I love working with a neutral palette in my decorating, and it's nice that blackout curtains are an option in my preferred style.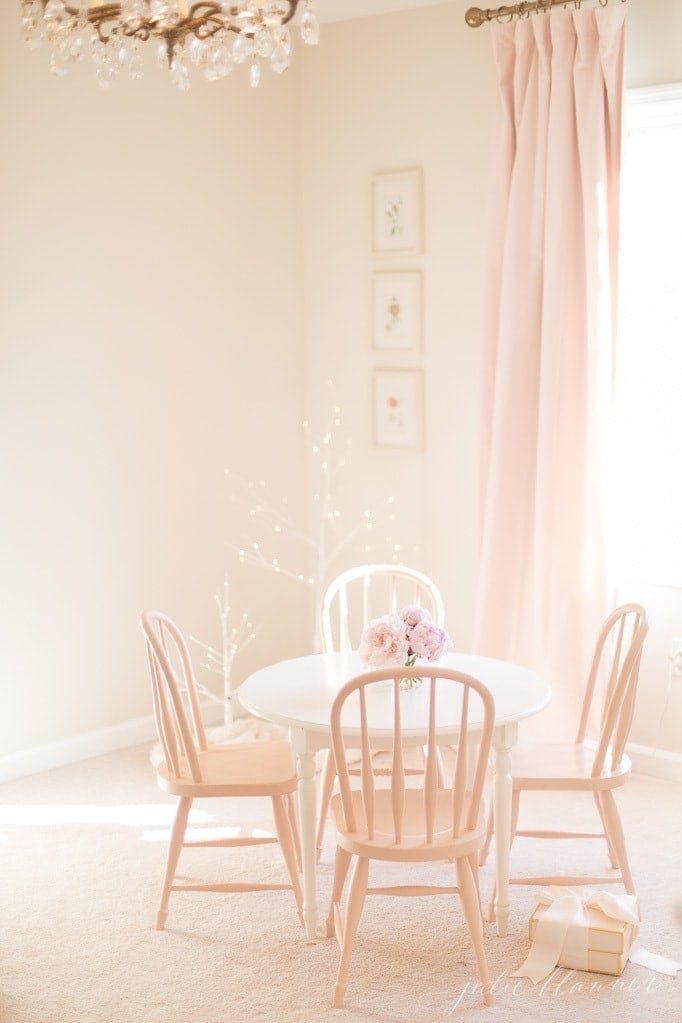 Pros and Cons of Blackout Curtains
When considering blackout curtains, consider your style needs as well as the function. Then weigh your pros and cons.
Pros
Blocks light from entering through the window, especially nice in the summer or if you have street lamps by your window.
Offers the most privacy possible when viewed from the outside, which is especially ideal for bedrooms and bathrooms.
Acts as an insulator, keeping hot air out in the summer and cool air out in the winter. This can also lead to reduced energy costs.
Protects furniture and art from damage caused by UV rays.
Comes in a variety of colors and styles now.
Cons
Can be more expensive.
May not be good for the circadian rhythm, or the natural sleep cycle humans have, especially if frequently used during afternoon naps.
Not as many style options as regular curtains.
Can make a room feel dark.
Are heavier, so you'll need to use sturdy curtain hardware.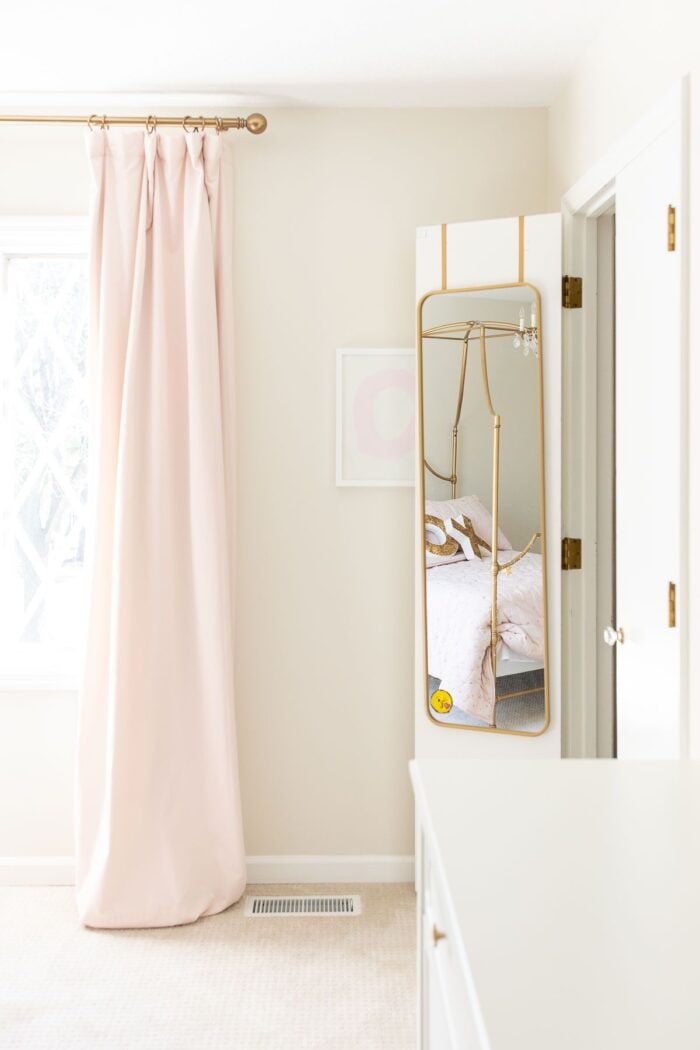 When and Where to Use Blackout Curtains
I style my rooms on an individual basis, considering the overall look I want to achieve as well as its functionality. Blackout curtains can basically be used any where regular curtains are hung. Keep in mind that they are heavier than traditional curtains, so be sure to use sturdy curtain rods and hardware.
There are some obvious reasons to use blackout curtains. A media room, for example, is a great place for blackout curtains. Any time of day could replicate a movie theater when no light can enter.
A room where someone sleeps if they're working a night shift could use blackout curtains as well. In these rooms you'd want all of the light blocked, even light that might come through the gap between the curtains and window.
Other rooms to consider are infants' and children's rooms. These curtains would hopefully keep them from being really early birds. And in this case, a little light sneaking through the sides could aid with developing healthy sleeping patterns. There's a reason blackout curtains are one of my five favorite kids room ideas!
Guest rooms can benefit from blackout curtains. Your guests are on vacation, after all. Let them enjoy sleeping in! And if you have a room with fine art and decor, consider shutting blackout curtains during the sunniest time of the day to keep your masterpieces from fading and being destroyed.
If you want to use blackout curtains and are worried your room will feel dark all of the time, incorporate my seven ways to add light to a room. This demonstrates other ways to bring lightness back into your room. And you can always open your curtains any time you need sunlight in your room.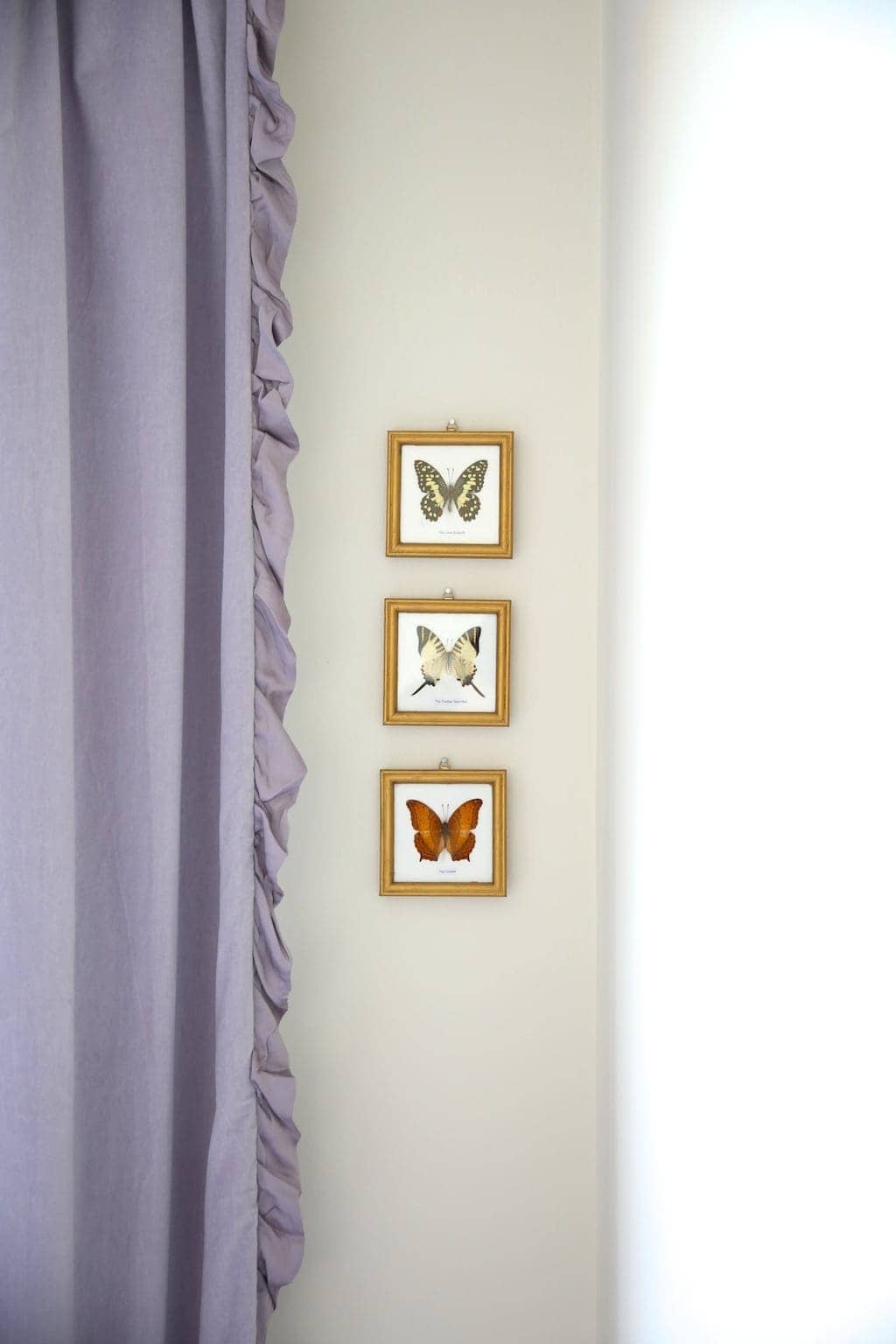 Turn Any Curtains into Blackouts
This is one of my favorite tricks! I love to choose the panels that we love the most, and simply add a blackout liner panel to the back, creating a much darker room if that's what we need.
These liners can take even an opaque linen panel and turn them into something much more substantial. I love that they can be removed at any time, so we can go back to brighter light if we'd like!
Frequently Asked Questions
Are blackout curtains good for you?
Blackout curtains are great at blocking light and heat. They're great for places where the sun rises early and stays up late, making sleep more difficult. They also protect furniture and art from UV damage.
Are blackout curtains and room darkening curtains the same thing?
They're pretty close, but not quite. Blackout can really filter 100% of light that shines on it. Room darkening blocks 95% of the light, letting just a little bit through.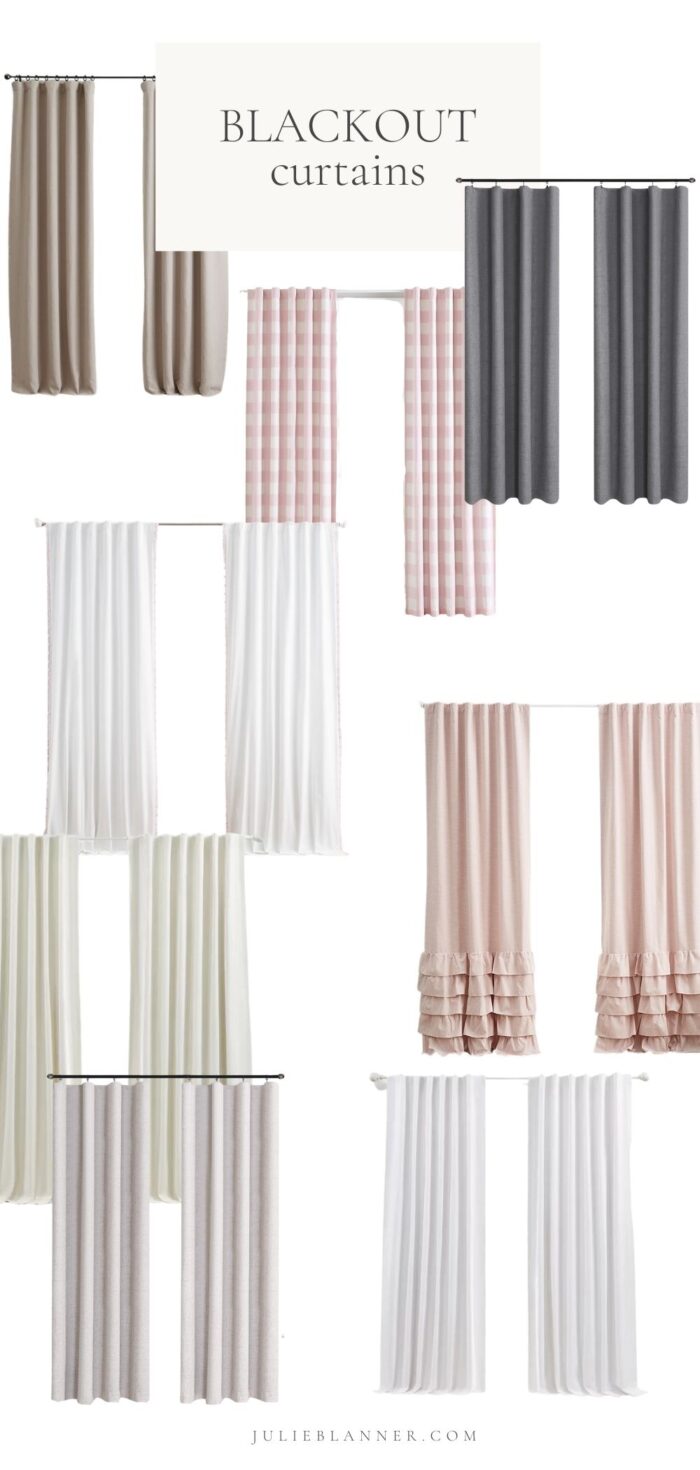 Sources
Belgian Flax Linen Blackout Curtain | Buffalo Check Blackouts Linen Look Blackout Curtains | Pom Pom Blackout Curtains | Ruffled Blackout Panels | Cotton Blackout Thermal Panels | European Flax Linen Curtain with Blackout Lining | Evelyn Linen Blackout Panels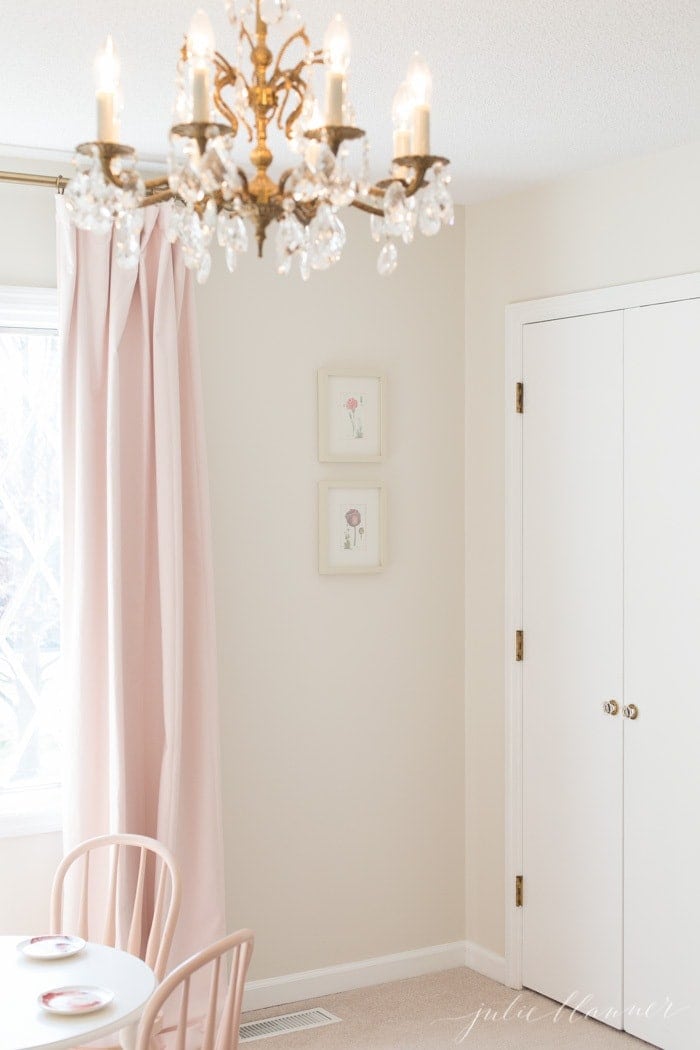 Design Guides, Decor & Tips