Learn all about the easy customization process for ordering new blackout shades for your windows. These motorized roller shades are modern window treatments that work in a variety of settings and styles.
Need new window decor that is simple, clean lined and affordable? This guide is for you!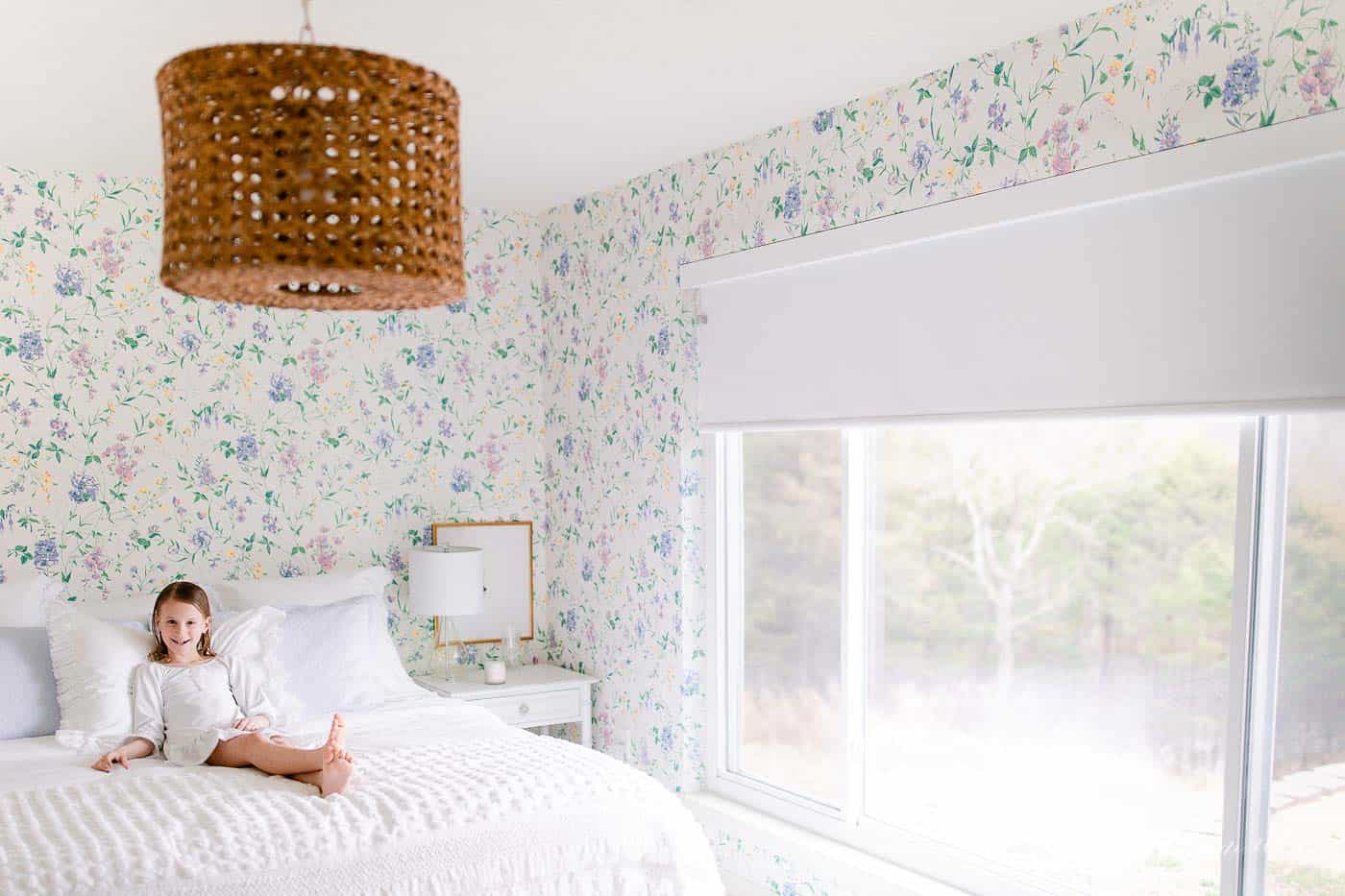 We've made some significant improvements to our little lake cottage since buying this home several years ago. You'll need to check out the full (ongoing) before and after to see all of our progress, and it's been so much fun. Sometimes the transformation feels slow, but any change always feels oh-so-good!
We realized early in the process that we needed a low maintenance, simple, modern home that could host a variety of people at the lake. We've been working towards that goal and have accomplished so much!
Equally important, however, was the fact that we also wanted this home to feel like an escape! I love hosting friends and family and I want them to feel comfortable, relaxed, and maybe even a little pampered. Like a hotel, but so much cozier and more inviting!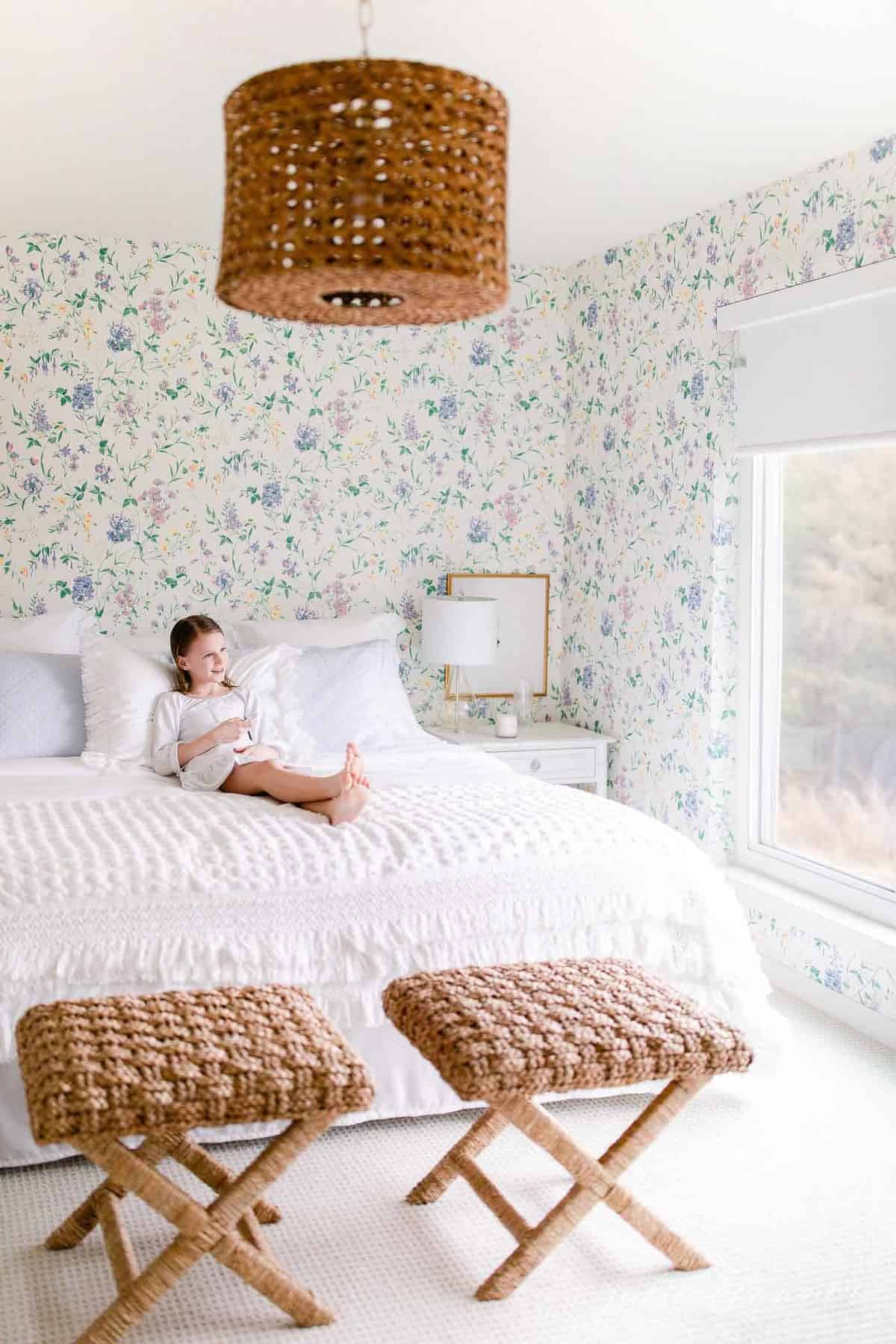 If you're interested in learning more about window treatments, don't skip How to Hang Curtains and Blackout Roman Shades.
Blackout Shades
That's where our two master suites were perhaps a little lacking. We've created a cozy, thoughtful retreat in each space, but the issue of privacy, safety, and comfort with our windows remained a major issue.
While there were window shades on the large windows in both of these bedrooms, they were old, broken, water-stained and even a little dangerous with a mess of cords dangling all the time – the cord loops were broken.
We desperately needed new shades, but I struggled with making a decision with a few factors in mind. These bedrooms both retained the original floral wallpaper, and while it's charming and whimsical, it can make decorating a challenge.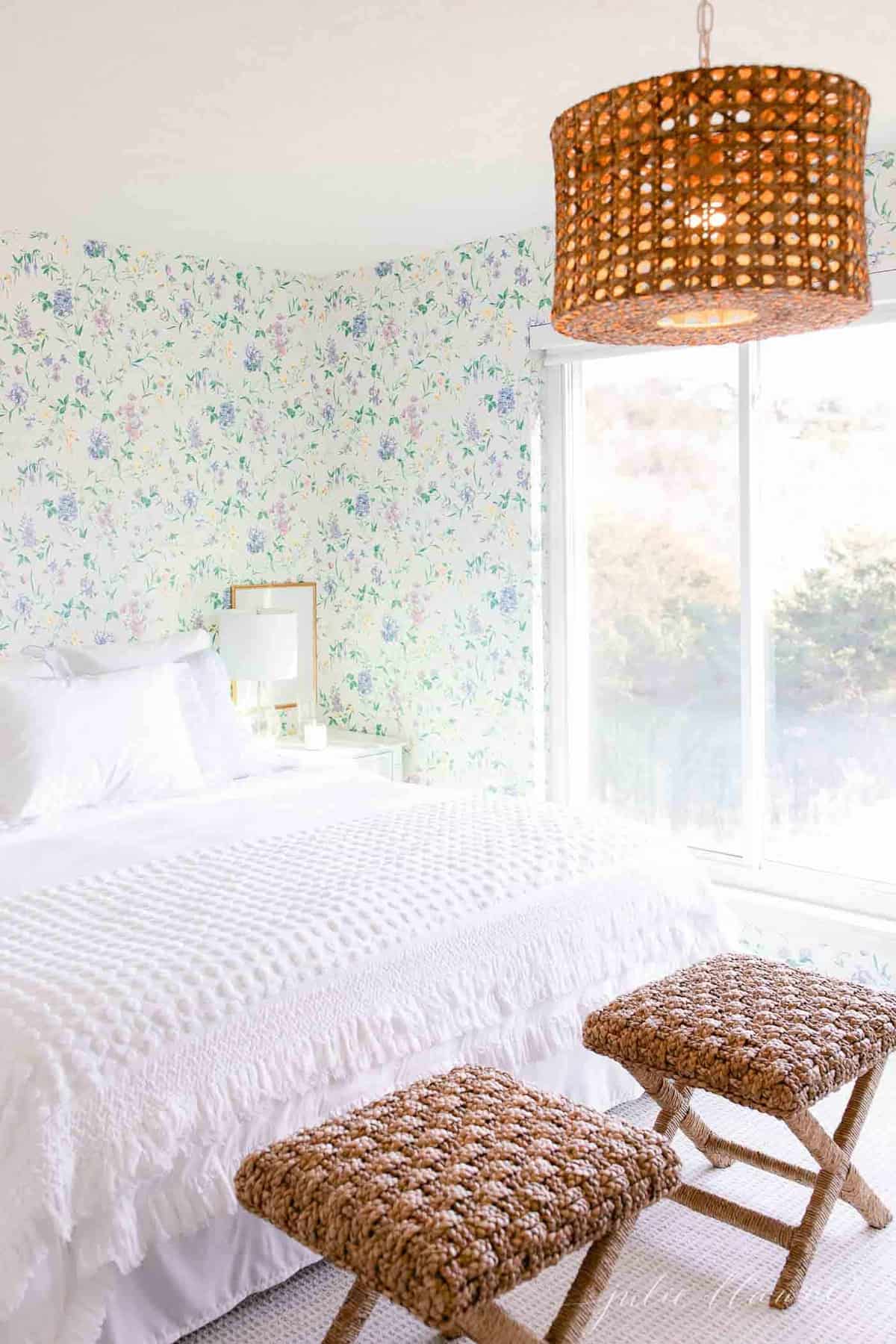 Window Decor Decisions
When we first heard from DIY Blinds, we knew that their beautiful shades were exactly what we'd been searching for. They gave us the custom look we craved, with the easiest ordering and installation process!
Our priorities were as follows:
Simplistic Style

– Our home in St. Louis is more traditional, and pretty curtain panels work well there. However, this home is a little more modern in style, and I wanted the windows to reflect that. The floral wallpaper is busy and fussy window treatments would never work for the modern cottage style of this home! We needed something sleek and simple, with an inside mount on the window frame that wouldn't obstruct the view.

Light Control – While the natural light in this home is one of the best features, I knew we needed a light blocking, blackout window shade in these rooms. When the sun rises over the lake, it's often much earlier than we'd like to be awake!

Affordable

– I was concerned that these large windows would be incredibly expensive to fit and cover. I knew an interior designer could handle this project for us, but we didn't want to spend that kind of money.

Safety

– It was nerve-wracking to have young kids in the house and worry about the cords on our old blinds. I knew that without question, we needed a cord free system – this would protect children or pets from the cords on our old blinds.

Modern, Luxurious Remote System

– Okay, sure… this wasn't a

need

. But it was certainly a wish list item that we were so excited about! Who doesn't want to relax in bed and watch their beautiful view open up before their eyes

without moving a step

? That's not only something we craved for ourselves, but we were thrilled to treat our guests to this little touch of luxury.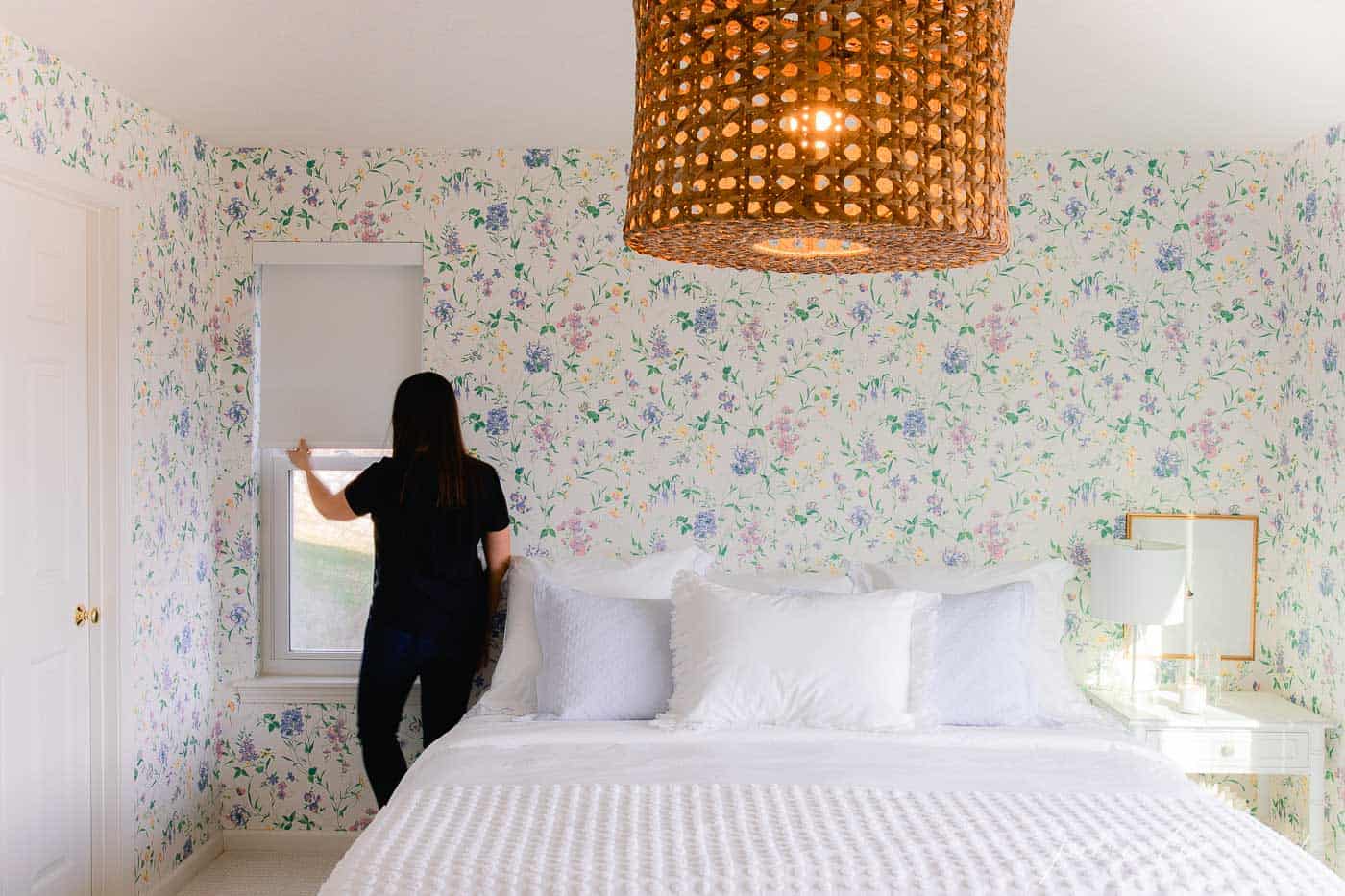 Choosing Modern Window Treatments
Once we narrowed down on our priorities, it became apparent that we needed a motorized blackout roller shade for both rooms. Sometimes, you just need a shade that truly disappears before your eyes!
For our home, the sleek modern mechanics and lines of these beautiful shades from DIY Shades made them a perfect fit.
For certain living spaces, bedrooms, bathrooms and beyond, traditional curtain panels or fluffy roman shades might not feel like the right choice. In many of these instances, a more modern window treatment that fits directly inside the window frame is ideal – no fussy fabrics, cords, or exterior mounting required! The beauty is in the simplicity of these shades.
You can see more in my latest YouTube video! PS don't forget to click subscribe!
Bonus? These motorized window shades feature a lift system that is Alexa and Google Home compatible! The shades will even let us know when they need a charge… how cool is that?
How to Order Custom Shades
Measure your windows. Do it once, twice, three times. Ask a partner for help to confirm that you're measuring correctly.

Order fabric samples! Who knew there were so many shades of white and cream? Well, I knew… have you read all about my search for the perfect

cream paint colors

?

Place your order. You can do this online, or by calling and speaking with a helpful representative. This is where you'll choose customized details such as inside/outside mount, cassette, type of motor, remote, etc.

Sit back and wait. It doesn't take nearly as long as I expected!

Install. Yes, you

really can do this yourself

, and they make it so easy! Watch a couple of their videos if you're intimidated… but I promise, if we can do this, so can you!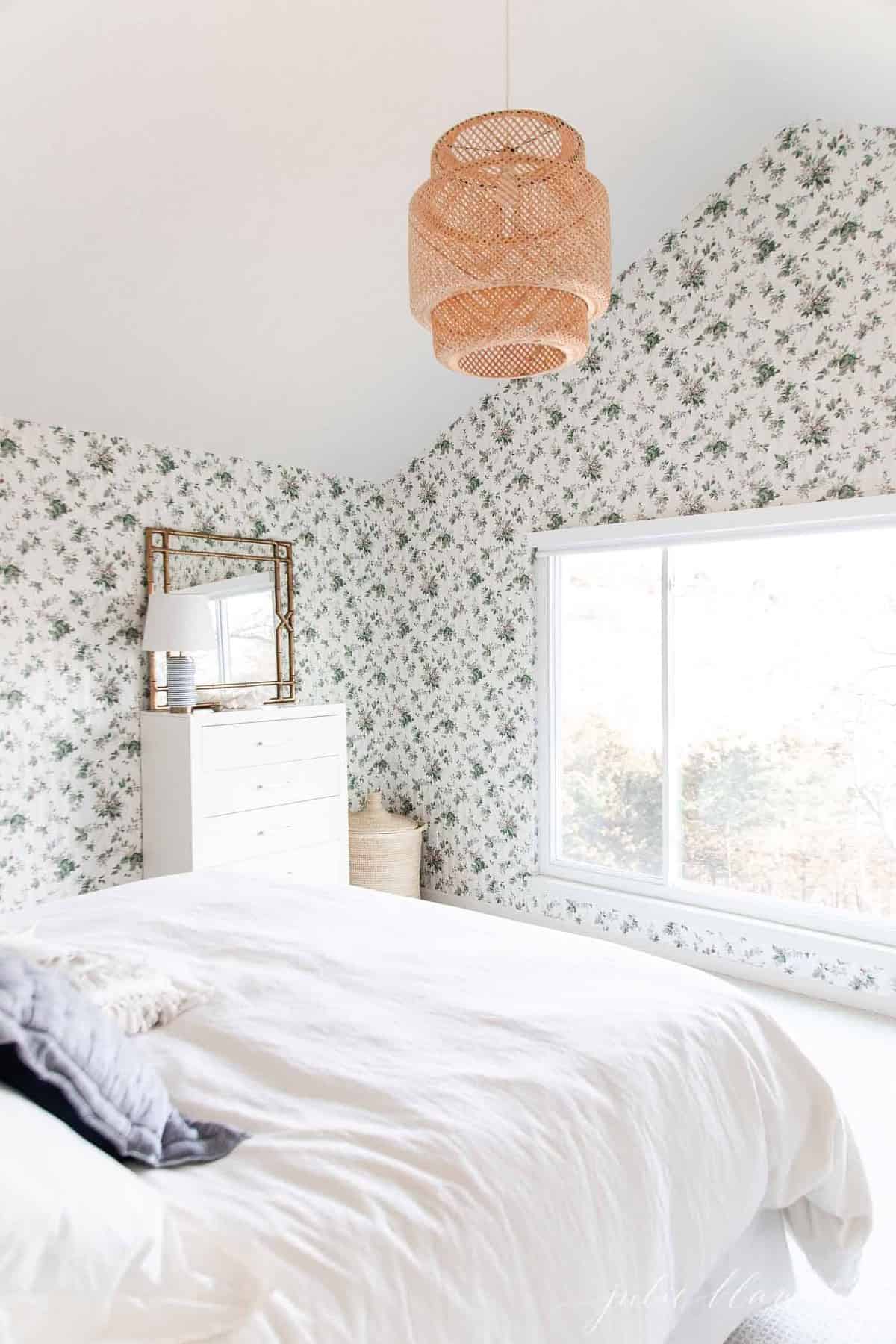 I used to think custom = expensive. Now I realize that's not necessarily true. When it comes to ordering custom cordless shades, the process is not only simple… it's more affordable than I realized, too!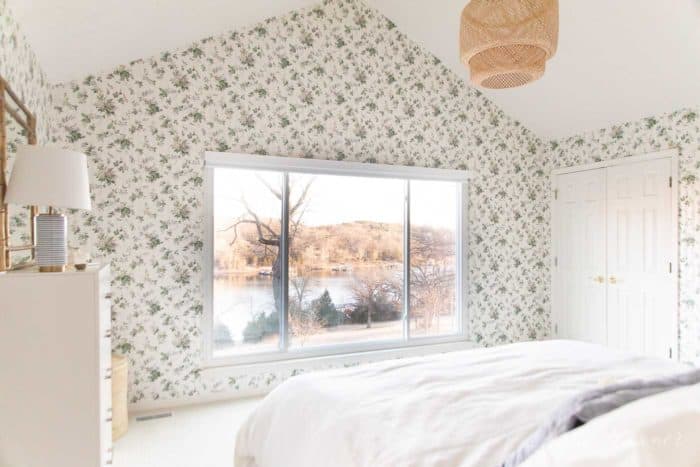 See what I mean about the view? I can't wait to show you more in the summertime once everything is green again!
Blackout Roller Shades: What is Opacity?
It can be difficult to decide if you need a full blackout style of shade, or simply a light filtering shade when privacy is not as much of an issue. Even if you don't need to fully block the sun for a room darkening effect, a more opaque roller shade can still protect your floors, artwork and furniture from damaging UV rays.
If you'd like more help in deciding which opacity is right for your home, there's more information available to answer your questions and make the decision easy.
Our decision was simple because we needed full privacy in both of these bedrooms. We also loved that we had an opportunity to lower our cooling bills in this home, since we mostly use it for hot summer weekends at the lake. We needed more than little light filtering, we needed fully darkened rooms.
Blackout shades were the perfect choice!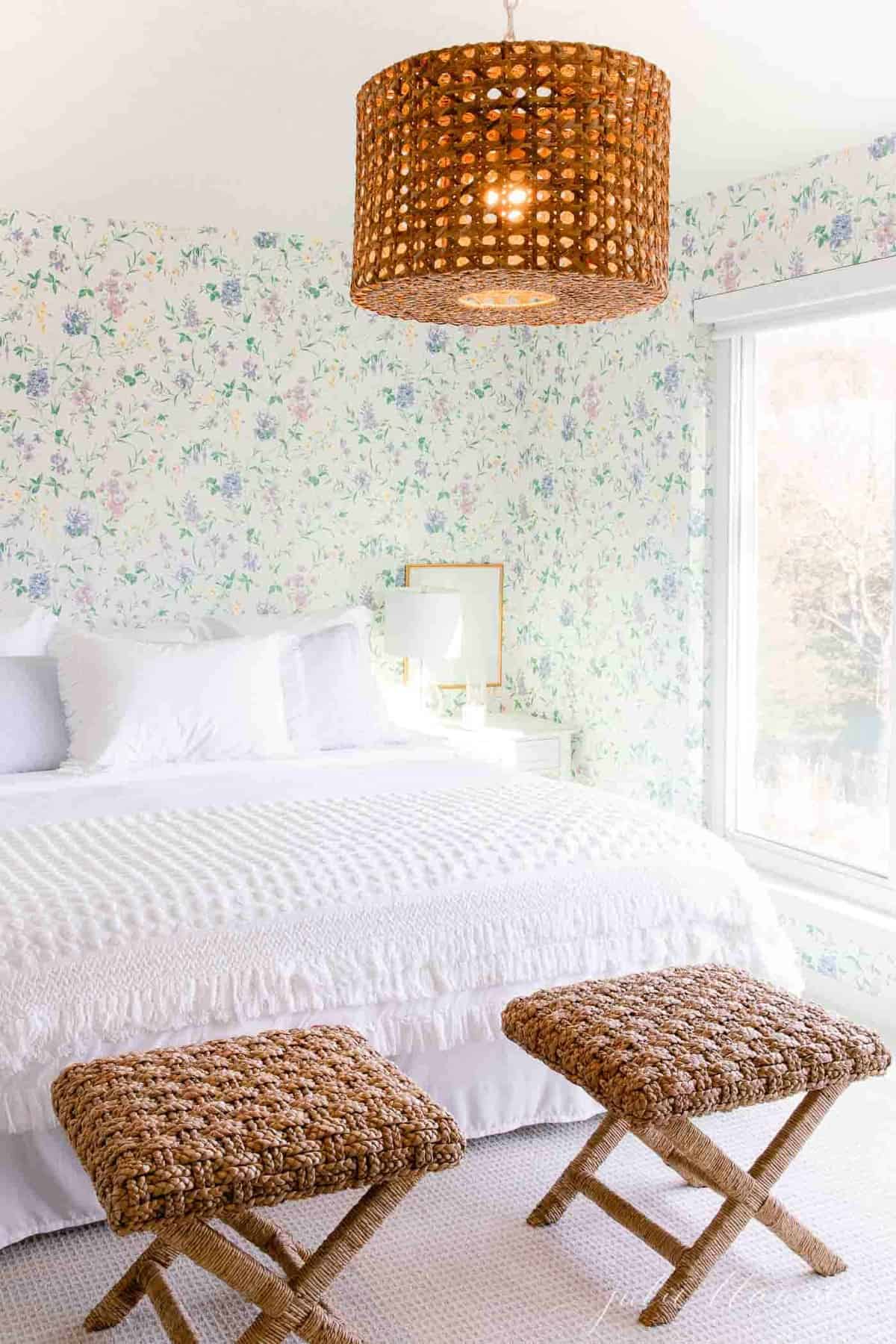 Quick Tip: Do you know the difference between room darkening and blackout shades? Blackout truly block 100% of all incoming light, creating total darkness. Room darkening shades offer almost as much dark and privacy, blocking about 95% of light from entering a room, while allowing a little light filtering.
Blackout Shade Details
Our blackout shades are the perfect modern window treatments for this home. If you love the style and function of these custom shades and want to recreate this look in your own home, here are the details you'll need.
DIY Blackout Shades

Inside Mount

Darksource Cosmo White

Standard

Motorized

Standard Roll

3" Cassette Flat Square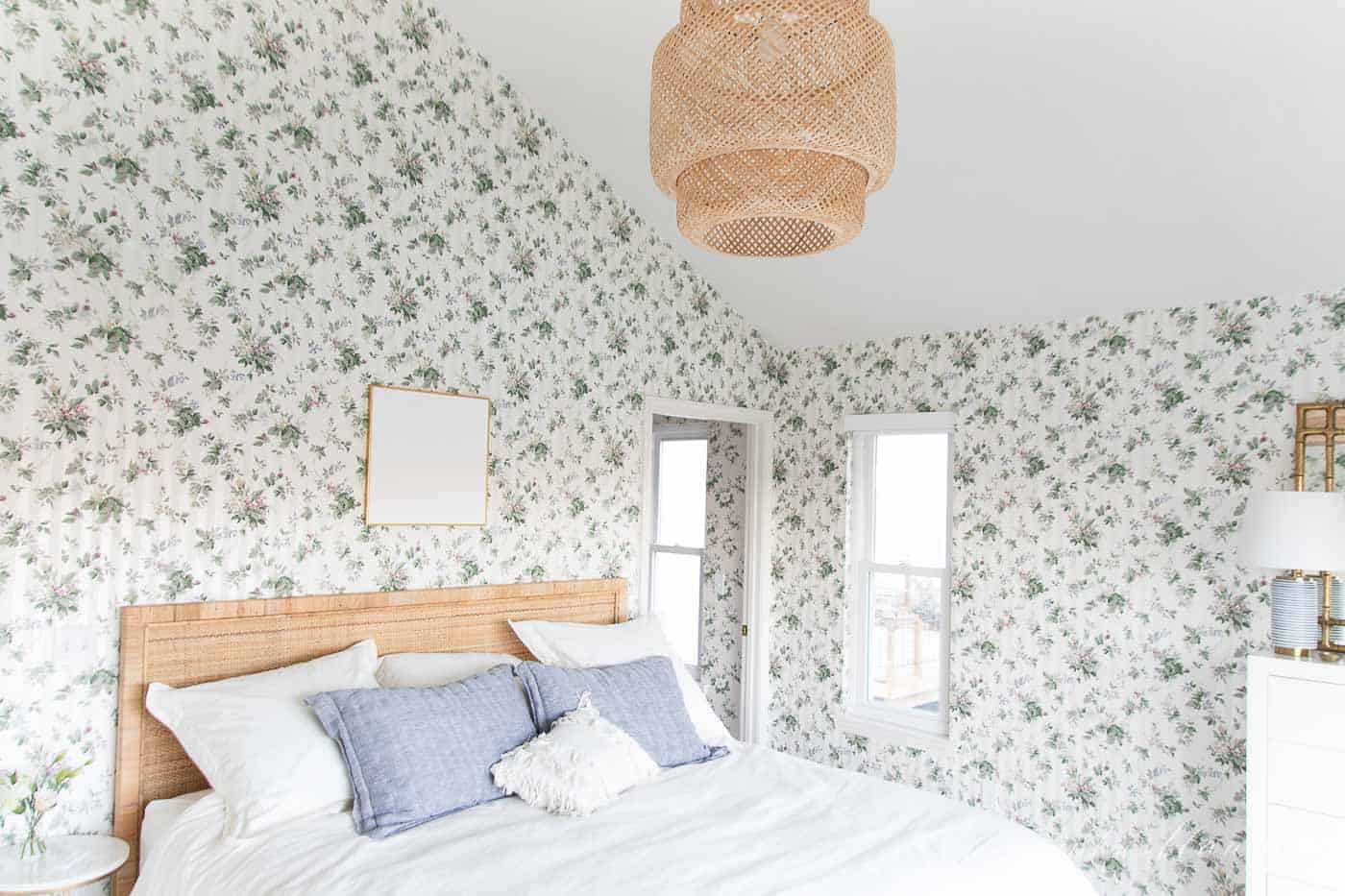 I'd love to hear from you! Have you ever ordered custom shades like these? Are you dreaming of adding something like this to your home soon? Please share in the comments!