Use this Baking Pan Conversion Chart so you can easily substitute different baking pan sizes. This guide contains helpful information on how much different pans hold and which pans are equivalent sizes.
You'll find this printable conversion chart will come in so handy for your baking needs! I've also included some of my favorite dishes to bake in each one.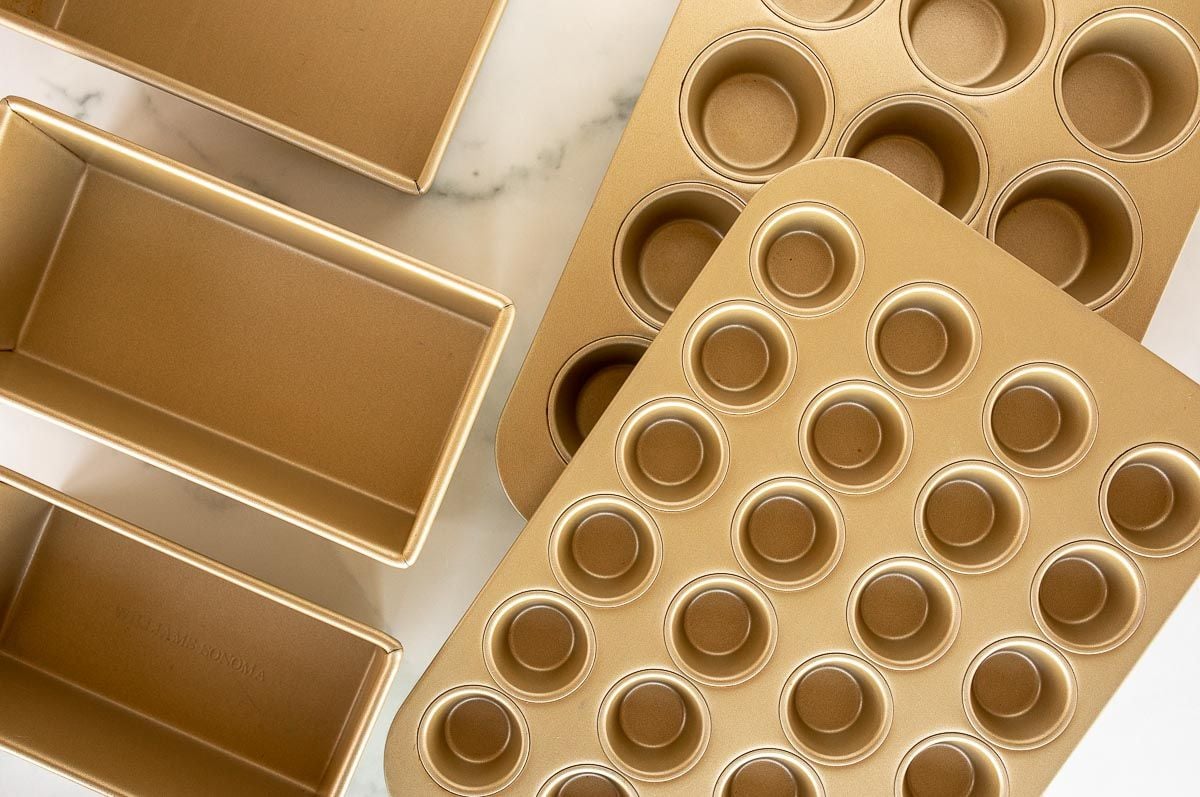 It's baking season! Honestly, every season is baking season in our home… but I love an excuse to cozy up our kitchen with delicious Christmas cookies and more!
As much as we love cookies, we also do a lot of quick breads, muffins, brownies and cakes around here. (We love them all, we really do!) Sometimes, we'll decide to cut a recipe in half, or try smaller batches so we don't waste ingredients.
Recipes typically state the size of pan to use for your dish turn out perfectly. But you may need or want to use a different type of pan, depending on what you have in your line-up of baking pan sizes.
Whether you're modifying the size of the recipe or just want to use a different sized or shaped pan, use my Baking Pan Conversion Chart to make sure everything will fit inside the pan!
It comes in so handy – just attach it to the inside of your baking cabinet or pantry and you'll be good to go.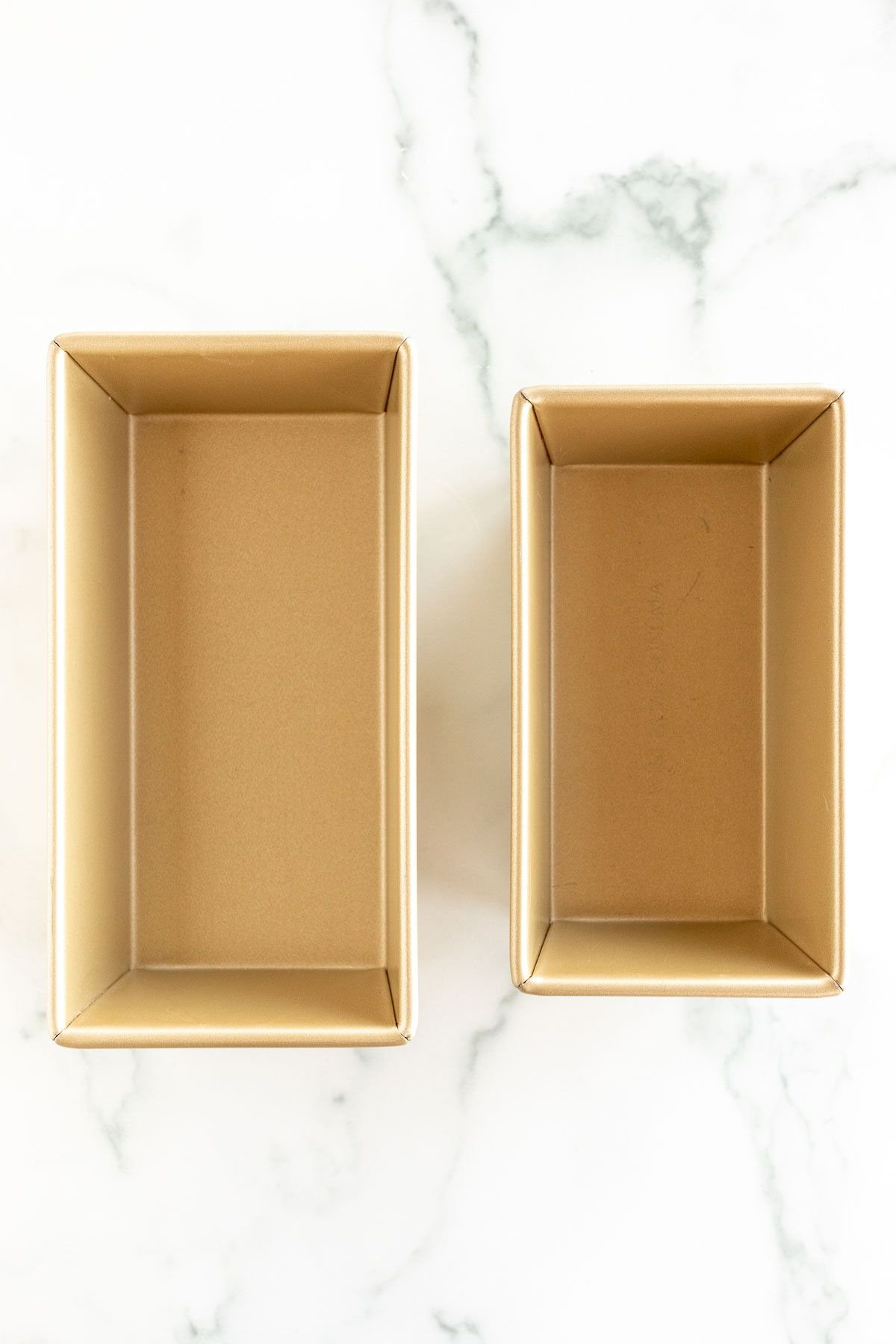 Standard Baking Pans
Your kitchen probably has some standard sized pans. These are the sizes I regularly use and why they are so useful.
I've listed the volume each pan will hold, but keep in mind that you won't fill a pan up to the top. You'll usually fill the pan ½ to ¾ full to allow your baked goods to rise without spilling over.
Baking Pan Sizes, Dimensions and Total Volume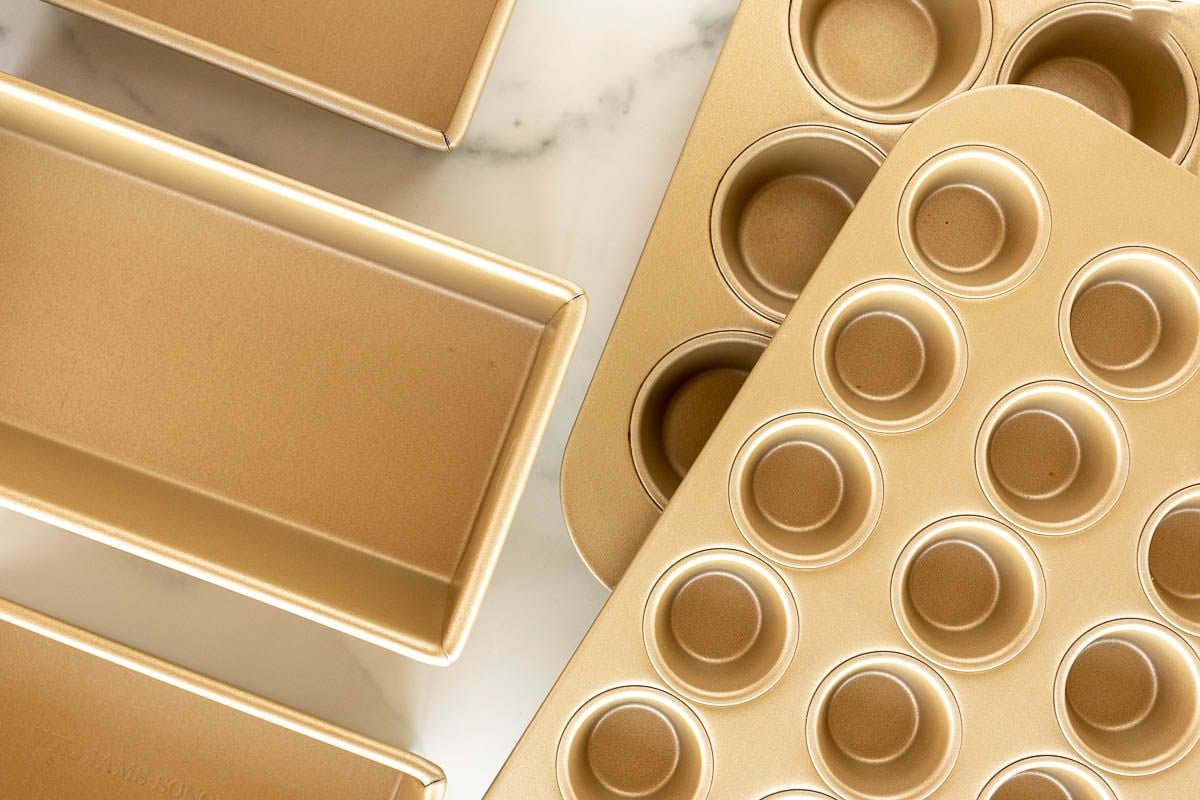 How to Use a Baking Pan Conversion Chart
It is always best practice to follow recipes, including the size of baking pan recommended. The cook times and oven temperature has been selected for the volume of ingredients in your pan.
However, if you're looking to substitute pans, try to use a pan(s) that can hold the same volume of ingredients. For example, a loaf pan, 9″ round pan and 8″ square all hold 8 cups.
You can be confident using the same amount of batter/ingredients in those pans to avoid overflowing. Keep in mind, though, that bake time would need to be adjusted because a loaf pan is more compact and requires more bake time than a round pan or square pan.
What if you wanted to cut a recipe in half that called for a 9″x13″ pan? Half of the volume is 7 cups, so you'd probably want to choose the 9″ square which can hold up to 8 cups.
Another trick you can use to figure out how to adjust cook time is to find a recipe that uses the pan you want to use. And then start with that cook time, but watch your dish closely.
Know the signs of doneness for the dish that you are cooking. Be prepared to remove your baking when you see it is done, whether the time has been longer or shorter than anticipated.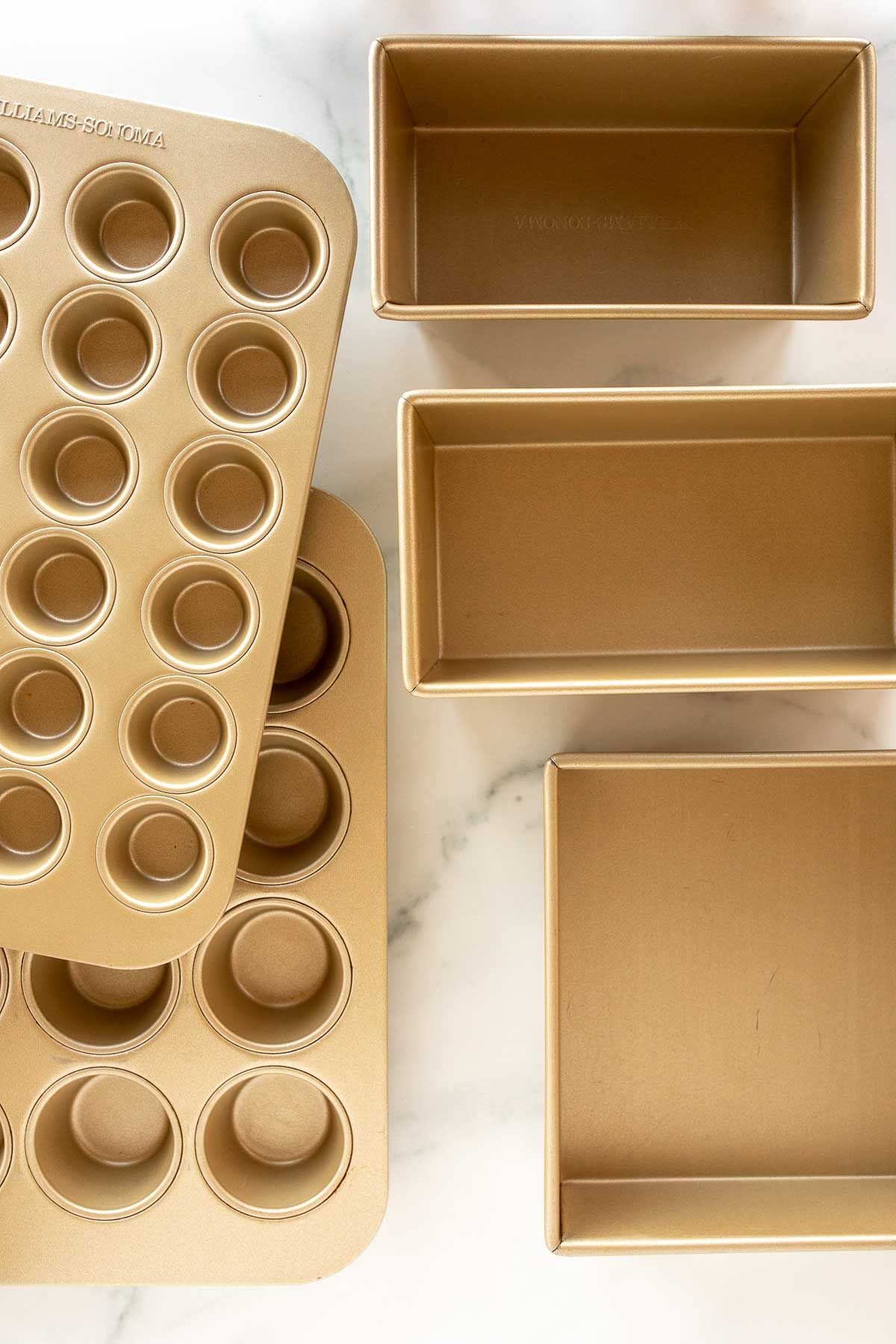 Remember, a batter for cakes will never fill up the entire pan. So even though the volume of the pans is listed, you will only put in half or up to ¾ of that amount.
Keep this baking pan conversion chart on hand for easy baking – simply download and print at your convenience!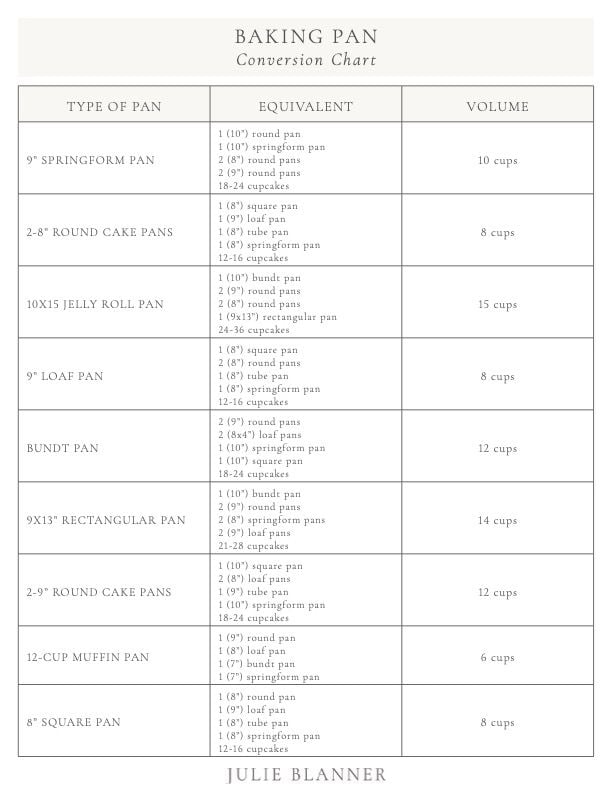 Frequently Asked Questions
How many cupcakes will a typical 9×13 cake recipe make?
You should be able to get 24 regular sized cupcakes from a 9×13 cake recipe. Make sure to reduce the bake time. Depending on the denseness of your batter, they could be ready to come out of a 350°F oven in around 15 minutes.
Should I change the temperature of the oven if using different sized pans?
If the pan you are using is smaller than the original pan so your batter is thicker, then you can reduce the temperature by a few degrees and increase the bake time a few minutes. This will help the inside to get cooked without the outside getting overdone.
Looking for new baking pans? I can't recommend these Goldtouch bakeware pieces (as shown throughout this post) enough! They bake evenly, clean up so well, and add warm, elegant beauty to our kitchen and our baking!

They make an excellent gift for the bakers in your lives, too! See my Baking Gift Guide for more inspiration.