This easy Gooey Butter Cake with Brown Butter has a deeper, richer flavor that you'll crave again and again.
This is a classic St. Louis Gooey Butter Cake with a twist. The browned butter really kicks it up a notch – you won't believe the difference it makes!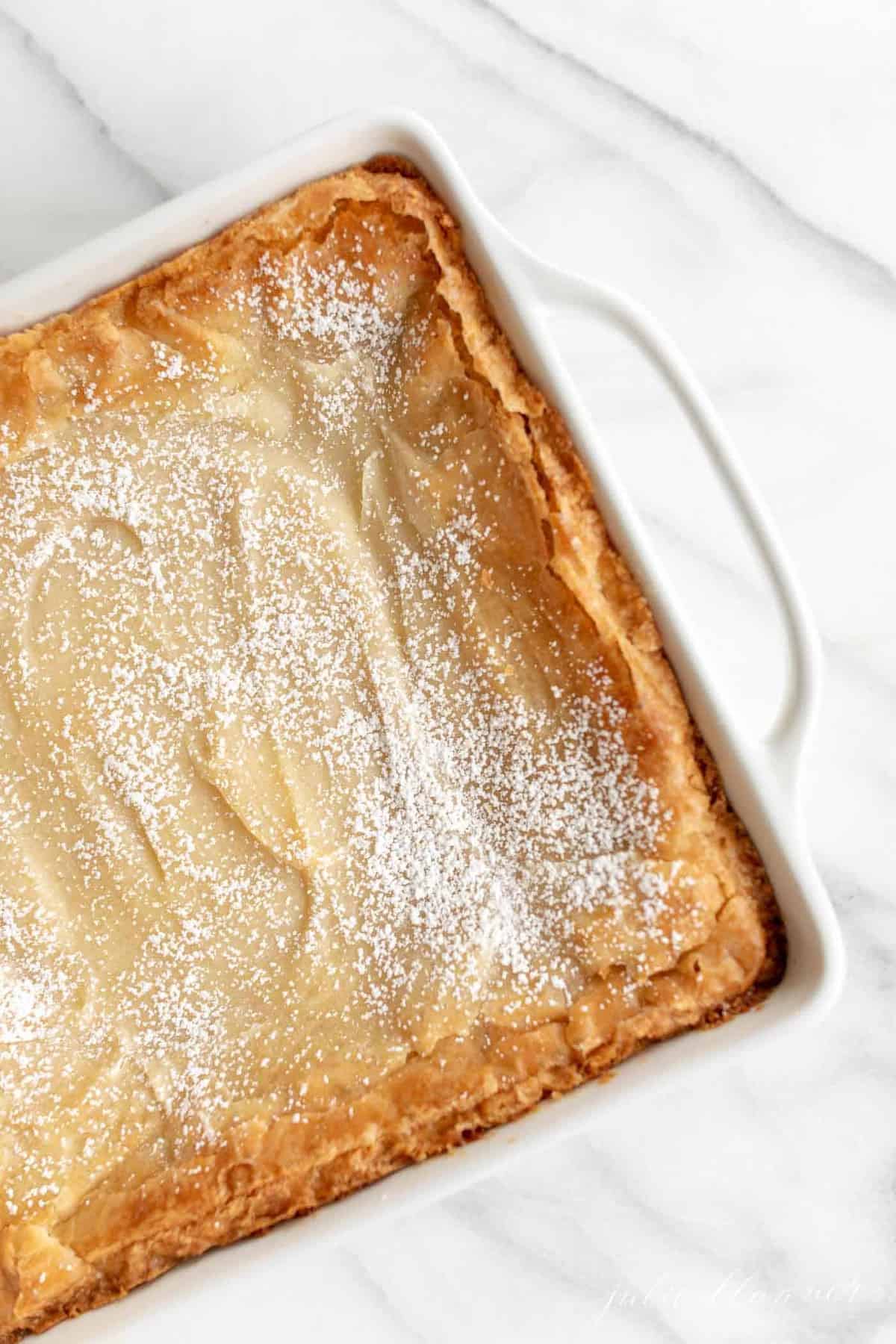 Yep! You read that right. I love everything browned butter and when we had guests coming over a couple weeks ago, I decided to adapt my traditional St. Louis gooey butter cake recipe.
While that version can be a breakfast danish or dessert, gooey browned butter cake makes an incredible dessert!
Serve it al a mode if you want to go all out! If you can find caramel ice cream – even better.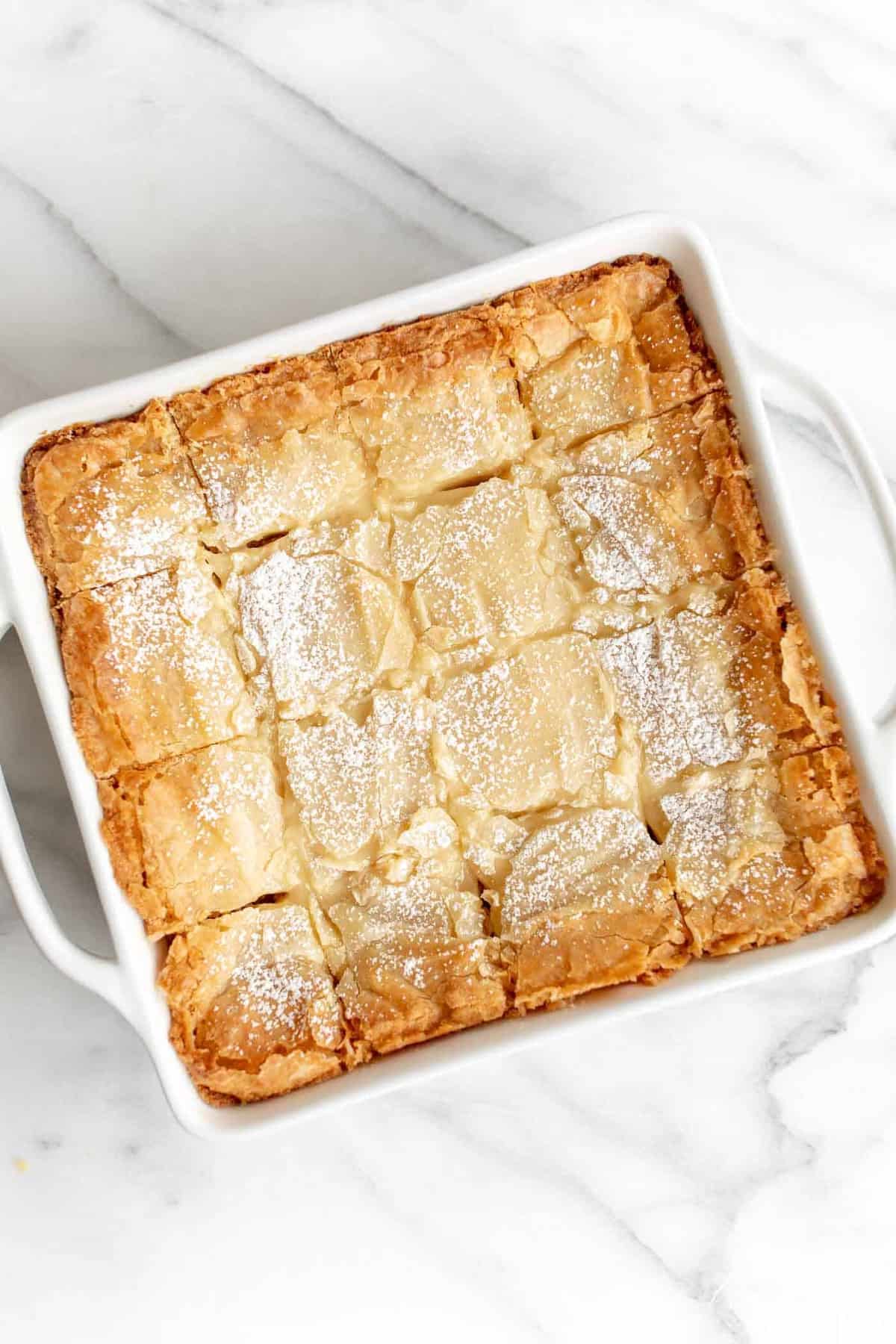 The last couple weeks, we've been celebrating with friends and saying goodbye as we are preparing to move to St. Louis. My girlfriends and I went to a new restaurant in Kansas City, Newport Grill.
When it was time for dessert, I immediately eliminated the browned butter cake from my options. I'm not a huge fan of traditional cake and certainly don't want pass up an incredible dessert opportunity for it.
When friend ordered it and I tasted it, I immediately knew it was not traditional cake.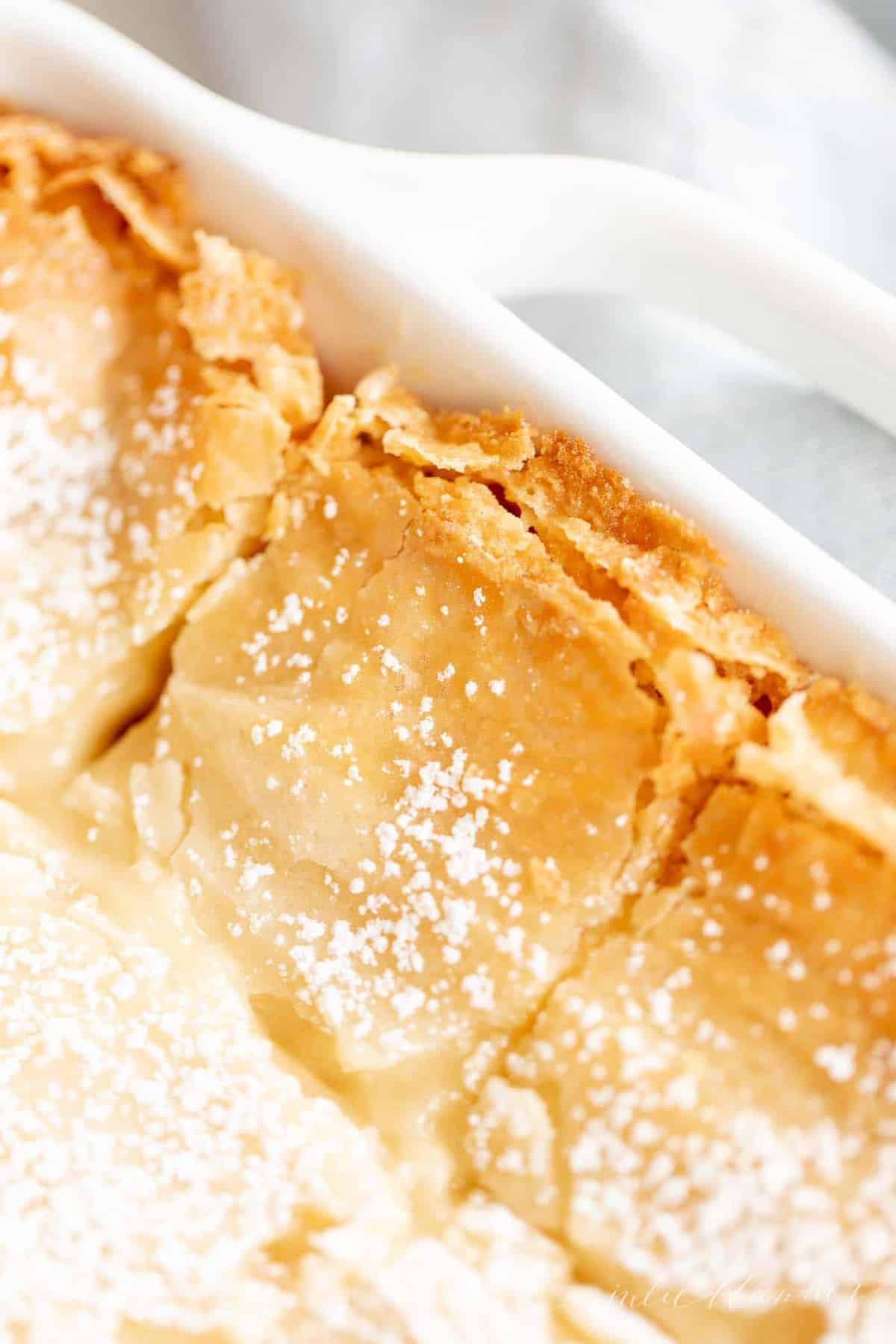 It was gooey browned butter cake and I had to have it for myself!
Brown Butter is also known as beurre noisette – a warm sauce used in French cooking for vegetables, pasta, fish and chicken.
While it sounds and tastes "fancy" anyone can do it – in fact, you may have on accident without even realizing it!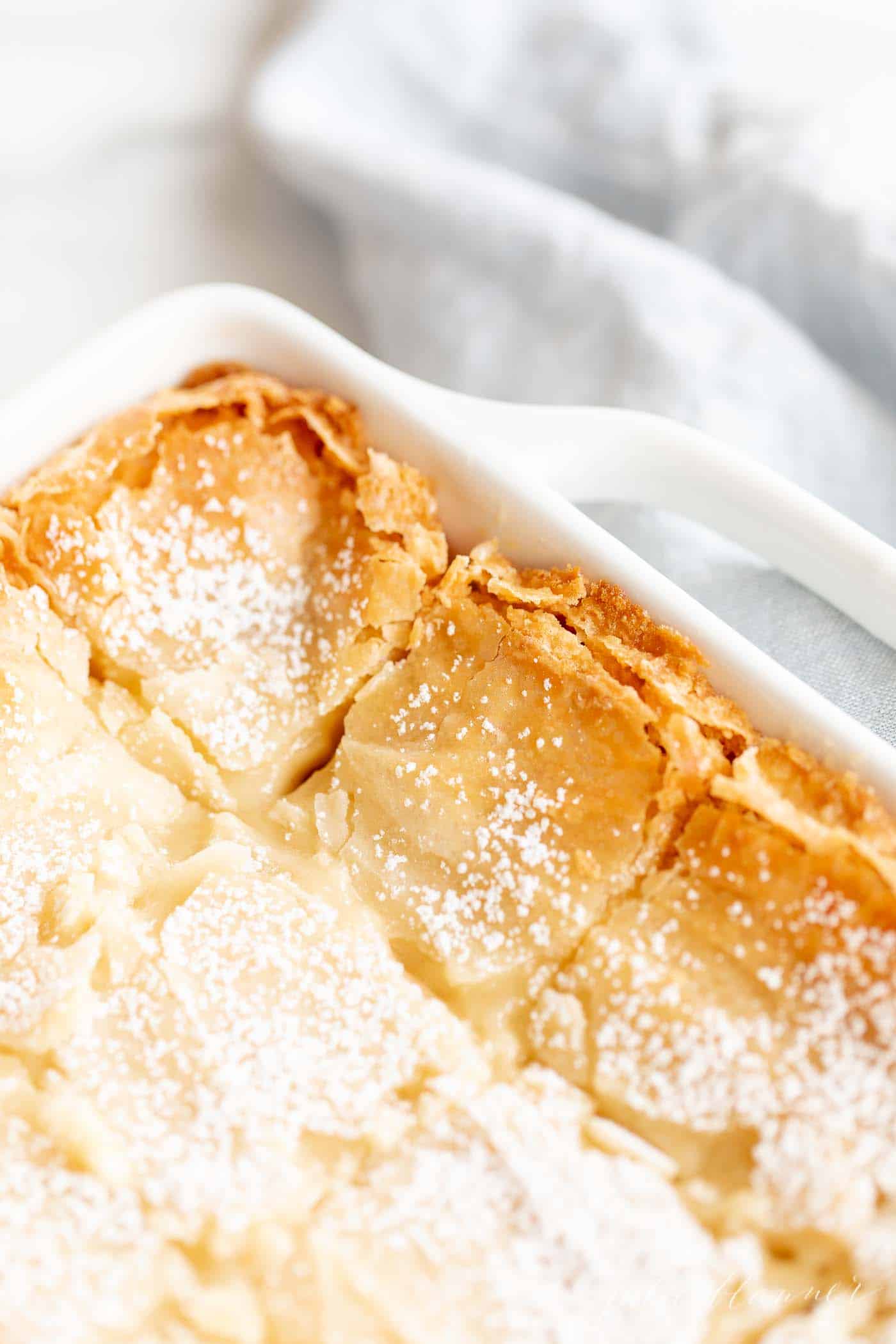 It is the result of cooking butter until the milk solids turn brown and the water evaporates, resulting in a nutty aroma and flavor.
It tastes rich, like a hint of toasted nuts. Brown Butter enhances just about any baked good that calls for butter, giving it a deeper flavor.
Gooey Butter is a traditional St. Louis dessert that celebs like Paula Deen have recreated dubbing it Ooey Gooey Butter Cake. Whatever you call it, it's amazing!
Over the years I've created a lot of variations to one of our favorite desserts! I don't want to make the others jealous, but Brown Butter Gooey Butter Cake is my favorite!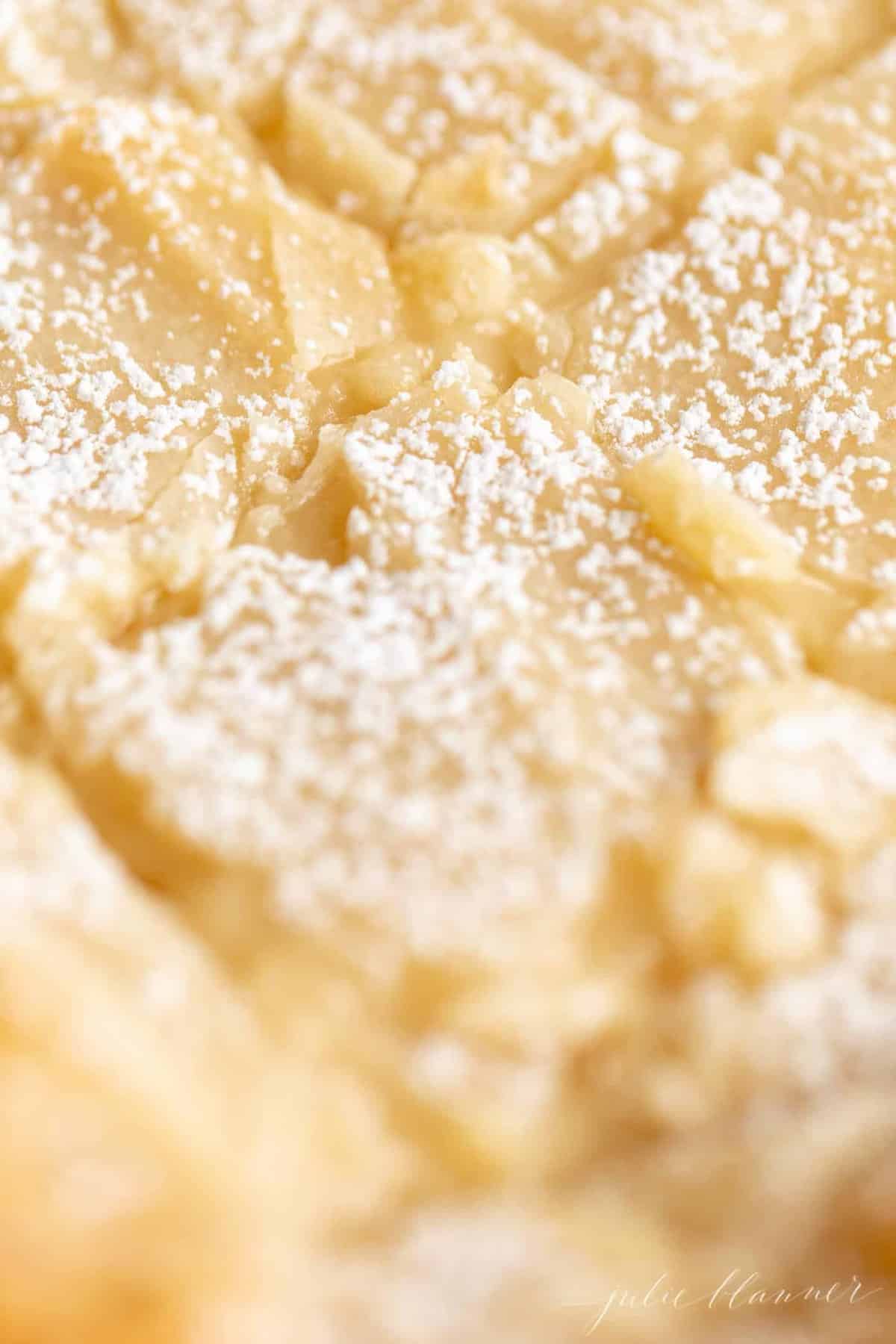 It's a layer of dense, moist cake topped with a sweet cream cheese mixture. The top forms into an amazing delicate crust for a beautiful crunch. It's texture heaven!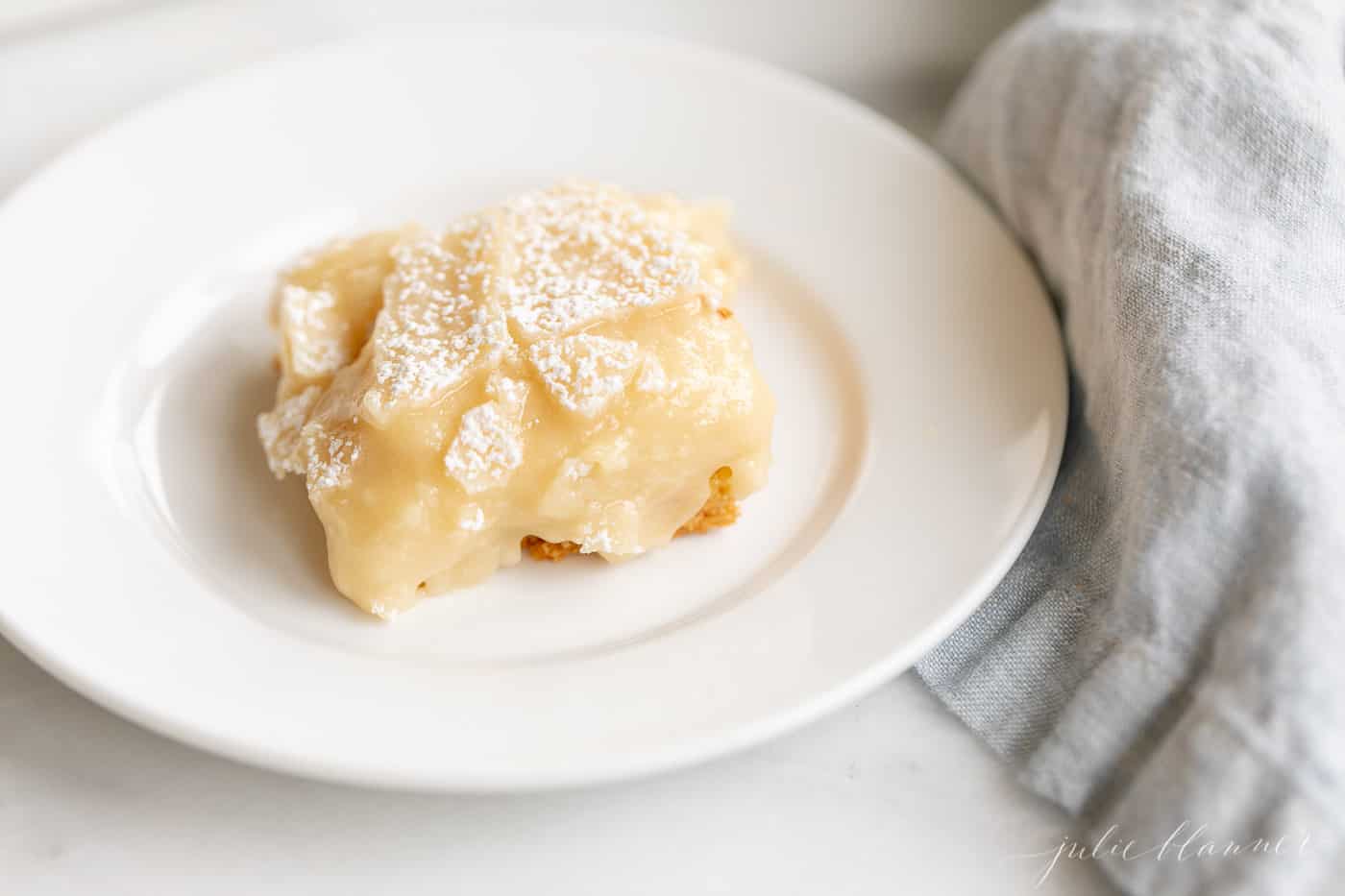 Brown Butter Gooey Butter Cake Ingredients
Simple pantry ingredients is all you will need to make this tasty treat!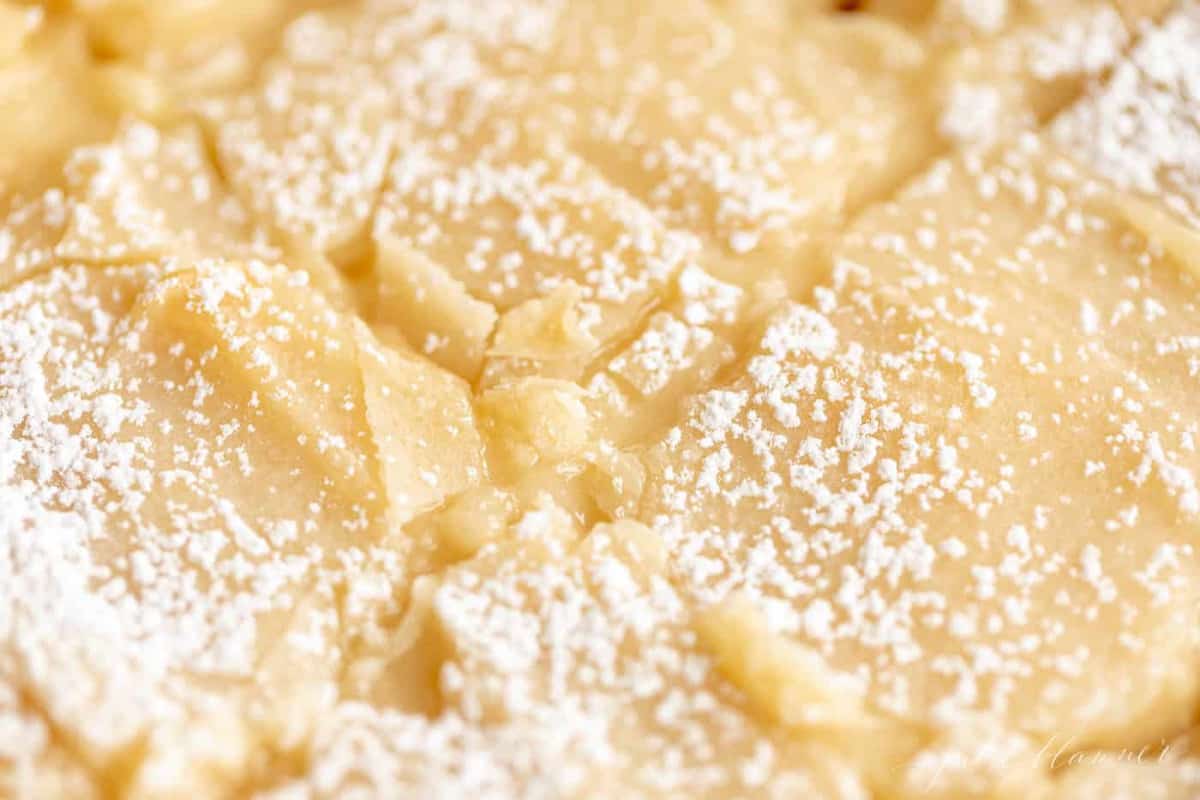 How To Make Gooey Butter Cake with Brown Butter in 5 Easy Steps!
Prep – Preheat oven and grease baking dish.
Brown Butter – Brown until it achieves a beautiful golden color and nutty aroma.
Make Crust – Combine crust ingredients and fill dish.
Make Filling – Combine filling ingredients and top crust.
Bake
You can learn more about how to brown butter with step by step photos and video here.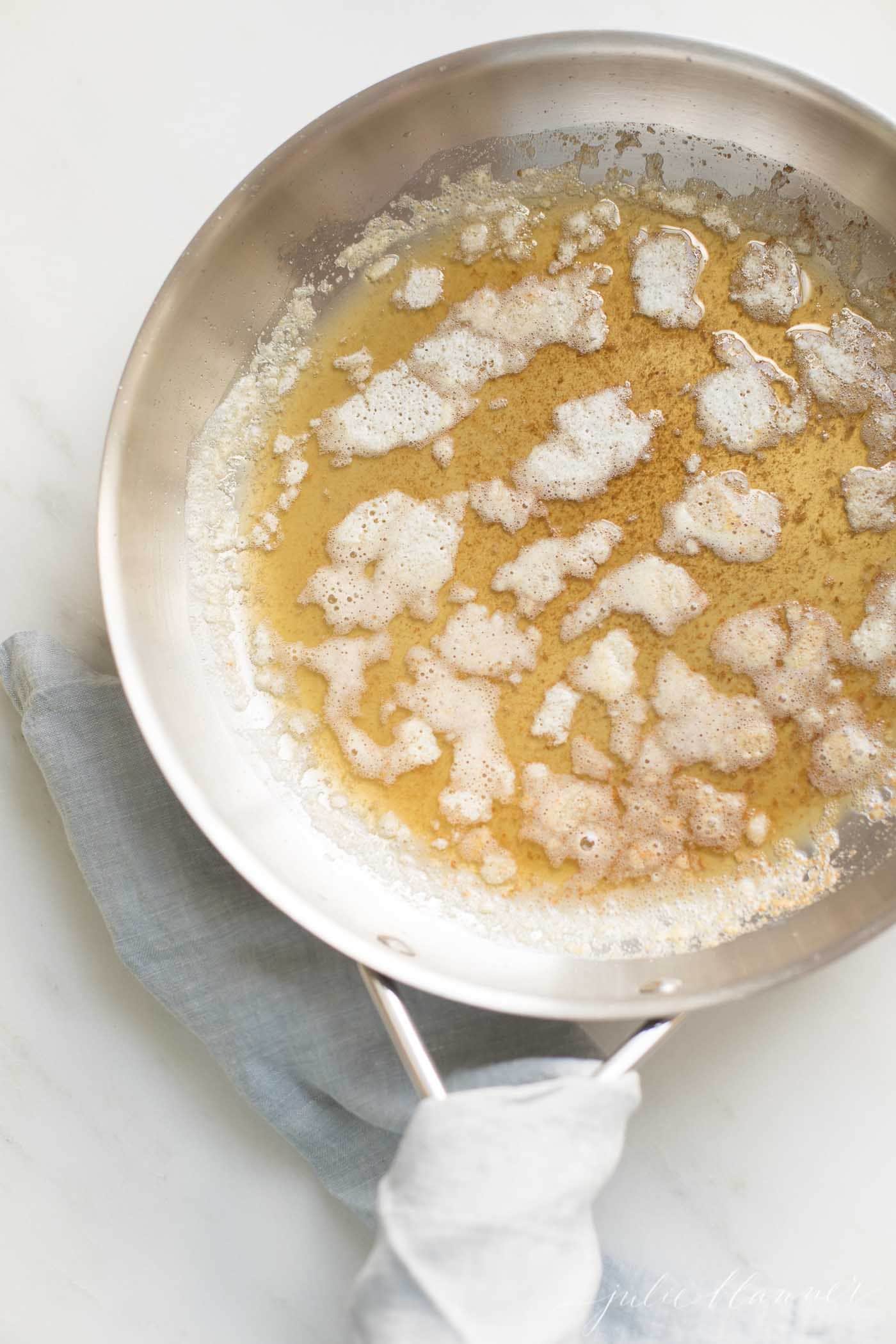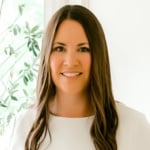 Tips
Use an 8×8, 8×8, 9×11 or 9×13 pan. Just adjust baking time – the thicker your gooey butter cake is, the longer it will take to bake.
Grease your pan so that the cake doesn't stick.
It's done when a crust has formed on the top, yet the cake is slightly gooey and jiggles a bit when you shake the dish.
Make it ahead or bake and enjoy when it's warm.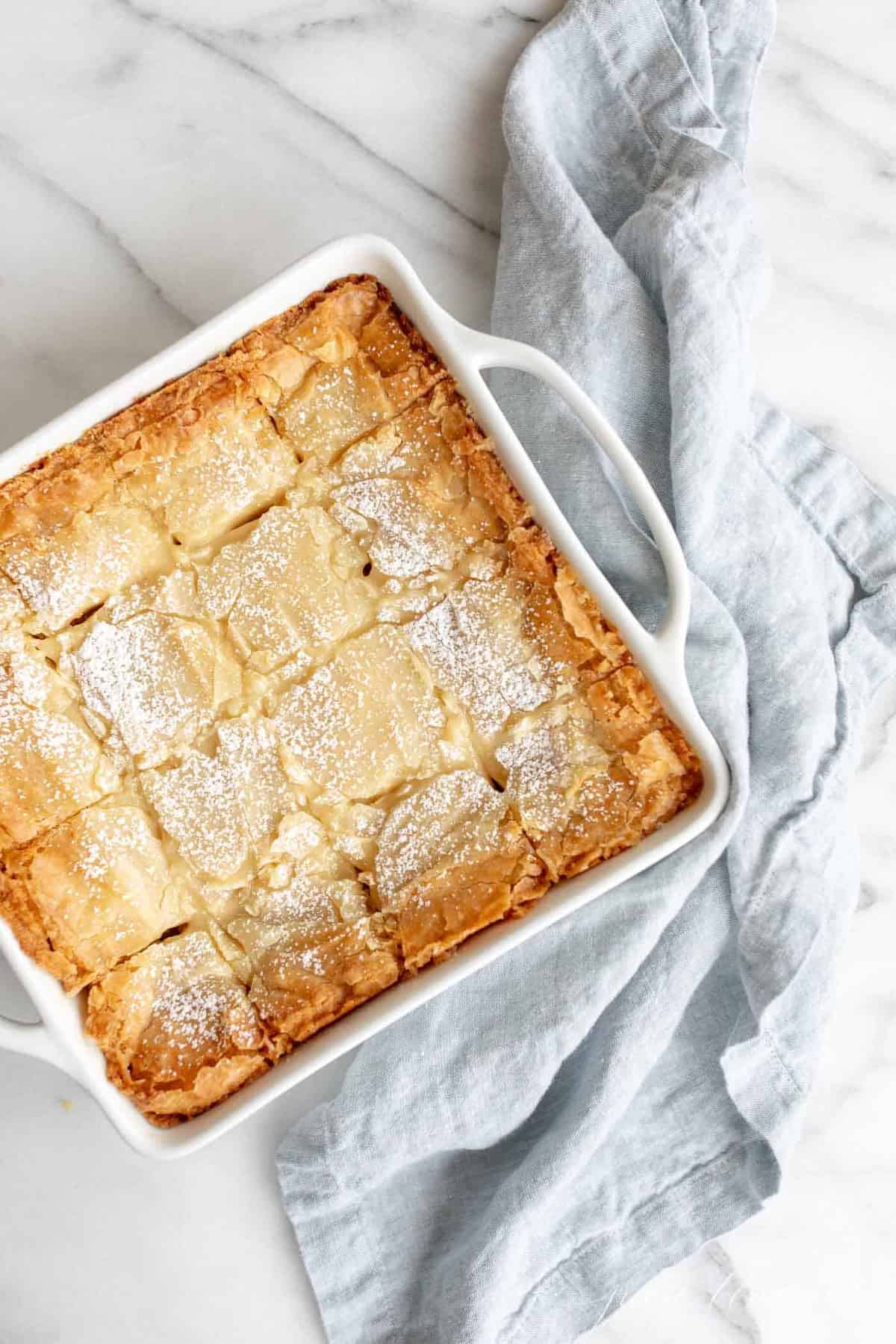 How to Store
Room Temperature – Store covered in an air tight container for up to two days at room temp.
Refrigerate – The cake will last up to a week in an airtight container in the fridge.
Freeze – You can also freeze the cake for up to a month by wrapping it in plastic wrap or in a large freezer bag.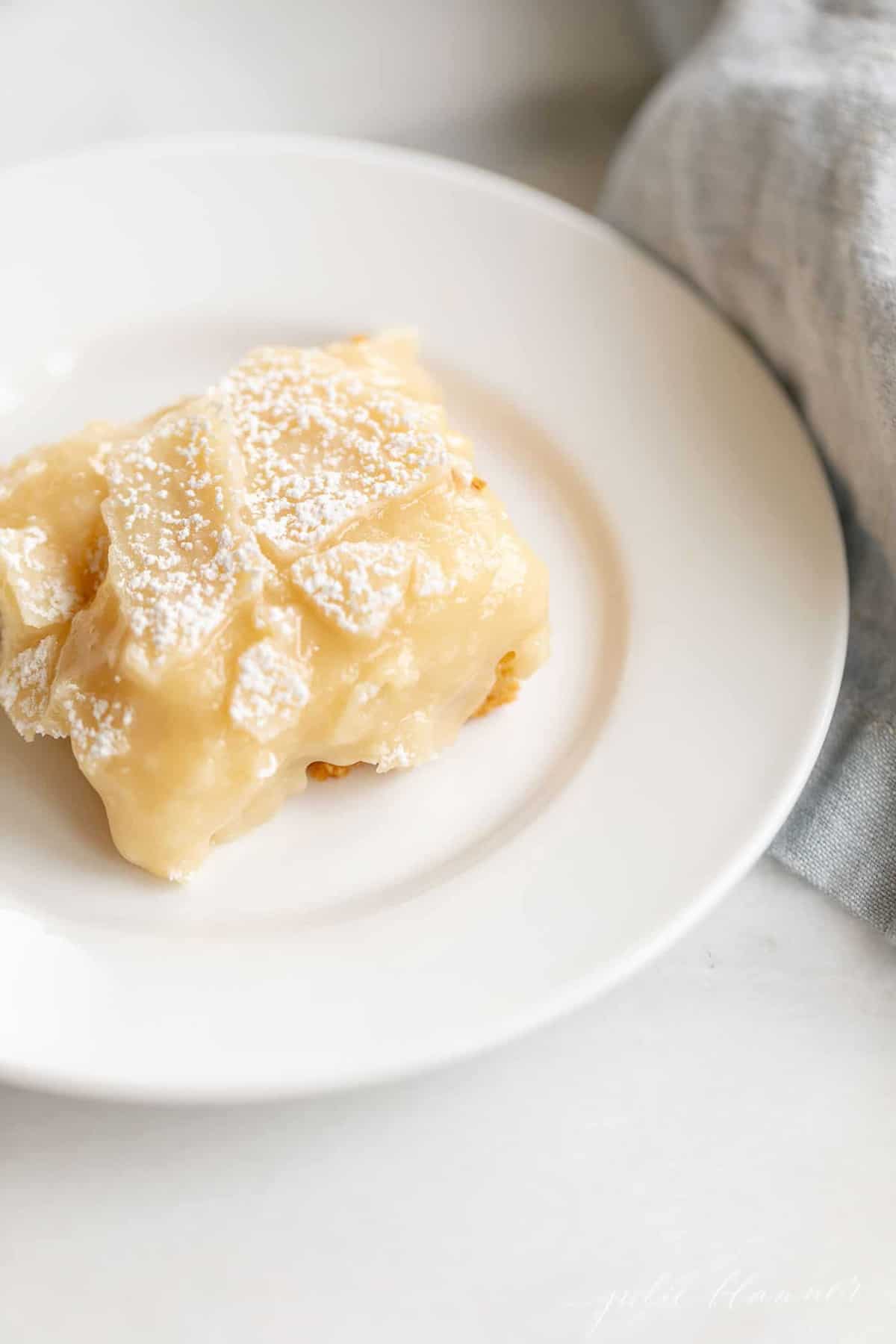 Dietary Considerations
Vegetarian
Nut Free (so long as you purchase an approved box of cake mix)
Hungry for more easy recipes? Sign up for my free recipe club and have amazing recipes delivered directly to your inbox each week!
Cakes Cupcakes & Bars
50 mins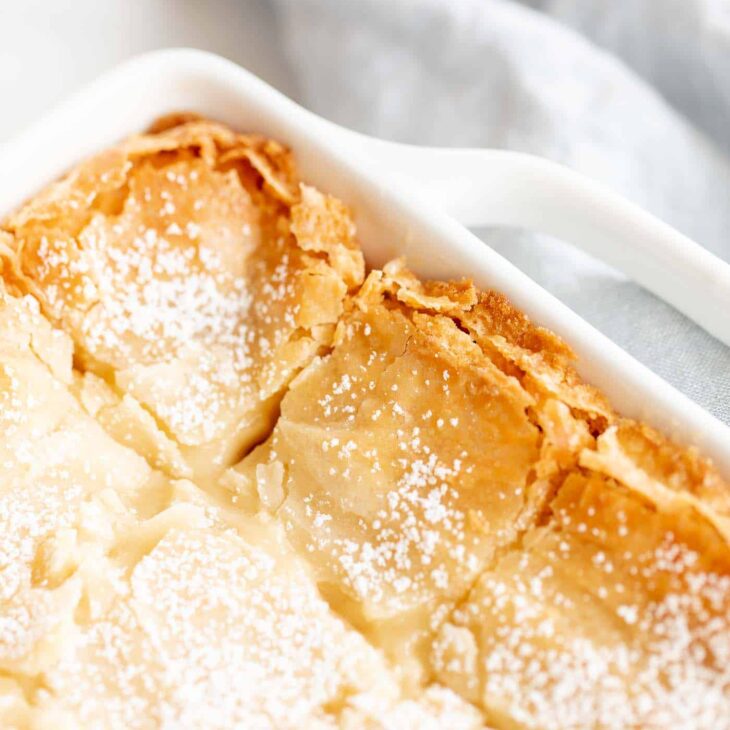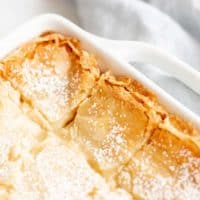 Gooey Butter Cake with Brown Butter
Classic St. Louis Gooey Butter Cake with a twist – this easy Gooey Butter Cake with Brown Butter has a deeper, richer flavor that you'll crave again and again!
Ingredients
Crust
1

box

golden butter recipe yellow cake mix

½

cup

butter

2

eggs
Instructions
Crust
Preheat oven to 350°F and grease a 9×9 pan.

In a small sauce pan over medium heat, watching carefully, brown the butter until it's a beautiful brown and has a nutty aroma. Allow to cool 5 minutes.

In a large mixing bowl, combine butter and cake mix. Add eggs.

Using a spatula, press dough into pan.
Filling
In a large mixing bowl, combine cream cheese, powdered sugar, brown sugar, vanilla and egg until smooth. Pour mixture on top of dough crust, leaving a small rim around the edge for the cake crust to rise.

Garnish with powdered sugar and bake 40-45 minutes. You will a feel slight crust on top, but it won't be jelly-like.
Tips
Serve al a mode of you want to go all out!
You can make this in an 8×8, 9×9 or 9×13 – it will determine the thickness and you will need to adjust bake time.
Calories:
629.53
kcal
|
Carbohydrates:
104.81
g
|
Protein:
5.58
g
|
Fat:
21.85
g
|
Saturated Fat:
12.73
g
|
Cholesterol:
109.39
mg
|
Sodium:
612.72
mg
|
Potassium:
90.14
mg
|
Fiber:
0.69
g
|
Sugar:
81.02
g
|
Vitamin A:
732.78
IU
|
Calcium:
162.22
mg
|
Iron:
1.62
mg
Estimated nutrition information is provided as a courtesy and is not guaranteed.
Explore More
Originally Published July 2014, updated November 2019