Gooey Browned Butter Cake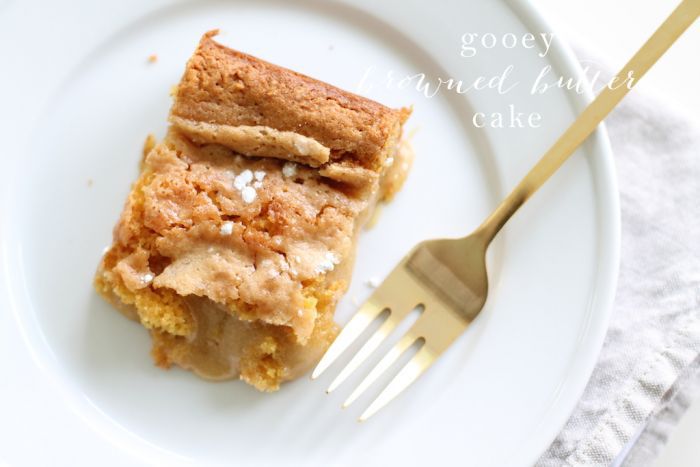 Yep! You read that right. I love everything browned butter & when we had guests coming over a couple weeks ago, I decided to adapt my traditional St. Louis gooey butter cake recipe. While that version can be a breakfast danish or dessert, gooey browned butter cake is definitely dessert, so go ahead & serve it al a mode if you want to go all out. If you can find caramel ice cream – even better.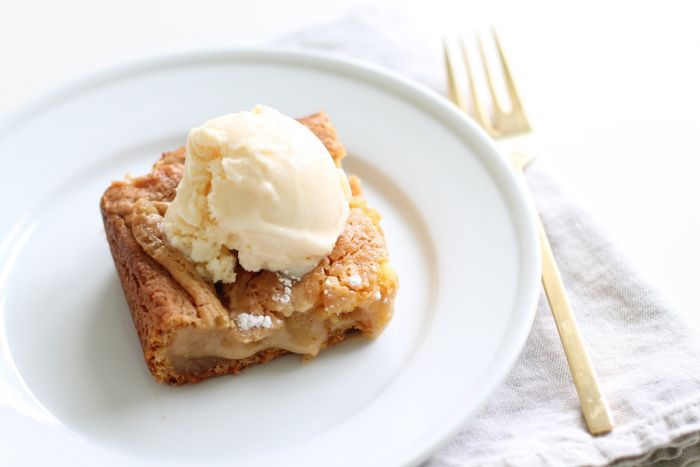 The last couple weeks, we've been celebrating with friends & saying goodbye as we are preparing to move to St. Louis. My girlfriends & I went to a new restaurant in Kansas City, Newport Grill. When it was time for dessert, I immediately eliminated the browned butter cake from my options. I'm not a huge fan of traditional cake & certainly don't want pass up an incredible dessert opportunity  for it. When friend ordered it & I tasted it, I immediately knew it was not traditional cake. It was gooey browned butter cake & I had to have it for myself. This is not an exact adaptation of it, but a great balance to prevent it from being too sweet.
Enjoy!
Gooey Browned Butter Cake
Ingredients
1 box golden butter recipe yellow cake mix
1/2 c butter
2 eggs
8 oz cream cheese, softened
1 lb powdered sugar
1/4 c brown sugar
1 tsp vanilla
1 egg
Directions
Preheat oven to 350 degrees & grease a 9x9 pan.
In a small sauce pan over medium heat, watching carefully, brown the butter until it's a beautiful brown & has a nutty aroma. Allow to cool 5 minutes.
In a large mixing bowl, combine butter & cake mix. Add eggs.
Using a spatula, press dough into pan, creating a slight edge along the sides.
Combine cream cheese, sugars, vanilla & egg until smooth. Pour mixture into dough.
Garnish with powdered sugar & bake 40-45 minutes.