In a pinch? Learn how to make buttermilk with staple ingredients! You'll just need 10 minutes and two ingredients to make your own batch of homemade buttermilk that can be used in so many recipes!
Buttermilk is an incredibly flavorful addition to dips, dressings, sauces, pancakes and so much of your baking. Learn how to make homemade buttermilk and all about the many uses for this delicious ingredient.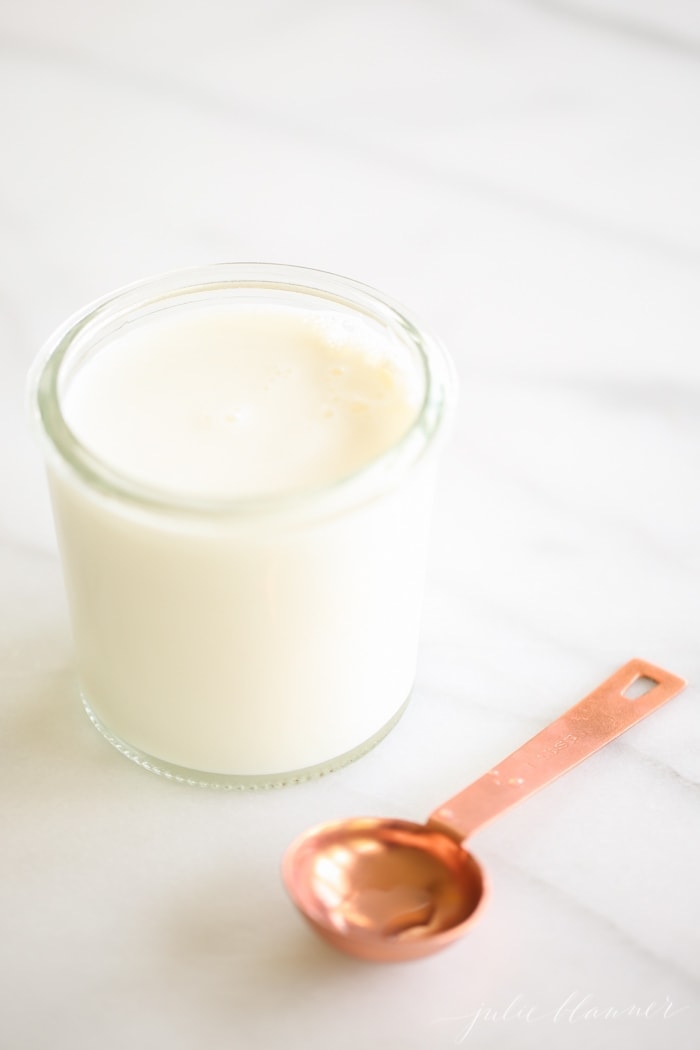 Originally published August 24, 2016 and updated with fresh content and details July 7, 2021.
You know that moment when you are really excited to make something you have an out-of-control craving for, only to find out that you're missing one of the ingredients?
Years ago, I was standing in my tiny galley kitchen having my friend Kathy over for lunch and I realized that I didn't have buttermilk to make the salad dressing I had planned. I panicked, knowing she was en route from over 30 minutes away because I really didn't have any backup for lunch.
I love cooking fresh, but sometimes that means I find myself without options when I need them most. I called her and asked her to pick up buttermilk on the way over.
She laughed at me and then let me in on a little secret – you can make your own buttermilk. How I didn't know this at the time is a mystery!
You can save $3 purchasing a half gallon of buttermilk that I won't use and an extra trip to the grocery store, because who remembers buttermilk? Clearly not me.
So, how do you make buttermilk? Keep reading…
What is Buttermilk?
First, we need to know what buttermilk actually is, right? It's such a common ingredient in the foods we know and love, but many people aren't sure what it even is!
Buttermilk is the liquid that's left after churning butter. It's actually low-fat and high-protein, and is fermented into a tart substance used in an incredible array of recipes.
Of course, this traditional method of making buttermilk isn't used as frequently today. Most of the commercially created buttermilk available in grocery stores today comes from a process of adding enzymes to low-fat milk.
That's one of the reasons I love making my own ingredients from scratch… it's so nice to know exactly what's in the food we are eating and enjoying every day! A homemade buttermilk replacement is easy enough to make, even if you're not churning butter on your back porch like the olden days.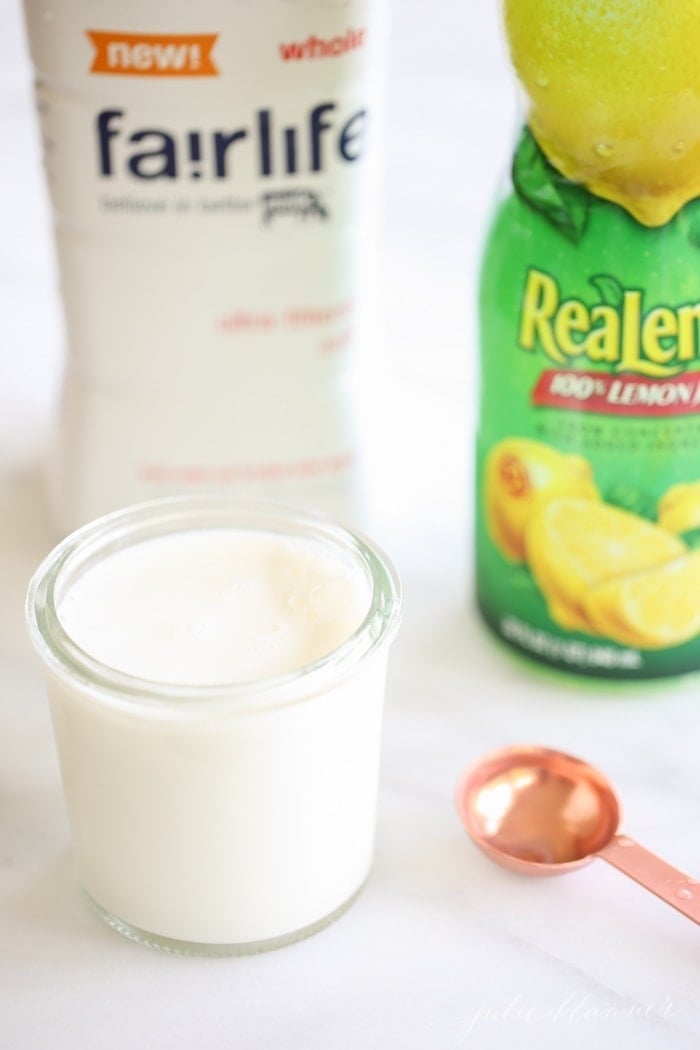 Buttermilk Ingredients
You just need two simple ingredients to make this recipe – for the full step by step printable recipe with measurements and guidelines, head to the bottom of this post!
Milk – Whole milk is best, but you can use any kind – even heavy whipping cream!
Lemon Juice: Fresh is preferable. You can also use vinegar if that's what you have on hand.
How to Make Buttermilk
No cooking required! You just need a jug and 10 minutes!
Stir milk and lemon juice.
Allow to sit for 10 minutes, until it starts to slightly curdle.
Where to Use Buttermilk
You can use buttermilk in an incredible array of recipes, both sweet and savory alike.
pancakes
Soak chicken breasts in it just before they bake
Fried Chicken
Add it to this Cabbage Salad for a more traditional coleslaw
Who knew. Well, maybe you did, but this was the one trick Grandma didn't teach me. It's is easy as 1-2-yep, that's it. Not even three. Not even three ingredients, not even three steps.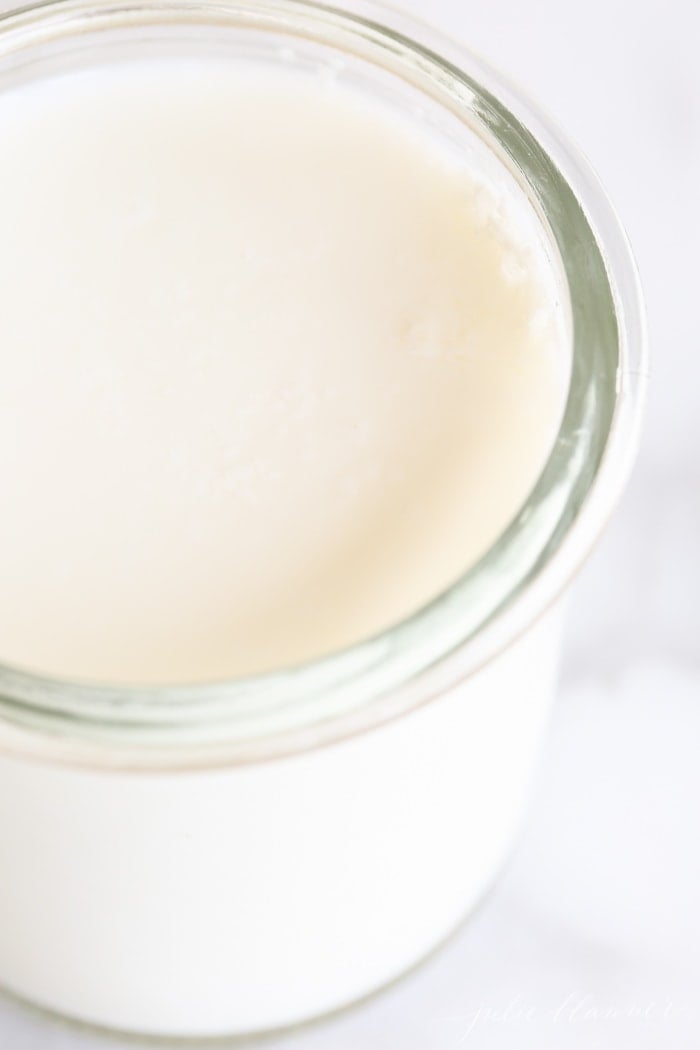 How to Store Homemade Buttermilk
Room Temperature – for up to two hours after you mix it together. After that it must be refrigerated.
Refrigerator – When you make your own buttermilk, it lasts for a surprisingly long time! It's high in lactic acid, thanks to the lemon juice and bacteria doesn't like to grow in it. It will be good for at least one week in the fridge, and depending on the freshness of the milk you use, it can last up to three!
Freezer – Yes, you can freeze your homemade buttermilk! The easiest way to do this is to measure it by the tablespoon into an ice cube tray… this makes it easy to pop out the amount you need for a recipe any time you'd like! Store it for up to three months in the freezer.
If your homemade buttermilk is lumpy, has any discoloration or an uncertain smell, it's time to make a new batch!
Top Tips For How To Make Buttermilk
Use fresh lemon juice for the best results, you can use bottled if you are in a fix.
Let the milk sit for at least 10 minutes before using.
Store the homemade buttermilk covered in the fridge.
Frequently Asked Questions
What happens if you use milk instead of buttermilk in a recipe?
If a recipe calls for buttermilk, replacing with plain milk is not recommended. Without the additional acid that buttermilk requires, the recipe will often fail, or at the very least not be as interesting or flavorful.
Is Buttermilk healthier than heavy cream?
A single cup of buttermilk contains almost 100 calories and a little over 2 grams of fat per cup. It contains small amounts of potassium, calcium, phosphorous, and vitamins. On the other hand, heavy cream, also known as "heavy whipping cream," is a thick and fat-rich cream with a faintly sweet flavor.
What's The Best Milk To Use To Make Buttermilk?
It's best to use 2% or whole milk to make a creamy buttermilk at home. You can use fat free (skimmed), it won't be as creamy but will still work well in recipes.
I hope this buttermilk recipe saves you some time and energy as well. You know when there's buttermilk, there's bound to be something yummy ahead, right?
More Cooking and Baking Guides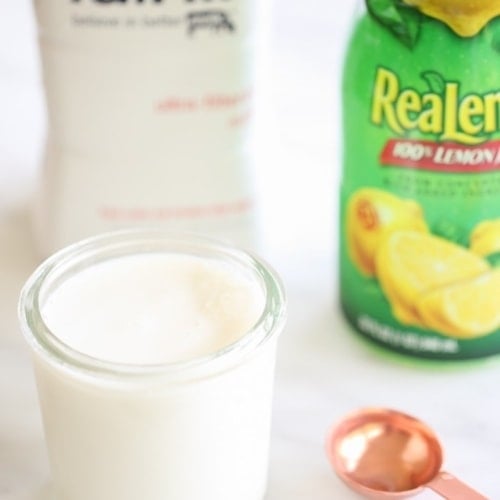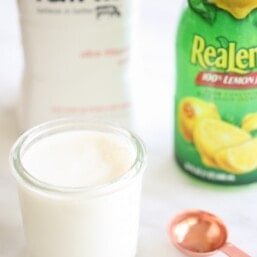 How to Make Buttermilk
In a pinch? Learn how to make buttermilk with staple ingredients!
Instructions
Stir milk and lemon juice.

Allow to sit for 10 minutes, until it starts to slightly curdle.
Tips
Try experimenting with salad dressings, whipping up some extra delicious pancakes or soaking chicken breasts in it just before they bake.
Serving:
1
g
|
Calories:
152
kcal
|
Carbohydrates:
12
g
|
Protein:
7
g
|
Fat:
7
g
|
Saturated Fat:
4
g
|
Cholesterol:
24
mg
|
Sodium:
105
mg
|
Potassium:
322
mg
|
Sugar:
12
g
|
Vitamin A:
395
IU
|
Vitamin C:
5.8
mg
|
Calcium:
276
mg
Estimated nutrition information is provided as a courtesy and is not guaranteed.
Explore More