This beautiful made-from-scratch Mandarin Orange Cake is easy to make, especially with the help of little hands. It's a fresh twist on an old classic – Mandarin Cake made without Cool Whip or cake mix.
The Southern version of this Mandarin Cake Recipe is often referred to as a pig pickin' cake. Whatever you want to call it, it's just a fresh, flavorful, beautiful cake.
Luckily, girls enjoy holiday baking just as much as I did growing up. My sister, Isla and I made this beautiful Mandarin Orange Cake to celebrate the holidays together.
It's a fresh twist on an old favorite, because it's made from "scratch".
My mom always made Mandarin Orange Cake with yellow cake mix, Cool Whip, pudding and canned pineapple. I'm convinced that's simply because 80's advertising made everyone feel like they couldn't do it on their own.
This Mandarin Orange Cake recipe is truly quick and easy and worth the extra steps for fresh flavor. With just a couple additional (staple) ingredients, you can whip up this amazing cake on a whim!
Let's skip the boxed cake mix and cool whip and give this easy recipe a whirl!
Why You'll Love this Mandarin Cake
This Mandarin Orange Cake recipe is light and fluffy, much like it's fruity icing.
It's foolproof and will make you wonder why you've ever bought a mix.
It comes together in just 25 minutes and is so easy to decorate.
It's the perfect dessert to wow your guests for spring, summer, fall and winter.
It's one of our summer favorites for every outdoor gathering!
Fresh oranges make the cake so moist!
Don't be intimidated making a layer cake, it's truly so simple and gives a nice cake to frosting ratio!
What is Pig Pickin' Cake?
A funny name for a delicious cake!
Mandarin Orange Cake is also known as Pig Pickin' Cake… a Southern classic that's been served for generations. It's often called that because it is frequently served at pig roasts. The name refers to picking the tender meat off the pig. (But trust me, there's no pork in this cake!)
While it's typically deemed as a summer dessert, I feel oranges lend themselves well to fall and winter, too. It's a delicious dessert any time of the year!
It's moist, dense and oh-so-delicious!
Mandarin Orange Cake Ingredients
Butter

– Salted or unsalted, your preference.

Sugar

– white granulated

Egg yolks

– add a rich binding agent to this cake.

Mandarin oranges

–

Fresh, peeled,

crushed

.
Vanilla – you can make your own vanilla extract or of course, use any store bought brand.
Milk

– I like whole milk here, but anything you have on hand will work.

Cake flour

– Cake flour is significantly different than regular flour. Be sure to use cake flour instead of traditional in this recipe.

Baking powder

– this helps the cake rise!

Salt

– it's needed to balance the sweet citrusy flavors of this cake.
Ingredient Variations
Try almond extract instead of vanilla.
Yes, you can use canned mandarins. Simply drain before adding to cake mix!
If you use salted butter, skip the additional salt.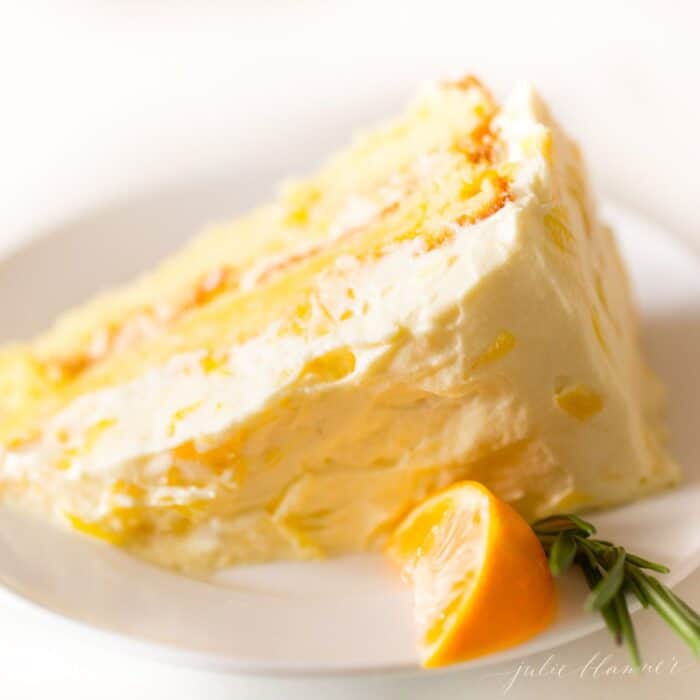 Frosting (Filling)
Fresh Pineapple

– crushed, you can substitute canned pineapple if you prefer.

Heavy cream

– required to create the rich, creamy frosting that is the star of this cake!

Powdered sugar

– creates the smoothest frosting imaginable!

Vanilla pudding mix

– instant is best!
Frosting (and Filling) Variations
You can even add a little cream cheese or coconut to the filling if you'd like!
If you're not a big frosting fan, you can always cover it in my orange glaze, but this pineapple topping can't be beat!
How to Make Mandarin Orange Cake
Prep – Preheat oven to 350 degrees and grease and flour two cake pans.
Cream – In a large bowl or mixer, cream butter and sugar until fluffy. Beat in egg yolks, mandarin oranges and vanilla.
Combine Dry Ingredients – In a separate bowl, sift cake flour, baking powder and salt together.
Make Batter – Gradually incorporate into wet mixture alternating with milk until just incorporated.
Bake – Pour into baking pans. Bake 25-28 minutes or until the cake springs back after being touched or a toothpick in the center comes out clean. Place on a wire rack to cool completely (approximately 20 minutes) before turning onto rack or pedestal.
Mandarin Orange Cake Assembly
Let's be honest, the filling in this cake is everything! Fortunately, it's quick and easy, even when making it fresh!
I make Mandarin Orange Cake filling with homemade whipped cream.
Make Topping – Beat heavy cream until stiff (if you must, you can substitute whipped topping). Add powdered sugar, vanilla pudding mix and crushed pineapple.
Assemble – Place one layer of cake onto your serving dish and fill with icing before placing the second layer on top.
Ice – Ice the top and sides until the cake is completely covered.
Garnish – Garnish and refrigerate until ready to serve.
Tips
Grease your pan so that the cake doesn't stick. This is the best baking spray.
These are my favorite 8 inch cake pans.
Make it ahead or bake and enjoy.
Mandarin Orange Cake Serving Suggestions
I couldn't decide how to decorate the cake – to use mandarins whole, quartered, sliced or peeled. The options are endless!
So Isla peeled a few for me to test with – and snacked on them to reward herself for her efforts. That's one of the many things we love about mandarin oranges, the kids can peel them themselves!
Add the fresh mandarin slices in any shape you'd like! We decided we loved them shaped to create a star.
Garnishing it with rosemary to makes the Mandarin Orange Cake feel festive for the holidays.
How to Store
At Room Temperature – This can be left out on the counter for up to two hours.
Refrigerate – Cover and store refrigerated, ensuring any exposed cake is covered in plastic wrap to prevent it from drying out.
Freeze – You can also freeze Mandarin Orange Cake for up to 30 days covered. Bring to room temperature to enjoy.
Dietary Considerations
I hope your family loves this Mandarin Orange Cake recipe as much as ours!