It's the best blend of sweet and salty… an easy peanut butter cake recipe with a creamy peanut butter frosting on top for a taste of true decadence! This peanut butter sheet cake is the easiest indulgence for true peanut butter lovers!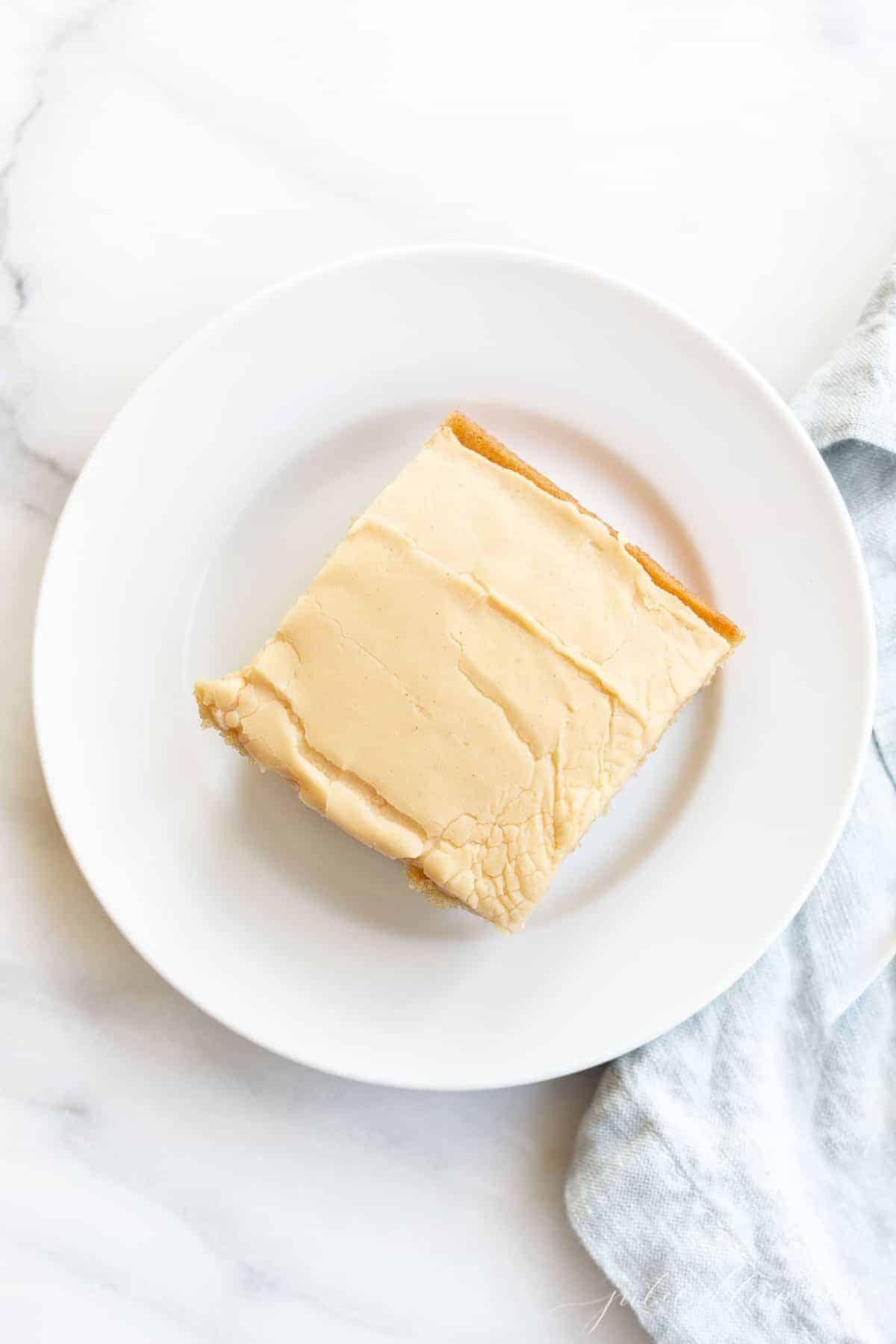 The Ultimate Peanut Butter Cake
If loving peanut butter is wrong, I don't want to be right. As you know, my love for peanut butter goes deep. I could wax on about it for days, but I will save you the details of this long-lasting love affair.
Just know that I will never stop trying to bring you the best of peanut butter desserts for as long as I am able!
This peanut butter cake is truly the ultimate. I don't say that lightly, friends… and I promise I would never steer you wrong. I love to put a fresh spin on old-fashioned favorites, and this is the perfect representation of what I love about baking!
We all know that peanut butter can often create a dry, crumbly mess when it comes to baking. But this cake? No way! It's light, moist and delicious, and perfect when served with a tall glass of milk.
I promise, even people who think they don't love peanut butter (side note: what is wrong with them?) will love this easy peanut butter sheet cake. Let's get started!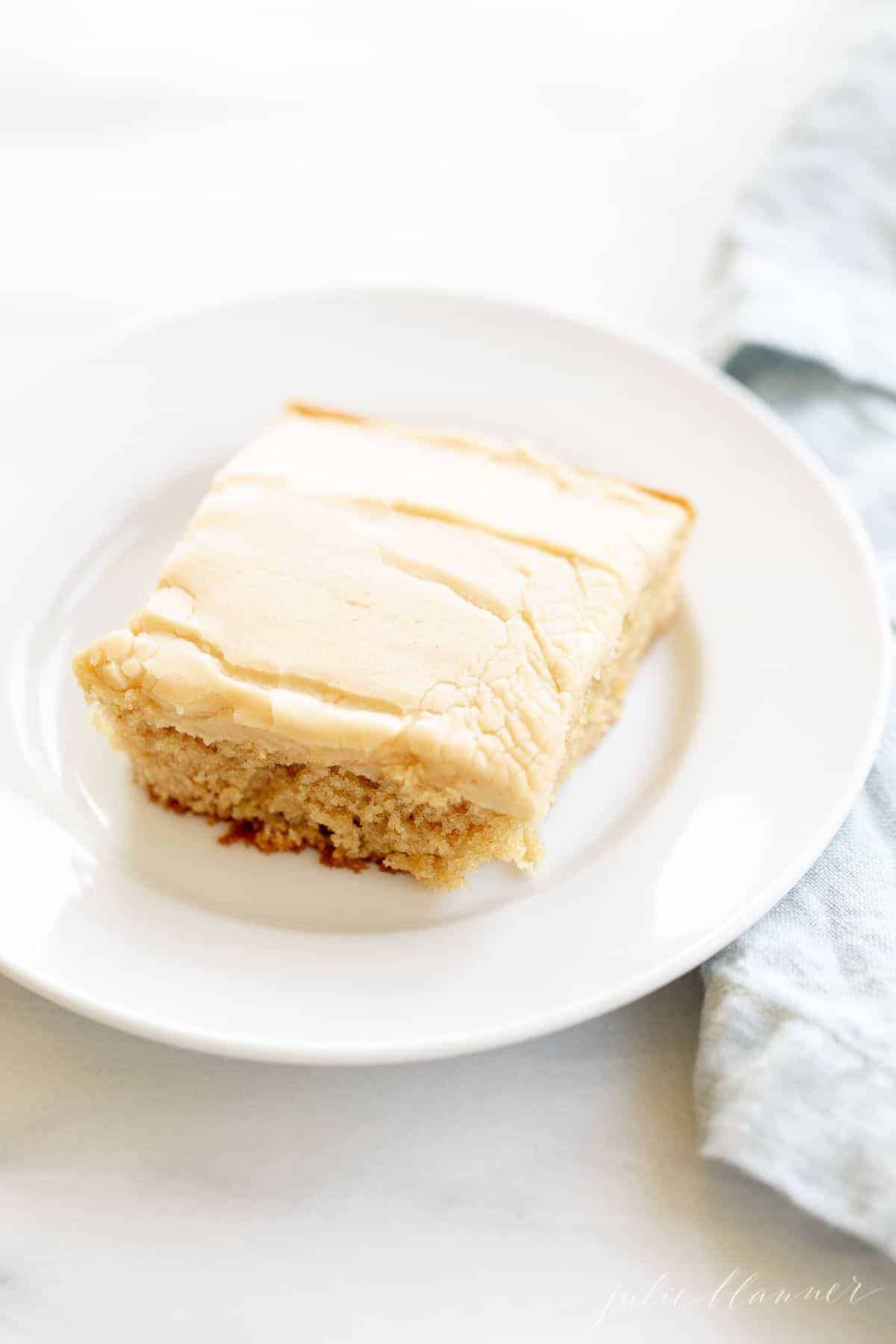 Peanut Butter Cake Recipe Ingredients
This easy peanut butter cake is made primarily of staple ingredients, which makes it easy to whip up any time or day! Is that a good thing or a bad thing? That's for you to decide. Personally, I'm ready for the baking season and my yoga pants are stretchy.
I like to give a lot of baking detail in my posts to answer questions from readers. However, feel free to skip directly to the recipe at the bottom of this post!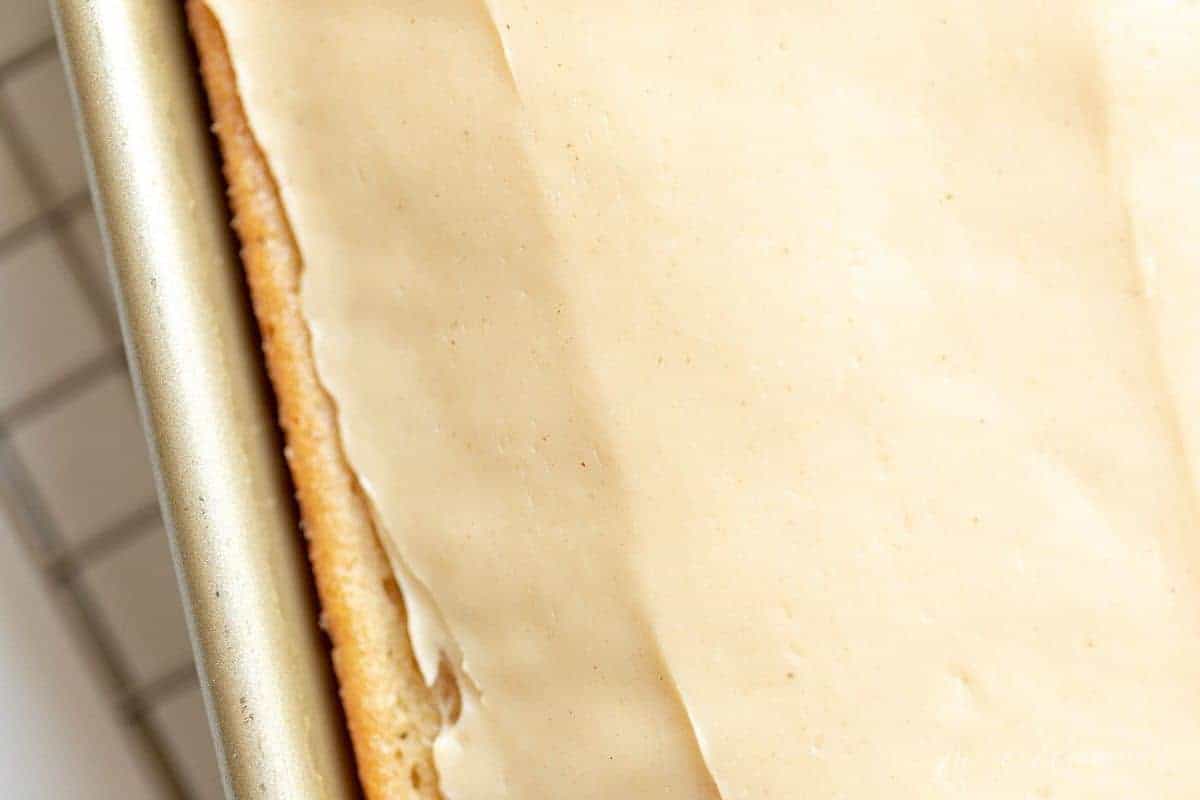 Cake Ingredients:
Flour – All purpose flour and no need to sift.
Baking Soda – Baking Soda make this cake rise to perfection.
Salt – This pantry staple brings out all of the flavors of the other ingredients.
White Sugar – Sugar adds the perfect touch of sweetness.
Vanilla – I use vanilla extract in just about everything and it adds just a touch of flavor that makes this cake out of this world good!
Butter – This adds to the tender crumb and moist texture of this cake. It can be cold because you're going to melt it down anyway.
Peanut Butter – This cake deserves a full fat, high quality peanut butter. Just use whatever peanut butter you keep on hand for your family if you don't want to buy anything special!
Water – Water is significant in this recipe because it adds moisture to combat any dryness from the peanut butter.
Eggs – The eggs in this cake act as a binder, and they also create more moisture and the perfect spongy texture.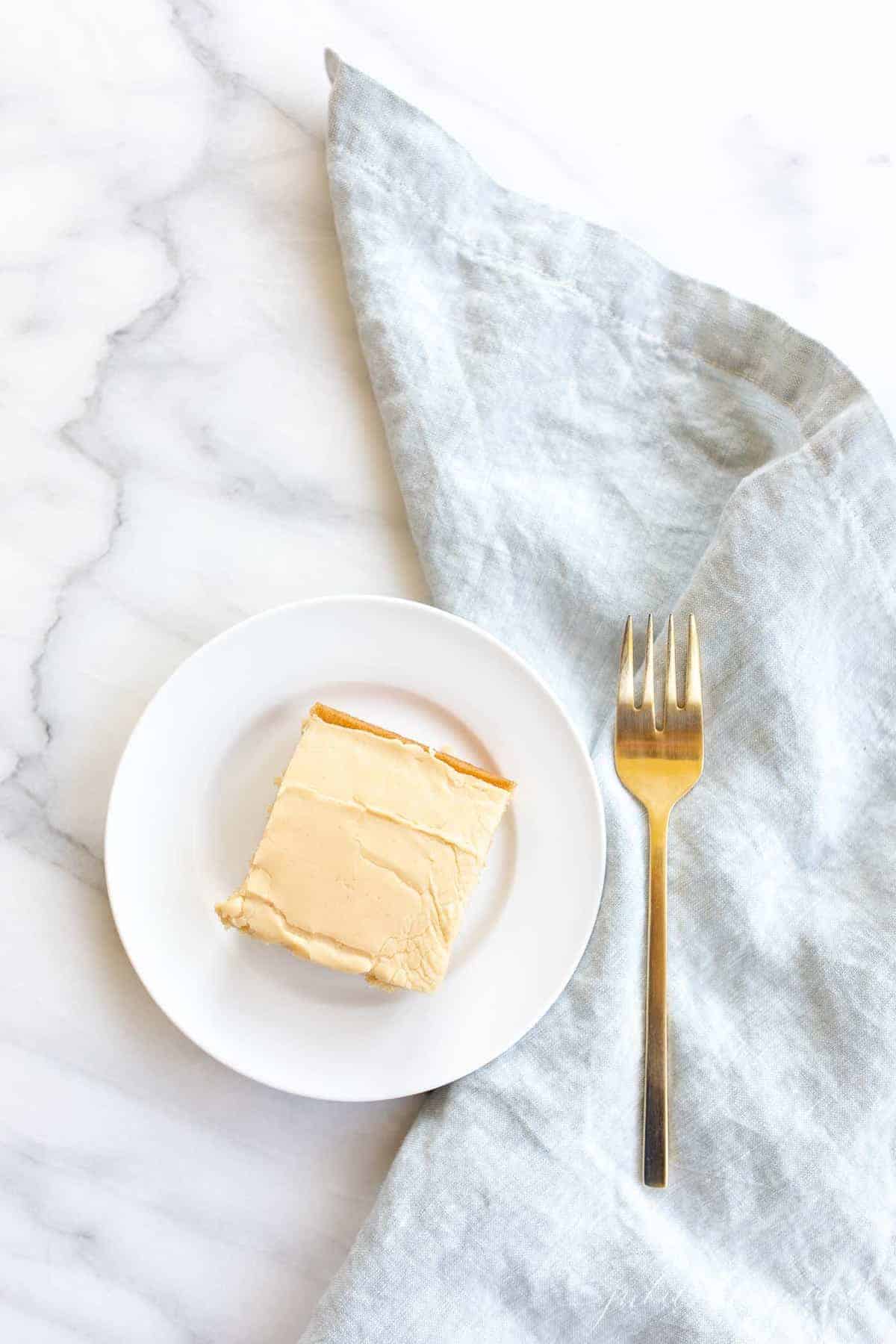 I pair this cake with a light and fluffy peanut butter frosting that smooths on top of this sheet cake like whipped cream. The sweet and salty flavor of this peanut butter cake recipe is amplified by the addition of the frosting, but the peanut butter flavor is not overpowering.
It's simply the perfect decadent accent to this delicious cake! However, if you prefer buttercream, you can find my favorite buttercream frosting recipe right here!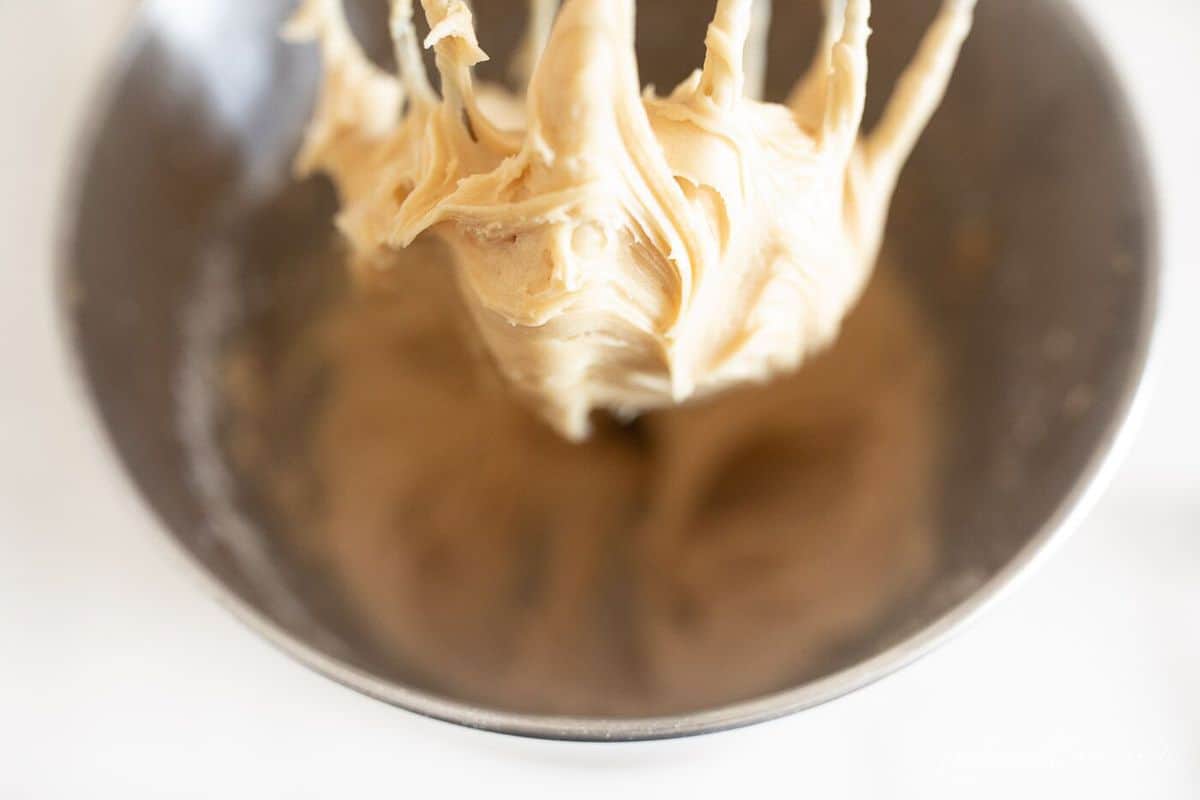 Peanut Butter Frosting Ingredients:
Powdered Sugar- This is a must-have ingredient for your frosting because of the incredibly fine texture. No other sugar will do!
Butter- Salted or unsalted, it's your choice! I always use salted- and again, you're going to melt it down so don't worry about temperature in this recipe!
Peanut Butter- I used creamy, full fat peanut butter because I prefer a creamy frosting.
Milk- Because of the thick nature of the peanut butter itself, the milk helps add a little creamy moisture content back into this frosting.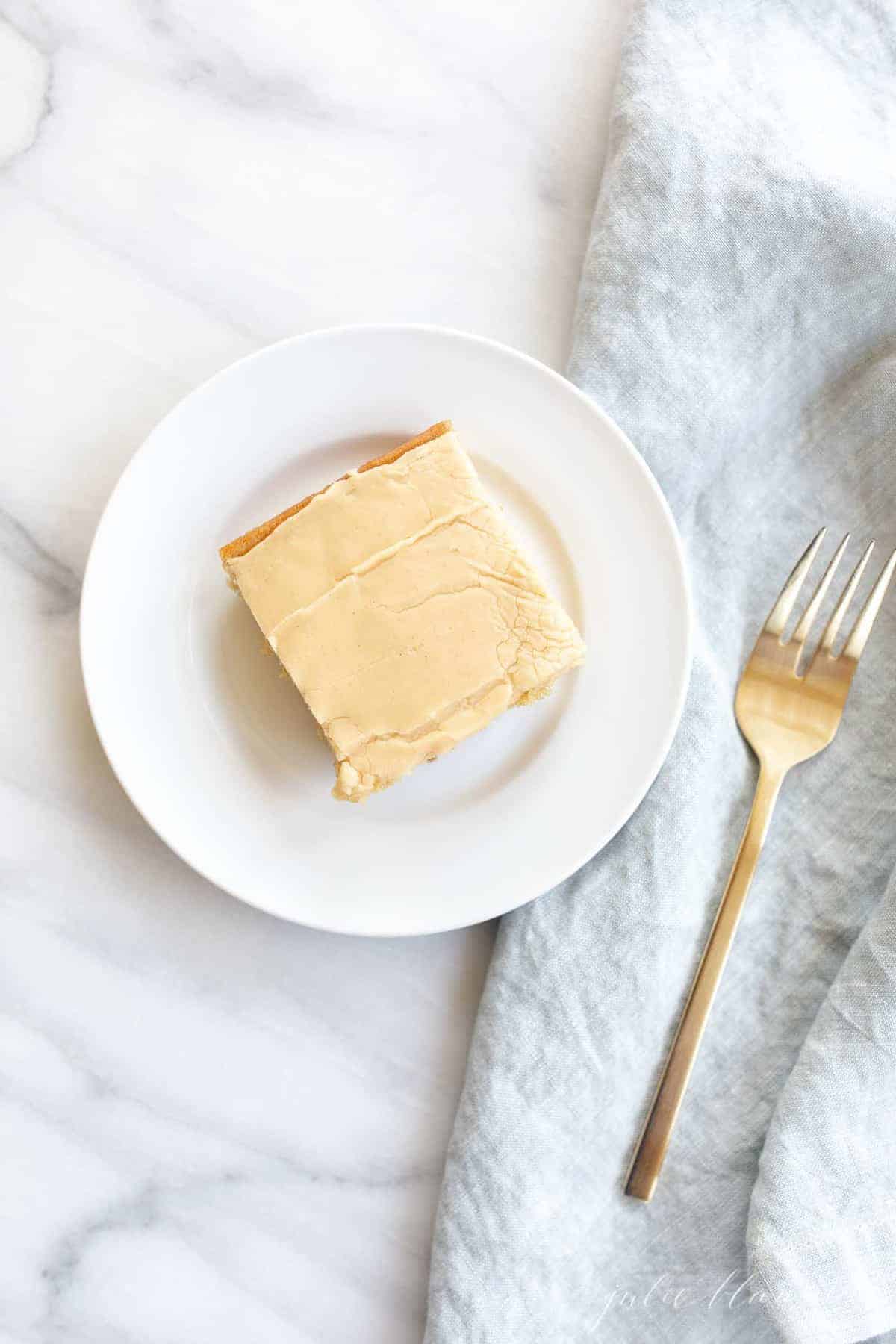 How to Make Peanut Butter Sheet Cake
It's so easy to throw this cake together and enjoy with your family!
Preheat oven to 400 degrees.
Mix dry ingredients (sugar, baking soda, flour and salt) in a large bowl. Set aside.
Combine peanut butter, water and butter in a sauce pan on your cooktop. Bring to a boil.
Gradually add milk, vanilla and eggs. For the fluffiest cake, don't over mix.
Mix your melted peanut butter mixture into your dry ingredients in your mixing bowl.
Pour into a prepared jelly roll pan.
Bake for 15 minutes or until toothpick inserted in the center comes out clean.
Make peanut butter frosting.
Allow warm cake to cool completely, frost and serve!
For the creamy peanut butter frosting: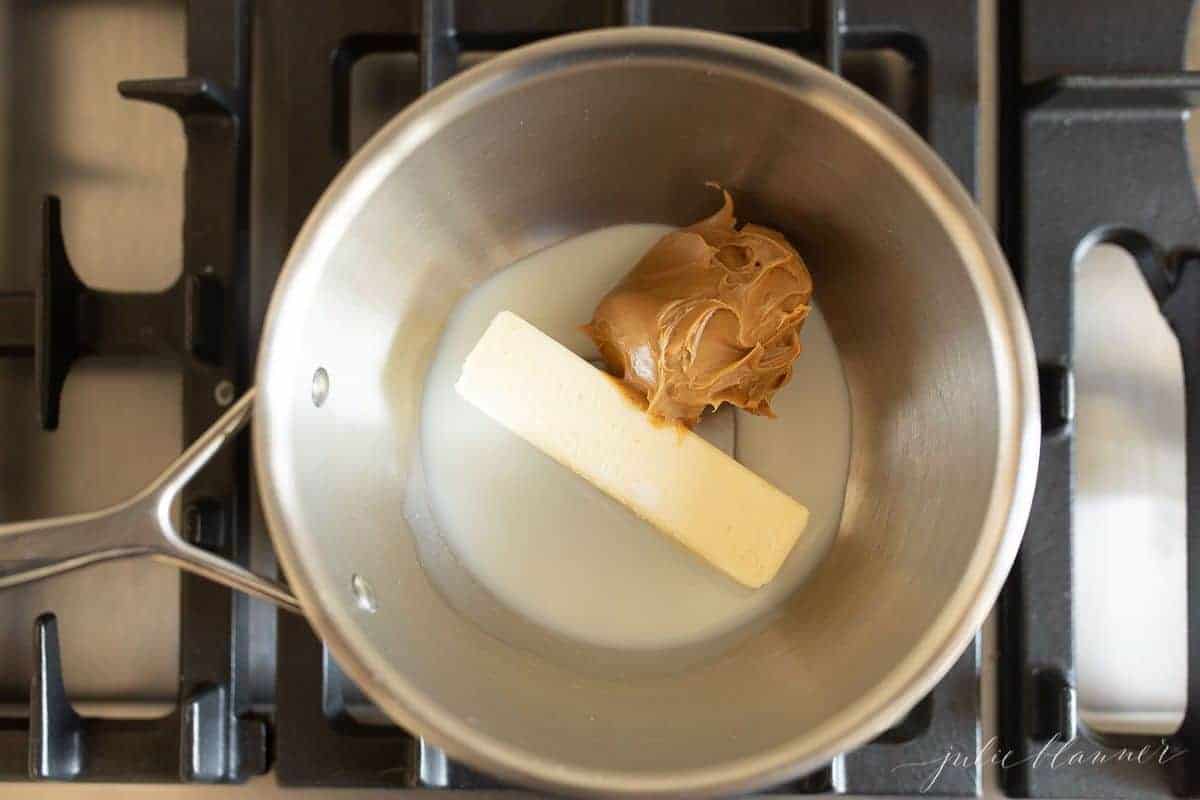 Combine butter, milk and peanut butter and bring to a boil in a saucepan until.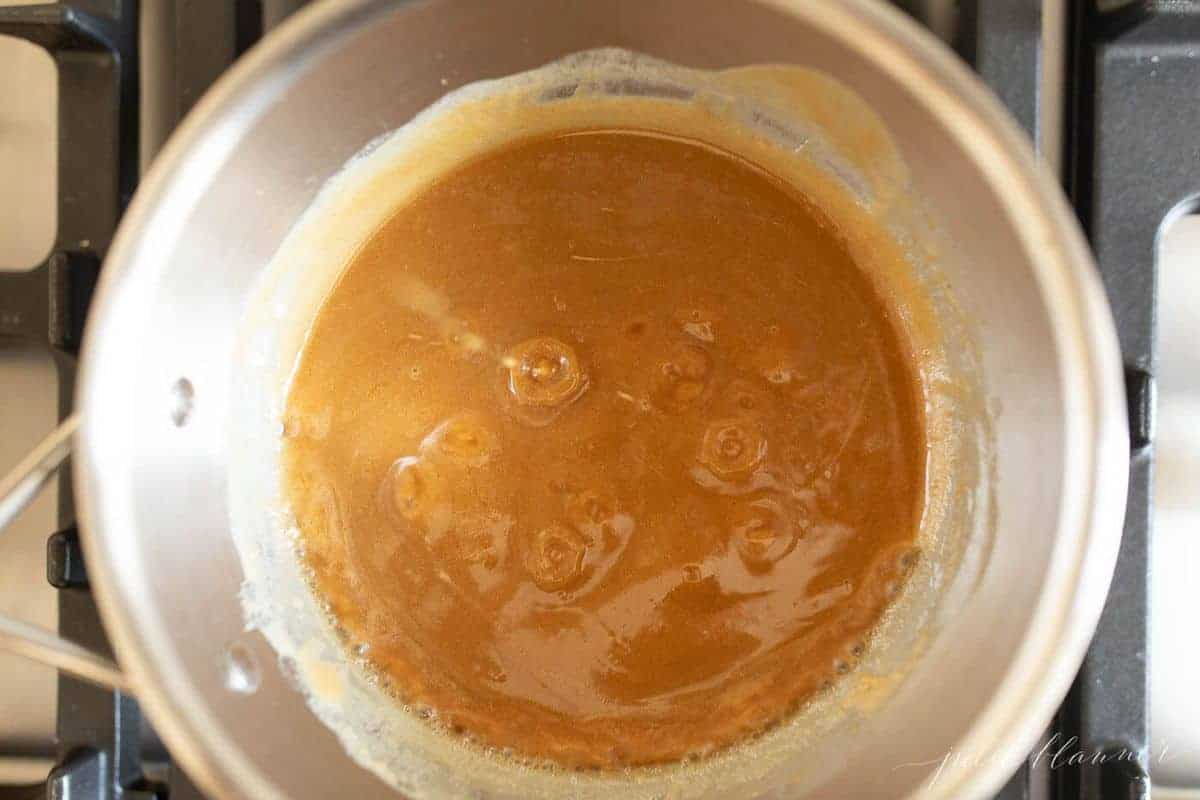 Gradually add your powdered sugar.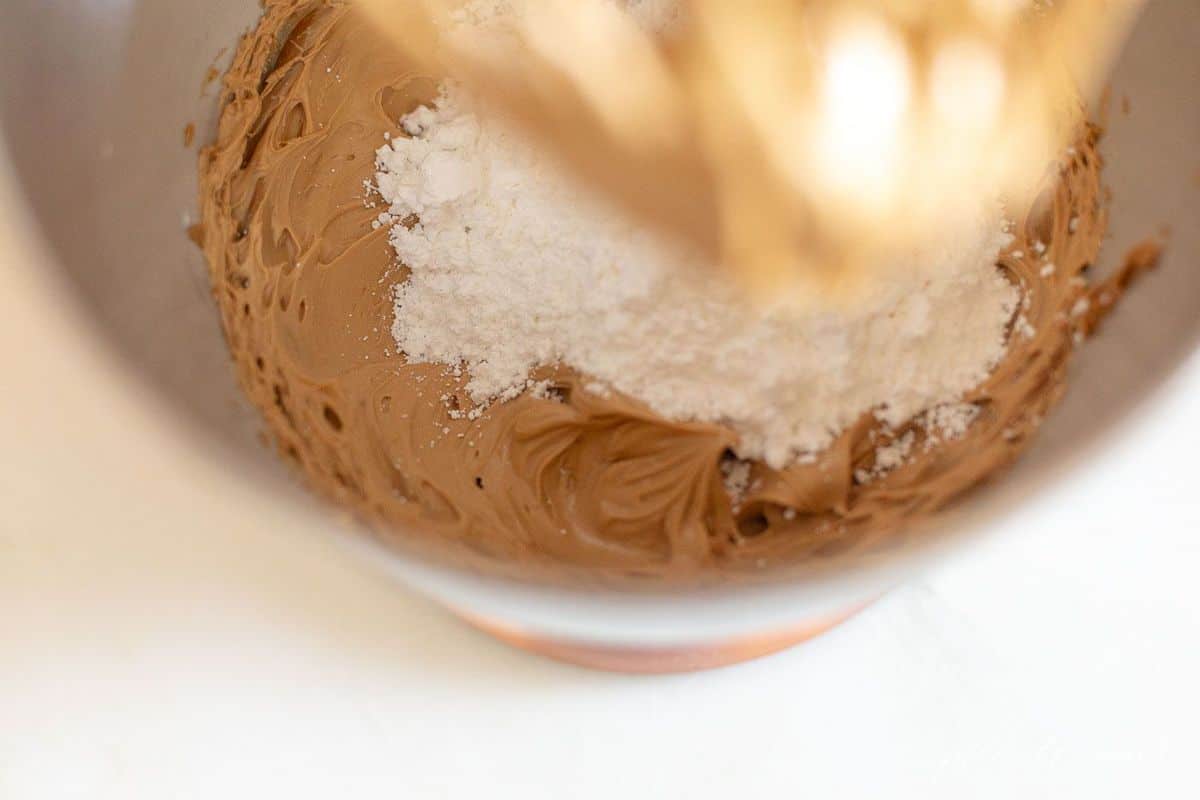 Peanut Butter Cake Variations
There are so many ways to personalize this peanut butter sheet cake! I wish I could make it with a new variation every week, but since that would be hard on my waistline, here's a few ideas:
Create your frosting with crunchy peanut butter! It will give this peanut butter cake an added texture that is out of this world. The frosting will still be creamy, but you'll hit the sweet spot for crunchy peanut butter fans with this addition.
Try a chocolate frosting instead. In my opinion, peanut butter and chocolate are a better combination than peanut butter and jelly ever dreamed of being.
Add something fun on top! Try chocolate chips, chopped up peanut butter cups, a drizzle of chocolate syrup, nuts, or even fresh sliced bananas. This cake is delicious on its own but its fun to mix things up!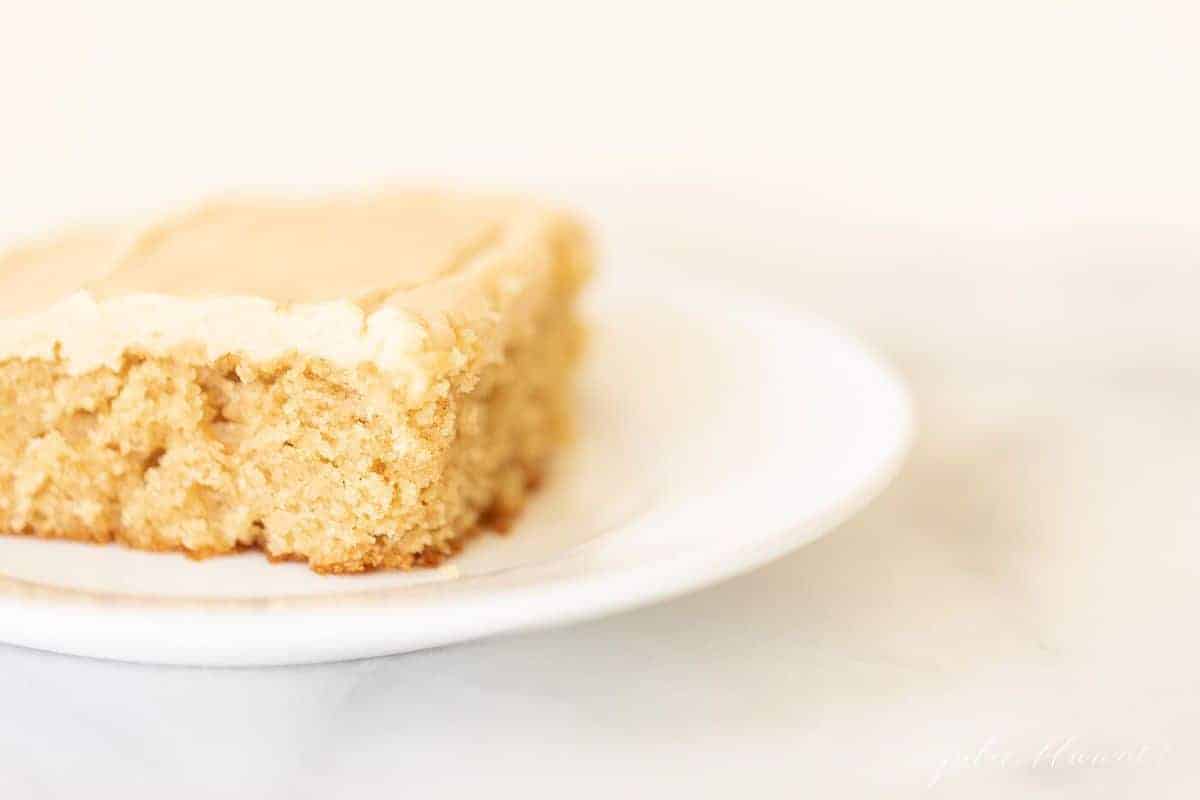 Serving and Storing a Peanut Butter Cake
This is a cake that is equally delicious when served warm, cold, or room temperature. Just be sure to drink it with a glass of milk- you won't regret it! A slice of warm cake is the most comforting food imaginable!
Luckily, this easy peanut butter cake is just as easy to store as it is to serve. You can leave it on your counter top or store it in the fridge- your choice! Another option? Consider freezing your peanut butter cake. I am always impressed with how well cakes freeze- it locks in the moisture and they are just as delicious when defrosted! Frost it before or after freezing.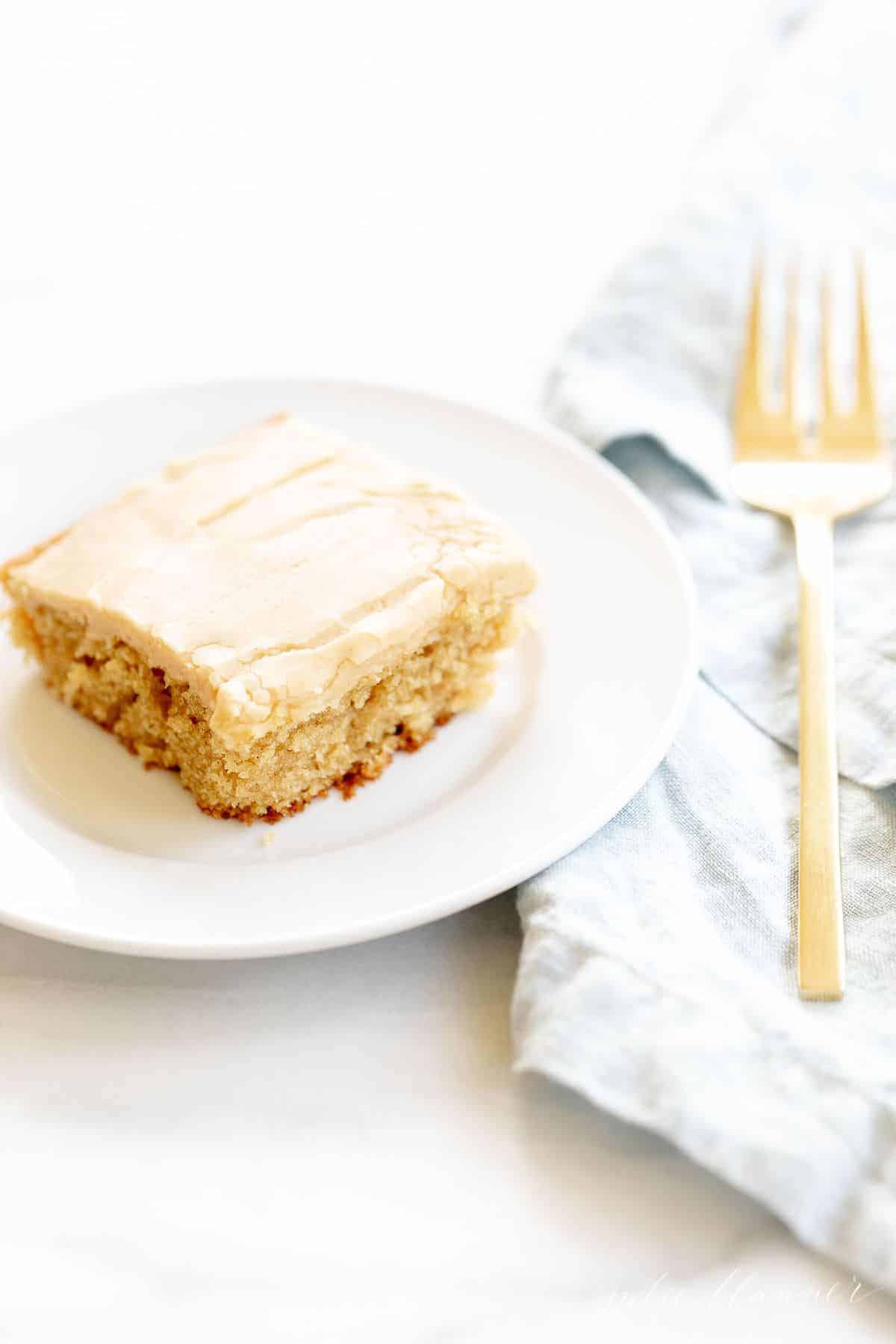 You've got to try this peanut butter cake recipe! Don't let those dry, crumbly peanut butter cakes of the past keep you from this incredible dessert decadence! You should also try my amazing butterscotch cake– it's so moist and delicious. Give my cookie butter cake a try if you're looking for something original that will be loved by all!
What's your family's favorite way to enjoy peanut butter desserts? I'd love to hear from you! If you make this easy peanut butter sheet cake, please come back and share a review with me.
Hungry for more easy recipes? Sign up for my free recipe club and have amazing recipes delivered directly to your inbox each week!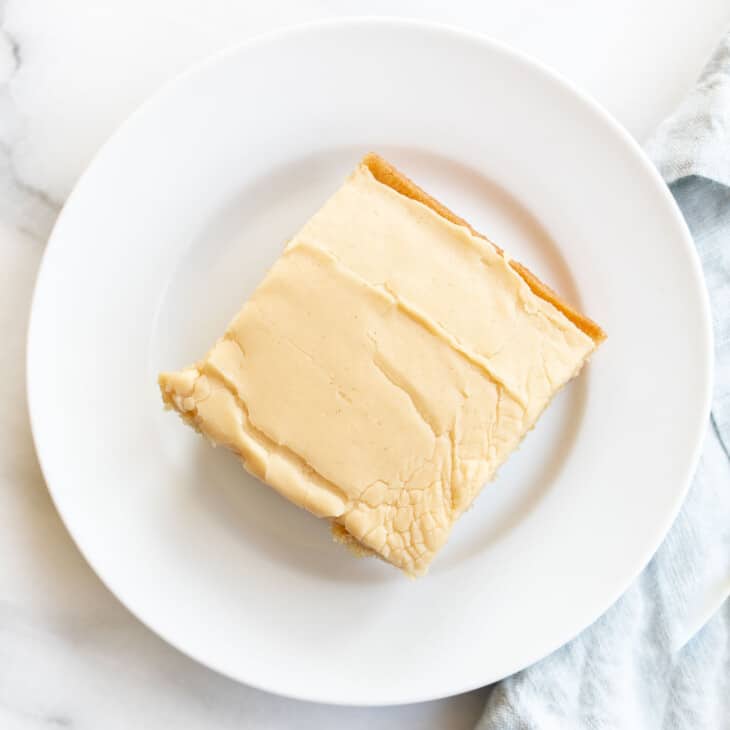 Peanut Butter Cake with Creamy Peanut Butter Icing
It's the best blend of sweet and salty… an easy peanut butter cake recipe with a creamy peanut butter frosting on top for a taste of true decadence! This peanut butter sheet cake is the easiest indulgence for true peanut butter lovers!
Ingredients
2

cup

white granulated sugar

2

cup

all-purpose flour

1

teaspoon

baking soda

1

teaspoon

salt

1

cup

butter

1

cup

water

1

cup

peanut butter

creamy, not natural

1/2

cup

milk

1

teaspoon

vanilla

2

eggs
Peanut Butter Icing
1/2

cup

butter

1/3

cup

milk

4

cup

powdered sugar

1/2

cup

creamy peanut butter
Instructions
Preheat oven to 400 degrees.

In a large bowl or mixer, combine sugar, flour, baking soda and salt. Set aside.

In a saucepan over medium heat, combine butter, water and peanut butter. (Don't let it get chunky, stir/reduce heat if needed). Bring to a boil and remove from heat.

Pour mixture over flour mixture. Add milk, vanilla, eggs and mix until combined.

Pour into a large cookie sheet or jelly roll pan. Bake 15 minutes. Allow to cool completely before frosting.
Peanut Butter Icing
Once cake has cooled, add powdered sugar to a large mixing bowl or mixer. Set aside.

In a medium saucepan over medium heat add butter, peanut butter and milk. Bring to a boil.

Pour mixture over powdered sugar and beat until smooth. Pour onto cake and quickly smooth. *Can thin with milk if needed.
Nutrition Information
Calories:
388
kcal
(19%)
,
Carbohydrates:
48
g
(16%)
,
Protein:
6
g
(12%)
,
Fat:
20
g
(31%)
,
Saturated Fat:
9
g
(45%)
,
Cholesterol:
45
mg
(15%)
,
Sodium:
335
mg
(14%)
,
Potassium:
134
mg
(4%)
,
Fiber:
1
g
(4%)
,
Sugar:
38
g
(42%)
,
Vitamin A:
388
IU
(8%)
,
Calcium:
24
mg
(2%)
,
Iron:
1
mg
(6%)
Estimated nutrition information is provided as a courtesy and is not guaranteed.