An easy-to-tackle house cleaning checklist to get your home clean for spring and make it feel fresh all year!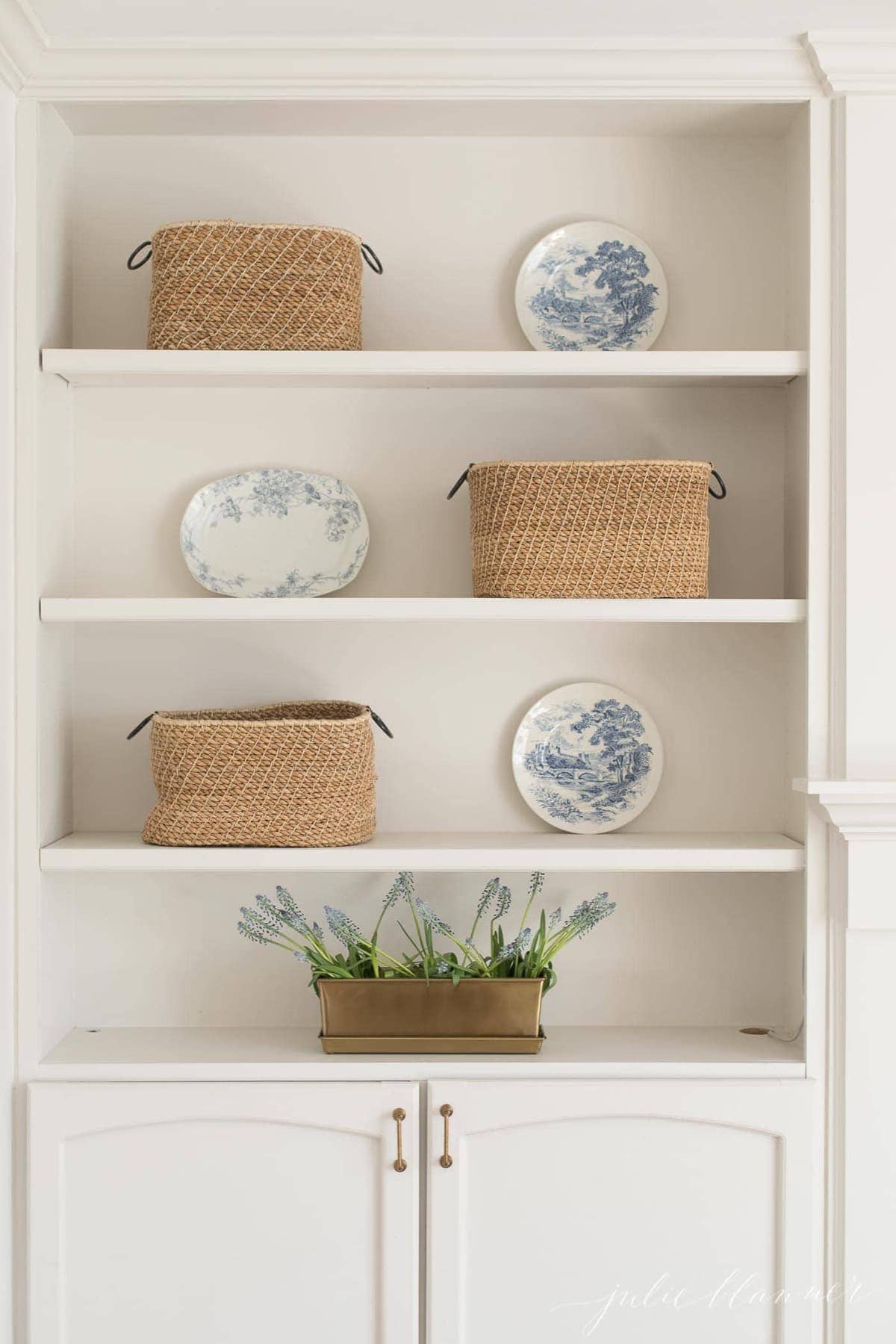 As I picked up in attempt to pull our house together after a crazy weekend, I took a look around and realized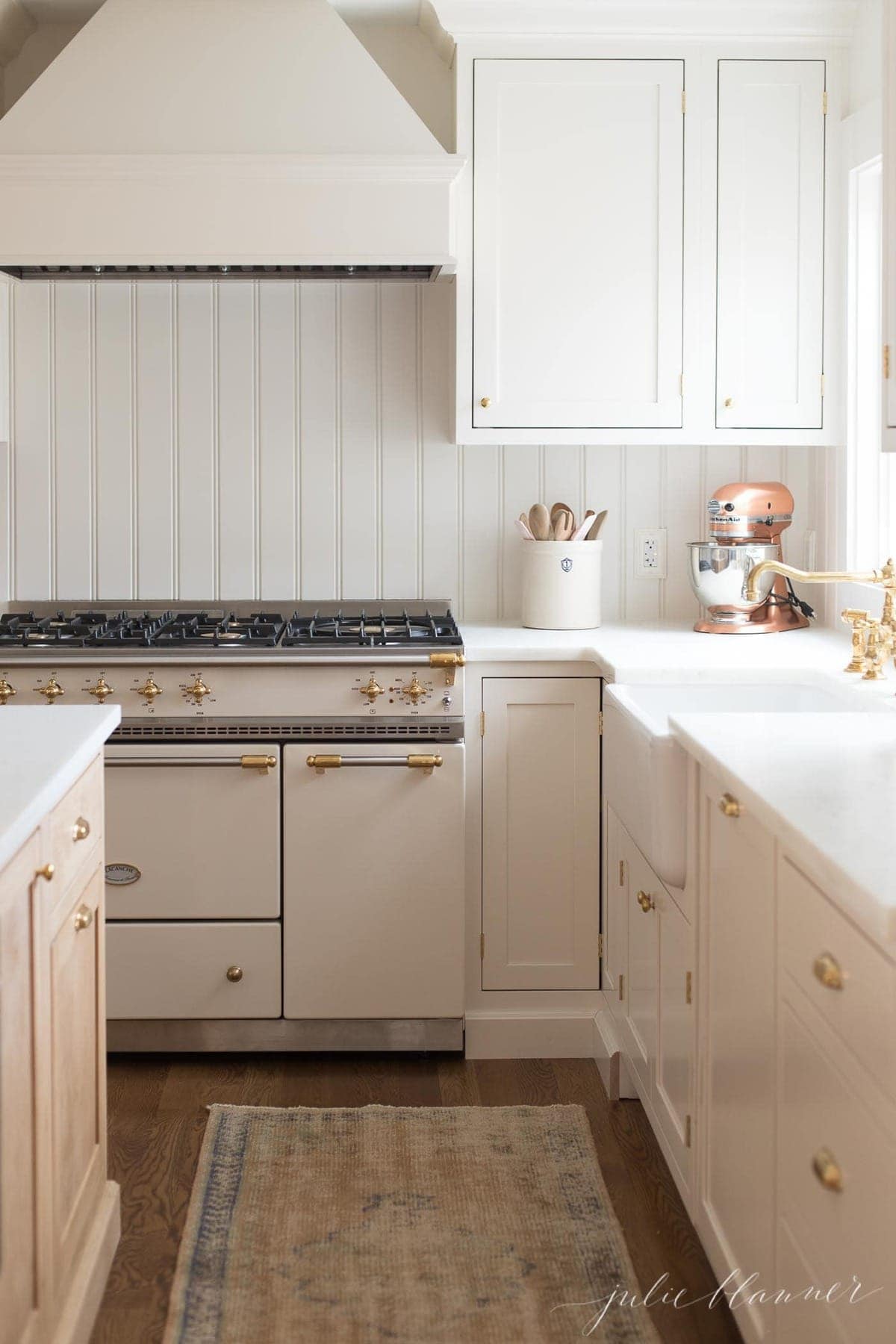 our house is filthy. What happened? Seriously, it's as if it was overnight.
Maybe it was the first glimpse of sunshine we've had in a while that shed a little light on it, but it's time to whip this house into shape.
I know so many of us are feeling trapped inside during the current situation, and that means it's the perfect time to spring clean!
Check out my favorite Spring Wreaths in this incredible round-up!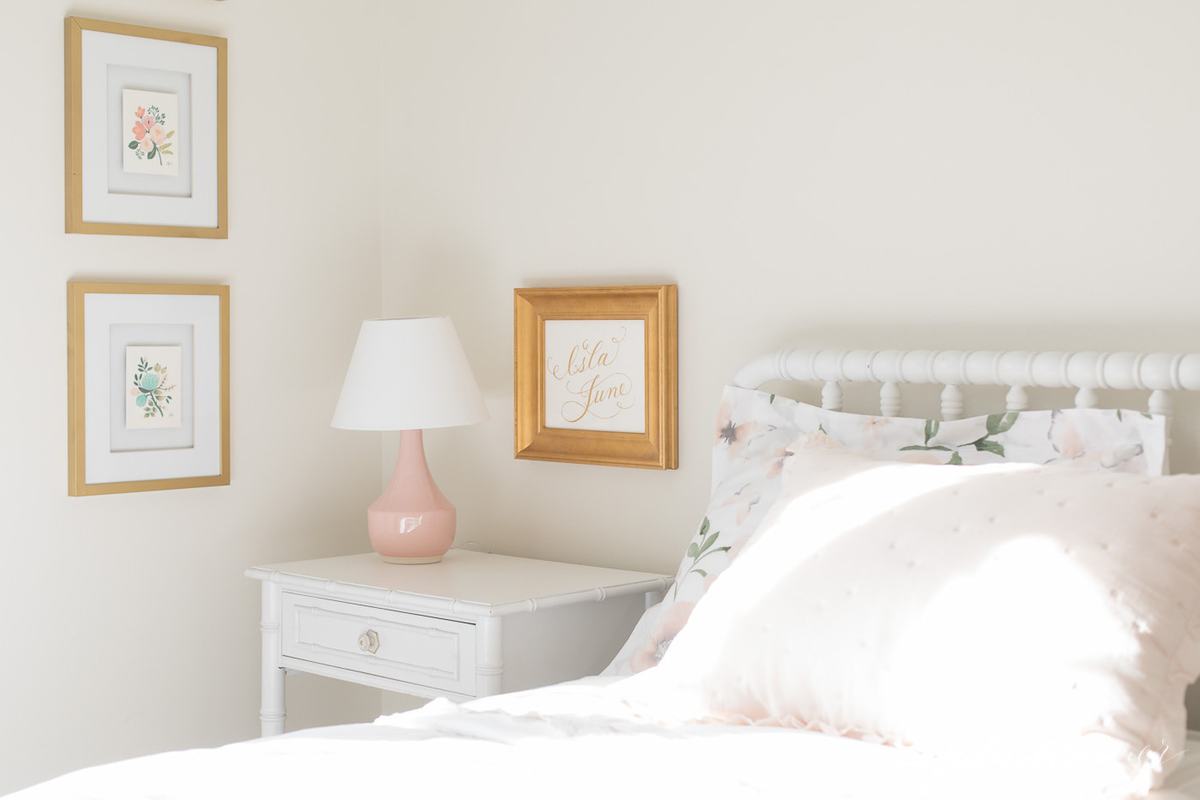 Black residue from our circle drive seems to find itself on our furniture, rugs and walls.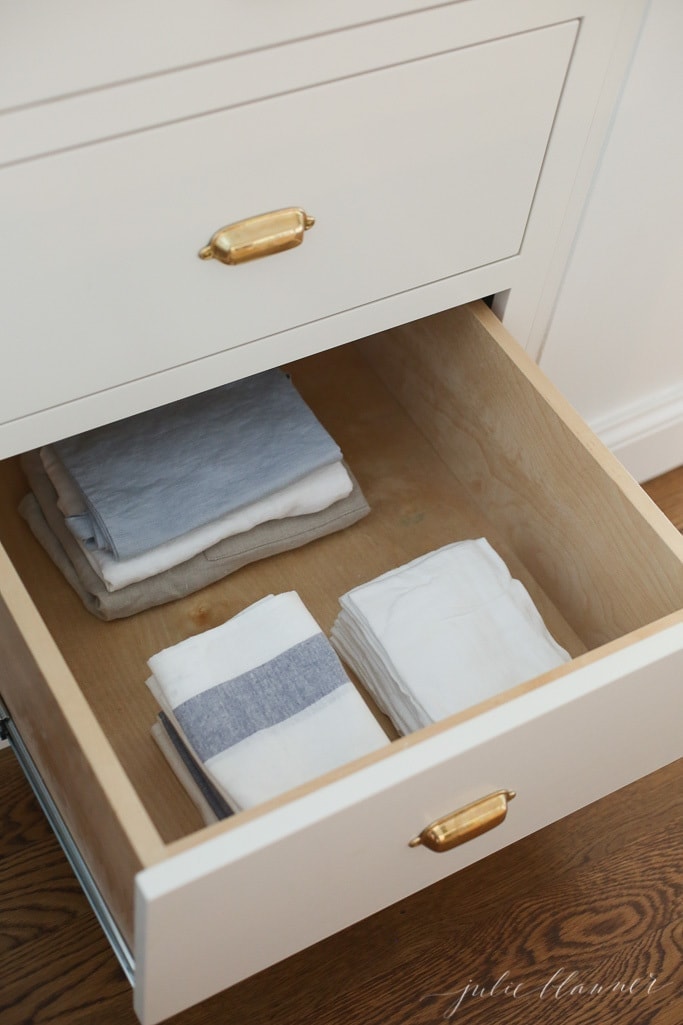 While it's gloomy, wet, and cold and we are social distancing, I'm taking advantage and working through my house cleaning checklist.
I thing spring cleaning is best done while you want (or need) to spend time indoors rather than when you finally get to experience beautiful spring weather.
I'm sharing my printable house cleaning checklist in case your home needs a little TLC, too. (Please say I'm not the only one!)
Today I'm joining friends Boxwood Avenue, Our Oily House and Tidbits to share spring cleaning videos with you – we cover everything from a detailed list to tips and tricks and our favorite cleaners!
We all have our cleaning routines, but more often than not, they just get the job done without hitting all the extras.
I try to do a little deeper monthly cleaning, but even still, so many things are missed or I don't achieve it in every room. That's why in spring, I like to make a clean sweep from top to bottom to ensure it all gets done!
These cleaning tasks are easy to knock off one by one as you have a few extra minutes or you can knock them all out in just a day or two. I have found that making a list not only makes them achievable, but provides a sense of accomplishment as well.
Printable House Cleaning Checklist
You can print the checklist at the bottom of this page.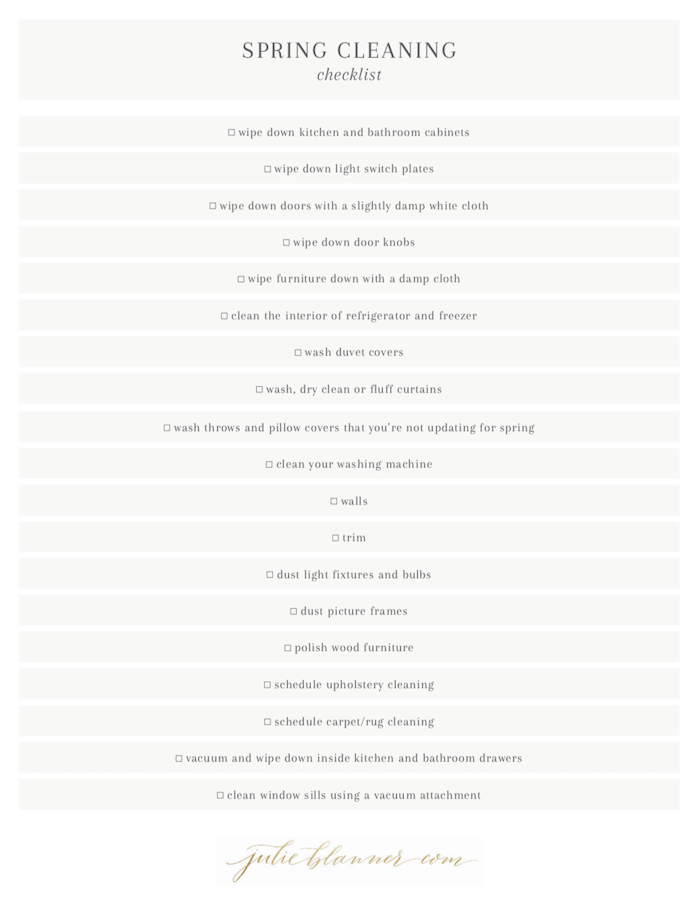 Shop my cleaning supplies.
House Cleaning Checklist
Wipe down kitchen and bathroom cabinets. I use my secret marble cleaner.
Wipe down light switch plates.
Wipe down doors with a slightly damp white cloth.
Wipe down door knobs.
Wipe furniture down with a damp cloth.
Clean the interior of refrigerator and freezer.
Wash duvet covers.
Wash, dry clean or fluff curtains – ours tend to collect dust and the occasional fingerprints, it's amazing how fresh curtains can make your home feel fresh. If you don't want to wash them, a few minutes in the dryer will help as well. This is also a great time to wash your shower curtains and replace your shower curtain liners.
Wash throws and pillow covers that you're not updating for spring.
Clean your washing machine – T

he laundry room is often neglected, especially the washer and dryers.

I use washing machine cleaner that you just drop in and run a cycle, wipe the doors down with glass cleaner inside and out and wipe down the front of the washer as well.
Walls – try a white cloth or sponge and a very minimal amount of water first, but if needed use a drop or two of clear dishwashing liquid. This can leave behind a slight sheen, so first weigh which would look better, clean walls or marks where you have wiped them down. On our stairs I do it from wall to wall so no sheen is noticeable.
Trim – otherwise know as the dust collector! When possible, use a duster or dry mop. Then use a damp white cloth where needed.
Grout – This natural Grout Cleaner is quick, easy and effective. For really tough grout stains try a paste of two parts baking soda to one part water.
Dust light fixtures and bulbs.
Dust picture frames.
Polish wood furniture.
Schedule upholstery cleaning.
Schedule carpet/rug cleaning .
Hose outdoor rugs off to clean.
Vacuum and wipe down inside kitchen and bathroom drawers.
Clean window sills using a vacuum attachment.
Get your free printable Spring Cleaning Checklist here.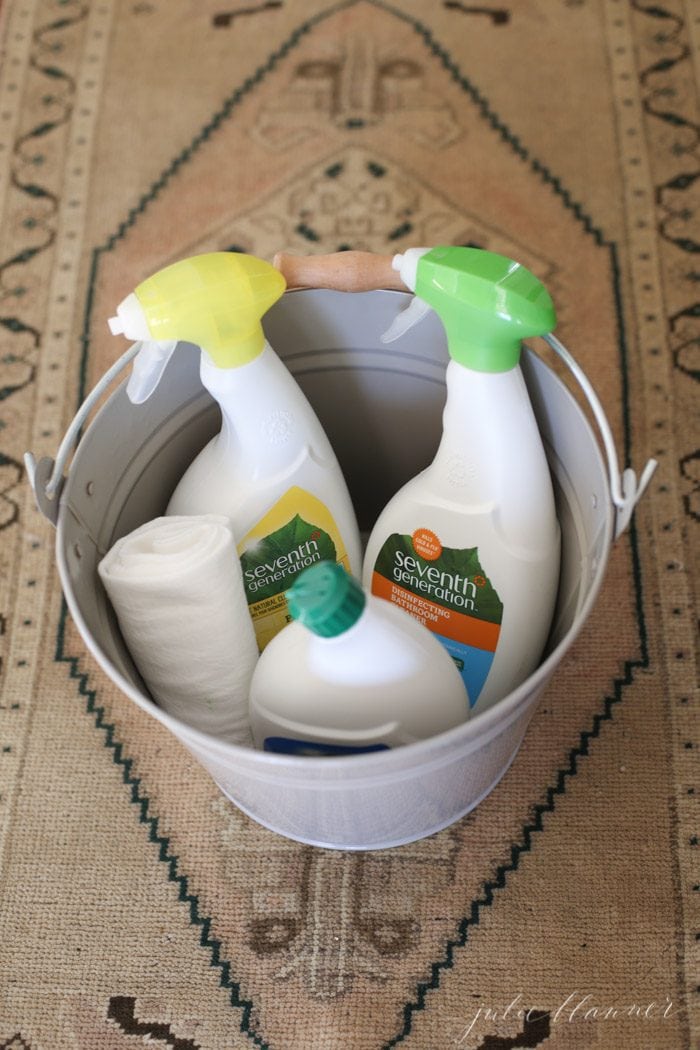 Fortunately, I enjoy organizing and cleaning. It's almost therapeutic for me. In fact, Chris loves when I get mad because that's precisely what I resort to!
It's a great time to tackle these simple projects and make the most of a bad situation. Once you knock them out, you can maintain with weekly cleaning.
You can keep your spring cleaning tasks to a minimum by implementing these simple strategies to keep a house clean!
Natural Cleaners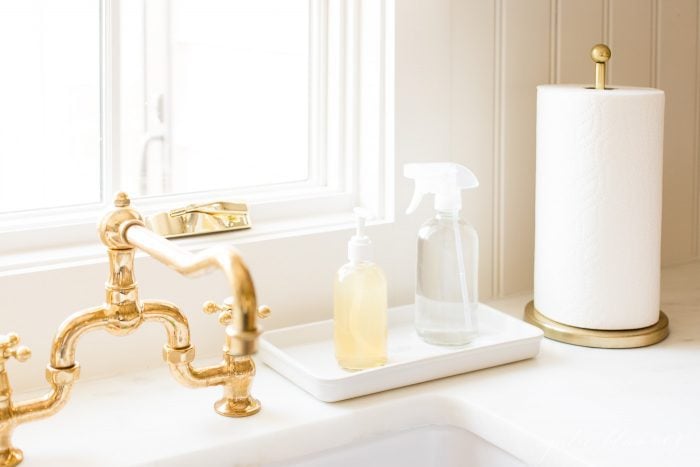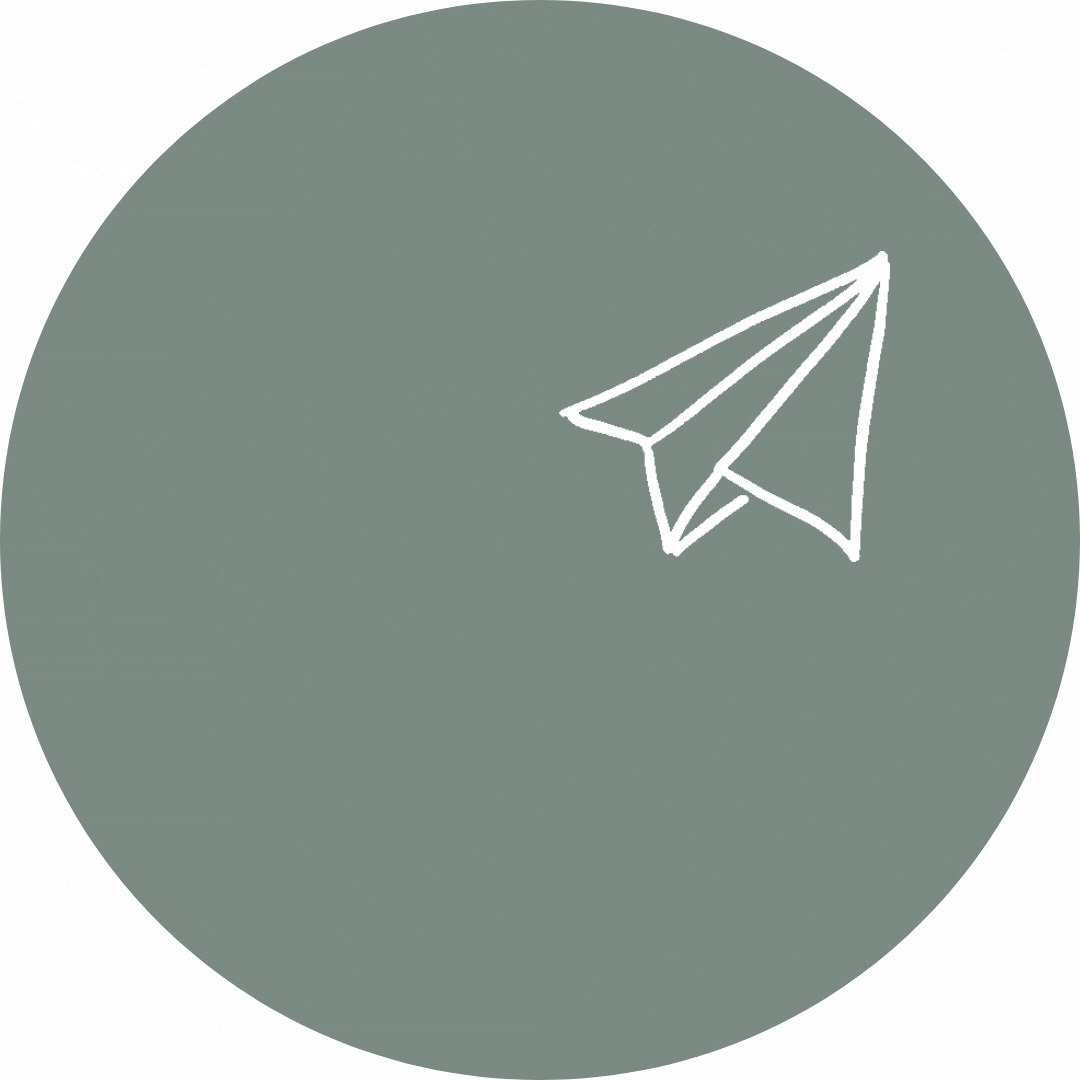 I heavily rely on just three natural cleaners.
Soap and Water – So simple, right? Antibacterial dish soap kills 99.9% of bacteria gently which means it doesn't harm surfaces (or your skin) either! For convenience I mix it up in a clear glass spray bottle. I keep on at the sink, one in each bathroom and another in the laundry room.
Vinegar – Vinegar is a great cleaning solution for just about everything! It will eliminate musty odors in your washing machine, clean your floors and even your tile grout!
Baking Soda – It's great for making your refrigerator and freezer smell fresh, brighten white surfaces (sinks, showers, tubs, grout, etc). It's gentle, yet abrasive. I like to create a paste and let it sit on stubborn stains.
You can shop all of my cleaning supplies here! And if you're doing a spring refresh, check out this FREE spring printable art!
Do you do any spring house cleaning? What's on deep cleaning to do list?
More Cleaning and Organizing