Bubbling with sweet, lime-infused juicy flavor, this virgin mojito recipe is perfect for baby showers, wedding showers, and simply serving to friends who abstain. A mojito mocktail is so easy to make, and incredibly refreshing on a warm summer day!
With all the sweetness of a mojito and the refreshing bite of limes and cool mint, this is a cocktail to sip and savor all summer long.
A Virgin Mojito is all the joy of a classic mojito, with none of the alcohol! It's kid friendly, pregnancy friendly, and great for those who skip the alcoholic beverages entirely.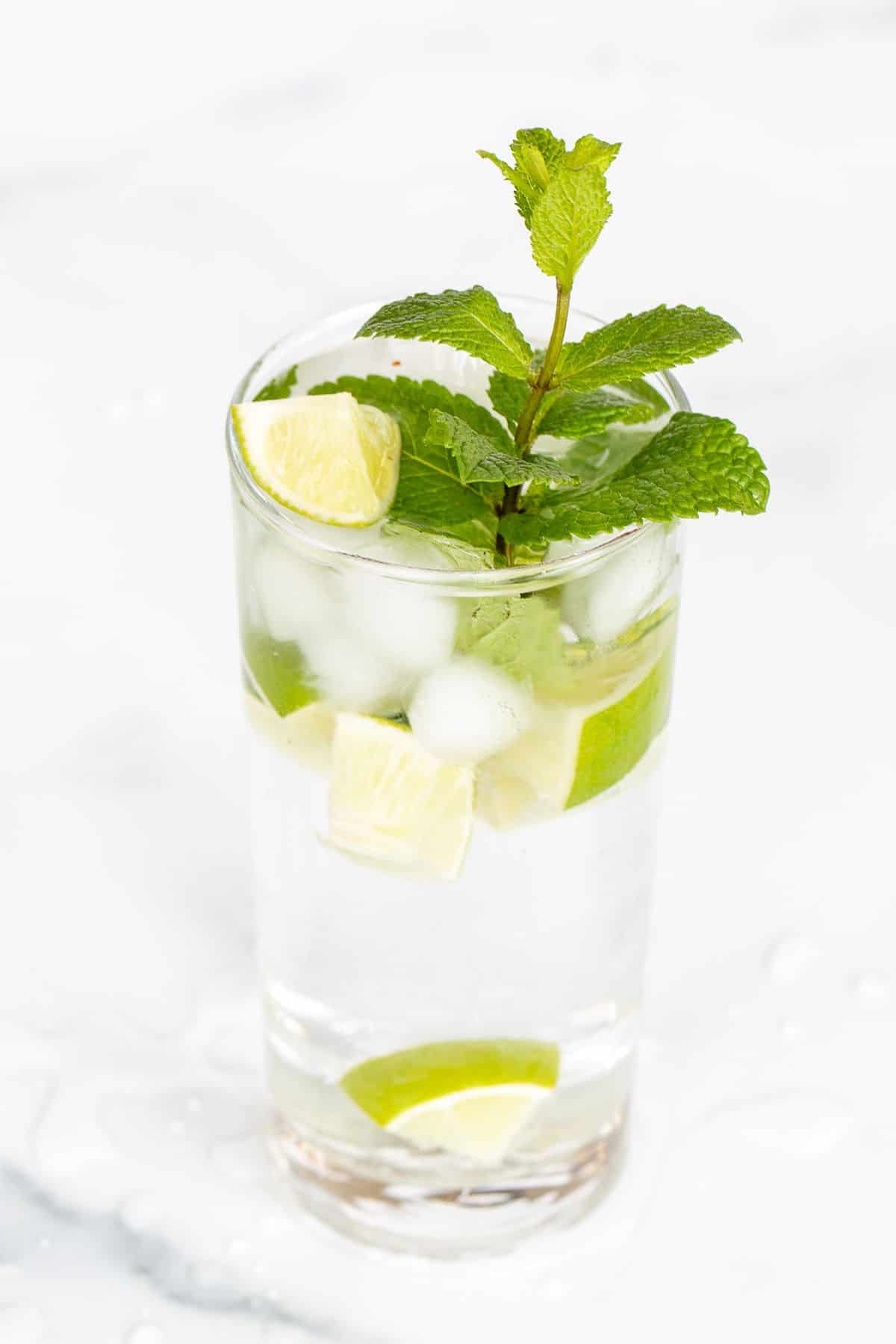 When you're hosting friends and family, it's important to consider the needs and dietary restrictions of each guest. Are you hosting pregnant friends? Kids? Non-drinkers? This refreshing virgin mojito is just the ticket!
The best part of a classic mojito is that it's simply bursting with the fresh essence of lime juice and mint. Luckily, we can enjoy those flavors without the alcohol, too!
In the final installments of my mojito series, I thought it would be an excellent idea to showcase this drink in a non-alcoholic format. Perfect for baby showers or just a warm, sunny afternoon, your guests will be so grateful for your thoughtfulness!
Also called a "nojito" or a "faux-jito" this mocktail is full of punny love! Make it for friends or make it for yourself… it's a drink everyone can enjoy! Don't forget to pin it and save for later, too.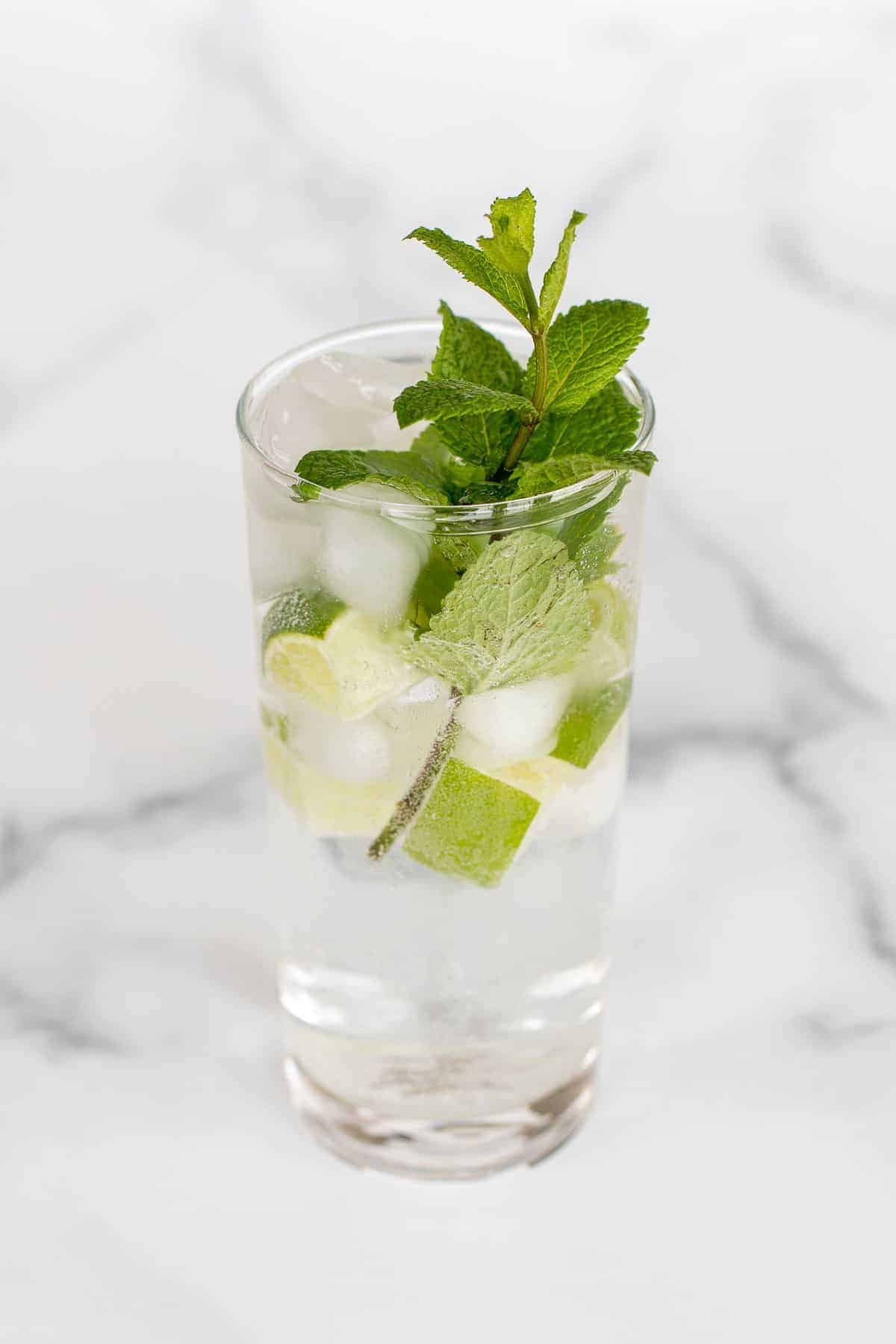 Why You'll Love this Virgin Mojito
Light
Delightfully Minty
Easy to Sip
Easy to Make One or a Whole Pitcher!
A mojito is so perfect for parties! In fact, you can learn how to set up a DIY Mojito Bar that will be the best feature of your next gathering – don't miss it!
Virgin Mojito Ingredients
Limes – Fresh lime juice is always best, but you can take a shortcut with a bottle of lime juice if you're short on time!
Mint – Fresh mint leaves are a necessity for any good mojito.
Simple Syrup – Store bought or homemade simple syrup adds a hint of sweet flavor to this drink! To make your own just allow equal parts sugar and water to dissolve in a pot over medium heat. You can also substitute with white granulated sugar or sugar cubes if you prefer.
Soda Water – Club soda or sparkling water adds a little bubbly to this refreshing summer sip.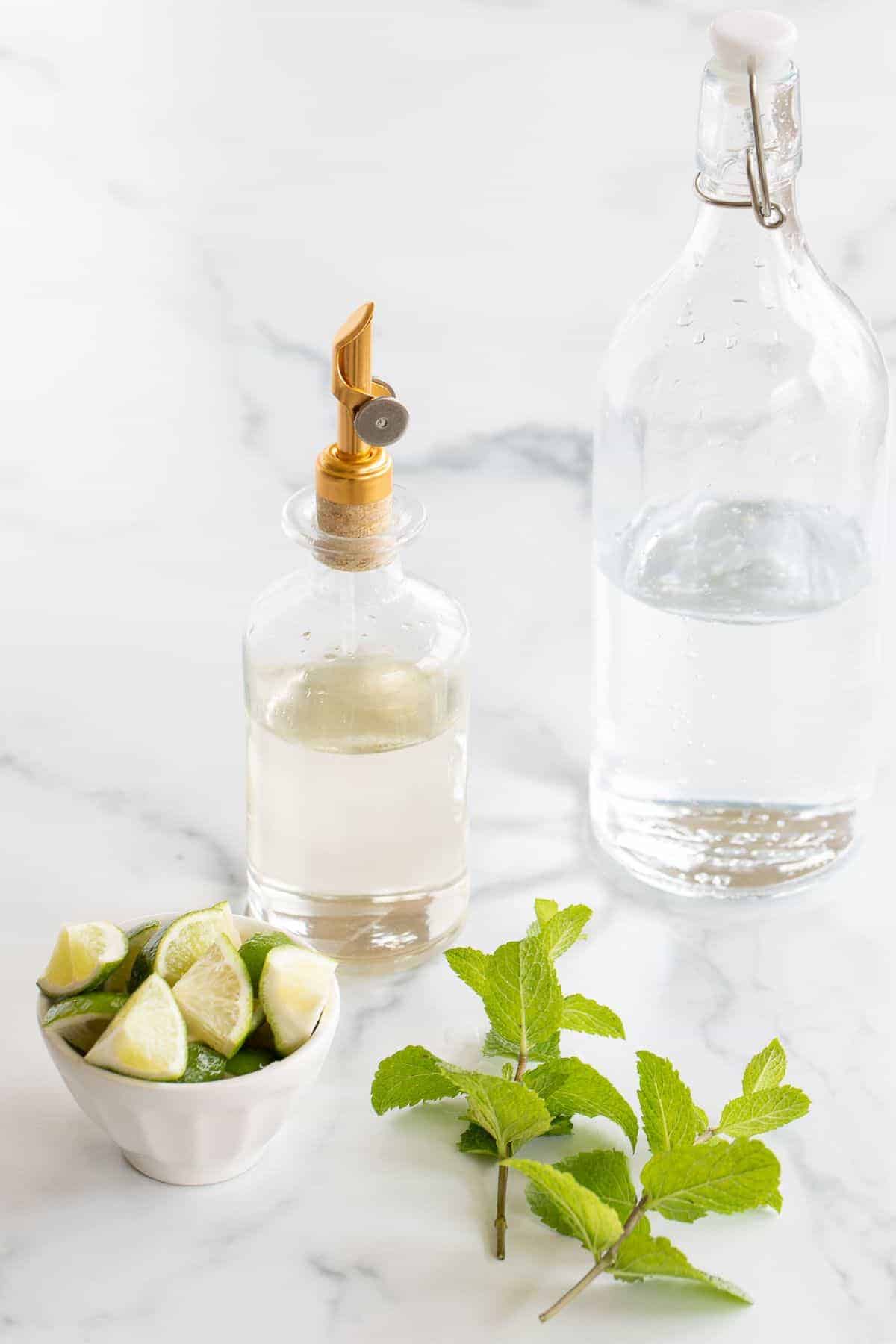 Variations
Tools
Muddler
Jigger
Cocktail Shaker or Stirrer
How to Make a Mojito Mocktail in Five Easy Steps
Muddle – In a highball glass, muddle mint and lime (plus sugar cubes if you're not using simple syrup) to release lime juice and oils.
Add Ice – Fill glass to the brim with ice.
Sweeten – Add simple syrup or sugar cubes.
Add Bubbly – Top off with club soda.
Garnish – with lime slice and/or mint sprigs.
How to Make a Non Alcoholic Mojito Pitcher (Serves 8)
1 bunch fresh mint (discard stems – 50-60 mint leaves)
4 limes, quartered into wedges
4 cups crushed ice
1 cup simple syrup
4 cups club soda or sparkling water
Make it Frozen
Same ingredients… simply blend with 3-4 cups of ice for a frozen virgin mojito recipe as follows.
Squeeze – lime juice and remove mint leaves from stems.
Purée – Blend additional frozen fruit (if you'd like – not required!) + ice in food processor.
Combine – Add club soda and simple syrup.
Add Ice – If you want it slushier, blend more ice and add in.
Garnish – Garnish with lime wedge, sprig of mint.
Serving Suggestions
Mojito Bar – Add fresh mint, rum, club soda and or sparkling water and fresh fruits to create a mojito bar.
In a Pitcher – Add a couple of fresh sprigs of mint to a pitcher filled with ice and mojitos.
In a Glass – Fill with ice, a sprig of mint and lime wedges or a slice of lime on the rim. Optional: rim the glass with sugar by rubbing a lime around the edge. Dip in a shallow plate of sugar.
Rim the Glass – Use a lime to moisten the rim of your glass and dip in sugar.
Virgin Mojito Recipe Tips
Try a cocktail shaker! It's a more formal way to shake, vs stirring.
The joy of this easy recipe is that you can experiment to find your ideal version of sweet, minty and citrusy. Play with the ingredients to find your perfect mix!
If you like a little more lime (or more club soda), that's great! Less syrup or sugar, that works great too… make it to your own personal preference after you experiment a bit!
Scaling up, down or substituting? You'll love this printable Measurement Conversion Chart!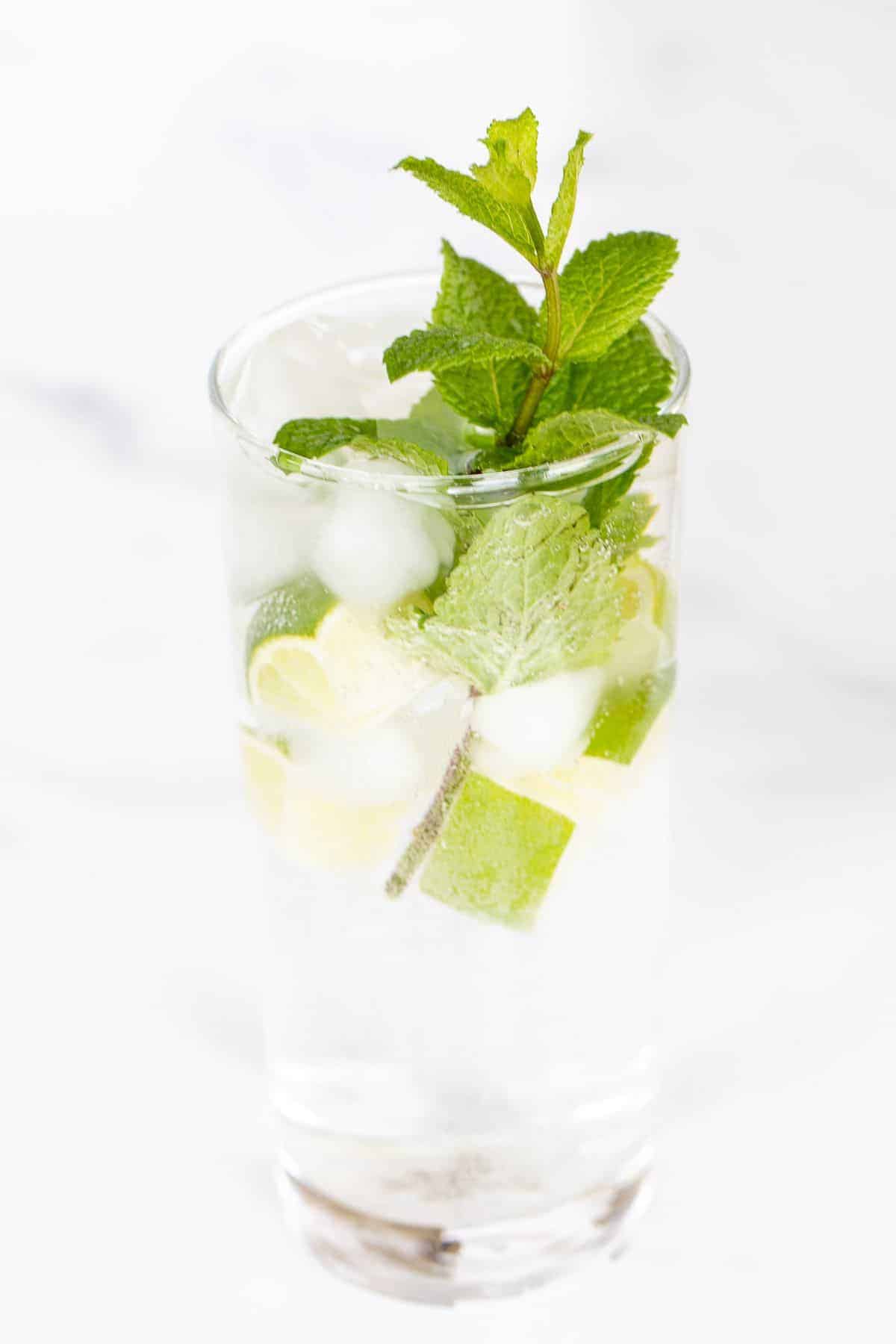 Frequently Asked Questions
Is a virgin mojito healthy?
Yes! Coming in at just 118 calories per serving, this is a mocktail you can feel good about. Mint and lime juice offer Vitamins A and C and you can control the sugar with using less simple syrup, or replacing it with diet lemon lime soda!
Are mocktails okay for pregnancy?
Yes! The very definition of "mocktail" is a drink that doesn't contain any alcohol. By nature, they are meant to be served to those who wish to abstain.
Shortcuts
Store-Bought Lime Juice – Make sure you purchase fresh squeezed lime juice in the juice or produce aisle (not sweetened lime "juice" in the liquor aisle).
Store-Bought Simple Syrup – Simple syrup is so quick and easy to make, but if you prefer, you can purchase in the liquor aisle/store.
How to Store
Refrigerate – Make up to two days ahead, cover and refrigerate. Top off with fresh club soda or sparkling water to serve.
Freeze – Make a frozen virgin mojito. Simply freeze to make it slushy. Store in an airtight container up to 3 months.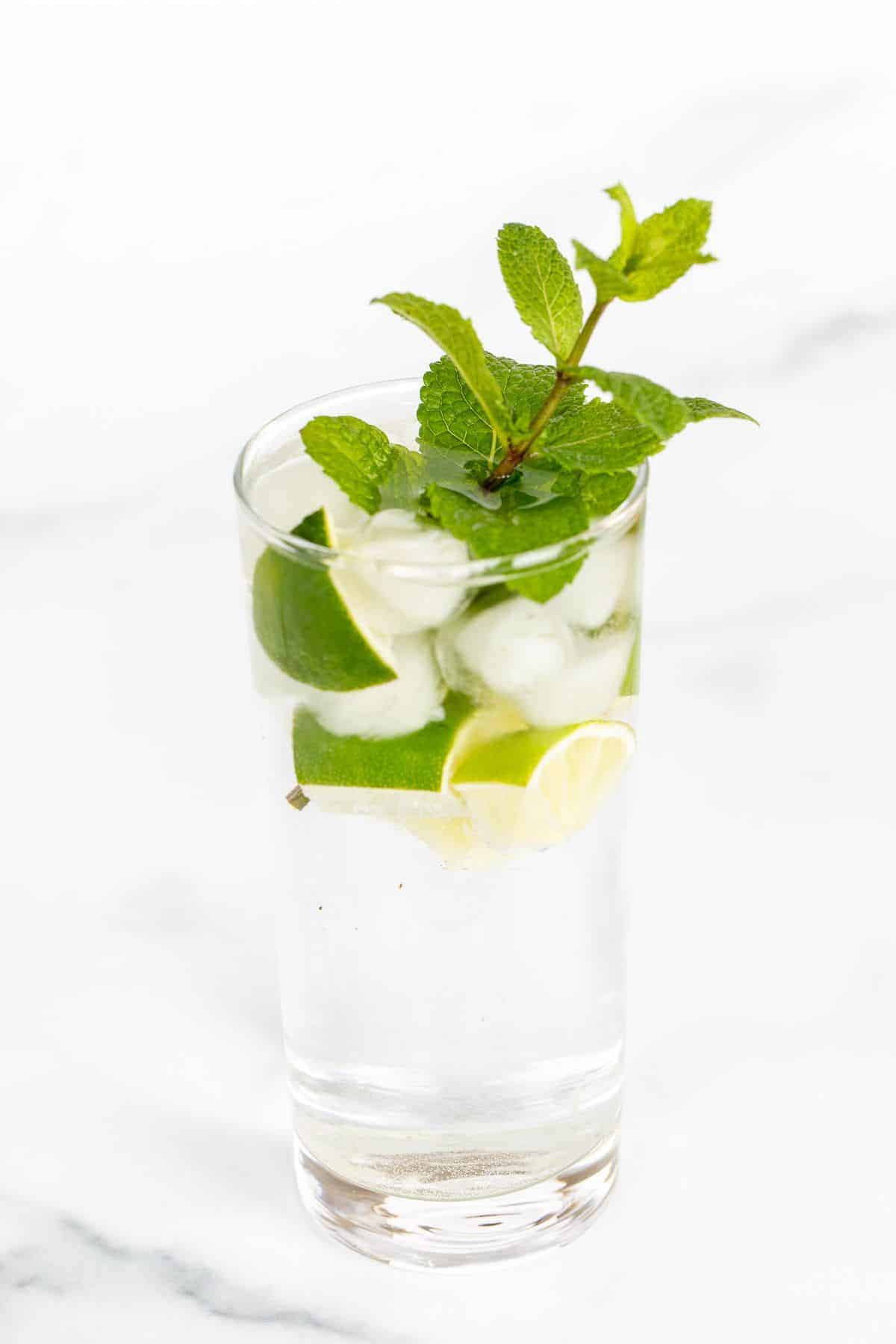 Let's keep in touch! Receive exclusive content, including never-seen-before photos, our favorite home decor DIYs and more!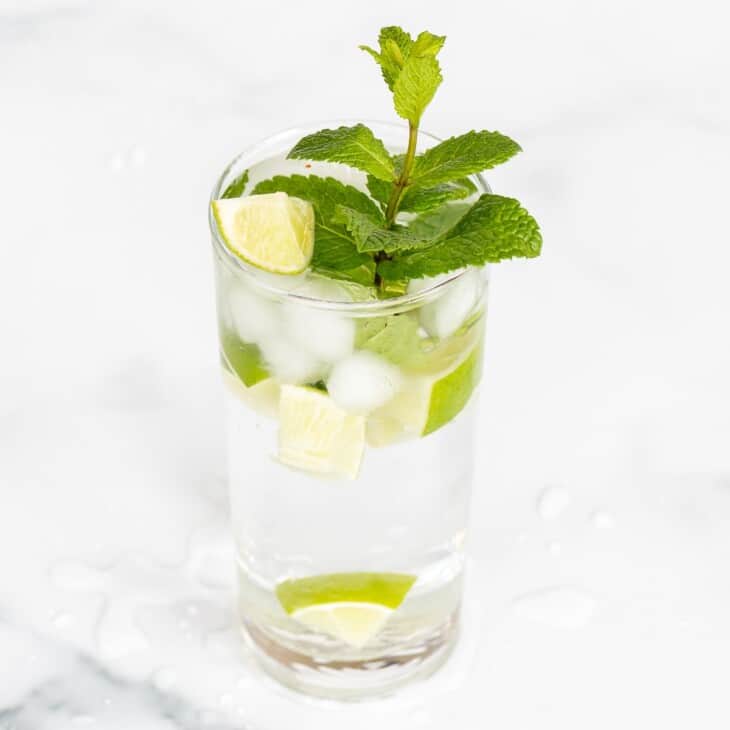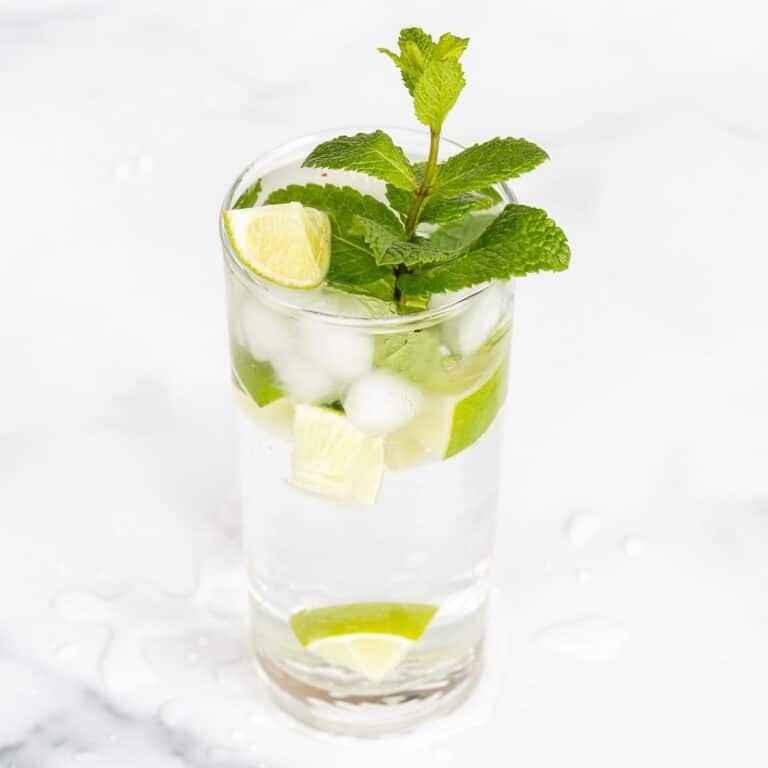 Virgin Mojito
Bubbling with sweet, lime-infused juicy flavor, this virgin mojito recipe is perfect for baby showers, wedding showers, and for friends who abstain. A non alcoholic mojito is so easy to make, and incredibly refreshing on a warm summer day!
Ingredients
10

leaves

mint leaves

fresh, + extra for garnish

½

lime

quartered into or 2 tablespoons lime juice

2

tablespoons

simple syrup

or 2 teaspoons white granulated or raw sugar

½

cup

club soda
Instructions
Muddle – Combine limes, mint, and sugar or simple syrup in a cocktail shaker and muddle to release the juices and flavors.

Strain – Strain over a cocktail glass.

Pour – Add crushed ice and soda water. Stir.

Garnish – To serve, garnish with lime wedges and mint sprigs.
Tips
Garnish with sprig of mint, lime wedges, and more fresh berries or fruit if desired.
Variations
Make it Skinny – Substitute diet lemon lime soda for simple syrup and club soda to reduce calories.
Make a Mojito Float – The flavor of a mojito combined with lime or mango sorbet or ice cream.
Nutrition Information
Calories:
118
kcal
(6%)
,
Carbohydrates:
33
g
(11%)
,
Protein:
1
g
(2%)
,
Fat:
1
g
(2%)
,
Saturated Fat:
1
g
(5%)
,
Sodium:
49
mg
(2%)
,
Potassium:
65
mg
(2%)
,
Fiber:
1
g
(4%)
,
Sugar:
30
g
(33%)
,
Vitamin A:
38
IU
(1%)
,
Vitamin C:
10
mg
(12%)
,
Calcium:
23
mg
(2%)
,
Iron:
2
mg
(11%)
Estimated nutrition information is provided as a courtesy and is not guaranteed.