A light and flavorful Watermelon Margarita recipe made with fresh watermelon, in minutes!
Last year, Ali of Gimme Some Oven and I collaborated to make skinny margaritas that are fresh and flavorful. One dream I thought for sure died with my twenties was a Watermelon Margarita. I just knew I would never be able to "afford" that many calories again. Thankfully, I was wrong!
Honestly, I didn't even realize how incredible a fresh Watermelon Margarita could be after years of drinking pre-mixed margaritas at restaurants! The pureed fruit was sweet enough to limit the amount of agave nectar needed and was far superior to those I indulged on a few years ago.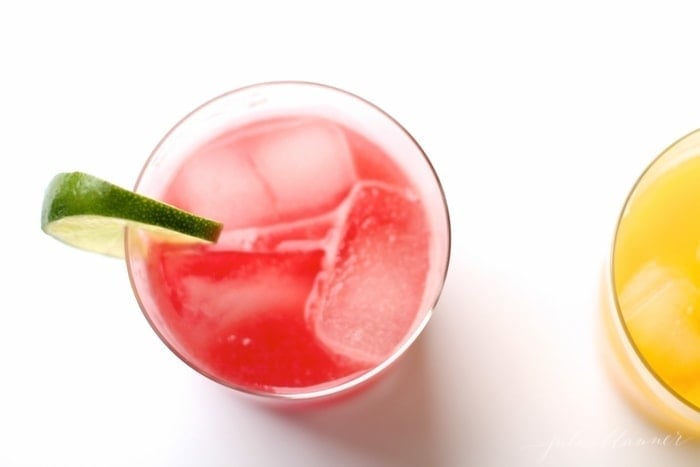 As I was getting ready to make a batch of skinny margaritas for the weekend, I felt like I had to share my go to with you – a fresh Watermelon Margarita. It's a taste of summer and so refreshing. As you can see, I'm a no salt girl.
It is perfectly presentable with a little watermelon wedge to garnish the glass.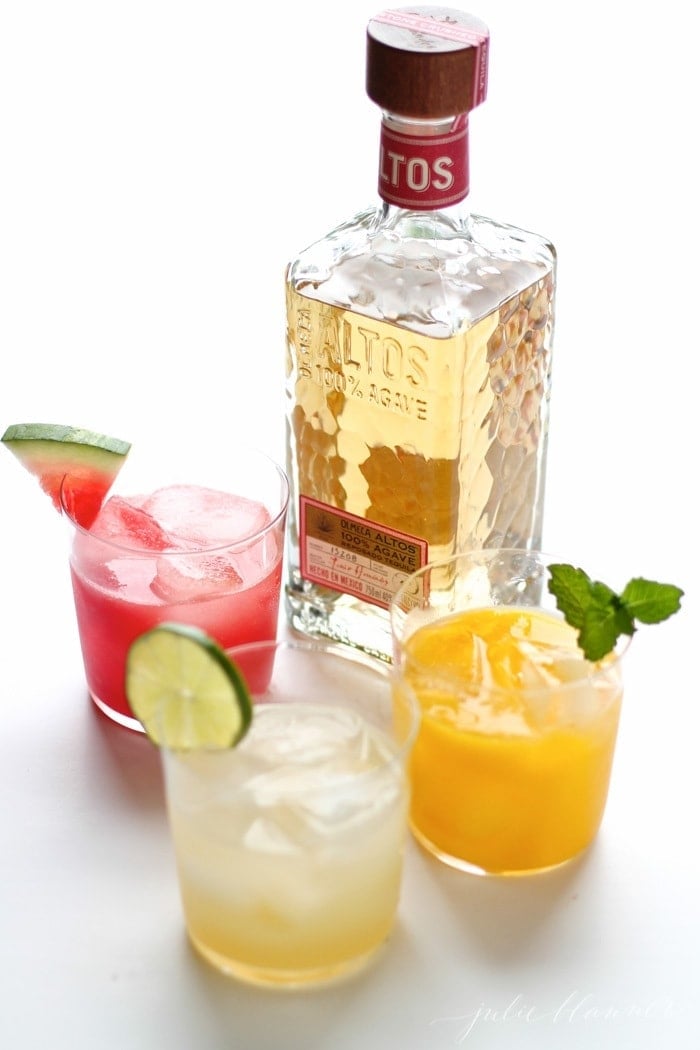 How Many Calories are in Watermelon Margaritas:
There are just 112 calories in a Watermelon Margarita!
How to Make a Watermelon Margarita:
Puree watermelon, combine with tequila and agave nectar and serve over ice or blend with ice to make a Frozen Watermelon Margarita, either way, it's low calories and tastes fabulous!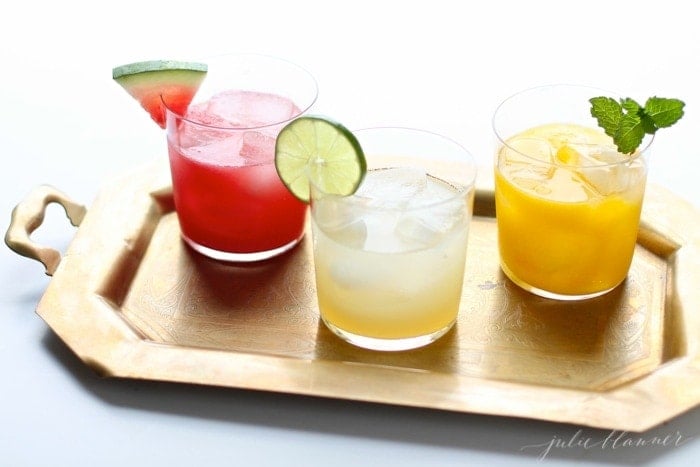 The Best Watermelon Margarita Recipe:
A light and flavorful Watermelon Margarita recipe made with fresh watermelon, in minutes!
Ingredients
1 oz tequila
3 Tbsp freshly-squeezed lime juice
1 Tbsp freshly-squeezed orange juice
1 tsp agave nectar
3 Tbsp watermelon puree
ice
Directions
Add tequila, lime juice, orange juice, agave and puree.
Shake well, strain & serve over ice.
Recipe Notes
To make a frozen margarita, puree ice with watermelon. Combine with tequila, lime juice, orange juice and agave, shake and serve.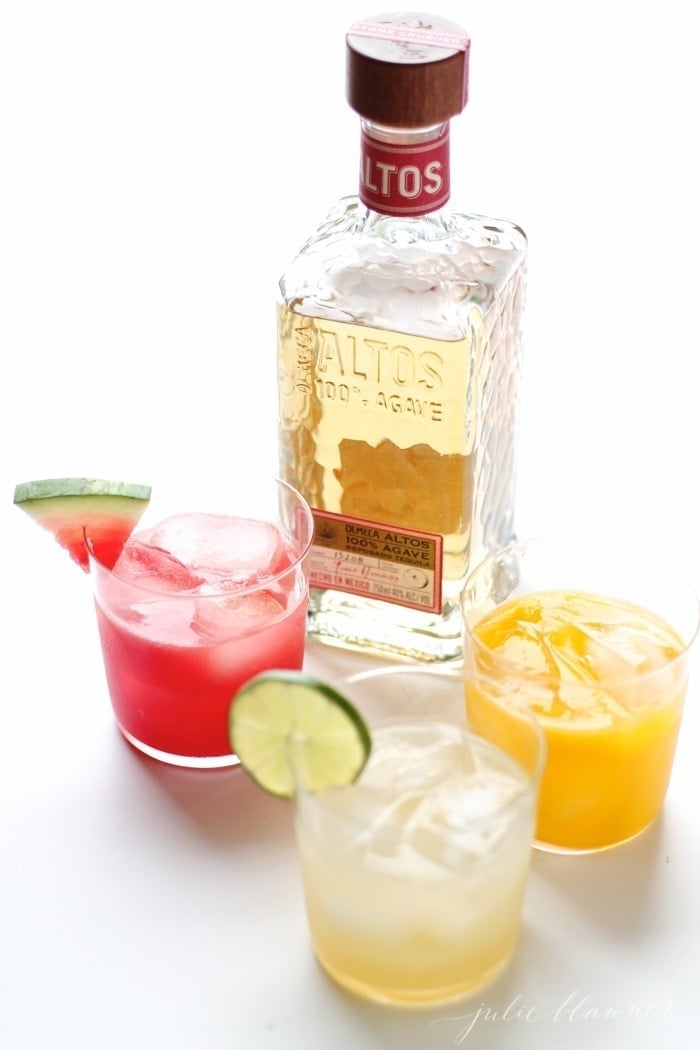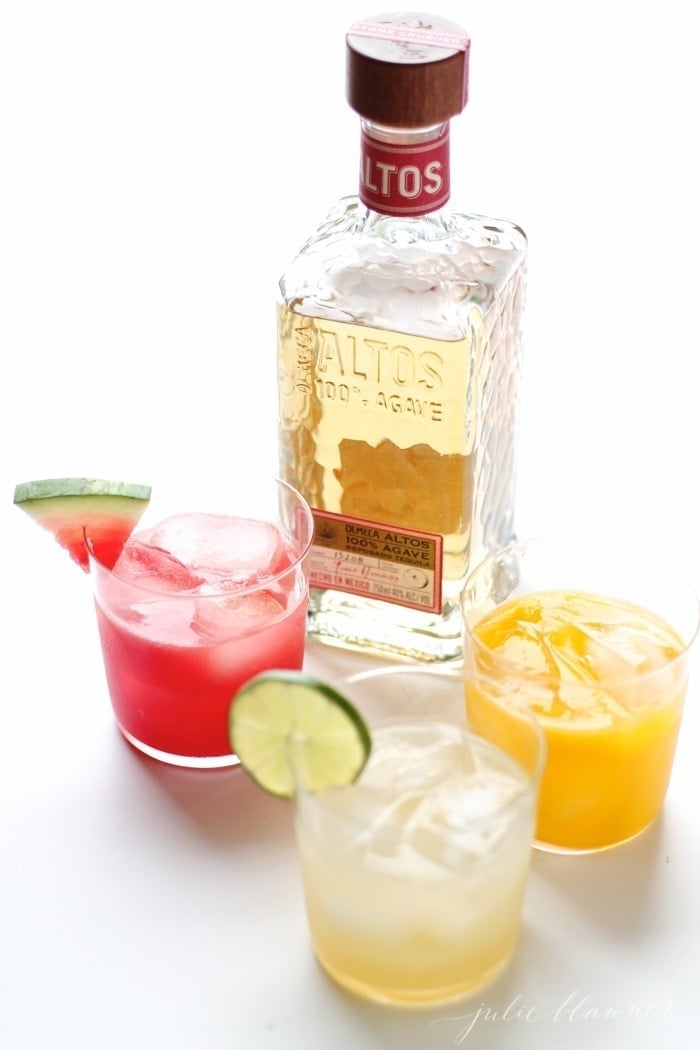 Loading nutrition data...
Chris frequently requests my classic skinny margarita. Honestly, it takes just about 3 minutes to make and is worth every second. We also love a Mango Margarita. You can find all of my cocktail recipes here! What's your favorite margarita flavor?