No matter the era or style of your home, classic inset cabinets in your kitchen are an upgrade that will add character, function, and value. Get all the decision-making details to help you decide if inset cabinet doors are right for your kitchen!
Learn what inset kitchen cabinets have to offer when creating a timeless, beautiful kitchen you'll enjoy for years to come!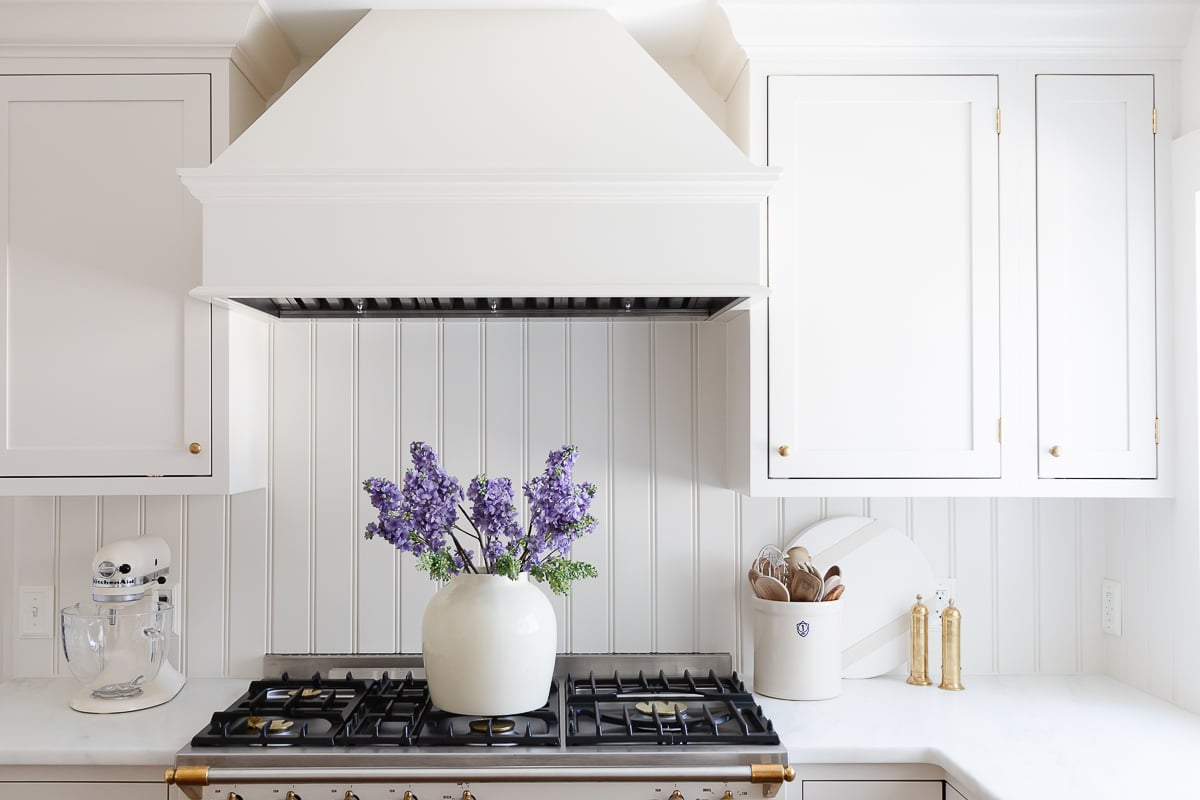 Whether your interior design style is modern, vintage, transitional or farmhouse, inset cabinets can create a look you're going to love! They create clean lines and a fitted, smooth effect that can work with any style.
When I first envisioned the look of our cream kitchen in our St. Louis home, I knew that inset cream cabinets would be the direction for me. In fact, I sacrificed the budget in other areas in order to bring this vision to life. Read more about Custom Cabinetry here.
For me personally, the simple, clean-lined look of inset cabinetry feels more refined, elegant, and even historic. It's a style commonly used in European kitchens of yesteryear, but fits in seamlessly with our modern homes of today.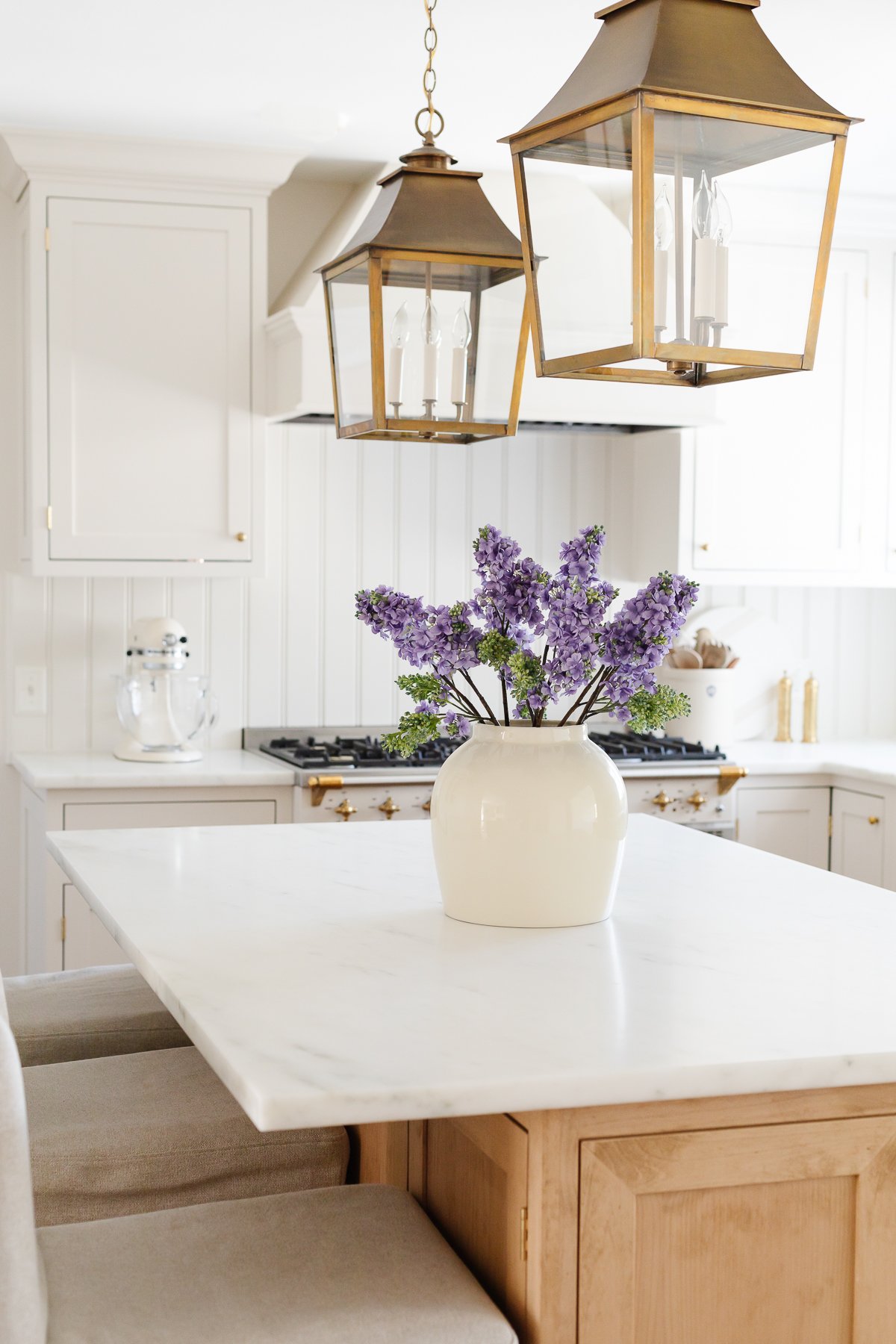 If you're embarking on your own kitchen remodel, or simply looking to learn a little about the "why" behind this particular kitchen cabinetry style, this post might be for you! Before we did a full kitchen remodel, I didn't give much thought to cabinet styles, but it's always fun to learn.
Streamline your kitchen with the look of inset cabinet doors, and add historic charm and value to your home! In fact – you can use this style anywhere, including Built in Bookshelves.
What are Inset Cabinets?
Inset kitchen cabinets are cabinets where doors and drawers fit inside the cabinet frame or are "inset" making them flush. The cabinet frame is exposed with a very minimal gap between the cabinet frame and door offering clean lines.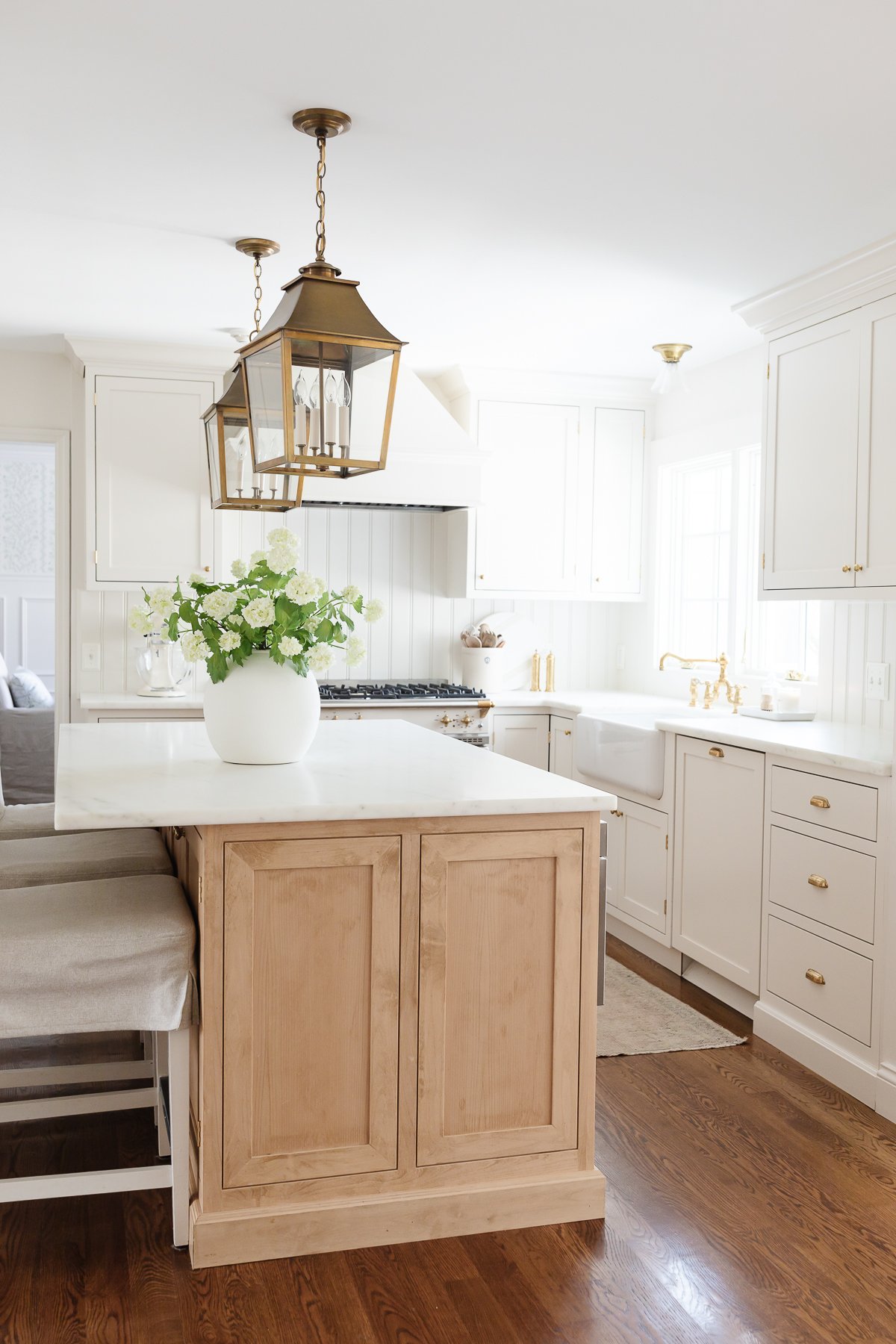 You can run your hand over the surface of the cabinet and not feel any noticeable difference between the cabinet frame and doors and minimal space.
Inset Cabinets are different than full overlay cabinets (where the door rests on the outside of the cabinet box) in both look and function. Read on for all the details!
Inset Kitchen Cabinets
This type of cabinets will instantly create a more refined style in your home. While available at big box stores, you'll find more options with custom carpentry or kitchen and bath stores.
Inset cabinet doors add a feeling of custom craftsmanship and heritage to your kitchen, regardless of the decade your home was built. They feel customized and unique to your space, because the fittings are so precise.
In our kitchen, I knew I wanted to focus on this style in order to create something truly timeless. My favorite inspiration often came in the style of DeVOL Kitchens (a longtime favorite kitchen design firm).
Our Shaker Cabinet Rails and Stiles
Our rails and stiles are 2 and 1/8 inches all around. Learn more about custom cabinetry here!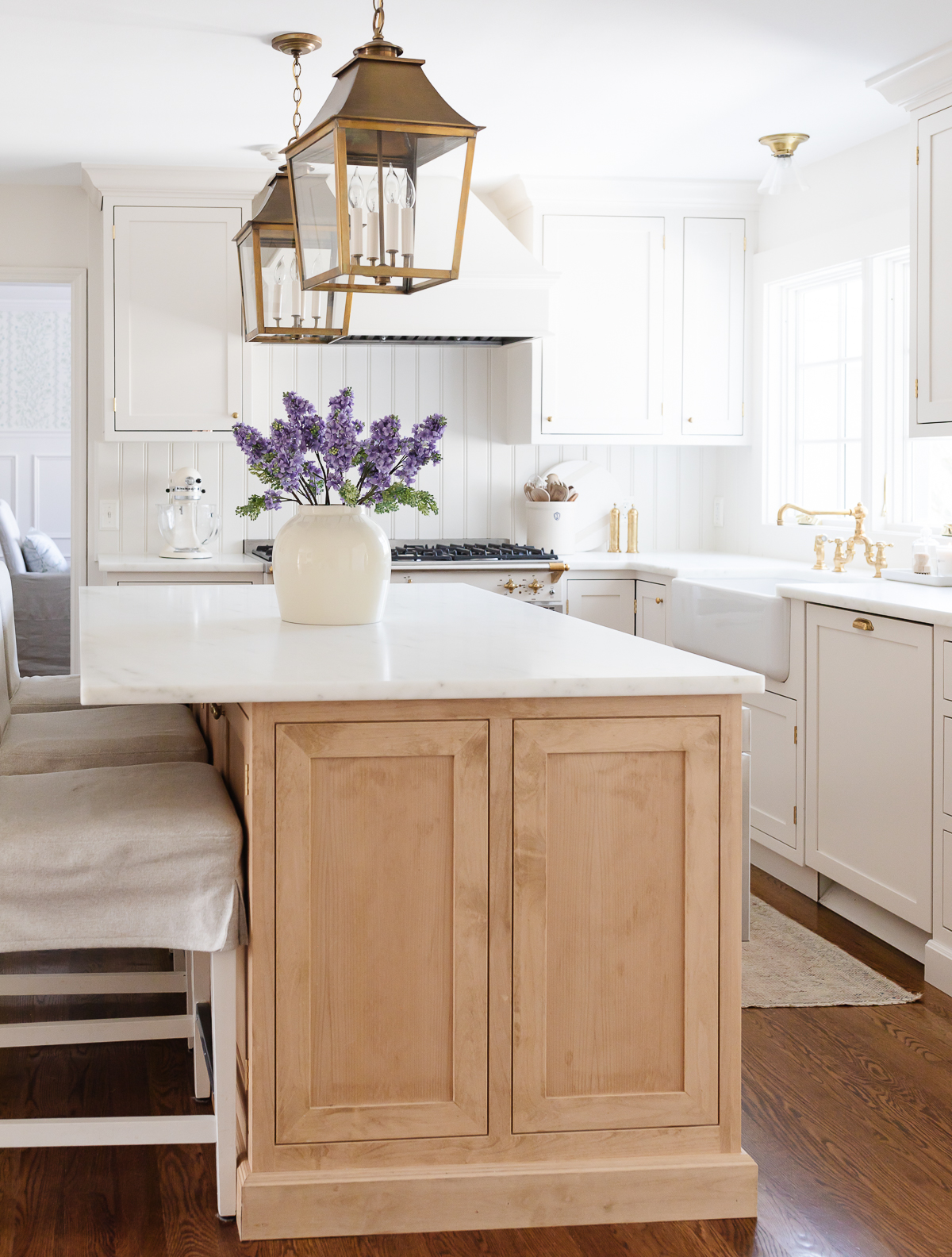 Pros of Inset Cabinetry Versus Overlay
Clean, minimal lines
A tailored, custom look
Timeless
Prevents cabinet door corners from being nicked or damaged
Historical charm – they emulate the style of a period of time
Consume less exterior space – great for small kitchens you will save an additional 7/8″ which is ideal for upper cabinetry, providing you more workspace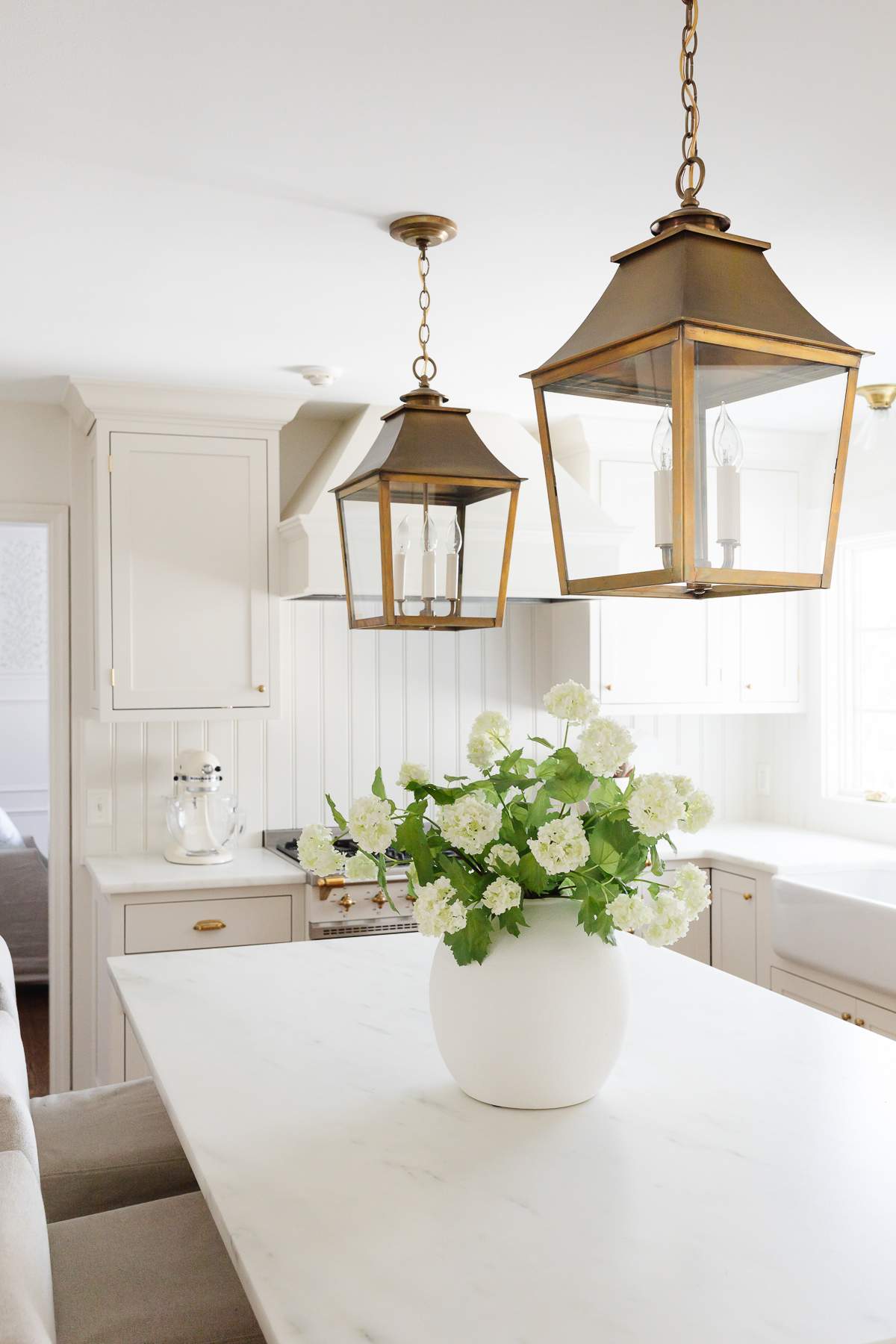 Cons of Inset Cabinets
Cost – on average inset cabinet are 15-30% more than overlay doors
Lose space – some are concerned with lost space, however, it's only the width of your inset cabinet door you lose. A standard cabinet door is 7/8″ thick. Wall cabinets or upper cabinet depth is typically 12″, allowing for 11″ plates using inset cabinetry.
Hardware required – Since the door is flat with the rest of the cabinet, a door pull or knob is needed to open the cabinet. This was certainly not a negative for us, but not everyone loves cabinet hardware.
Moisture and swelling – While it hasn't been an issue for us, if your home shifts and swells with humidity, this can cause "sticky" or even warped inset kitchen cabinet doors occasionally.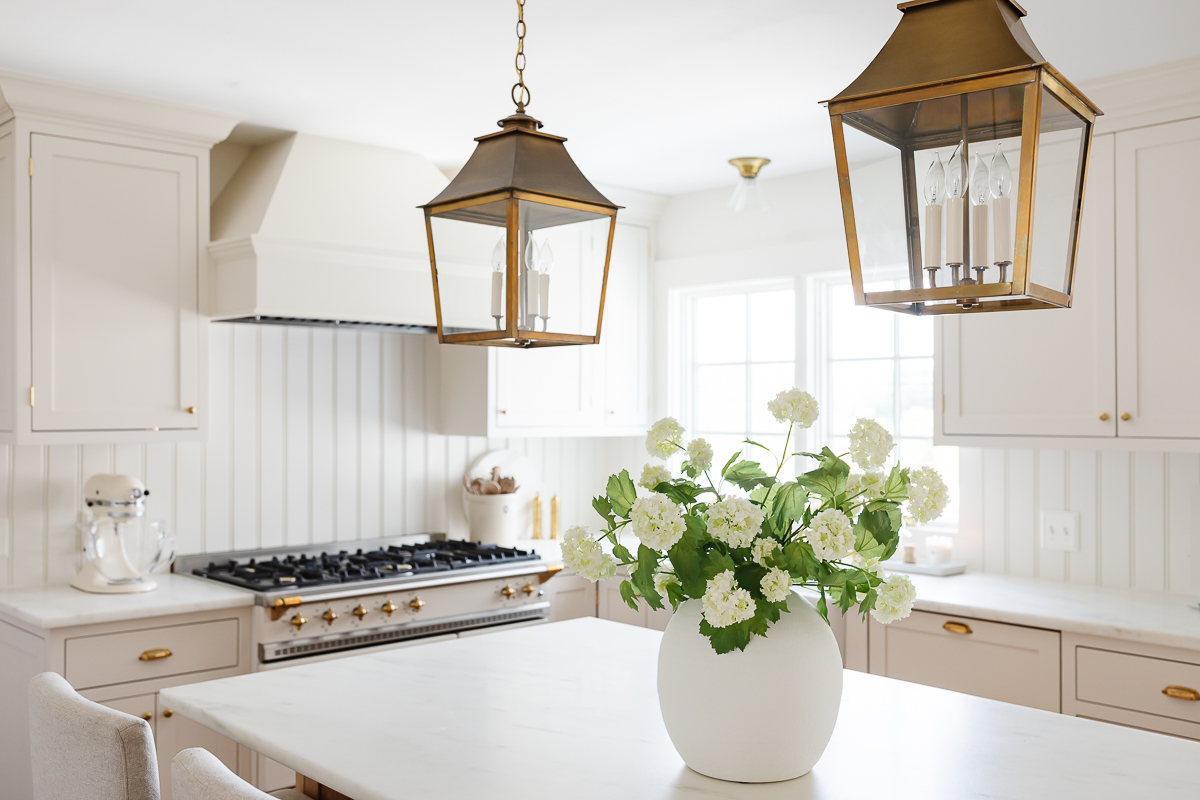 Inset Cabinet Doors
Derived from English style, they are poised and sleek. You'll find different kinds of inserts such as solid and beaded. (Ours do not have beading as I wanted the most streamlined look possible.)
There are three standard inset cabinet door styles – shaker, raised and mission.
Shaker style cabinet doors typically are made of 5 pieces, the solid door and 4 pieces connected together to create a box that is flush with inset cabinetry. The solid door appears recessed.
Raised panel cabinet doors are more frequently used in overlay installations, but can be used in inset as well. With raised panel, the door itself sits inside of the cabinetry, but parts of the panel extrude. It is not flush when you run your hand across it.
Mission style cabinet doors have a high arch and inset panel.
Hinges
A common misconception is that you have to have exposed hinges when using inset cabinets, but you can use concealed hinges (also known as invisible, hidden or European), surface hinges (exposed) or butt hinges.
End Panel
In our case, the end panels for our kitchen cabinetry were best created in the simple shaker style of the doors themselves.
When you're making your kitchen remodel choices, you might hear talk of furniture ends or designer end panels. Furniture ends are generally considered to be the more high end, upscale option!
Frequently Asked Questions
What is the difference between inset and overlay cabinets?
Inset Cabinet Doors are integrated into the interior of the cabinet frame, fitting flush with the face of the cabinet box. Overlay Doors cover the cabinet face, providing the flat cabinet front but not fitting into the interior of the cabinet itself, they simply lay outside the cabinet box.
Do you lose space with inset cabinets?
While you can lose a tiny bit of space with inset kitchen cabinets, it's only the depth of the cabinet box itself. This can create an issue if you store a lot of large plates or bowls that compete with the depth of the cabinet box.
Design Guides, Decor & Tips