Get 20 incredible healthy steak sides in this free recipe guide! Steak is such a delicious, low carb entrée, but what are some healthy ways to round out this meal? We've got it covered!
Find the best recipes for roasted vegetables, salads and more. There's something to satisfy every craving here!
Complement this classic, traditional meal with one of these healthy sides for steak. You'll never miss the calories or carbs!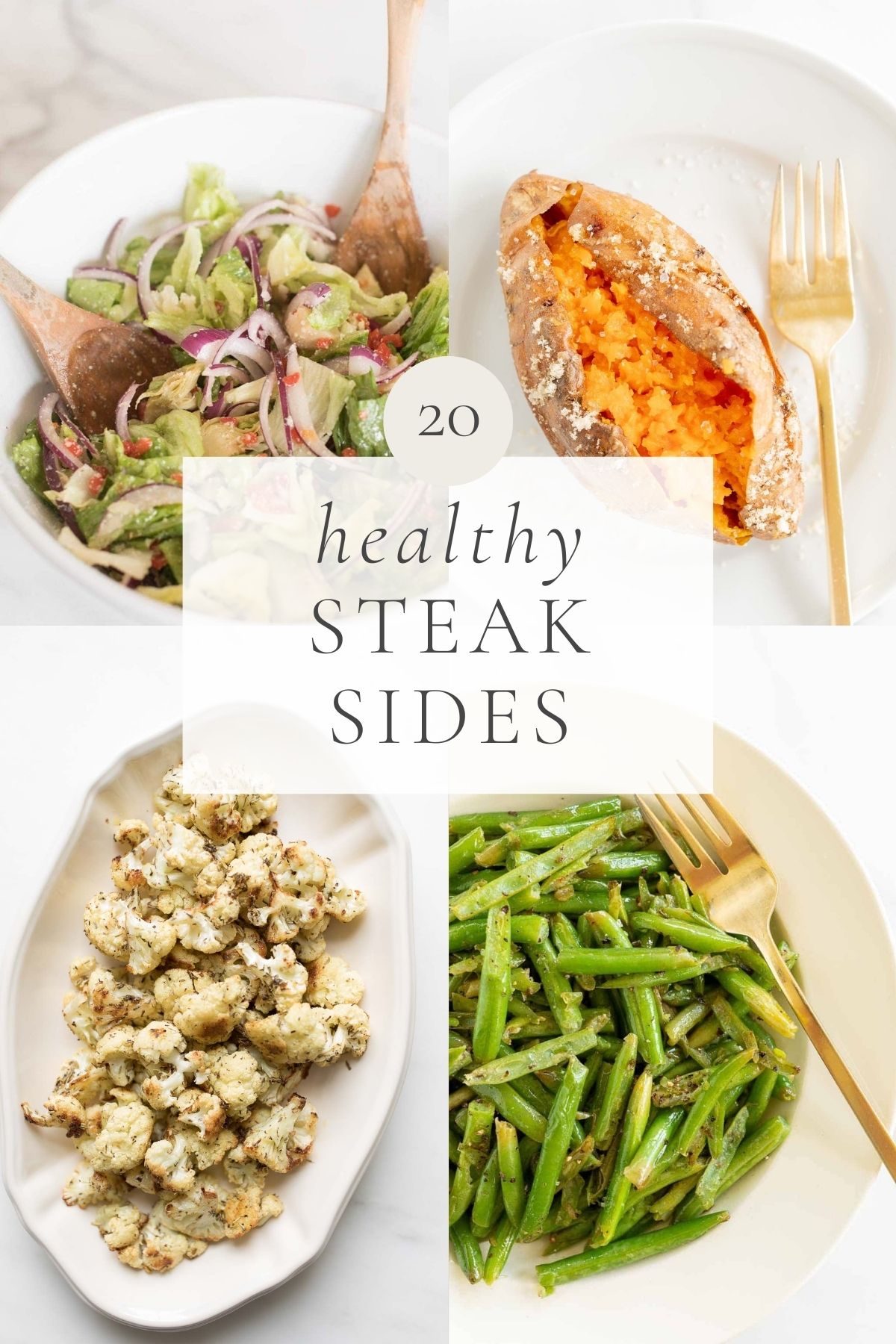 There's a lot to love about steak. It fits in with a variety of lifestyle plans and can be a protein-packed addition to your healthy eating guidelines!
But now you've got to complete the meal! Of course, you'll need a delicious variety of healthy steak sides for a wholesome, nutritious and well rounded dinner.
Use the drop down Table of Contents menu to navigate this post easily. Don't forget to pin and save for later – these side dish guides come in so handy!
Healthy Steak Sides
We're breaking this post into categories for ease. You'll find great options for healthy steak sides, broken into three categories: salads, veggies and potatoes. (Yes, potatoes can be healthy – healthy is of course subjective, based on what type of lifestyle plan you're following!)
We will cover a great variety of fresh, wholesome options, with some unexpected items for good measure.
Throw some steak on the grill (or in the oven, or on the stovetop) and let's get started! These healthy steak sides are going to take your dinner to the next level.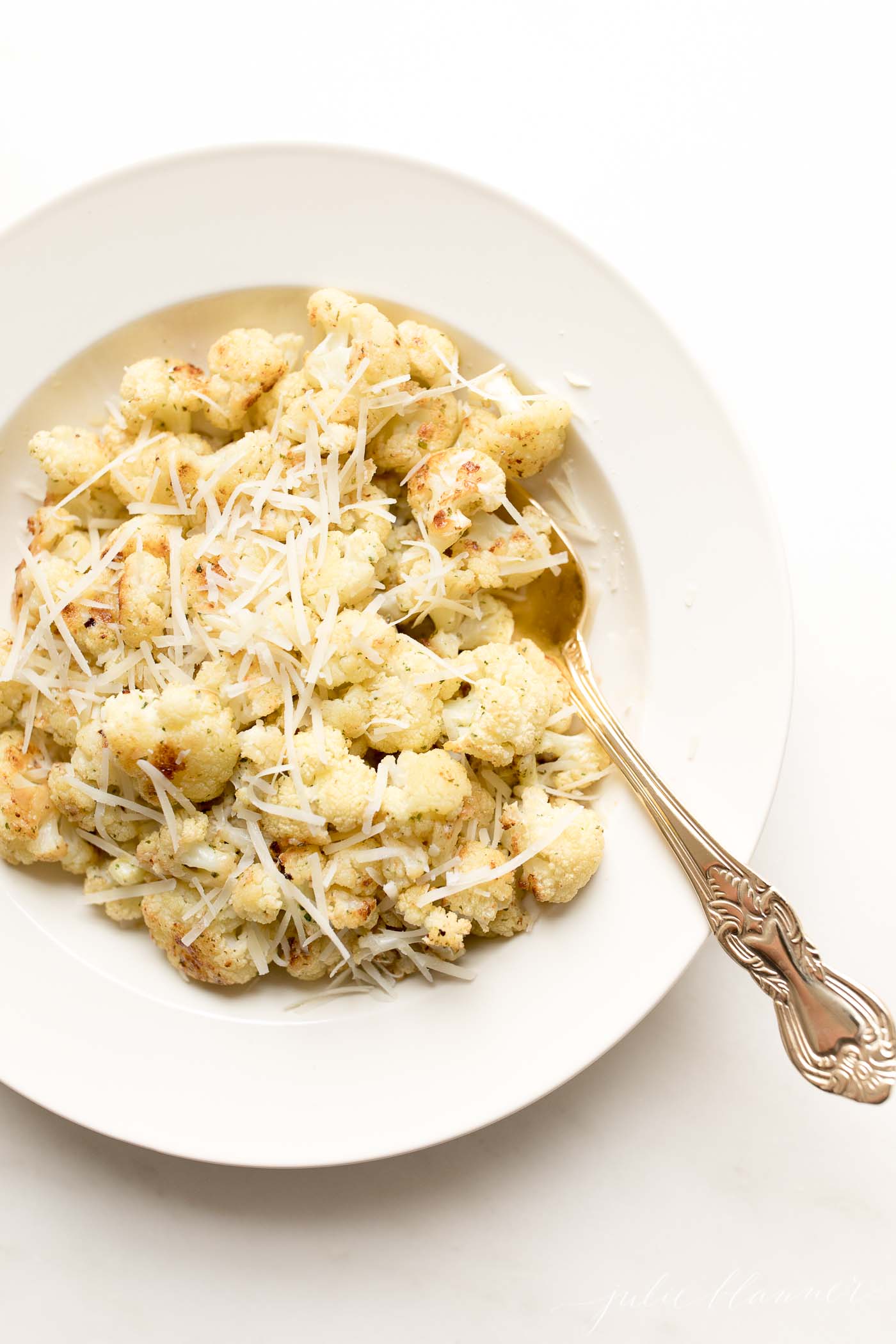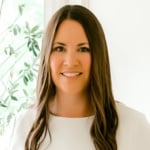 Tips
Frequently Asked Questions
What vegetable goes well with steak?
Steak pairs beautifully with an incredible array of veggies! Earthy mushrooms and asparagus are wonderful choices, but any roasted vegetables or salads are great options too.
What is the healthiest side to eat?
Salads tend to be some of the healthiest side dish choices you can make! Roasted veggies are also a great way to get more nutrients into your diet.
Healthy Salad Sides for Steak
This spring salad mix is the perfect summer salad to take with you to picnics and pot lucks. Full of vibrant fruits, pecans and cheese, you can prep the salad at home and whip up some vinaigrette and have a fresh, easy-to-transport salad.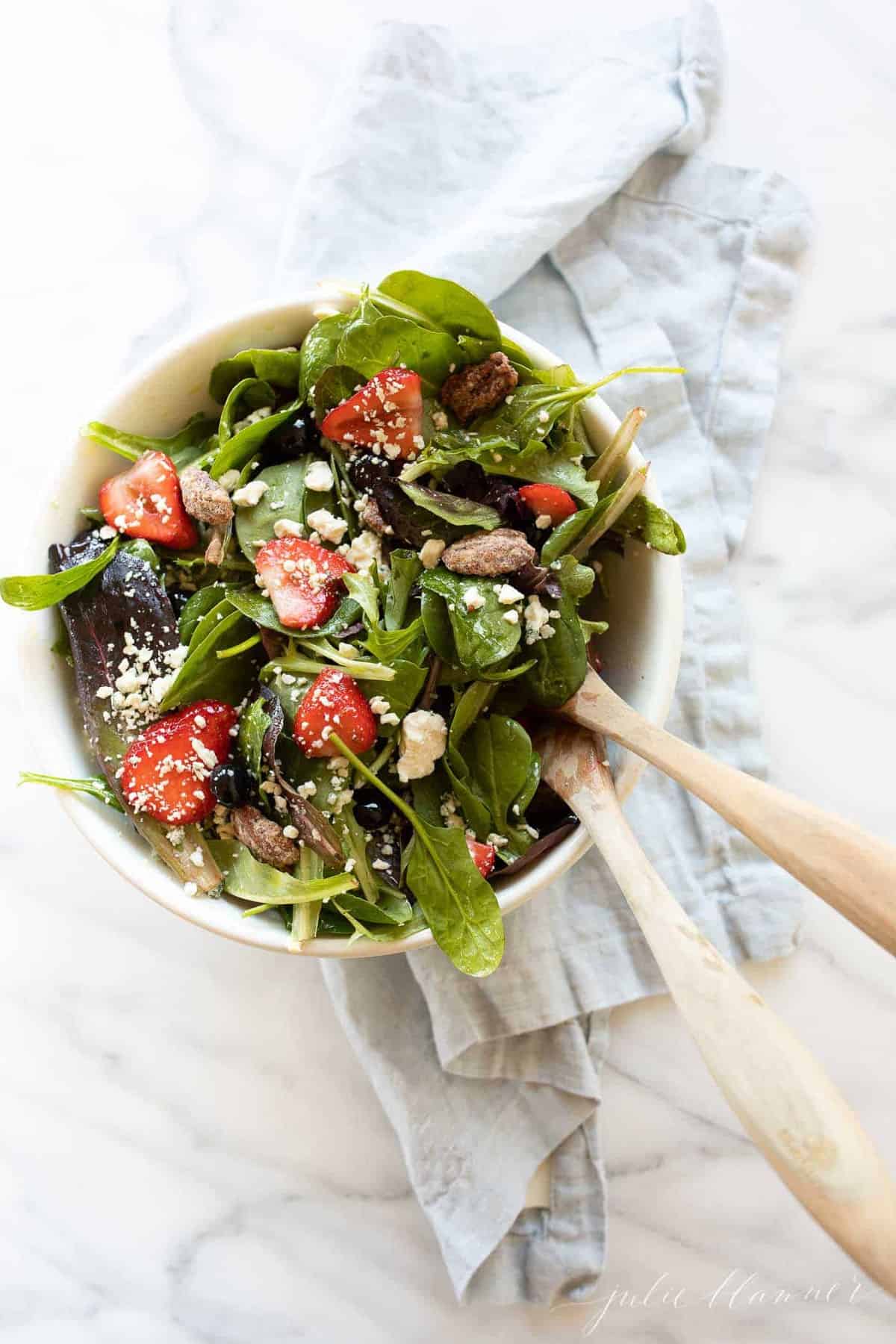 This is an easy and refreshing recipe for an arugula salad with lemon vinaigrette. This simple salad is so perfect for the warmer weather, and is perfect to serve as a simple side or appetizer.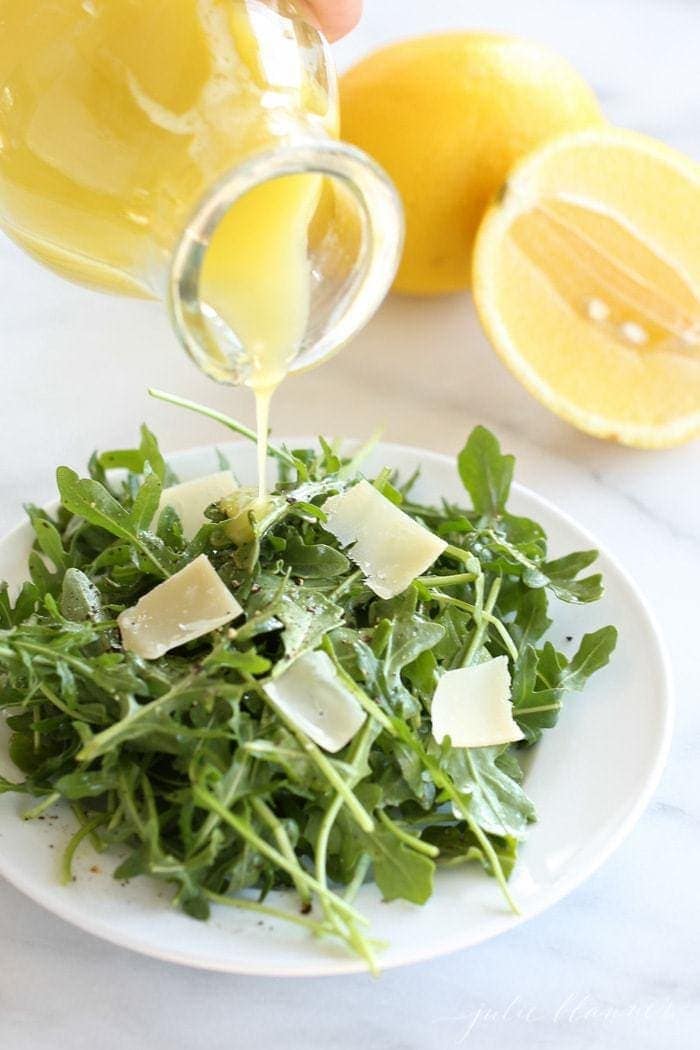 This roasted beet salad is not only gorgeous to serve, it's more delicious with each and every bite! Loaded with incredibly tender roasted root veggies, it's a restaurant level salad you're going to absolutely crave!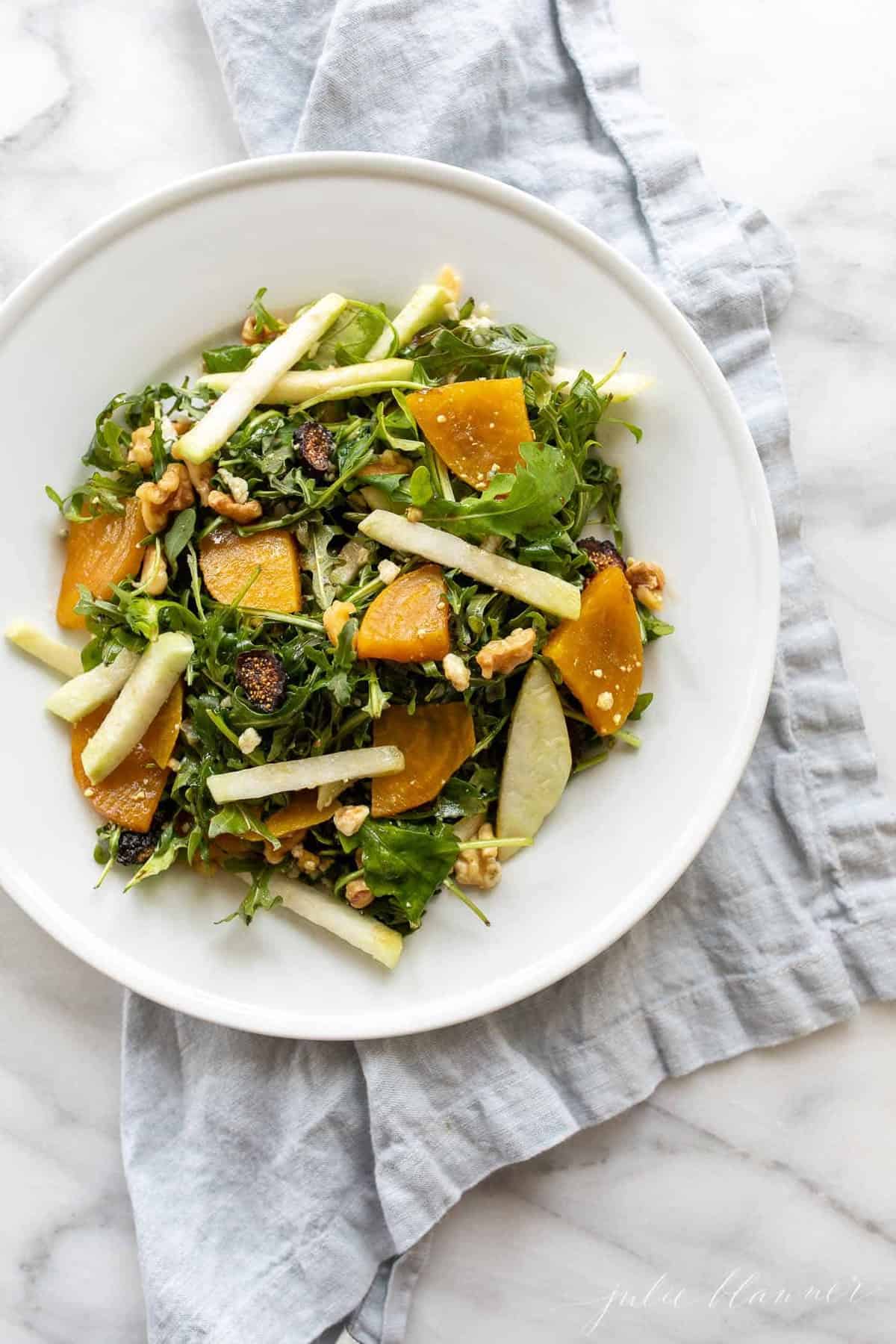 A simple Italian Salad recipe, St. Louis style. Mix up this delicious, memorable salad with fresh and flavorful Italian Dressing in less than 10 minutes!
This Italian Salad is filled with crisp lettuce, red onion, artichokes, pimentos and grated parmesan to ensure each bite is perfectly covered in Italian Salad Dressing.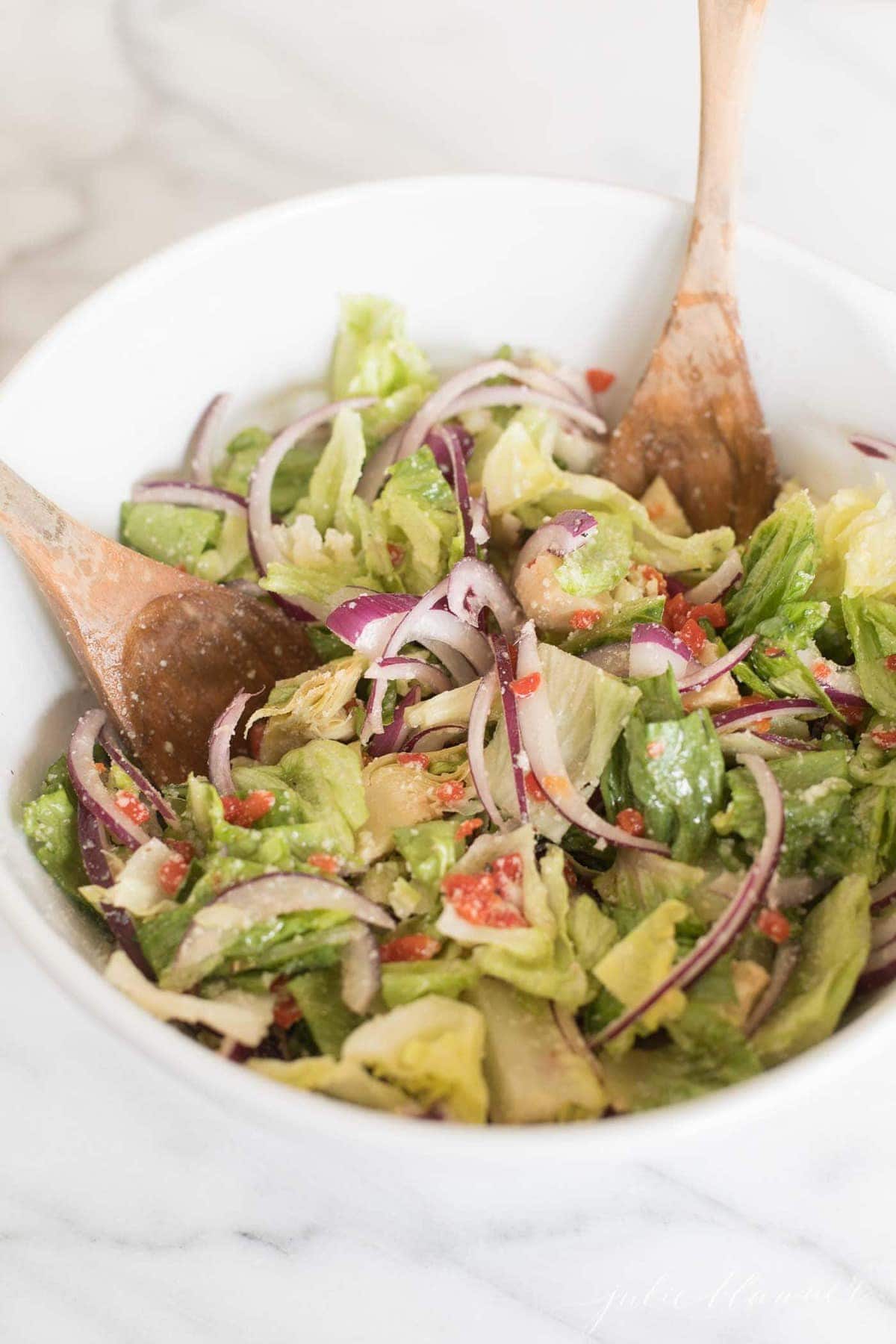 This easy endive appetizer is everything you crave for entertaining! It's healthy, gorgeous, and simply bursting with fresh flavor. Bonus? Endive lettuce is naturally so easy to hold… your guests will keep coming back for more!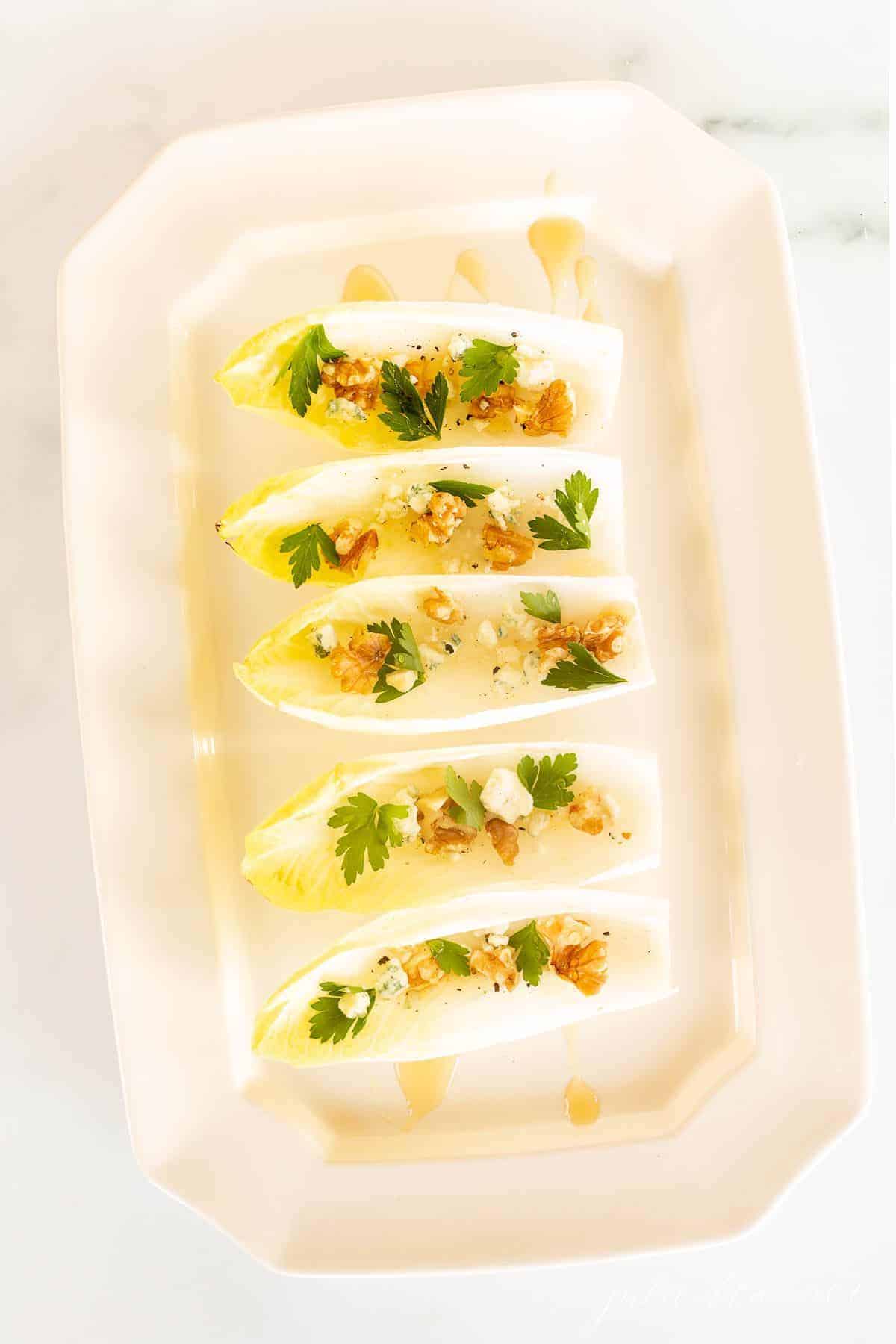 A light and refreshing classic Insalata Mista with shaved parmesan, grape tomatoes, and pine nuts tossed in a delcious balsamic vinaigrette. This mixed salad goes great with just about every entree!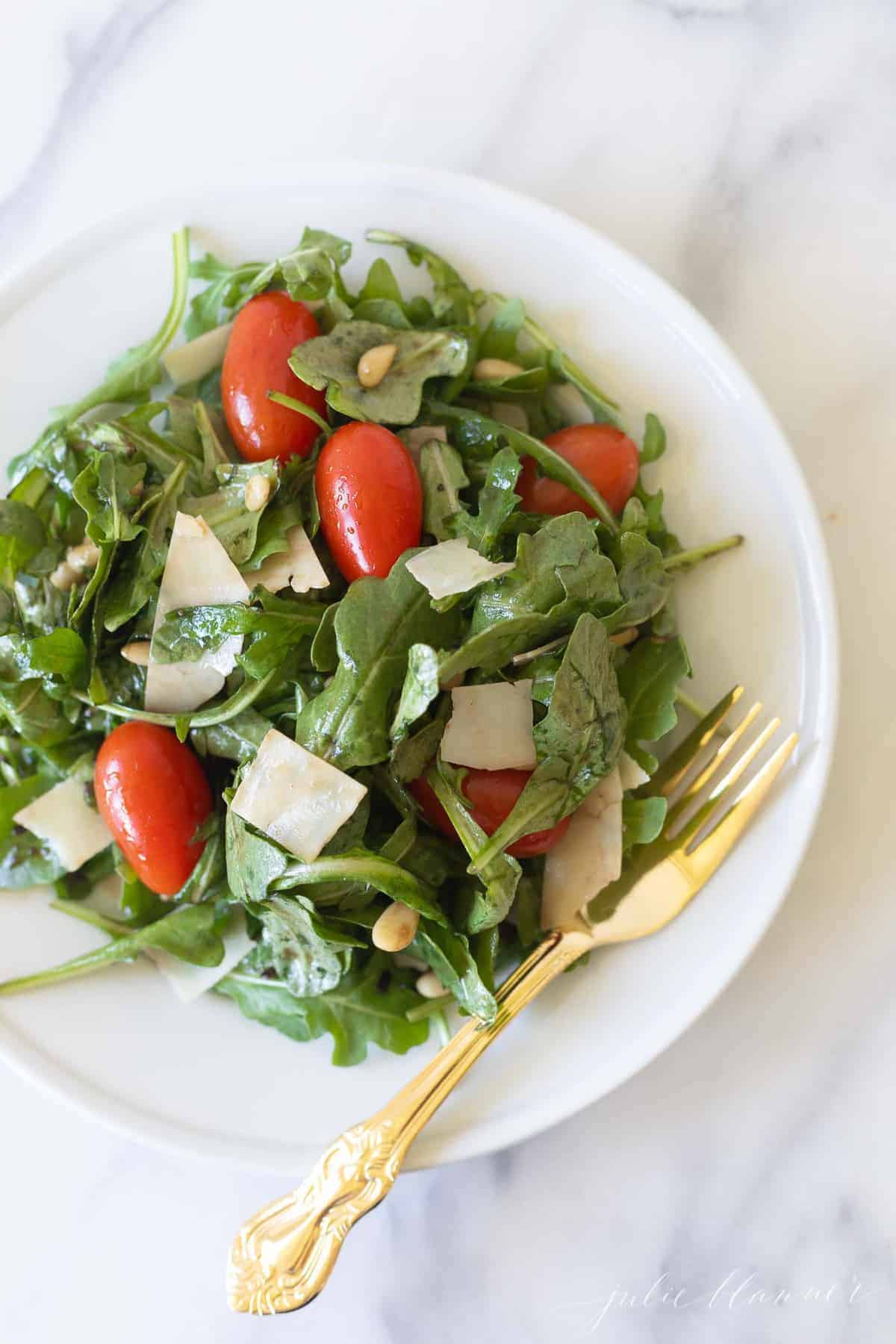 An easy Pear Salad Recipe with candied walnuts and gorgonzola is all you need to accent any fabulous protein entrée.
Tossed in a homemade white wine vinaigrette, this fruit and nut salad is simple, crisp and irresistible.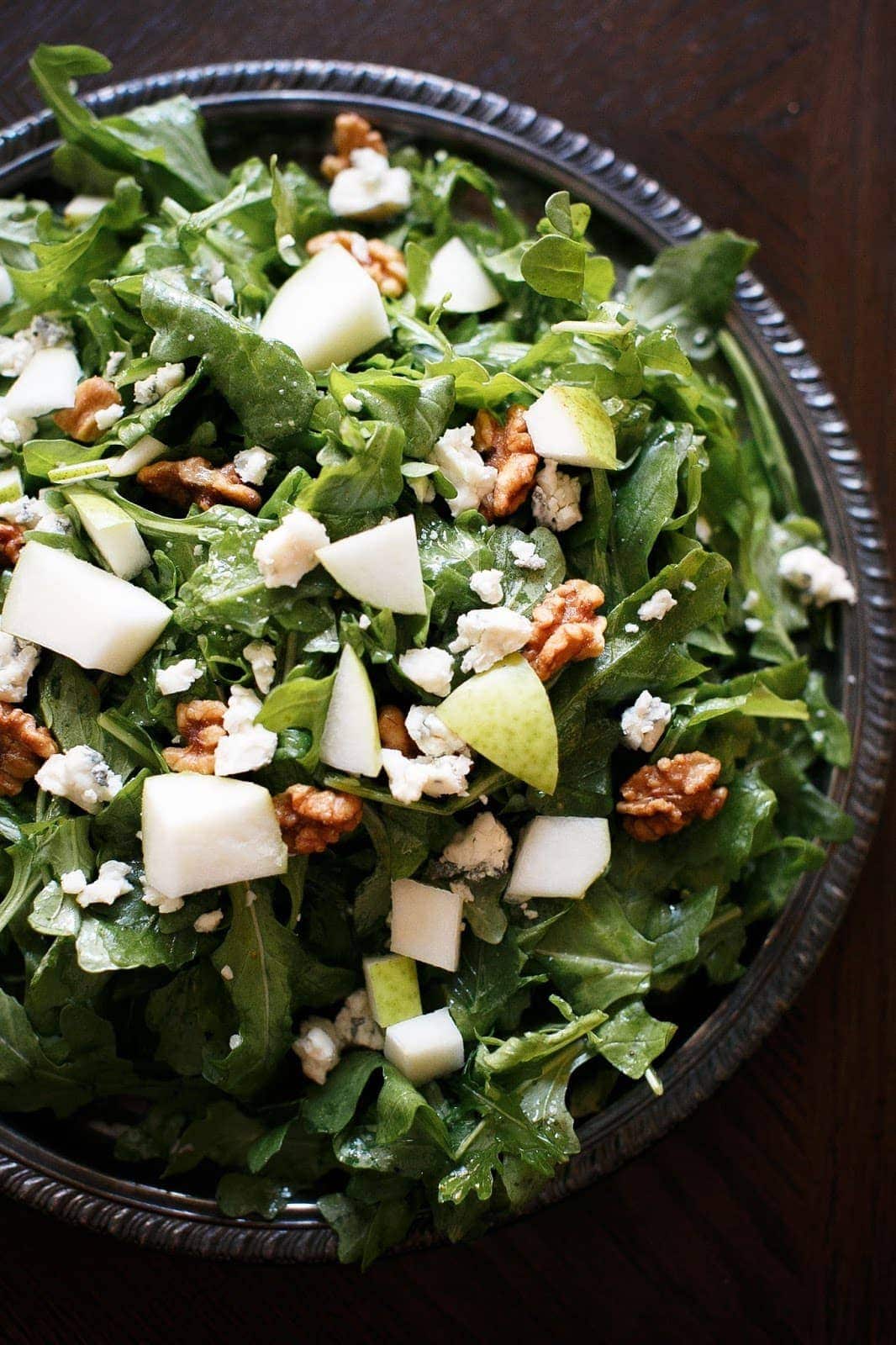 An easy Cauliflower Mashed Potatoes recipe is all you need to replace carbs with veggies. It's so simple and absolutely delicious.
With a few tips and tricks (shh…it's cream cheese!) along the way, no one will ever know it's mashed cauliflower!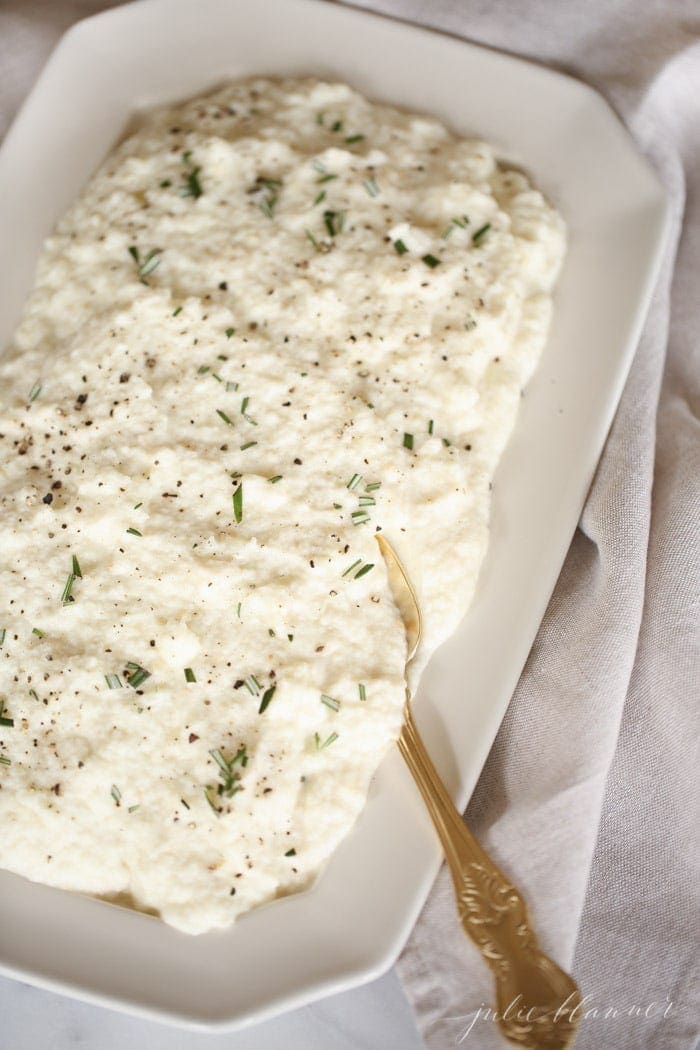 This Crispy Brussel Sprouts Recipe is bursting with flavor! Brussel Sprouts with pancetta and shallots are sautéed into a fragrant, textural side dish that make them one of the BEST side dishes for steak!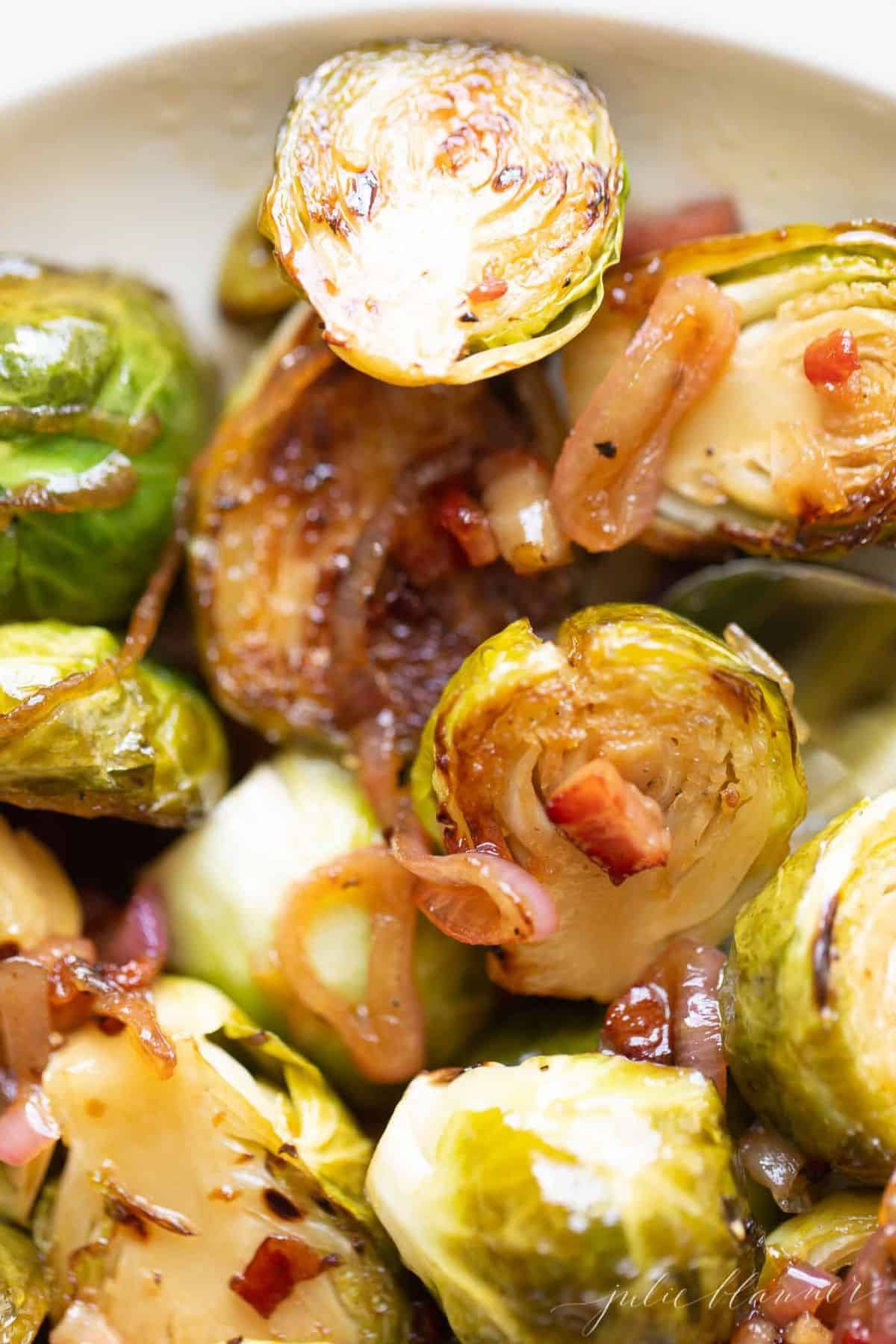 Meet your new favorite healthy summer side dish! These grilled green beans are perfectly crisp, yet tender and charred just the right amount. They are the best accompaniment to any of your favorite grilled or baked entrees.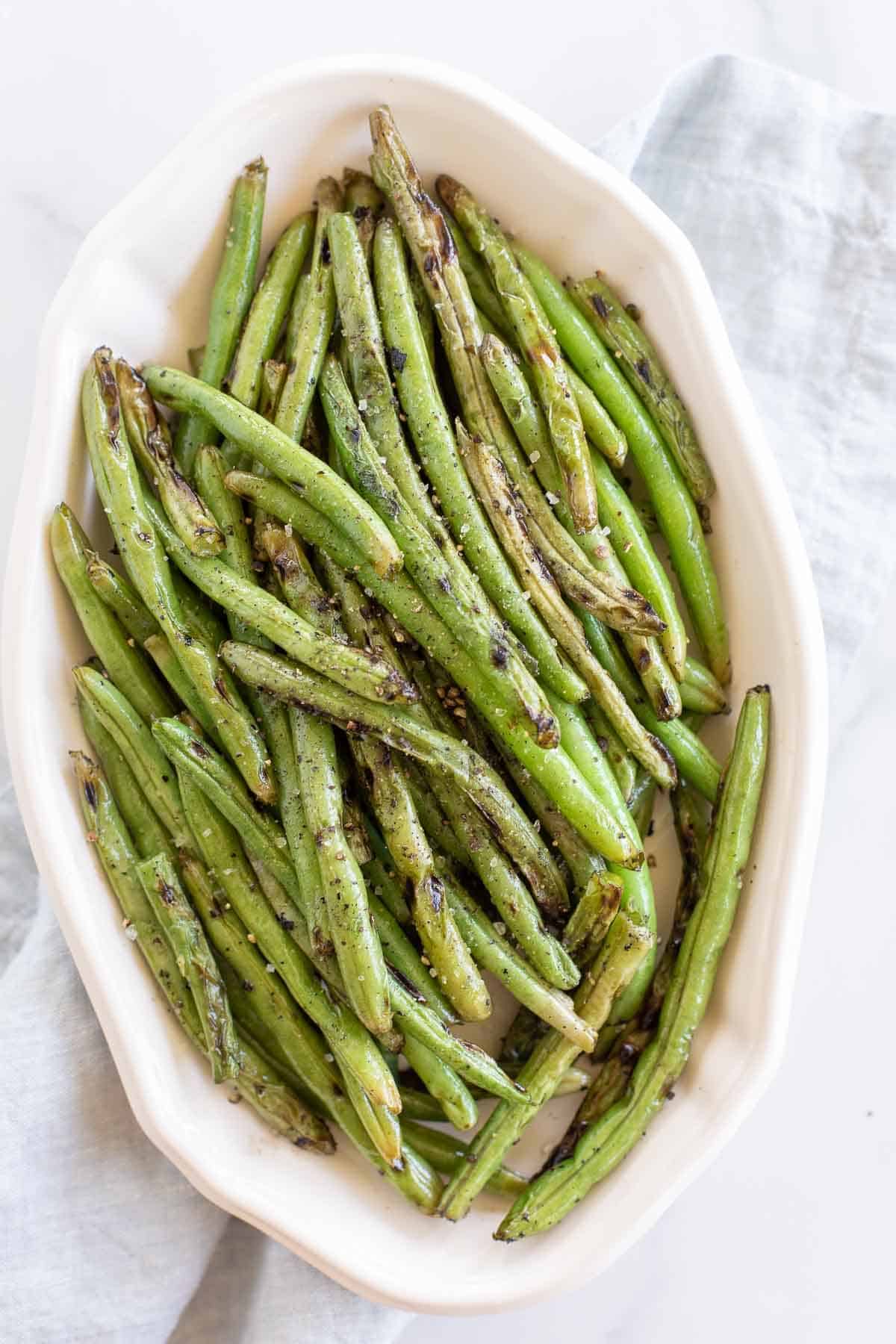 These are a low carb, low fat side dish that also double as a great topping for your steak!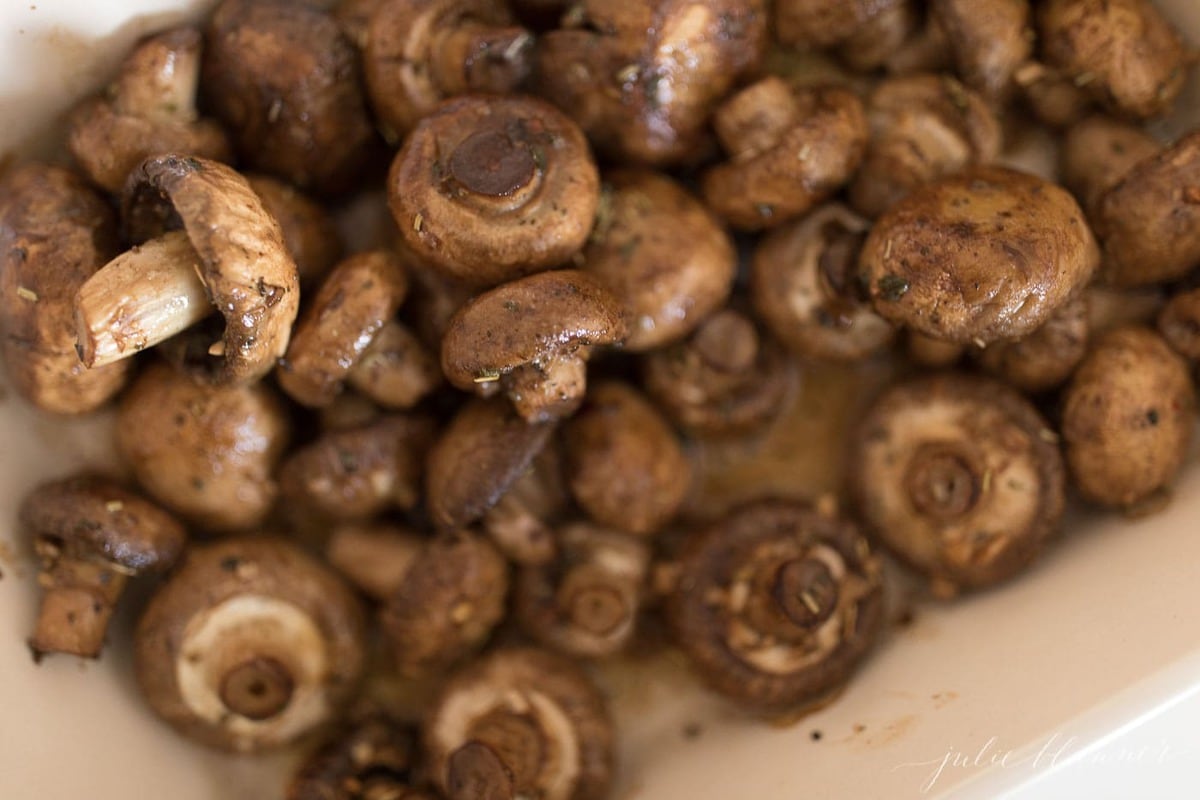 Served alongside any of your favorite dinner entrees, Italian Vegetables are seasoned and oven-roasted to perfection. Italian Roasted Vegetables are rustic, simple and so beautiful to serve! Of course, they make one of the best Italian Side Dishes too.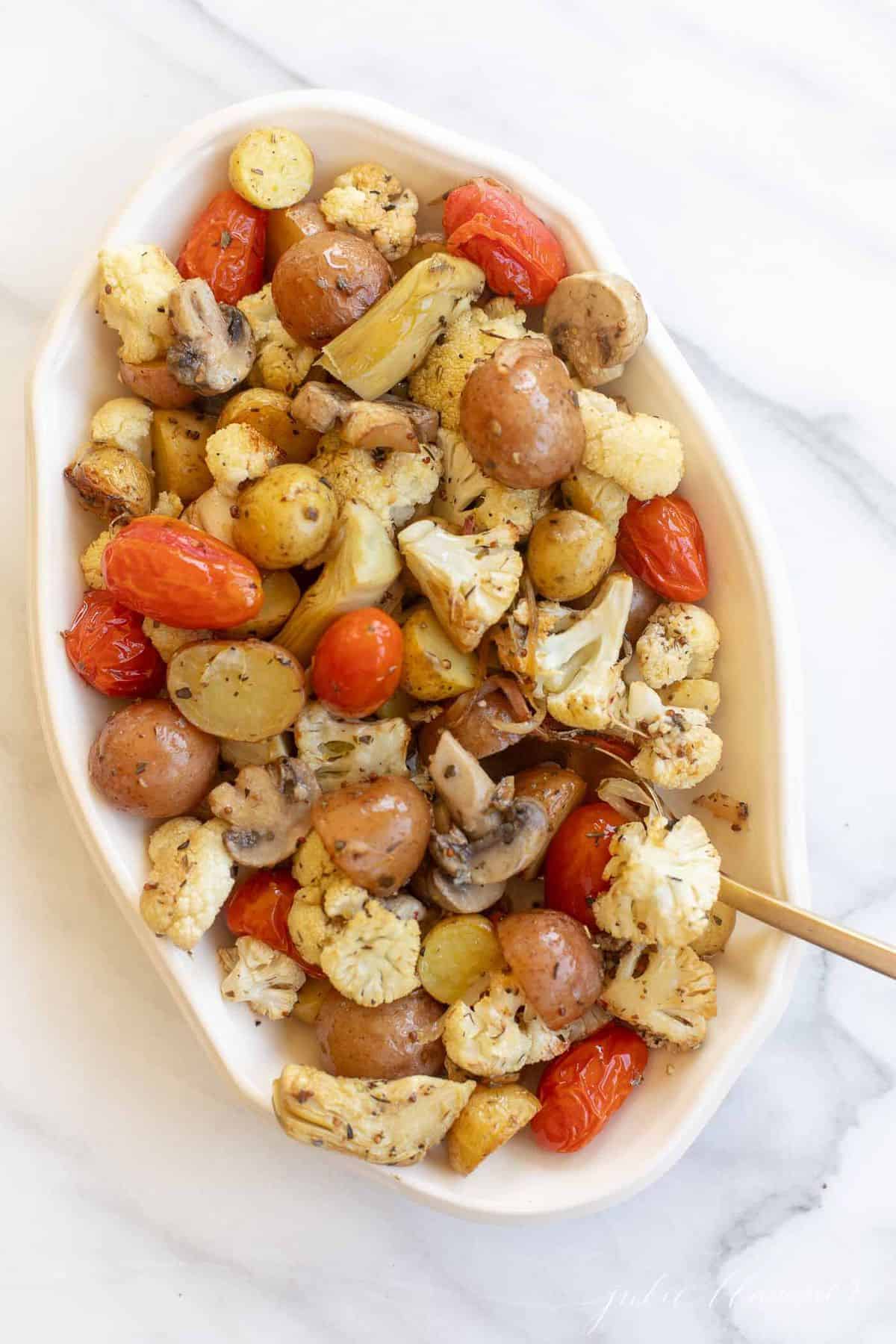 Step aside green bean casserole, Green beans with Bacon are an easy, last-minute side dish for holidays with the best blend of garlic, parmesan and bacon that will have green bean haters begging for the recipe!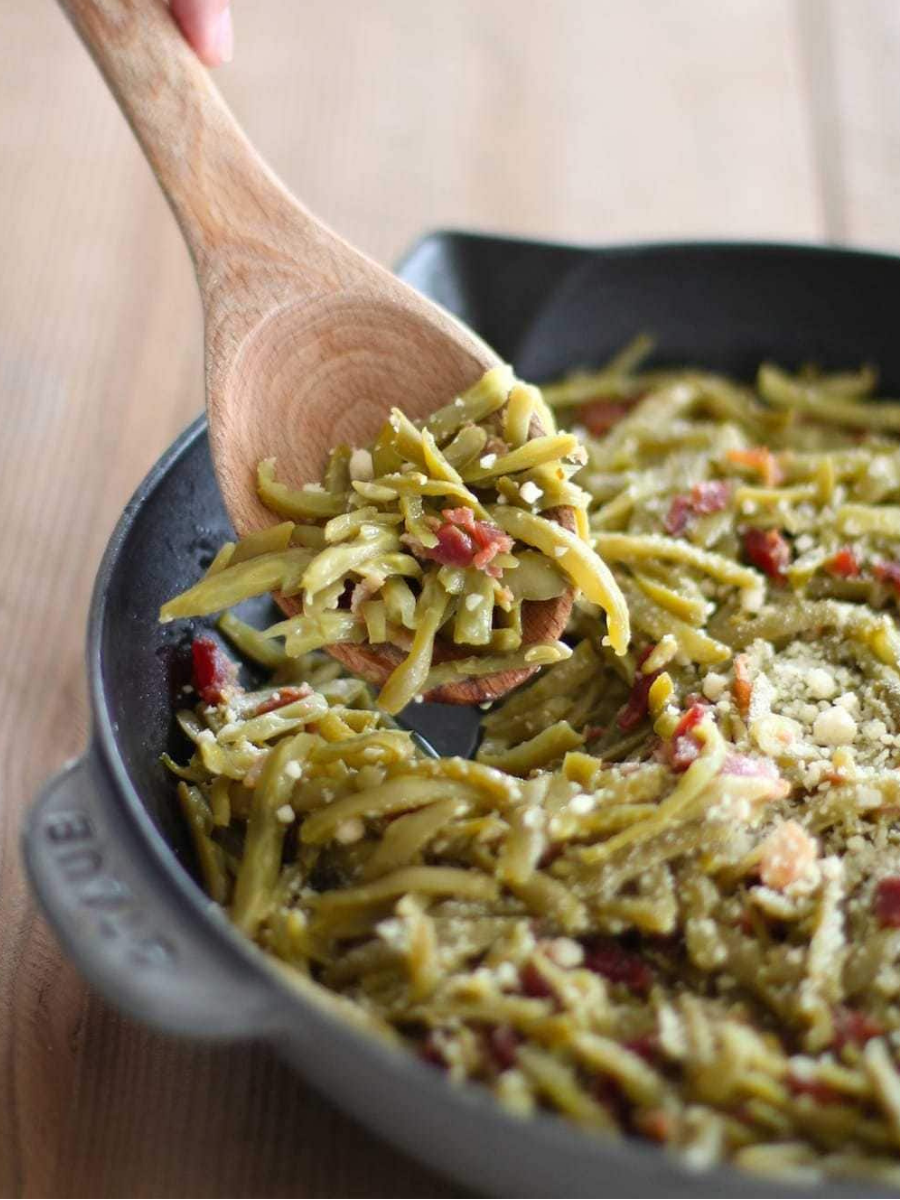 Baked Artichoke is one of the easiest side dishes and ways to get your veggies in! These roasted artichoke are so delicious on it's own or tossed into a salad. It's not only delicious, but a good source of fiber, Vitamin C and Vitamin K!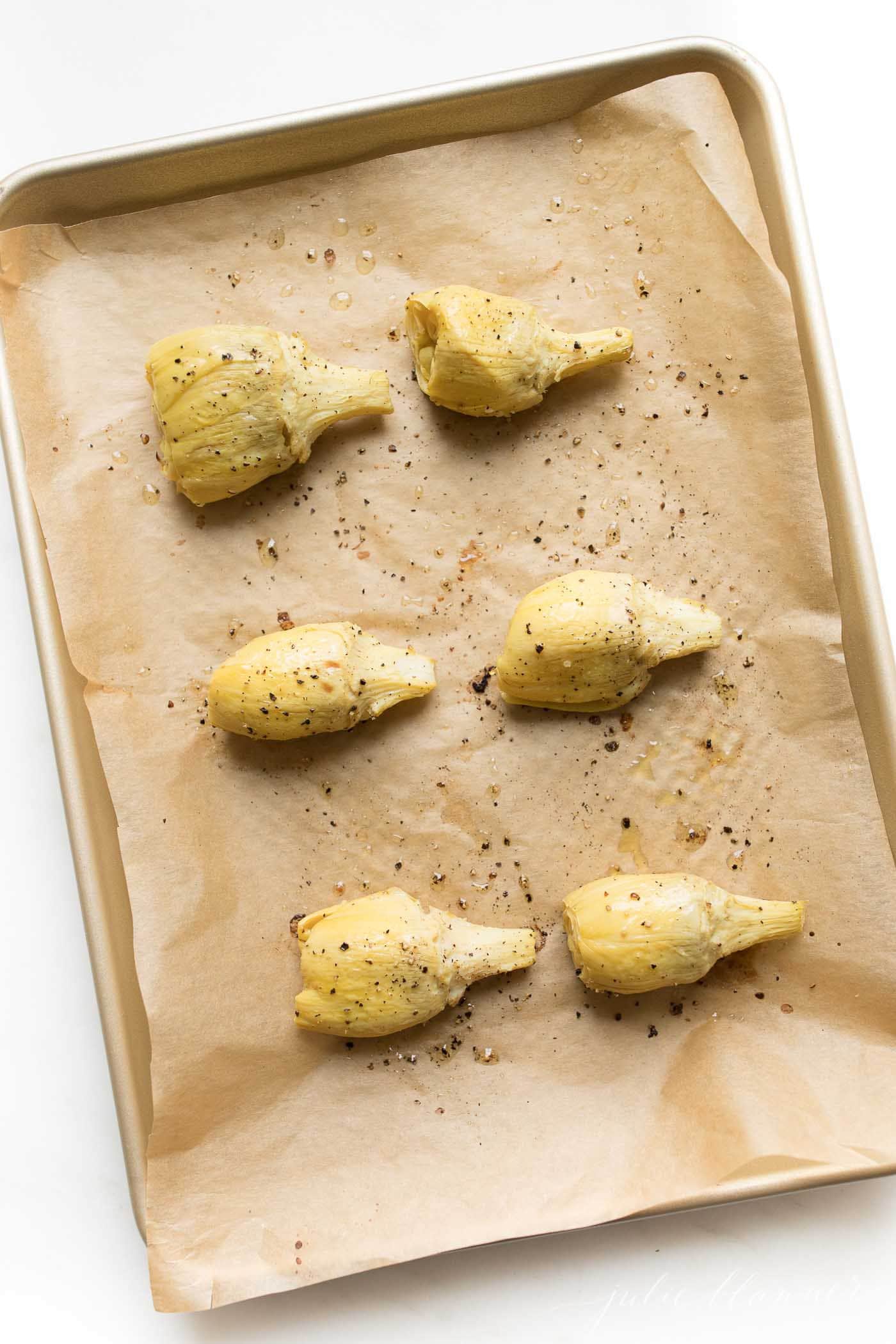 Learn about the best seasonings for green beans, and how to make the most incredible seasoned green beans as the ultimate side dish!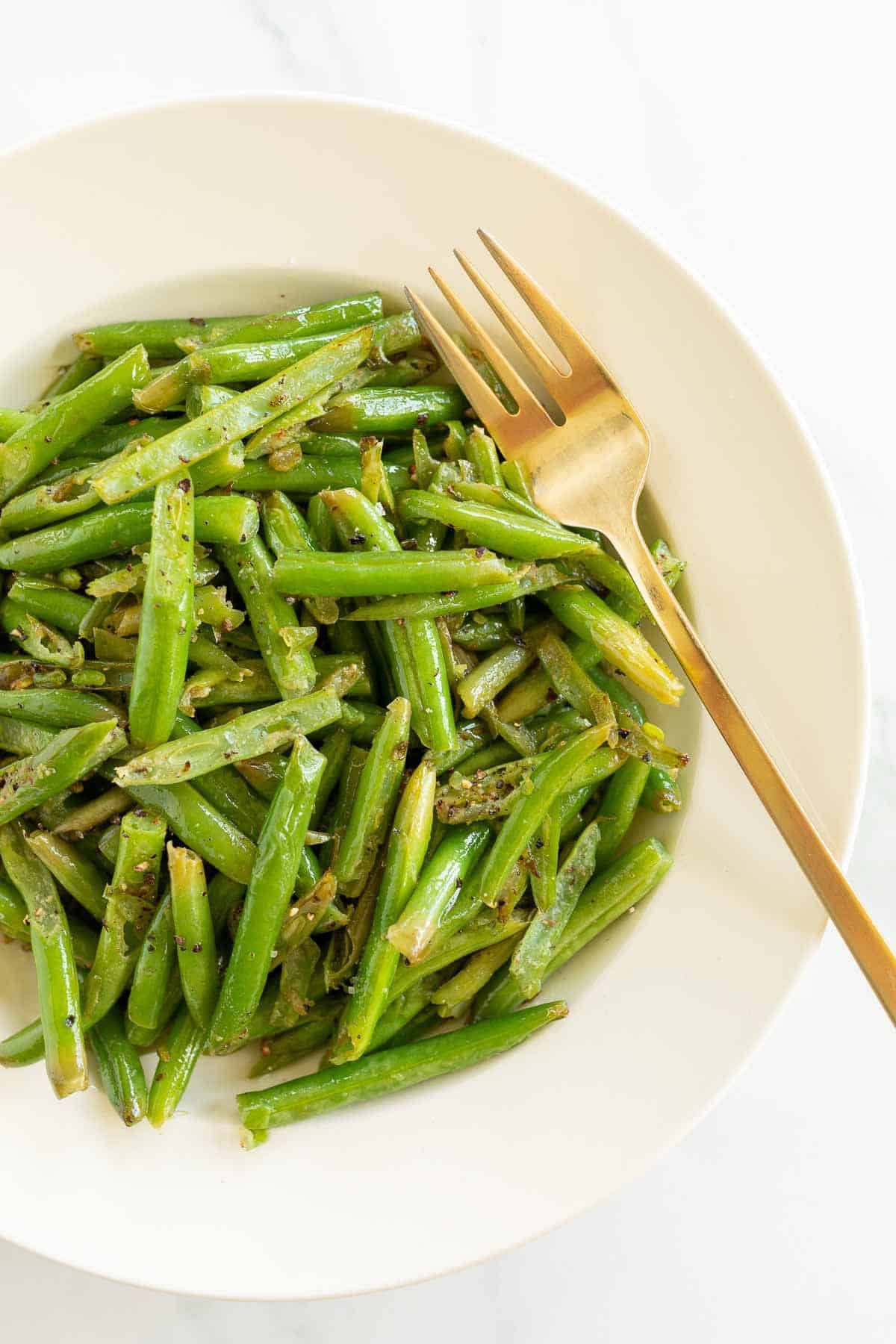 This effortless Roasted Cauliflower is the ultimate healthy side dish. If you think you don't love cauliflower, this Easy Baked Cauliflower is sure to change your mind!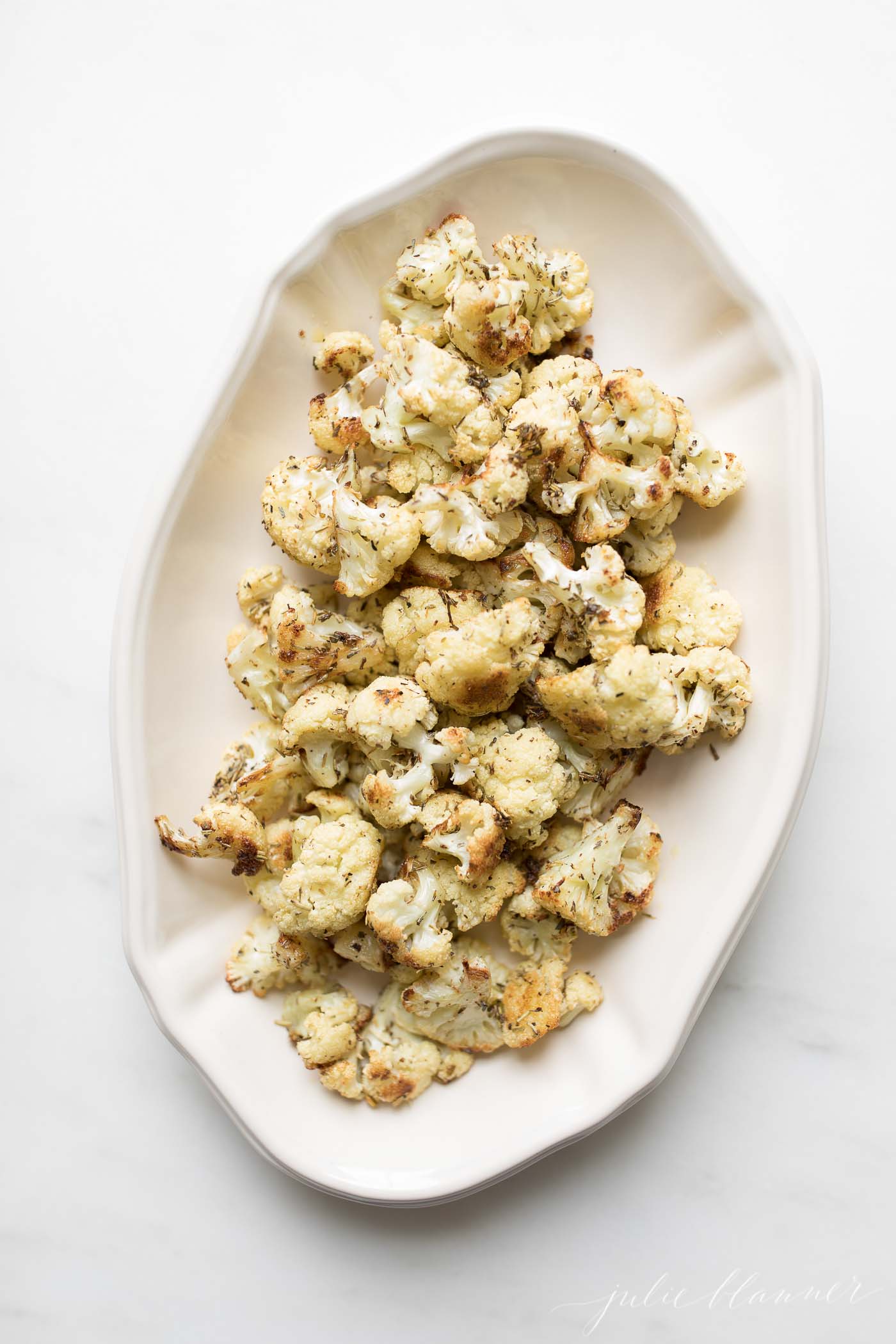 Healthy Potato Sides
These grilled baked potatoes are such an incredible side dish for all your summer grilling adventures! Baked potatoes can be one of the best healthy steak sides – just choose your toppings carefully.
Baked potatoes on the grill are so much better than your oven – they have a perfectly moist, soft and fluffy interior but are incredibly crispy and salty on the outside.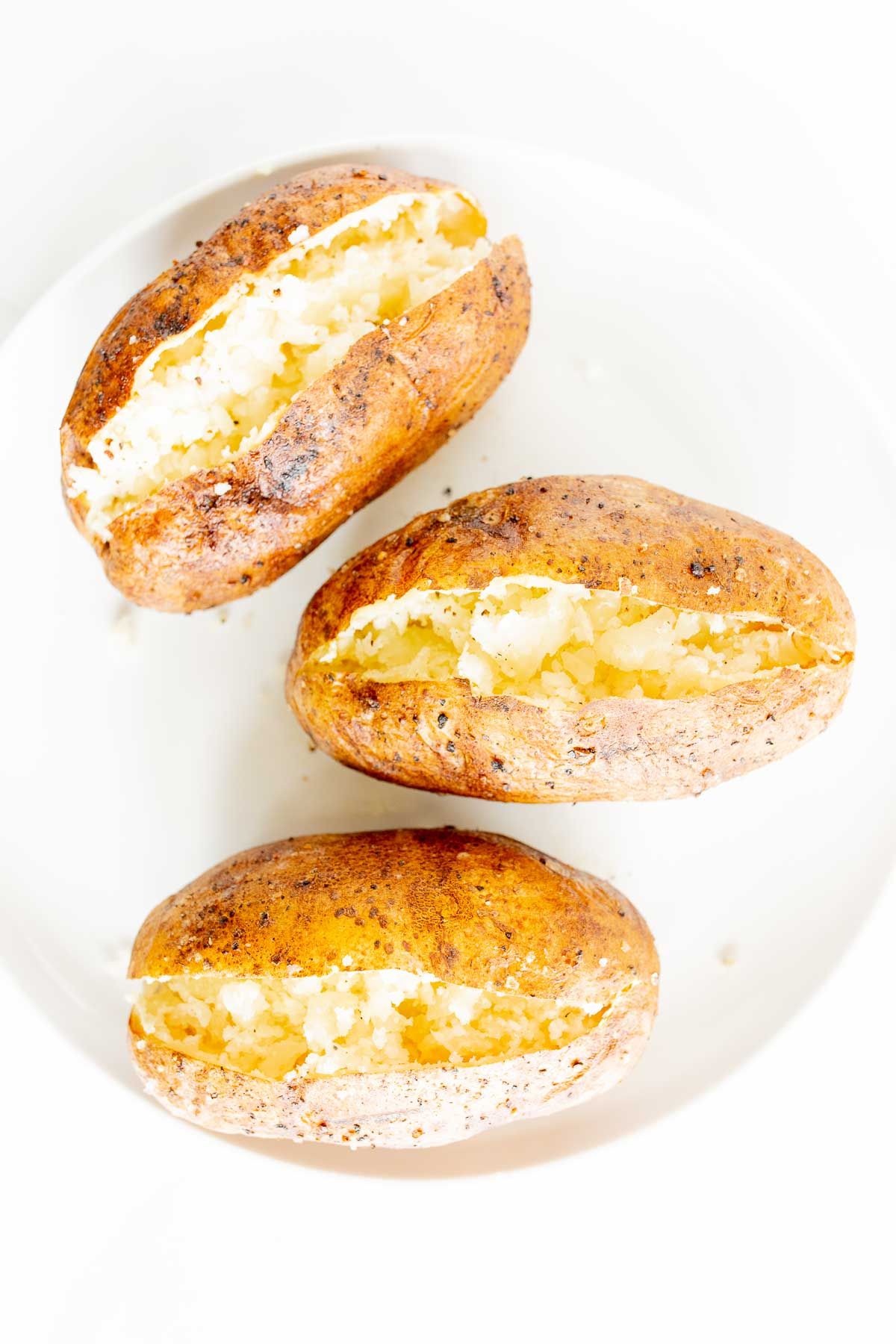 These quick and easy grilled sweet potatoes in foil make an excellent side dish for all your favorite barbeque entrees! They are healthy, savory and so easy to customize to every individual's tastes.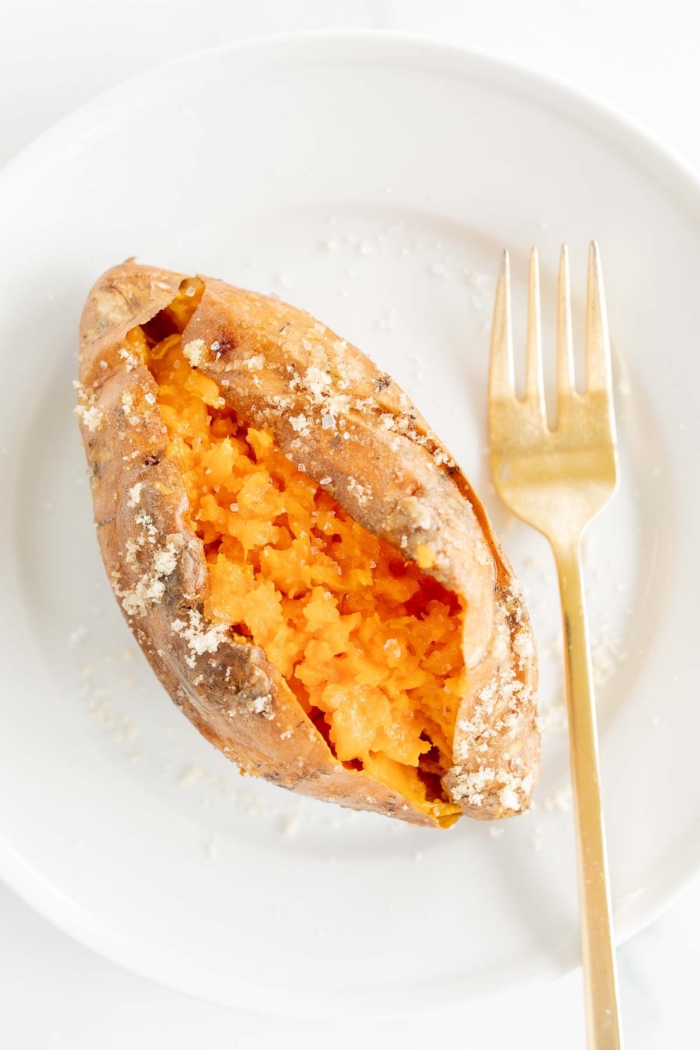 Skip the deep fryer with these Healthy Sweet Potato Fries, ready in less than 30 minutes. If you love sweet potatoes, these Gourmet Fries will blow you away!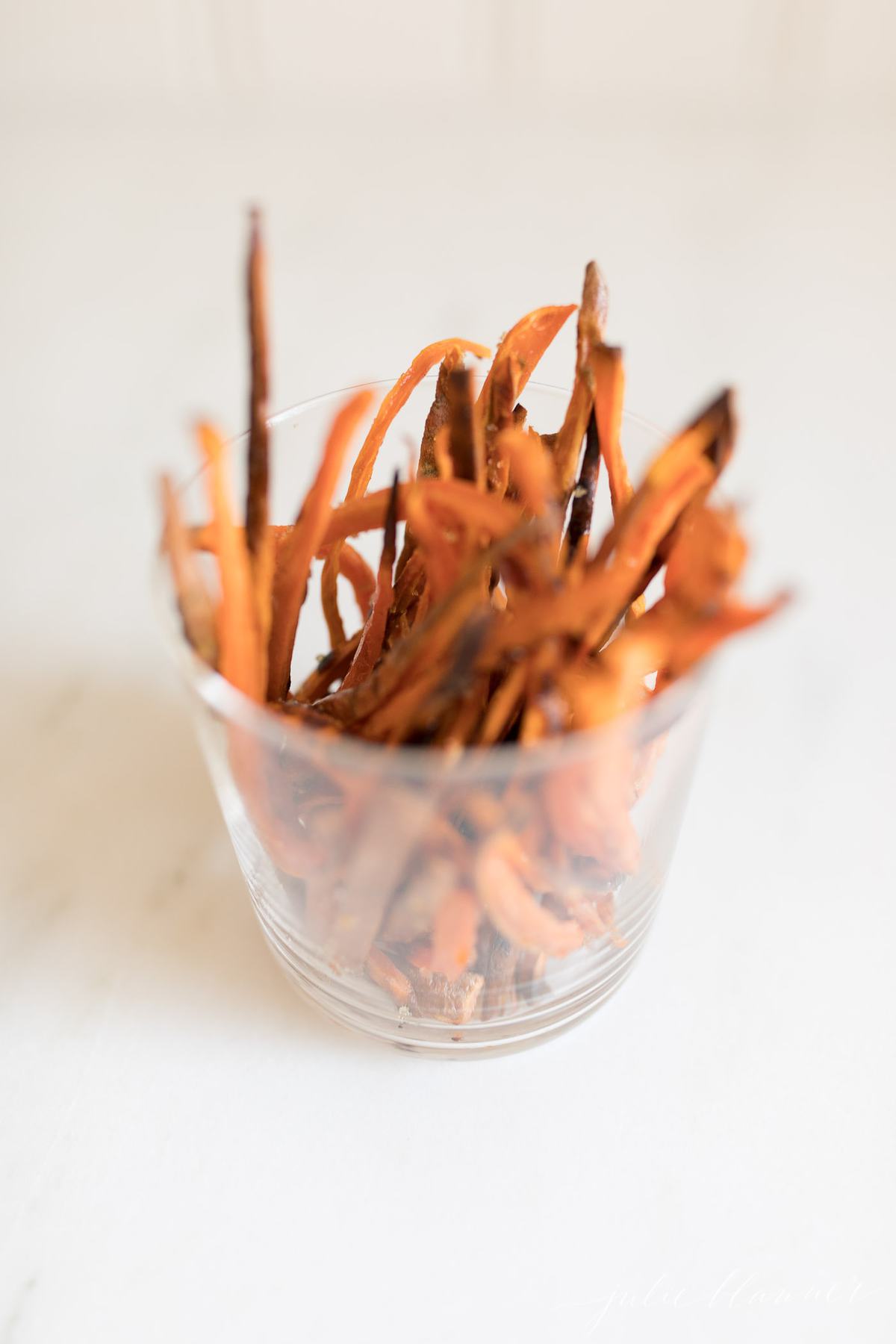 This sweet and salty oven roasted sweet potatoes recipe makes an easy crowd-pleasing side dish. No one can resist these Glazed Sweet Potatoes. You only need four simple ingredients and 10 minutes to prep.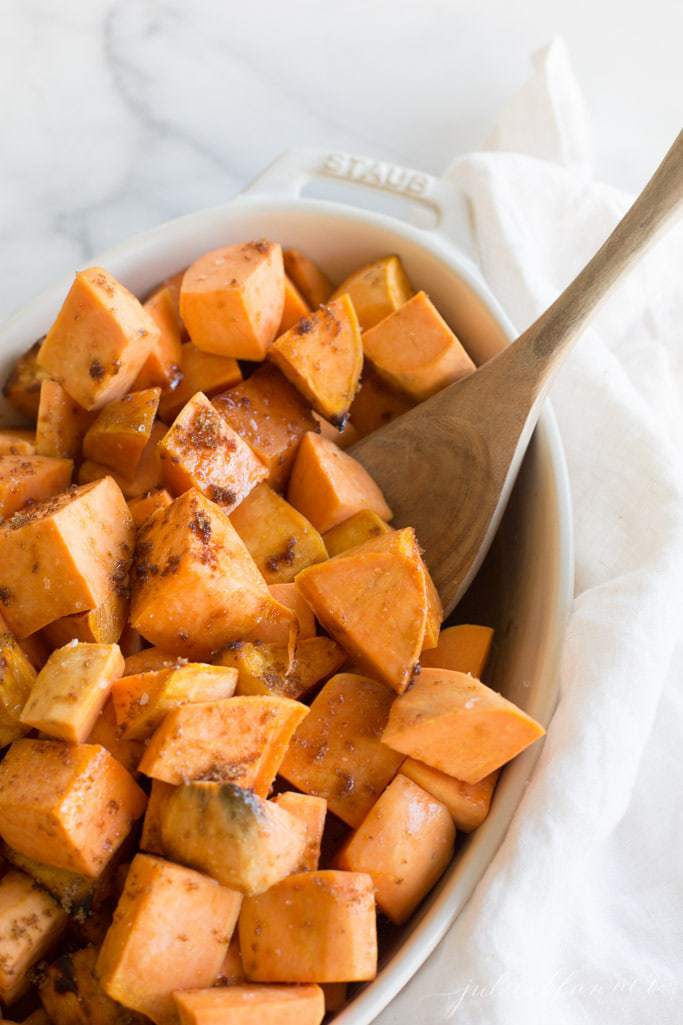 Hungry for more easy recipes? Sign up for my free recipe club and have amazing recipes delivered directly to your inbox each week!
Dinner & Lunch
2 hrs 20 mins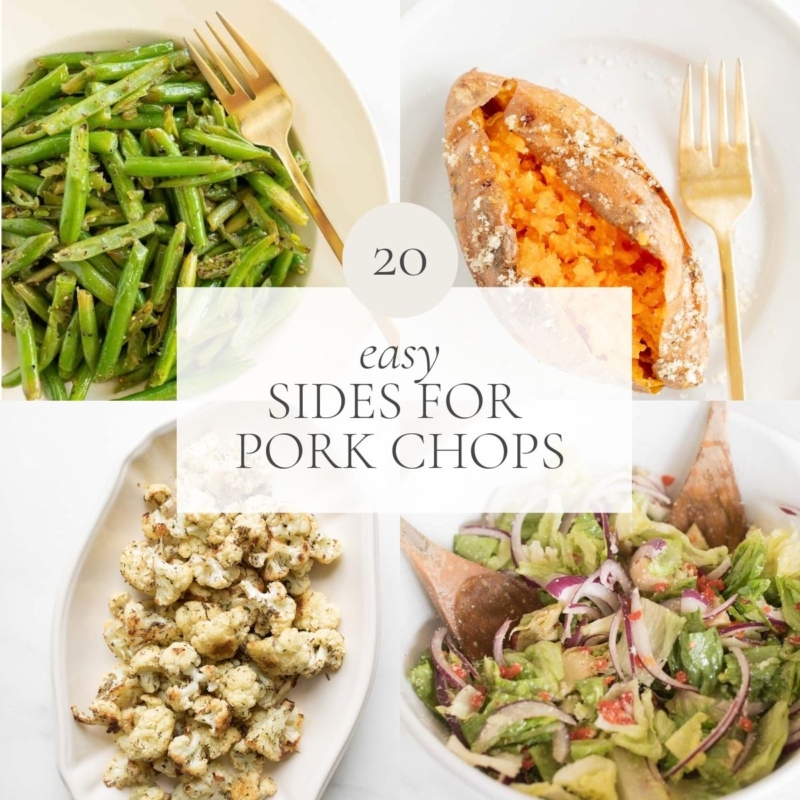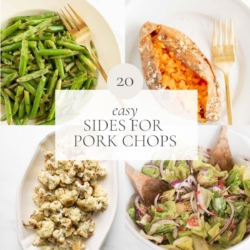 Healthy Steak Sides
Get 20 incredible healthy steak sides in this free recipe guide! Steak is such a delicious, low carb entrée, but what are some healthy ways to round out this meal? We've got it covered!
Instructions
Select your favorite recipes, or try one from each category!

Organize all the requested ingredients, and print each recipe card to get organized.

Prep and serve your sides – most are done in under 30 minutes.
Calories:
194
kcal
|
Carbohydrates:
45
g
|
Protein:
4
g
|
Fat:
0.1
g
|
Saturated Fat:
0.04
g
|
Polyunsaturated Fat:
0.03
g
|
Monounsaturated Fat:
0.003
g
|
Sodium:
124
mg
|
Potassium:
762
mg
|
Fiber:
7
g
|
Sugar:
9
g
|
Vitamin A:
32063
IU
|
Vitamin C:
5
mg
|
Calcium:
68
mg
|
Iron:
1
mg
Estimated nutrition information is provided as a courtesy and is not guaranteed.
Explore More