Get our free printable steak temperature chart to ensure you get it right, every single time!
A perfectly cooked steak is the highlight of a backyard barbecue, but everyone's idea of a perfectly cooked steak can be slightly different.
Knowing the proper steak temperature for the varying levels of doneness can keep everyone eating their ideally cooked steak.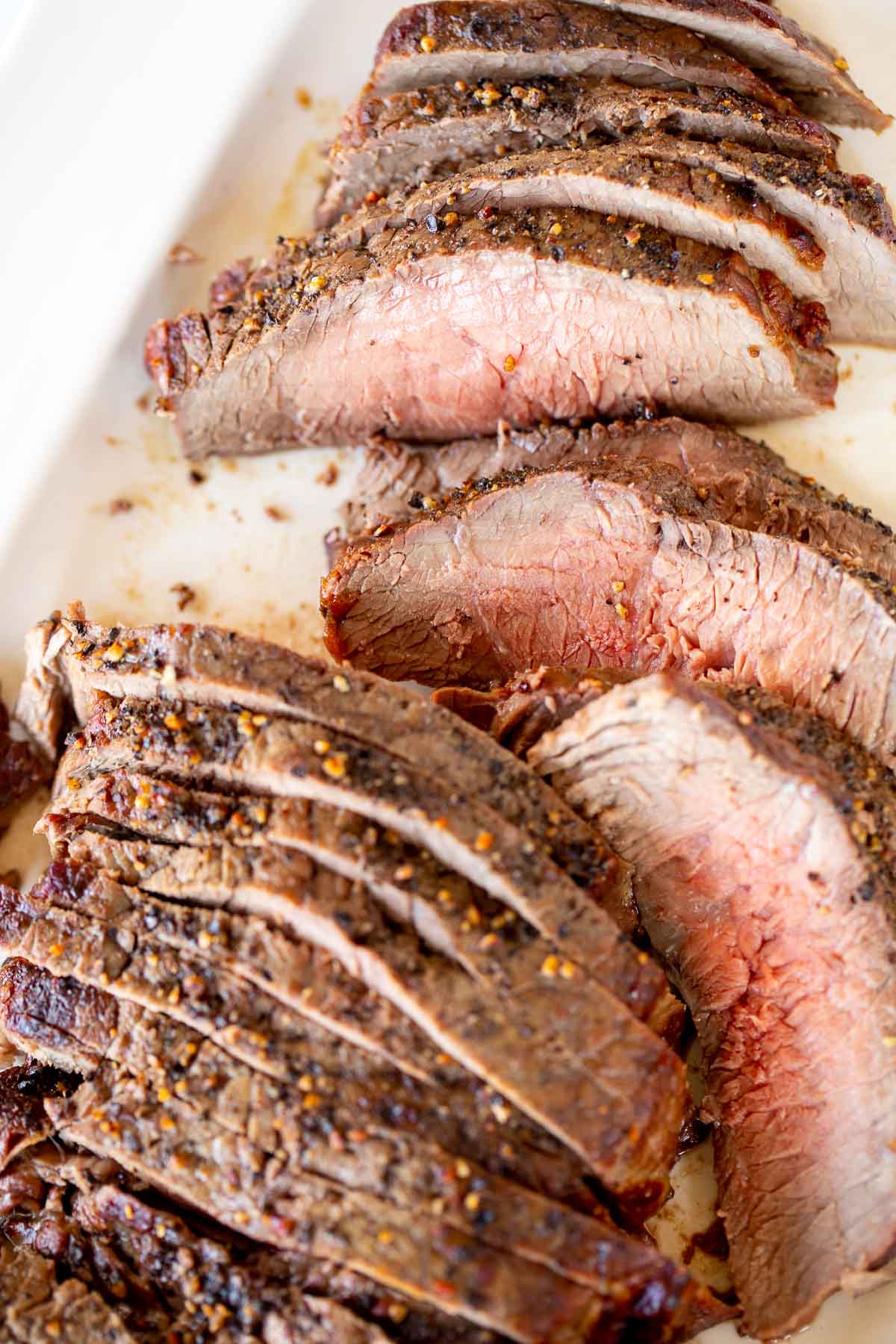 Everything about steak is amazing! I love the sound it makes while it sizzles on the grill. The savory aroma is mouth watering. And the best thing of all is the taste! Flavorful and perfectly seasoned, steak is a classic dinner any time of year.
There are many ways to cook steak and they're all delicious. Look here for how to broil steak in the oven. You'll also love cooking steak on the stove; this is perfect for cooking in the winter or for those of you who don't love cooking outside on a grill.
Try my homemade steak seasoning for a deliciously seasoned steak.
No matter how you cook it or what cut of steak you use, cooking steak to the correct steak temperature will ensure that it's done.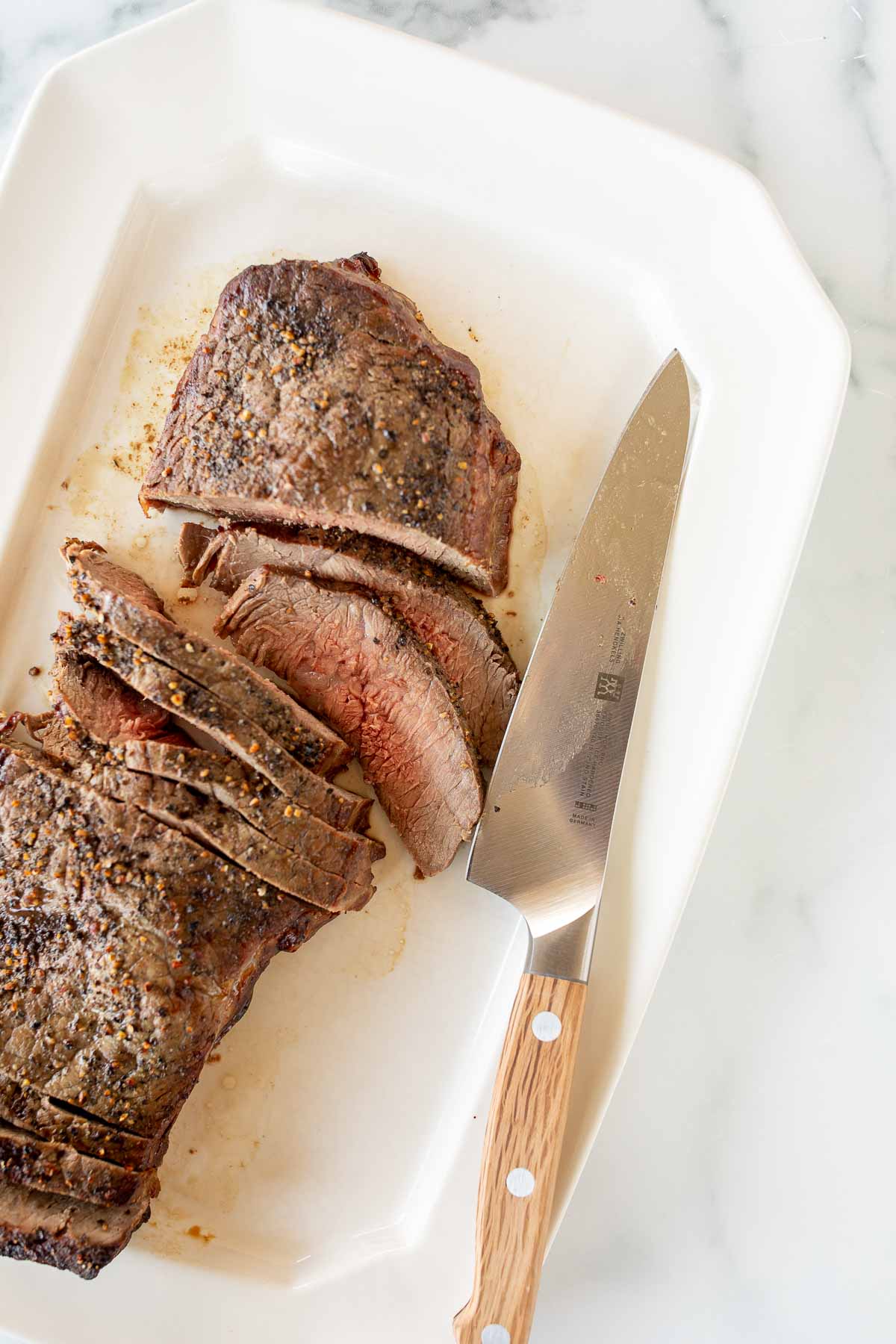 Proper Steak Temperature
According to the FDA, steak should be cooked to an internal temperature of 145° F. This is easily and accurately measured by using an instant-read digital meat thermometer. Insert the end of the thermometer into the center of your steak, avoiding gristle, fat, and bones.
Once the steak temperature is at 145°, let it rest for 3 minutes to let the juices redistribute throughout the meat.
Most meat has to reach an internal temperature of 160° F, but you'll notice that steak is only 145° for a minimum temperature. This is because the bacteria on steak resides on the surface, so once the outside is cooked the bacteria is killed.
Choosing to eat steak cooked to just rare or medium rare, which are below the 145° F is done at your own risk.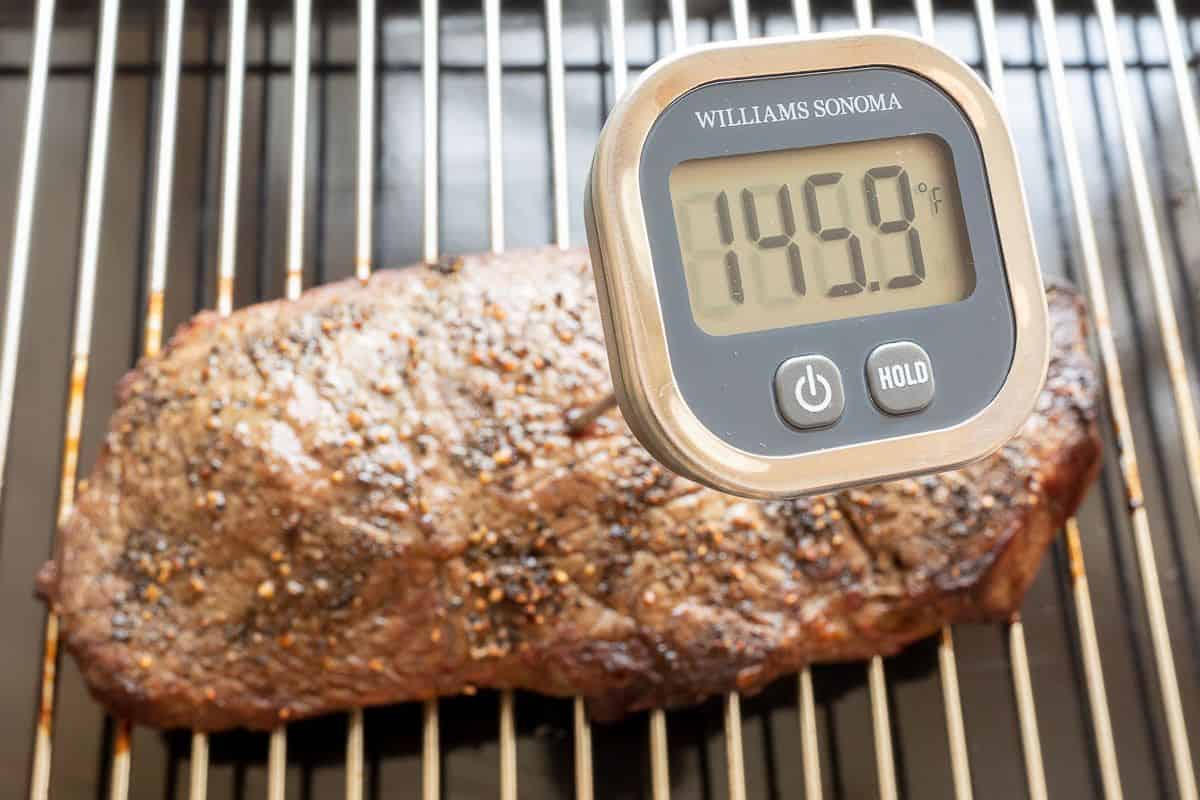 Steak Temperature and Doneness
Whether you like your steak rare or well done – or anything in between – it is important to cook it to a specific temperature. You can click here to print the easy guide comparing steak temperatures and their relative doneness.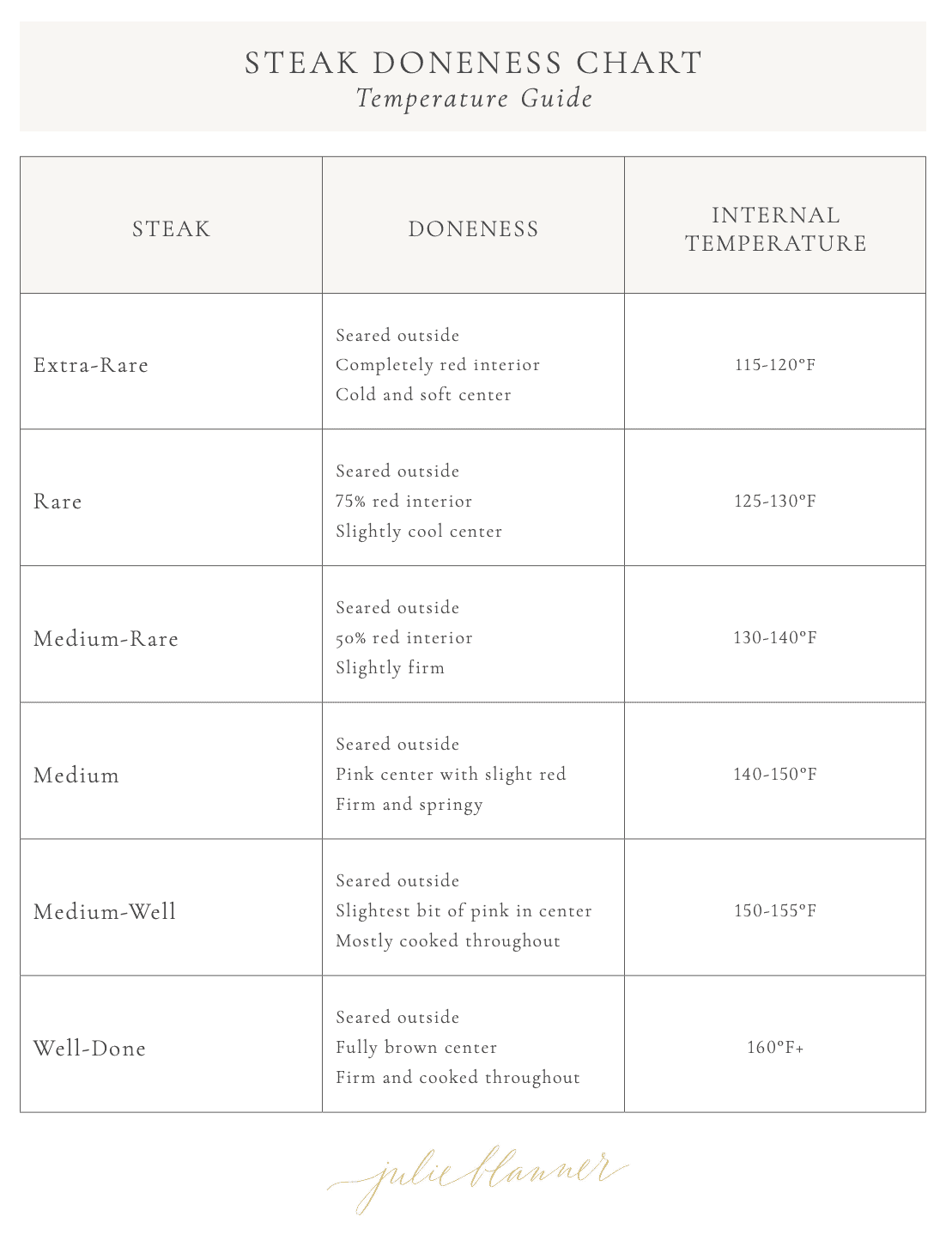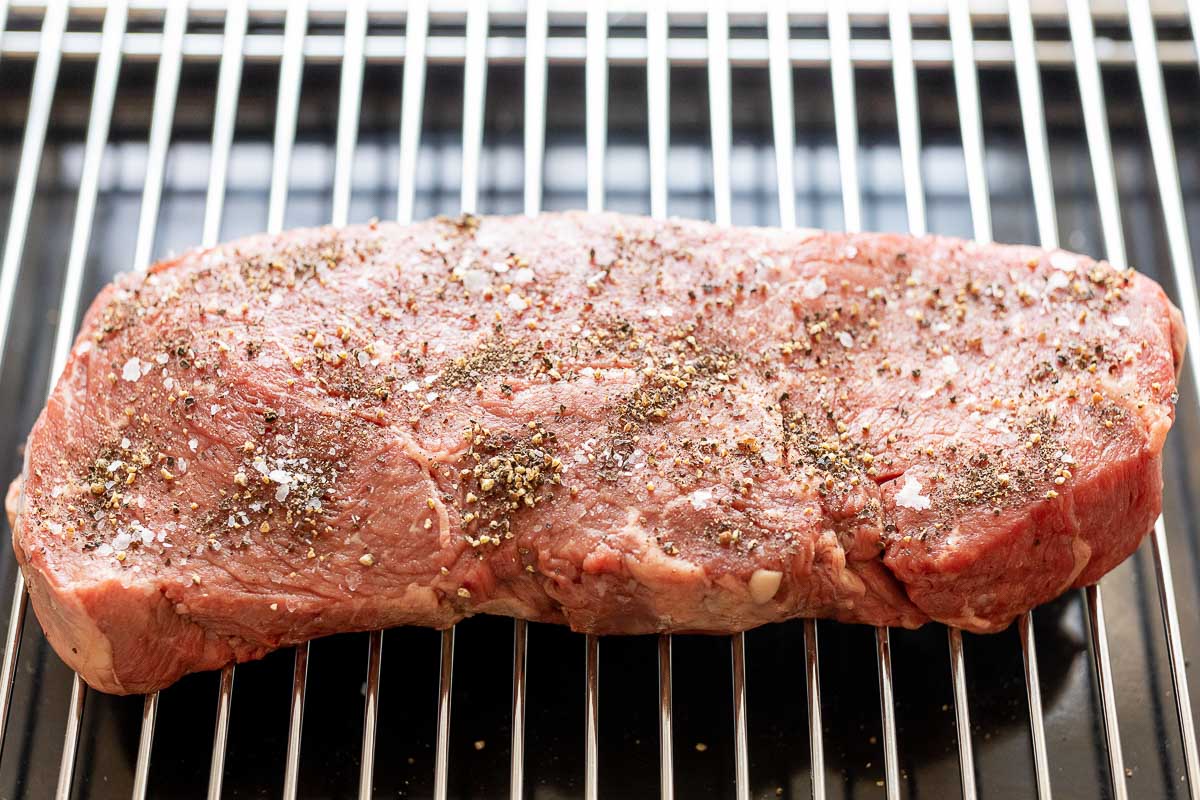 Rare – Remains red on the inside. Cook to an internal temperature of 125° F.
Medium Rare – Mostly pink on the inside, with just a touch of red. Cook to an internal temperature of 135° F.
Medium – Thick stripe of light pink in the inside, but more browned meat than pink. Internal temperature should be 145° (which is the FDA's recommended minimum temperature for steak).
Medium Well – Mostly browned meat with a thin stripe of light pink in the middle. Cook to inside temperature of 150° F.
Well Done – This is cooked until very little or no pink meat is left. Internal temperature is about 160° F.
To get to the correct temperature, pull meat from heat source 5° before it reaches its specific temperature. The meat will continue to cook while it rests for three minutes.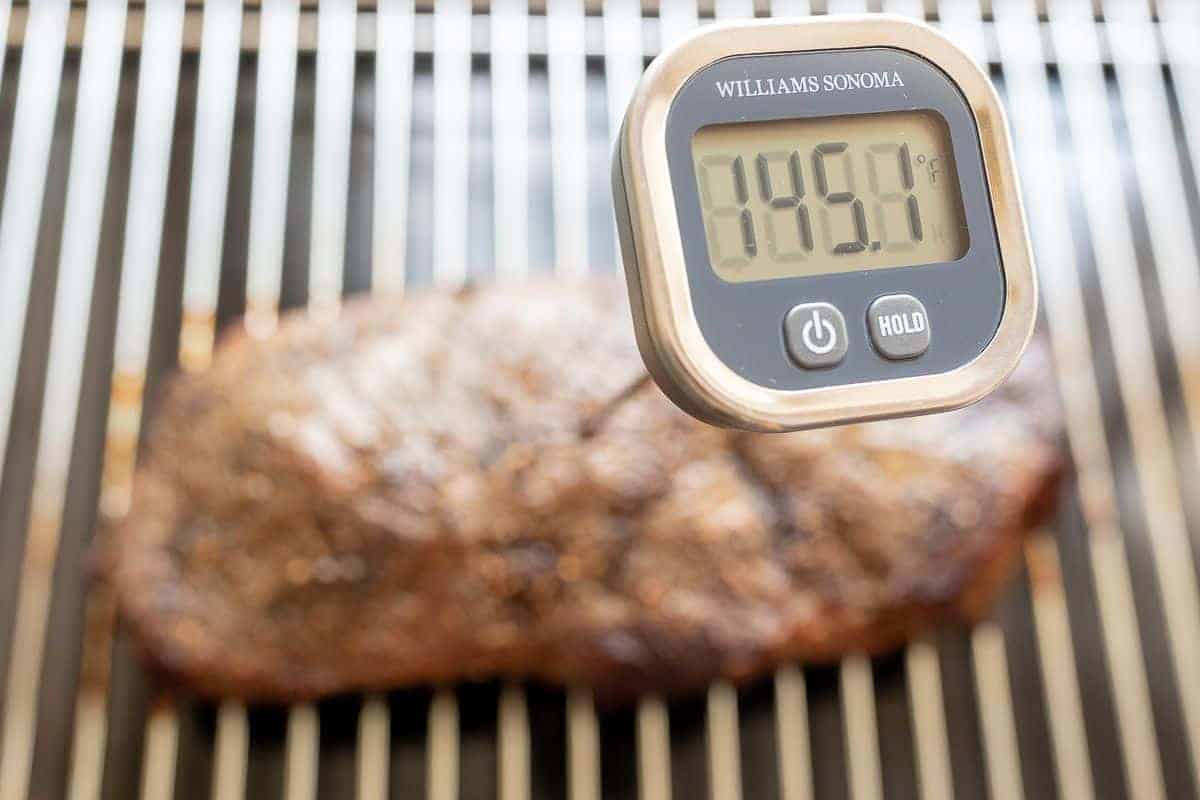 Tips for Cooking Steak
When you use an instant-read meat thermometer, stick the end into the center or thickest part of the meat. Avoid gristle, fat, and bones because those won't give an accurate reading for the meat.
Allowing the meat to sit at room temperature for 30 minutes helps it to cook more evenly.
Let the meat rest for 3-5 minutes after cooking. Remember to pull the meat off of the heat source 5° before it reaches its minimum temperature. It will continue to cook while resting.
Season well with your favorite seasonings.
Consider toppings like my delicious steak butter, homemade chimichurri, and red wine sauce.
If your steak is really thick you'll want to cook it at a lower temperature for longer to avoid burning the outside and drying out the steak.
Slice meat against the grain for the most tender steak morsels.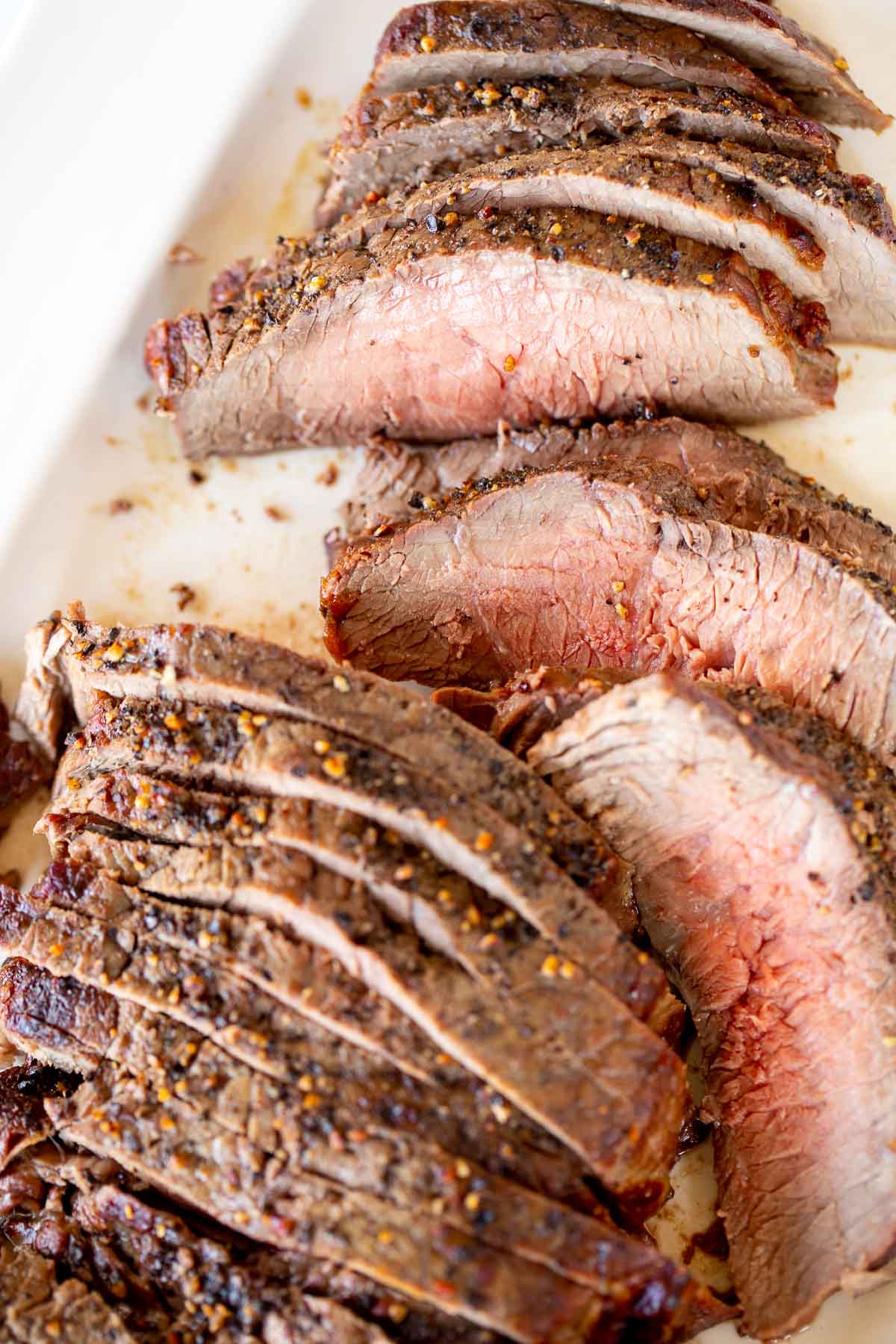 Frequently Asked Questions
What is the most tender steak to cook at home?
Cuts of steak that are tender and easy to find at your local grocery store are Tenderloin, Ribeye, New York, and Sirloin.
Is eating a rare steak safe?
While most of the bacteria on steak resides on the surface and is killed in cooking, the FDA still recommends cooking steak to 145° F, which is a medium-cooked steak. Cooking steak rarer than that should be done at your discretion.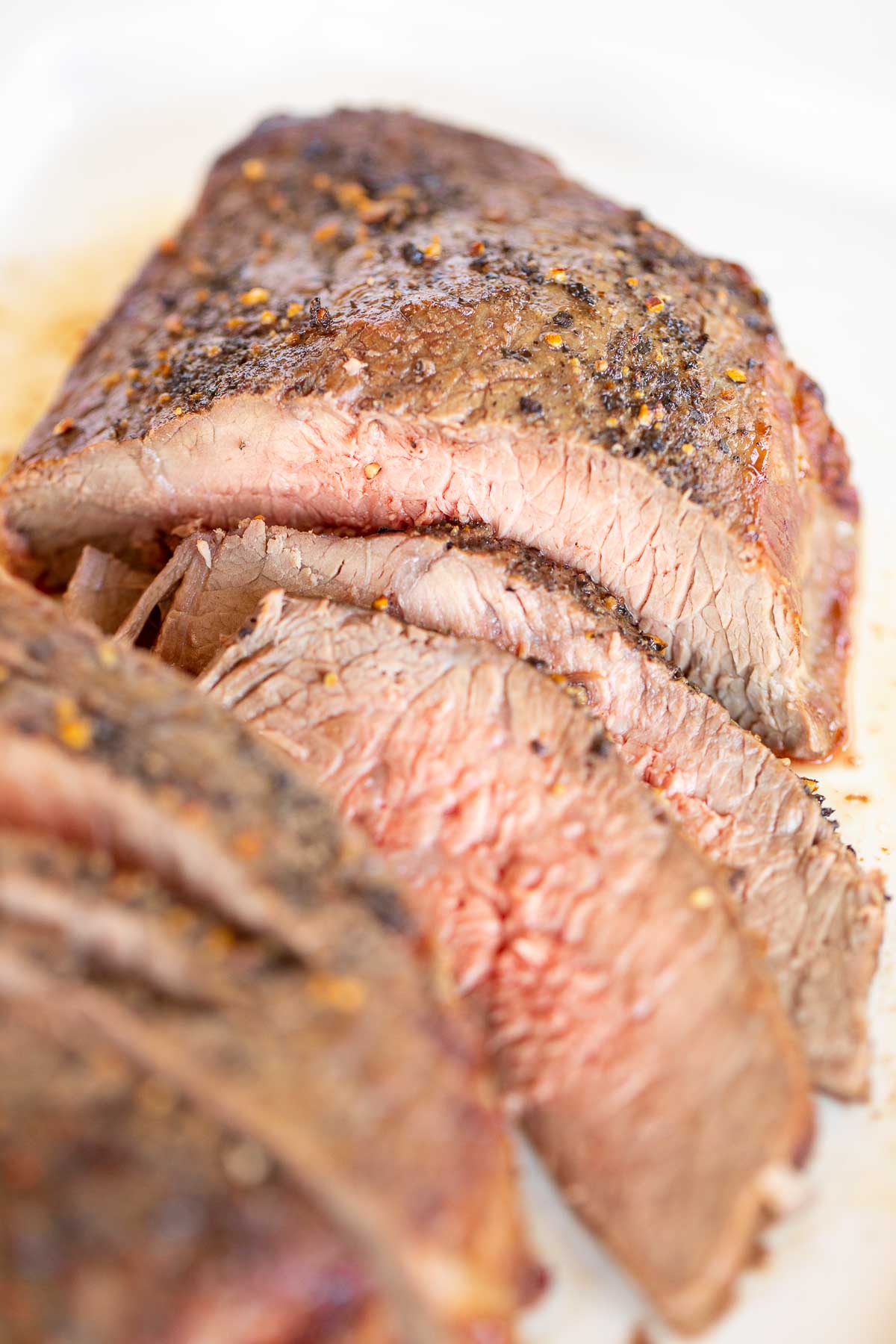 I can't wait to hear from you! I hope this simple printable chart inspires you to put steak on your dinner menu soon.