Served alongside any of your favorite dinner entrees, Italian Vegetables are seasoned and oven-roasted to perfection. Italian Roasted Vegetables are rustic, simple and so beautiful to serve!
You may not know this about me, but I am never one to jump on the bandwagon for new and expensive kitchen toys. I have never even enjoyed using a crock pot after all these years! (I know, I know, get with the program Julie!)
New gadgets can be intimidating to me- who needs all those buttons? I prefer to stick to what I know… and simple, delicious fresh food is where I'm comfortable. These oven roasted Italian vegetables are just that! Why complicate things, right?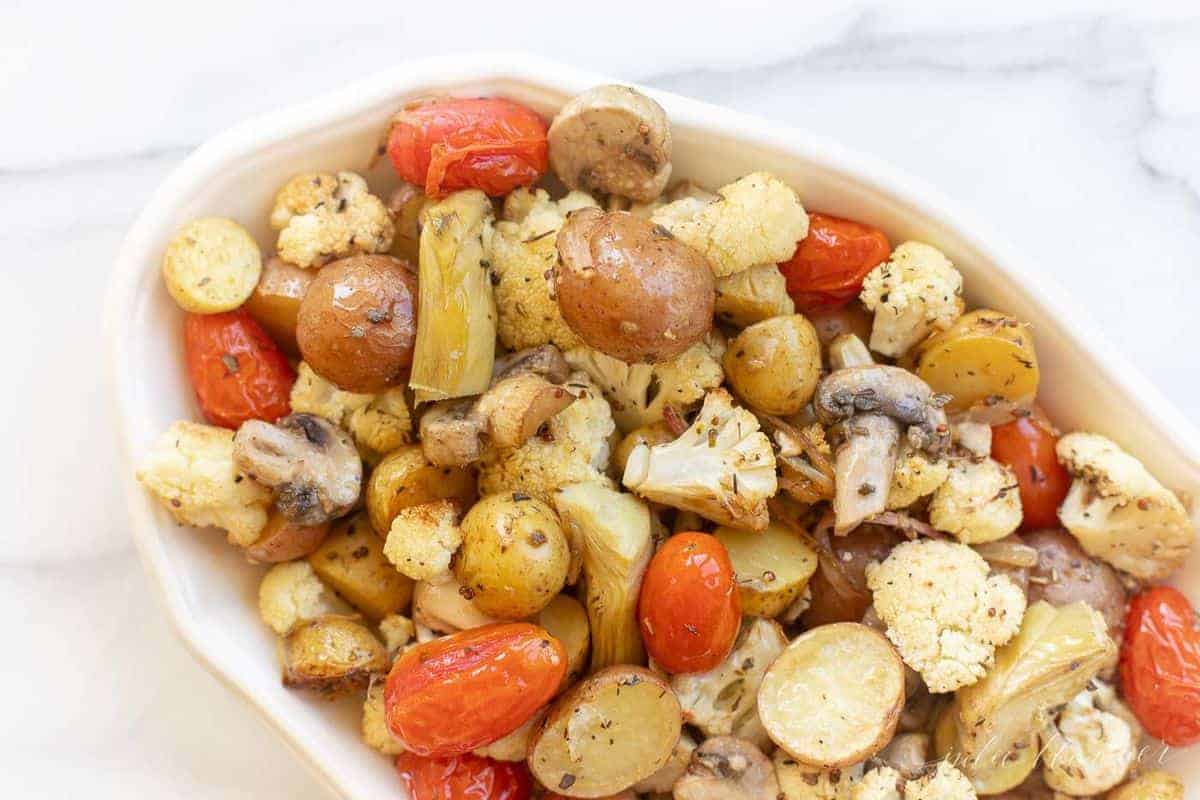 Sheet Pan Roasted Italian Vegetables
Even though I don't appreciate new gadgets, I am all about the shortcuts whenever they make my life easier. Using as few dishes as possible to get through dinner?
Now that's an easy kitchen hack that I can get on board with! Sheet pan dinners are a popular trend right now, and it's easy to see why.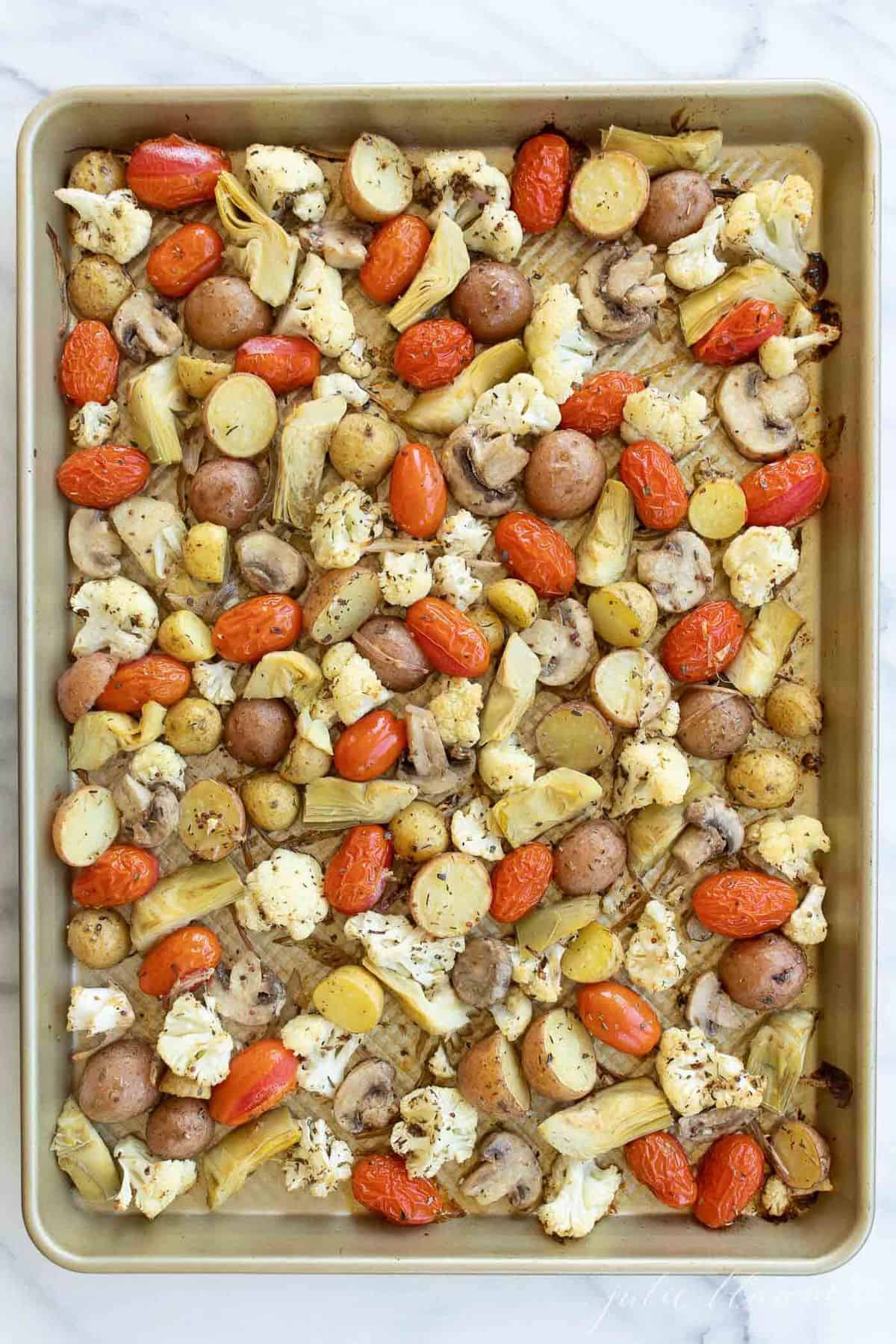 These Italian roasted vegetables are the ultimate compliment to any of your favorite entrees! They are healthy, savory and perfectly caramelized to a golden, crispy finish.
It can be difficult to find Italian Side Dishes to go with all the pasta we love to eat, and these fit the bill! They also serve beautifully with protein like fish, chicken and even steak.
One of the things that I love so much about making roasted sheet pan vegetables is that it's such a flexible way to get a delicious veggie side dish together.
I am always trying to move my girls beyond the basic kid-friendly potatoes carrots combination. You can use up whatever you have in your refrigerator, and customize to your preference. What could be easier?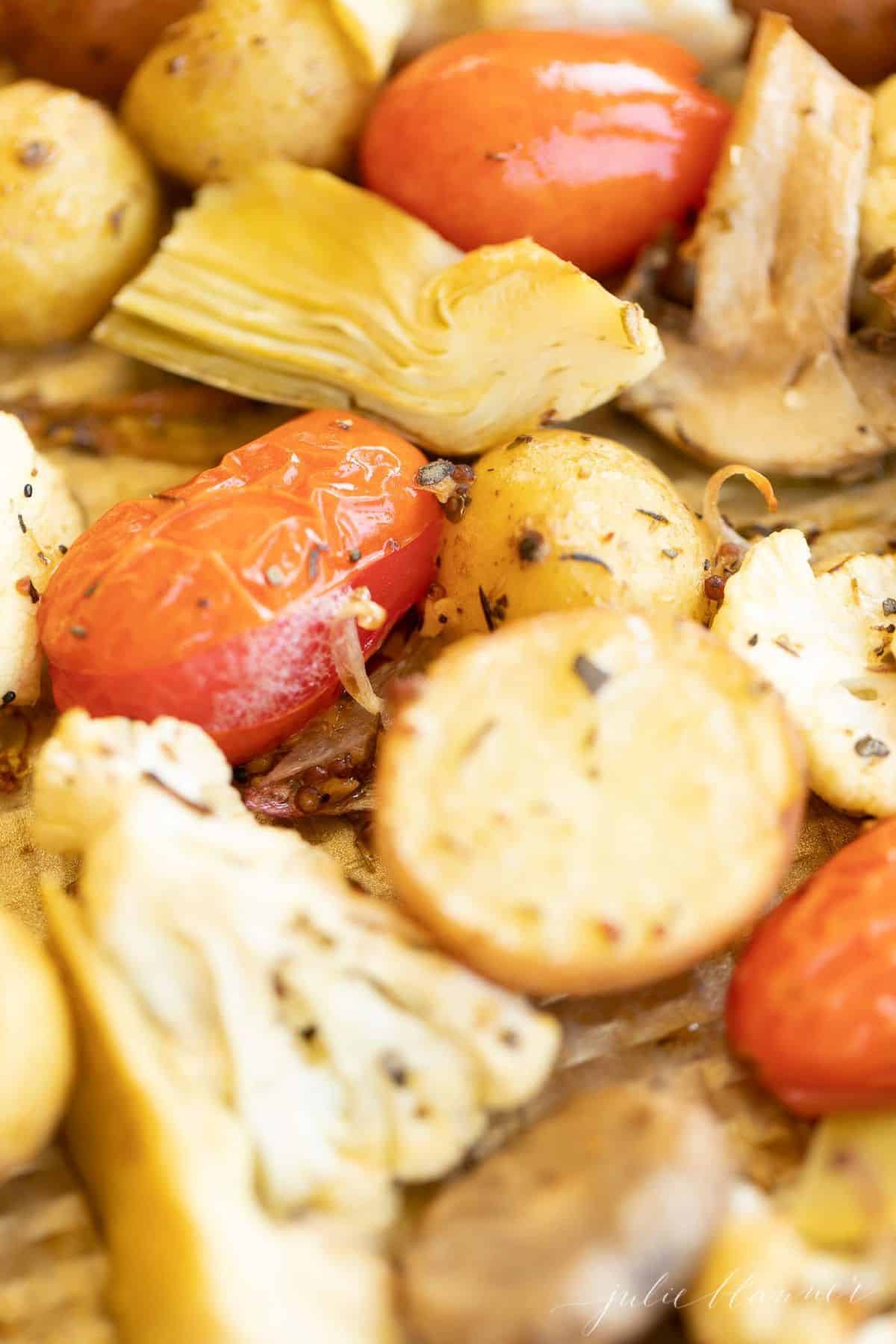 Ingredients For These Italian Roasted Vegetables
For these Italian vegetables I chose the following vegetables:
Cauliflower– simply cut the florets into large pieces for this dish!
Shallots– I love the flavor of shallots so I included them here. Any kind of onion you have on hand will work well here too.
Fresh mushrooms– I love the texture of baby bella mushrooms and they work beautifully here! You can use any kind you'd like, but I would stick with fresh- skip the can!
Baby potatoes– you don't have to use the baby size, but I love the texture and color. If you use full size potatoes, just be sure to cube into a smaller shape.
Grape tomatoes– cherry tomatoes would also work well here, as would large chunks of any kind of fresh tomato.
Artichoke hearts– these add such incredible flavor to any kind of Italian vegetable dishes. I prefer to purchase the quartered, canned artichoke hearts to keep things easy.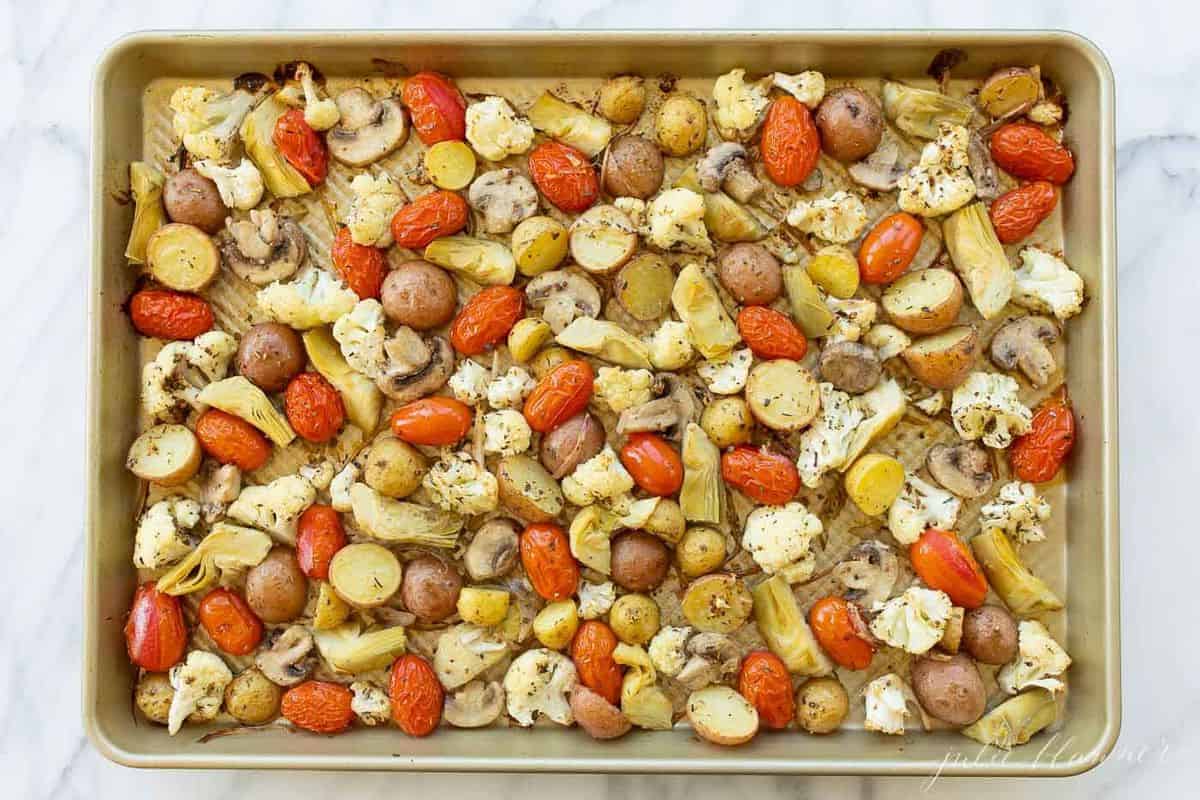 Your marinade/sauce will include the following ingredients:
Olive oil– I know you hear it from me all the time, but good quality extra virgin olive oil is so important!
Vinegar– I have been on a kick with apple cider vinegar, but red wine vinegar will work beautifully here too.
Dijon mustard– it's going to give your veggies that spicy, vibrant kick.
Dried thyme– any herb can work here, but the thyme adds a rich fragrance that smells so good in the oven!
Dried oregano– again, this is another fragrant herb that gives these veggies the Italian flavors we all crave.
Salt and pepper– we love the large, crunchy cracks of black pepper. Fine sea salt is perfect to work into all the crevices of these Italian vegetables.
Garlic– here's where I take a shortcut! Minced garlic from a jar works well for us, but feel free to mince your own.
Optional- Parmesan cheese and red pepper flakes sprinkled onto these veggies after they come out of the oven really take them over the top!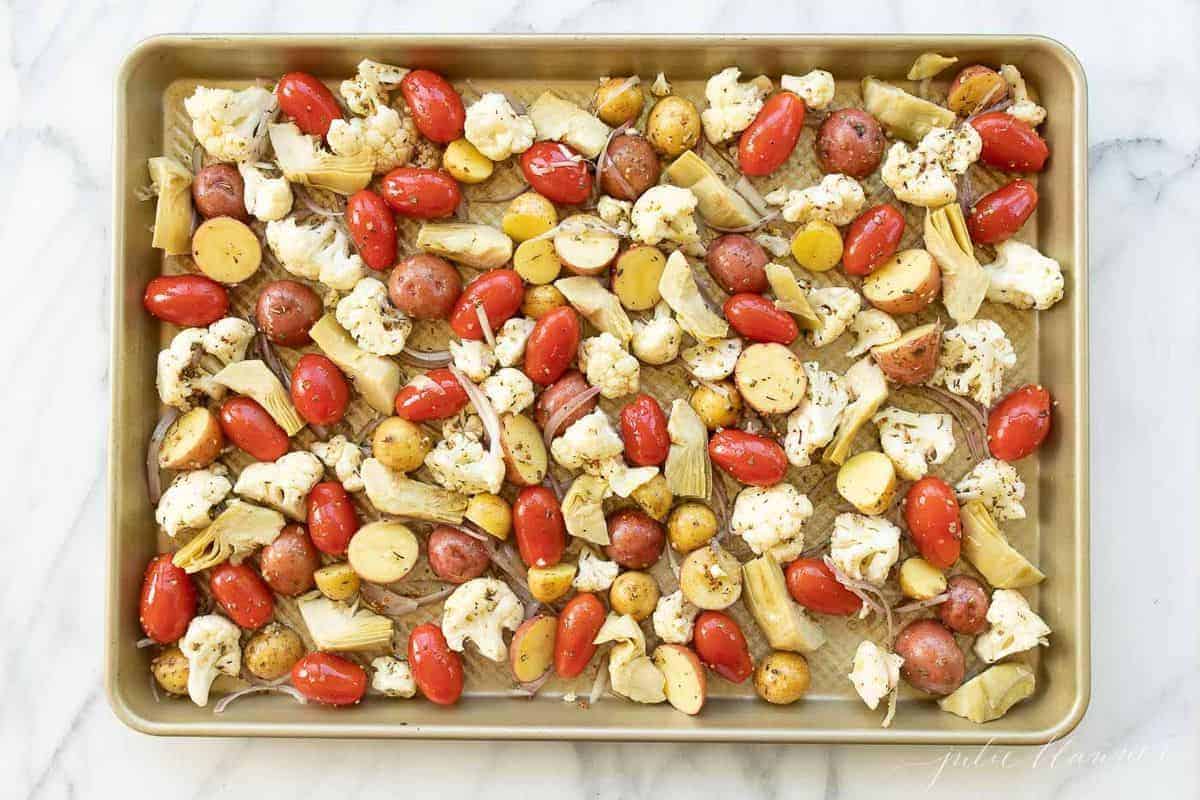 How to Make These Easy Italian Vegetables
Oven roasted vegetables are so delicious because they are perfectly caramelized. Roasting them in the oven at a higher heat gives them a delicious crunch and brings out the natural sweetness in many veggies.
Prep the marinade. In a small bowl, mix your herbs, mustard, oil and vinegar to create a fragrant marinade.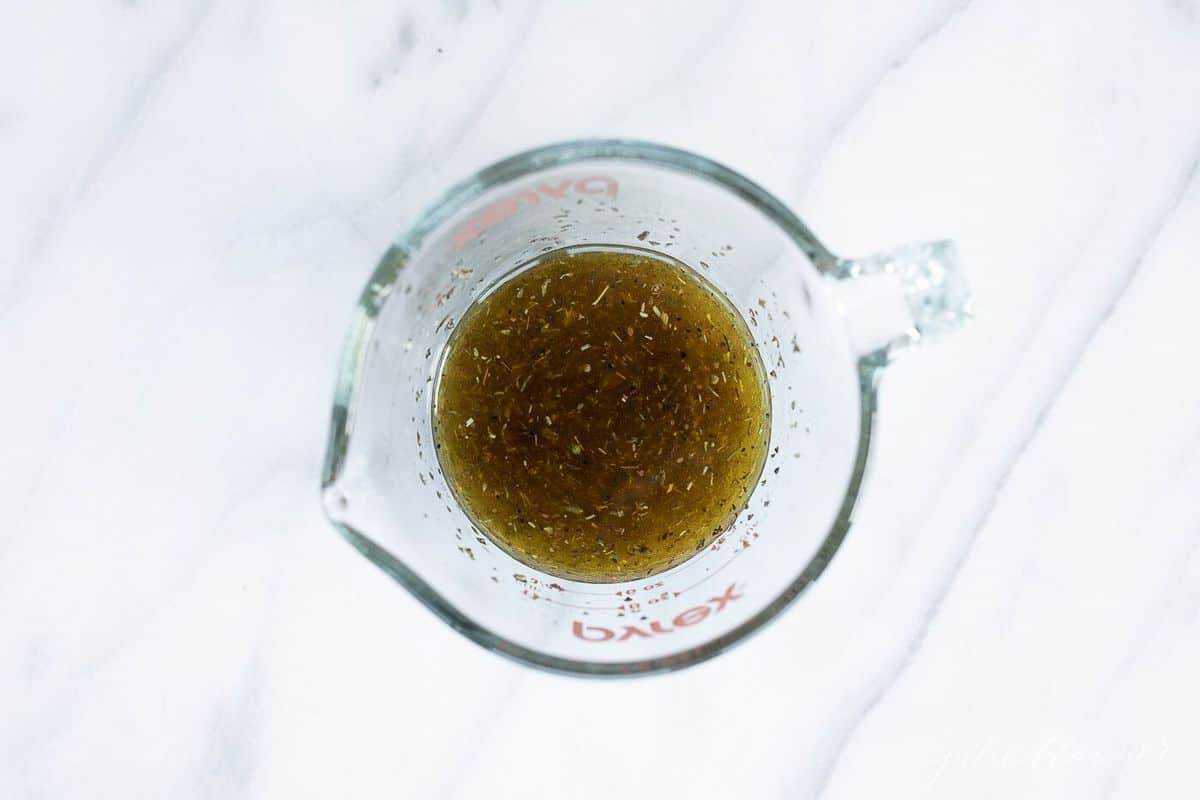 Prep the vegetables. Time for slicing and dicing! I try to get everything to a somewhat uniform size so that it cooks evenly in your baking pan.
Toss the vegetables- minus the mushrooms. Make sure to get all your veggies covered in this delicious marinade! It's what helps them soak in all that incredible flavor.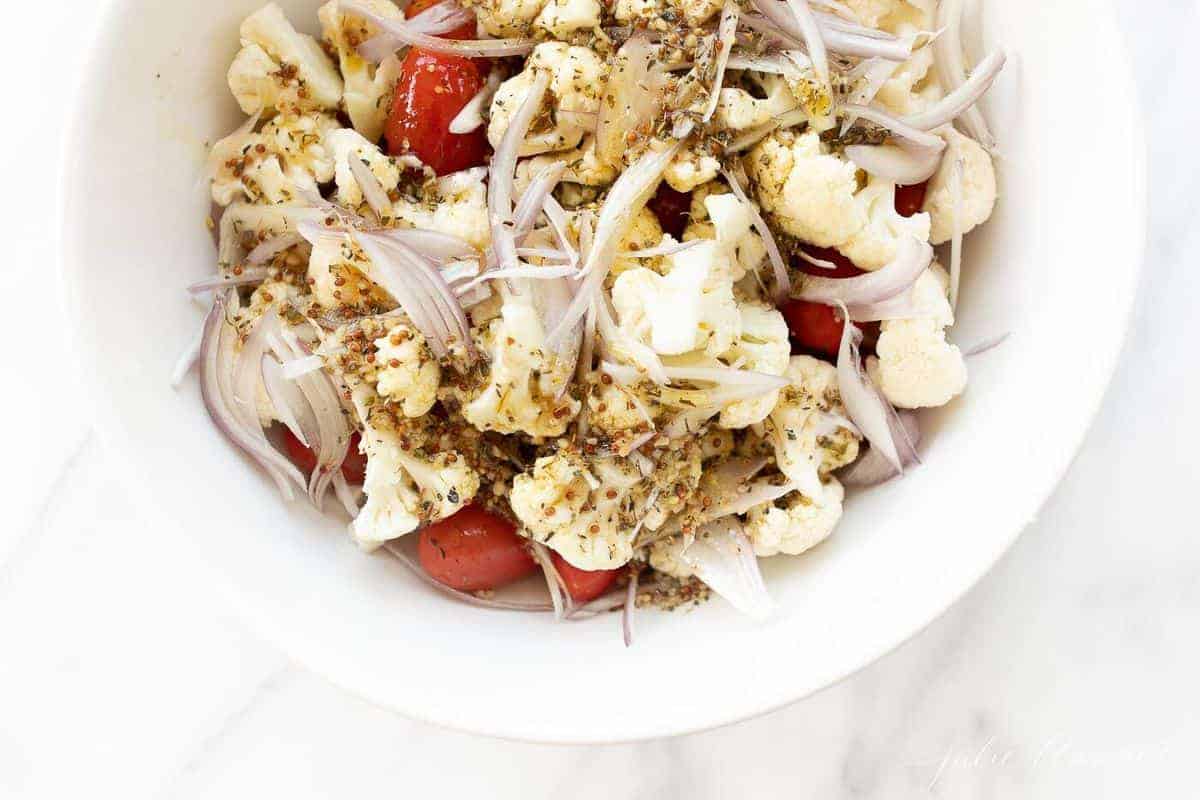 Lightly oil your baking pan. (Side note- my favorite gold sheet pan is over in the shop, but this pan is pretty and works well here, too!)
Add all your vegetables to the pan, (minus the mushrooms) spreading them in a single layer across the surface.
Turn your vegetables. At the halfway point- approximately 10 minutes into baking, you'll want to flip the veggies.
Add your mushrooms! They don't cook for as long, and this 10 minute point is the perfect time to add them.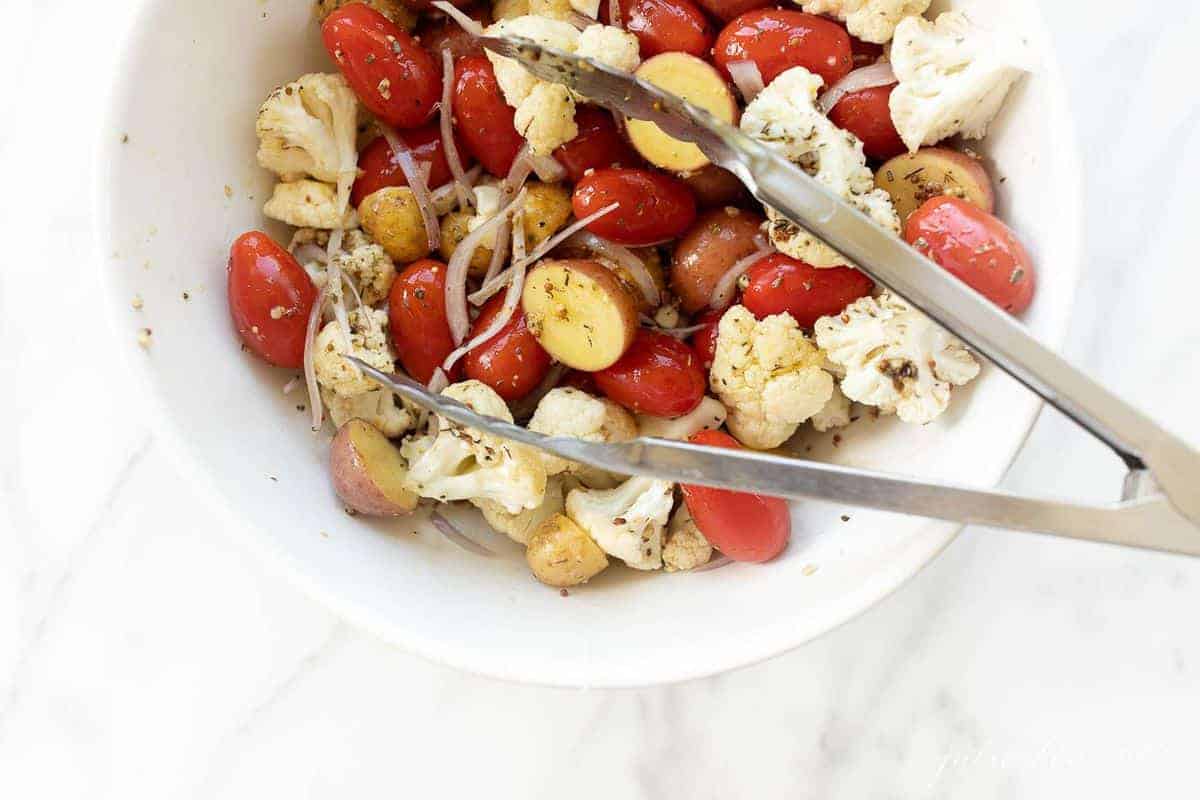 Italian Vegetable Dishes: Variations and Tips
As I mentioned, the best part about this simple recipe is that you can vary it completely to your taste. Kids hate cauliflower? Fine!
Husband wants carrots? Great! Throw them in there and experiment! You can't go wrong in my opinion.
The most important thing to consider is that your timing for softer items (such as mushrooms) should be shorter, or you'll risk over-cooking one veggie and under-cooking another.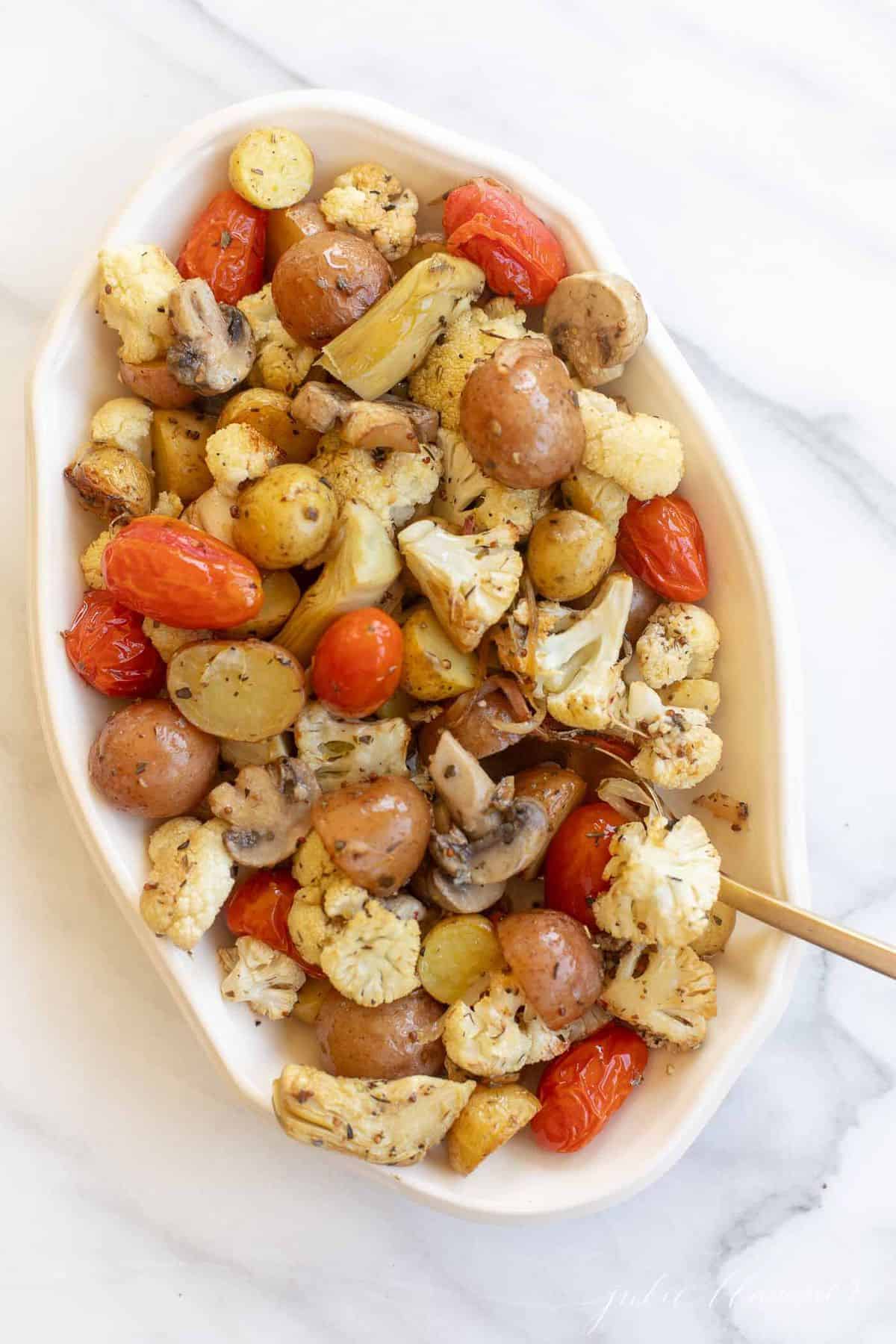 Other Veggies That Will Work in Italian Vegetable Dishes
Zucchini
Yellow squash
Broccoli
Sweet potatoes
Brussel sprouts
Beets
Carrots
Asparagus
Peppers
Eggplant
Butternut squash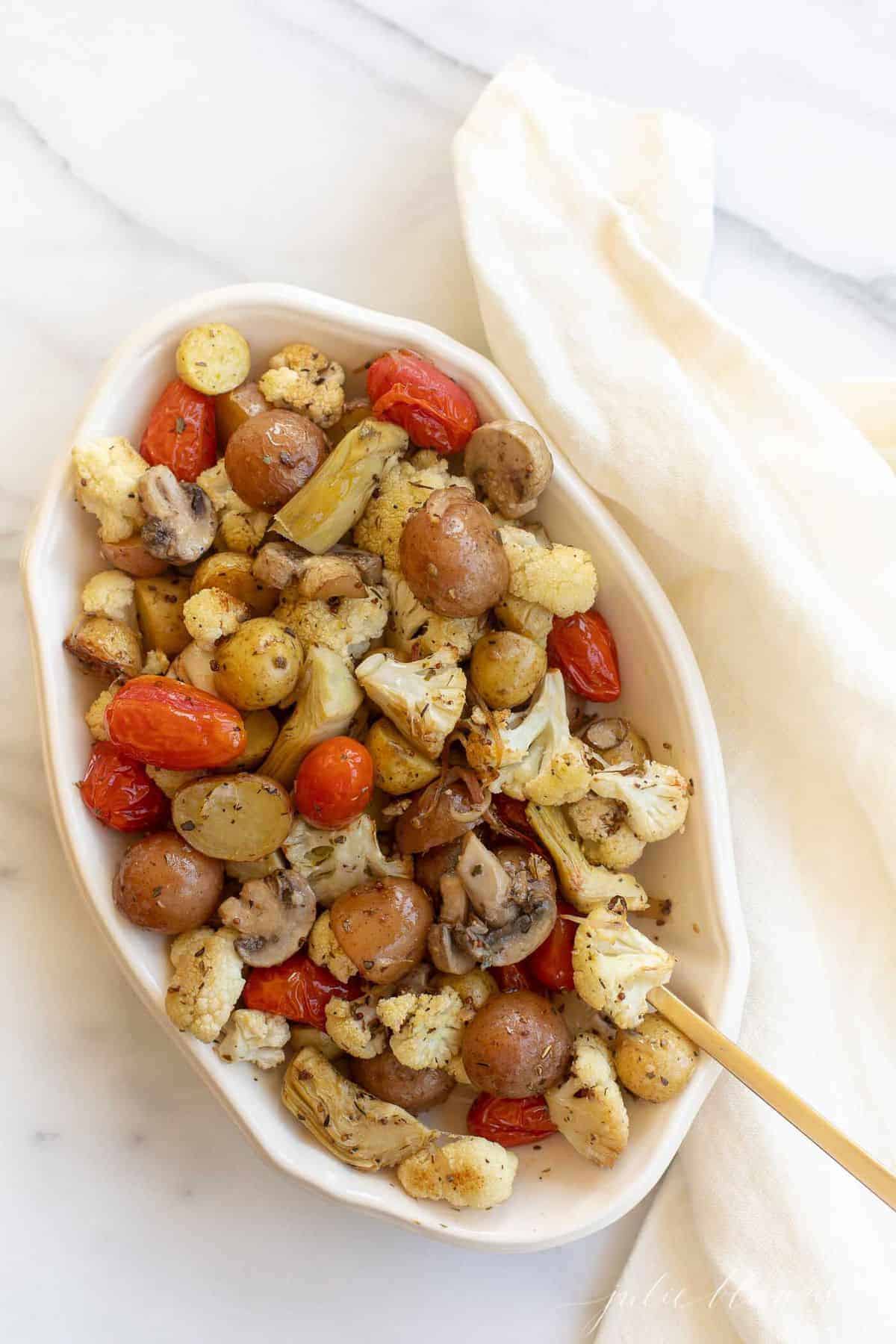 Tips to Achieve the Most Delicious Italian Vegetables
Shake/stir them up in the sauce really well! Soaking up the marinade is what takes the flavor up a notch!
Reserve some marinade for your mushrooms. They will go in at the halfway point of cooking!
Don't skip the fresh grated Parmesan cheese! Adding this at the end gives the veggies a salty, fragrant finish.
If you like a little spice, add some red pepper flakes at the end too! My girls don't appreciate the spice so I keep it to a minimum and add it at the end.
Serving Suggestions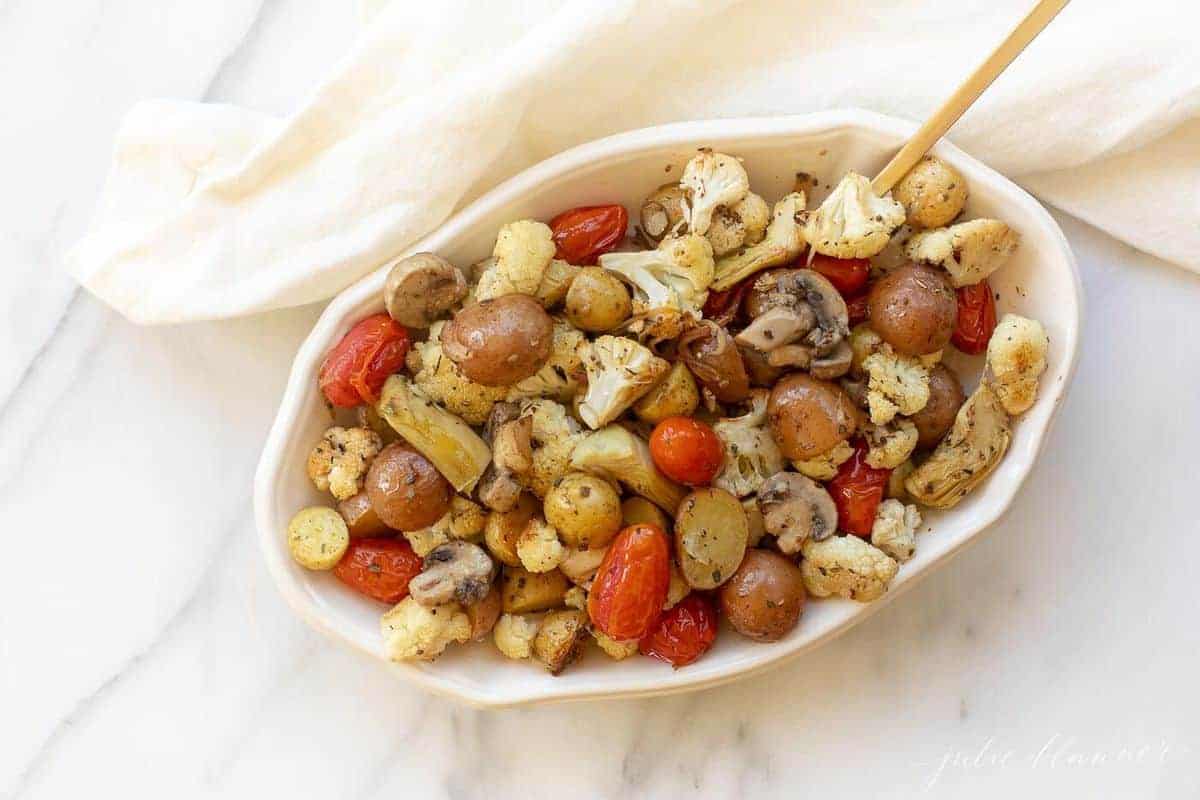 What's your favorite way to get veggies into your daily meals? If you make these Italian vegetables, please come back and leave a review. I love hearing from you!
More Side Dishes to Love
Do you struggle to find easy side dishes the whole family will enjoy? Here's a few that are tried and true!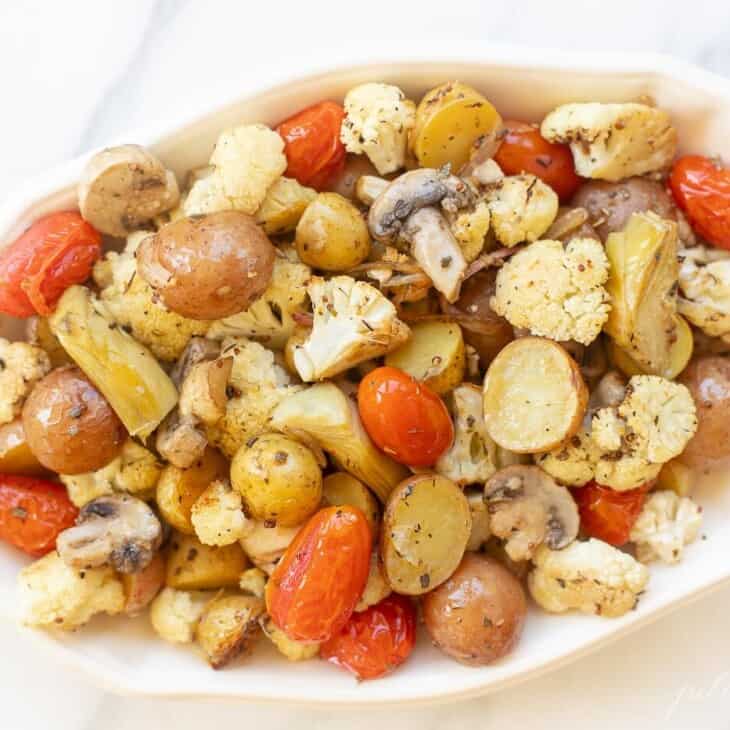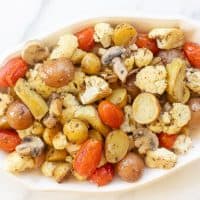 Italian Vegetables
Served alongside any of your favorite dinner entrees, Italian Vegetables are seasoned and oven-roasted to perfection. Italian Roasted Vegetables are rustic, simple and so beautiful to serve!
Ingredients
Marinade
Vegetables
1

can

can of quartered artichokes

1

package

mushrooms

1

shallot

chopped

1

head

cauliflower

1.5

pounds

baby red potatoes

sliced in half

10.5

ounce

grape tomatoes
Instructions
Preheat your oven to 400 degrees.

Mix your herbs, liquids and seasonings in a small bowl. Set Aside.

Cut your vegetables into small pieces. Keep the size as uniform as possible to ensure even baking. Hold your mushrooms back- don't mix with the rest of the veggies!

Place on baking sheet (lined in foil or parchment for easy clean-up).

Roast for 20 minutes, tossing halfway through.

At the halfway point, add your mushrooms (They've been marinating in any remaining sauce).

When the florets begin to show a golden brown edge and become soft, remove from oven.
Tips
Use aluminum foil (sprayed with olive oil) for easier clean up.
Be sure to withhold mushrooms until the halfway point!
Brush veggies with any remaining marinade at halfway point.
Any vinegar will work! Pick your favorite.
Be sure to see notes about other Italian vegetables that will work- experiment!
Calories:
310
kcal
|
Carbohydrates:
31
g
|
Protein:
7
g
|
Fat:
19
g
|
Saturated Fat:
2
g
|
Sodium:
750
mg
|
Potassium:
1061
mg
|
Fiber:
7
g
|
Sugar:
6
g
|
Vitamin A:
1073
IU
|
Vitamin C:
78
mg
|
Calcium:
59
mg
|
Iron:
2
mg
Estimated nutrition information is provided as a courtesy and is not guaranteed.
Explore More