Steak butter is hands down the best way to top a steak! The rich flavor of butter and fresh herbs combine to enhance steak's natural savor and flavor. Made in just minutes, herb butter for steak will soon be a favorite item in your cooking.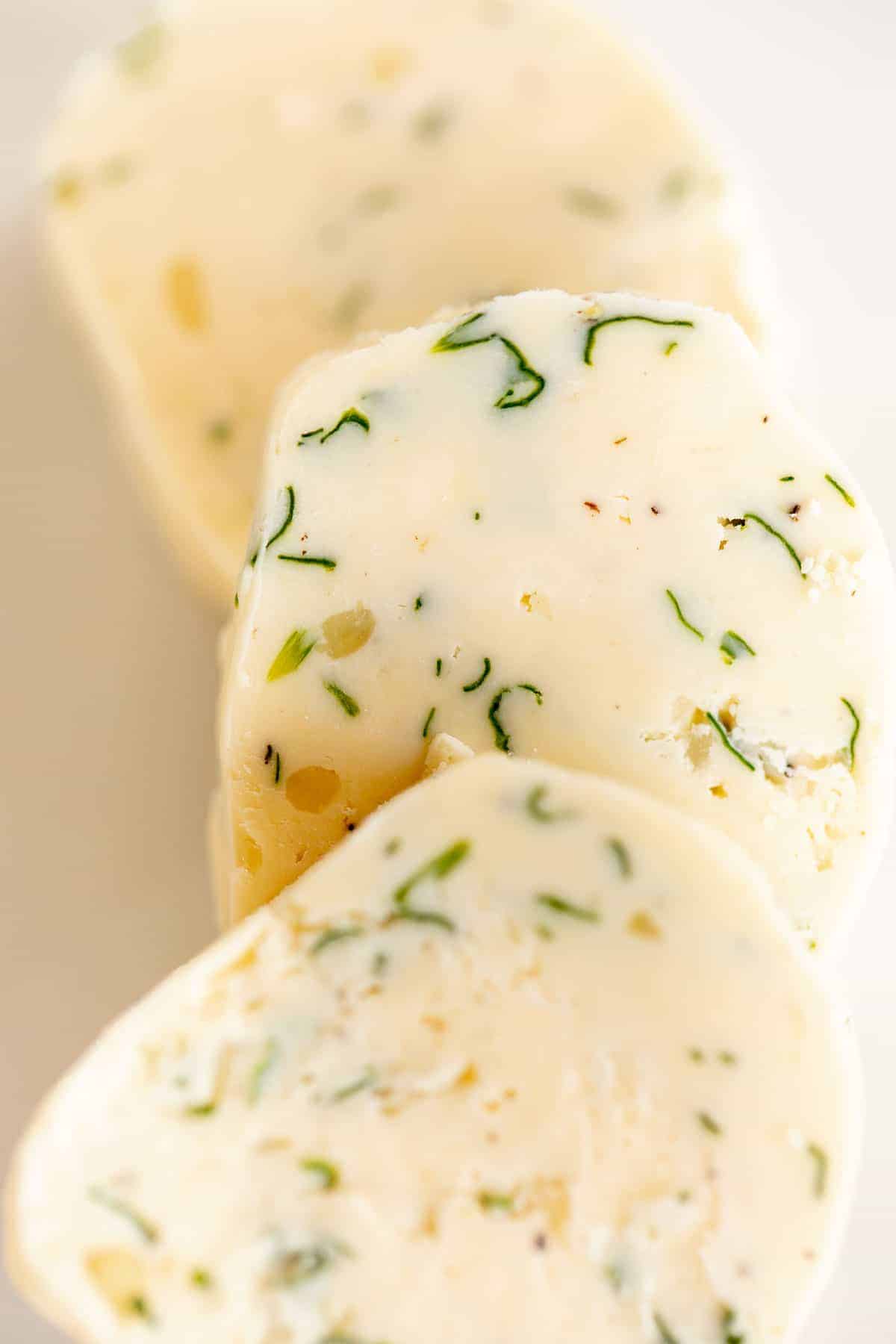 Just the word steak is enough to make mouths water – from the tender inside to the charred and crispy outside, steak is robust and delicious. You don't want to mask the flavor of steak with an overpowering sauce, but steak does need just the right amount of seasonings to really enhance its natural flavor.
That's where steak butter comes in! Seasoned with fresh herbs, garlic, pepper and salt, steak butter melts into the steak and mingles with the natural juices to create intriguing flavor profiles that will make you savor every bite.
As a bonus, the herb butter for steak can flavor and soften the char on the outside of the meat, making it more delicious than ever! Using steak butter is an all-around great way to enjoy your steak and other meats.
Butter makes everything better! From sweet butter, chocolate butter and strawberry butter for pastries to savory butters for steak, potatoes, veggies and more! It's even amazing on a dinner roll or piece of crusty artisan bread.
Why You'll Love This Recipe
Easy to Make in 5 Minutes
Customize the Herbs
Use on a Variety of Meats
Tastes Amazing
Steak Butter Ingredients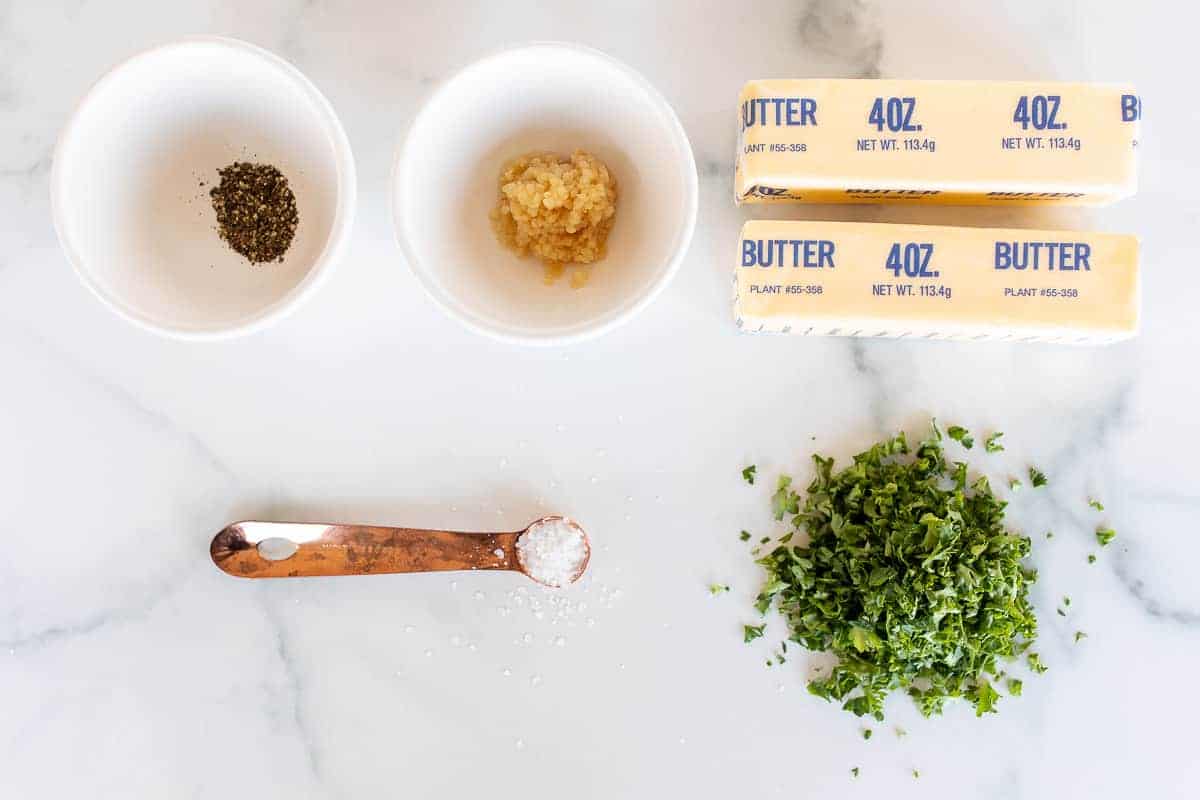 Butter – Salted or unsalted, softened. (You can learn how to soften butter quickly here.)
Fresh Herbs – I like to use parsley for a classic herb butter, but you can use oregano, chives, green onion, or rosemary as well.
Garlic – Minced garlic or garlic cloves, minced. You can find a complete list of Garlic Conversions here, and get the simplest techniques for how to peel and mince garlic here.
Salt – Thick flakes of salt add texture and flavor to this amazing butter. Optional: You can eliminate if using salted butter.
Pepper – Thick flakes of freshly cracked ground black pepper offer the most robust flavor and texture. You can use ground black pepper in a pinch.
Variations
Zest – Add 1 tablespoon lemon, lime or orange zest to add bright flavor.
Worcestershire Sauce – Add 1 tablespoon Worcestershire sauce.
How to Make Herb Butter for Steak
Soften butter to room temperature in small bowl.
Add herbs, garlic, pepper, and salt. Mix until combined.
Optional: Refrigerate until firm. Scoop into a ramekin or roll in parchment.
Scoop a spoonful (or 2) or slice and place on top of hot steak.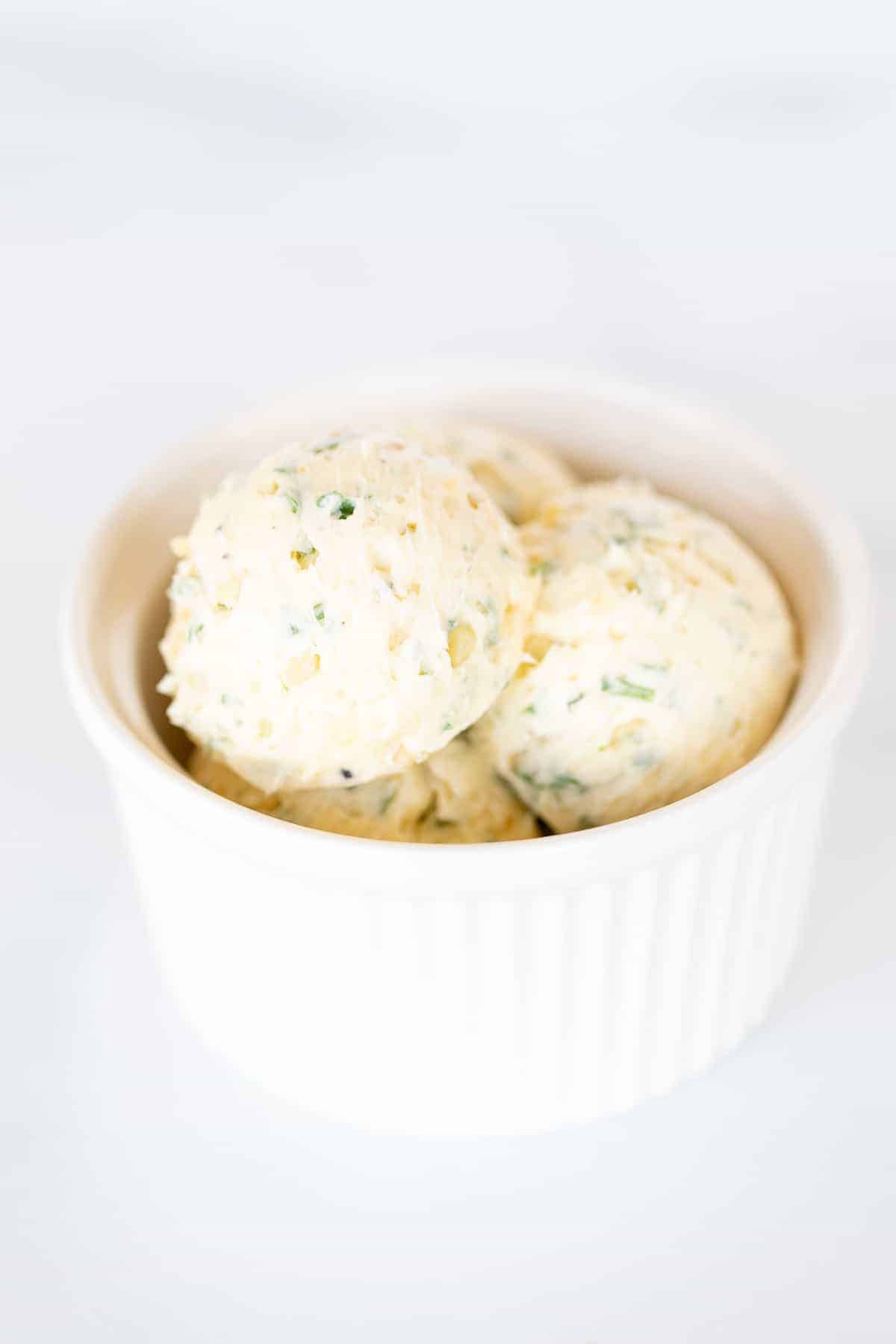 For a highly detailed steak temperature reference, be sure to head over to this Free Printable Steak Temperature Chart – so handy!
More Serving Suggestions
Garlic herb butter is amazing on so many things! These are just a few alternative serving suggestions!
Tips
Use fresh herbs, garlic, and pepper for the most intense flavors.
Soften the butter before mixing.
Chill before serving so it doesn't melt too quickly.
Scaling up, down or substituting? You'll love this printable Measurement Conversion Chart!
Shortcuts
Use a food processor! It saves time from chopping herbs or mincing garlic.
You can use dried herbs in a pinch, but let the herb butter sit out for an hour or so for the herb flavors to be absorbed into the butter.
Wash, dry, and chop herbs ahead of time. Store for a couple of days until ready to use.
Why put butter on steak?
Steak butter seeps into every bite softening the charred exterior, making it even more tender and flavorful.
When do you apply butter on steak?
Just out of the oven or off the grill.
How to Store
At Room Temperature – This is made mostly of butter, so it can follow the same rules. Let it sit out at room temperature for a day or two, but if the room is too hot the butter could go rancid. So it is best to store in the refrigerator.
Refrigerate – Store in the refrigerator for a couple of weeks. Keep it covered so it doesn't absorb flavors from the fridge.
Freeze – Store herbed butter in an airtight container in the freezer for up to 4 months. This will ensure that the herbs still have their bright flavor and the butter hasn't absorbed any other flavors from the freezer. Thaw in the refrigerator or at room temperature before use.
What to Do with Leftovers
Serve leftovers on other meats.
Mix herb butter with pasta and parmesan.
Spread on bread and rolls.
Use in the bottom of frying pan to fry an egg.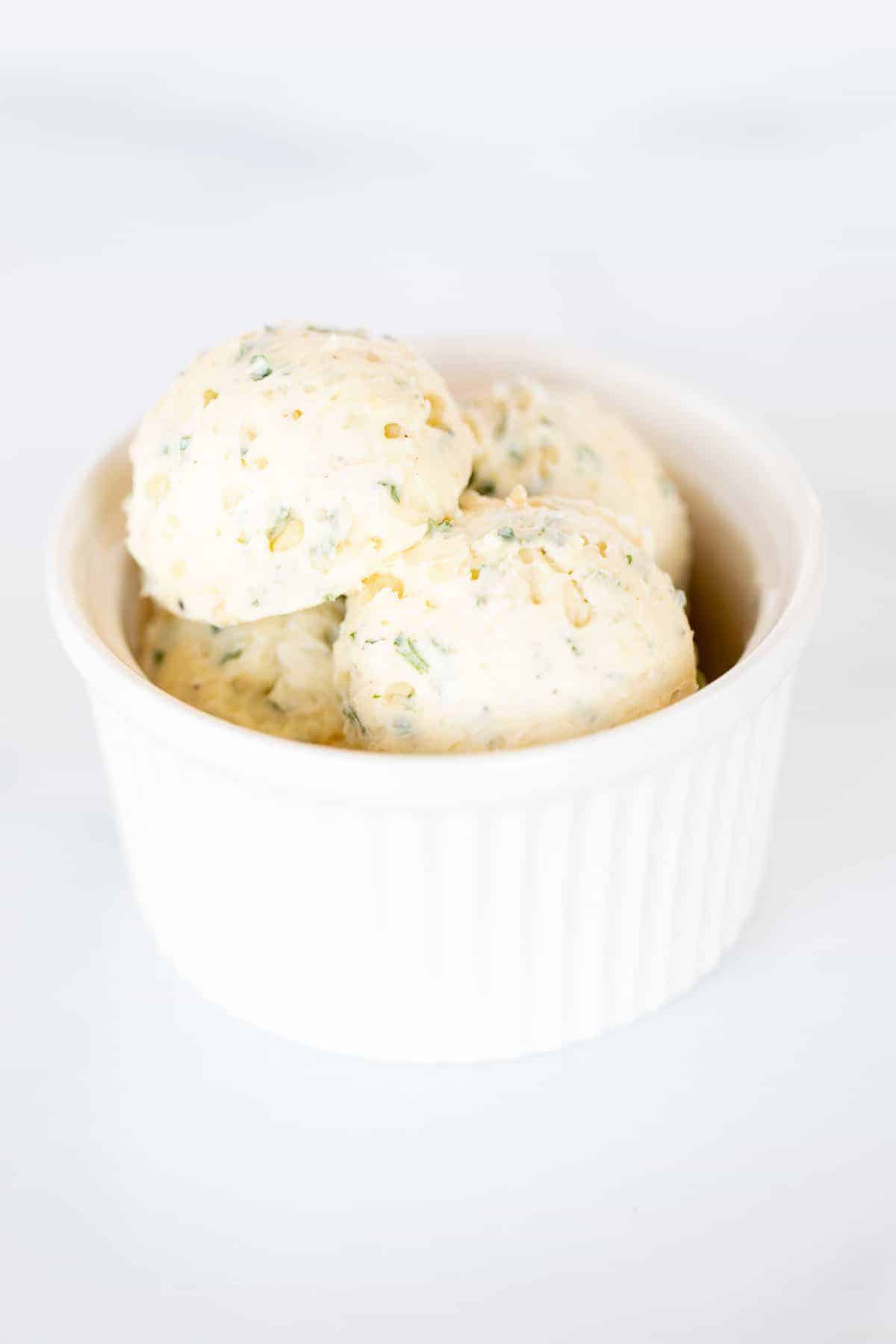 How to Serve
Serve in small bowls at place settings so everyone can use herb butter for steak with their preferred amount. Be generous so they can also butter bread, potatoes, and vegetables!
For a fun way to serve: when making, place butter on wax paper. Wrap the paper around the butter and mold to form a log. Twist the ends of wax paper together. Chill. When ready to use, Slice the log-shaped butter into round pats. Place pats on plate to serve or place directly on the steak.
Learn more about the best Side Dishes for Steak here.
Dietary Considerations
Gluten Free
Contains Dairy
Nut Free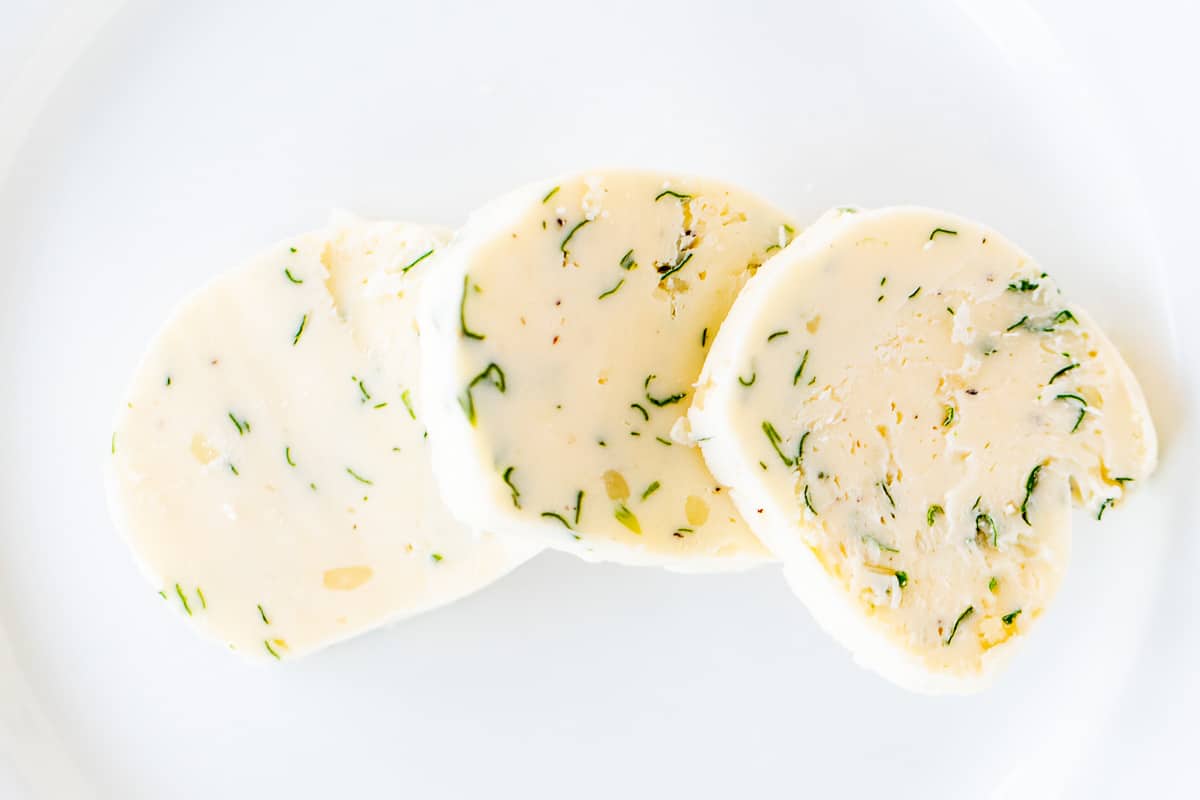 Hungry for more easy recipes? Sign up for my free recipe club and have amazing recipes delivered directly to your inbox each week!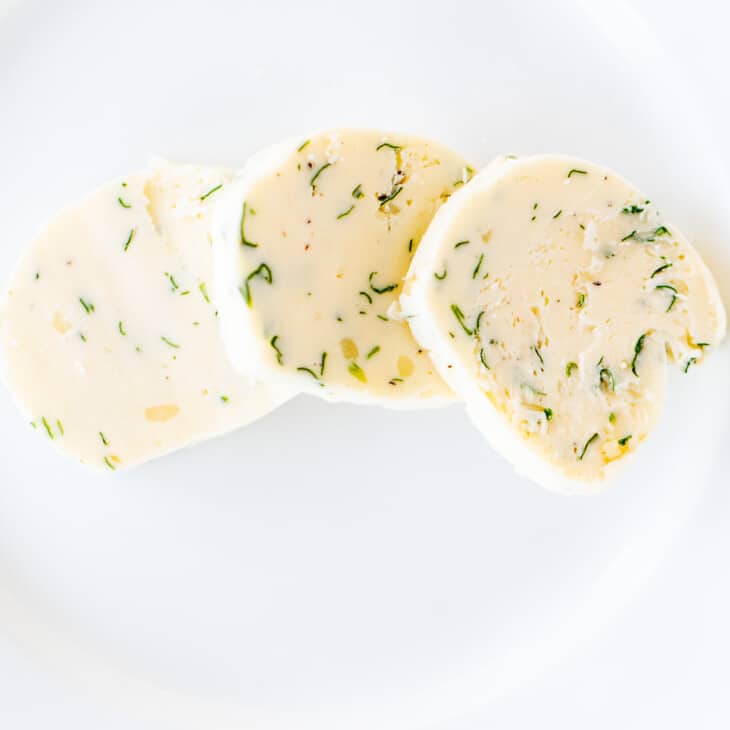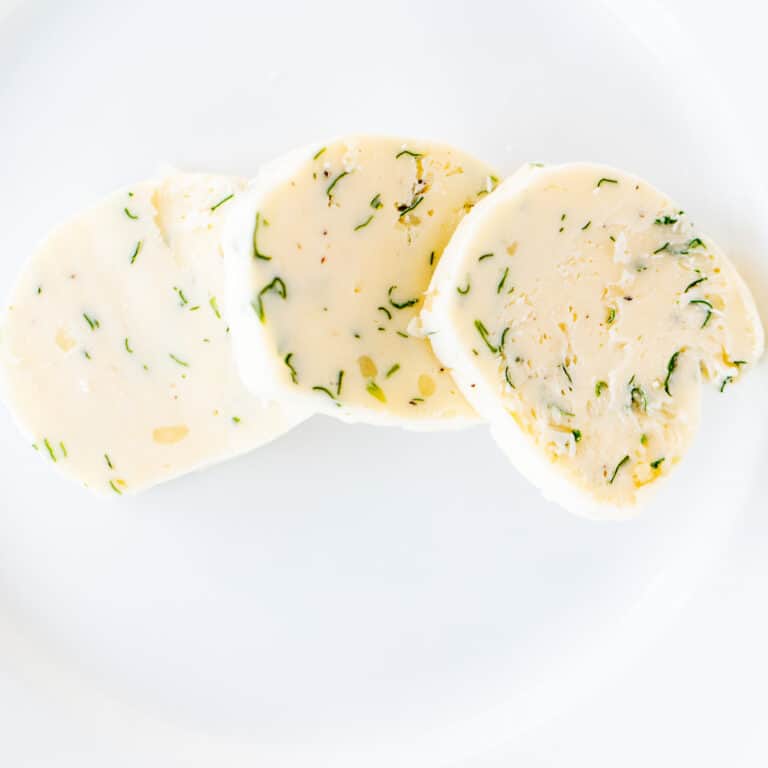 Steak Butter
A delicious herbed butter to spread on steak and other meats, vegetables, potatoes, bread, and more!
Ingredients
½

cup

butter

softened

¼

cup

fresh parsley

destemmed and chopped

1

tablespoon

minced garlic

or 3 cloves minced

½

teaspoon

salt

thick flakes preferred, eliminate if using salted butter

¼

teaspoon

black pepper

fresh ground preferred
Instructions
Chop herbs by hand or in a food processor.

Combine all ingredients in a medium bowl or food processor and combine.

Serve immediately or chill until firm.
Tips
Substitutions and Variations
Fresh Herbs – Substitute with oregano, chives, green onion, or rosemary.
Zest – Add 1 tablespoon lemon or orange zest.
Worcestershire – Add 1 tablespoon.
To Store
At Room Temperature – On the counter for 1-2 days.
Refrigerate – In an airtight container for up to 2 weeks.
Freeze – In an airtight container up to 4 months. Thaw in the refrigerator or at room temperature before use
Nutrition Information
Calories:
104
kcal
(5%)
,
Carbohydrates:
1
g
,
Protein:
1
g
(2%)
,
Fat:
12
g
(18%)
,
Saturated Fat:
7
g
(35%)
,
Trans Fat:
1
g
,
Cholesterol:
31
mg
(10%)
,
Sodium:
248
mg
(10%)
,
Potassium:
19
mg
(1%)
,
Fiber:
1
g
(4%)
,
Sugar:
1
g
(1%)
,
Vitamin A:
513
IU
(10%)
,
Vitamin C:
3
mg
(4%)
,
Calcium:
8
mg
(1%)
,
Iron:
1
mg
(6%)
Estimated nutrition information is provided as a courtesy and is not guaranteed.