Get easy and inexpensive spring decorating ideas, tips and tricks to transition your home from winter. It might not feel like spring outside, but it can sure feel like warmth and sunshine in your home with all these ideas for spring home decor!
Spring decorating doesn't have to be complicated or pricey! Use what you have to create a look you love, filled with the fresh vibrancy of spring.
After a long winter, it feels amazing to give your home a little refresh. It softens your home and makes it feel light and airy, like a spring breeze.
Spring decor goes so much further than Easter eggs and Easter decor. When it comes to transitioning your home for spring, I love to layer soft textiles, relaxed materials and subtle accents.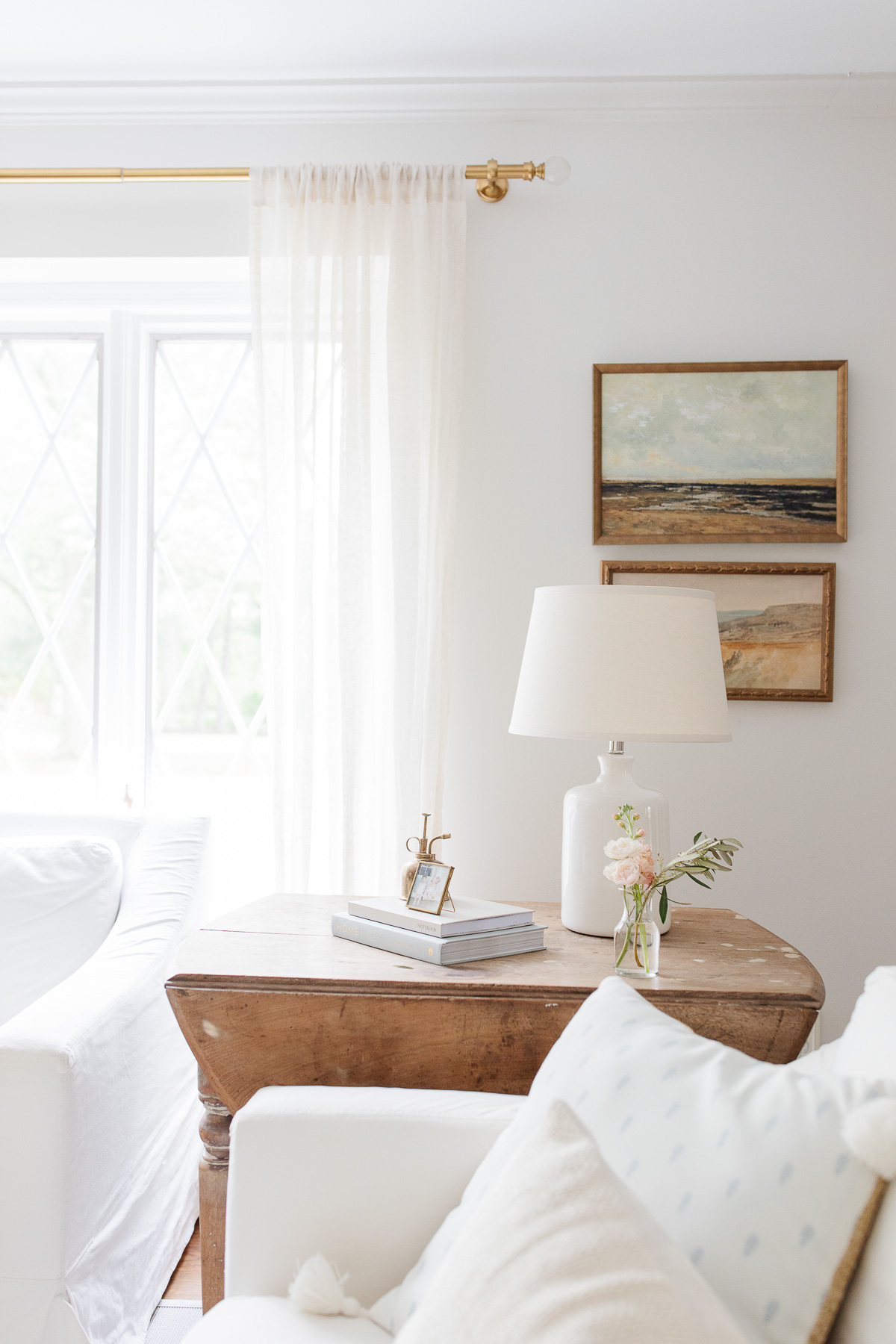 Spring Decorating Ideas
Declutter
My first step to spring decorating is to declutter. There's nothing that makes your home feel lighter than eliminating clutter, unwanted toys, clothes and decor.
It's the perfect way to spend a chilly day (because I know you won't want to do it when it's gorgeous outside), but it's always worth it. Decluttering allows you to focus your eye on the decor you have.
You can get my decluttering tips (and checklist) here.
I find so much beauty in organization. It doesn't have to be all plastic and paper – I like to use baskets, peg rails, hooks and metal labels, too. (above: garage organization, below: kid's closet organization)
Introduce Color
Let go of winter whites and bring in some of your favorite spring hues. Subtle blues, pinks, yellows, and greens set the tone.
I'm not generally a fan of bright color in our home, but if that is what brings joy to your heart, now is the time! This time of year speaks to vibrant tulips and vivid green new growth on the trees.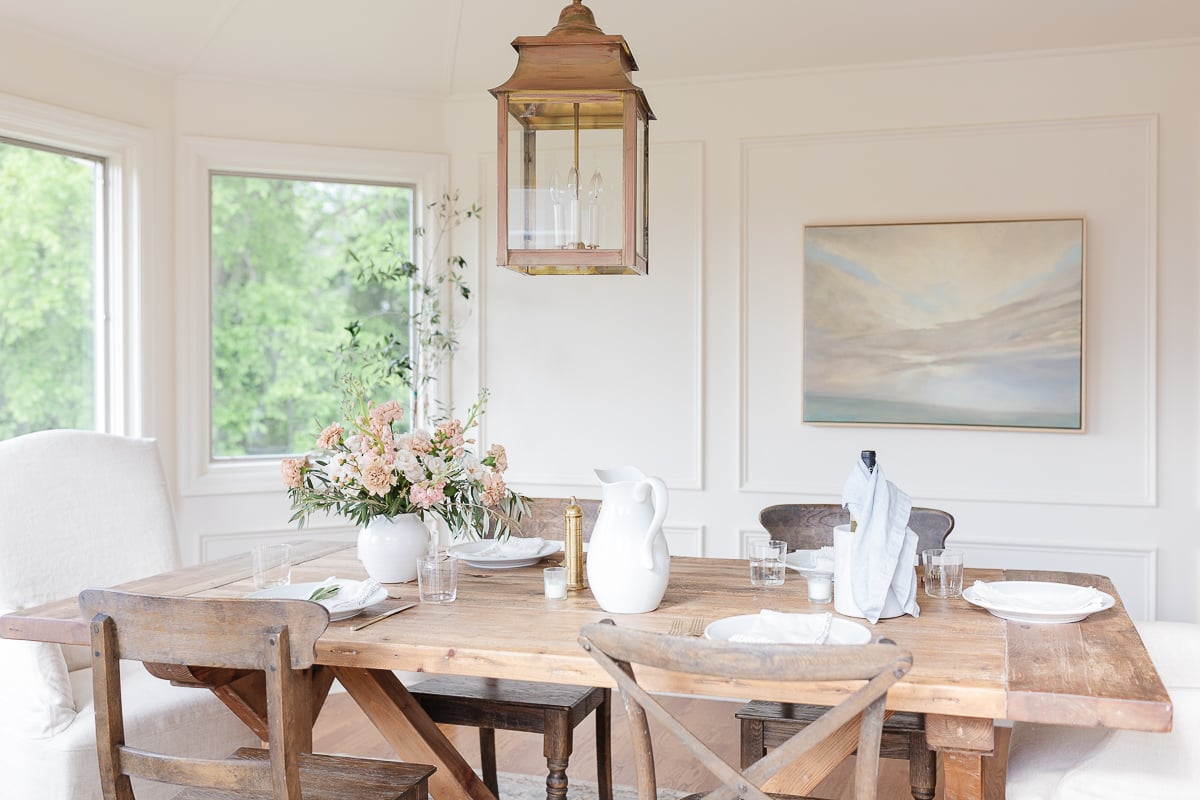 Incorporate it into your spring decorating for color that is sure to bring your home to life!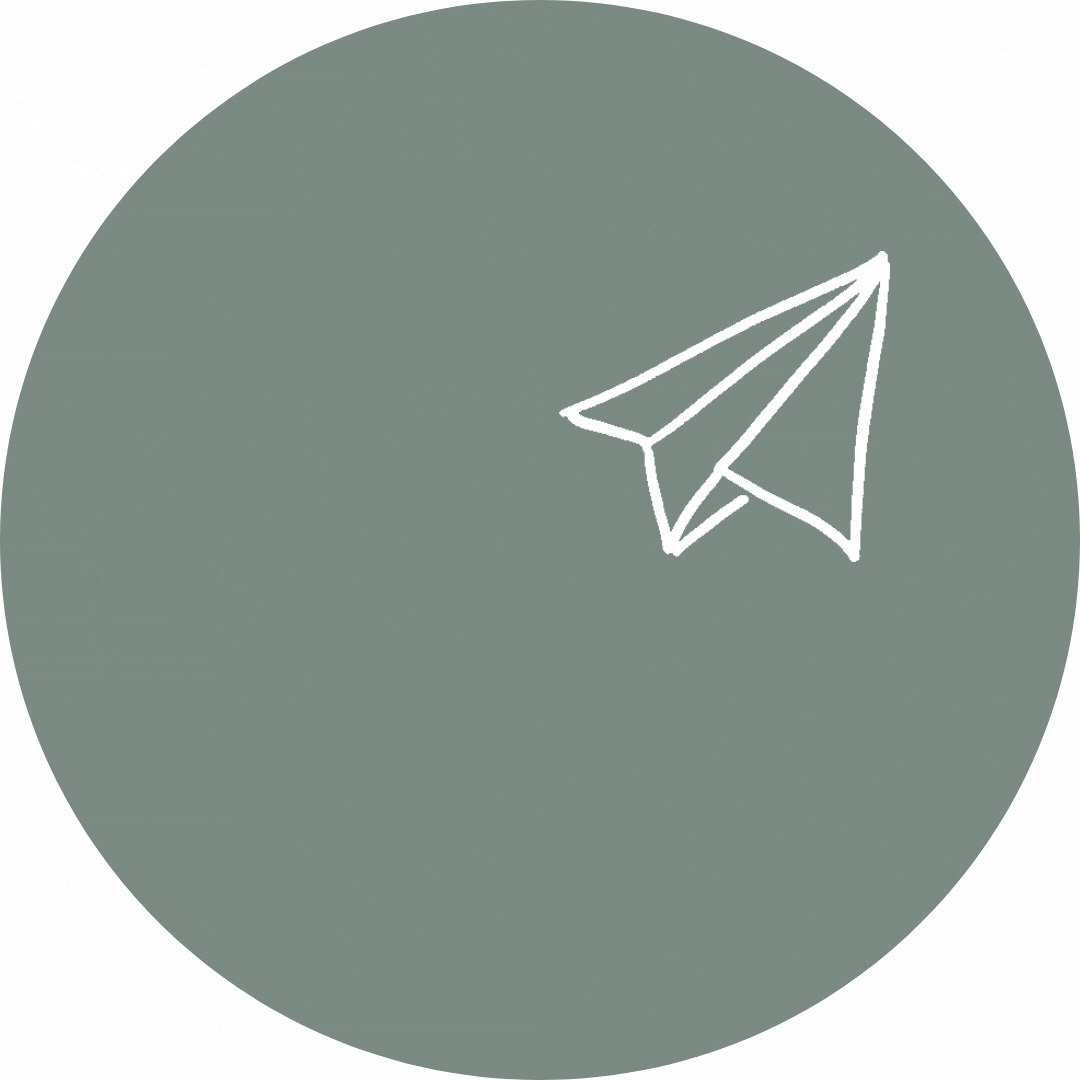 Lighten Textiles
This is a great time of year to lighten up your bedding! Of course you can always splurge on new sheets, but it's easy to switch out your heavy down duvet or winter weight quilts for something more appropriate for the season.
This makes a difference both visually and for comfort while sleeping, of course! With the temperatures fluctuating so drastically, it can be hard to know what you'll need for sleeping in that time between the heat and the AC.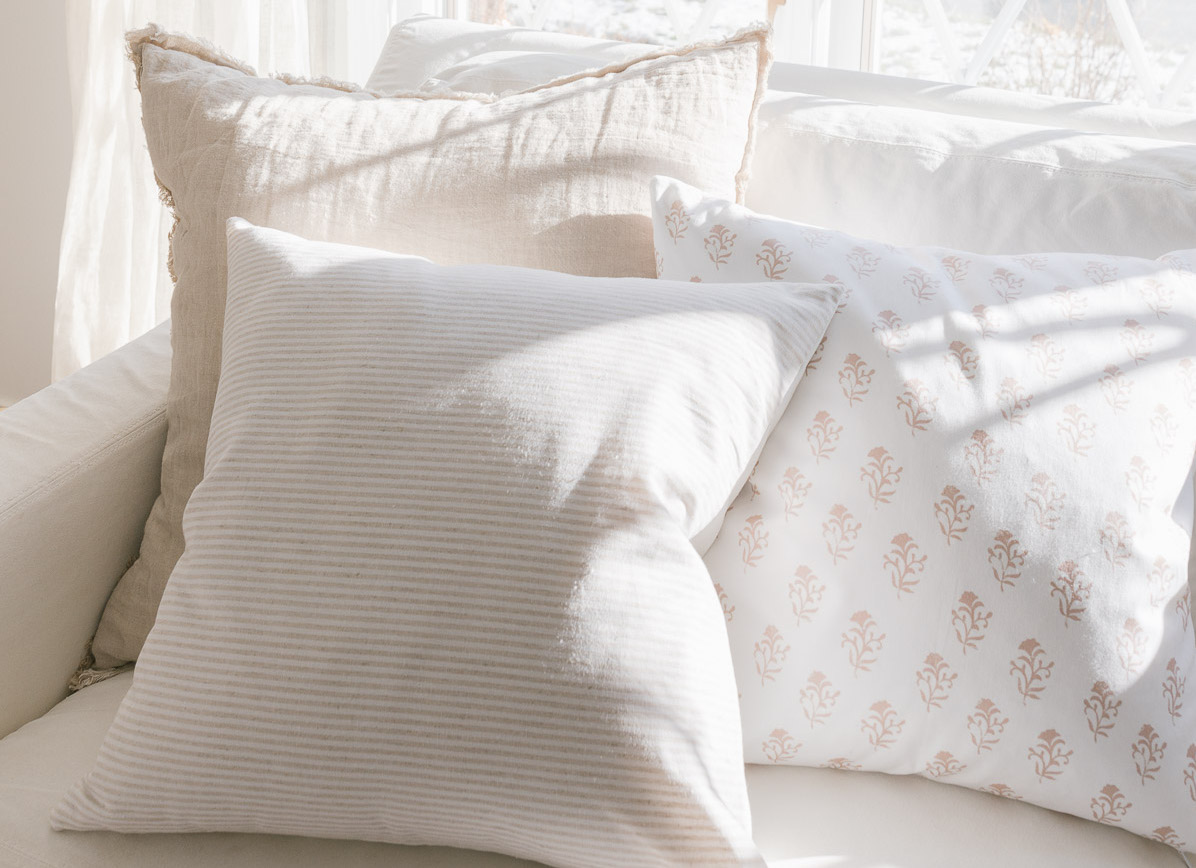 Layer in Subtle Textures
It's also a great time to integrate relaxed fabrics into your home decor. Add soft, yet vibrant pillow covers and blankets! It is an easy way to update your decor for each season.
Get my best tips for mixing and matching pillow covers and find all my favorite cozy blankets in my shop! Linens, weaves, and woven cottons add soft, subtle texture for spring. This is one of my favorite spring throws to use indoors and out!
Store out-of-season covers and throws in a linen cabinet or linen closet.
Hand towels need to be replaced more frequently than other linens. Eliminating towels are worn, tired or soiled makes your home feel fresh for spring.
Hand towels are often inexpensive and offer a nice impact for minimal effort. This is one of my favorite easy decor switches – it makes such a great impact for a spring decorating idea or any time of year!
Add Flowers and Greenery
Bring outdoor blooms, in! Faux flowers, fresh flowers, branches and plants bring a room to life and can add a little height and color.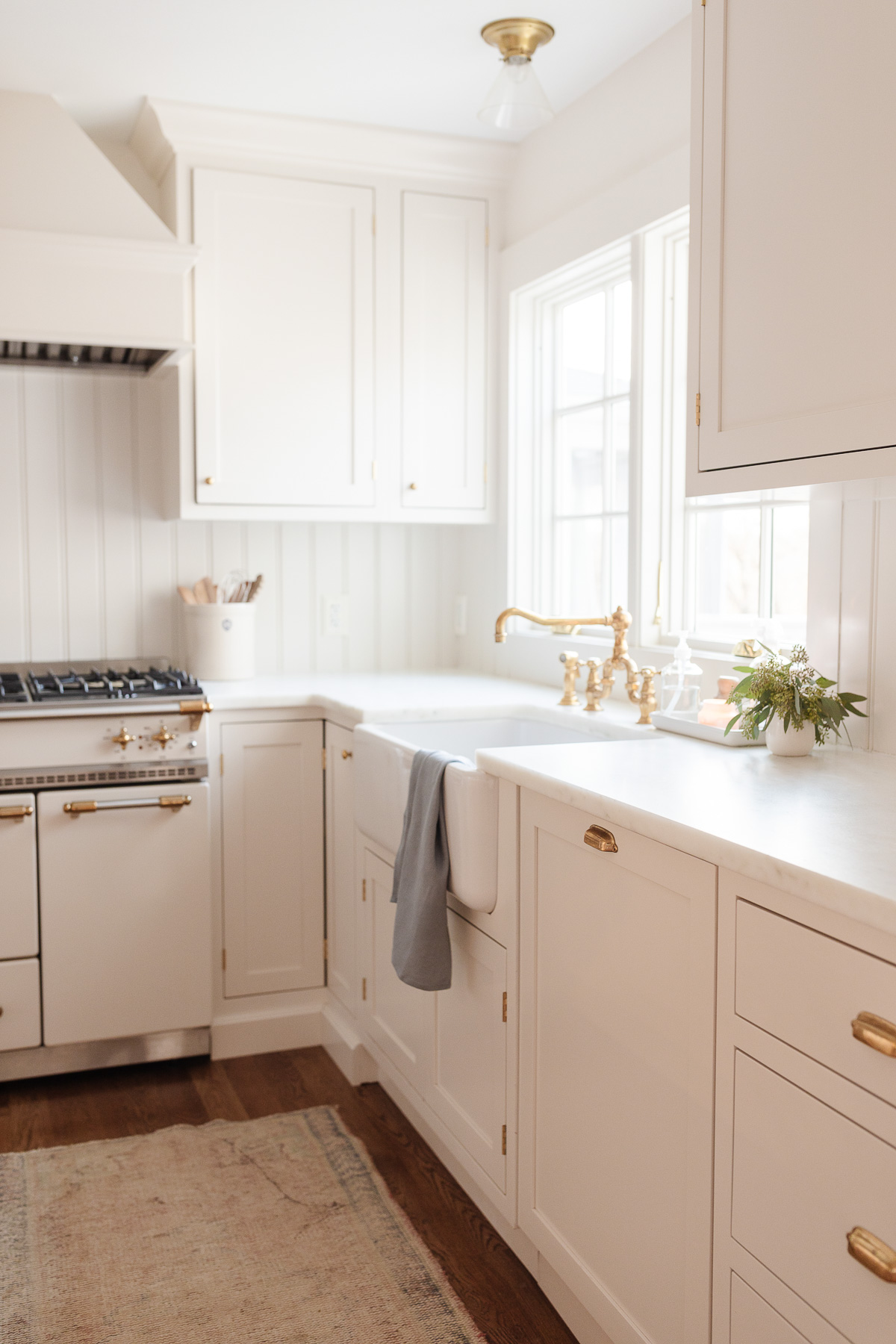 You can learn how to arrange flowers, integrate eucalyptus, stock flowers, Meyer lemon trees, olive trees or topiaries, fiddle leaf fig trees, lavender and more! Floral arrangements shouldn't be hard or stressful – it is so much easier than you might think!
Bring in greenery to add height and bring a room to life.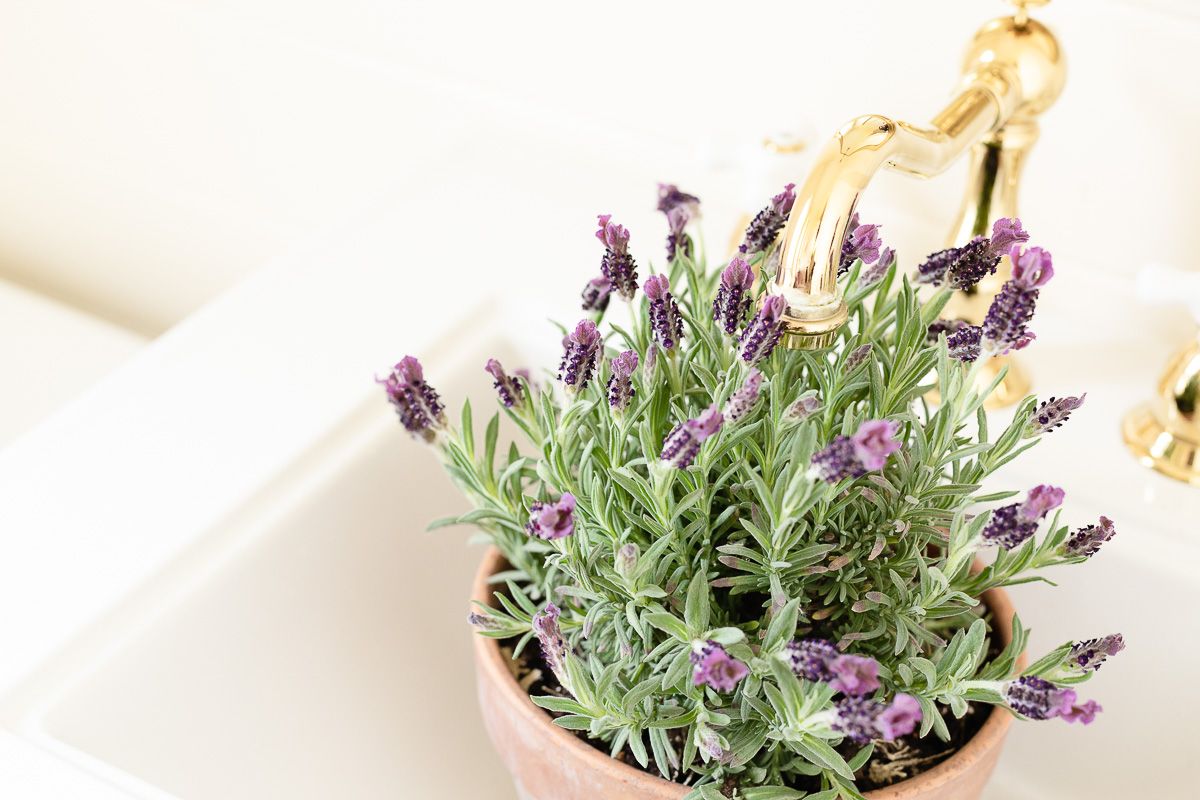 Update Your Wreath
Greet guests and passersby with a beautiful fresh or dried wreath. Most fresh wreaths dry beautifully if in a covered location.
And while I'm not always the biggest fan of faux stems and wreaths, I have found that they are getting better each year! There are so many pretty options available affordably at your local Target or HomeGoods. I absolutely love the new Studio McGee at Target wreaths!
Check out my favorite Spring Wreaths in this incredible round-up!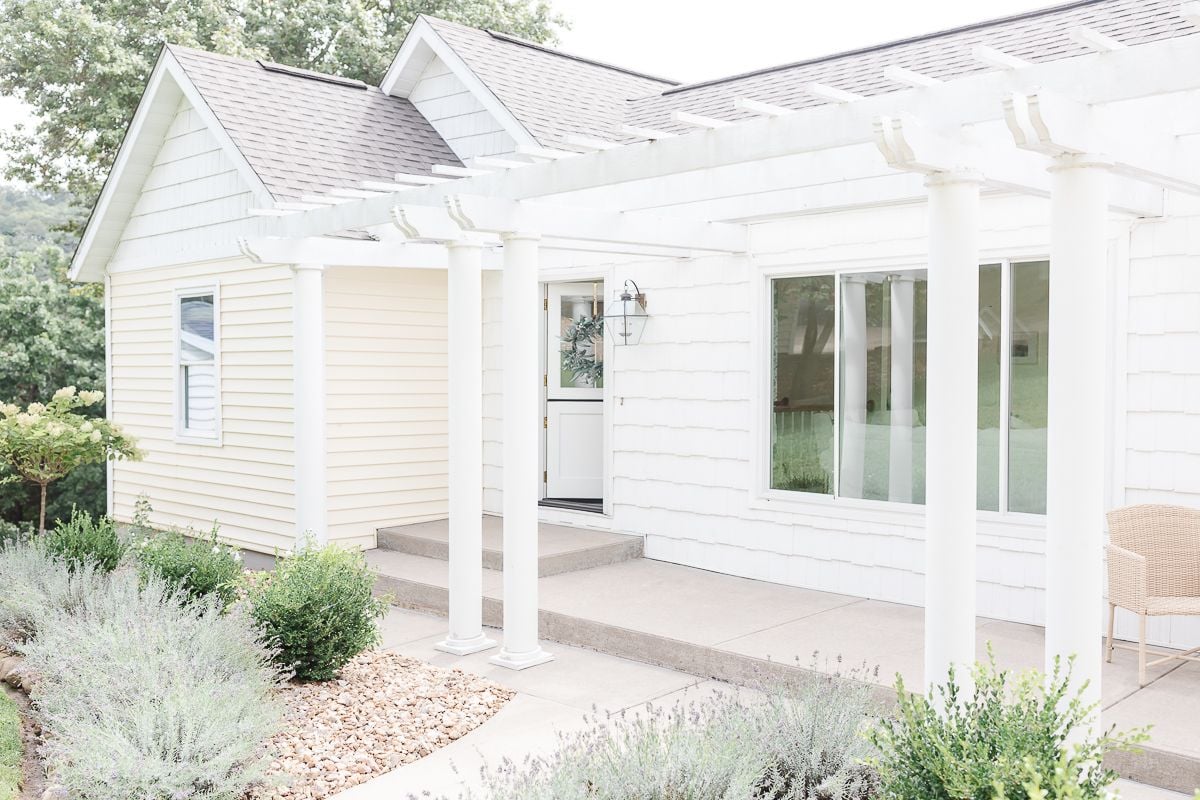 Art
Another easy spring home decorating idea is to update your artwork. I have 20+ DIY wall art ideas for your home including this easy Pressed Botanical Art.
You can also select from one of these amazing free art sources in the public domain to print on paper, canvas or display on a Samsung Frame.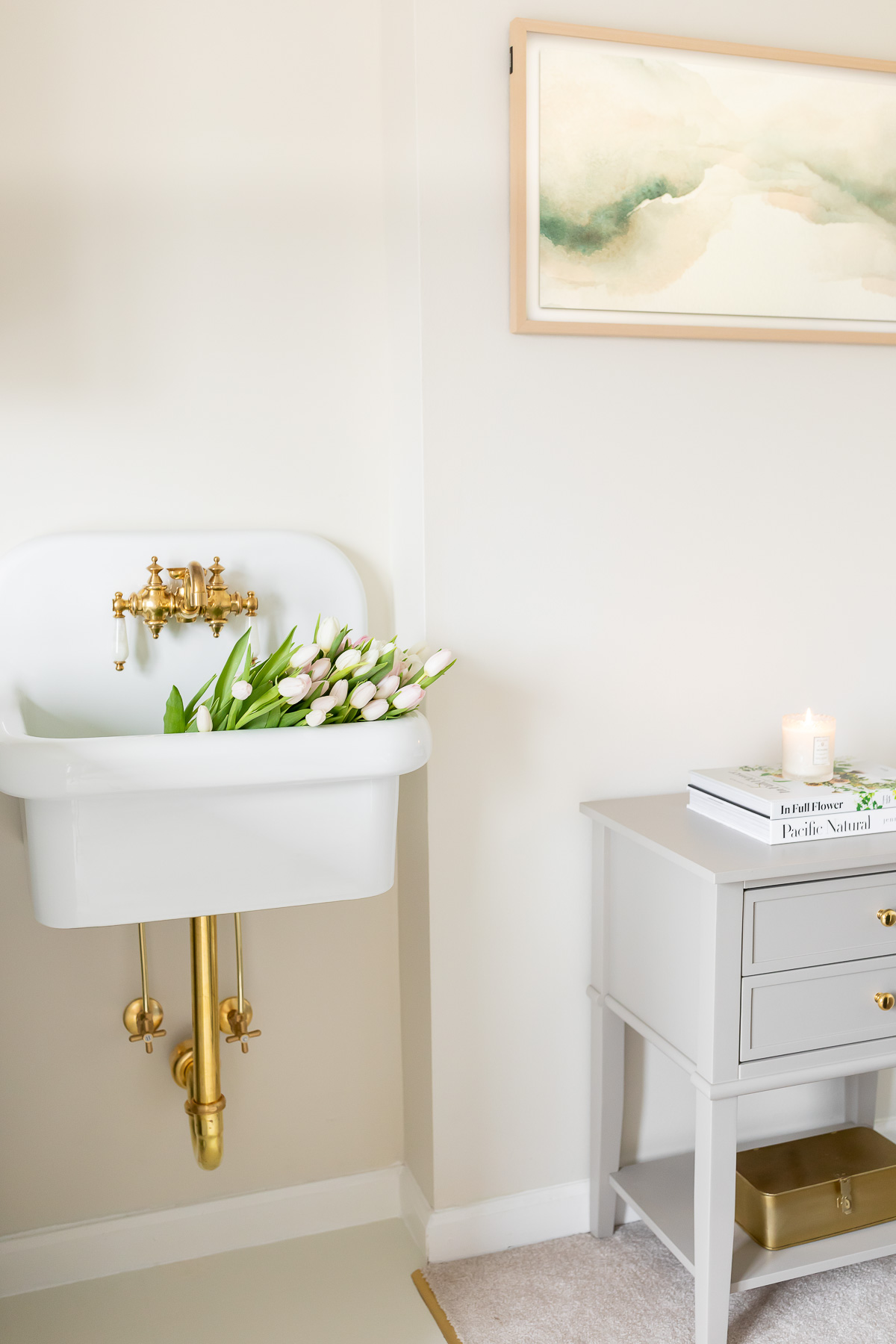 One of my favorite spring touches is these FREE antique egg prints!
Swapping art for a lighter color palette makes your home feel fresh for spring. Below, a canvas landscape in pastels replaces a black painting of Mango the Cow.
Accessorize
Through the year, I update little accents throughout our home, especially in our bookcases. Shop your home for accents and books to mix it up. One of the easiest ways to lighten your bookcases is to turn your books around so the pages, rather than binds are exposed.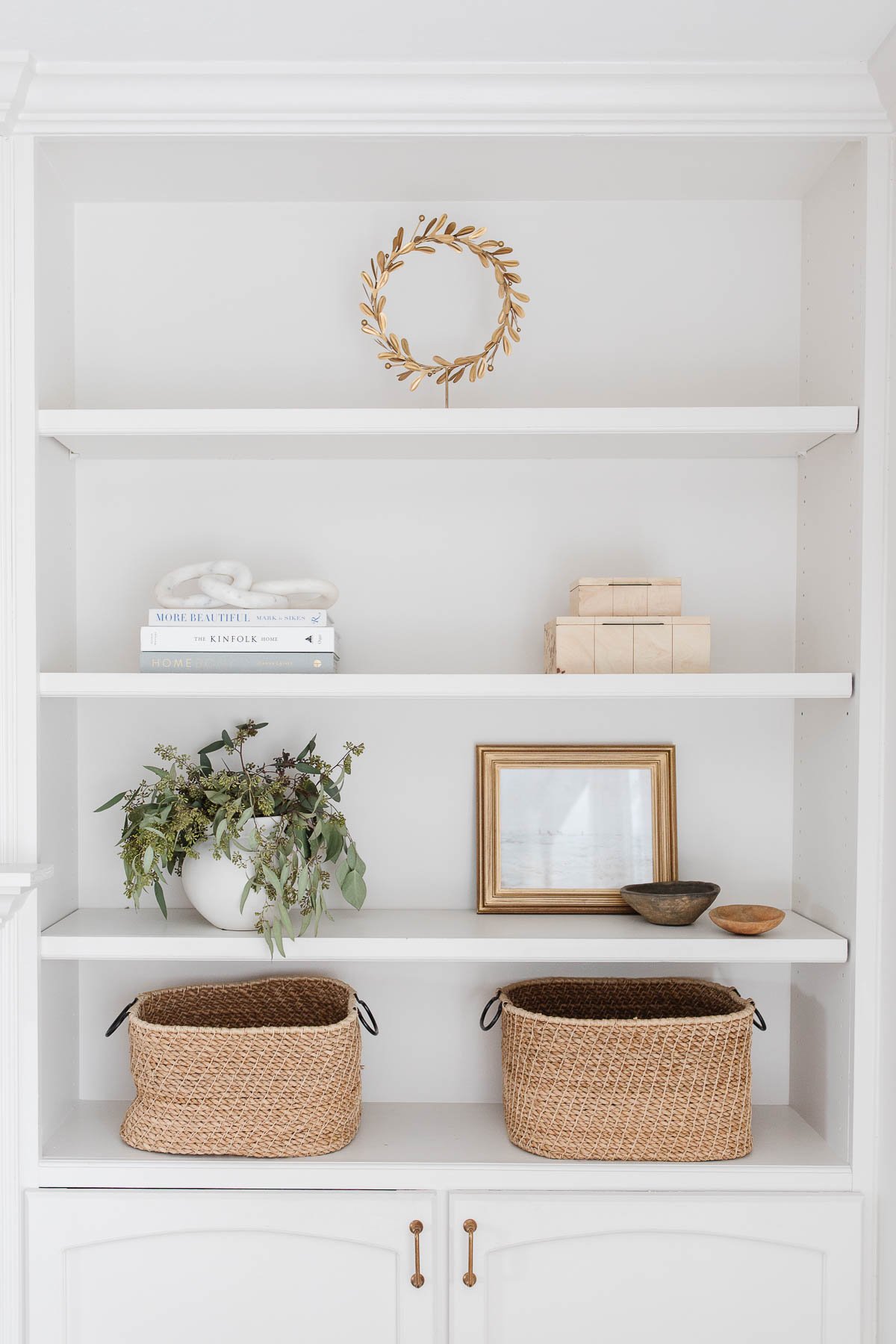 Don't forget to add a little greenery, too! An easy-to-care-for houseplant or a handful of long-lasting stems will bring them to life. Try eucalyptus or olive branches.
Refresh Your Entry and Coffee Table
One of the quickest, easiest ways you can do is shop your own home and redecorate a coffee, side table or entry table!
Refresh flowers or branches, add fresh new accents or even a candle with a sweet, subtle scent.