Spring home decorating ideas, tips and tricks to transition your home from winter.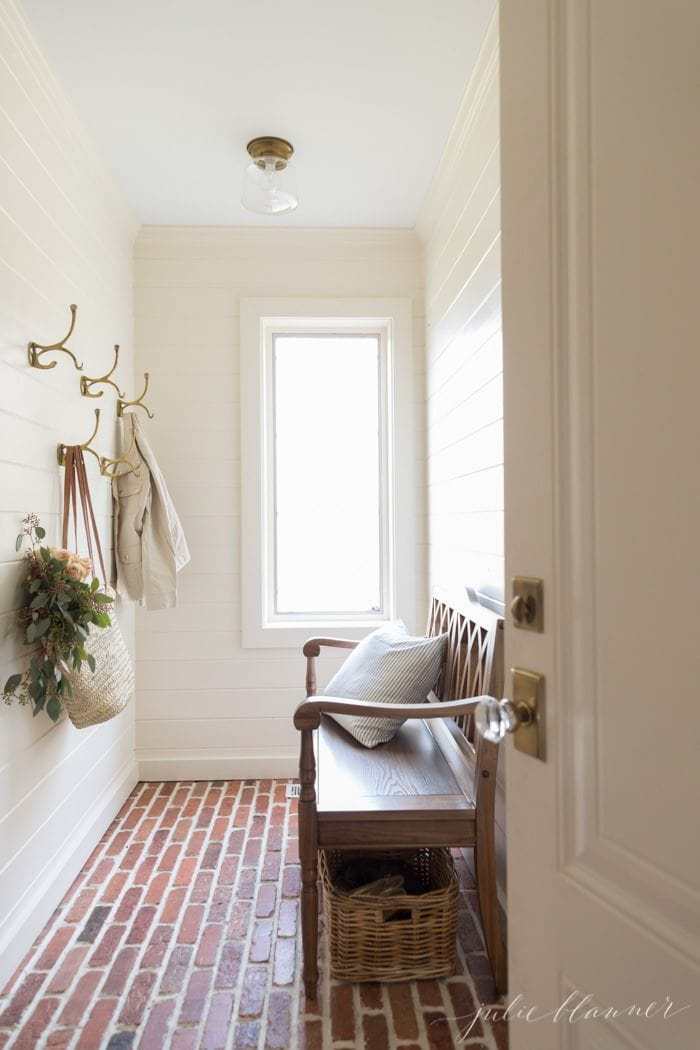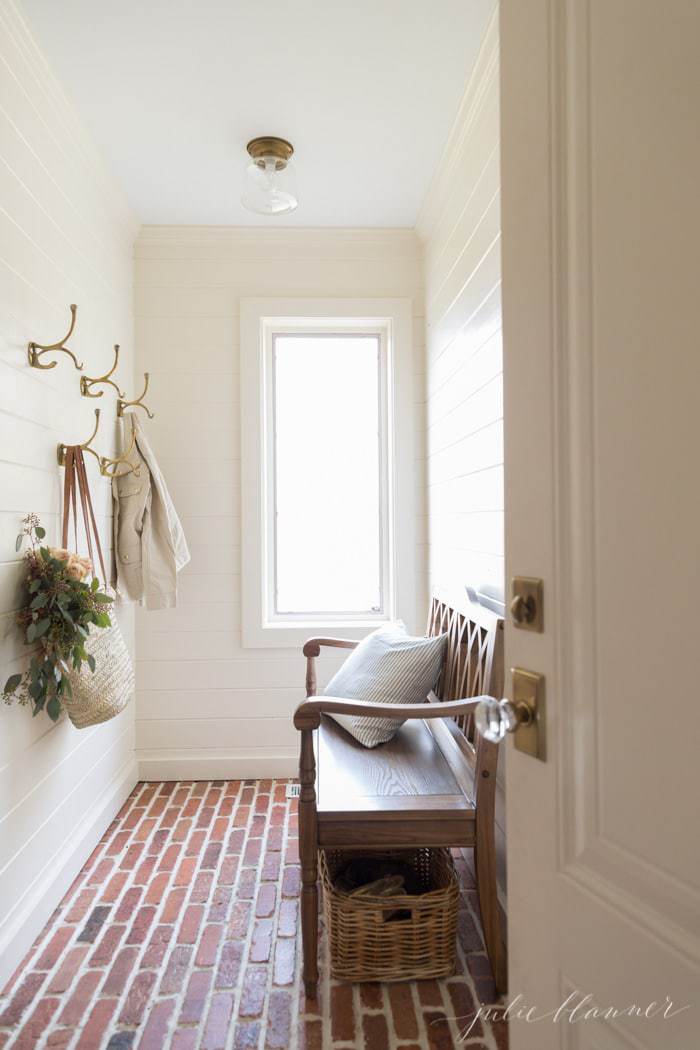 I'm always anxious for spring, even when the weather is a little confused. If there's a 70 degree day in January, you're likely to find me in flip flops, soaking up a little sun with a smile. If not, you're probably going to find me indoors living in bliss pretending that its' 70 degrees and sunny outside.
No matter the weather, today I'm sharing 10 spring home decorating ideas so that you can do the same. I'm excited to share with you in collaboration with Country Living magazine.
Spring home decorating always makes a home feel fresh. It fills the void that is left after Christmas, softens your home and makes it feel light and airy, like a spring breeze. That's why I'm sharing 10 Ways to Bring Spring into Your Home!
Spring Home Ideas
1. Declutter
My first step to spring decorating is to declutter. There's nothing that makes your home feel lighter than eliminating clutter, unwanted toys, clothes and decor. It's the perfect way to spend a chilly day (because I know you won't want to do it when it's gorgeous outside), but it's always worth it. Decluttering allows you to focus your eye on the decor you have. You can get my decluttering tips (and checklist) here.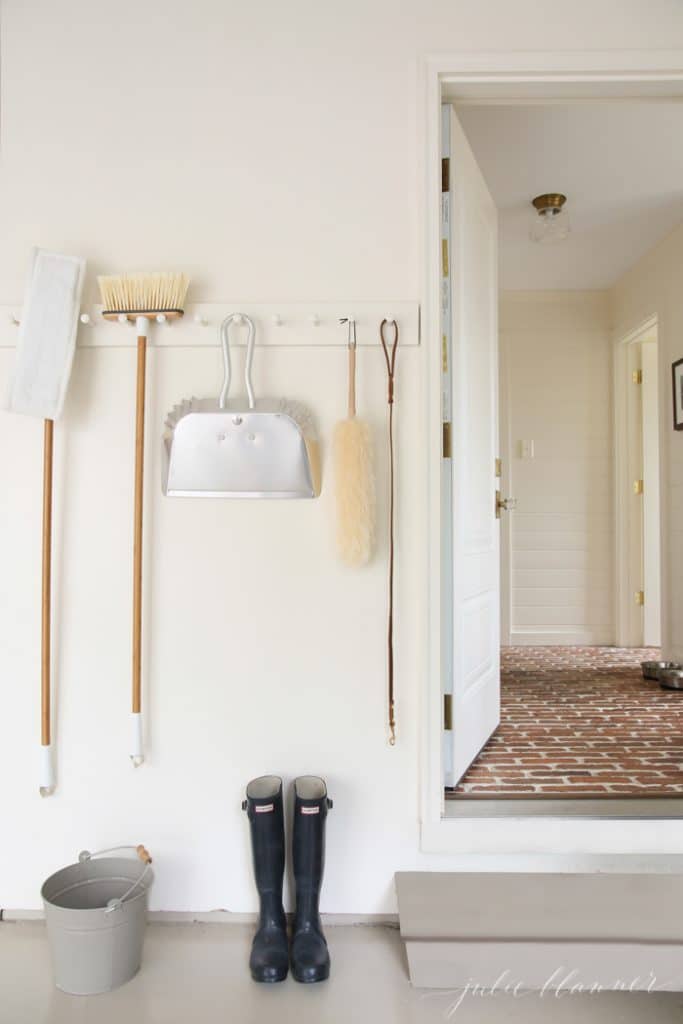 I find so much beauty in organization. It doesn't have to be all plastic and paper – I like to use baskets, peg rails, hooks and metal labels, too. (above: garage organization, below: kid's closet organization)
PS you can always shop our home!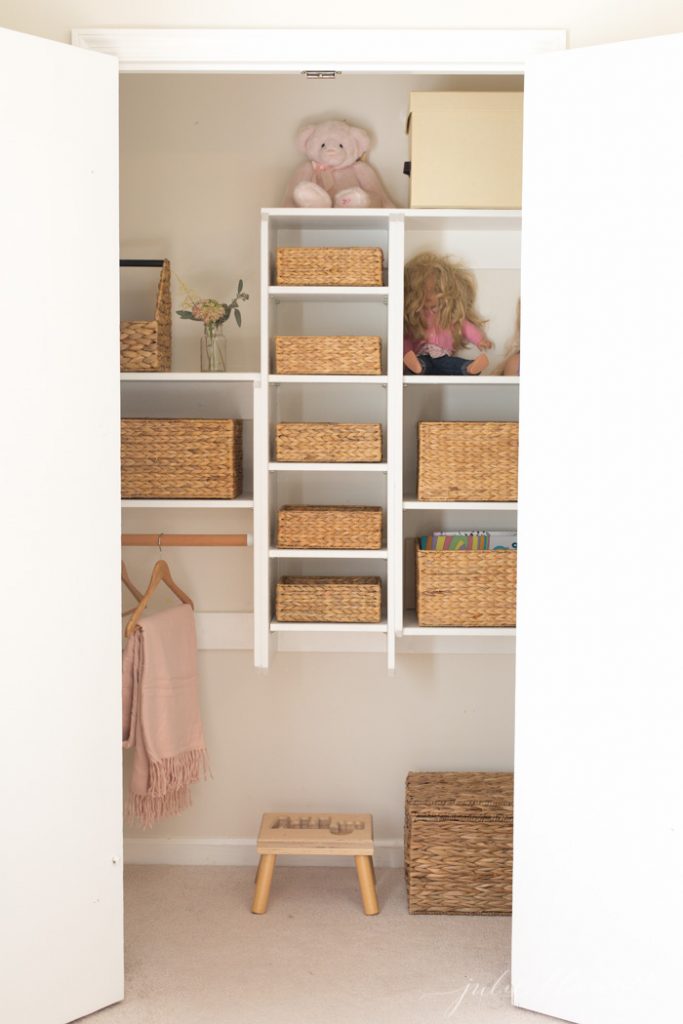 2. Introduce Color
Spring is my favorite time of the year to introduce color – soft blue hues, pastel pinks and hints of lavender can all be found in our home this year.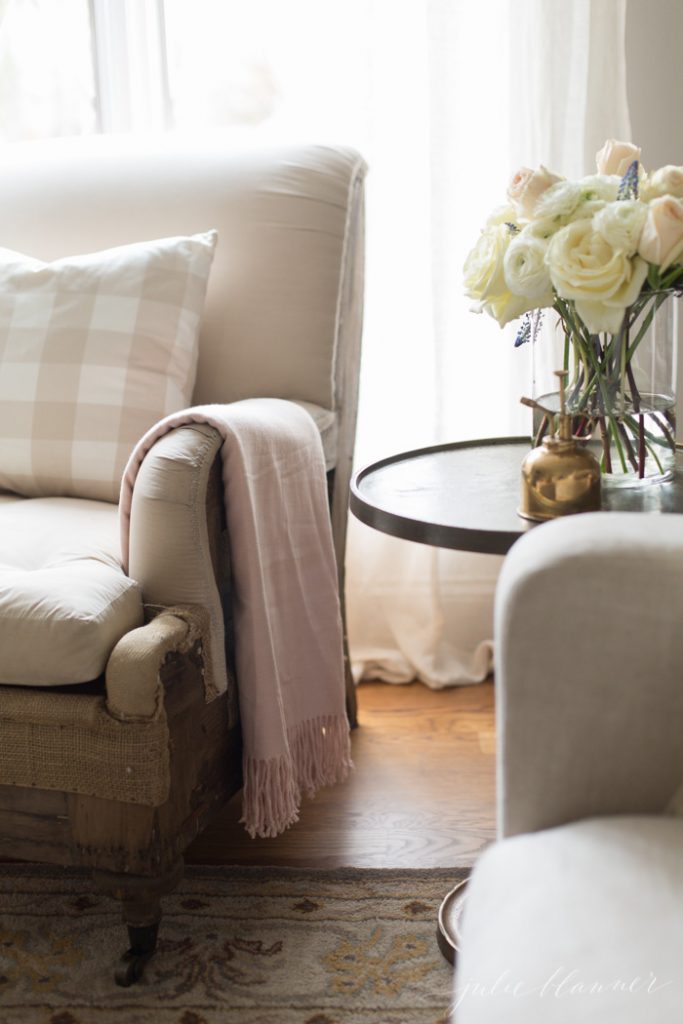 3. Add Flowers
Just as flowers bloom outdoors, I bring some in as well. Fresh flowers bring a room to life, so add some plants and/or fresh cut blooms throughout your home. You can learn how to arrange flowers here.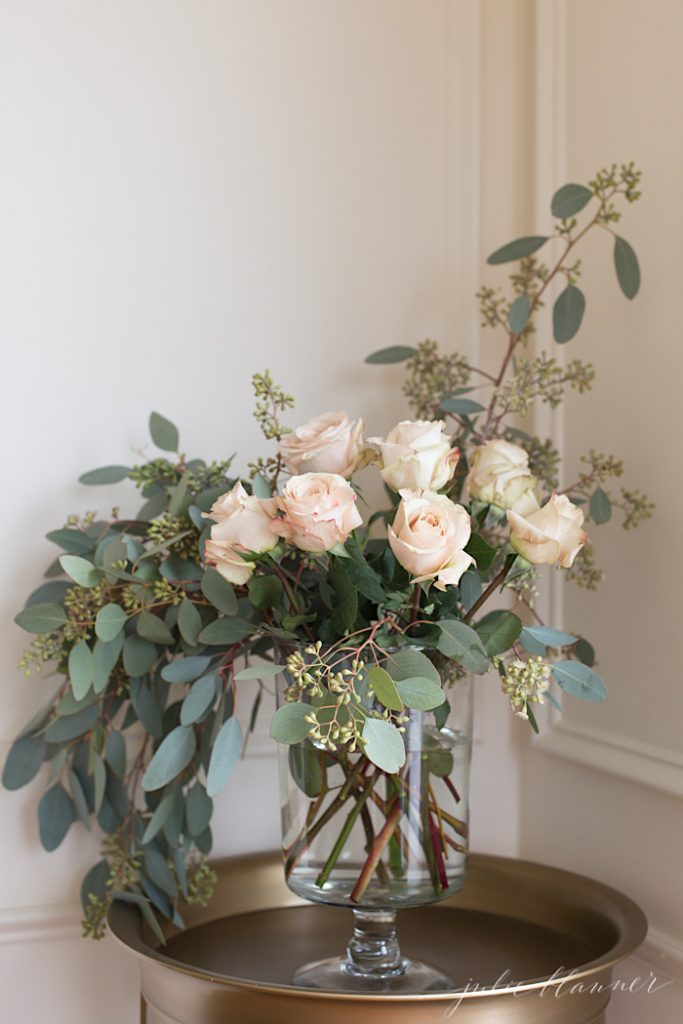 4. Update Your Wreath
Greet guests and passersby with a beautiful fresh or dried wreath. Most fresh wreaths dry beautifully if in a covered location.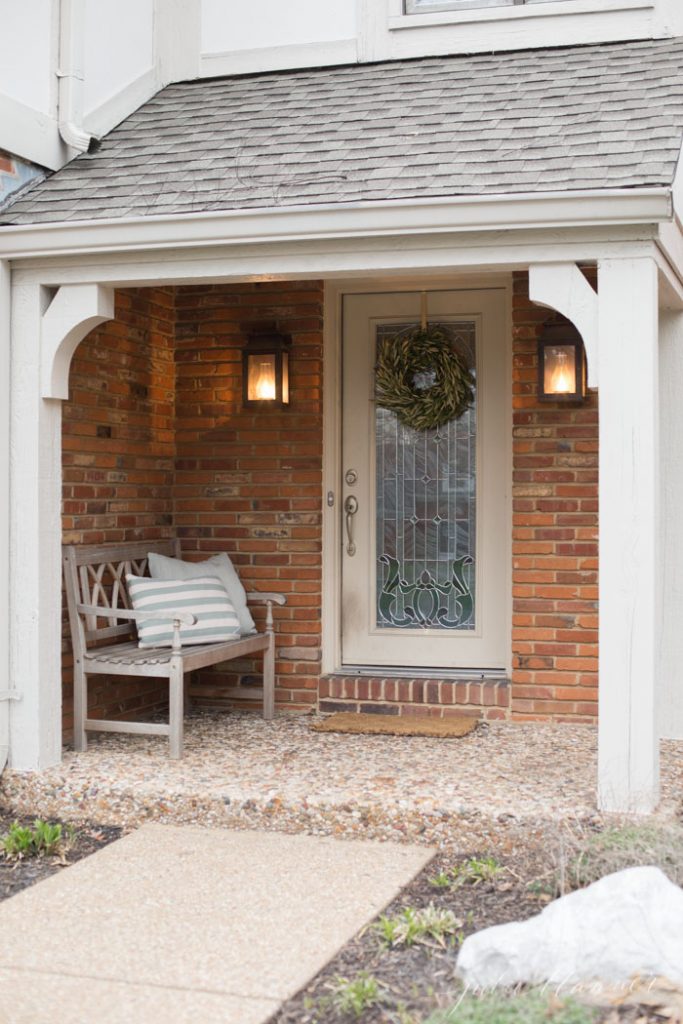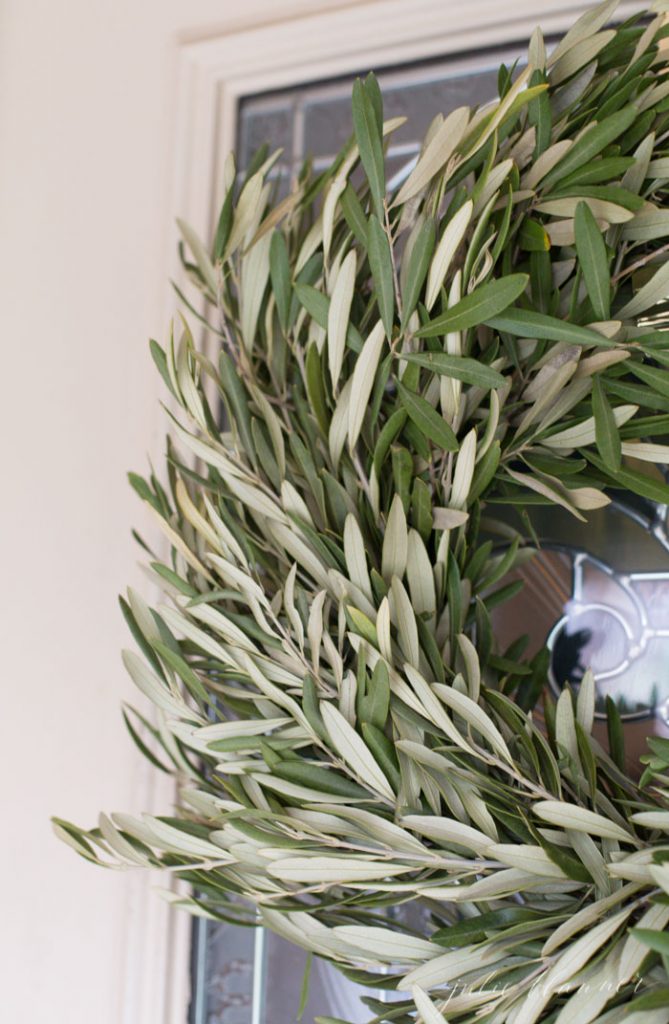 5. Art
Another easy spring home decorating idea is to update your artwork. I have 17 easy art ideas for your home.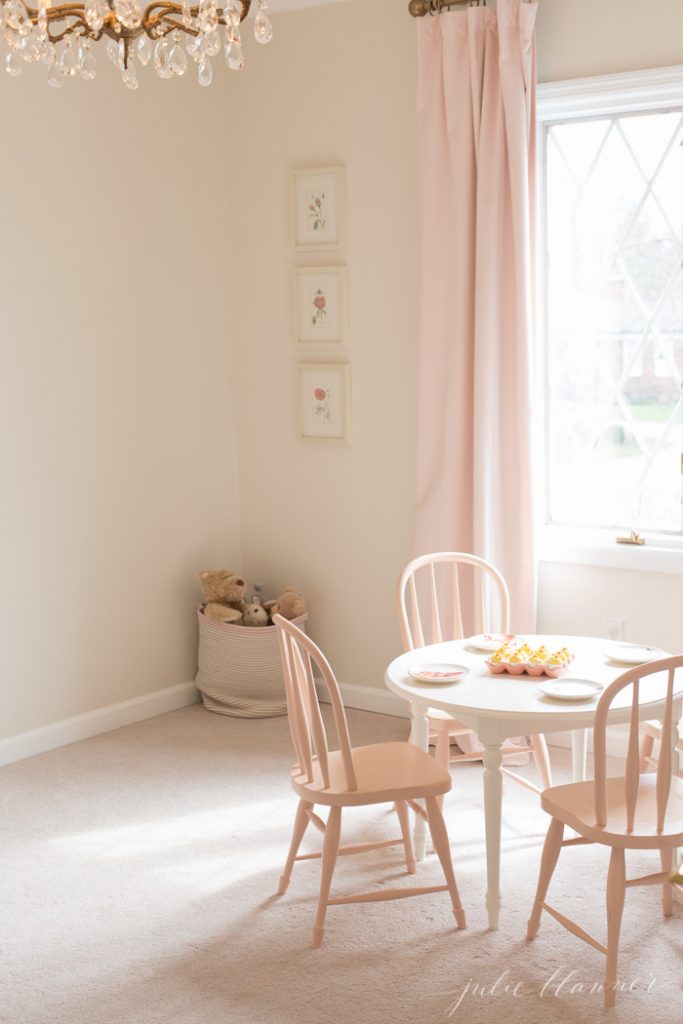 You can also download these pretty egg prints here!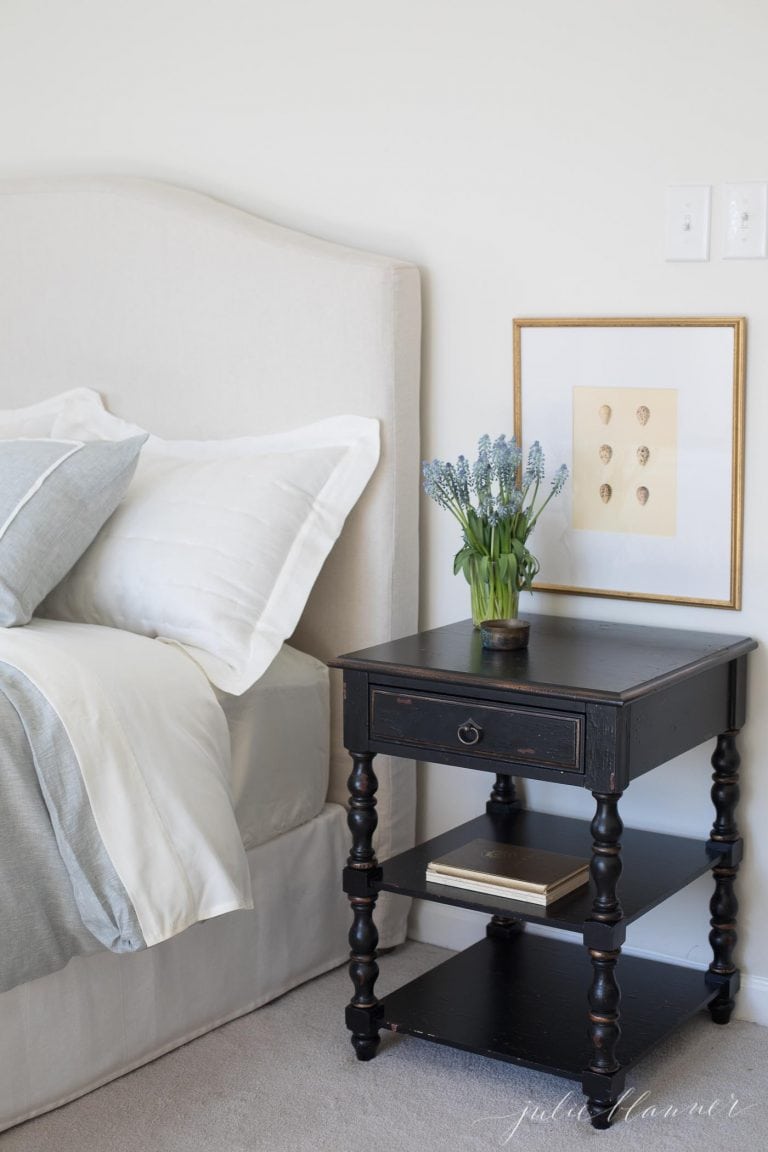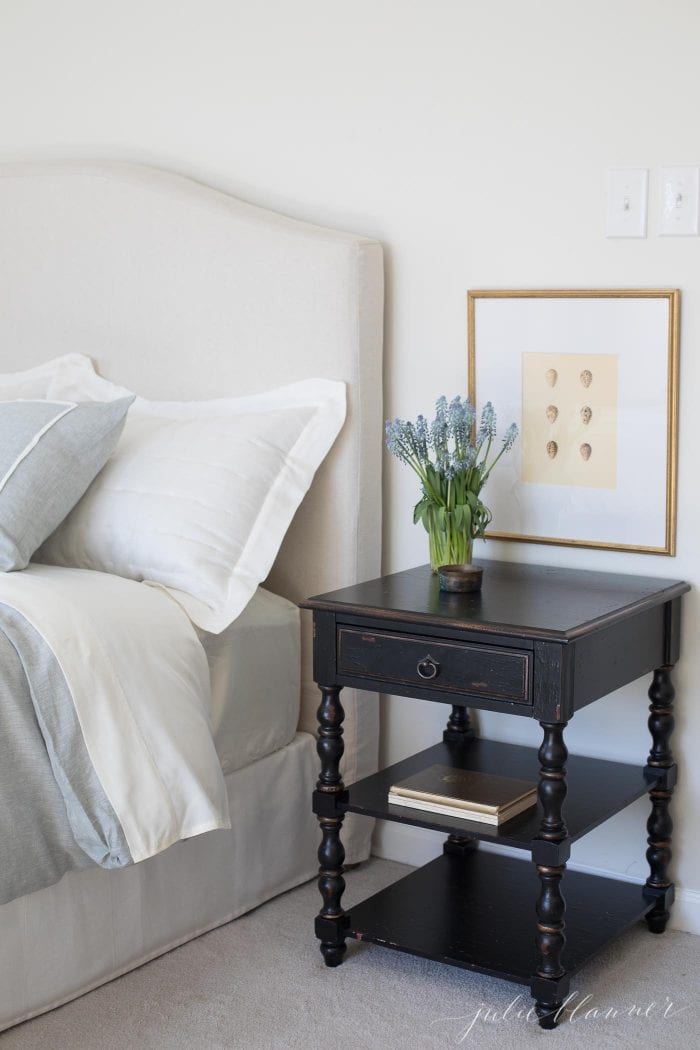 6. Update Linens
One of my favorite ways to transition our home through the seasons is by changing our pillow covers and throws. I added this sweet little bunny pillow cover in Adalyn's room for an instant spring fix!
I store out-of-season covers and throws in our linen cabinet. Her desk is actually a console table that we cut the legs down to accommodate her.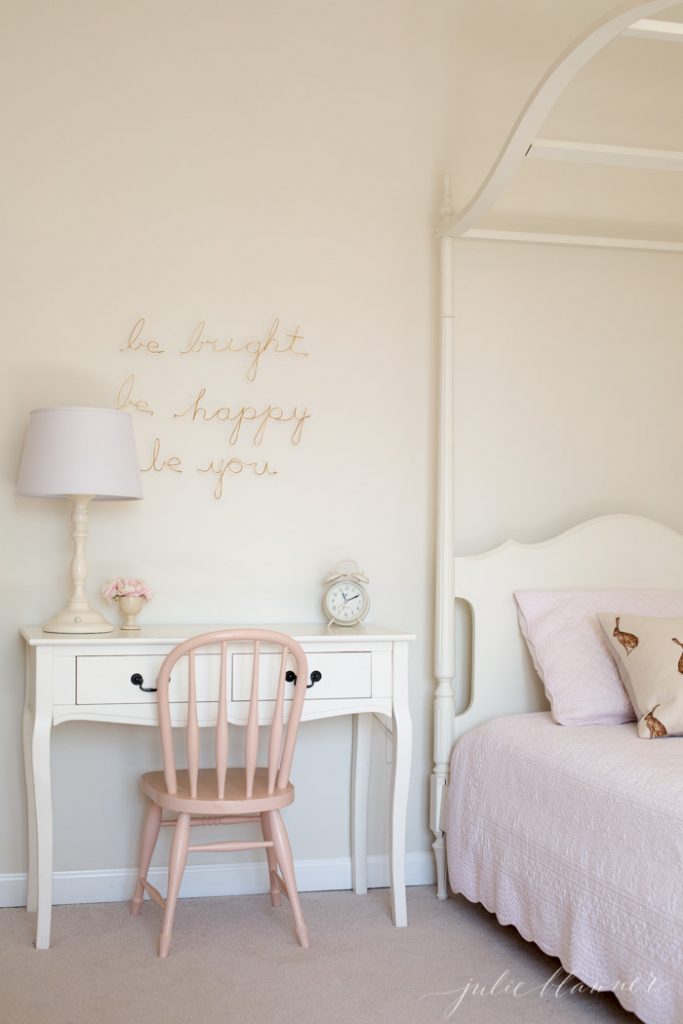 7. Accessorize
Through the year, I update little accents throughout our home, especially in our bookcases. I still haven't decided exactly how I want to decorate our bookcases for spring, sooooo, I fast forward to summer, but they're light and beautiful to me, so that's all that matters.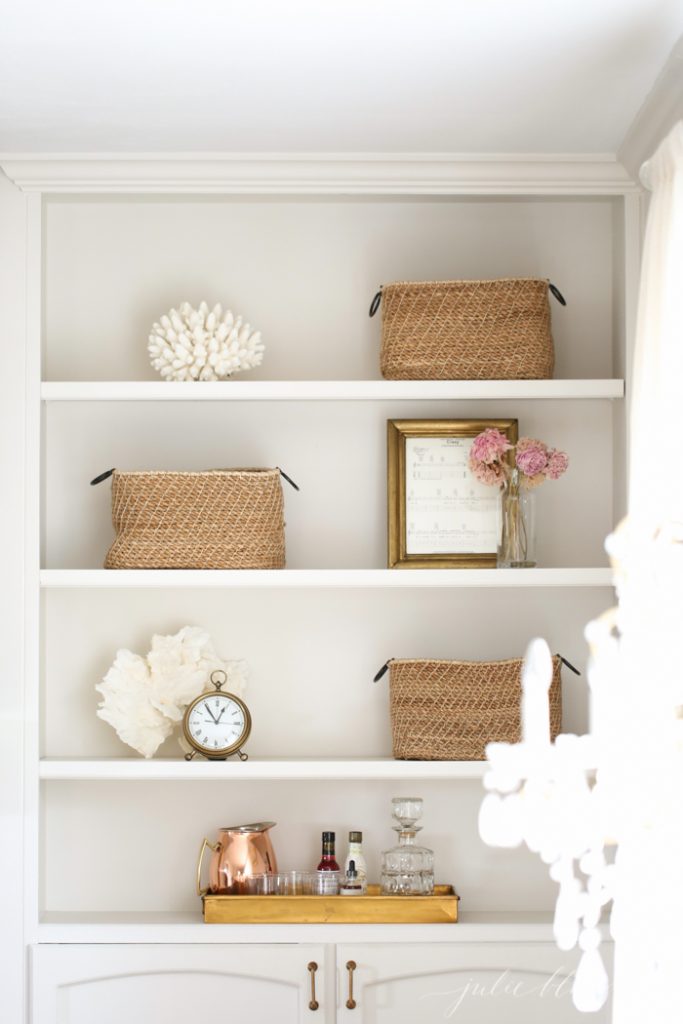 8. Evoke Spring Feeling with a Fresh Scent
Another easy spring refresh idea is adding your favorite spring scents to powder rooms. After all, who doesn't let the smell of spring? Lavender, peonies, roses, oh my! I also added rose infused oil to our powder room to rid my cuticles any memories of winter.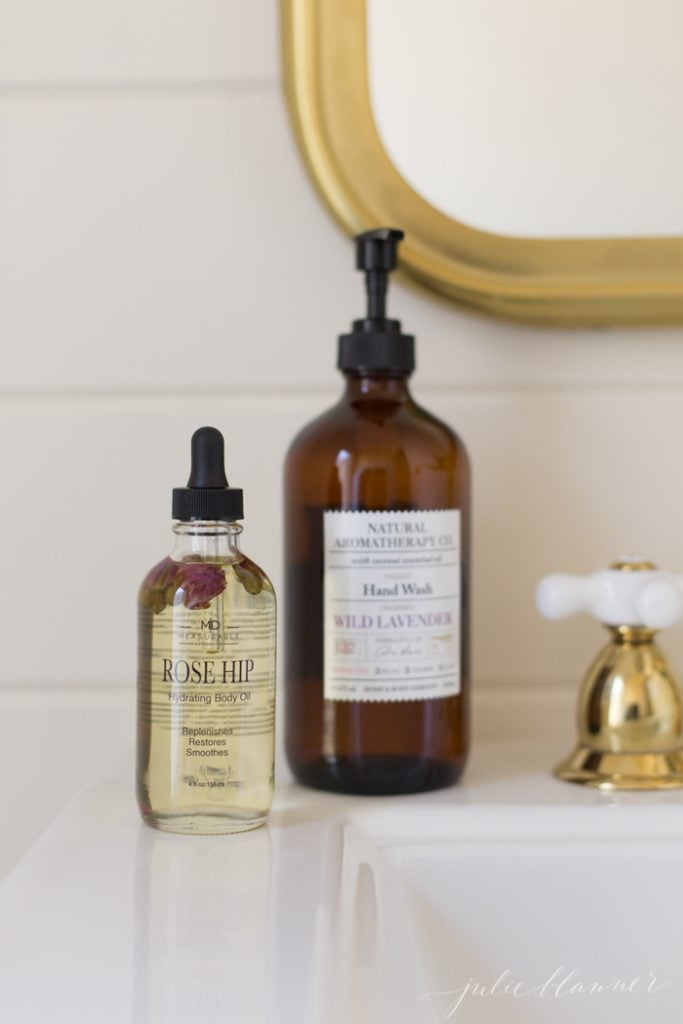 9. New Hand Towels
Hand towels need to be replaced more frequently than other linens. Eliminating towels are worn, tired or soiled is part of my spring cleaning routine. Replacing hand towels is one of my favorite spring home decorating ideas. They're often really inexpensive and offer a nice impact for minimal effort.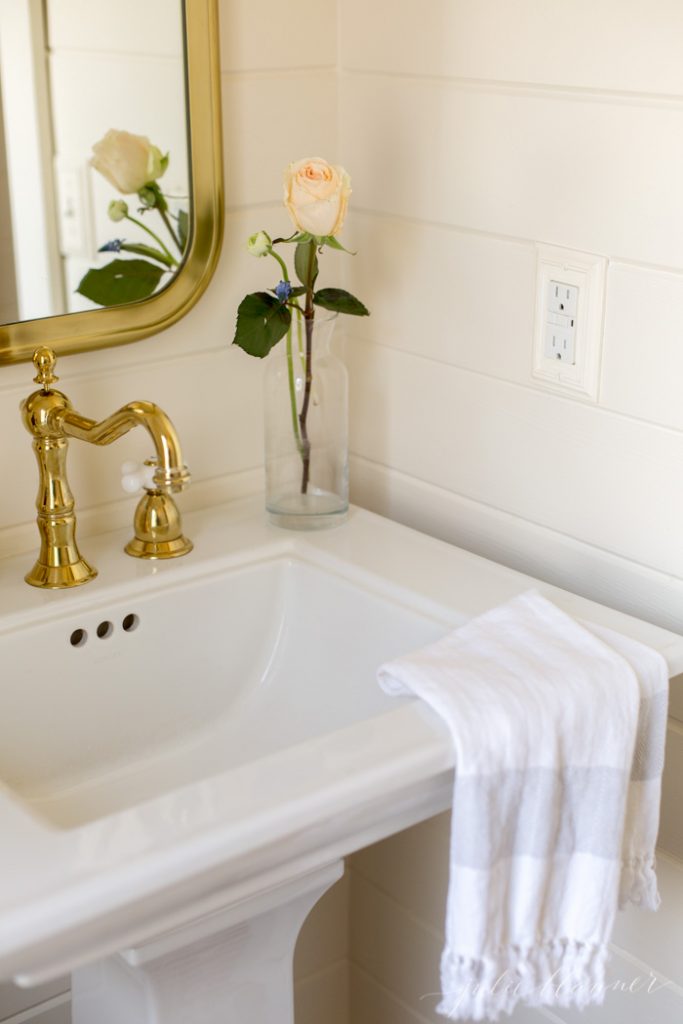 10. Rearrange Your Coffee Table
One of the quickest, easiest ways you can do is shop your own home and redecorate a coffee or side table!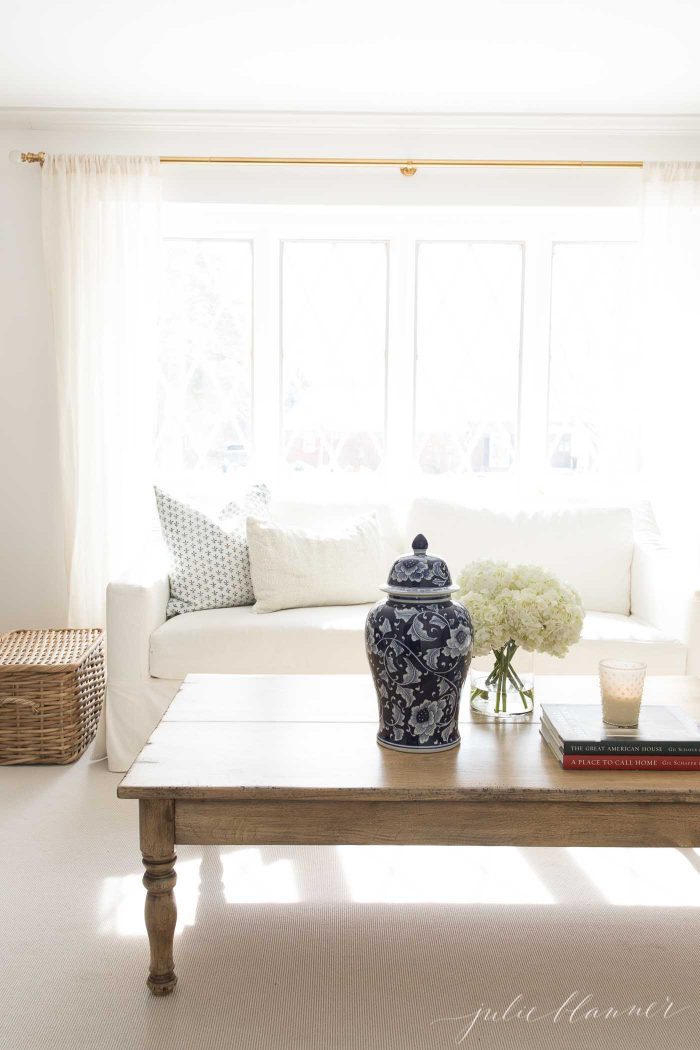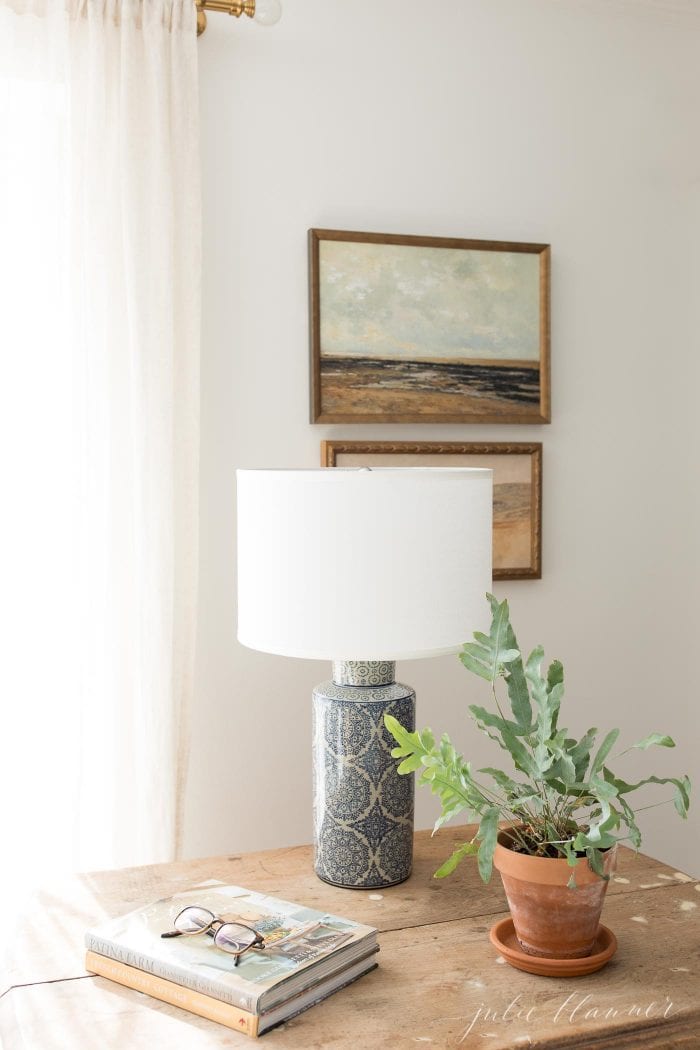 It doesn't stop there! You can see our spring home (in 2018) below!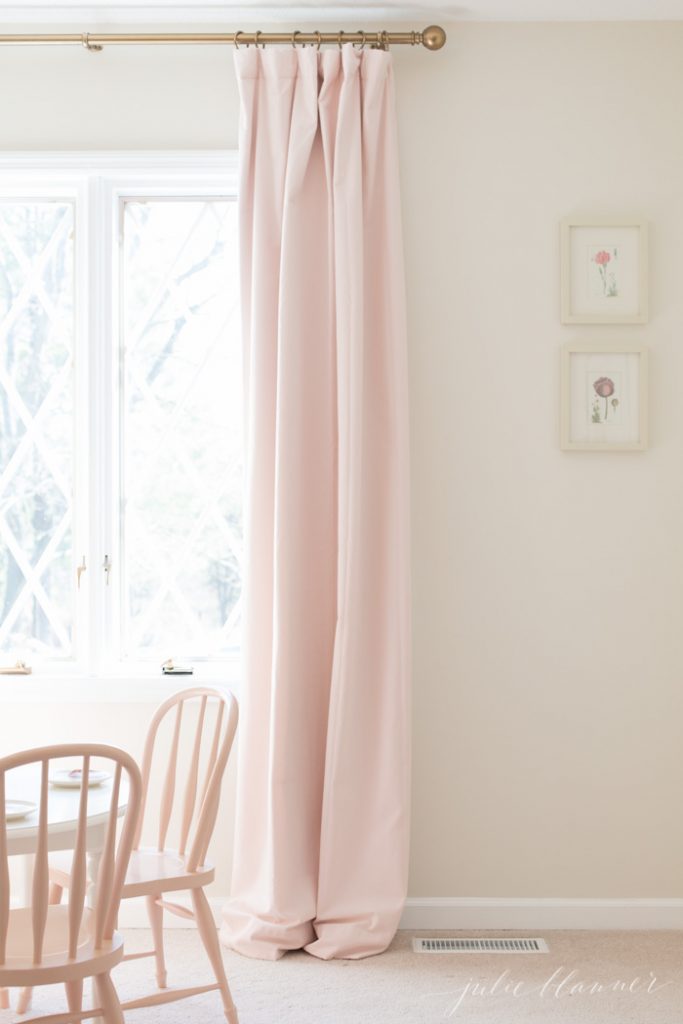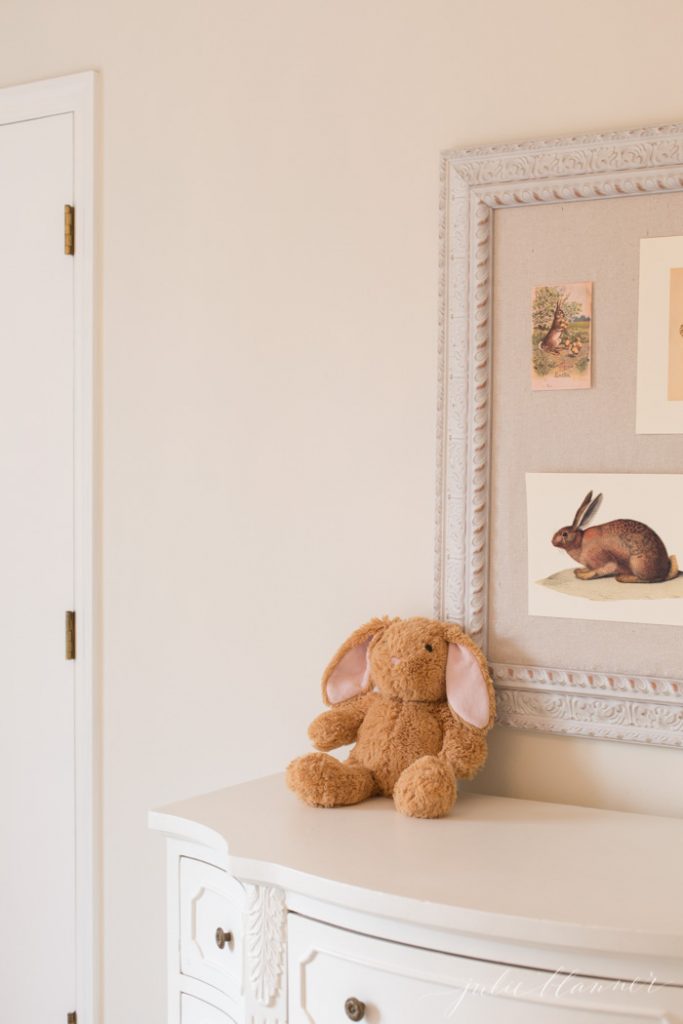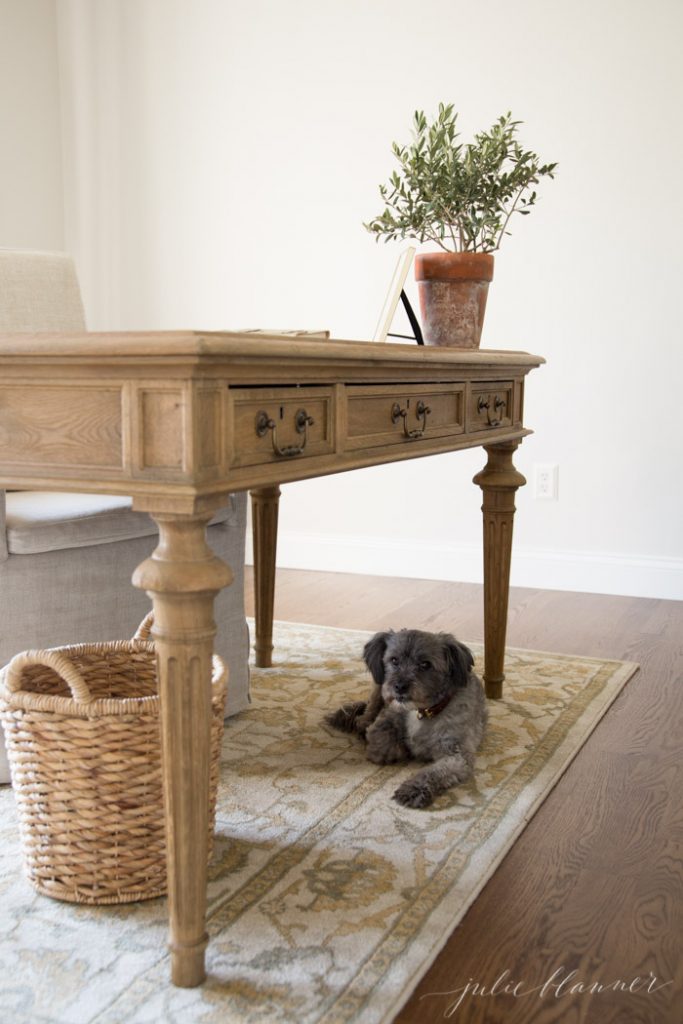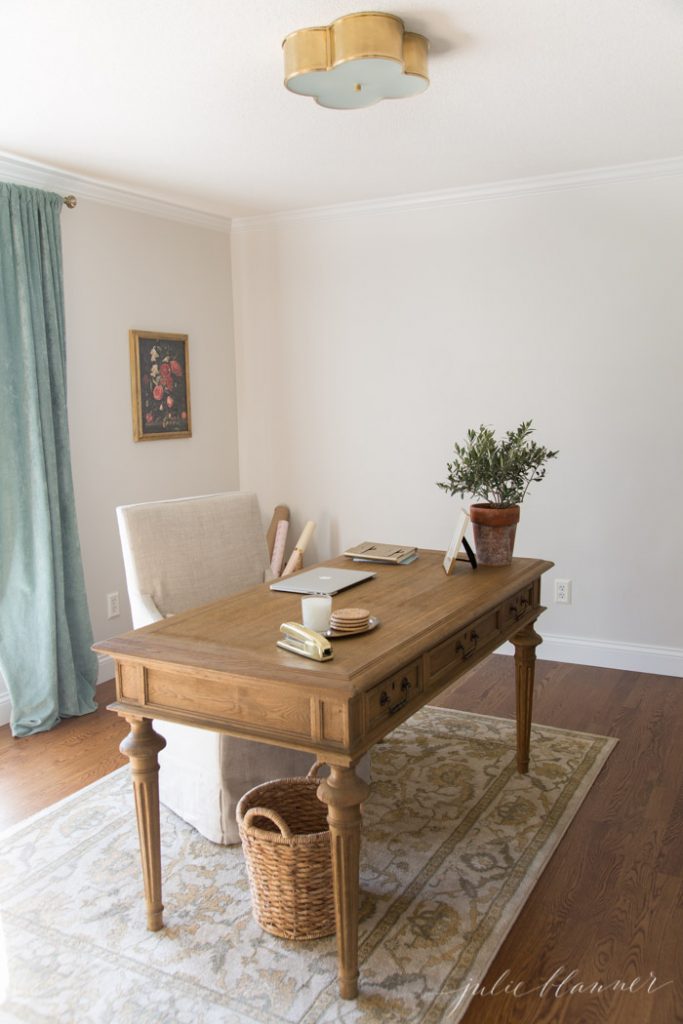 I love olive trees, so I added a third to my office. I just love their two-toned silverly leaves and a little patina on the pot never hurts either!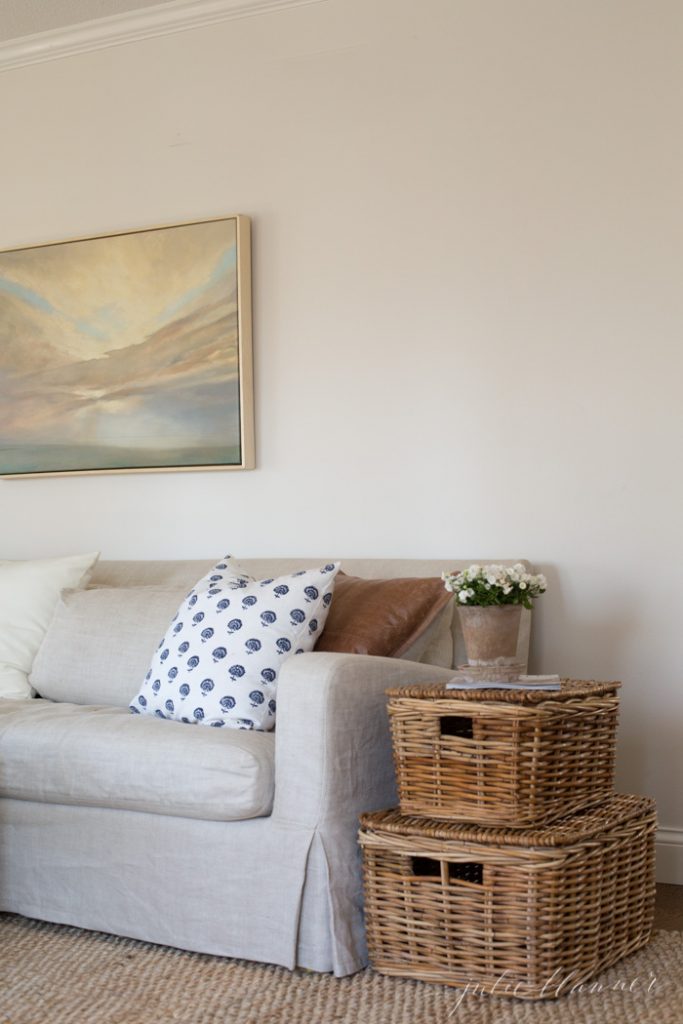 Even though I just refreshed, I plan to do a pillow cover change again to work with the painting.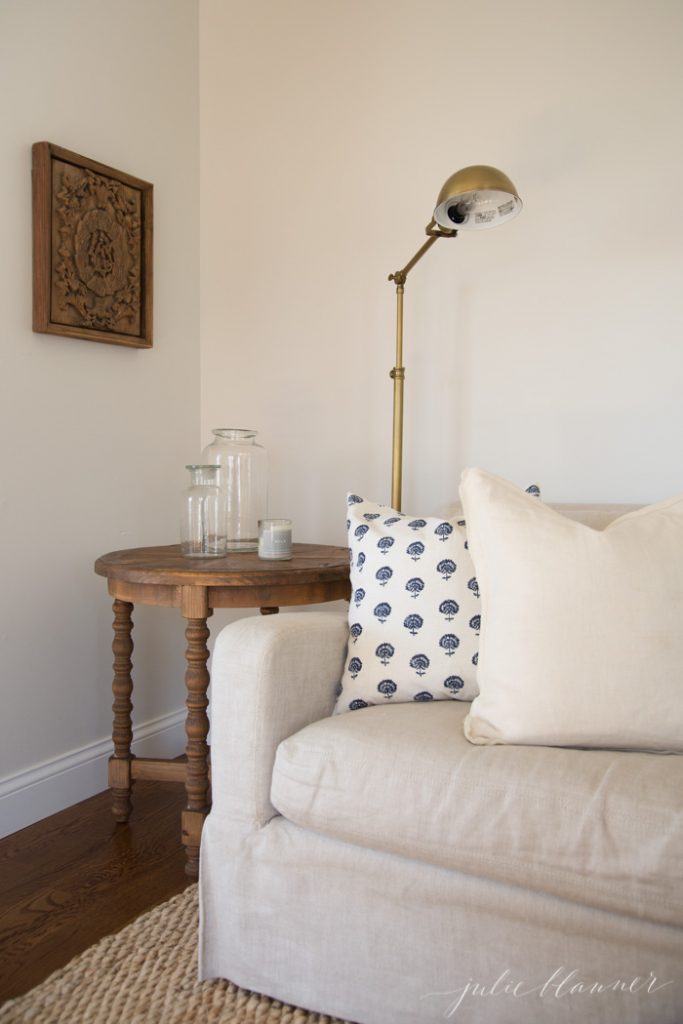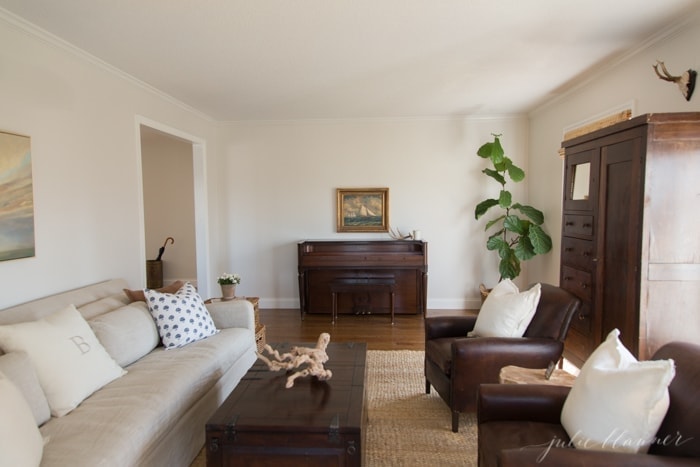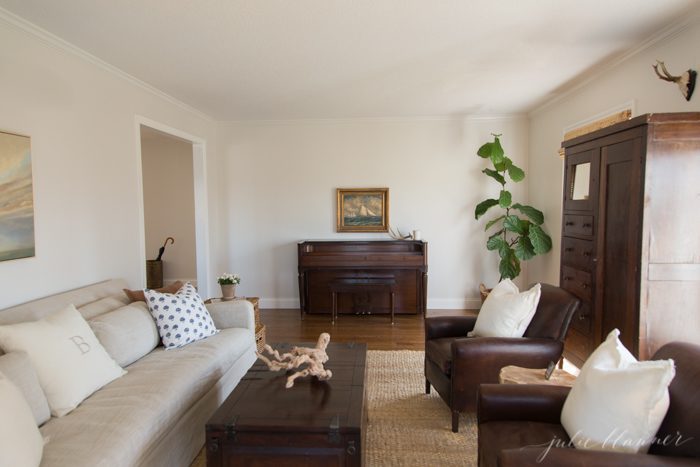 Our family room is a blend of old and new, with family heirlooms, a trunk that I don't love, but love the storage it provides. It's feeling better every day!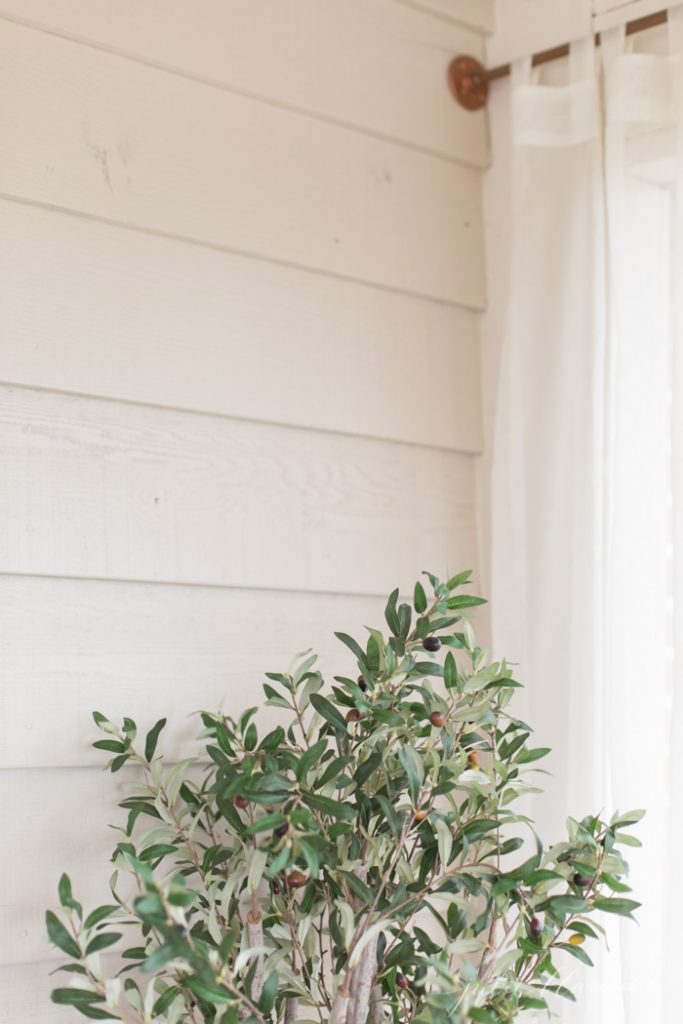 Just outside the family room is our screened in porch where we frequently enjoy spring dinners. I'm still loving this faux olive tree from a few years ago.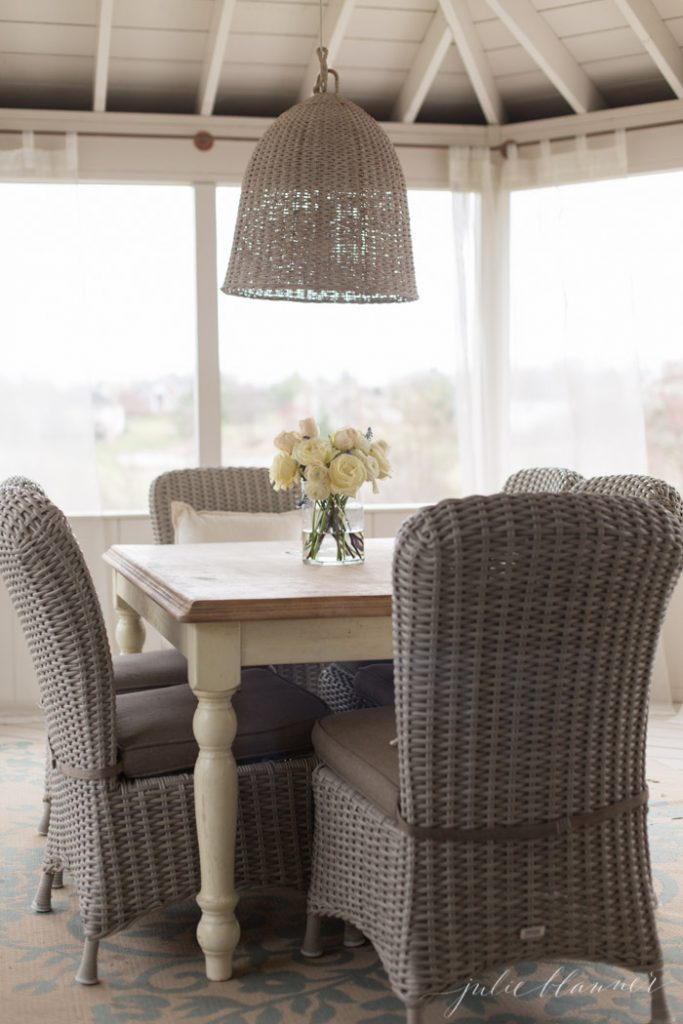 Want to see the basement? Just kidding, it's a disaster down there! Spring break and spring home tours just don't mix.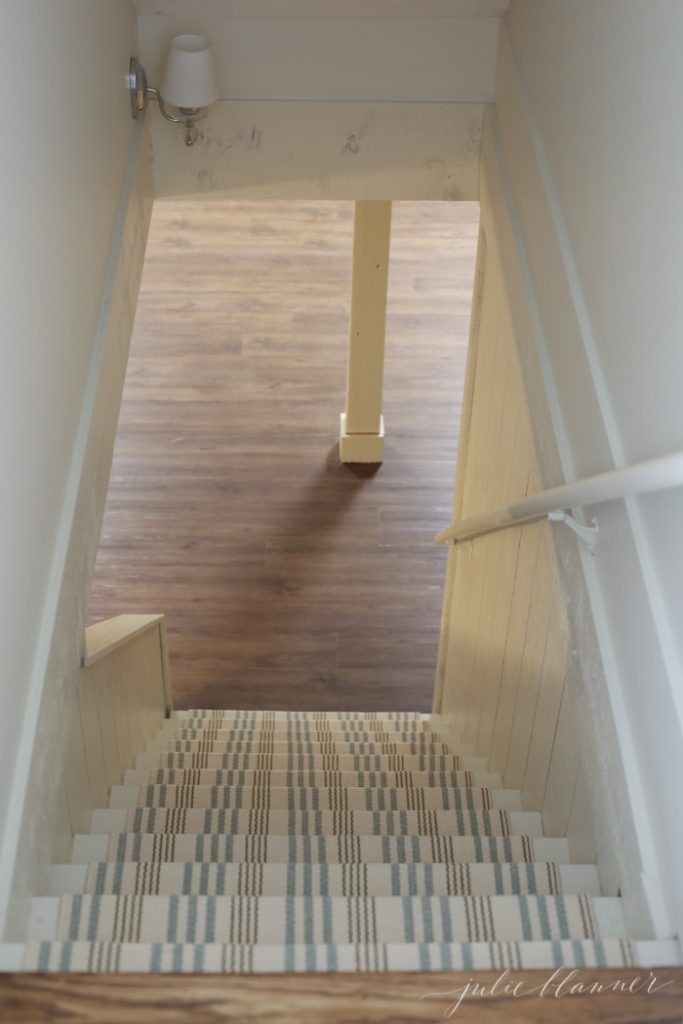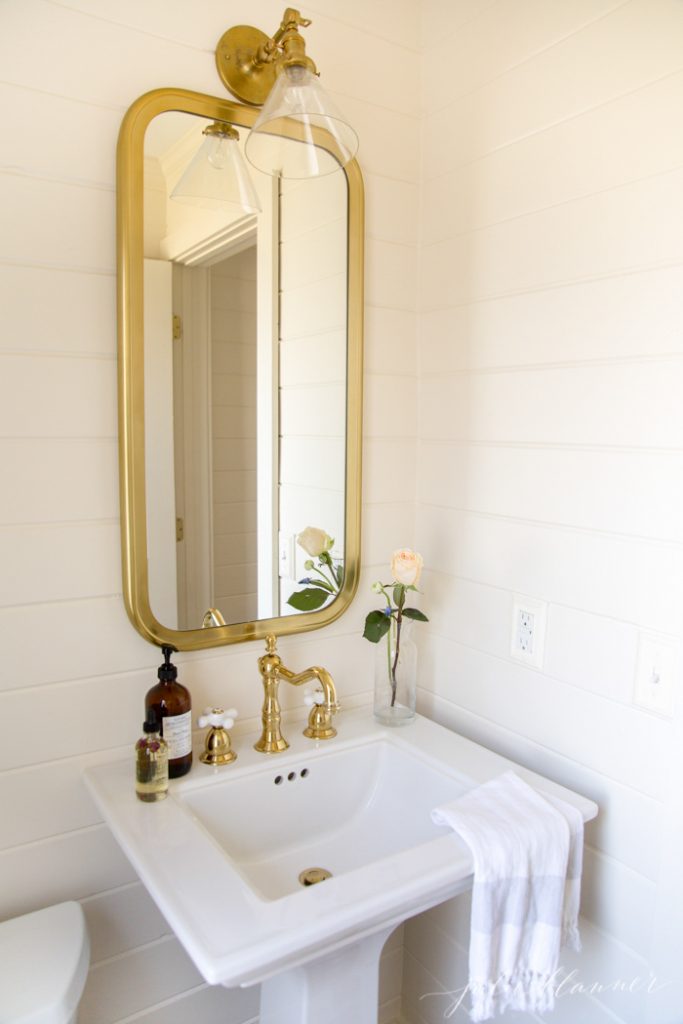 Since we're friends, want to leave through the garage to catch one last glimpse of the mudroom?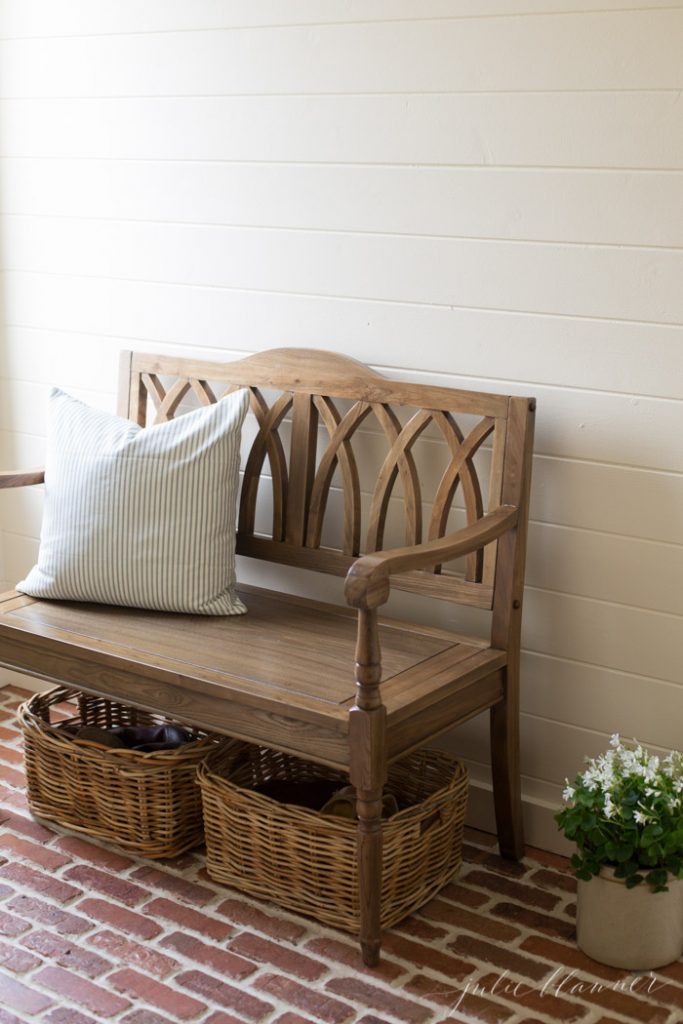 I love these clover plants available at Trader Joe's and often your local grocery store in March!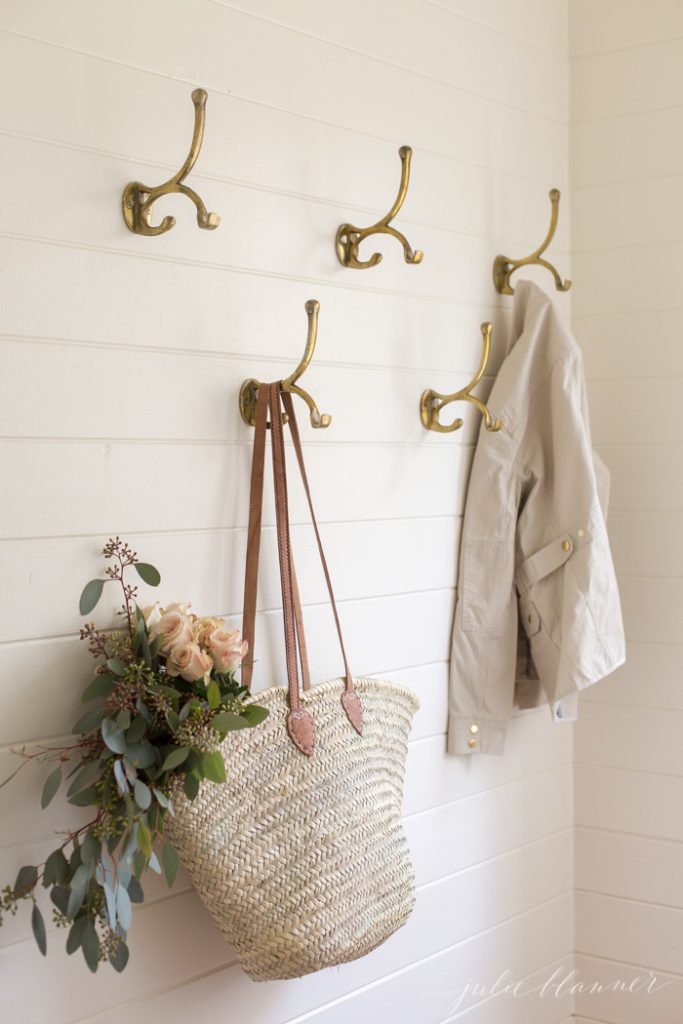 It's been so nice having you. I hope you enjoyed taking a peek into our home. You can find all of our paint colors here.
Originally published March 2017