All the details about one of my favorite exterior paint colors, Sherwin Williams Realist Beige.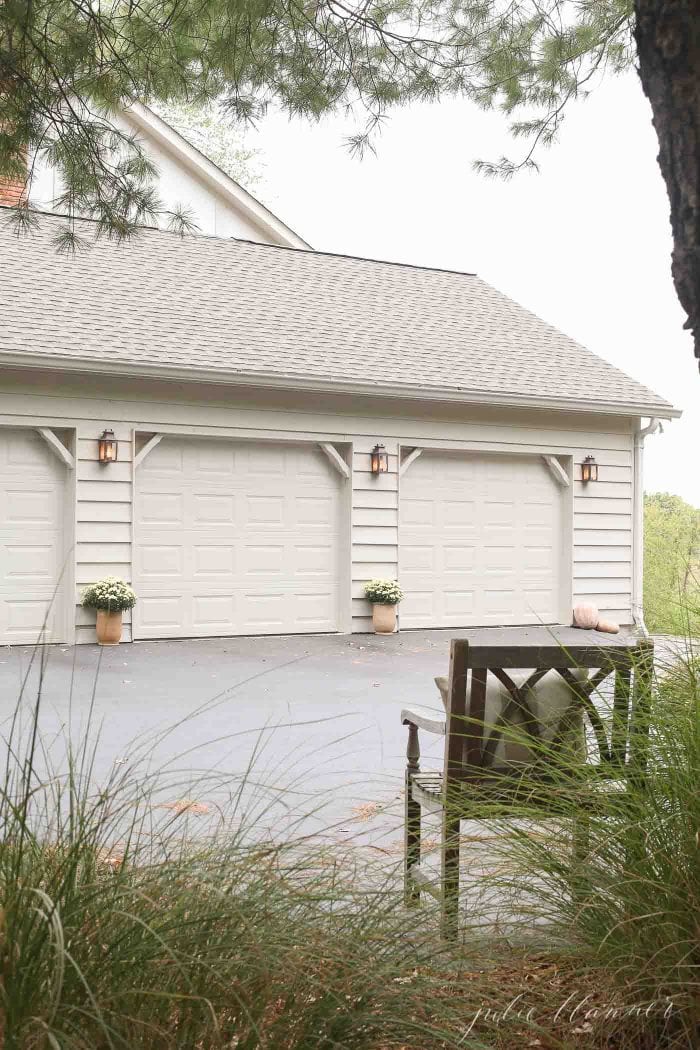 Beige is defined as a pale sandy yellow-brown color and means "natural wool" that hasn't been bleached our dyed. Naturally, that's just what this color reflects.
I love chatting paint with you – don't miss my favorite Warm Whites and Greige Paint Colors!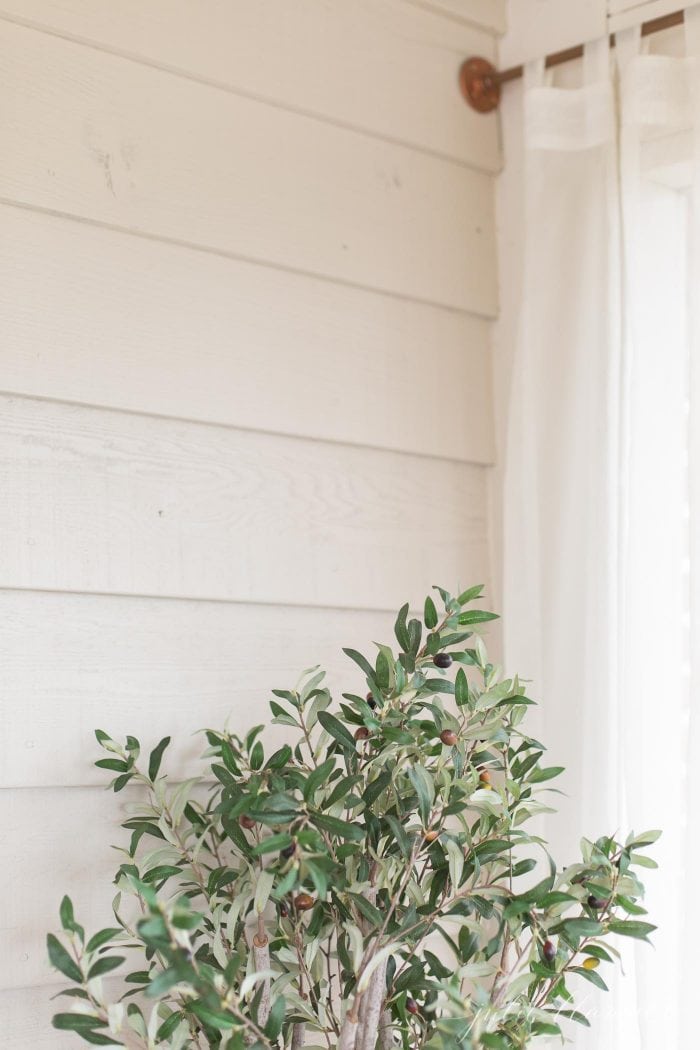 Realist Beige is warmer and richer than a cream or off white. It's a classic neutral that is warm, versatile and all around agreeable.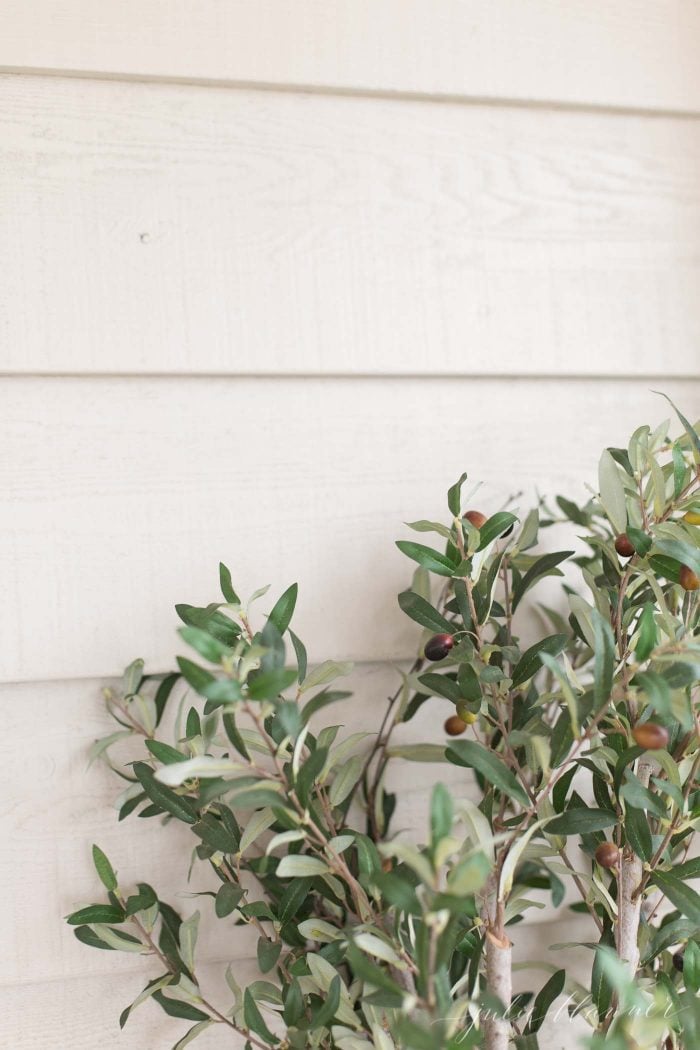 We used Realist Beige for our exterior which receives a lot of Spring, Summer and Fall light. As the sun goes down, the color dramatically changes on the garage which is East facing and accurately reflects the color on the color card.
North and South facing sides read much lighter, especially in daylight. In fact, readers often mistake our deck for a "white" deck.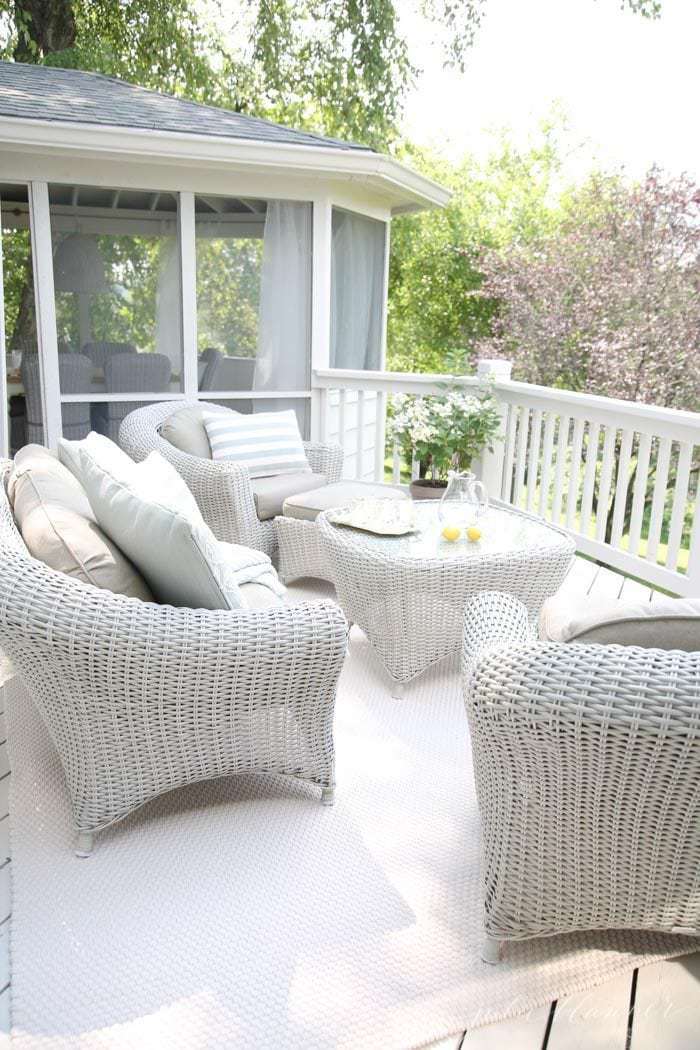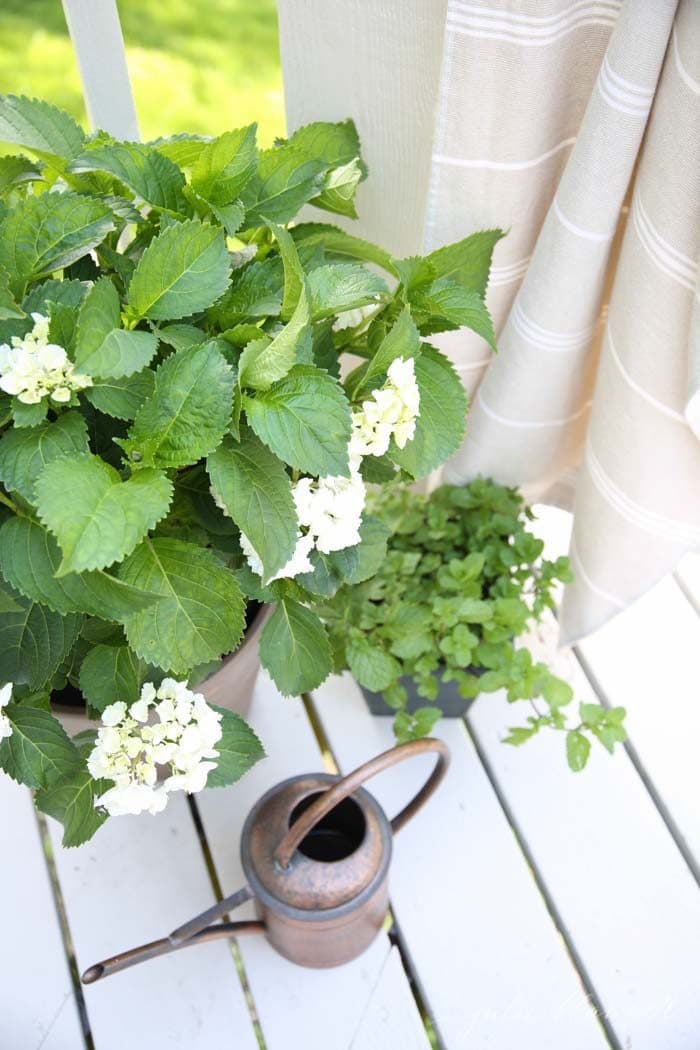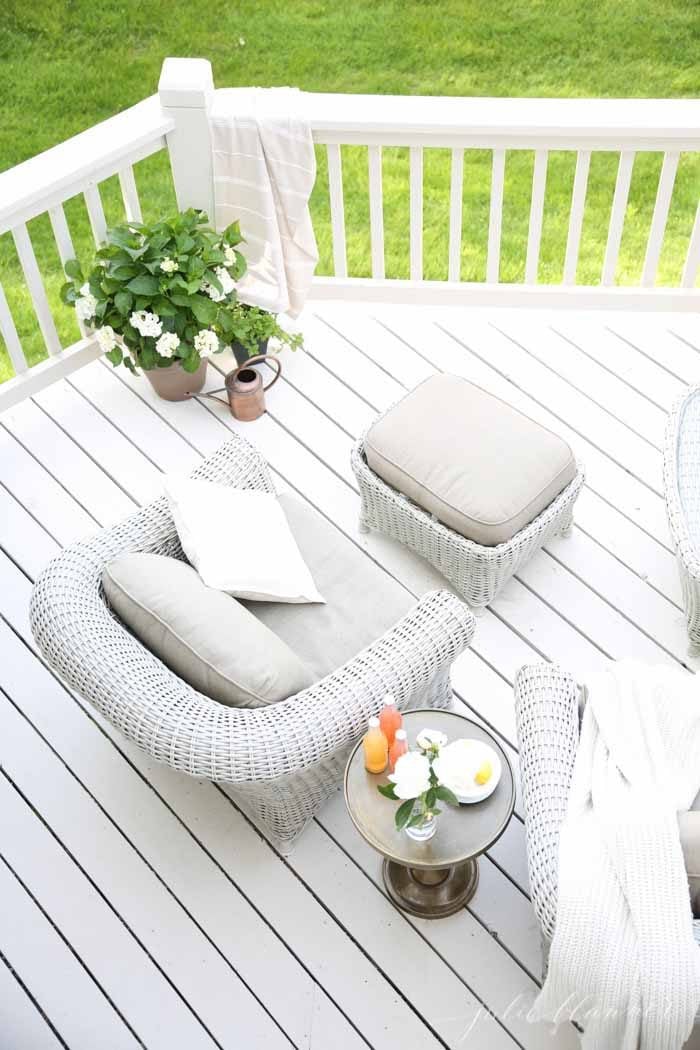 It works really well for a surface because it's a neutral paint color with a slightly "dusty" hue which helps disguise dirt.
If you're researching exterior paint palettes, don't skip this charming White Brick House!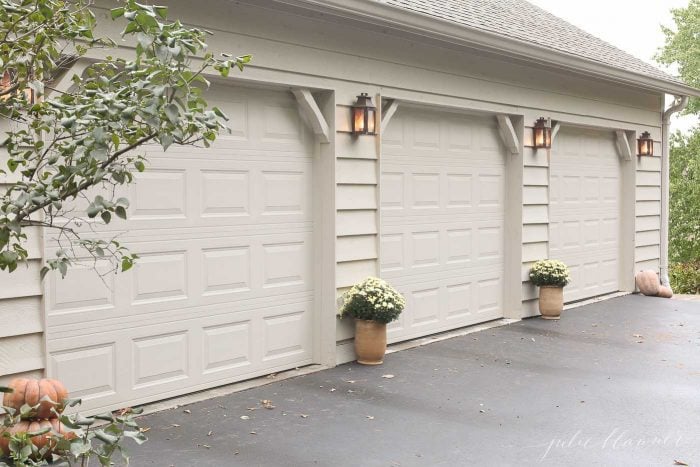 Spaces Sherwin Williams Realist Beige is the best fit for:
exterior
deck
suitable for interior rooms that receive natural light or that you want to feel warm and cozy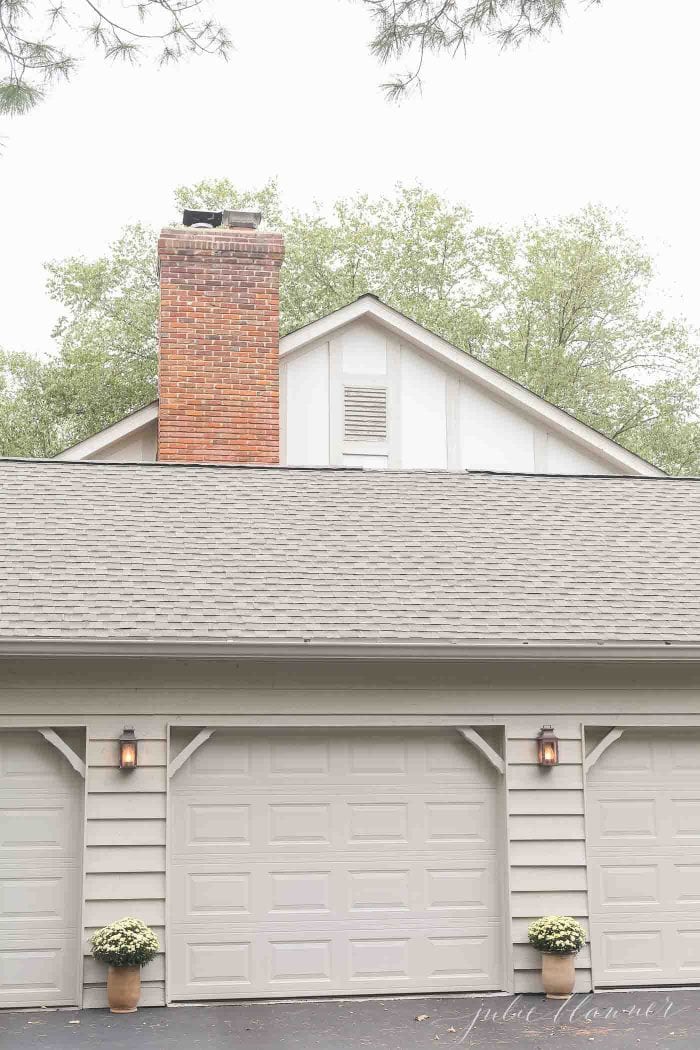 How Sherwin Realist Beige Feels:
day – soft and light
evening – soft, warm and neutral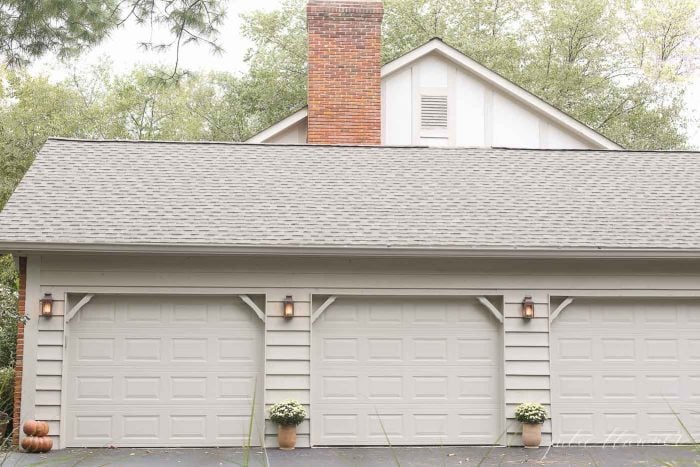 Realist Beige Undertones:
it's a warmer beige with dusty red undertone
Styles Sherwin Williams Everyday White Fits:
Paint Color to Pair Realist Beige With:
Sherwin Williams Everyday White offers a really nice contrast.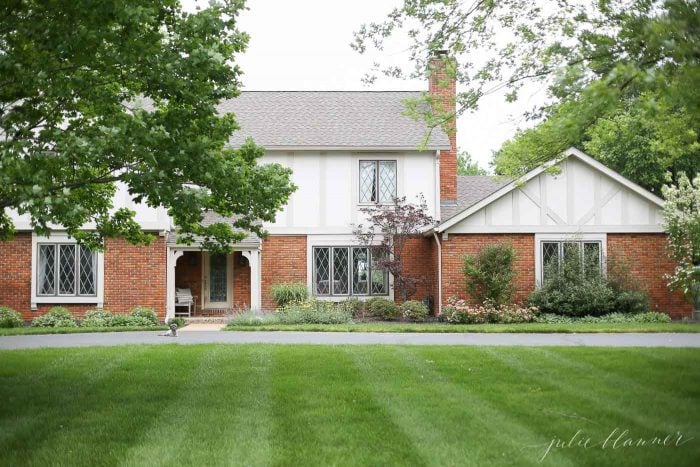 What Trim Color to Use with Realist Beige:
Untinted white or tone on tone (same color, just use a higher sheen for trim) or a hint of a soft cream.
It is Similar to:
Popular Gray and Accessible Beige.
What is the LRV of Realist Beige?
You may be asking what is LRV! LRV is an acronym for Light Reflectance Value. It measures the percentage of amount light a paint color reflects, which is something I look for in all of my interior paint colors in particular to prevent our home from feeling dark.
It has a LRV of 59 (100 being the highest, black being 0). A median amount of reflection offers a lot of warmth without making the space feel dark.
More Details for Realist Beige SW 6078
:
R: 211

G:

200

B:

189
Hex Value: #d3c8bd
A few tips to see if it's the right paint color for you:
Get a sample.
Try it on two walls in the room or exterior that face different directions.
Look at it various times during the day to see how it reads in various lighting situations.
Test it with your trim color.
Painting indoors? You can learn about choosing Ceiling Paint and Trim Paint.
You can find all of our paint colors here and keep track of all of yours here. If you use any of them, please return to share your thoughts!
This is one of my favorite Mushroom Paint Colors. Here are more of my favorites for you to enjoy, too!