As we've all seen recently, recipes made with pantry ingredients can certainly come in handy at times. Here's a quick round-up of a few fast and easy pantry meals and baked goodies that you can make in a pinch!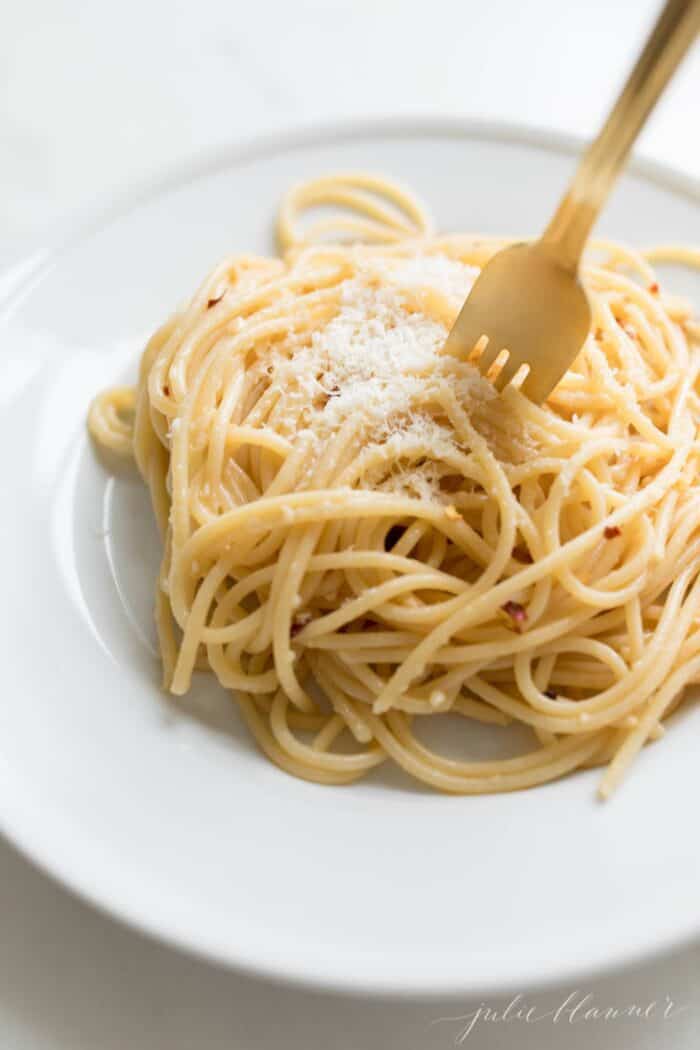 I'll be the first to admit, I am not the best about having a fully stocked pantry. That's because I mostly cook with fresh foods whenever possible!
However, in light of our current situation, I thought it might be helpful to compile a list of the meals we do turn to whenever we need something in a pinch. The ones we think of time and time again, because they are fast, easy, and created with very few ingredients, (most of which are pantry-based).
Psst… bored at home right now? If you're not cooking or baking, this list of fun things to do at home will provide the perfect inspiration!
You know I can't leave out my favorite baked goodies, too! Several of these baking recipes are made with the most minimal of pantry items and baking essentials.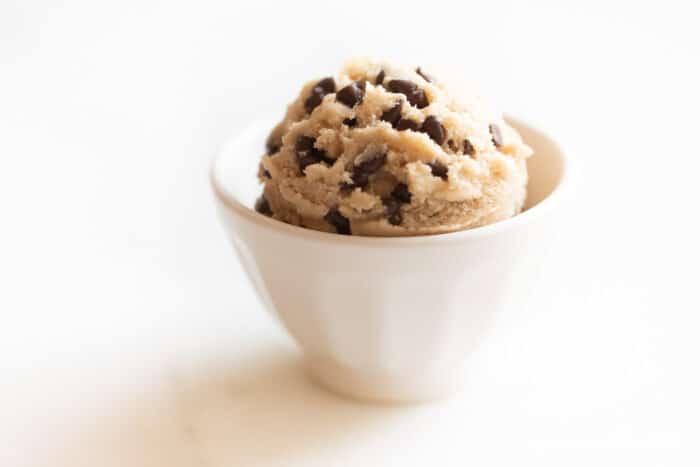 Basic Pantry Essentials
I've chatted before about pantry organization, and you might have seen my printable list of baking essentials.
Kitchen organization is one of my favorite subjects, but the reality is that my minimalist style can often mean we aren't stocked up on items we don't use frequently.
Because I prefer things to be well organized and simple with only the items we truly use on a daily basis, our pantry staples might not be the same as yours!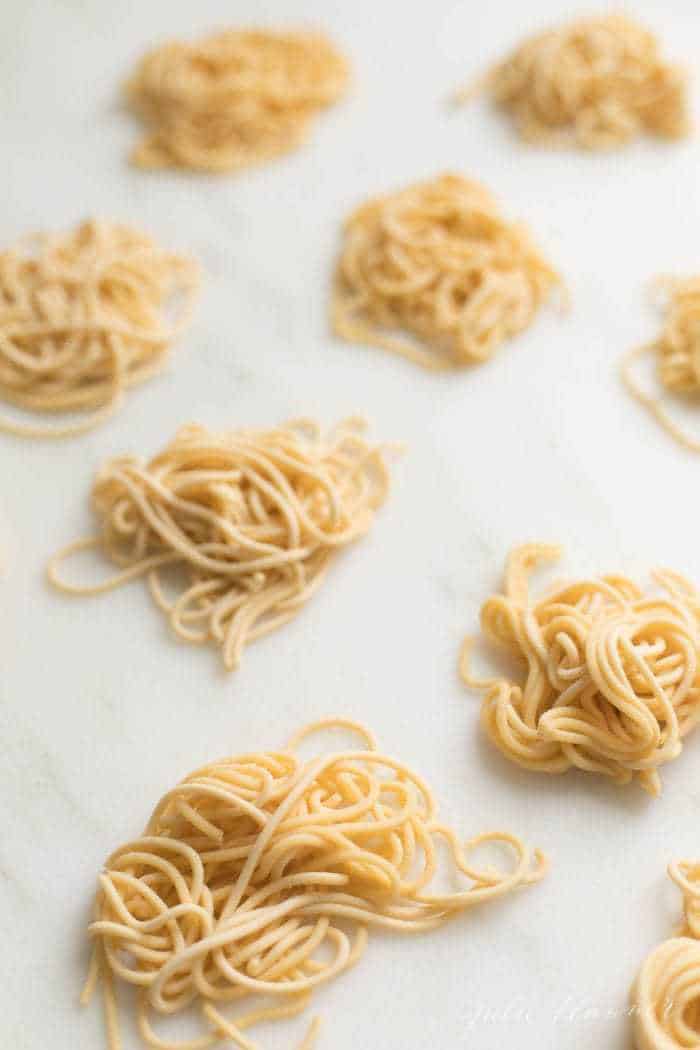 Simple Staple Ingredients
My pantry might look a little empty in comparison to some of yours! For example, I don't use a lot of canned or dry goods. Not for of any specific reason, it's just not what I turn to on a regular basis!
Whereas many people might keep diced tomatoes, tomato sauces, and a variety of items like dry white beans or canned black beans, I only buy those items when I specifically need them for chili or soup in the fall, etc.
Another pantry item that we always skip? Salad dressings! Once I realized how easy they are to make from scratch, we usually just whip one up whenever we need it.
A little good quality olive oil, cider vinegar, and dried herbs will take you a long way. This white balsamic vinaigrette, for example, is made from pantry ingredients.
The Fastest and Easiest of all Pantry Meals: Cooking Pasta
Above all, in my opinion, there's no better pantry dinner than my ultimate favorite. PASTA. Forever and ever, this dinner has my heart for a multitude of reasons.
While I love to make homemade pasta, including these incredibly easy egg noodles, there are a variety of ways to make a fast pasta dinner with your pantry stash of grocery store boxed pasta. In fact, you can find a delicious round-up of many of my favorite pasta dinners right here.
Pasta is filling, inexpensive, and comforting. It's the ultimate easy-dinner pantry staple!
Dinners and Desserts made with Pantry Staples
Get all the links for some of my favorite dinners and treats made with ingredients you're likely to have on hand! These are the fastest, simplest recipes in my arsenal. Enjoy!
More Ideas for Last Minute Dinners
You might not have all these items in your pantry, but they are our very favorite quick and easy dinners that come together with very few ingredients in a flash.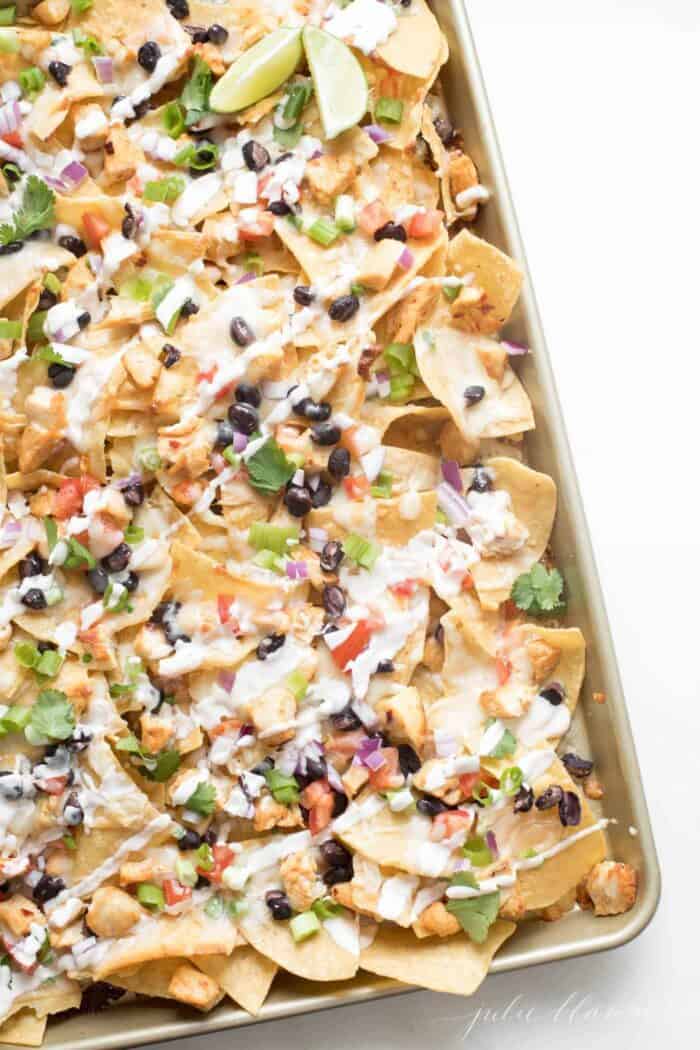 If you've got butter and eggs, you've probably got chocolate chips and the other baking essentials to make these incredible chocolate chip cookie muffins. So much fun for the kids and perfect for breakfast, snacks or dessert!
I'd love to hear from you! What are your must-have pantry essentials? Are there things you always keep on hand, regardless of the season or situation?
I'd love to know about your favorite dinner ideas for those times when you don't have much on hand.
Want more? Receive the best ideas directly to your inbox and connect on Youtube, Instagram, Facebook, and Pinterest!